ONE PLUS OPEN IS PHENOMENAL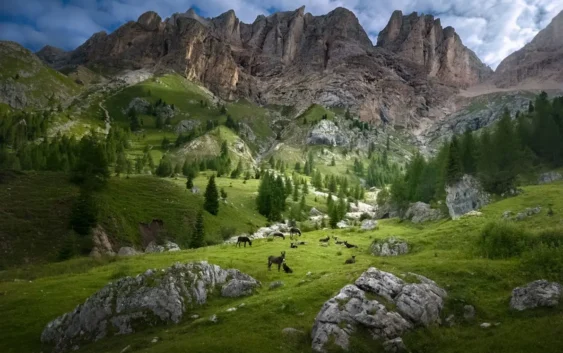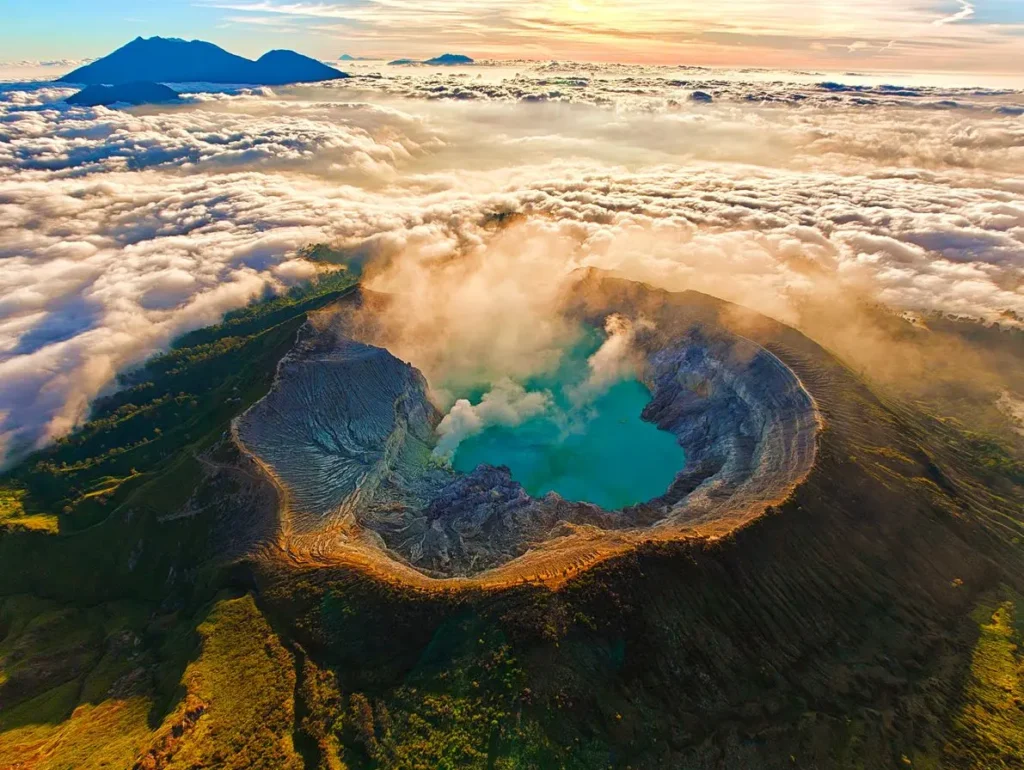 The ONE PLUS OPEN has truly killed the competitions future market, disrupted the foldable phone market with its uncompromising specifications, so Samsung and Iphone have a lot to work on. The "Never Settle" OnePlus Open, a real alternative for single-display flagship phablets, is the sleekest, smartest, and most stylish foldable phone on the market. The Open is the real deal. It's like the Avengers of foldable phones – all the best features rolled into one super-powered luxury device, with the OnePlus' signature Fast & Smooth user experience, a Hasselblad Camera for Fold, and immersive spatial entertainment, all in an ultra-portable, modern elegant foldable design.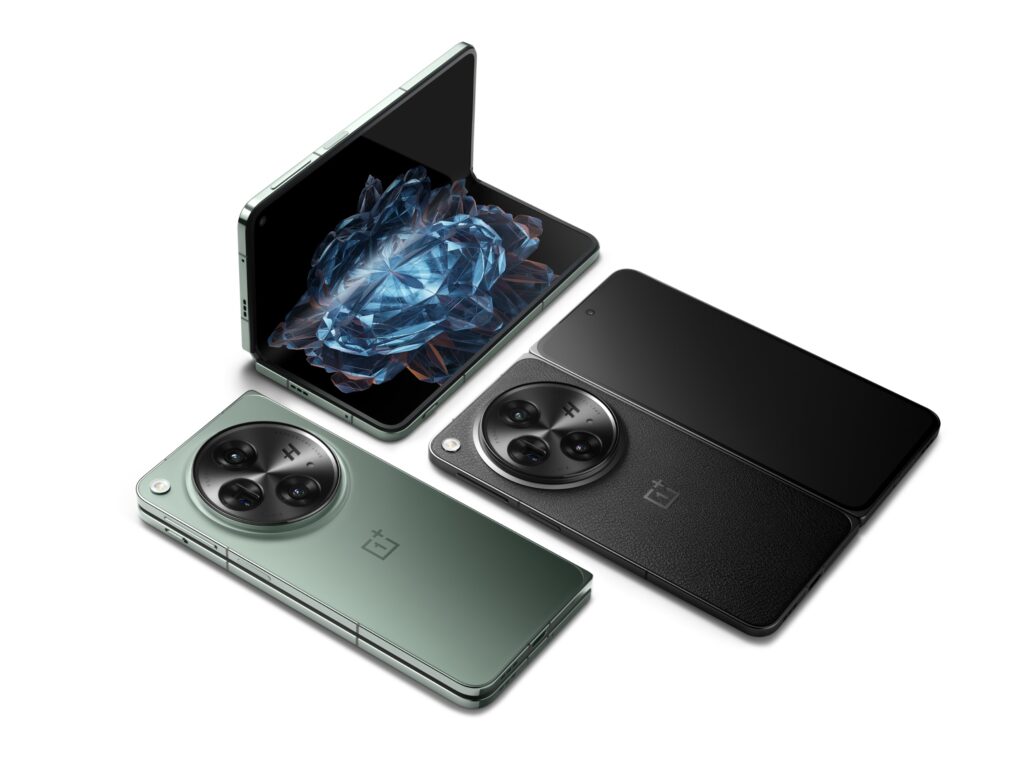 The OnePlus Open is the epitome of luxury in the palm of your hand. Its sleek design and cutting-edge features make it the ultimate status symbol. But it's more than just a luxury accessory – the Open is a technological marvel, with advanced features that set it apart from the competition.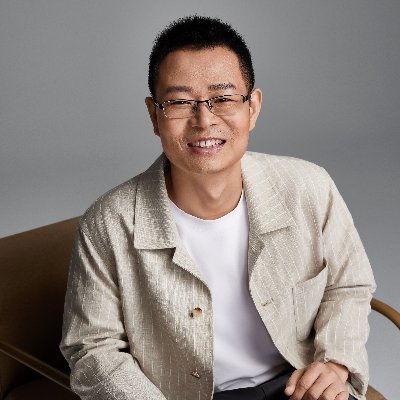 "The word 'Open' not only represents a new folding form factor, but also our openness to explore new possibilities allowed by bleeding-edge tech-solutions on the market. OnePlus Open provides unparalleled hardware, innovative software features and services built around the new form factor, continuing to live up to OnePlus's Never Settle belief." said Kinder Liu, President and COO of OnePlus. "With the launch of OnePlus Open, we are thrilled to be bringing an uncompromising flagship foldable experience to users worldwide. The OnePlus Open will be a true flagship that is set to revolutionize the foldable market."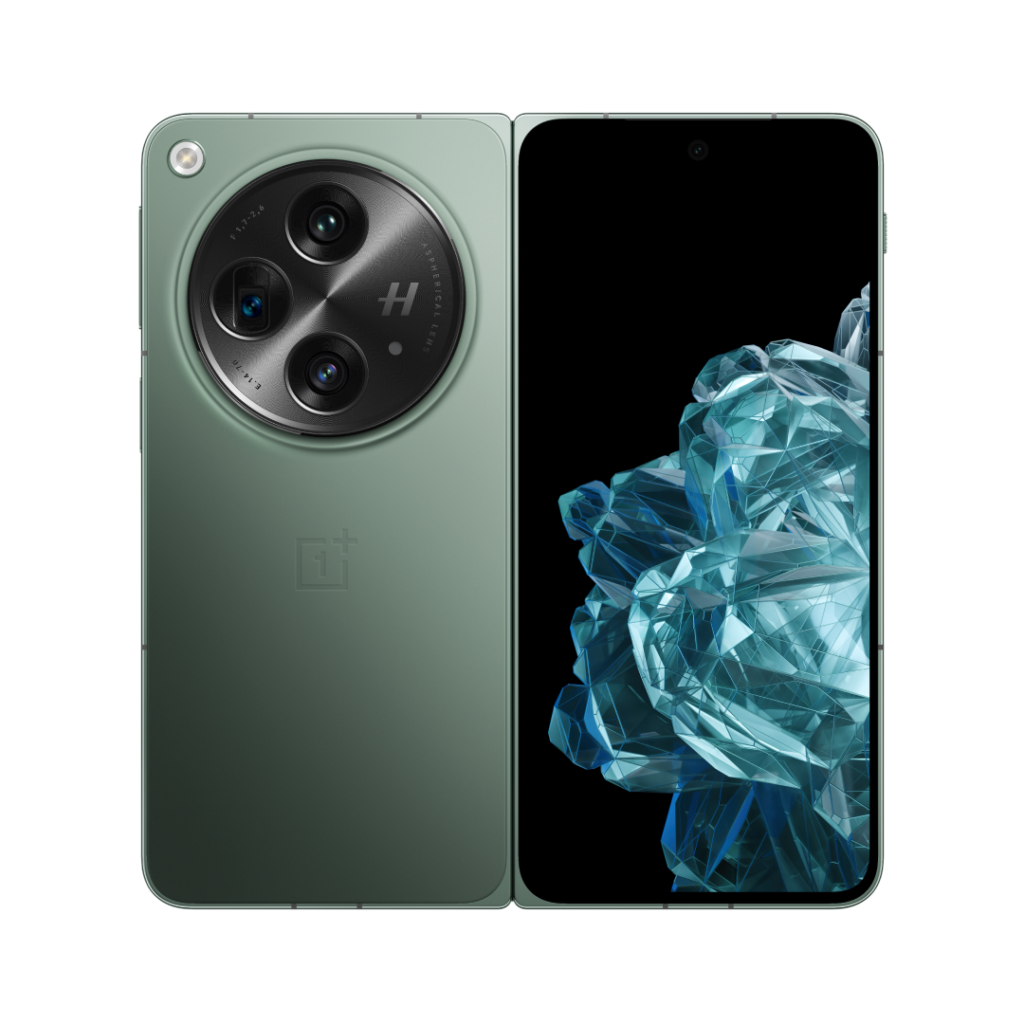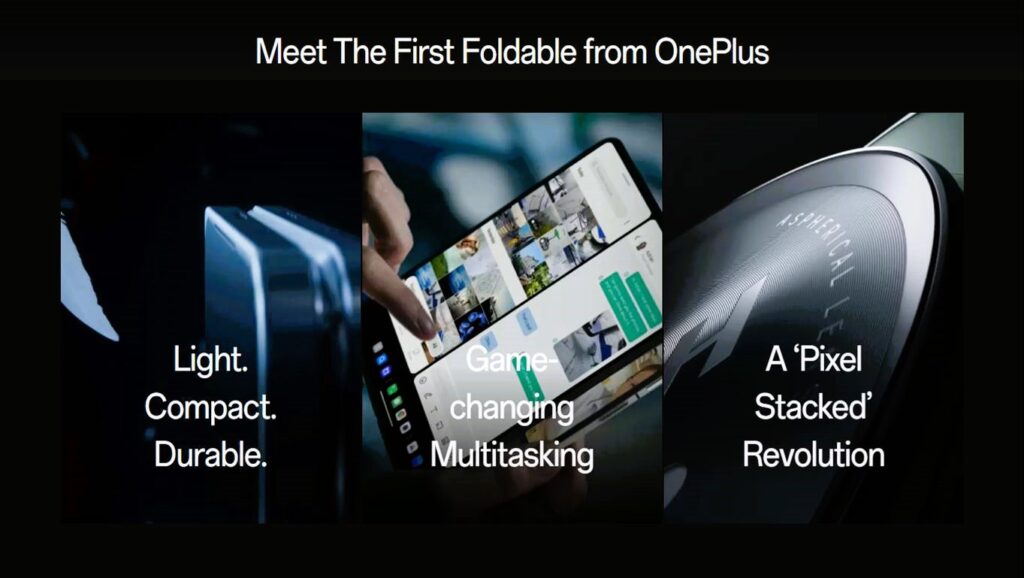 The OnePlus Open, the company's first foldable flagship, fully inherits the brand's signature design philosophy – industrial minimalism coupled with beautiful refinement. Both Emerald Dusk and Voyager Black, which are available in two colours, are eye-catching in their own right. Emerald Dusk is a distinctive green hue designated just for the OnePlus flagship series. It has a matte-frosted glass back that shimmers in good lighting. When seen from different angles, the micro-beads on the textured surface create an attractive gradient of light and shadows. Meanwhile, Voyager Black has a more subtle vegan leather back cover that exudes sophistication.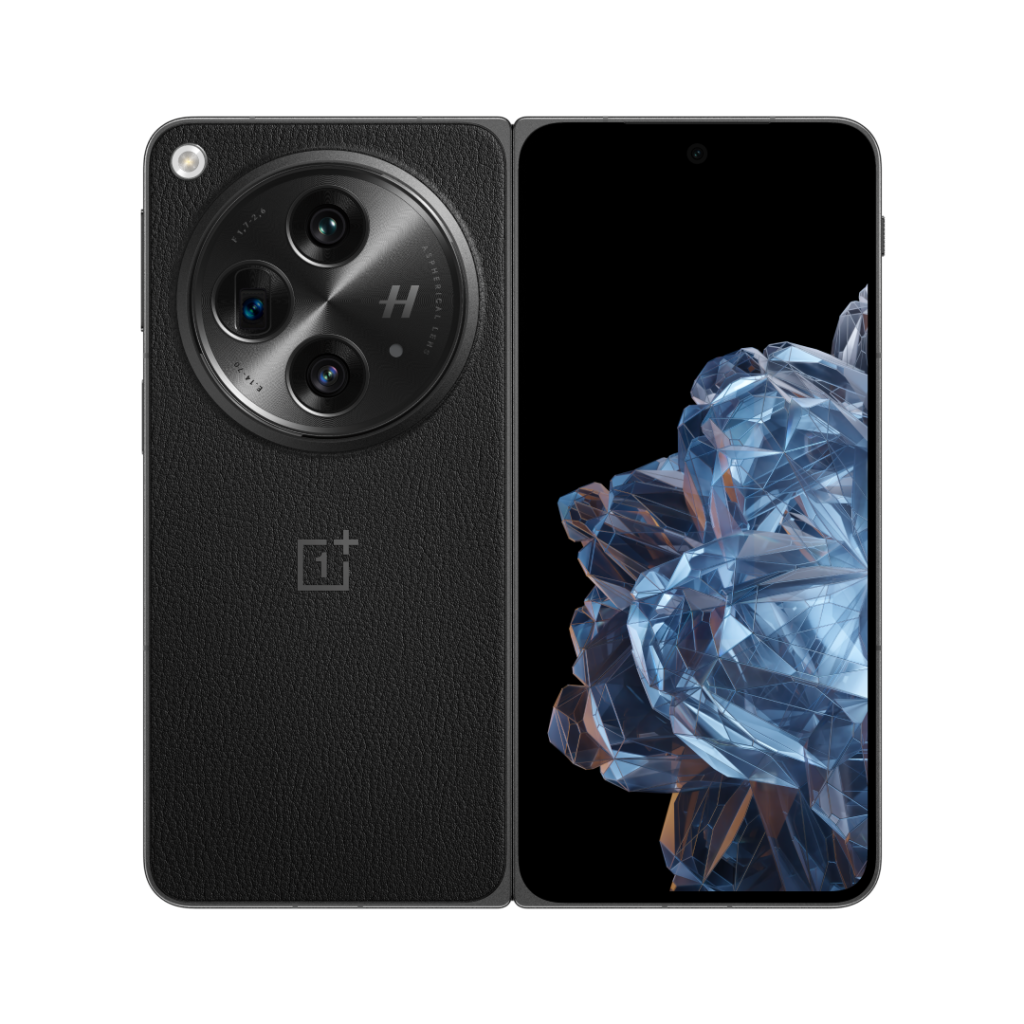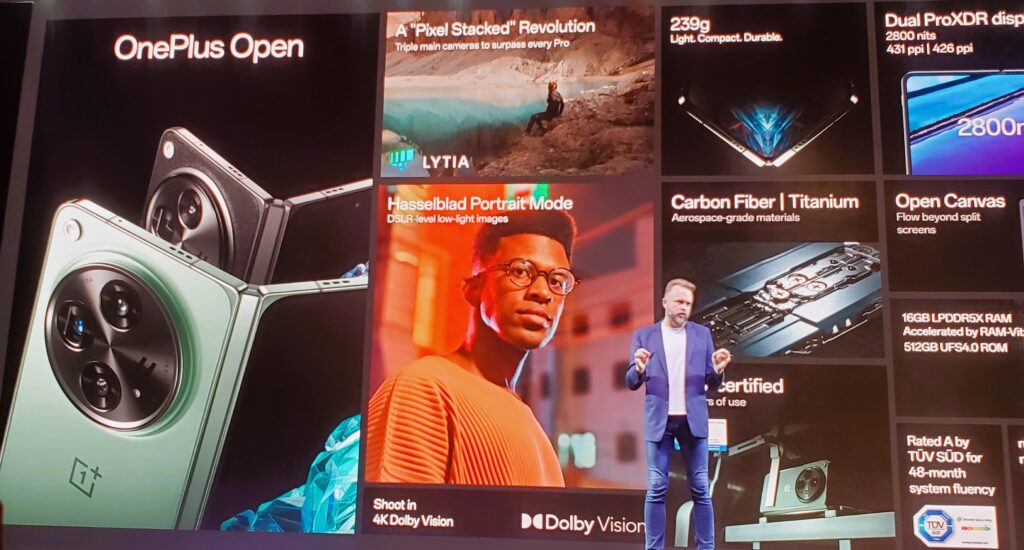 With a jaw-dropping, seamless foldable display and next-level specs, the Open is the phone you never knew you needed. Forget about creases and durability concerns – the Open's revolutionary hinge design keeps the screen pristine and protected.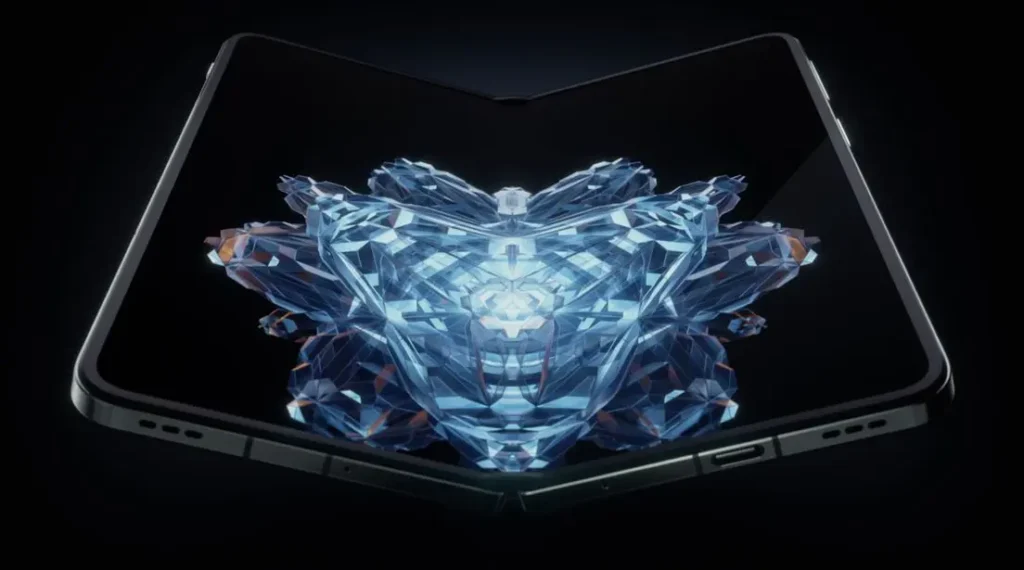 Furthermore, a depth-vacuum separates camera sensors and the outer glass dome, similar to the sophistication seen on expensive timepieces. This is complemented with a light-reflective CD-pattern carved on the dial, allowing for light-play, all of which is intended to stand out.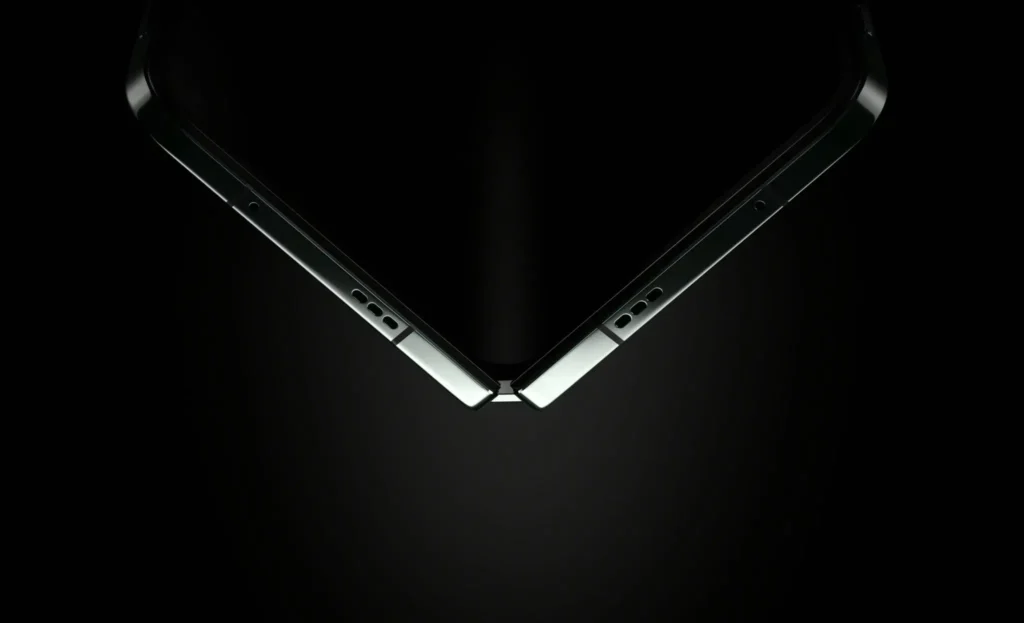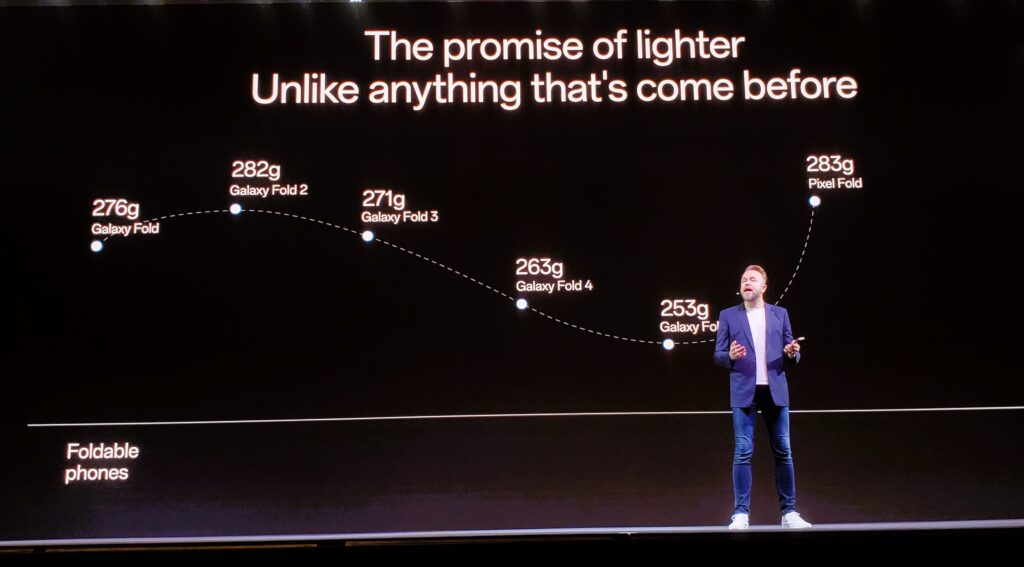 The OnePlus Open is designed to be incredibly light and small, with customers scarcely noticing a change in their pockets, especially when compared to single-display phablets. The Open, which weighs only 239g and measures 5.8mm when unfurled, combines the convenience of a single-display smartphone and a Pro tablet without the added heft.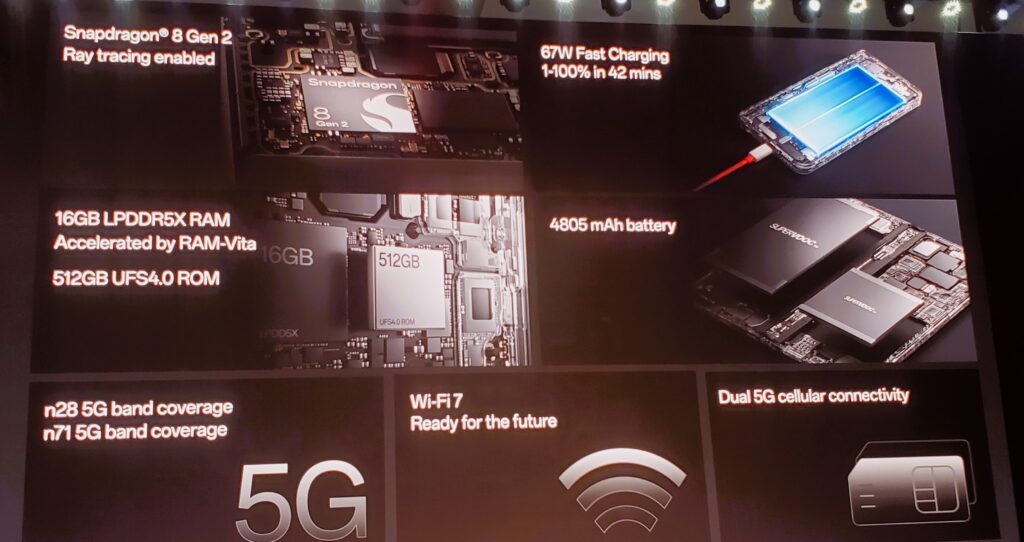 A phone for Iron Man, minus the repulsor rays.
Crafted with the toughest, lightest materials available, like Titanium alloy, carbon fiber, and more, the Open is as resilient as it is elegant. Its titanium alloy frame and carbon fiber back make it practically indestructible, while still retaining a sleek, premium look. Built with aerospace-grade materials that are up to four times stronger than surgical-grade stainless steel.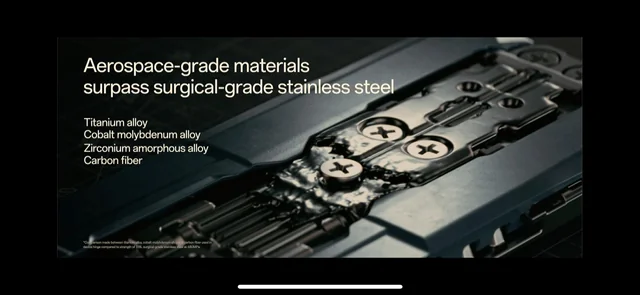 The use of high-end materials like titanium alloy, zirconium amorphous alloy and carbon fiber give the Open an unrivaled feel of sophistication and durability.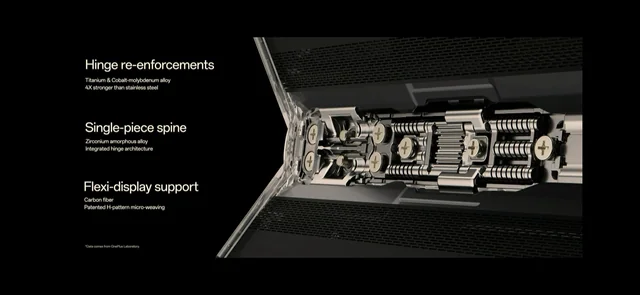 In this scenario, durability has not been affected. Despite its ultra-compact physical aspect, the Open is remarkably sturdy because of the careful material-component selections and a high-efficiency, well-optimized mechanical design. The revolutionary Flexion Hinge, with only 69 pieces compared to the industry average of over a hundred, frees up internal space for high-performance hardware.
The phone's materials aren't just about durability, though. They're also eco-friendly, making the Open a guilt-free choice for the environmentally conscious consumer.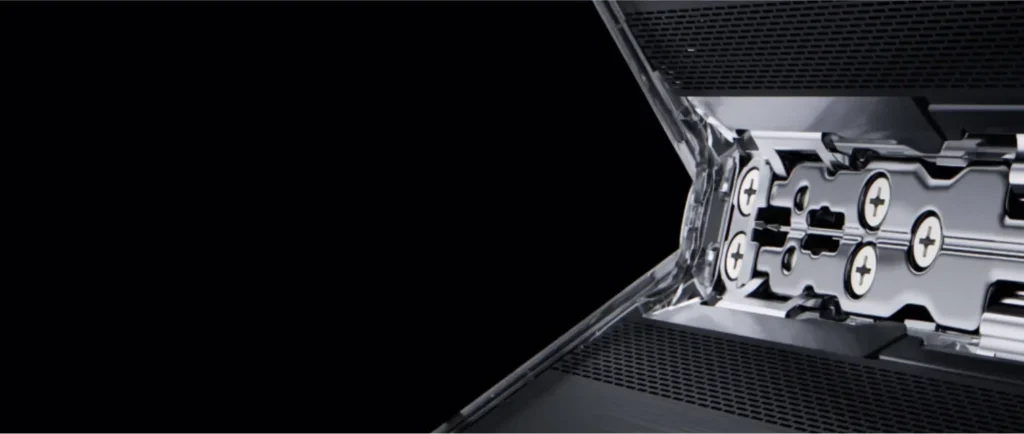 In this scenario, durability has not been affected. Despite its ultra-compact physical aspect, the Open is remarkably sturdy because of the careful material-component selections and a high-efficiency, well-optimized mechanical design. The revolutionary Flexion Hinge, with only 69 pieces compared to the industry average of over a hundred, frees up internal space for high-performance hardware.
The phone's materials aren't just about durability, though. They're also eco-friendly, making the Open a guilt-free choice for the environmentally conscious consumer.
OnePlus Open has also been verified for dependable folding by TÜV Rheinland, an international certification institution, where it was put through harsh environmental testing and 1,000,000 test-folds, which equals to much more than 100 folds each day for more than ten years.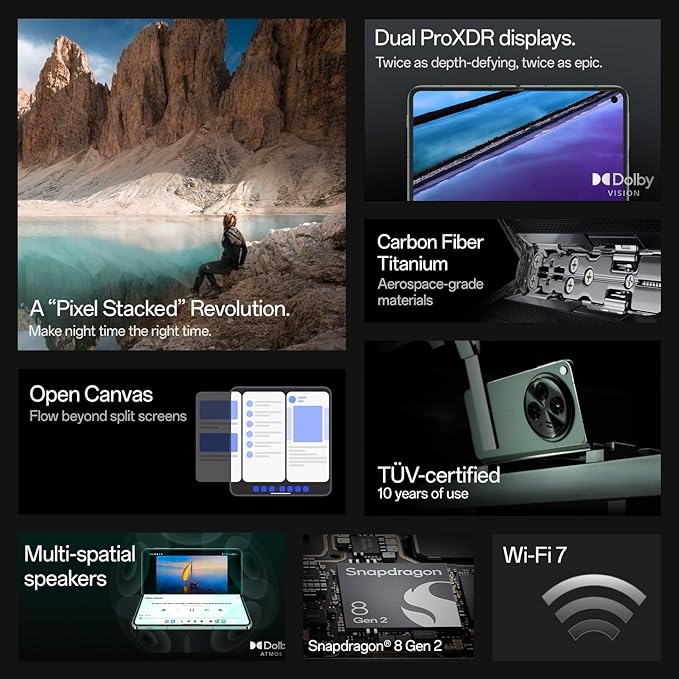 But it's not just a pretty face. The Open boasts a lightning-fast processor and a camera that puts your DSLR to shame.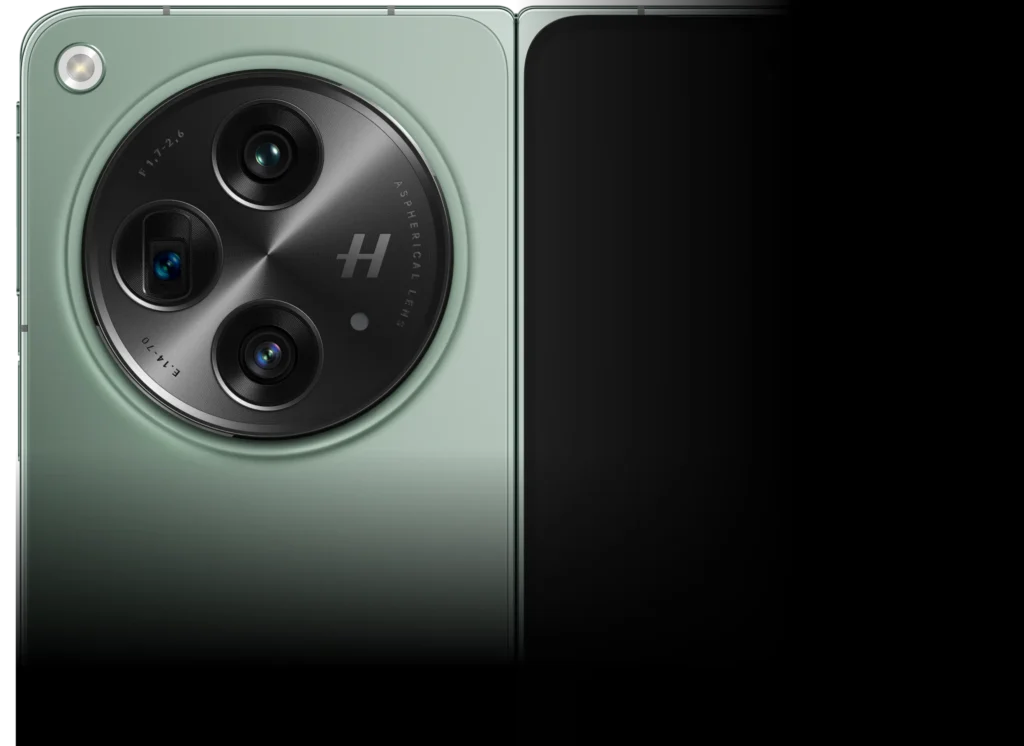 The triple primary camera system on the OnePlus Open is innovative. A 48MP SONY LYTIA-T808 "Pixel Stacked" primary camera with OIS is at the core of this, and it is supplemented by a 64MP periscope telephoto with 6x in-sensor lossless zoom and OIS, as well as a 48MP ultra-wide angle camera with AutoFocus. Aside from the rear cameras, the Open has two selfie cameras: a 20MP sensor on the main display and a 32MP sensor on the cover screen.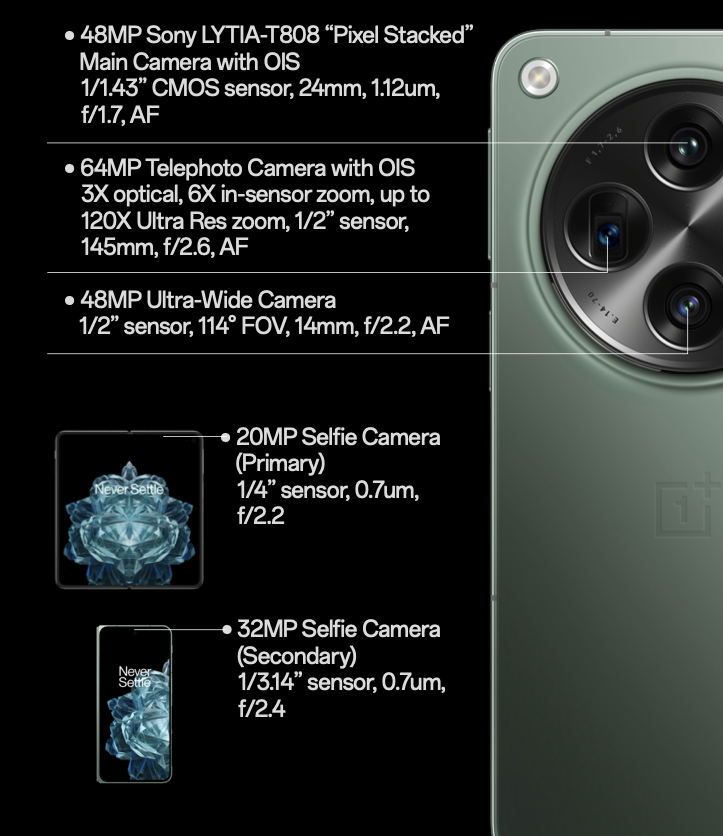 The 48MP LYT-T808 quad-pixel main sensor showcases Sony's game-changing "2-Layer Transistor Pixel" architecture. Light up the night with double the light⁴ for dazzling clarity.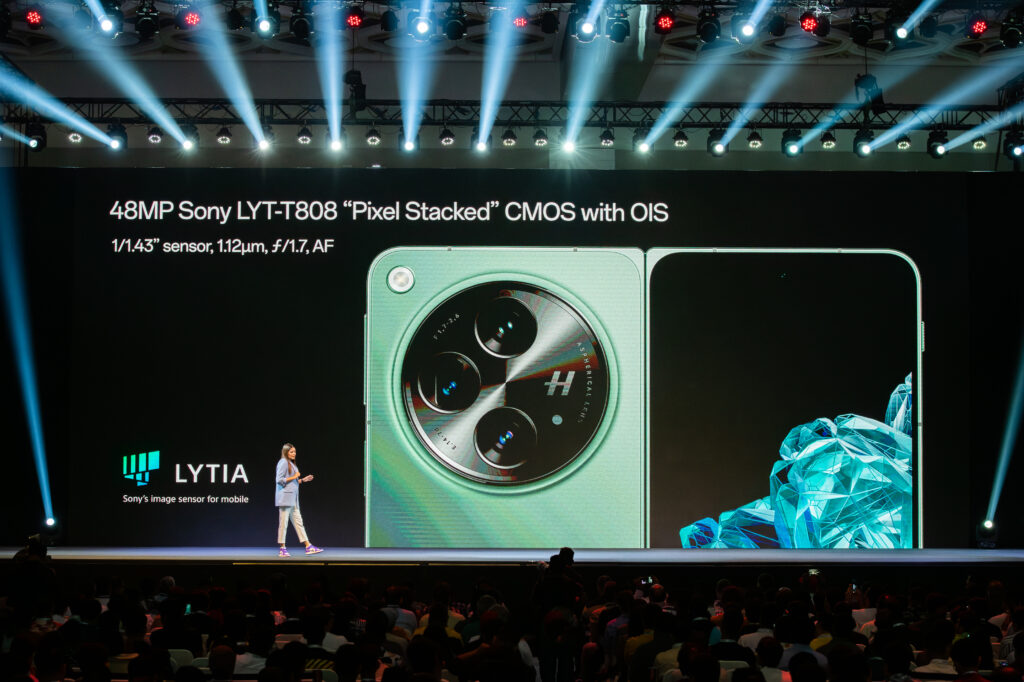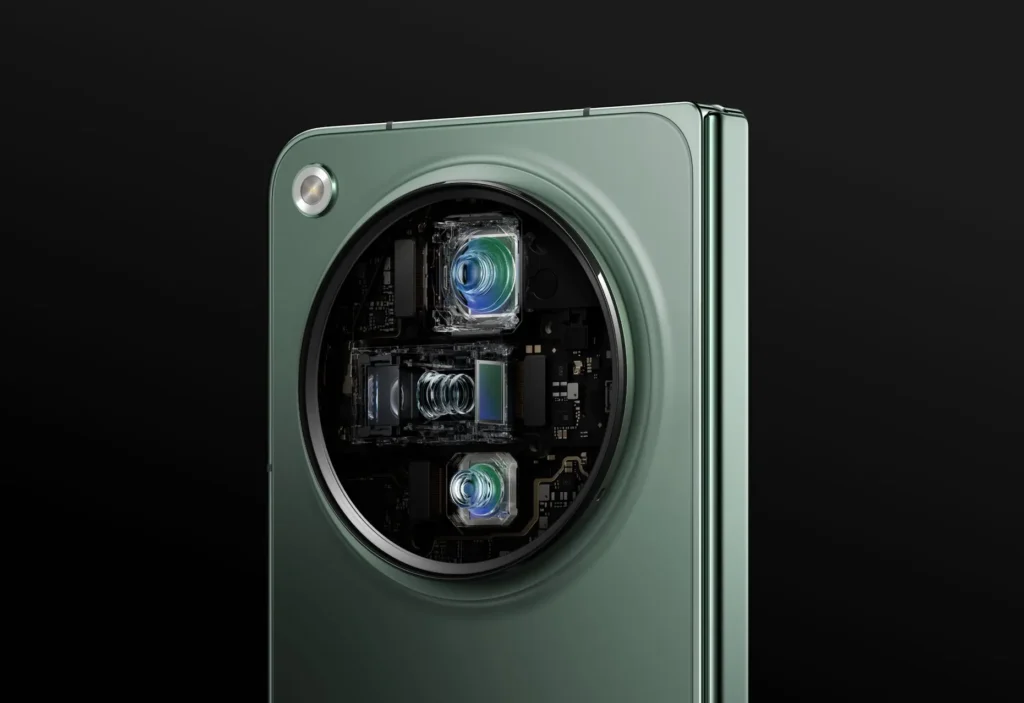 The OnePlus Open is the first foldable smartphone to include Sony's new LYT-T808 breakthrough picture sensor. The sensor measures 1/1.43-inch in size and has 1.12m pixels. The "Pixel Stacked" technology, also known as "Dual-Layer Transistor Pixel," has a revised pixel architecture that increases light ingestion and storage while taking up less physical space. Light up the night with dynamic range and light intake on par with traditional IMX 1-inch smartphone sensors.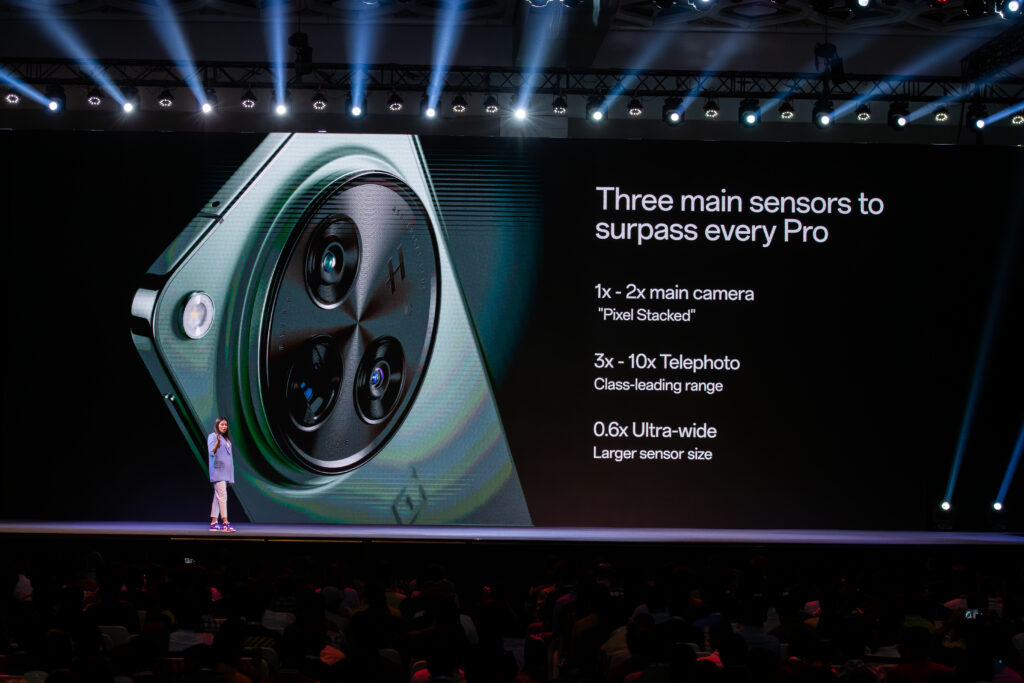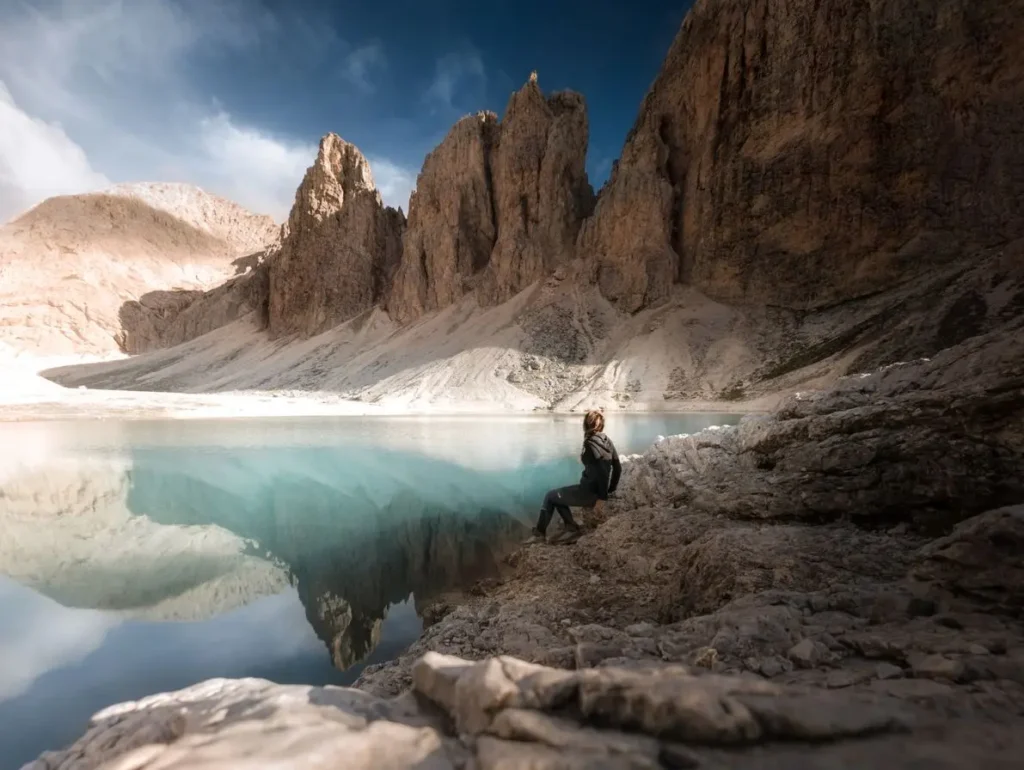 The OnePlus Open is set up to provide the finest image possible on the focal lengths most typically used by users, ranging from 0.6X to 10X. Aside from the main camera, the Open features a proprietary 64MP telephoto camera with OIS, allowing for 3X optical and 6X lossless in-sensor zoom, as well as up to 120X Ultra Res Zoom.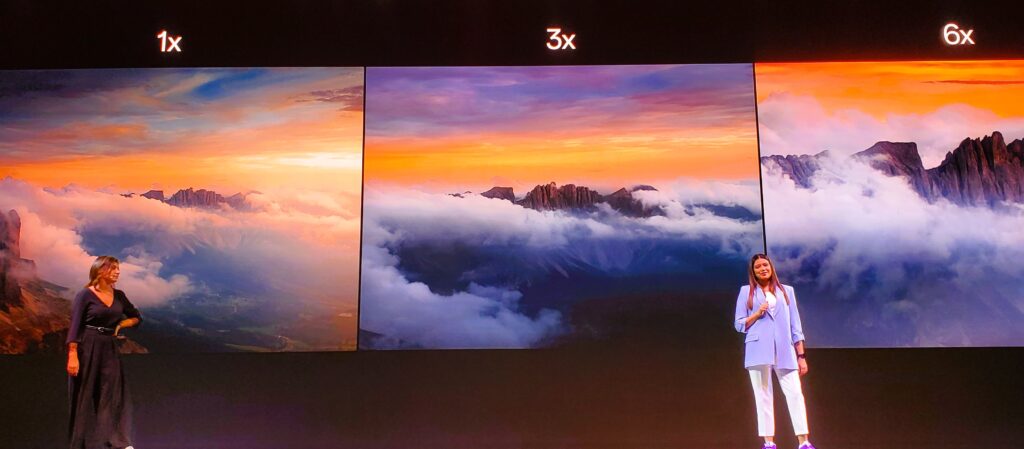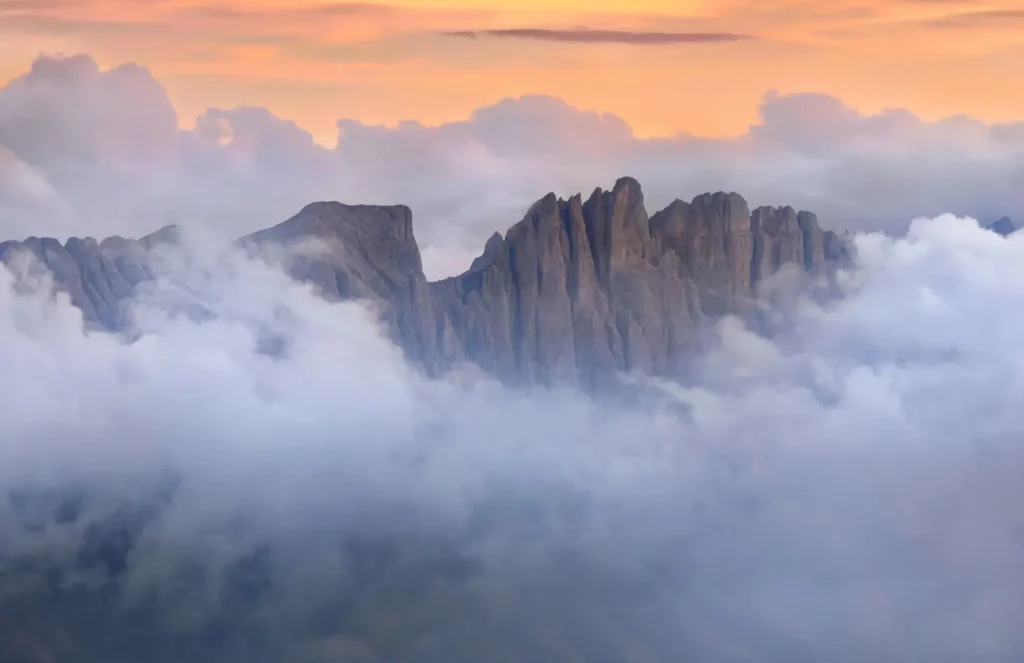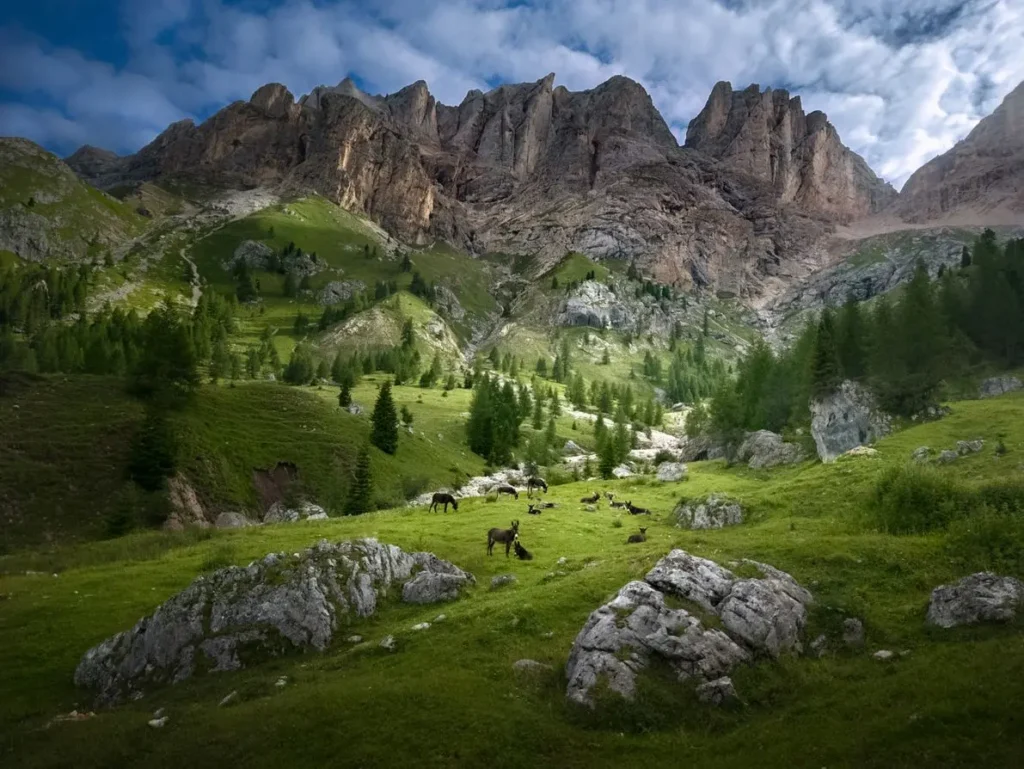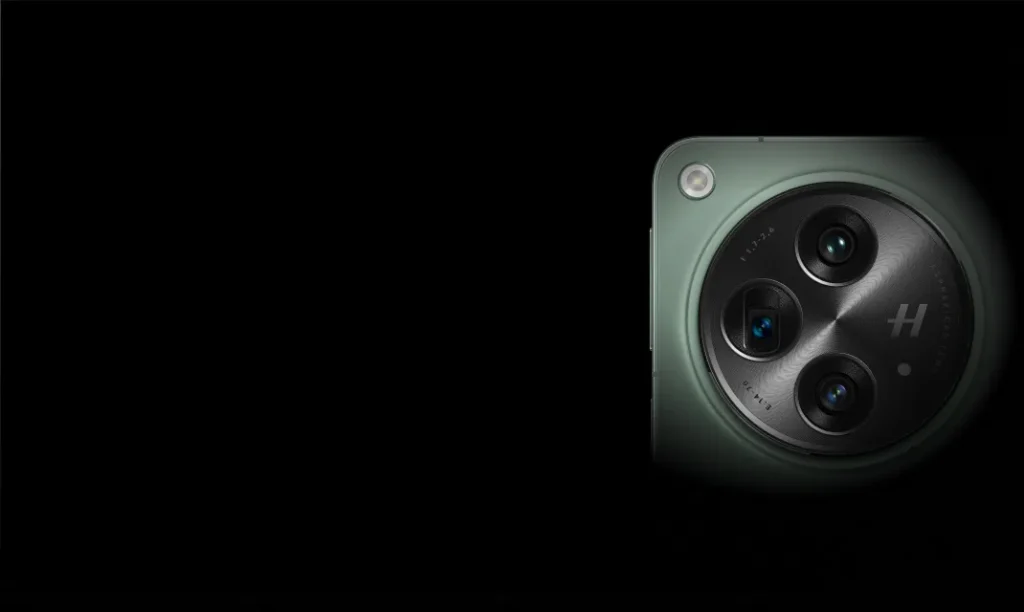 While the greatest primary and telephoto camera on any fold assures the quality of portrait shots, OnePlus takes use of its collaboration with Hasselblad to provide a better Hasselblad Portrait Mode. Innovative cameras aboard the OnePlus Open operate in unison to produce DSLR-level depth-tracking, bokeh, and flare effects taken by Hasselblad cameras equipped with XCD 3,5/30, 2,8/65, and 2,5/90V lenses.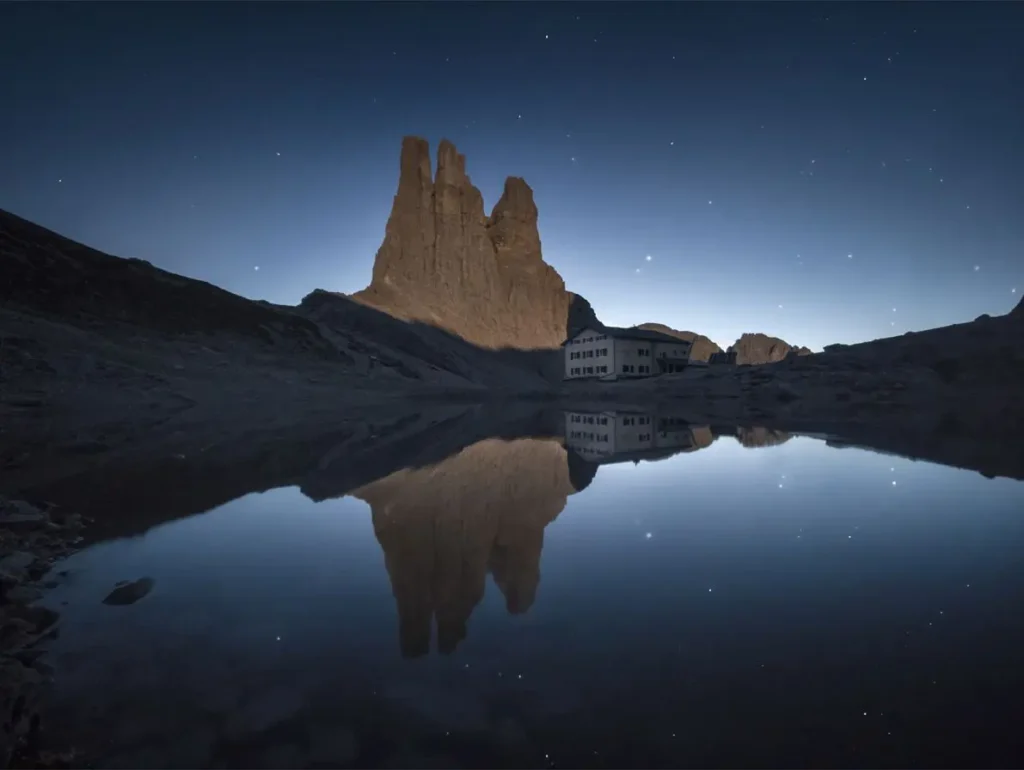 The OnePlus Open is equipped with two 2K 120Hz fluid AMOLED ProXDR screens, allowing for not only a superb flagship-level cover screen but also a primary display that opens up to a Pro tablet.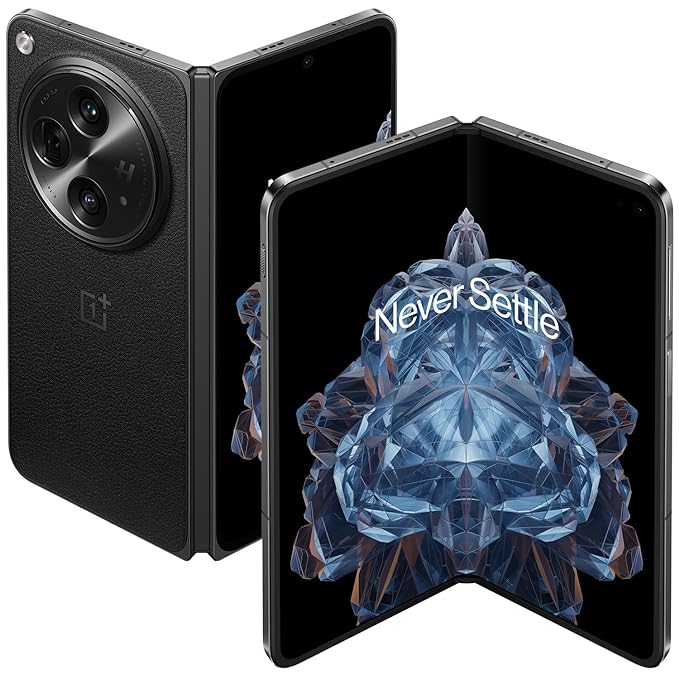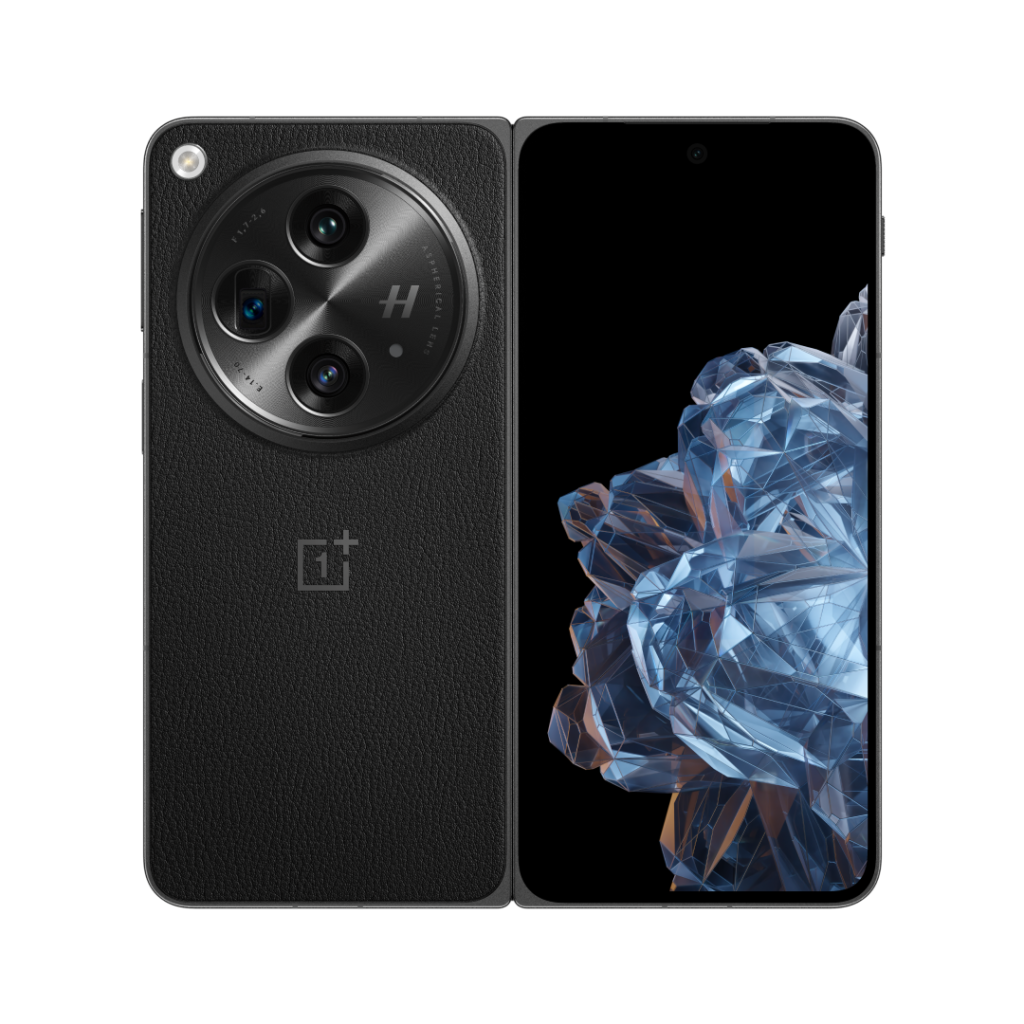 The cover screen is 6.31″ in size and has a 20:09 aspect ratio. The 120Hz cover screen has a peak brightness of 2800 nits and a high brightness mode (HBM) of up to 1400nits for ultra-bright, smooth, and responsive visuals at any time of day. In terms of protection, the cover screen is guarded by Ceramic Guard, which is made of pure ceramic crystals that have been subjected to an ion exchange process and is up to 20% more impact resistant than Corning Gorilla Glass Victus.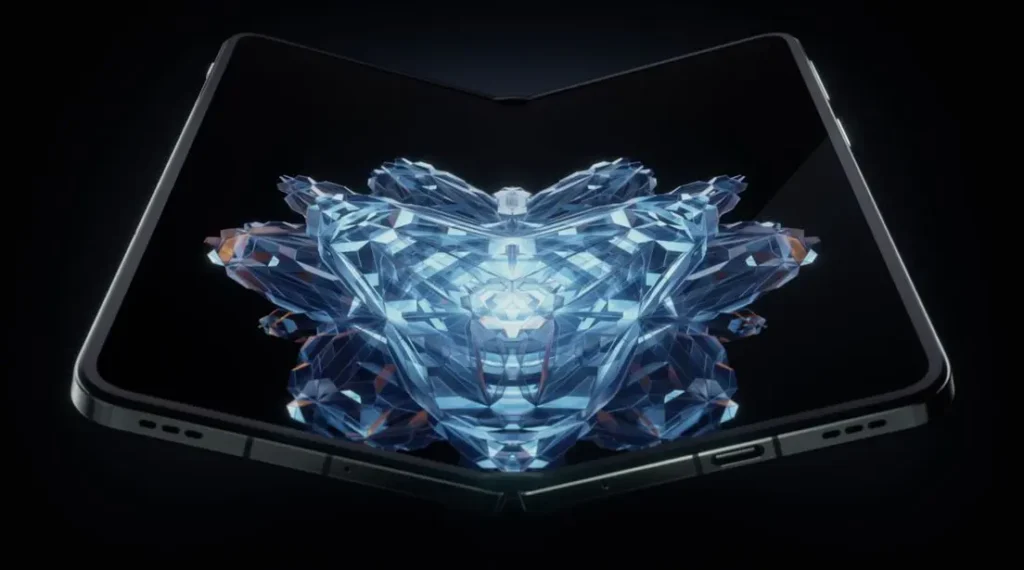 Open up the smartphone to reveal the enormous 7.82″ primary display, with a resolution of 2440 x 2268, which has an 89.6% screen-to-body ratio. This amazing primary display is strengthened by three layers of protection, including Ultra-Thin Glass that sits above the bendable OLED, a layer TPU for protecting against physical impact, and an anti-reflection screen protector to decrease ordinary wear and tear. It also has an LTPO display with selectable refresh rates ranging from 120Hz to 1Hz, and OnePlus claims the screen can reach a peak brightness of 2,800 nits in high brightness mode.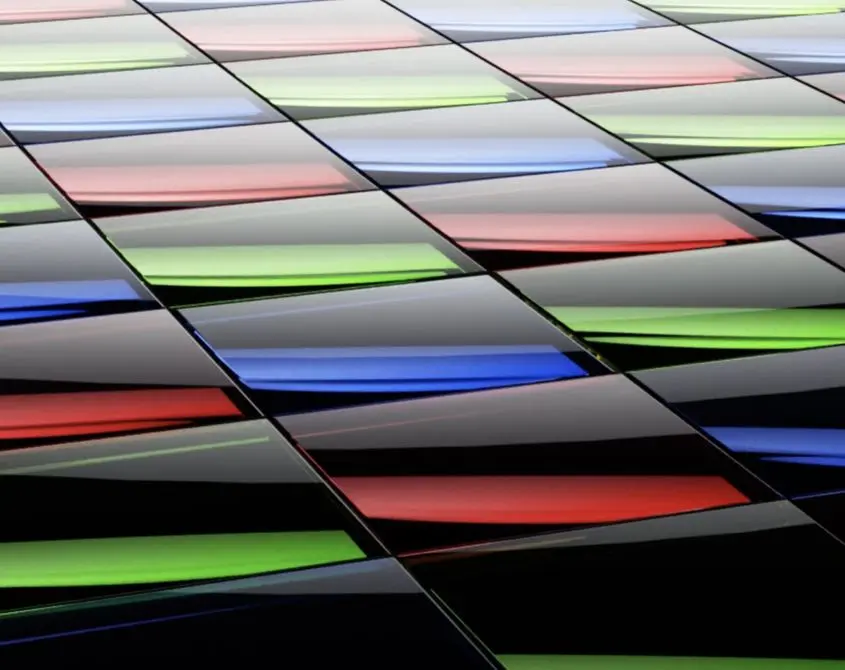 Both ProXDR displays are designed for Dolby Vision, with 2K resolution, 120Hz, and a peak brightness of 2800 nits. Brighter and more detailed than the typical Pro phone or tablet. OnePlus has a 2K resolution screen — exactly, 2484 x 1116 — and an LTPO display with a variable refresh rate of 10 to 120Hz.
Perfected for Dolby Vision, dazzling dual displays are brighter and sharper than your average Pro phone or tablet – even under the sun.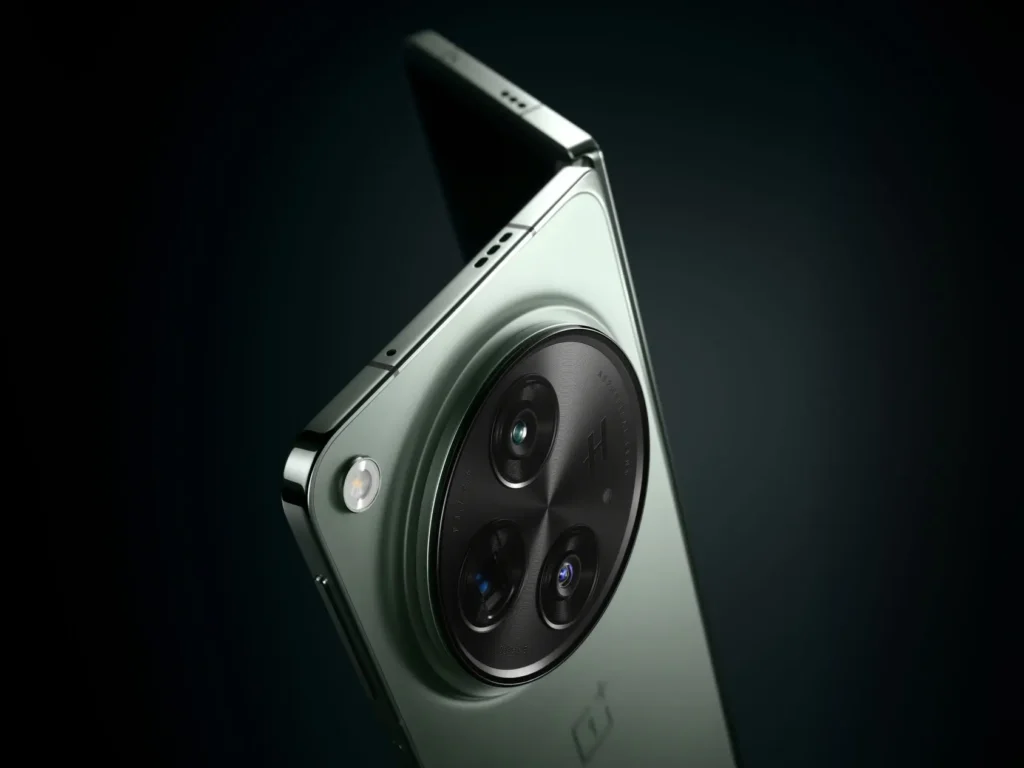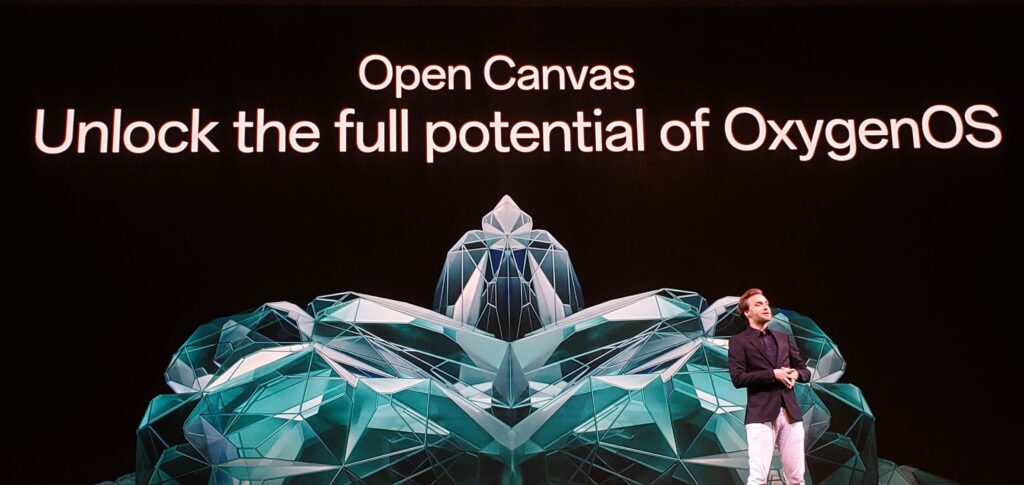 Game-changing multitasking
In the all-new OxygenOS 13.2, Open Canvas was built from ground up with a singular mission of amping up everyday productivity – multi-window efficiency on a large display. In fact, around 95% of mainstream apps are compatible with the extended screen real estate without forcing weird visual adjustments or resizing.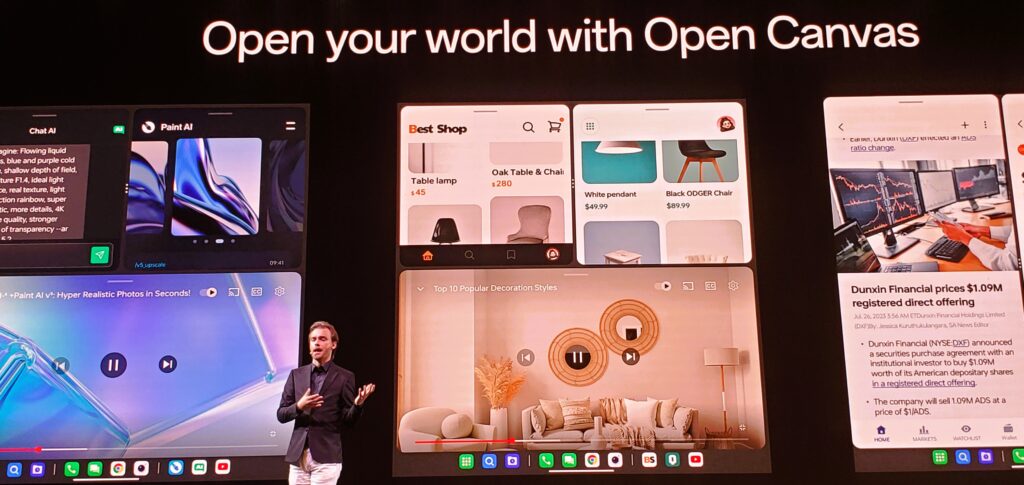 With Open Canvas on OxygenOS13.2, extend split-screen apps and flow beyond the display. Game-changing multitasking you'll finally love using. With Open Canvas, extend split-screen apps and flow beyond the display. The giant screen upsizes your possibilities with more real estate for viewing. For maximum multitasking, simply nudge, swipe and pull to fast focus across multiple apps.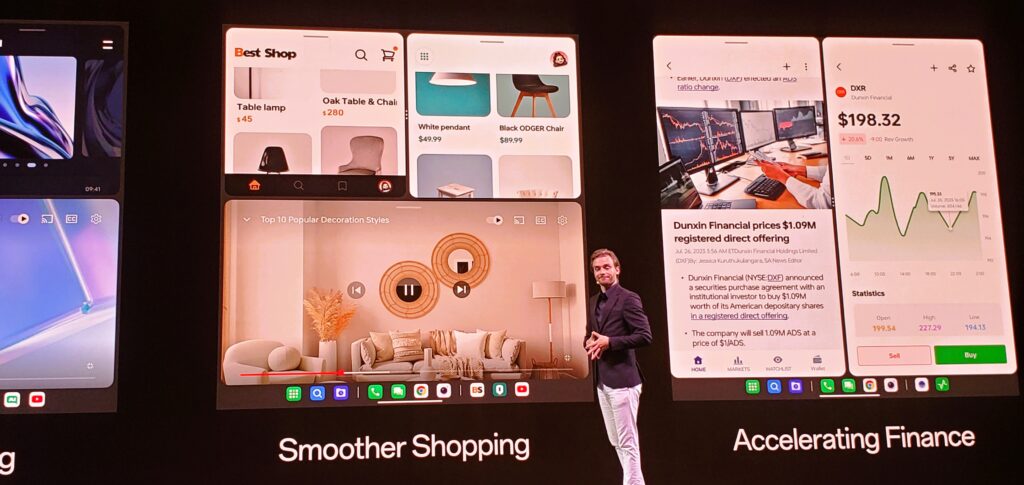 View and read a book or report the way it was meant to be. With more screen space, there's less time to waste. The OnePlus introduces Open Canvas, a multitasking feature that lets you glide between several app windows for a seamless multitasking experience. Multi-window activities or "split screen" are no longer limited by the physical size of the display with Open Canvas.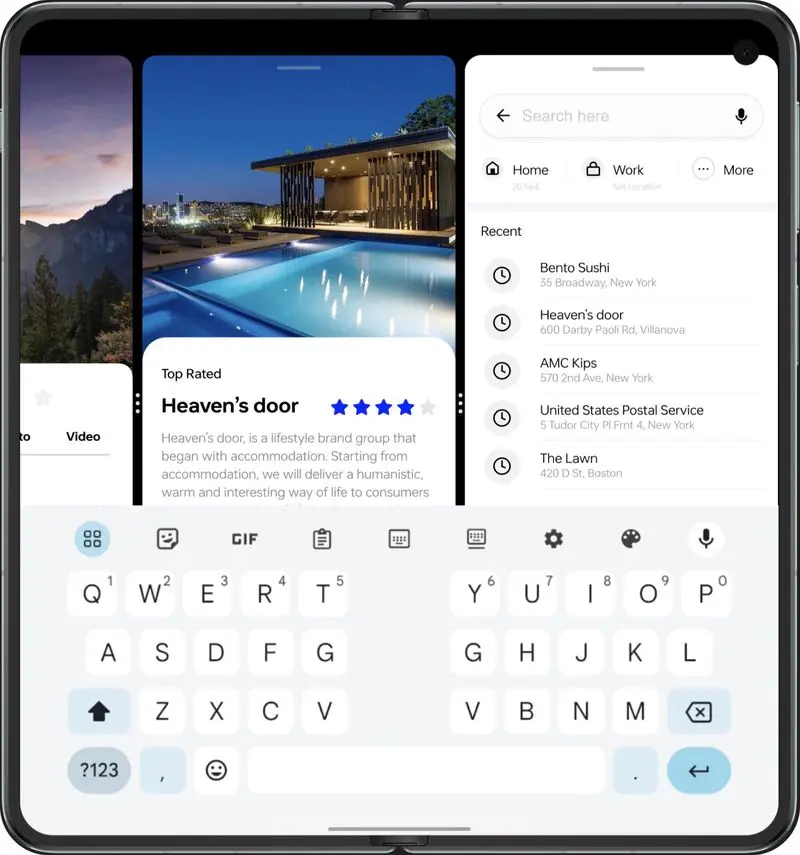 Active windows may be expanded and scaled as needed, with secondary windows sliding in and out of the physical display on demand (resting on virtual screen real estate), letting users to switch between apps or hone in on a specific programme as desired. At any given moment, up to four programme windows can be shown on the screen. Furthermore, up to nine multi-app presets can be kept for quick access.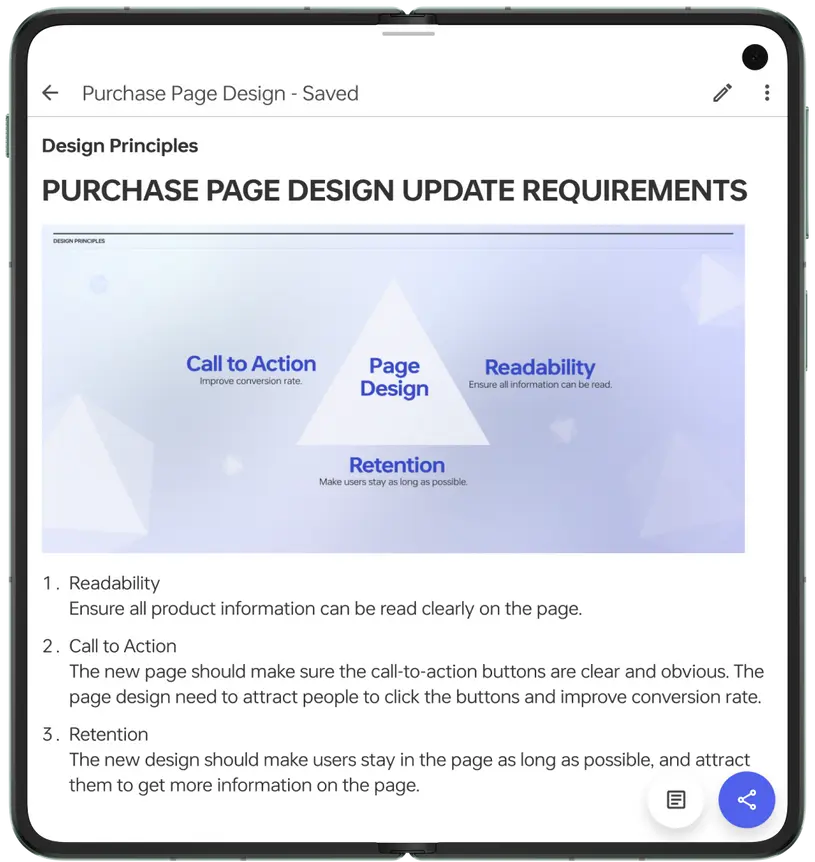 Split the screen by swiping two fingers down the middle of the screen. Quickly hop between apps with taps or nudges. Expand an app with fast focus, with the others ready on-demand.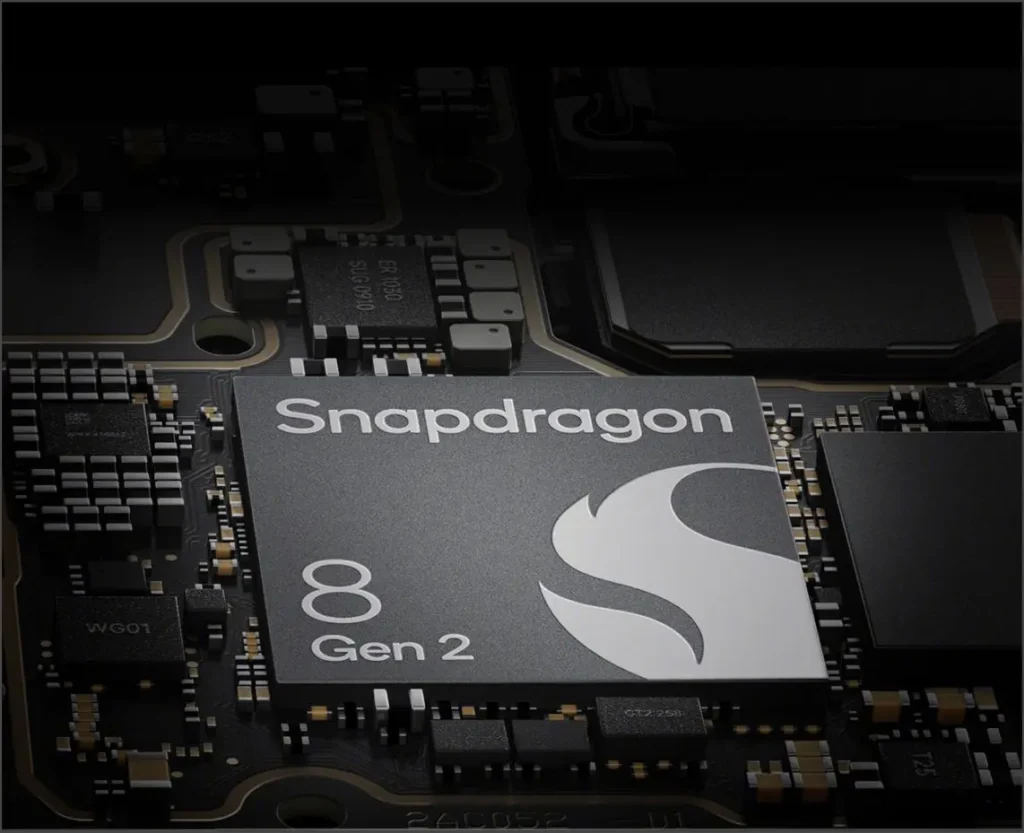 To boost this second-to-none experience from start to finish, the OnePlus Open is outfitted with the same top-tier power characteristics that drove the OnePlus 11.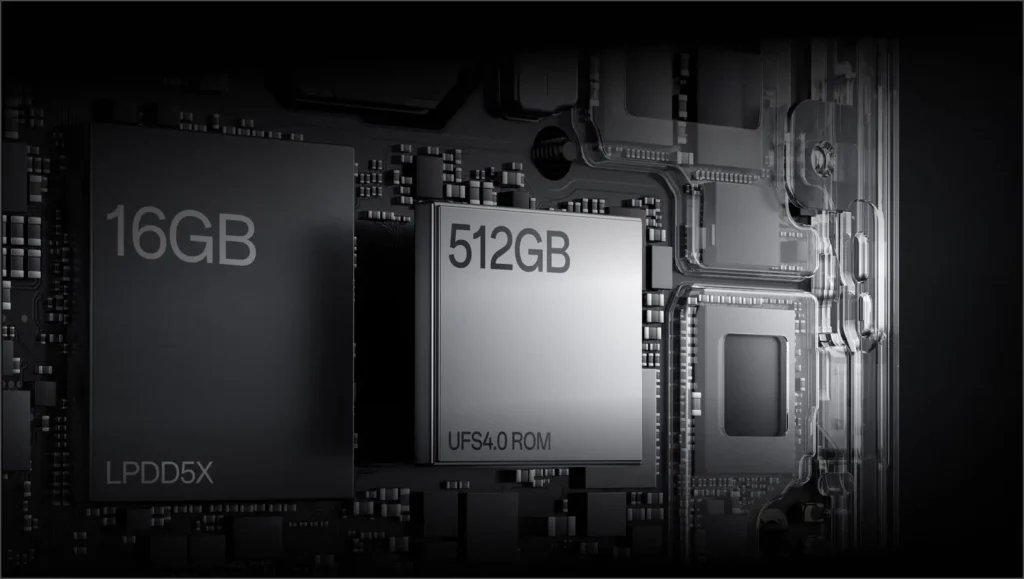 The Snapdragon® 8 Gen 2 Mobile Platform, 16GB of LPDDR5X RAM accelerated by OnePlus' proprietary RAM-Vita software, and 512GB of UFS 4.0 read-only memory (ROM) are at the core of it all. This is backed by a massive 4,805mAh battery and 67W SUPERVOOC charging, which charges the OnePlus Open's battery (from 1-100%) in about 42 minutes.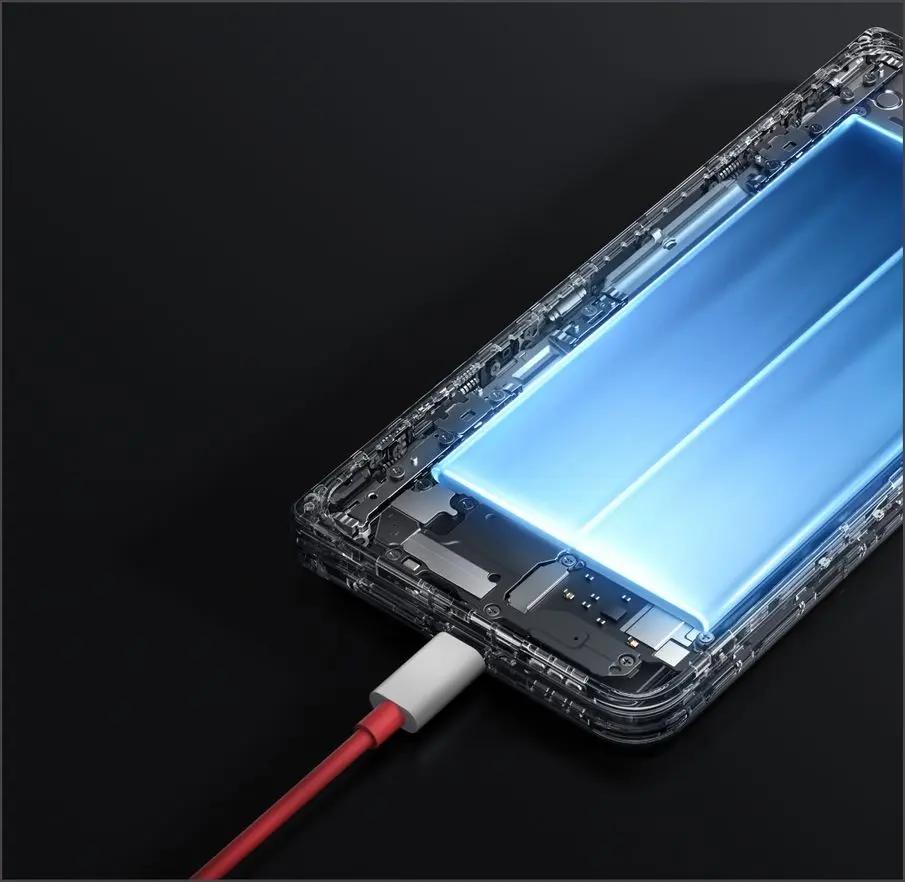 The Open also comes included with Wi-Fi 7 and dual 5G cellular connections for quick and smooth connectivity whenever and wherever you need it. All of these will assure a quick and smooth folding experience for years to come.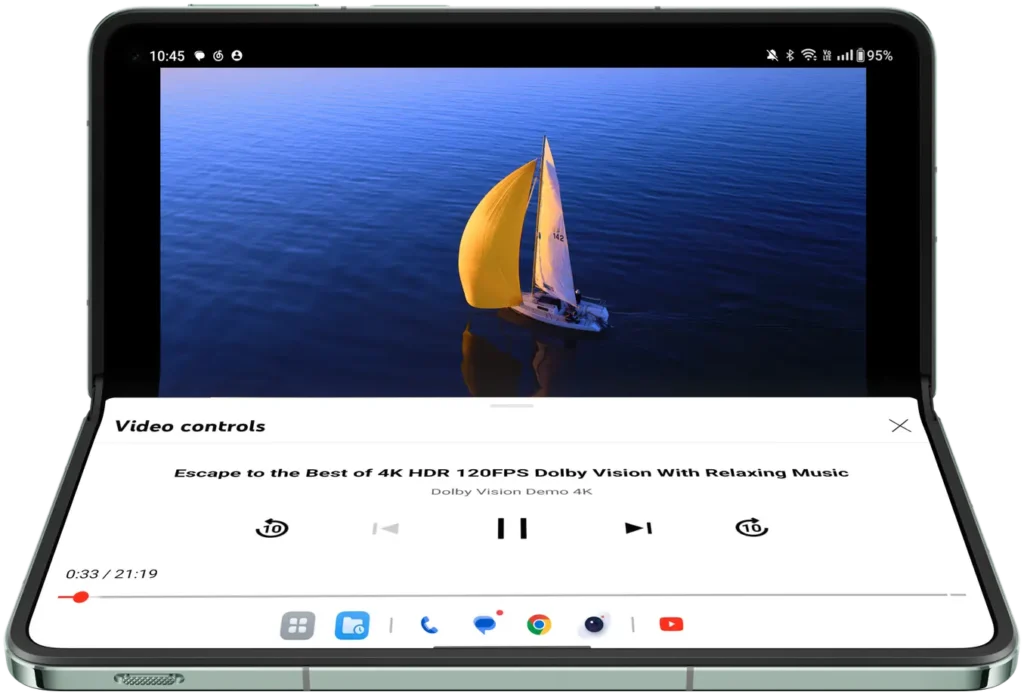 The Open is compatible with Dolby Vision® video playback for more immersive contemporary entertainment. The OnePlus Open also has a triple spatial speaker setup to complement its outstanding displays and great music.  These speakers collaborate with a proprietary spatial audio algorithm to elevate Dolby Atmos® material to new heights. This enables three-dimensional sound to be sent to users from all angles.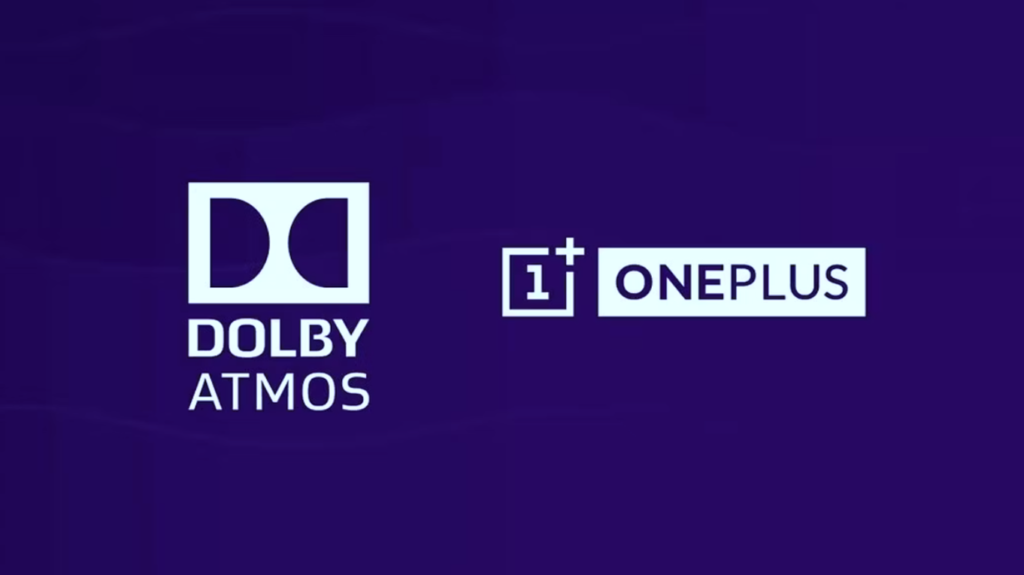 The OnePlus Buds Pro 2, a genuine wireless flagship, provide the same level of quality, allowing customers to enjoy a complete cinematic audio-visual experience whenever and wherever they choose. Unique to the OnePlus Open, go from stereo to hero with multiple "Reality" speakers synced up for spatial audio that moves around you.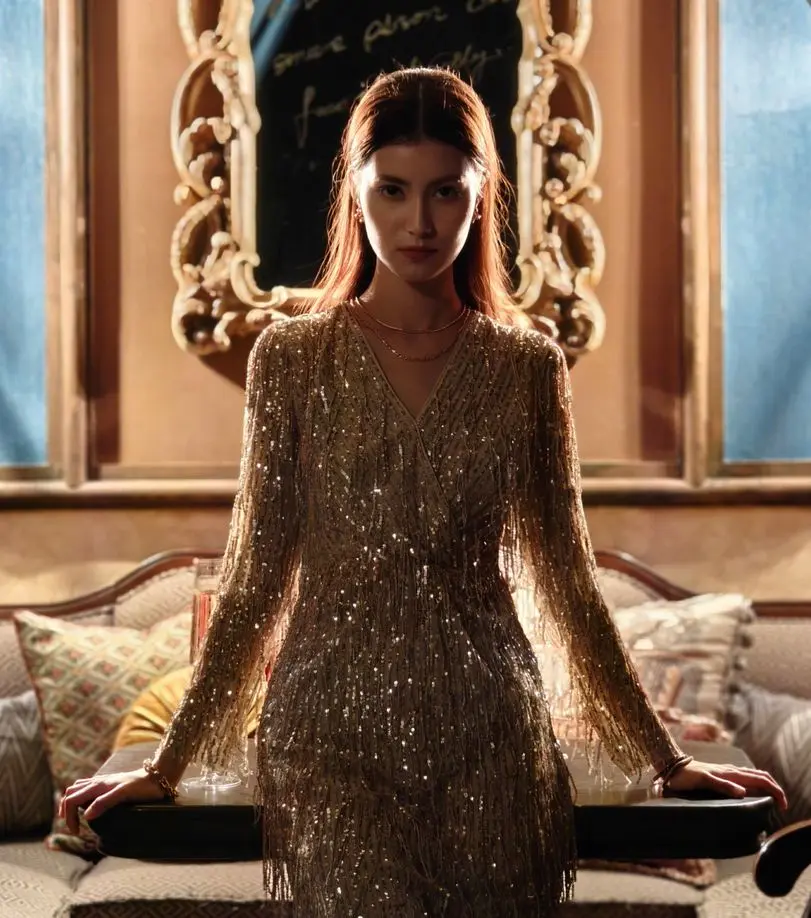 What can the owner do with the ONE PLUS OPEN:
Use the Open's multi-tasking capabilities to stay on top of their busy schedules, with split-screen and pop-up windows.
Enjoy an exceptional viewing experience with the expansive foldable display, making presentations and reviewing documents a breeze.
Take advantage of the powerful camera for video conferencing and collaboration, looking sharp and professional from any location.
Utilize the secure and encrypted messaging and email features to ensure secure communication with colleagues and clients.
Impress clients and colleagues with the premium design and cutting-edge technology that the Open offers.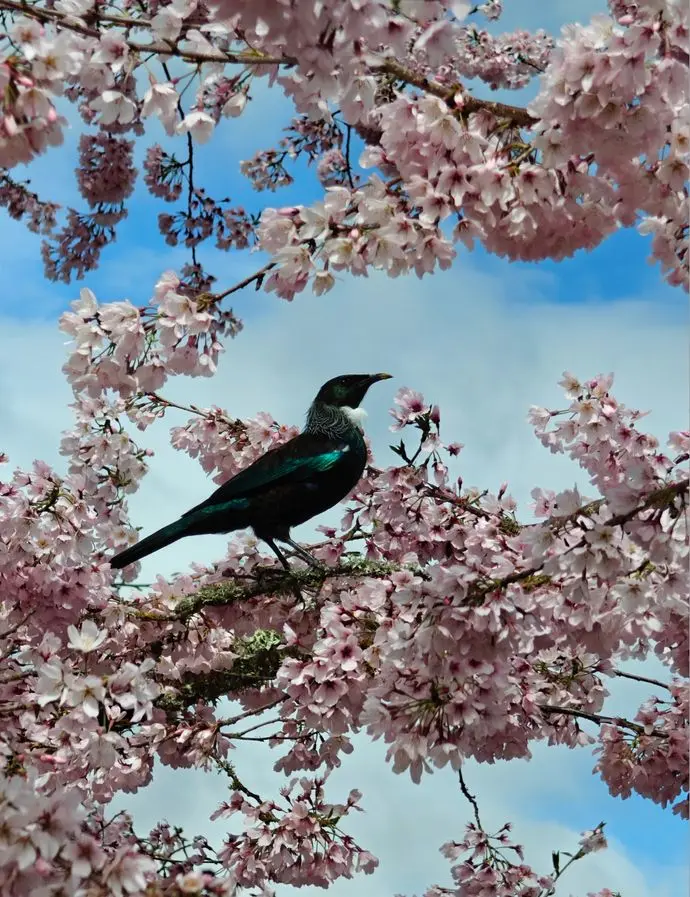 CEO's from various sectors will find it very advantageous to their growth of their business and productivity –
A CEO of a tech company could use the Open to stay connected with their global teams, accessing data and making decisions from anywhere in the world.
A CEO of a finance company could rely on the Open's secure and encrypted messaging and email features to communicate with clients and partners about sensitive financial information.
A CEO of a fashion brand could use the phone's camera and imaging capabilities to capture high-quality photos and videos of their products, showcasing them in the best possible light.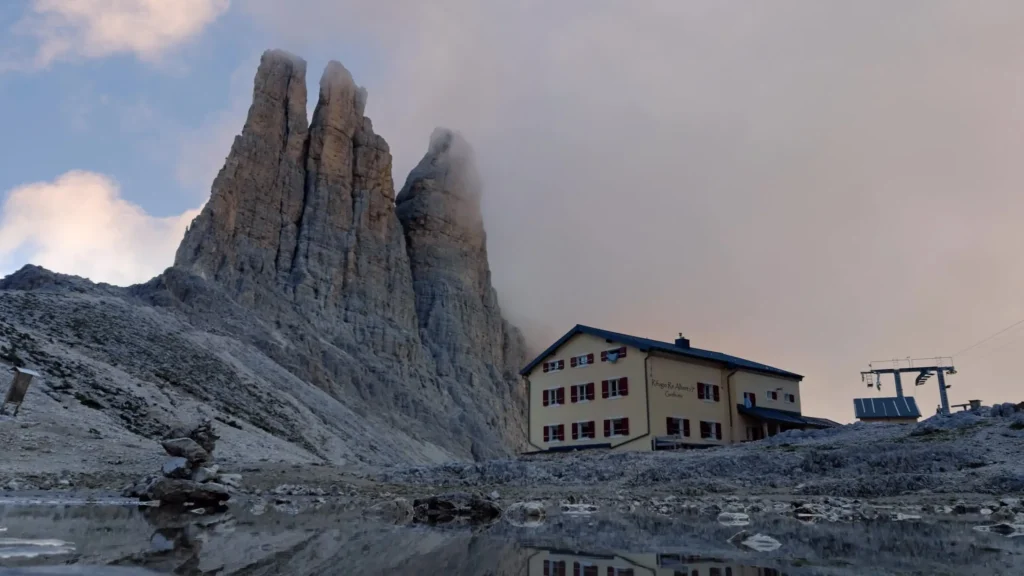 Whether you are a student commuting by train or a CEO in your own private jet, having one plus open will do wonders for the growth of your business or the students project/assignments. Even the fashion designer can complete the final touches on it, not to mention the engineering team can see the update on their aviation project and make the necessary changes.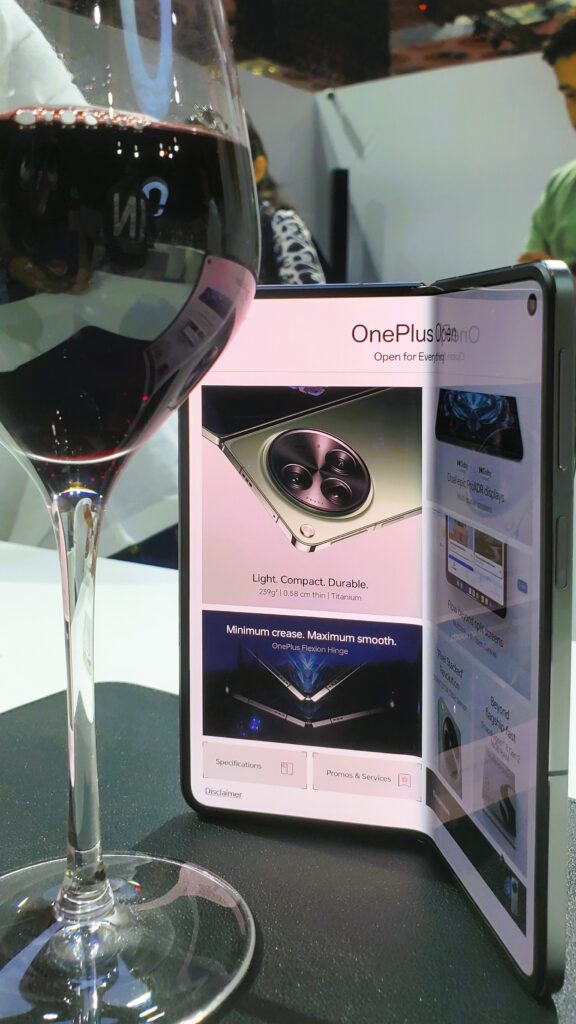 The Open is designed with real people in mind. It's got a comfortable grip, intuitive software, and a battery that can last all day, even with heavy use. It's the whole package, and it's gonna give the competition a serious run for their money.
In short, the OnePlus Open is a luxury phone that blows Samsung and Apple out of the water. Upgrade your phone game and join the foldable revolution!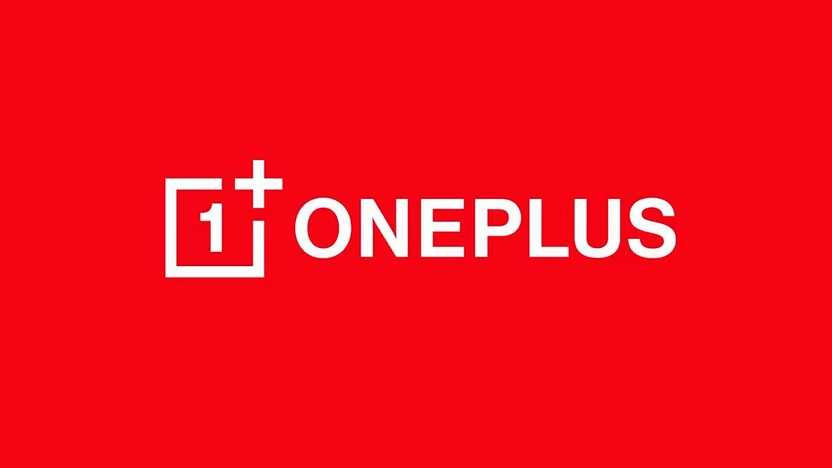 OnePlus is a global mobile technology company challenging conventional concepts of technology. Created around the "Never Settle" mantra, OnePlus creates exquisitely designed devices with premium build quality and high-performance hardware. OnePlus thrives on cultivating strong bonds and growing together with its community of users and fans.