SPIDERMAN WEARS $6 MN AUDEMARS PIGUET IN DUBAI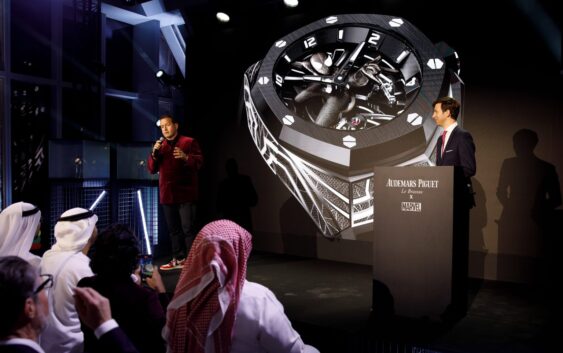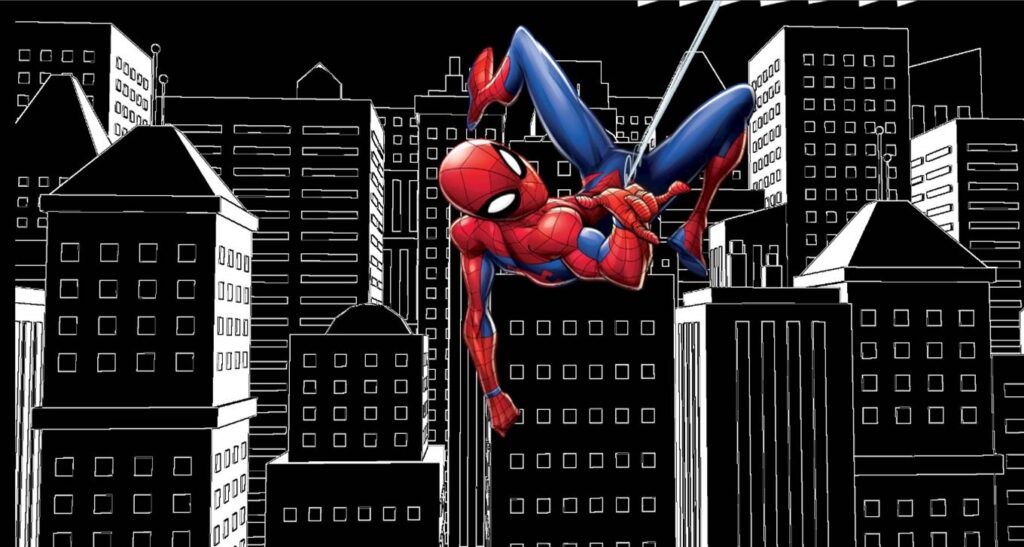 An opulent event held at the highest tower of the Central Park Tower in Dubai, Audemars Piguet unveiled the new limited edition Royal Oak Concept Tourbillon "Spider-Man" and the one-of-a-kind piece.
This partnership, which began in 2021, serves as an illustration of the Audemars Piguet's capacity to draw inspiration from outside the realm of high-end watchmaking, particularly from popular culture and the entertainment industry in general.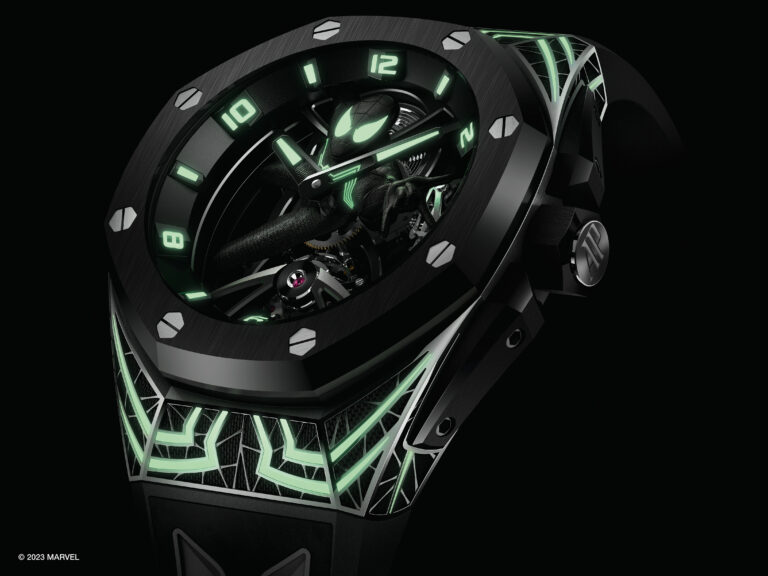 This special edition watch features the Spiderman's 3D silhouette wearing the black suit, the Marvel superhero, complemented by luminous hour-marks and hands, and embellished with 19 jewels, embodying the precision and craftsmanship of Audemars Piguet's watchmaking, which is a direct reference to the 1984 comic "The Amazing Spider-Man" #252.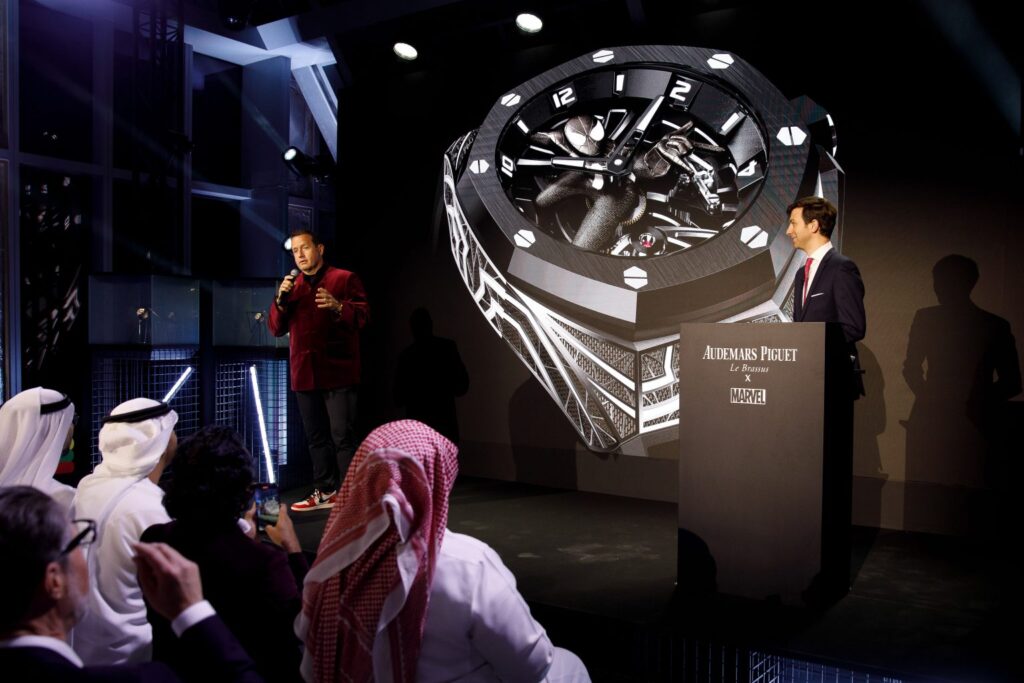 The event featured an auction of one of the watches, accompanied by two distinct designs, auctioned for a total of $8.5 million and the funds raised were donated to two non- profit organisations, namely First Book (a non- profit organisation) and Ashoka (a non-profit organisation whose mission is to empower young people to be agents of change).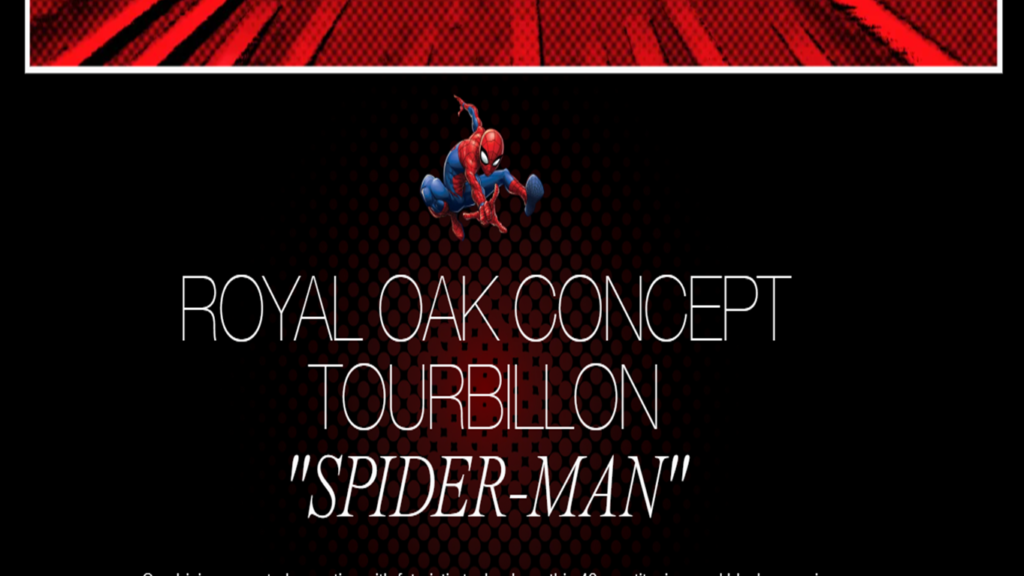 Outgoing Audemars Piguet's CEO Francois-Henry Bennahmias picked Dubai to launch the second Marvel watch because it's the epicenter of the world.
"I see so many people coming here and investing and doing everything out of here. Dubai is actually an unbelievable platform, it's very centred. With our Asian, US and European clients, it made complete sense."
"When we launched the Marvel One in Los Angeles, we made the decision to launch the second one here in Dubai for all these reasons."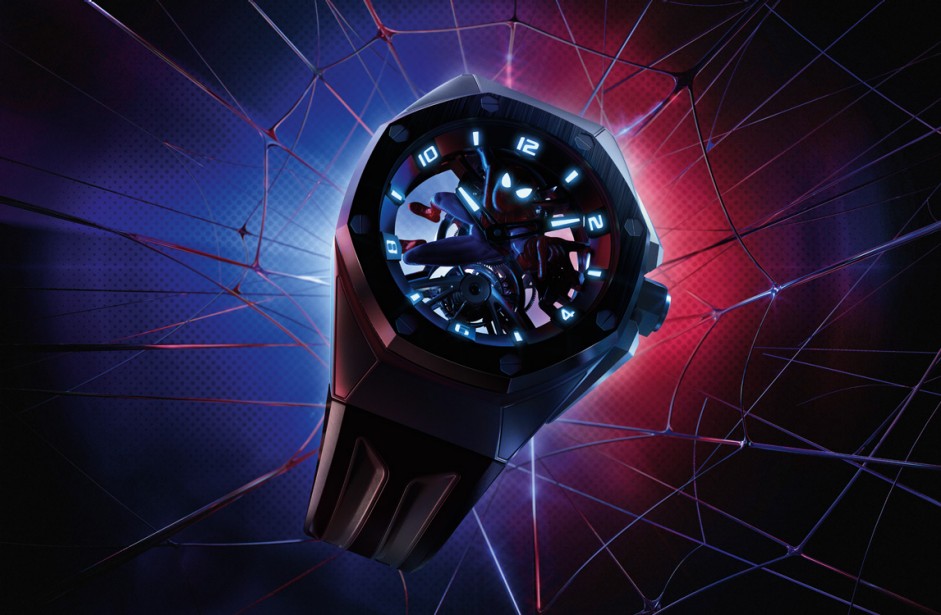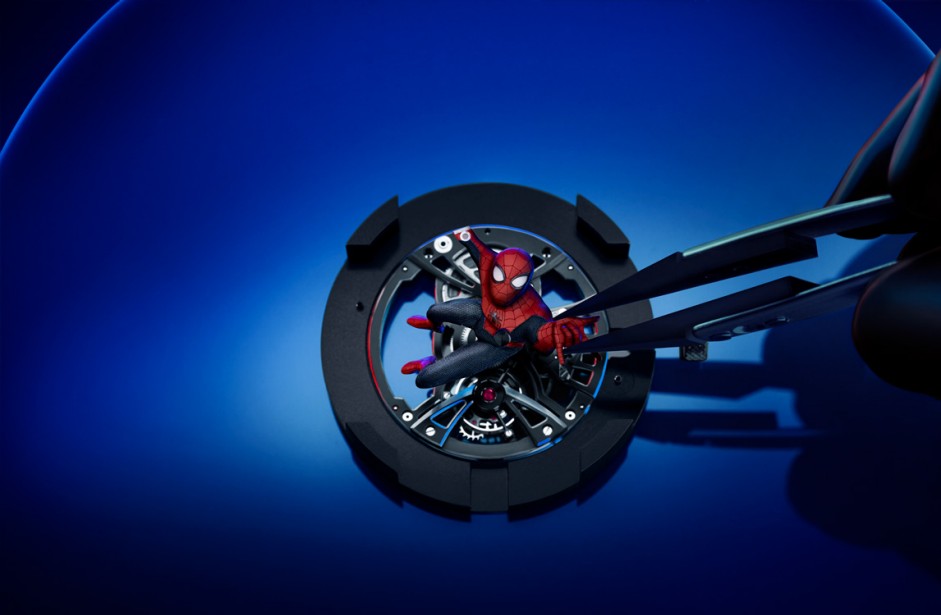 This second Marvel collaboration features a feat of skeletal animation, paying homage to the iconic character of Spider-Man who appears to hang suspended from a dial as he navigates through a tourbillon system.
The "Spider-Man" Tourbillon from Royal Oak Concept has been carefully crafted with a focus on complexity and precision. The watch offers a unique amalgamation of sophistication and superhero-inspired style.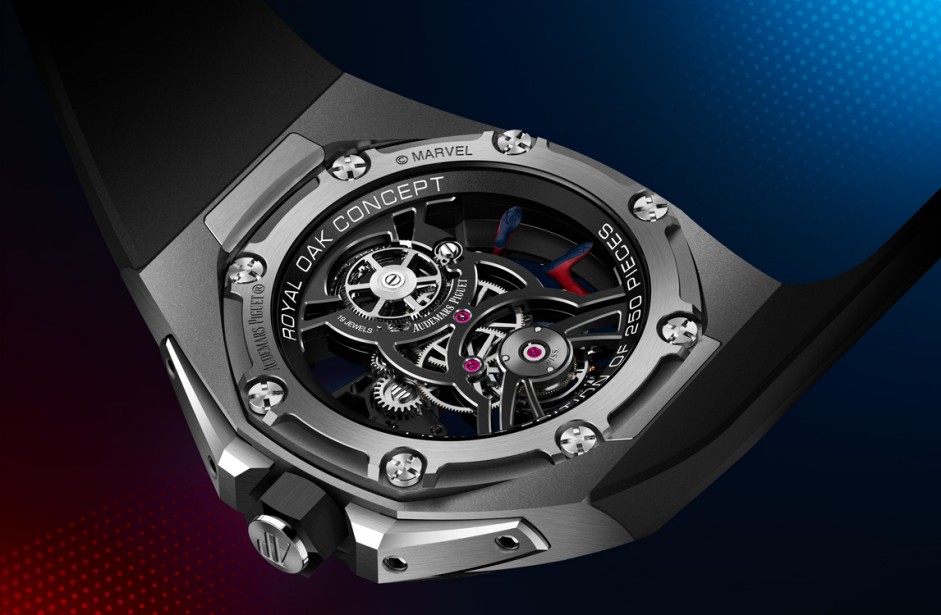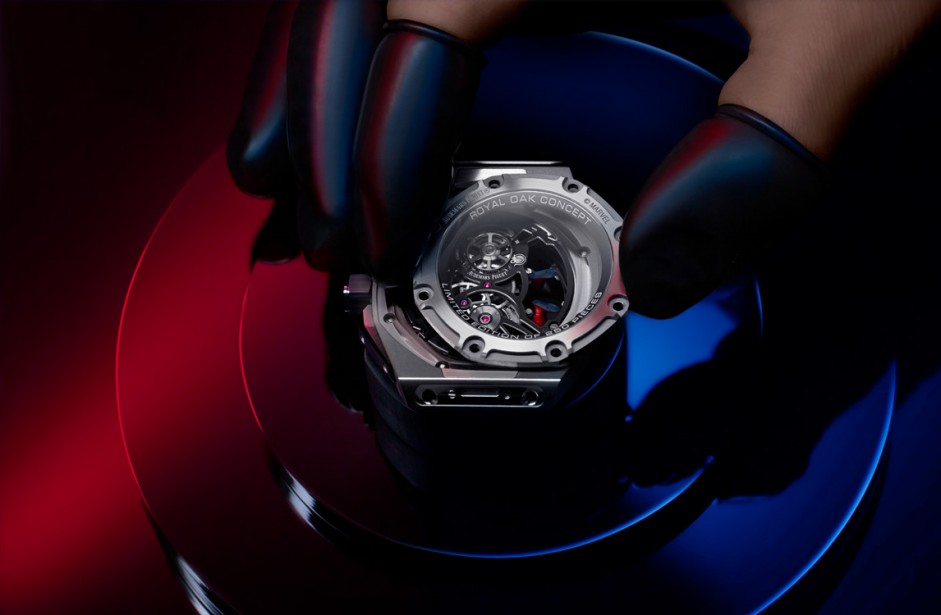 This timepiece combines ancestral knowledge with cutting-edge technology to create a 42mm titanium and black ceramic model. This openwork piece is a testament to the Manufacture's limitless creativity in complexity, and is limited to 250 pieces. Additionally, this model reflects Audemars Piguet's ambition to create connections with various cultural realms, seeking inspiration from outside the realm of Haute Horologerie and drawing inspiration from pop culture.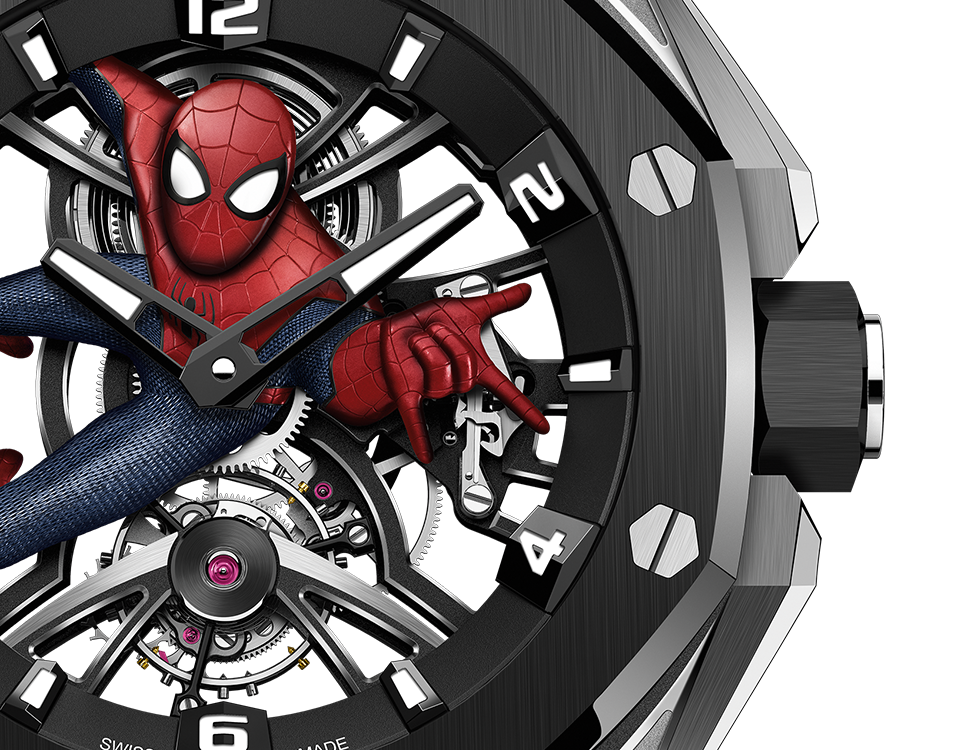 The "Spider-Man" is the protagonist of this timepiece, featuring a 42mm titanium case in contrast to the black ceramic bezel and sapphire crystal. The sapphire crystal is glare proofed and the caseback is black ceramic with a screw-locked crown. This movement is openworked and requires a minimum of 50 hours of work to complete, thus pushing the boundaries of the artistry of Le Brassus. Openworked dial with "Spider-Man" figure, white gold hour-markers and hands with luminescent coating.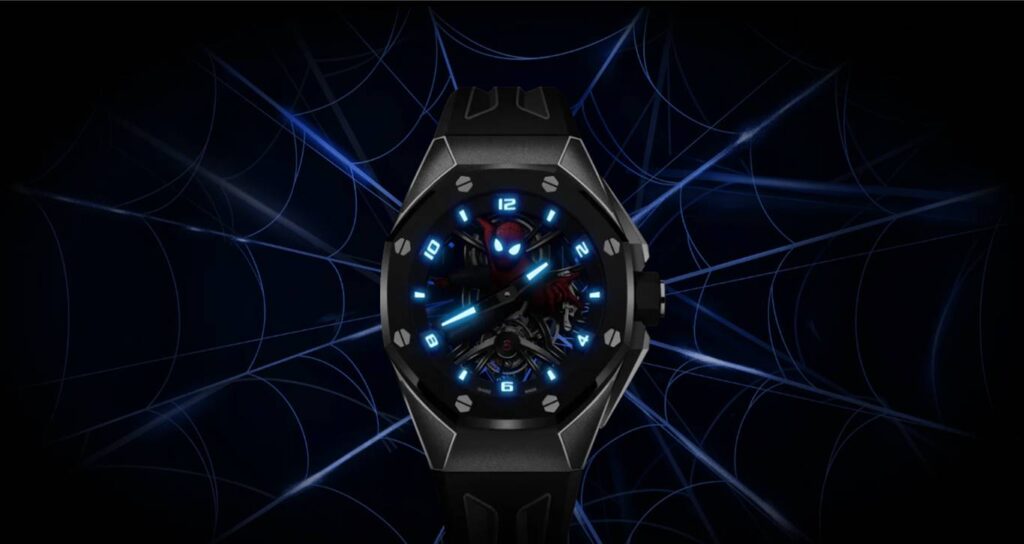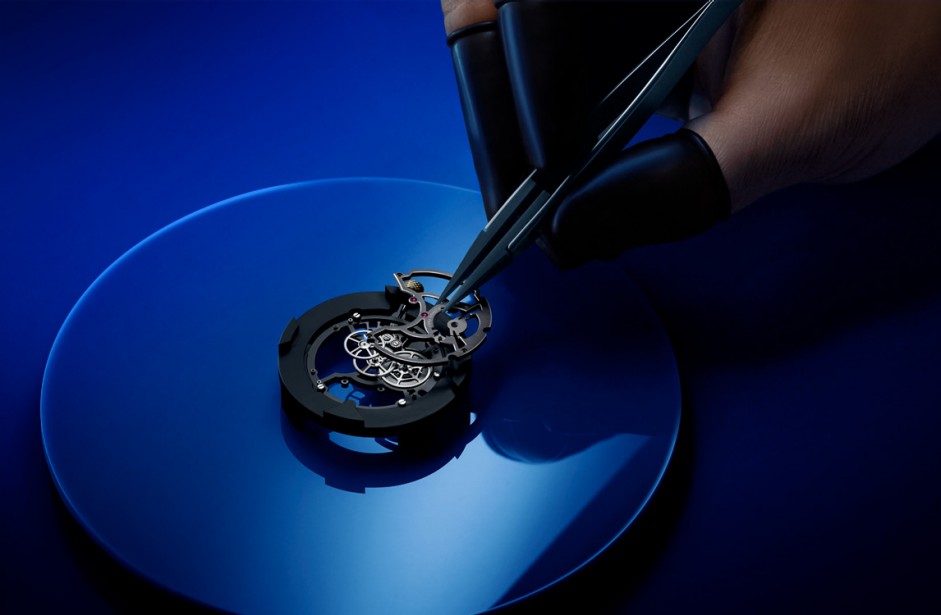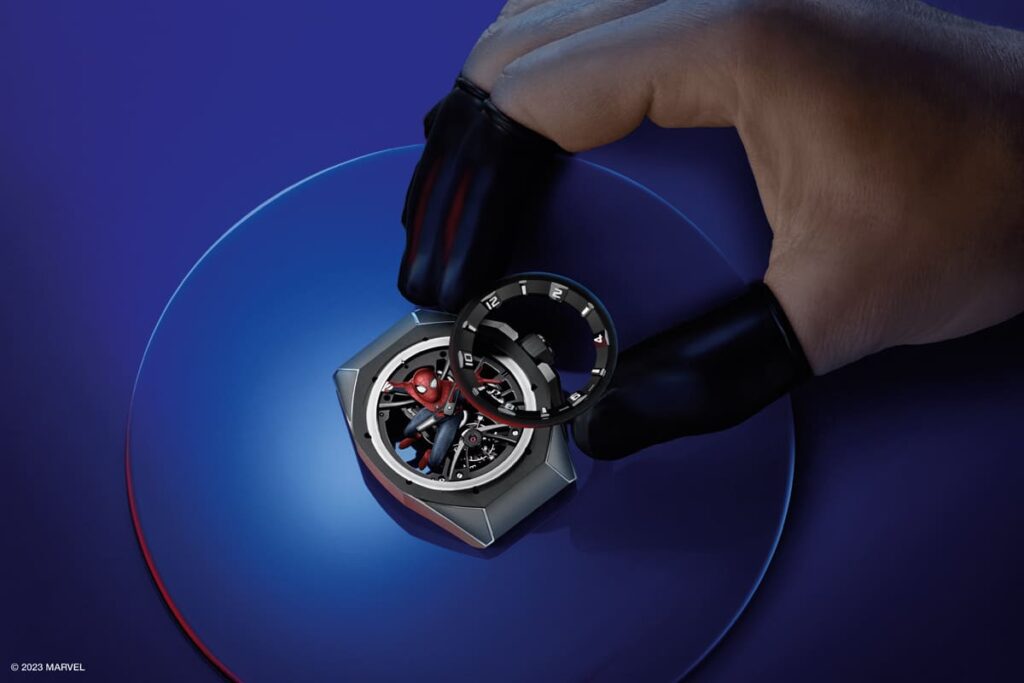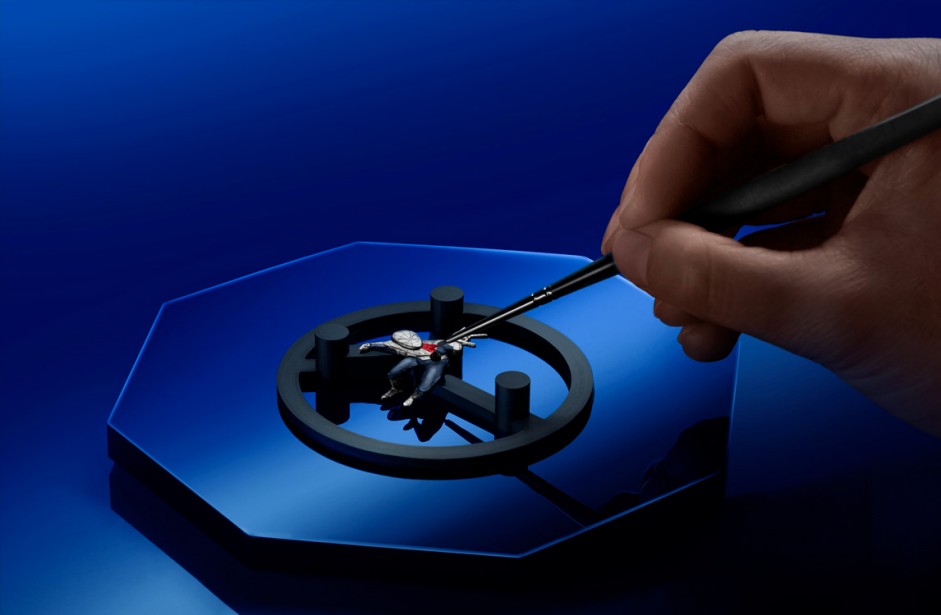 This timepiece is based on the calibre 2948 and necessitated the use of all the openworking skills of the engineers, watchmakers, and craftsmen at Audemars Piguet in order to bring it to the public. By removing as much material as feasible, they were able to achieve a degree of transparency that enabled Spider-Man's figure to appear in three-dimensional form for the new hand-wound Calibre 2974, as if he were suspended in the air through a sapphire crystal.
This remarkable timepiece is equipped with a hand-welded calibre 2974 and has a minimum power capacity of 72 hours. It is renowned for its superior craftsmanship and features a frequency of 3 Hz with 21,600 vibrations per hour from the balance wheel.
The primary form of the sculpture is carved from a solid piece of white gold stone, followed by the laser-cutting process.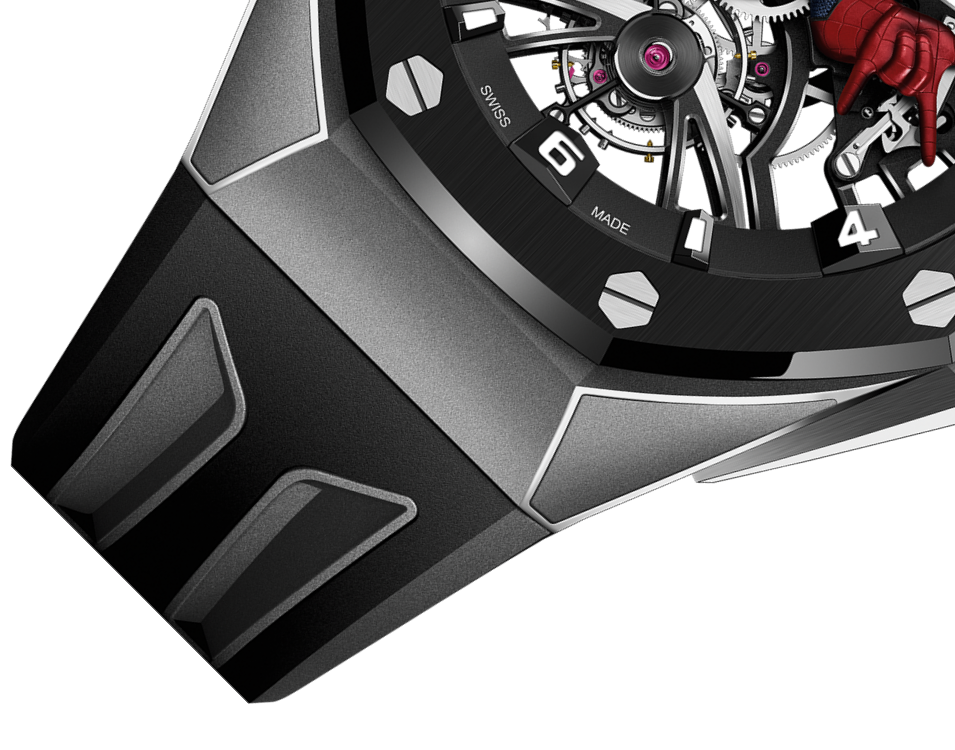 This black suit Spider-Man Tourbillon from Royal Oak Concept comes with a black rubber strap that's textured and a second strap made of black calf leather that has a textile effect with white stitching.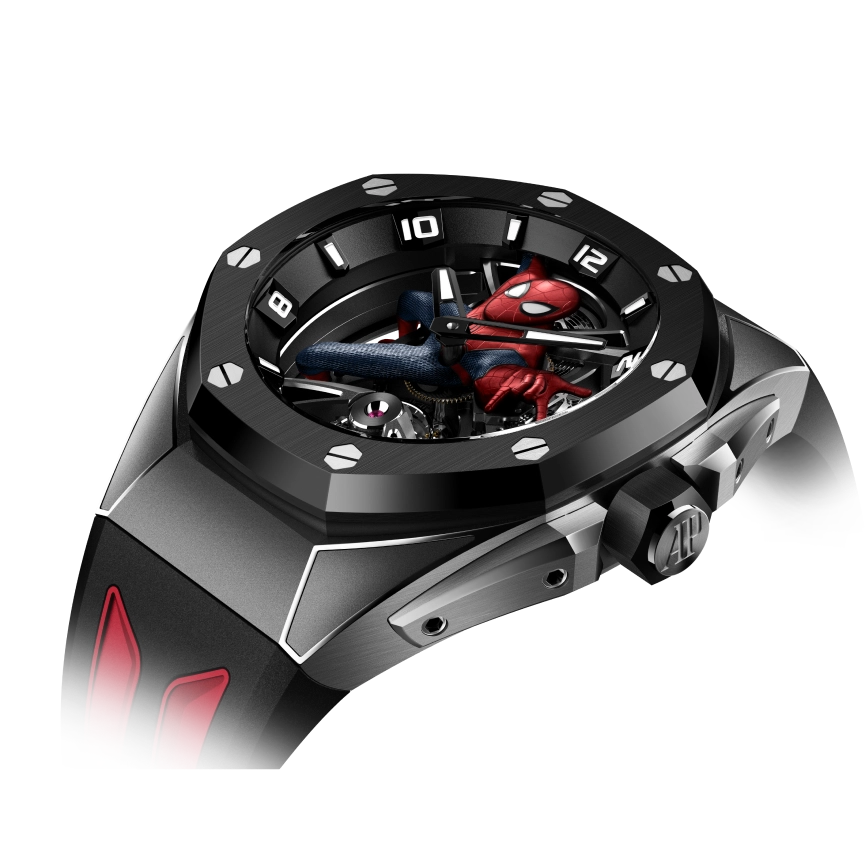 The "Spider-Man" Tourbillon "Royal Oak" is equipped with a rubber strap in black and grey with a titanium AP folding closure and an interchangeable strap system. Additionally, a second rubber strap in a black and red colorway is included to match the iconic suit worn by the Marvel Superhero.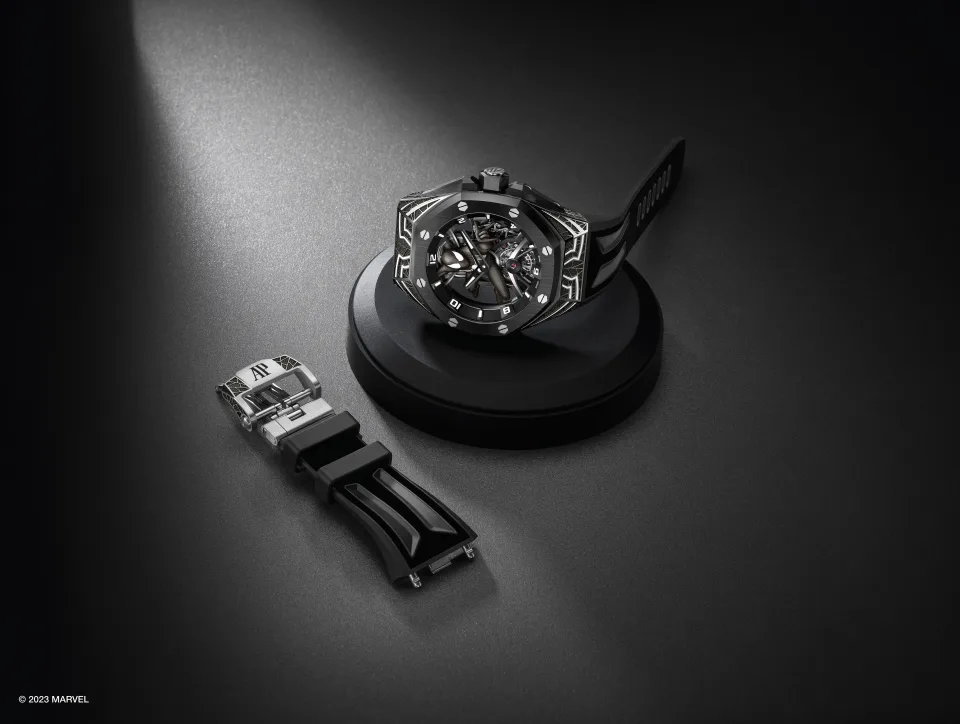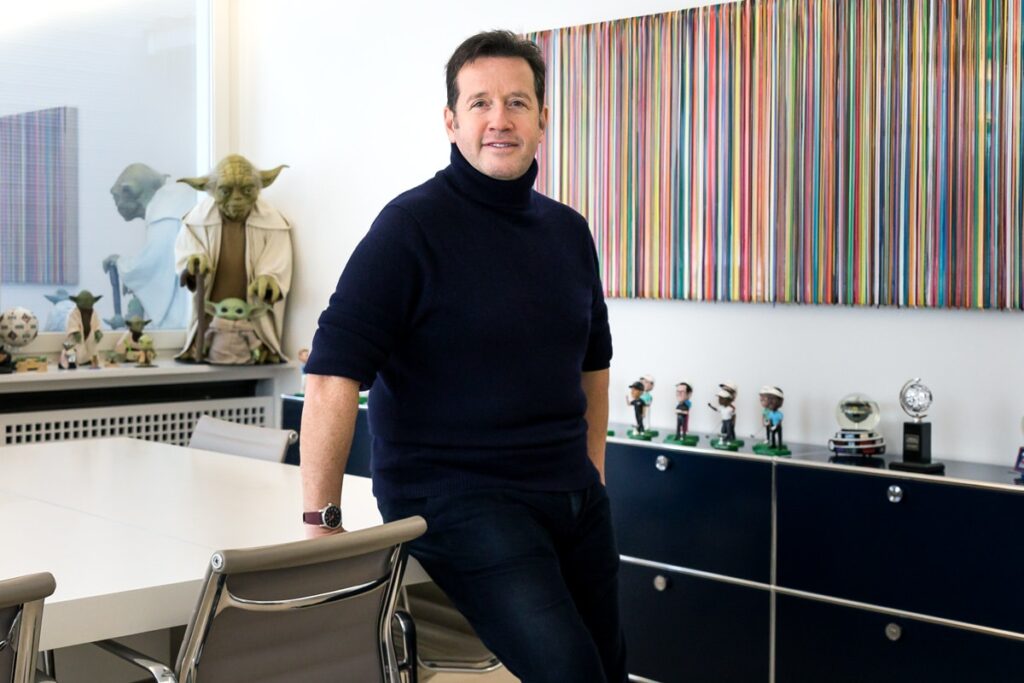 On why the Royal Oak chosen, "Because you cannot touch Royal Oak – that's the absolute icon," Bennahmias informed. "And because of its size and thickness, you cannot really play with characters on the dial. Then the [Royal Oak] Offshore is for sports and is thick and bold so not built right for this. Whereas the Concept is all about the future and Marvel is always looking forward. That's the vibe and the message we wanted to deliver with the concept."
The popularity of collaborations such as these demonstrates how luxury watch brands can capitalize on nostalgia, especially when their target audience is in an age where references to childhood icons evoke fond memories. While the Spidey movie franchise may be suitable for teens to view, the largest consumer group for luxury watches is young adults. According to Bezel's recent data, 60% of the company's consumer base is comprised of millennials or Generation Z.
"What we've achieved in the past 20 years by partnering with the Jay-Z's and LeBron James's of the world, and Marvel, is these names open the gates to a much, much younger audience. Today, we are seeing 20-year-old kids educating their parents and taking them into the brand – it's the exact opposite to how it used to be," says Bennahmias. "With social media and with the way the kids want to learn and discover, they are the best ambassadors we could ever get and thanks to our shift from being very conservative, we could do this slightly differently compared to others."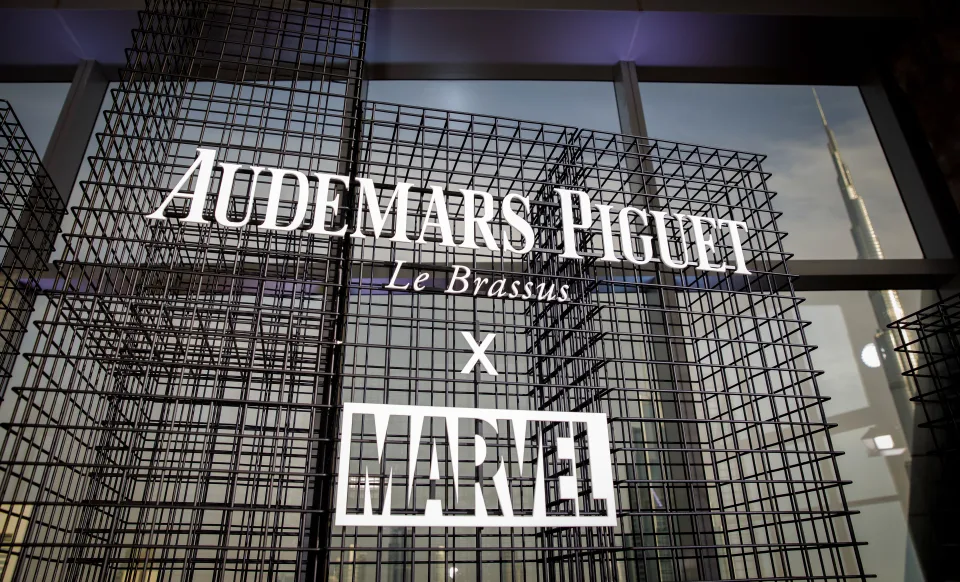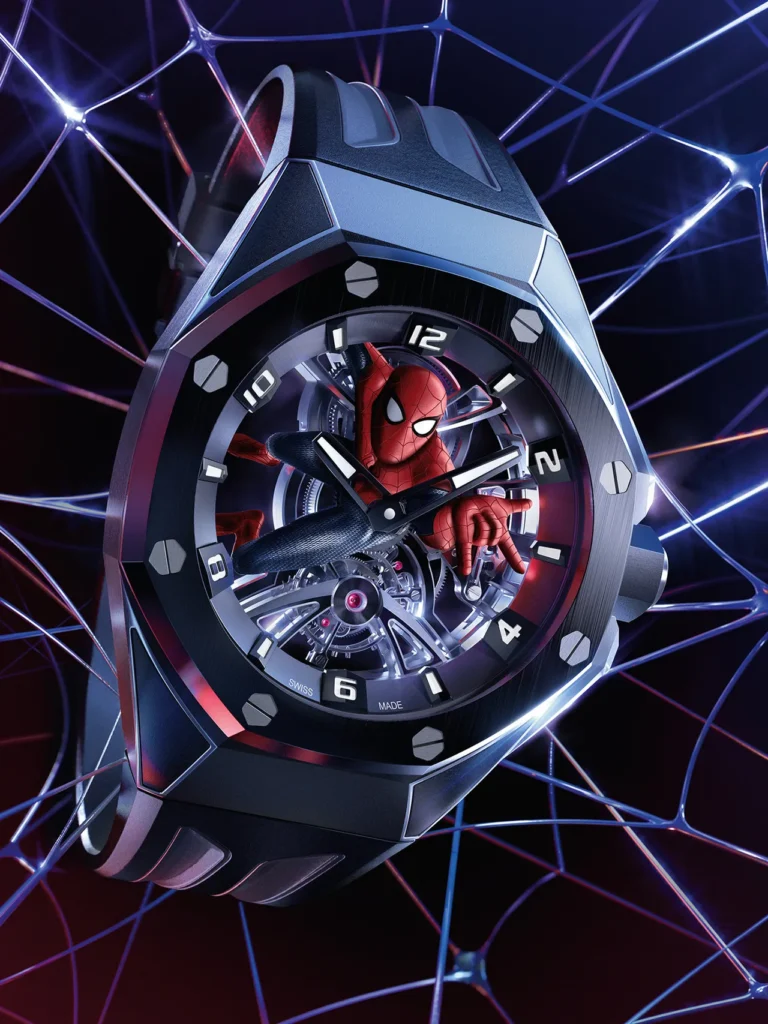 Bennahmias highlighted, "Today, [Middle East] demand is between 10 to 12 percent of our global business. And it's growing with a very young clientele, young generation of people who were normally dead for the watch world, because they didn't used to wear [luxury] watches, and we see a rise in the appreciation for high-end watch making. They are actually the ones who bring their parents to Audemars Piguet."
"We struggled a little bit at the beginning of the year to get access to all the parts we need to actually assemble all our watches."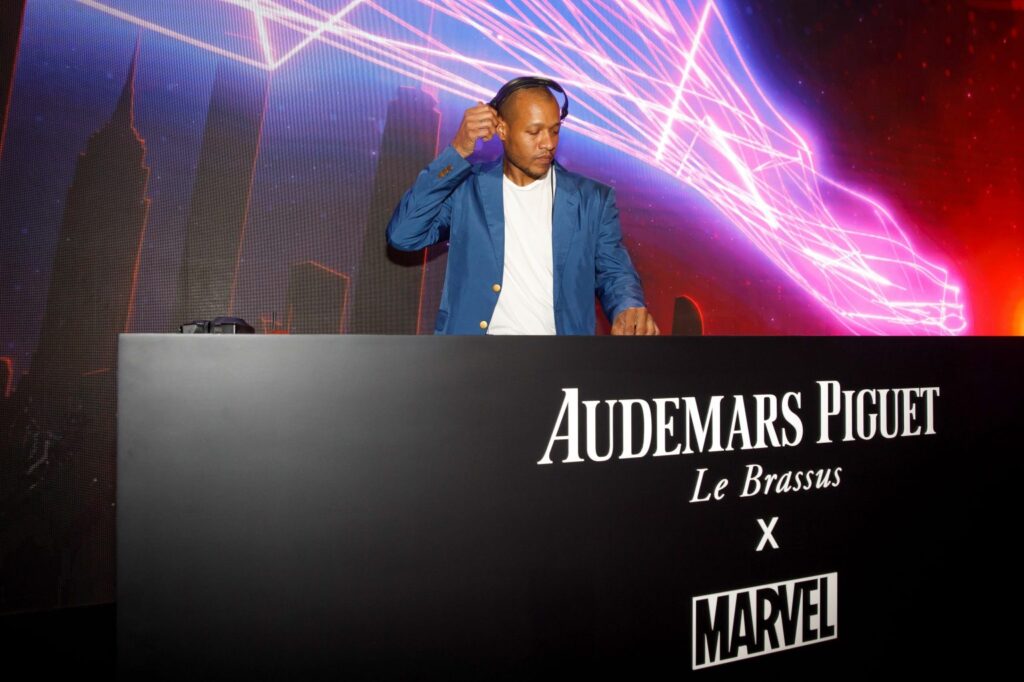 The event featured a cocktail crafted by three-time Michelin-award-winning Master of Cuisine, stunning performance by Alexis Landot, a free climber, and a one-of-a-kind DJ-set from Heron Preston, and was broadcast live in multiple AP Houses worldwide.