Bergman Blast Sets the Standard for Luxury Gifting Shows Prior to Emmys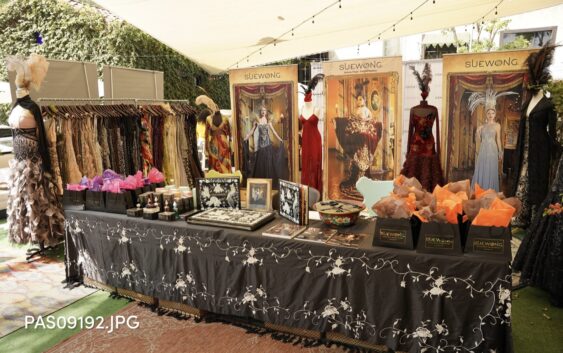 Bergman Gifting Suite








































































The star-studded eleventh annual Doris Bergman Luxury Lounge Suite and Luncheon was held on Thursday, September 16th at the famous La Boheme restaurant. This time-honored affair, always well respected and well received, was the first of the luxury gifting shows to celebrate the upcoming 73rd Emmy Awards and featured numerous high end sponsors.
Cool breezes and a sunny California day provided a welcome accompaniment to the event held outside in La Boheme's patio. This was an exclusive affair, open only to award nominees past and present, stylists, and the press, but it was nevertheless teeming with activity, and enthusiasm from the attendees and participants was manifest.
The sponsors of the event arrived at 7AM to set up – I know because I was there at that ungodly hour myself to help set up the Sue Wong booth. Yes, that is Sue Wong, the vaunted designer of evening gowns and now custom homes.  For this event, Sue, the working woman's couturier over her illustrious 50 year career, is showcasing her gowns and her perfume, with one of her favorite models, Dustin Quick, in attendance and on display, as it were. On this day, Dustin is wearing one of those gowns, a spectacular scarlet red silk with battenburg black lace. Wong's details on her gowns have made her famous – she is lovingly referred to as the Queen of Beads – and this piece is the embodiment of such detail. Wong is a favorite of the Doris Bergman Luncheons. Thank you, Ms. Wong, for giving us glamour.
During the festivities, actor Vincent De Paul stopped by Sue Wong's booth, radiating bonhomie, and actor Bruce Dern dropped by as well to discuss his latest movie with Sue and Dustin.
I walked among the celebrants when La Boheme started serving wine and hors d'oeuvres, and the refreshments were as delightful as I remembered from past dining in the restaurant, only to be matched by the decidedly delicious luncheon which was to follow later in the course of the event.
Precious Vodka was the Title Sponsor of the affair. This pure blend, consisting of the finest ingredients expertly distilled and filtered, has been around since 2010 and has a simply sumptuous taste. I found out that Precious has just partnered with Anheuser Busch. Originally launched in Australia and Europe, this highly prized vodka is now sold in 40 countries.
The Abingdon Company, at 4224 Charleston Blvd., Las Vegas, NV 89102, and (702) 530-9438, a high performance women's watchmaker, was a Presenting Sponsor of the event. They have been making versatile, fashionable, and resilient watches for the adventurous woman since 2006, instruments built to withstand the rigors of every endeavor from scuba diving to skydiving.
Other sponsors of this event included:
Timmy Woods, at 400 N. Oakhurst Drive, Penthouse 402, Beverly Hills, CA 90210, and 310-550-8551, designs Timmy Wood Handbags, each unique and iconic and handmade in the Philippines. The handbags are hand carved from wood but have leather and Swarovski crystals as well.
VAI water, alkaline at ph 9.0 and containing 25mg CBD per 16 oz container, is the flagship product of a company that uses technology and advanced production processes to create a line of high quality CBD-infused products, binding hydrogen and Cannabidiol. Their motto is "Hydrate, Restore, and Revitalize your mind and body" and their goal is to provide the best products for the public. VAIWellness.com; 1-800-607-5096
ROCK N RANCH/HYPO is an Eco friendly company out of Wyoming that deals in luxury goods and performance sportswear. All their clothes are made in the US. Jasmine Davis of the Chi wants to partner with the company on luxury goods and they are also working with actor Vincent De Paul. rocknranchiv.com; 307-249-6197
SUBZERO Nitrogen Ice Cream is a Simi Valley catering company whose custom cold treats are available for weddings, private parties, and corporate events. One can visit their store to sample their delicious concoctions at 2091 Madera Rd., #E, Simi Valley, CA 93065; 805-522-4720.
Twisted Silver is a one-of-a-kind jewelry company and is a familiar face in the Doris Bergman panoply. Debra Dawson Mitchell, owner of and designer for the firm, builds her pieces from recycled and repurposed resources, and her handmade creations are truly timeless. Her designs, which are spotted often on the Red Carpet, can be found as well on Etsy. twisted-silver.com
Beauty Kitchen is an eco-friendly cosmetics company specializing in 100% natural skincare. The products are handmade at US facilities and are cruelty and sulfate free. The founder and CEO is Heather Marianna, 702-534-7550.
Milena's Boutique, www.milenala.com, has been making candles to order for over thirty years. The company uses only natural apricot and coconut oils, soy, and shea butter to create their supremely fragrant parabin-free handmade candles. 323-871-0000.
Custom Candle Company is a family-owned establishment that creates candles out of resourced materials and CBD products. A variety of brands are available for purchase. 25 Deport Plaza, Bedford Hills, NY 10507; www.cbdlivenatural.com; 914-218-8357
True Gold is a mother-son owned company of bee keepers making pure honey in the US. They have won multiple awards for their products and produce 5 distinct brands of honey, all bursting with flavor and natural benefits. 659-241-4367; www.truegoldhoney.com
My Saint/My Hero creates bracelets of blessings, working on the premise that prayer is a beautiful way to ask for God's blessing and help. The community of My Saint My Hero will include your intention with their daily prayers. mysaintmyhero.com.
Art Lewin is another favorite of the Doris Bergman set. Art is the ebullient couturier of Bespoke, which has rightfully been called one of the leading clothiers in America. They offer custom made suits and shirts. The always colorful Art was present at today's affair, sporting a green suit with dollar bills photographed on the inside lining.
8383 Wilshire Blvd, Suite 800, Beverly Hills, CA 90212; 310-734-4990; ArtLewinBespoke.com
Hint Water was founded in 2005 by Kara Goldin, who was looking for a better solution to soda pop. Hint is a decidedly refreshing sugarless drink infused with fruit and can now be found almost everywhere. With no calories and no artificial sweeteners, it has wide appeal. In addition, it is available in 25 flavors.
Dulce Vida Tequila uses only the finest and purest ingredients to manufacture their 100% organic drink. Produced sustainably in the hills of Mexico, the tequila is made from blue agave infused with lime and grapefruit and the result is a smooth and superb taste. www.dulcevidaspirits.com
Wednesday's Child is a charity which helps find loving homes for youth in need. It is the favorite charity of Doris Bergman and TV news anchor Christine Devine. All guests at today's affair were encouraged to bring gifts to help this worthy organization for foster children. 888-811-1121
The notables in attendance on this day: Bruce Dern, Once Upon A Time In Hollywood; Christine Devine, News Anchor Fox News; Carol Conners, former Oscar winner; Damian Whitewood, Dancing With The Stars; Abraham Lim, Clickbait; Bill Duke, multiple award winning actor; Eugenia Kuzmina, Spy City; Vincent De Paul; Jodi Long, Dash and Lily; Maximillian Acevado, Killer Queen; Gregg Daniel, True Blood; Jeryl Prescott, All The Queens Men; Jasmine Davis, The Chi; Julio Machais, On My Block; Maria Conchita Alonzo, multiple award winning actress; Sophia Milos, The Sopranos; Richard Kriech, 21 Jump Street; Kim Estes, Dicks; and Naomi Grossman, American Horror Story.
Swag bags for the event were of course provided, and persons of the press received a canvas bag which had among its contents a Twisted-Silver ornament, a large candle from Custom Candle, popcorn from Popcornopolis, two sponges for the bath by Spongelle, and a bottle of Hint Water. I had a great time at the Doris Bergaman bash, which was, as usual, a rousing success! Thank you, Doris, for giving us enchantment!