DECIPHER TO SUCCESS WITH ALGORAND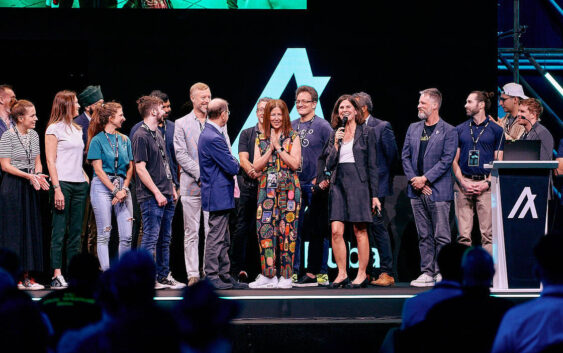 Decipher 2022, Dubai (Nov 28th–30th), the second annual gathering of the ecosystem and community, involving the builders, founders, investors, and strategists deciphering the future on Algorand was held at the grandeur Madinat Jumeirah, Dubai. The two day event saw 2,000 in-person attendees, with days of keynotes, networking, and live AMAs with top builders, founders, exploring new use cases across the Web3.0 and DeFi space including stablecoins, digital identities, the creator economy, and investors from across & beyond the Algorand ecosystem was hardcore, the deep insights of the blockchain technology, its innovations, the beauty of DeFi and the world of decentralization, fascinated all with insights and knowledge.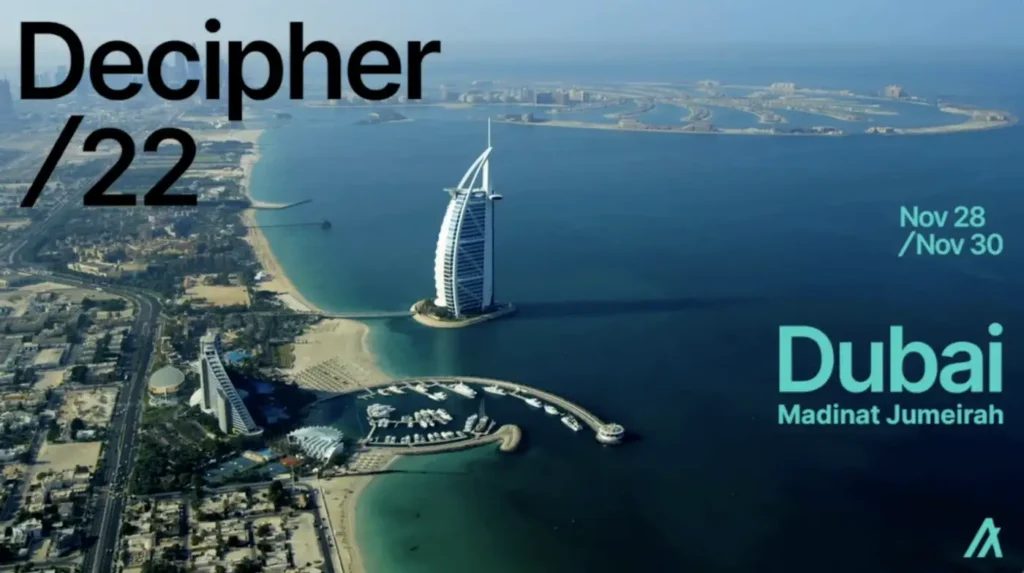 "We at algorand have never wavered, we have never been distracted by the chaos around us, we have kept the course and we have kept busy.
This has been the winter of our preparation, we have redoubled our effort and have continued to improve our great technology. We have gone from 1000 transactions per second to several thousands transactions per seconds, not off chain transaction but genuine on chain transaction recorded on our Chain by a truly decentralized manner. An algorand block is now produced every three and a half seconds rather than every four and a half seconds without introducing cost somewhere else.
We keep producing blocks, weave out faster cheaper and with more transaction on per block in our block, continue to be finalized as soon as they
appear. State of proofs even reached our tool set and they are a wonderful tool, they enable our blockchain to speak with a joint voice that is clearly heard and verified.
State of proofs enable our chain to become resilient against quantum computer attacks and the construction of decentralized bridges. We are proud of this technological
Advances through this centralization, requires true technology.
Technology is an integral part of our DNA, of our identity. The algon community is United by our commitment to the centralization and our beautiful technology," remarked at his opening remarks, The true genius, ingenius, Mr. Silvio Micali, the Turing Award–winning cryptographer, founder of Algorand, co-inventor of Zero-Knowledge Proofs, Verifiable Random Functions, and more.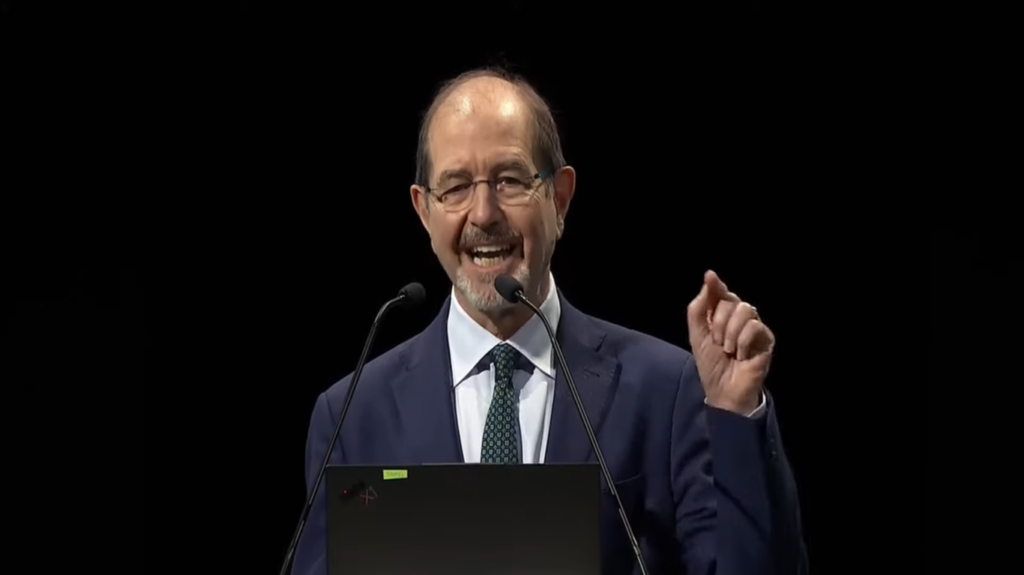 The ecosystem and community got an unparalleled opportunity to connect with the Algorand ecosystem, learnt from leaders both within and beyond the Algorand ecosystem with sessions dedicated to post-quantum security and safety best practices, cross-chain communications, financial inclusion at scale, supercharging defi, driving social impact with blockchain, and much more.
Silvio Micali, founder, The Algorand Blockchain, the A.M. Turing Awardee, considered computing's equivalent of the Nobel Prize, built a better, faster, more reliable, more secure, greener, and more sustainable alternative to the existing layer one blockchains. This emphasis on sustainability is woven into the fabric of the Algorand Foundation and serves as our true north.
The Algorand Foundation is a not-for-profit, community organization focused on protocol governance, token dynamics, and supporting grassroots, open-source development on the Algorand ecosystem. The Algorand Foundation's mission is to enable an inclusive, decentralized, and borderless global economy – at scale – based on the Algorand blockchain technology.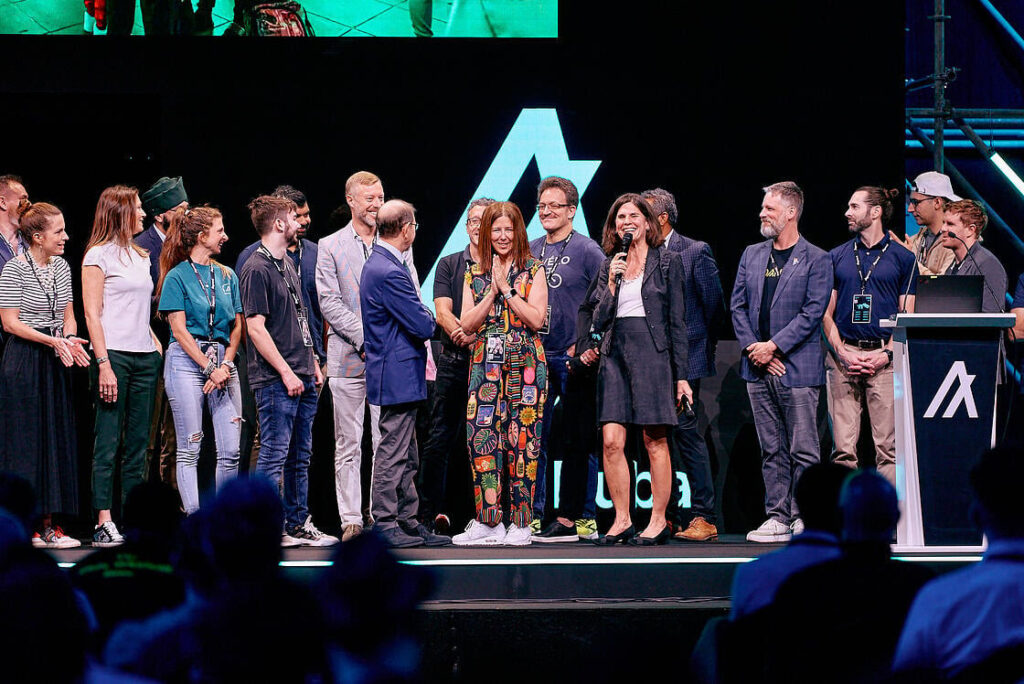 Algorand founder Silvio Micali and Algorand Foundation CEO Staci Warden were key speakers, with over 130 industry leaders, including the likes of Napster CEO Jon Vlassopulos, Quantum Temple Founder Linda Adami, and Arrington Capital Founder Michael Arrington.
The Decipher speakers lineup, the best experts from the Blockchain, Defi, Metaverse, WEB3 ecosystem/industry, from Binance, TravelX, Envision Racing, Vesta Equity, Kraken, Flare Network, Sino Global Capital, MidChains, the MEAA Crypto & Blockchain Association, European Parliament, AID:Tech, Napster, LimeWire, Milkomeda, Abu Dhabi Global Market, Visa, Fnatic, Pyypl, Citi, IslamicCoin and more delivered their thoughts, insights and remarks.
Decipher was an excellent chance to learn more about creating a borderless global economy and where blockchain goes from here, not to mention Algorand's current and future developments.
There was a fabulous opening Night Celebration plus other happy hour and social events and an official Decipher 2022 NFT & merchandise to be won.

As part of Algorand's latest major protocol upgrade, the blockchain will see a 5x performance boost to 6,000 TPS and a ~10% decrease in round times to <4s. As demand for Algorand block space increases, we want to stay ahead of the adoption curve so end users can focus on the UX of dApps, not the underlying blockchains. As always, Algorand ecosystem apps can rest assured that the underlying technology "just works."
Post the exogenous collapses in the crypto industry, the collapse of Terra/LUNA, Three Arrows Capital, FTX, amongst the others,
Algorand interim CEO Sean Ford reiterated and reassured the blockchain ecosystem & community, that Algorand is committed to building the web3 ecosystem & community, regain confidence and credibility, uncompromising priority on the development of Algorand technology. Algorand interim CEO Sean Ford said "Now is the time to move forward," he states: "Our time is now." Since its launch in 2019, Algorand has produced a scalable platform that provides security, fast finality, and "zero downtime."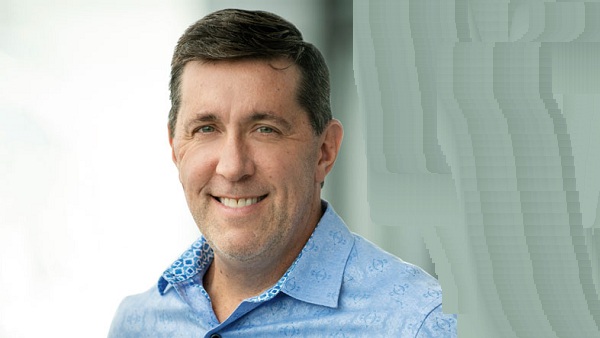 "We believe algorand's pure proof of stake is the best form of proof of stake. We are proud of this and all our contribution, but also recognize the contribution of others we are not alone. There are our serious projects, the blockchain industry needs. A diversity or serious project, a competition or serious projects in a collaboration among serious projects .We have two common enemy, the unfair and inefficient status quo, banned to preserve the Privileges of the few and a bunch of unscrupulous projects that now more than ever discredited the reputation of our entire Industries in the eyes of the world. Make no mistake these are powerful enemies but they will be defeated by the collaboration or serious projects this winter will end when we choose to end it, let's end it now," said Mr. Silvio Micali, the Turing Award-winning founder of Algorand.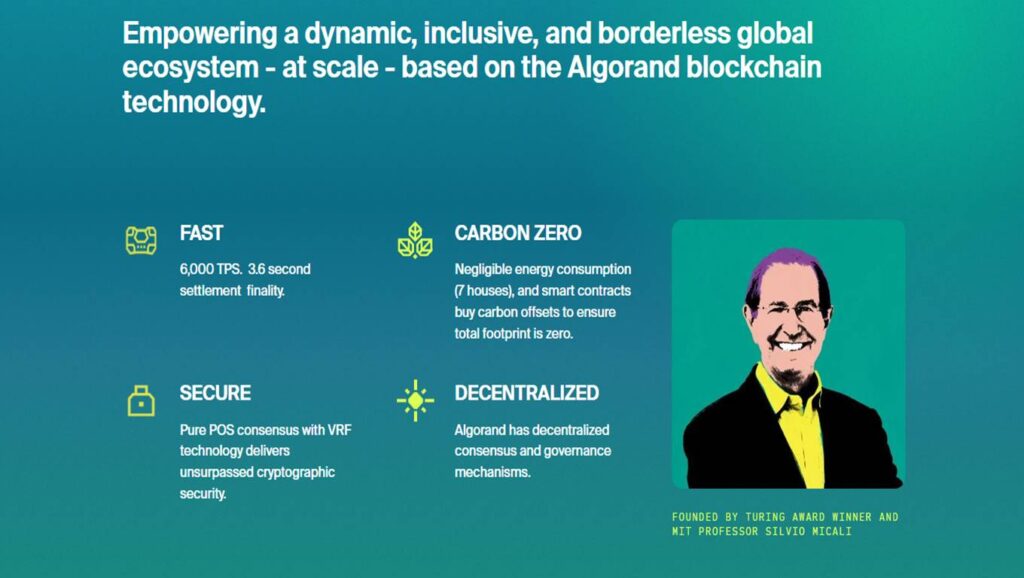 Algorand seeing the potential in Middle East in 2019, the team worked with UAE authorities to receive Sharia compliance as a blockchain. He explains: "We were one of the first chains to receive [Sharia compliance]."
Decipher is "a good launchpad to build foundations in this region and reignite relationships and conversations more formally as we go into the new year."
"We selected this region [for Decipher] because we saw a great opportunity, we know this region is disciplined and focused on the quality of the project and we felt a good overlap between what we brought to the table and the UAE's ambition for Dubai to be the first global city powered by blockchain technology."
Algorand is committed to partnerships if a "technical component is tied to it". "The first step on its innovation journey to start embracing new technology and drive benefits to engage more closely with fans."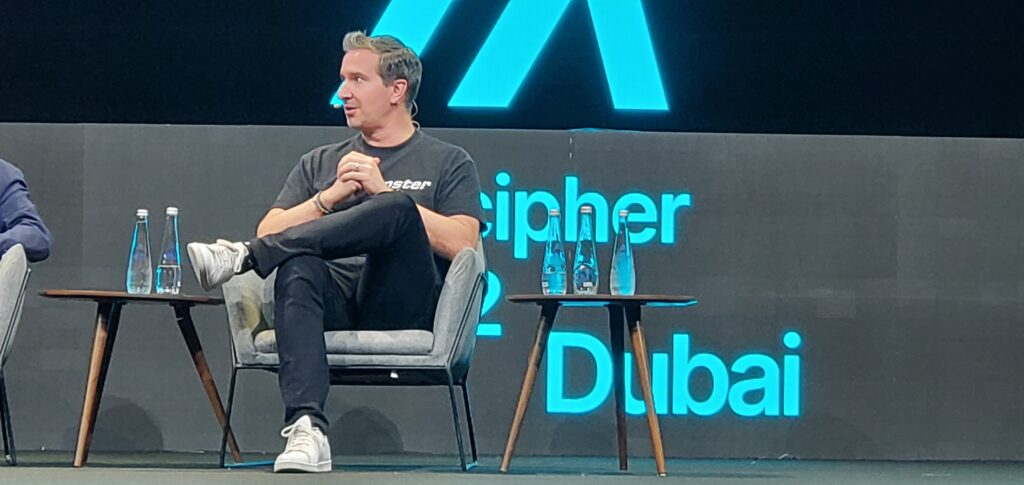 Sean refers to Napster, as a "pioneer ahead of its time," and finally Napster can go after its target market, thanks to Algorand tech, the company can finally deliver on its mission to democratize music — while rewarding its creators.
The creator economy is the focus for Algorand, and Napster is one of several projects, allowing artists to tokenize and fractionalize their music and trade on the value of music technology. Sean enthuses:
"Platforms like Napster are giving money back to big-name artists and independents struggling to make an income, not just in western countries but all around the world."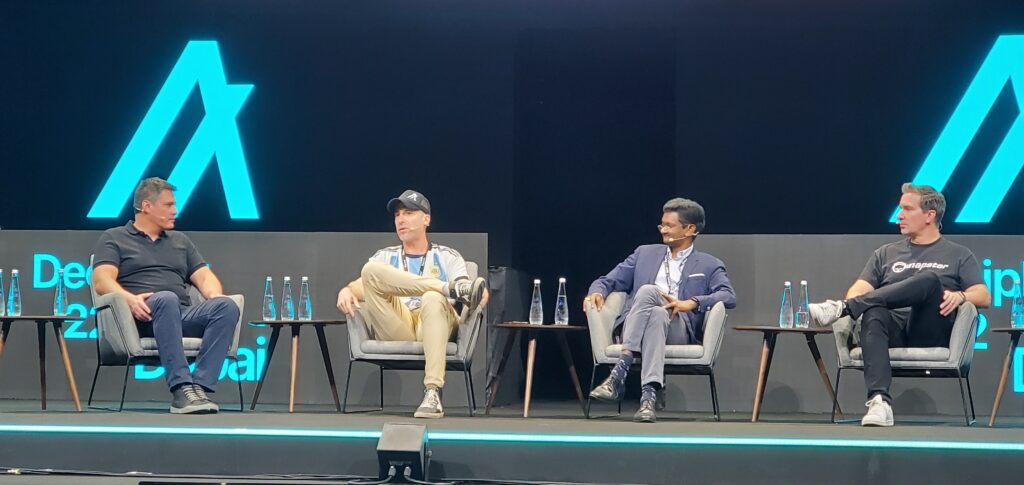 Nowigence Acting CEO Krishna Tammireddy participated in "Delivering Web2 to Web3 (and Beyond)," alongside leaders from Napster, TravelX, and the Global Crypto Council.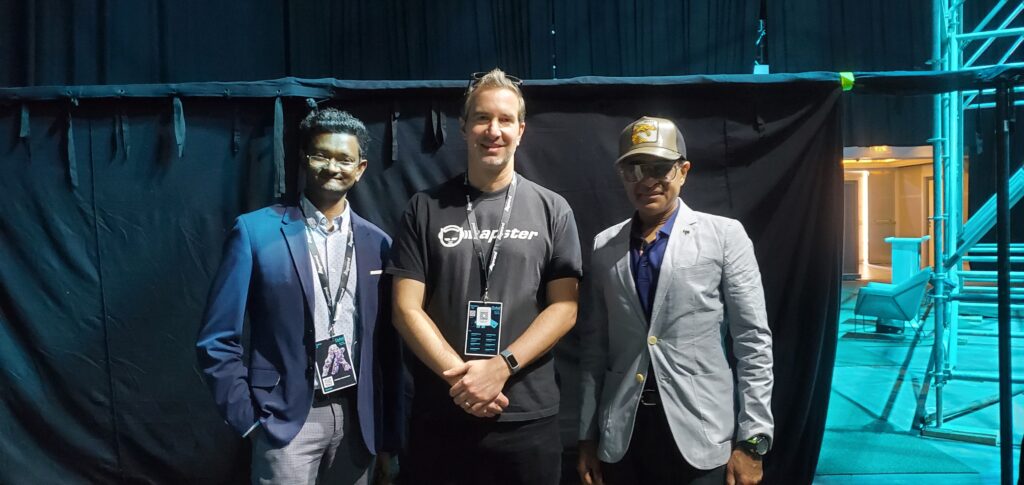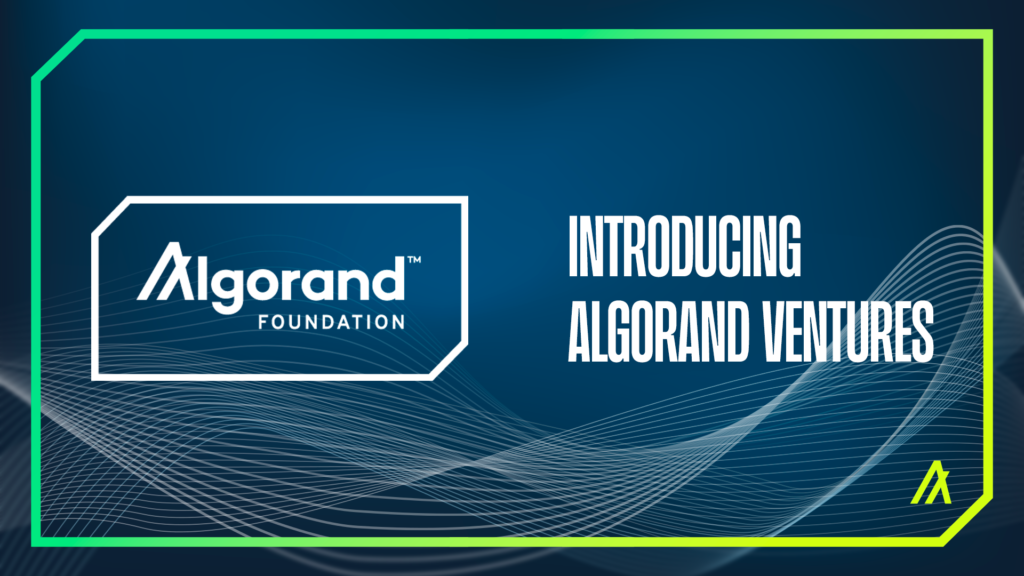 Ryan Terribilini, Algorand Foundation's very own Head of Ecosystem Funding, introduced AlgorandVentures, a new program dedicated to providing funding and launch support to the best builders and investors in the Algorand ecosystem. Algorand Ventures combines the cryptonative knowledge of the #Algofam community with the Foundation's ability to support projects at different stages of their lifecycle.
AV will make investments in the ecosystem in three ways:
• Pre-seed projects via accelerator program, collaborating aggressively with accelerators by beefing up the regional coverage, mentorship networks, VC connections, technical curriculum, and more.
• Seed projects via partner funds: The Foundation has long been working side by side with the two preeminent Algorand ecosystem funds – Borderless and Arrington Capital. Today we are proud to announce that earlier this year the Foundation became a limited partner in both of these funds. Projects raising seed stage funding can pitch Algorand Ventures alongside Borderless and Arrington.
• Scale projects via direct investments: Scale stage investments are intended for the household names of Algorand: Tinyman, AlgoFi, Folks Finance, and more come to mind… the prerequisite is having serious tech and serious traction amongst users to warrant consideration.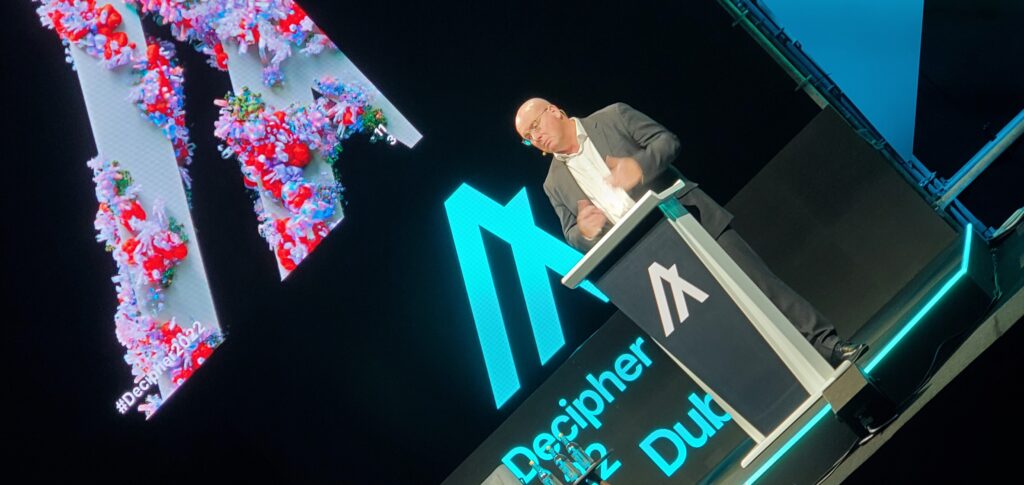 At a panel discusiion on Tuesday, November 29, 2022,the topic – We Won't Get Fooled Again: Where Crypto Goes From Here,
Nick Leeson – "Rogue Trader", observed the similarities between the Barings bank collapse and the FTX collapse and gave his observations, how to detect, be pro active, a compulsory audit, compliance and regulation is a must for the crypto sector –
1. Learn the lessons of mainstream banking
2. Transparency will outlast charisma
3. Psychological safety
4. Challenge
5. Ask for help and advice. Communicate
6. If something looks too good to be true, it usually is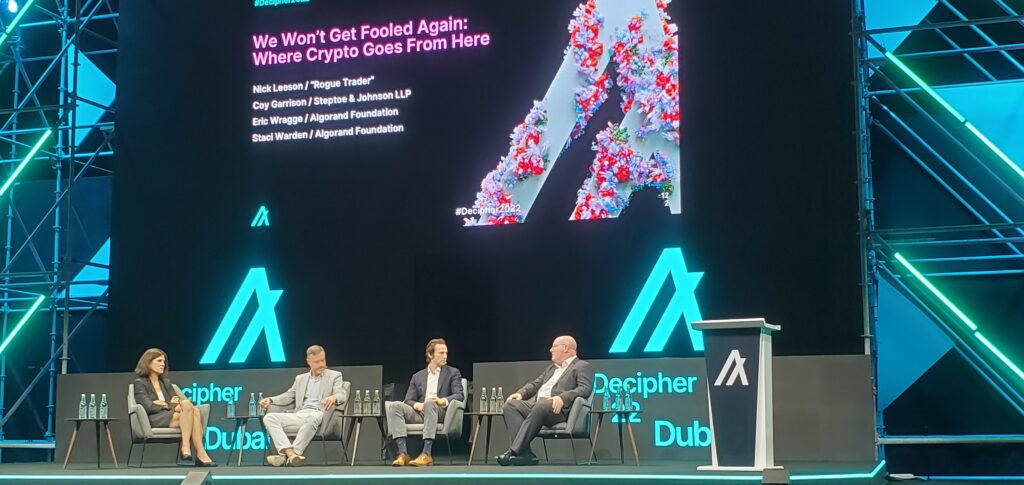 With a strong focus on India, the Algorand Foundation announced the appointment of Anil Kakani as its India Country Head. Kakani will lead the Foundation's AlgoBharat initiative aimed at broadening adoption in the region. As an early sign of momentum, nine India-based companies presented at Decipher.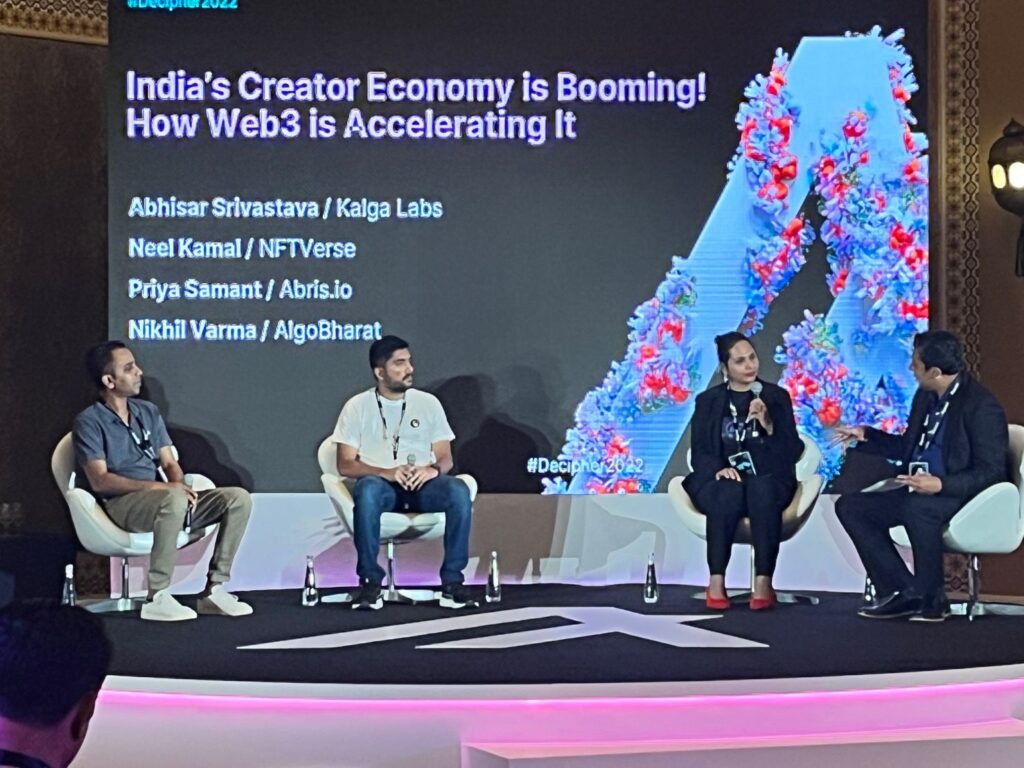 "We're thrilled to have such strong representation from India at this year's Decipher event. Each of these companies recognizes the significant advantages of the Algorand blockchain and they are just a sampling of the use cases we expect to drive the organic diffusion of Algorand in our region. India has the best developers in the world, poised to harness the power of blockchain to tackle some of the most challenging problems we face. These companies featured at Decipher are just a few of the many leading the way into Web 3.0 on Algorand!" said Anil Kakani, Head of AlgoBharat.
Nine India-based companies who are utilizing the Alogrand blockchain to support their Web3 products were present and featured at Algorand Foundations Decipher conference, held at Madinat Jumeirah, Dubai, on 28-30 November 2022.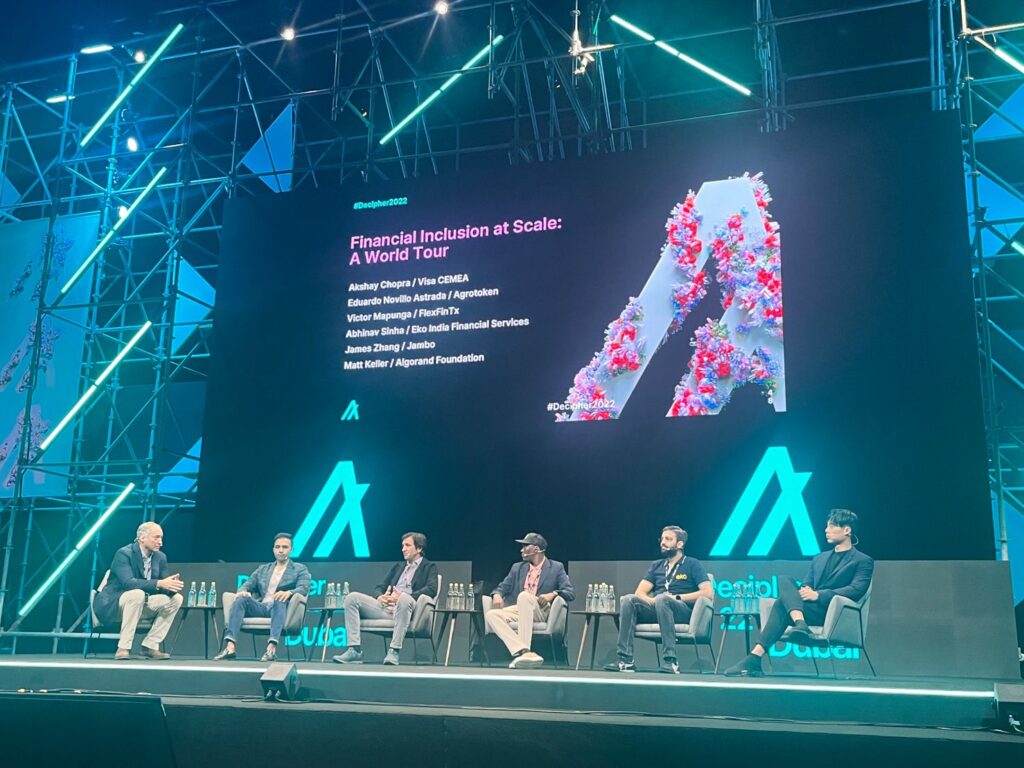 Led by AlgoBharat, the mission of the project is to cultivate a strong regional representation across India, promoting community building and educational efforts. As mentioned in the Decipher event, this initiative is leading a number of strategies including the likes of developer hackathons, sessions held at technical universities and more. Leading this blueprint looks to increase the knowledge and adoption of Algorand and the broader blockchain industry across developers and startups in India.
Featured companies from the AlgoBharat ecosystem, which were present at Decipher 2022 include Contrato, Dapps.cp, Dygnify, EKO India Financial Services, Fragments, Kalga Labs, InFiction, NFTVerse, Nowigence, and Wize.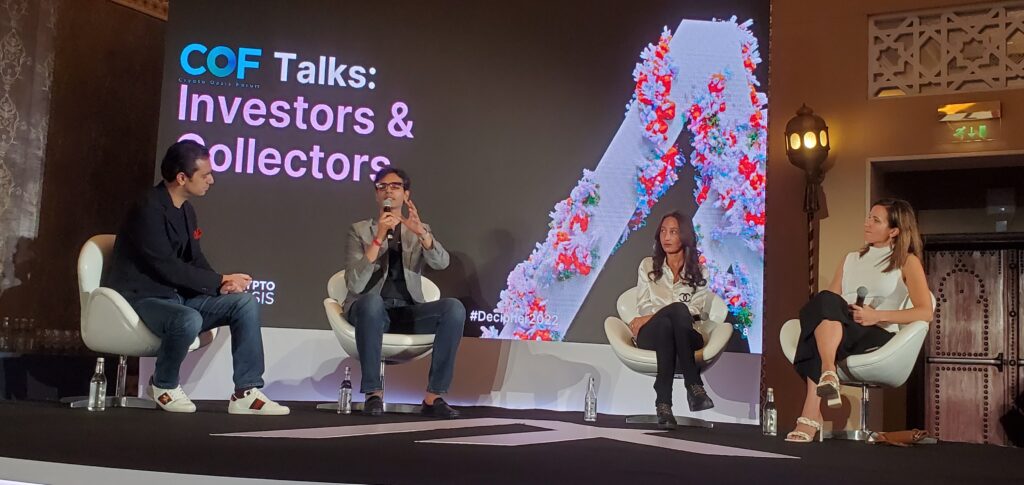 Saqr Ereiqat – Cofounder & Managing Partner of Crypto Oasis moderated the panel session on
COF Talks: Investors & Collectors with Jenna Zenk- Cofounder & CIO – Kindi Capital and Pranav Sharma – Founding Partner – Woodstock Fund as panelists.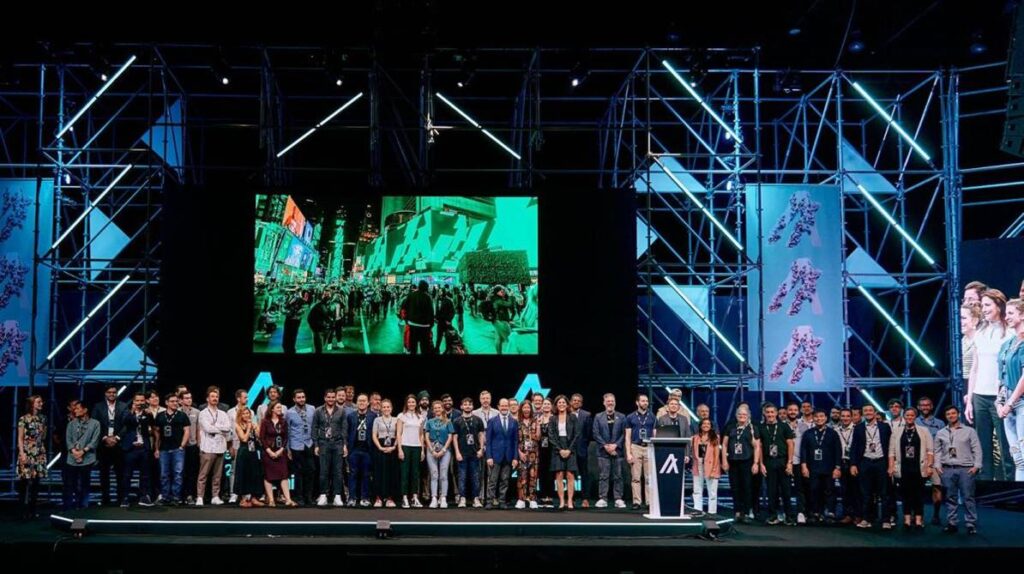 The Algorand blockchain — designed by MIT professor and Turing Award winning cryptographer Silvio Micali — is capable of delivering on the promise of a borderless global economy. It achieves transaction throughputs at the speed of traditional finance, with immediate finality and near zero transaction costs, and without a second of downtime since it went live in June 2019.Its carbon-neutral platform and unique pure proof-of-stake consensus mechanism solves for the "blockchain trilemma" by achieving both security and scalability on a decentralized protocol.
The Algorand Foundation is dedicated to helping fulfill the global promise of the Algorand blockchain by taking responsibility for its sound monetary supply economics, decentralized governance, and healthy and prosperous open-source ecosystem.
Algorand's distinctive Layer-1 technology is creating a borderless global economy, leading the way for seamless, fast, frictionless and sustainable blockchain use cases, while highlighting inclusivity in a decentralized space, is ranking it as the leading choice for thousands of projects globally, is the key mission of the Algorand Foundation, fully supported by the Algorand blockchain.
Algorand is transforming economic models and economies of all kinds. Founded by Turing Award–winning cryptographer Silvio Micali, Algorand's high–performing Layer-1 blockchain is unparalleled for bringing fast, frictionless, and inclusive technologies to everyone. Algorand is reshaping every industry–from TradFi and DeFi to new creator economies and beyond. With an extraordinary commitment to interoperability and consistent delivery, our sustainable technology powers more participation, transparency, and efficiency for all. As the technology of choice for 2000+ global organizations, the Algorand ecosystem is transforming the next generation of financial products, protocols and exchange of value. For more information, visit www.algorand.com.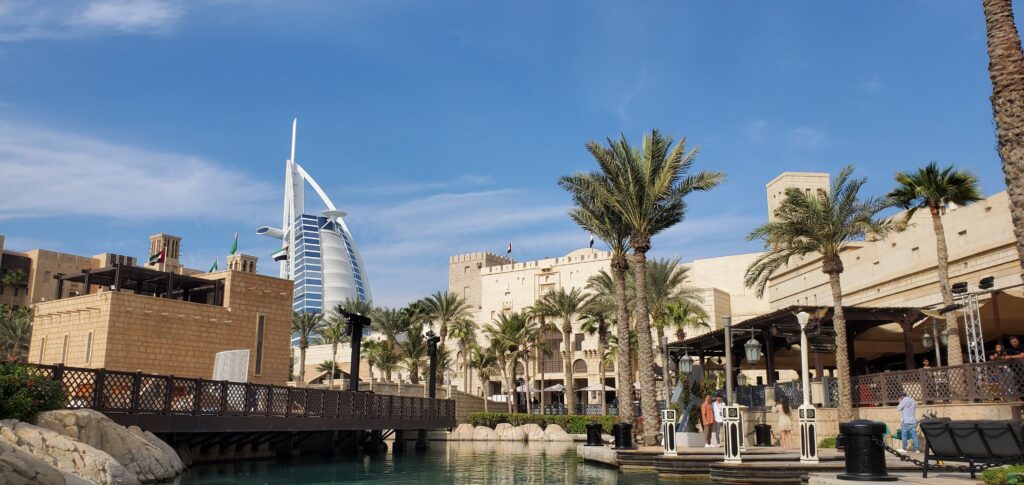 The participants could go for a gondola ride, enjoying the Madinat Jumeirah scene, Burj Al Arab, Mina a Salam and Al Qasr. The superb wrap party on the beach with a crazy lavish spread of delicious food, ice cream, drinks, was just out of this world, THANK YOU ALGORAND.