Dessert Storm, Tapas Thunder, and Wine Whirlwind as Persian Gulf Restaurant Opens in Westwood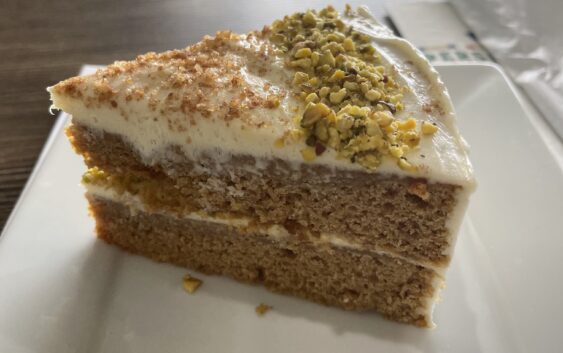 Dessert Storm, Tapas Thunder, and Wine Whirlwind as Persian Gulf Restaurant Opens in Westwood












The man who has single-handedly saved the West Los Angeles restaurant scene is at it again, opening his third restaurant on Westwood Blvd, Persian Gulf, the unveiling of which was gloriously celebrated with great food, drink, and camaraderie on Thursday, June 30, 2022 from 5-7 PM. Roozbeh Farahanipour, the human dynamo in question here, already owns two restaurants on the famous street: Mary and Robb's and Delphi Greek, both of which he saved from extinction!
Persian Gulf has been Roozbeh's dream restaurant, one he has wanted to open for many years. Featuring award-winning, ecstasy-inducing desserts crafted by his wife and partner, the well-known Chef Rana Farahanipour, and the finest wines, personally selected by him and his wife (both are wine connoisseurs), Persian Gulf is a full-service, small-plate, wine, and dessert establishment. Another highlight of the restaurant is its exquisite tapas, small plates of delicious goodies ranging from olives and cheese to meats to seafood, again expertly prepared by Chef Rana. Tapas have a long tradition, beginning in Spain with the custom of drinking beer or wine with these small-plates and then traveling from bar to bar to sample a variety of these liquid and solid pleasures. Persian Gulf features 16 different cheesecakes (yes, I said 16), of which the saffron cheesecake is Chef Rana's favorite, but there is also the baklava, caramel, and pistachio cheesecakes to covet, to name but a few.
The décor of the restaurant is Persian Gulf War relics that Roozbeth has collected over the years. This dream restaurant of Roozbeh is well worth the wait, if there is a line. Roozbeth says, "This is a restaurant for everyone. but it particularly honors the officers of the LAPD, First Responders, and military personnel, who receive special discounts every day, making this truly a one of a kind restaurant in that regard, as well as for its artifacts and the non-traditional version of a tapas bar ala Iranian-American." I was much fascinated by the eclectic mix of delicious tapas available, and pardon me if I also wax poetic on Chef Rana's exquisite desserts. (I have been a long time customer of Delphi Greek Restaurant where I first experienced these delicacies and have previously written a review of that restaurant.)
Roozbeh is truly an inspiration to all of us who have dreams and are fighting hard to bring them to fruition. He came to these shores from Iran in 2000 with a background in law and "a penny jar in his pocket." Rather than accept a government handout, he began to work at the Shamshiri Restaurant in Westwood and save his money. In 2009, he was able to buy the landmark Westwood restaurant Delphi Greek and save it from going out of business; through hard work he was able to build Delphi into the most authentic Greek restaurant in Los Angeles. In 2020, during the pandemic, he purchased the oldest diner in West Los Angeles, Mary and Robb's, once again saving an institution. Now, with the opening of Persian Gulf Restaurant, he continues to build, from scratch, a restaurant empire based on his diligence and compassion.
Roozbeh is more than just a businessman. A true American, he is selflessly civic-minded and serves as the current President of the West Los Angeles Chamber of Commerce. He is also a founding member of the Westwood Neighborhood Council, board member of the Westwood Community Council, Ambassador of Biz Fed of LA County, and past President of the California Restaurant Association – Los Angeles. Believe it or not, this is only a partial list of his many activities.
Roozbeh's rise from a refugee with just pennies clearly illustrates what the unconquerable human spirit can accomplish with drive and perseverance. Indeed, his story is so compelling that a documentary film entitled The Last American Dream detailing his life and success is being made.
Chef Rana has a remarkable story as well. Originally from Iran, she arrived in America and began working in the restaurant business, capitalizing on her skill as a chef. She is the Pastry Chef of her now three family-owned restaurants and has appeared several times on local television displaying her baking skills. Roozbeh and Rana have a son, who surely will follow in the footsteps of his parents into the restaurant business.
Opening night drew many friends, entertainment personalities, and local government figures who were on-site to show their support for the restaurant and the efforts of the Farahanipours.  Notable attendees were: Patrika Darbo (Days of our Lives), Erin Murphy (Bewitched), Carol  Connors (Oscar & Emmy Nominee), Rachele Royale (Mid Century), Ashley Cusato,  Darcy Donavan (Crypto Queen, Anchorman), Kate Linder (The Young & the Restless), David A.R. White (Beckman, God's Not Dead), Kennedy Garcia (The Son), LA City Council Member Paul Koretz, California State Treasurer Fiona Ma, and LA County Accessor Jeffrey Prang. 
I cannot recommend the Persian Gulf Wine, Tapas, and Dessert bar enough; after a few animating aperitifs, tasty tapas, and sumptuous sweets there, you will be ready for dinner and can walk, in the tapas tradition, a few feet to the Delphi Greek Restaurant for a superb meal. (And then, still in keeping with that tradition, maybe return to Persian Gulf for more desserts to cap a night of delight!)
PERSIAN GULF RESTAURANT, 1389 WESTWOOD BLVD, WESTWOOD, CA 90024