EXUBERANT ART OF SCHIAPARELLI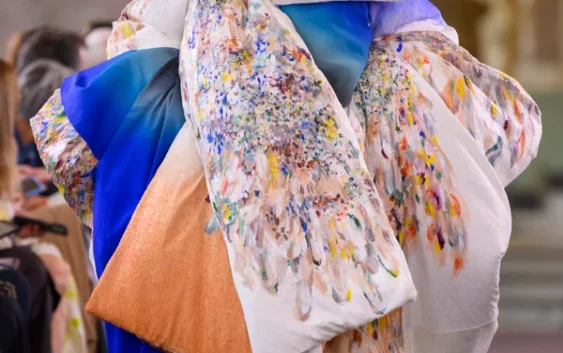 "For me, dress designing is not a profession but an art."
Elsa Schiaparelli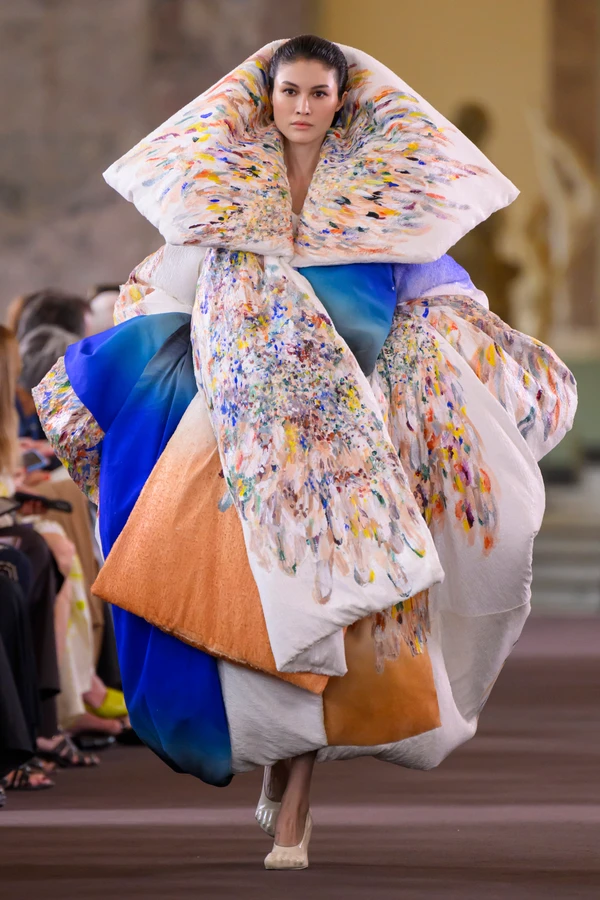 SCHIAPARELLI HAUTE COUTURE, AW23 redefines surrealism, blurring craft and art form to haute couture, totally and truly unconventional, dramatic and arrested collection.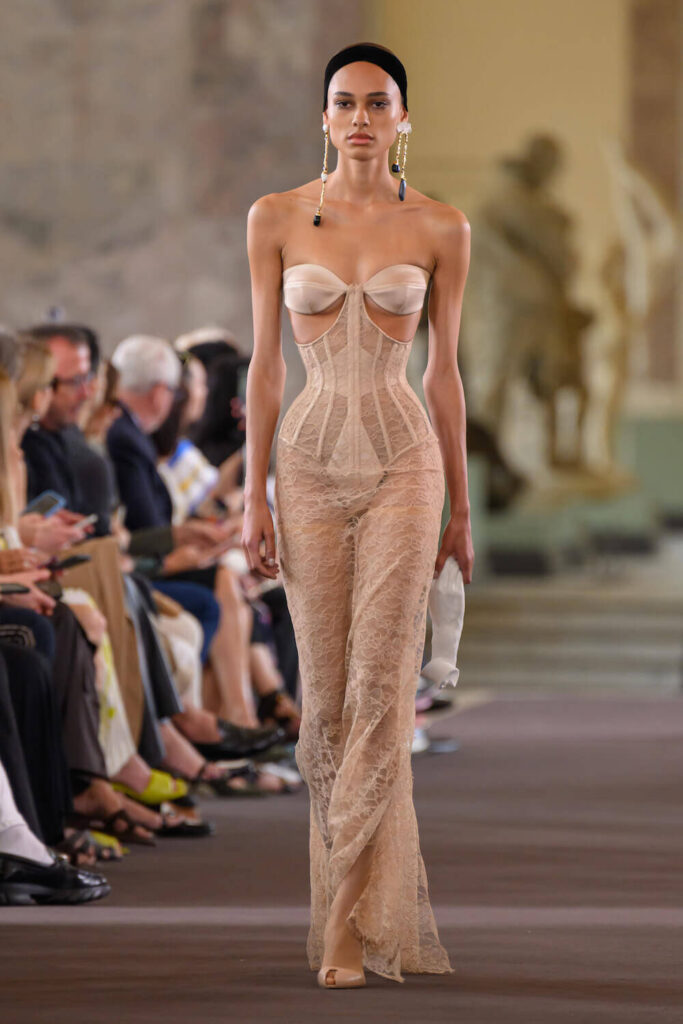 Daniel Roseberry achieved his ambition to create a dreamlike decadence and to incorporate artistic elements that evoke a sense of timelessness in his designs, which included large-scale faux fur operas, gowns covered in exploding duvets and crystal structures that defy gravity, breastplates made of gold, tailoring featuring golden body parts, and dreadfully large hooded dresses. "A surrealist's interpretation of a woman's essential closet," was how Daniel Roseberry, the designer himself remarked.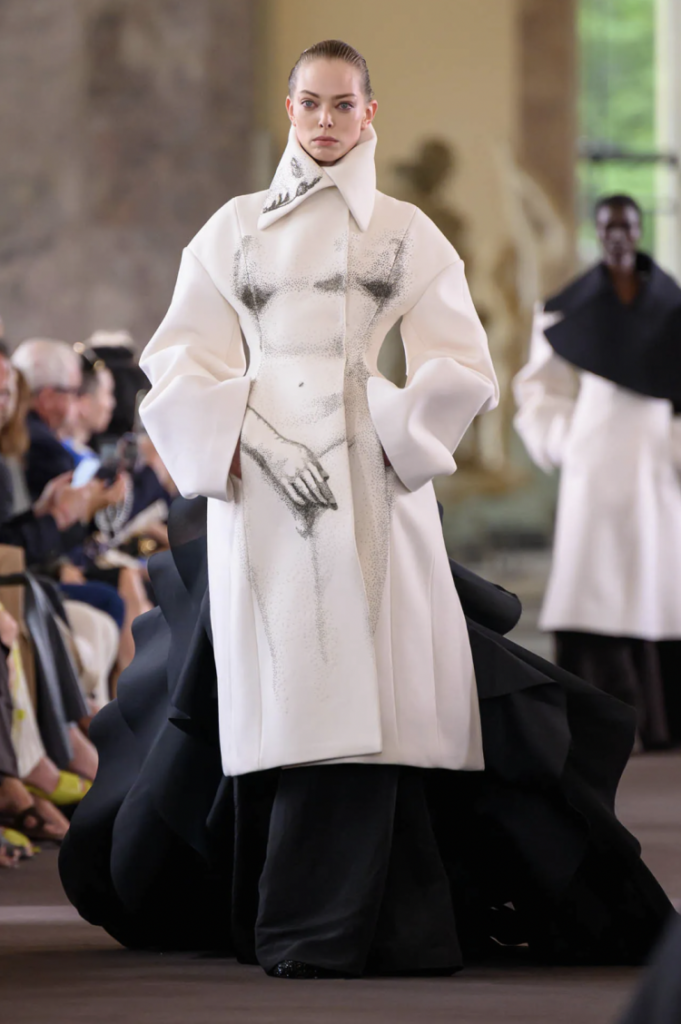 Roseberry has chosen to pay tribute to the art world with its stunning 30-look collection, featured works by renowned artists such as Freud, Yves Klein, Dali, Miró, and renowned painters such as Matisse, all of which have been reimagined in a contemporary manner for the Autumn-Winter collection of 2023.
"Human hand or minds, be forgotten by tomorrow," inspired by this thought, Roseberry created the collection.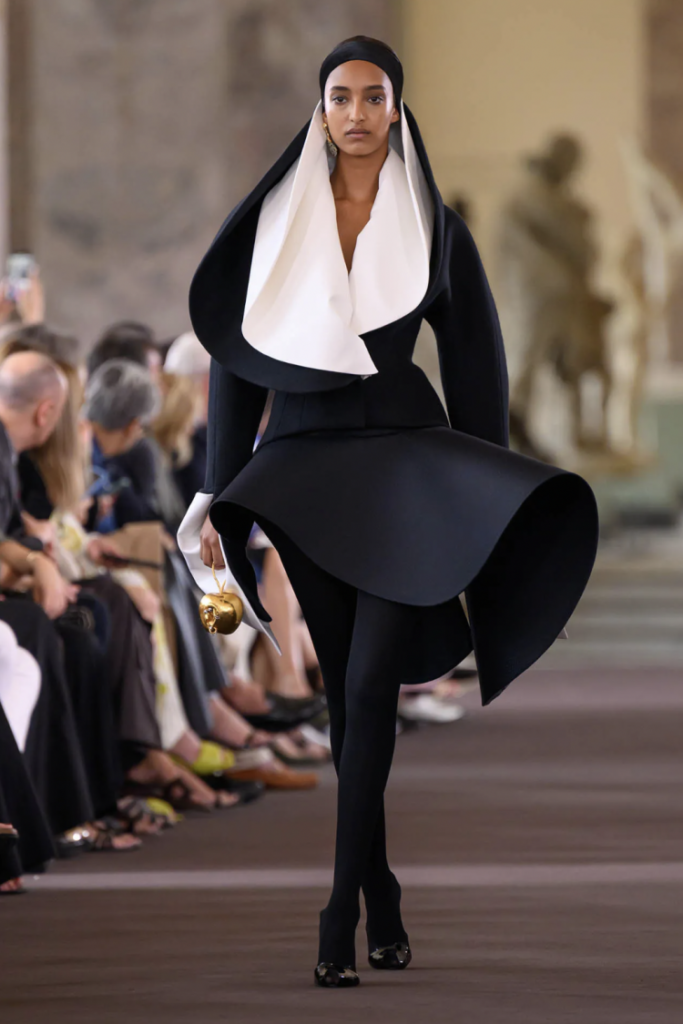 "After last season, which was about reducing each look to something concise and even sometimes arresting, my instinct here was to build the collection in a different way, for a collection that adventures, explores and dares," Daniel Roseberry.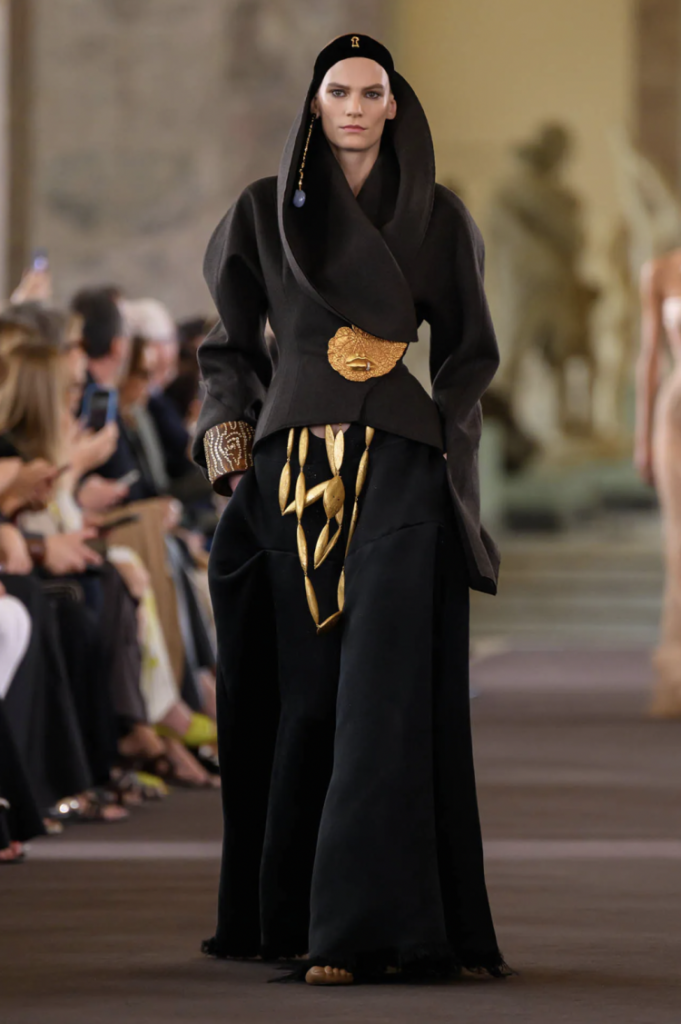 The show began with an asymmetrical 'wave skirt' complemented by an elegantly fitted jacket with a scoop neckline and collar. This silhouette set the tone for the rest of the collection, its exaggeratedly sagging shape was an elegant tribute to the most beloved art world figure of the house founder, Salvador Dalí, who had been a confidant of the designer for many years. Further down the line, more of these captivating silhouettes drew attention to another of Dalí's most iconic works: the melting clock.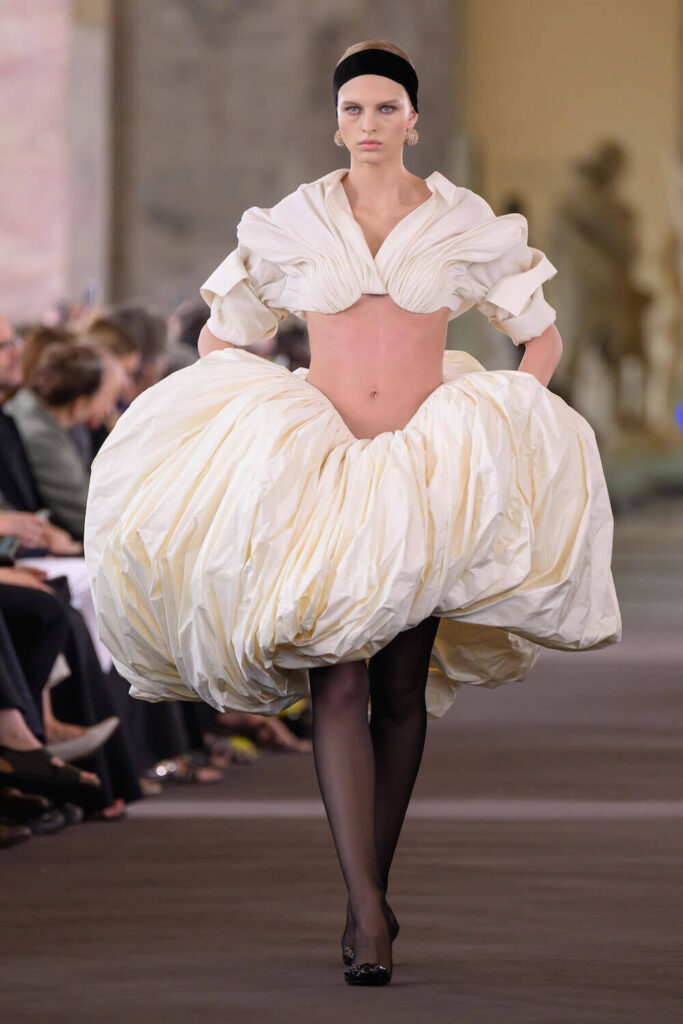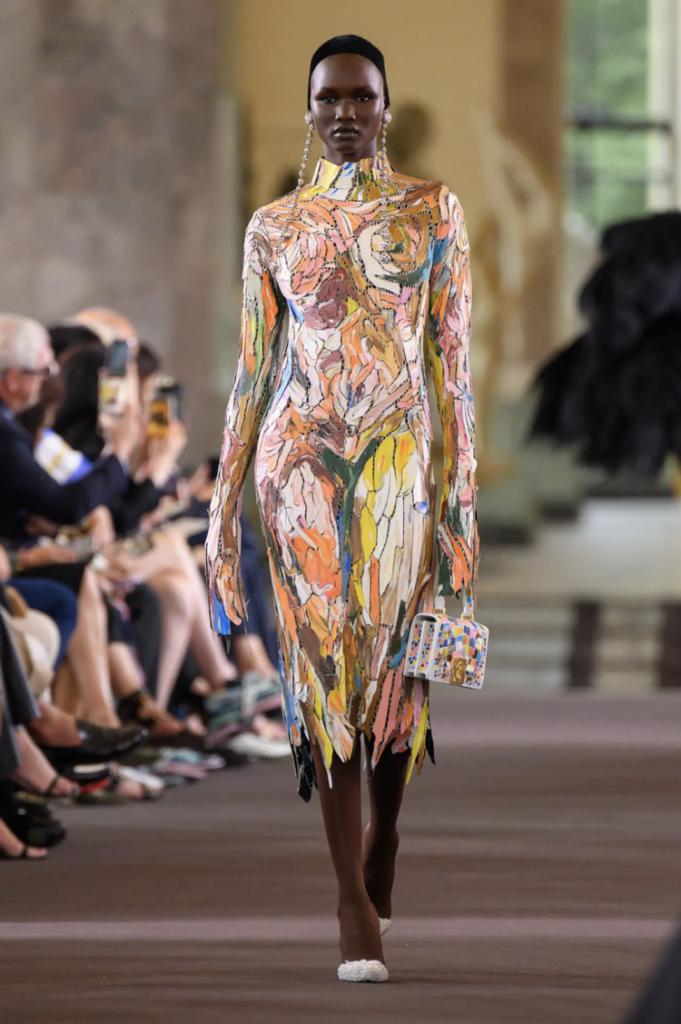 Lucian Freud's modern style was celebrated through the use of hand painted brush strokes transferred onto a bodyform gown in stretch silk, the oil-like ornamentation providing a kaleidoscope of fourth-dimensional movement as the figure walked down the showstopper. Freud's London studio was also given a stylistic mention, with the 'chaos of the painterly brush strokes' on a laminated puff referring to the chaotic walls of Freud's residence.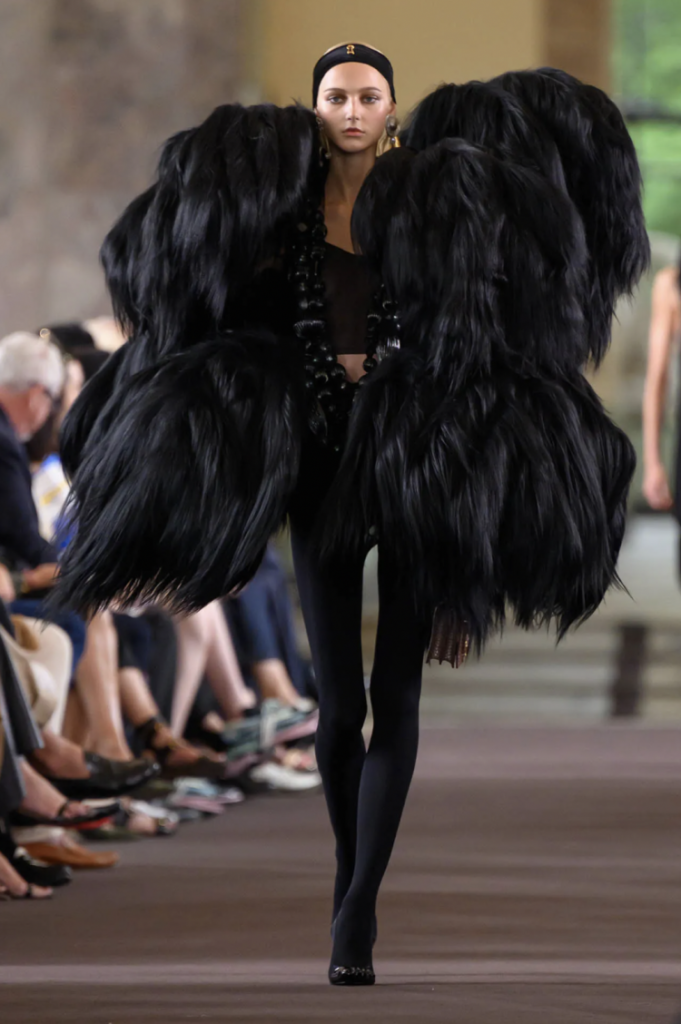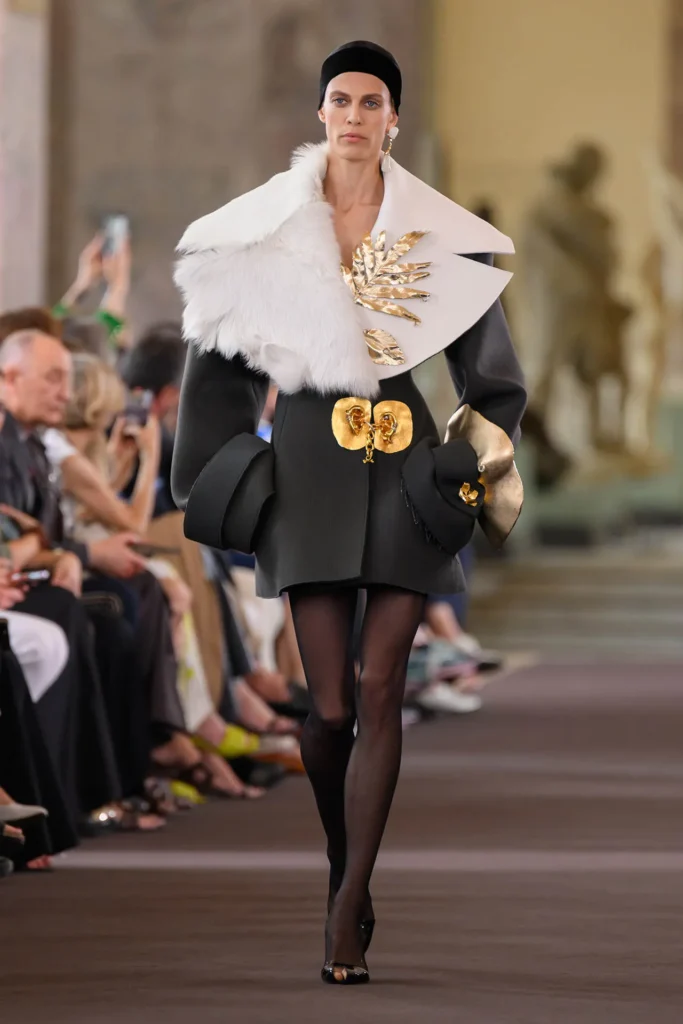 'An impossible wardrobe'. 'We live and create fashion in a time when creativity, internet-breaks, and celebrity gags come at us weekly, daily, and now by the hour. Some of these aren't even created by human hands or minds. Most all of them are forgotten by tomorrow,' said Roseberry in his show notes. 'It's why I wanted this collection to be aggressively, unmistakably human – and to be rooted in artistic references that feel timeless. To dress, decorate, but most importantly, to create, is as primitive as any instinct we have.'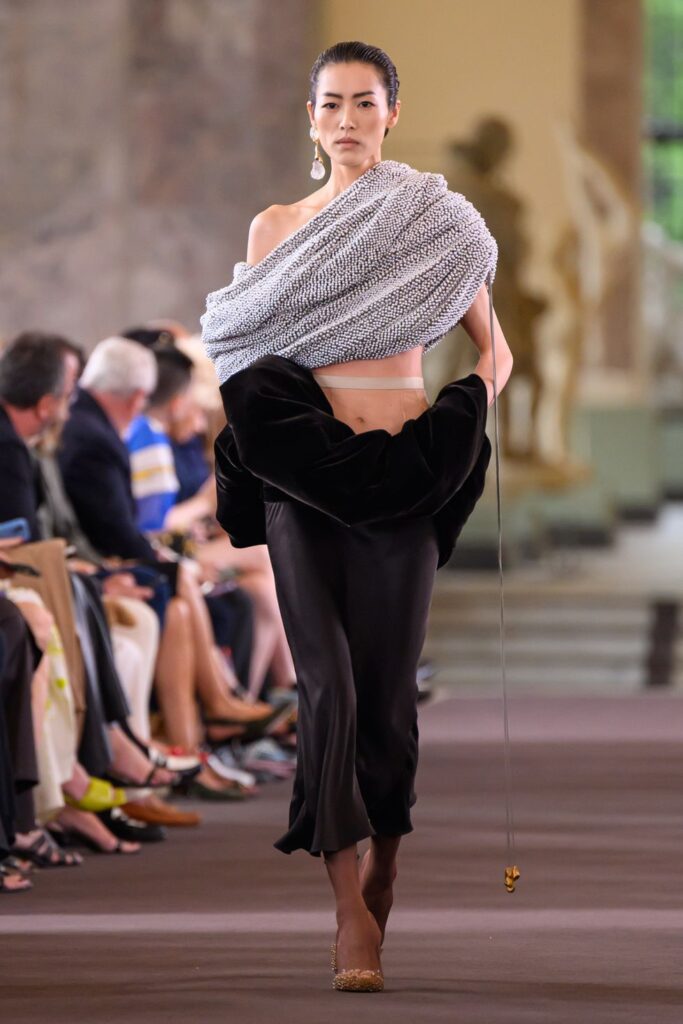 The show was a resounding success, featuring a collection crafted with the input of industry leaders, including Mona Toussaint-Djekilva, Tania Dziavela and Magdelena Frayckowiak. The front row had distinguished guests such as, Cardi B, Violet Chachki, Tracee Ellis Ross, Xenia Adonts, Vogue Australia Editor-in-Chief Christine Centenera, Emily in Paris' Philippine Leroy-Beaulieu, Nicky Hilton, Amina Muaddi, Vogue Japan Editor-at-Large Anna Dello Russo, Gwendoline Christie, and Vittoria Marisa Schiaparelli Berenson, the granddaughter to the House's founder, Elsa Schiaparelli.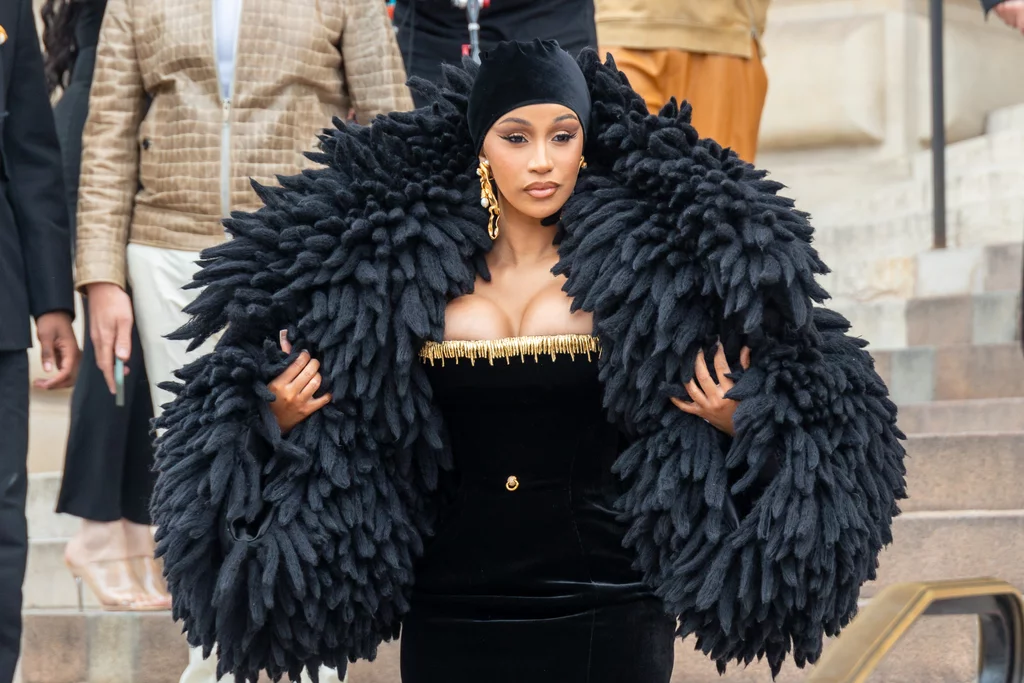 Cardi B presented a sultry black ensemble, adorned with dazzling gold jewelry, and an oversized feathery black jacket, during the Paris Fashion Week Show. The rapper, known for her "WAP" style, was in a class of her own at the Schiaparelli haute couture show.
PHOTO CREDIT – SCHIAPARELLI & GETTY