INDIA EPICENTRE OF GLOBAL GAMING ESPORTS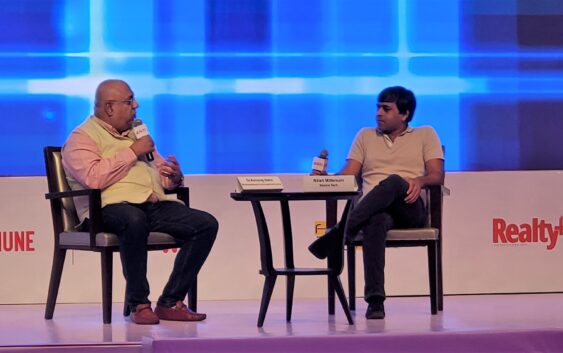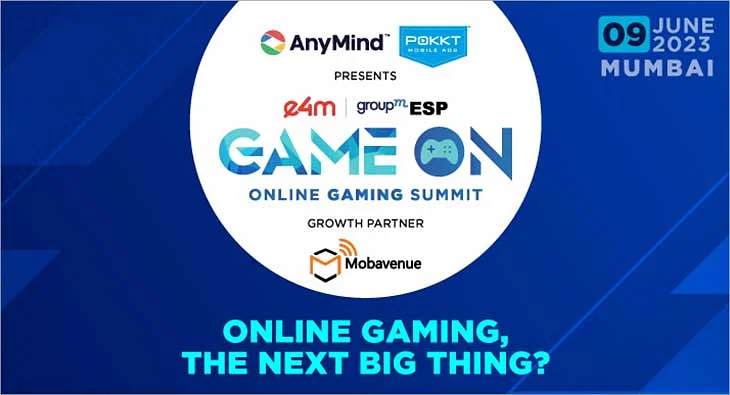 The exchange4media Group held its 3rd edition of e4m GameOn: Online Gaming Summit on June 9 at the TAJ Mumbai where top leaders from the gaming sphere shared their insights on key topics under the theme 'Online Gaming, The Next Big Thing?'.
The gaming sector in India is experiencing unprecedented growth due to the rapid adoption of data, the cost-effectiveness of the internet, and the emergence of mobile-first gaming. This Summit explored the rapidly expanding revenue streams of the gaming industry, the factors that are driving its growth, the evolving demographic of the gaming world, and how brands can take advantage of this opportunity to reach out to consumers. The summit was organized by AnyMind in association with MobAvenue.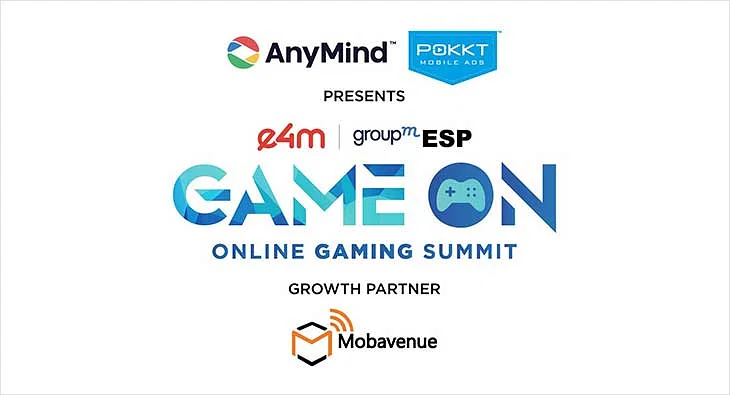 The gaming industry is experiencing a period of growth and development, with a wide range of players from different regions, ages, and socioeconomic backgrounds. Technology has enabled the gaming market to expand rapidly, and it is anticipated that this growth will continue in the years to come. To gain insight into the changing gaming landscape, a gathering of industry leaders will be held to discuss the current state of the industry, the opportunities and challenges it faces, and the future prospects of the gaming sector in India.
e4m Group acknowledges and emphasizes the growth and development of the gaming industry, as well as the individuals who are responsible for it. The current market expansion has far-reaching consequences for the various players in the gaming sector, such as developers, distributors, creators of content, gaming platforms, and brands who are investing large sums of money and discovering new and innovative ways to interact with gamers.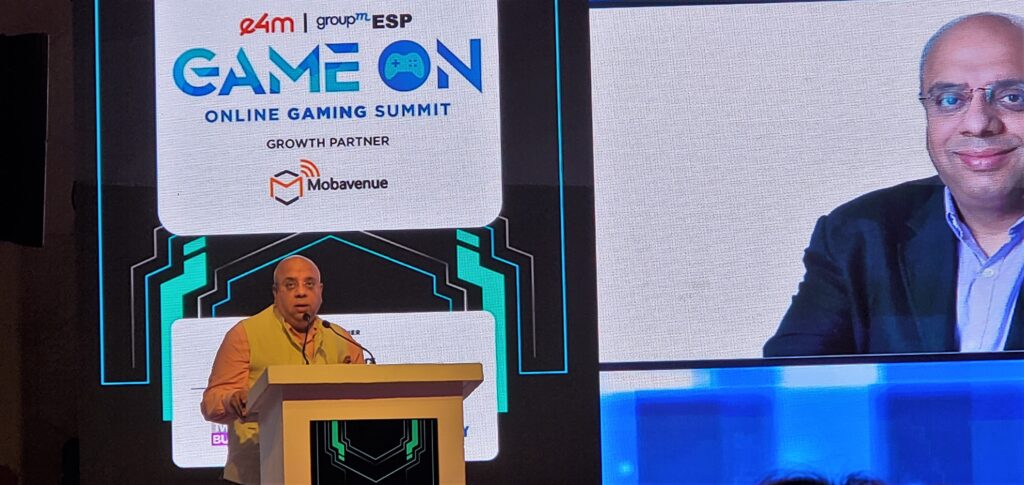 Dr.Annurag Batra Chairman & Editor in Chief, BW Businessworld & exchange4media group spoke on the Gaming: The growth creator for media & entertainment, the intersection of iifestyle, Entrepreneurship & creativity.
Some key takeaways –
Gaming is a major growth driver for the media and entertainment industry in India, accounting for over 50% of the industry's revenue.
Gaming is also intersecting with other industries, such as lifestyle, entrepreneurship, and creativity.
For example, gaming is being used to promote physical activity, develop new business models, and create new forms of art and entertainment.
The gaming industry in India has the potential to create millions of jobs and generate billions of dollars in revenue.
Here are some additional points that could be included in the impact view:
The gaming industry is a major source of employment in India, with over 1 million people employed in the sector.
The gaming industry is also a major source of revenue for the government, with taxes on gaming contributing millions of dollars to the exchequer.
The gaming industry is helping to promote India's soft power, as Indian games are becoming more popular around the world.
The gaming industry is also helping to bridge the digital divide in India, as more and more people are able to access gaming through affordable smartphones and mobile data.
Overall, the gaming industry is a major force for good in India, and it is poised to grow even larger in the years to come.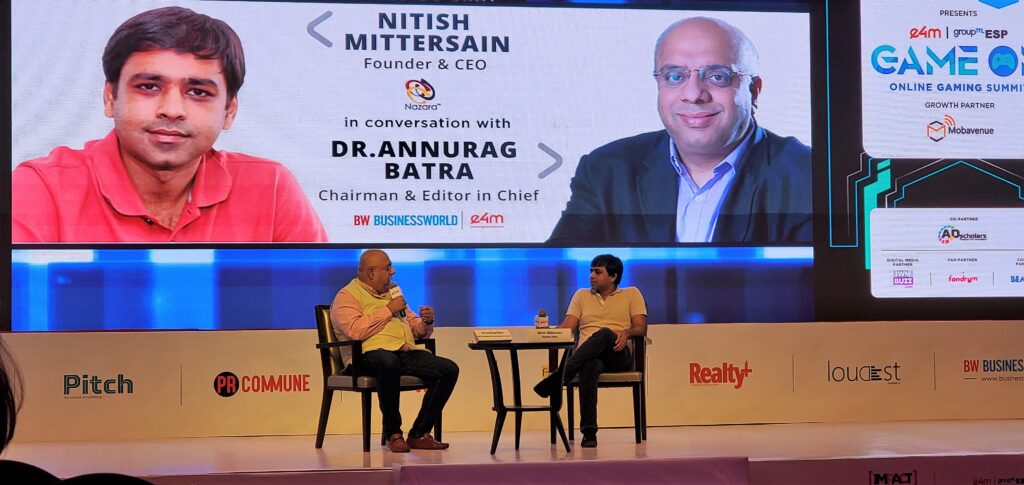 India's gaming industry to grow 10X in next 3 yrs: Nitish Mittersain, Founder and Joint Managing Director, Nazara Technologies, delivered the keynote on 'The next level of online gaming in India,' at e4m Game On Summit.
Nitish drew attention to the evolution of the Indian gaming industry over the past ten years and its potential for continued growth in the future. He highlighted the efforts of young Indian entrepreneurs in elevating the online gaming industry to a new level.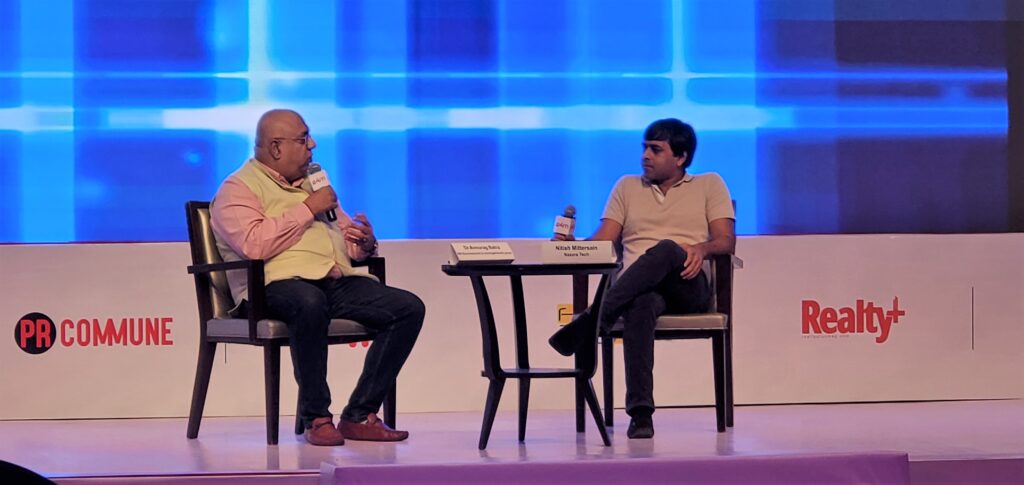 "We are hearing about a large amount of capital being invested in the gaming sector. I'm meeting so many young entrepreneurs doing exciting stuff in this sector. It's the decade of gaming in India and we have been waiting for many decades to get to this place," said Mittersain.
Mittersain anticipates that the sector will experience a period of growth due to the presence of key enablers such as the availability of high-quality smartphones and cost-effective internet. Furthermore, the expansion of in-app purchasing and Unified Payment Interface (UPI) have opened up new avenues for the sector to expand. Marketers have already begun to invest in the sector as it provides the next major opportunity to reach out to potential customers. The past two years have seen a surge in online gaming activity, and this trend is projected to make India a prime destination for investment in the sector.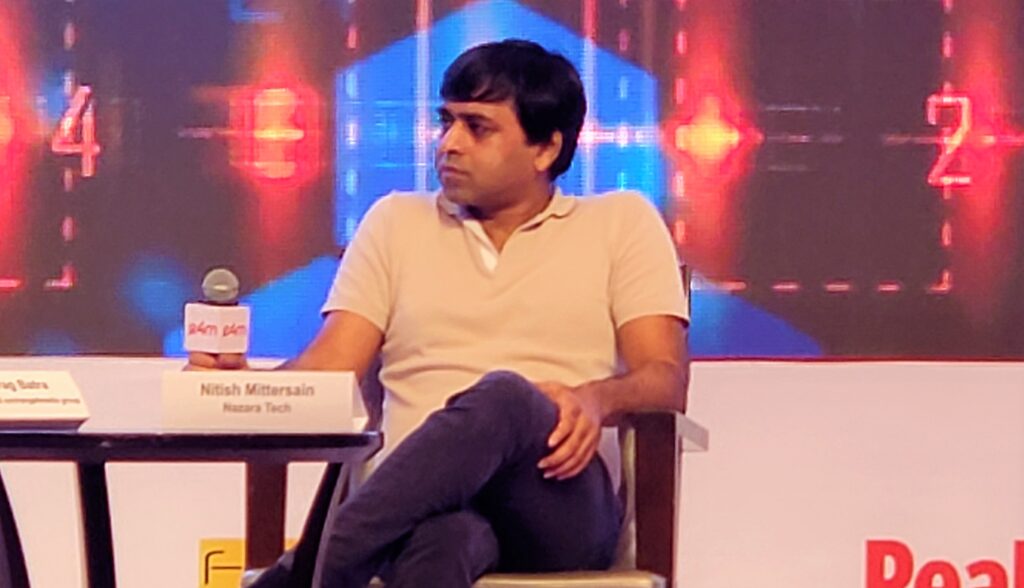 "There are a plethora of technologies coming together that are disrupting the gaming space and making it far more integral to our lives as we move forward," stated Mittersain.
Mittersain's Nazara Technologies remains bullish on new growth prospects in the gaming industry and anticipates that the "golden age" of the Indian gaming industry will soon come to an end.
Mittersain concluded the session with "Gaming in India in the next three to four years is going to be completely different than what it is today. In my estimation, the sector will be 10X of what it is today."
India's online gaming landscape is growing at an exponential rate, and the e4m – esp Indian online gaming landscape 2023 report looks at how brands can take advantage of this $1.5 trillion industry.
The online gaming industry is projected to experience a 27% compound annual growth rate (CAGR) by 2027 in India, driven by the availability of cost-effective smartphones, rapid internet connectivity, and an increase in gaming activity during the period of lockdown.
The gaming market is projected to expand to $8.6 bn in the fiscal year 2027, compared to $$2.6 billion in FY 2022. The number of gamers is projected to reach 442 million in 2023, and 650 million mobile gamers by 2025.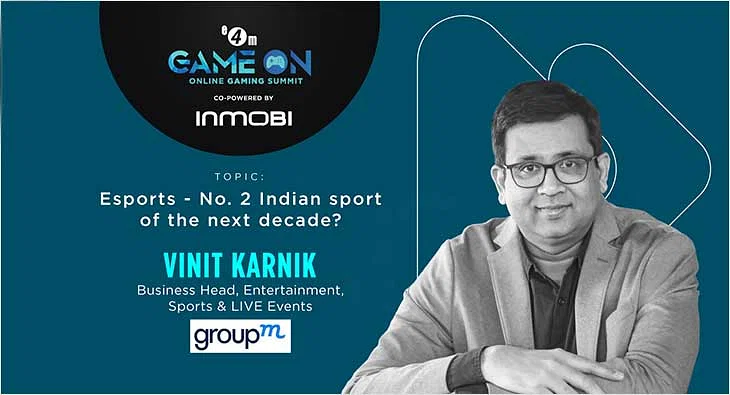 Key insights of the report by GroupM Business Head, Entertainment, Sports & LIVE Events, Vinit Karnik, spoke about the four booster shots that will catapult the entire industry over time, emphasizing that Brands need to ride e-sports bandwagon very early to reap benefits.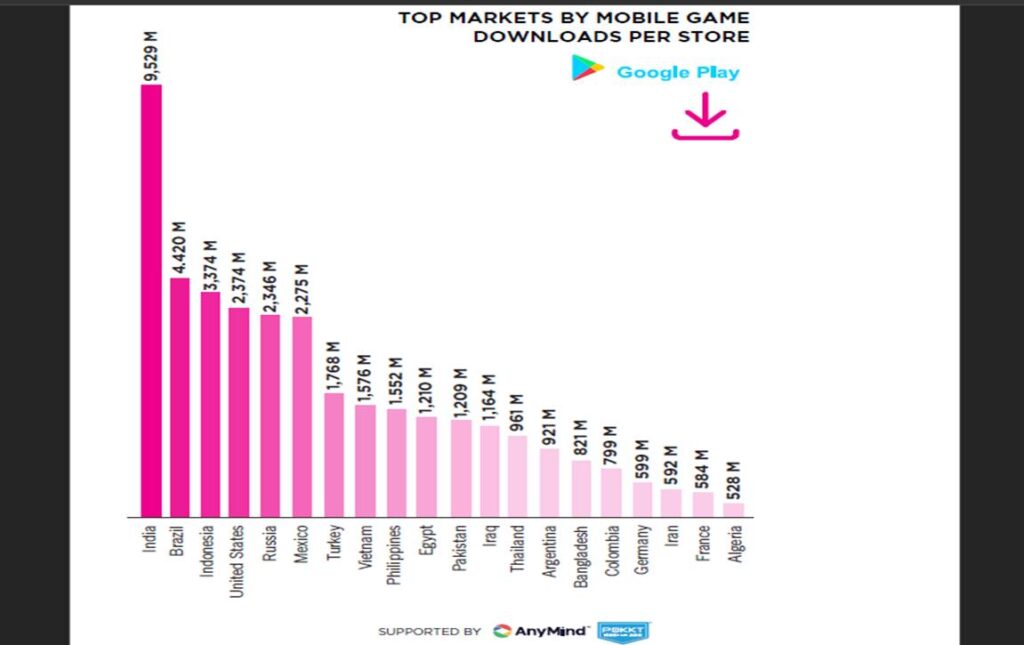 At the beginning of the session, Karnik presented a comprehensive overview of the current state of the e-sports sector in India. He highlighted the 14x increase in the number of gamers in India since 2010, as well as the 250 million mobile gamers who spend 22 hours per week engaging in e-sports content. Furthermore, Karnik noted that the prize money in e-sports in India has grown by 123% between 2016 and 2018. Karnik also noted that the Indian start-ups in the e-sports industry had raised $35.8 million in the past five years, demonstrating a steady growth.
Karnik talked about how popular gaming is in India. He said that most Indians have at least three games on their phones, and 80% of them play a game on a mobile device every day. He also said that the covid-19 pandemic really sped up the growth of gaming in 2020. He said that e-sports had 11% more users per week, and each user spent 21% more time on them. He said that the viewership of e-sports live streams had gone up 61% in the first week of lockdown, and 45% of Indians got into gaming during the lockdown, and that the gaming platform Gamerji had a 50% increase in DAUs during lockdown.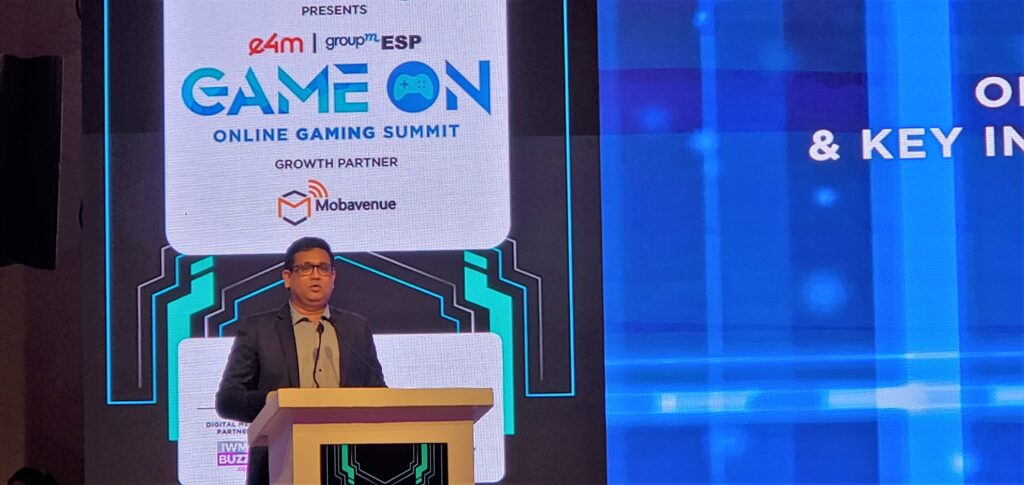 Karnik said that there are four main reasons why e-sports is doing so well. The Asian Games 2022 made it a medal sport, which has given e-sports a lot of legitimacy. Secondly, it helps people build their careers, with the prize money pool increasing and the competition getting tougher. And since 50% of the Indian population is under 25, the industry needs to make sure it keeps growing until it becomes a big thing. Thirdly, India is becoming more and more into e-sports because of low data prices and cheaper smartphones, and fourthly, there's more and more start-ups out there, which is leading to more people playing and playing gaming. He mentioned Nazara Technologies' IPO as a great example of this.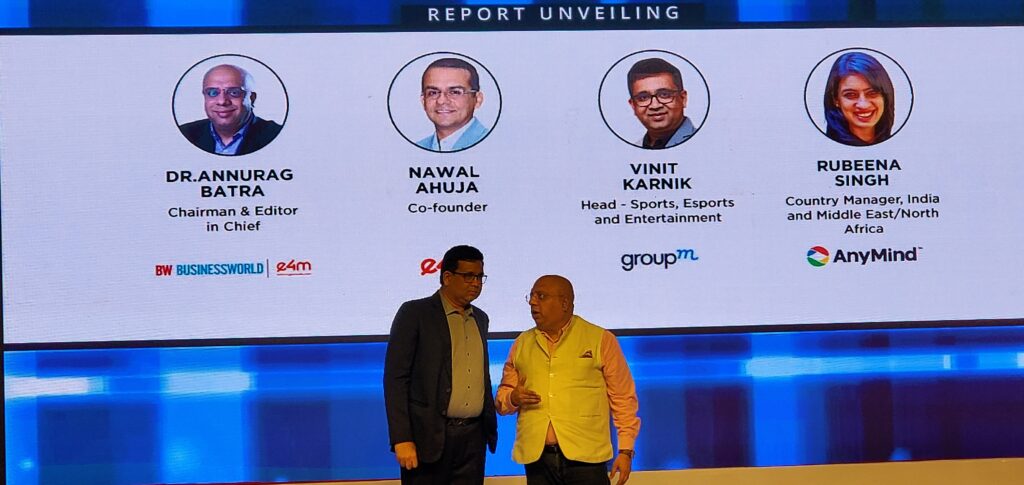 "These are some of the booster shots that will catapult the entire industry over time and a lot of effort from all of us from a marketing standpoint will ensure that this dream becomes a reality," Karnik noted.
"Most of the sporting events are unique to their fans, to its consumers and it is watched by fans live in the stadia or watched live on TV or live-streamed on digital. So e-sports is mimicking traditional sports. It's very seasonal and so are most of the sports around the world from a timeline perspective," Karnik said.
He continued, "The narrative is also very similar. We have all seen the rags to riches story in the entire traditional sports ecosystem. We have seen a massive amount of grassroots talent coming right from the bottom of the pyramid from rural areas to become poster boys of that country or around the world. We see similar sentiments echoing in the e-sports and gaming ecosystem. A lot of e-sports players have become stars due to e-sports being live-streamed. We see top-quality players in traditional sports, similarly, we see the best talent in e-sports competing with their peers either on console or PCs or on mobile."
He also mentioned that some of the worldwide advertisers of e-sports like Dell, Coca-Cola, MTV, Acer, Intel, Red Bull, Airtel, and Louis Vitton are also betting on the sport in India. "Brands need to ride the e-sports bandwagon very early to reap the benefits. Today is the time for brands to evaluate various opportunities and how can one relate to this target audience and look at building brand affinity with them over time," Karnik averred.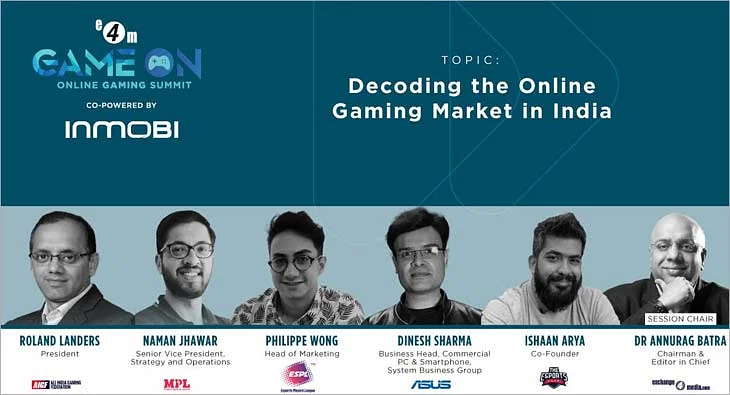 At the e4m Game On: Gaming Summit, panel discussion on 'Decoding the Online Gaming Market in India,' The panel members from the gaming industry provided an overview of the future prospects for gaming in India, as well as suggestions on how to create domestic games that can be successful on a global stage, concluding that e-sports is currently trending in a certain way and will eventually become as popular as cricket. The panelists for this session were Roland Landers, President, All India Gaming Federation; Naman Jhawar, Senior Vice President, Strategy and Operations, MPL; Sukamal Pegu, Ishaan Arya, Co-Founder, The Esports Club; Dinesh Sharma, Business Head, Commercial PC, and Smartphone, System Business Group, ASUS India and Philippe Wong, Head of Marketing, Esports Players League (ESPL). Dr. Annurag Batra was the session chair for this panel discussion.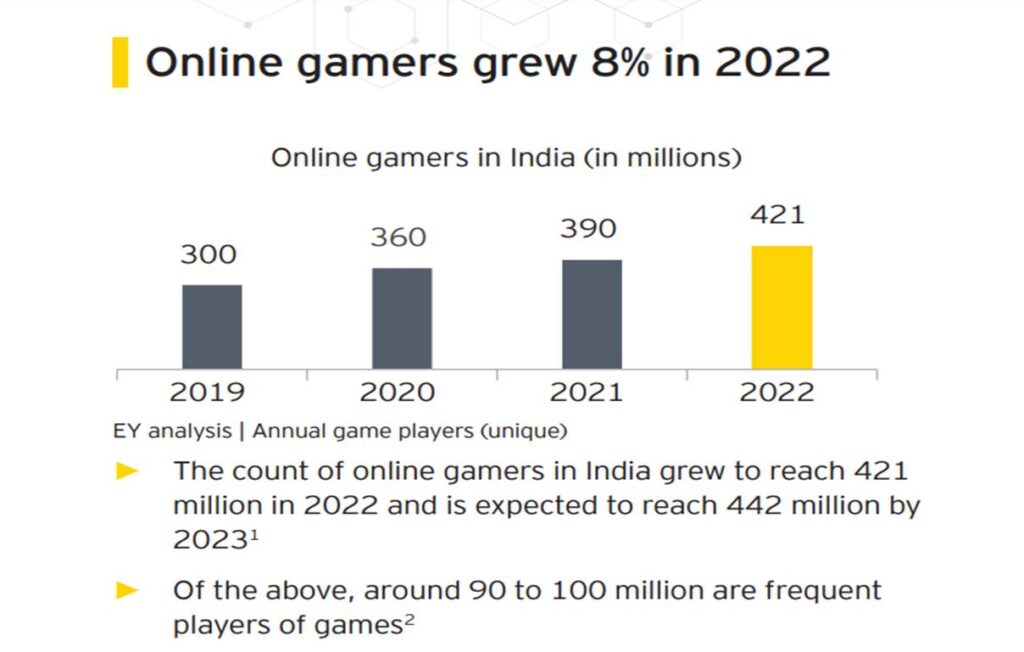 Roland Landers commented on the future is shaping up for the gaming industry in India, "We have been in a good place for the last four years. It has been a clear phenomenal growth these past few years because of the digital infrastructure and the fundamentals being in place. We are currently at about 320 plus million gamers and this year the turnover for the sector will be an access of a billion-dollar."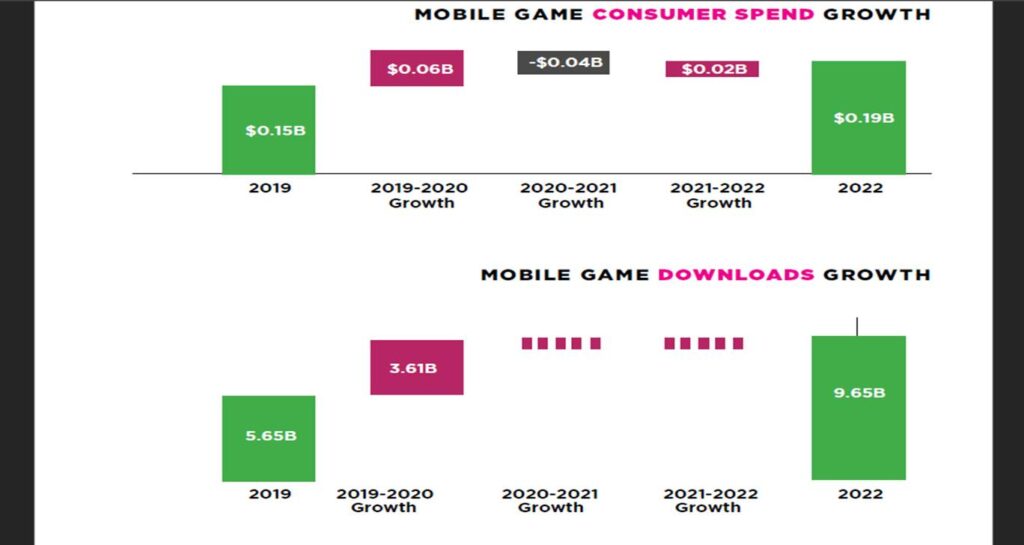 "The growth will be in accordance with the last three-four years. There will be easy access to 35% growth for the overall gaming sector. We need definite support from several stakeholders for things to take off."
Jhawar remarked, "The industry is very well placed on both sides. Whether it is developers or consumers. The critical success factors for scaling and growth are already out there. There will be a lot of developments on multiple fronts. There will be a lot of Indian developers making it big globally. It is going to be a mark shift change. Secondly, the scale of competitive tournaments is going to go higher. We would see one of those years which will be an inflection point for online skill gaming both on the casual and professional level. Thirdly, will be in terms of a brand perspective. This industry is going to create a lot more opportunities on the brand monetization side as well. That is something that is already happening whether it is live sports or on the online gaming platforms and this branding is going to scale up. We also see a platform play for MPL and other platforms. This will start to have a global play as well which is a big trend."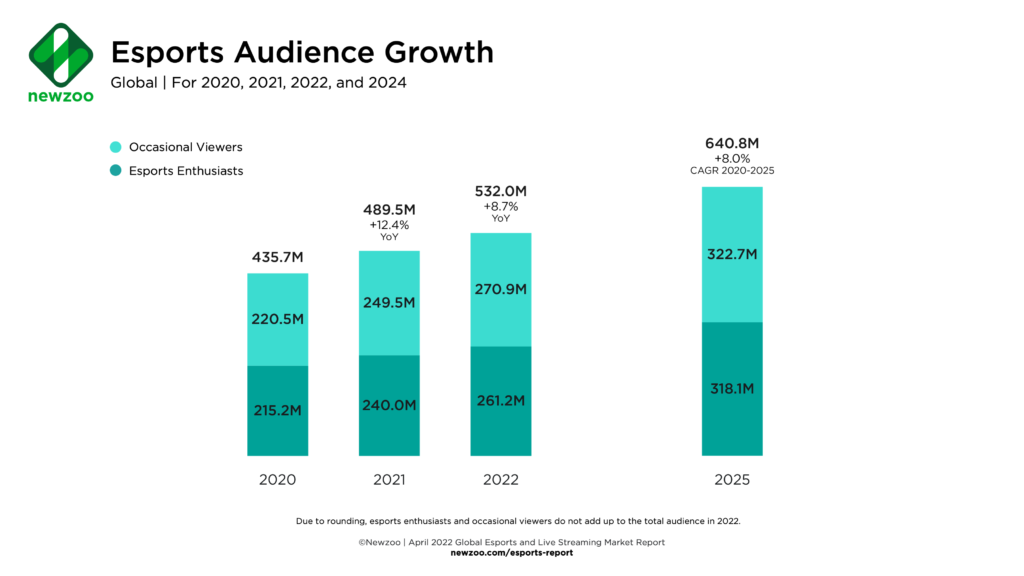 Arya commented, "We are moving into a space where e-sports competitive video games are not looked down upon. They are becoming a part and parcel of everyday entertainment. That is something that has boosted during this pandemic with more people looking for alternate means of entertainment and engagement. This digital medium has filled that void and thrive. We are seeing that more people are participating and watching events. At the beginning of the pandemic, we had about 100,000 to 200,000 views across our esports campaigns. Fast forward to February 2021 we are crossing about 1.5 to 2 million views every two and half weeks. That is the growth and internet being generated here. Now the challenge is to find a sustainable platform that gives these players the reasons and incentives to keep coming back. Therefore, creating value for advertisers, sponsors, and investors."
Wong, sharing his perspective, says, "For ESPL in particular we are focused on building an ecosystem. We are aiming to build and focus on the grassroots for six or seven months and build that platform for players who aspire to reach the e-sports dream. In India, the community is certainly very competitive and exciting. The competitive spirit here in India is strong. I think it is good that there is talent development with certain organizations like Global E-sports that nurture and grow talent. Most importantly there should be more tournaments and competitions for teams. We are seeing how the strategy of teams can execute this specific direction. Having regional and international tournaments helps expose teams to different competitions and we are seeing like that in South East Asia. Where a lot of the tournaments are region-wide. The HyperX Elite Cup which we host and organize in SEA that brought over more than a thousand rural teams. We do this by expanding to more regions and here in India, we are working with amazing teams. Building a lot of bridges and allowing an opportunity for teams to play internationally is an area that will be there going forward in India as well."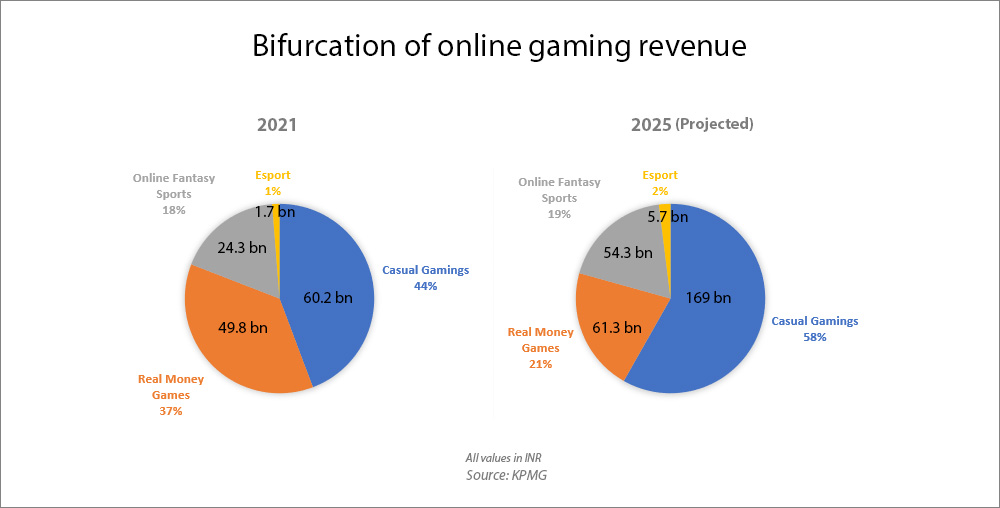 Sharma stated, "E-sports is trending in a manner and will become as big as cricket. The youth are playing e-sports gaming while they are free or commuting. This is leading to larger democratized product segments. We are seeing a much larger penetration of multi-players. Once 5G comes into play, we will have further capability to give people better immersive experiences on smartphone gaming. This would lead to a further surge in gaming adoption, consumption, and time spent on gaming. All the trends are pointing that gaming is here to grow especially in the smartphone sector."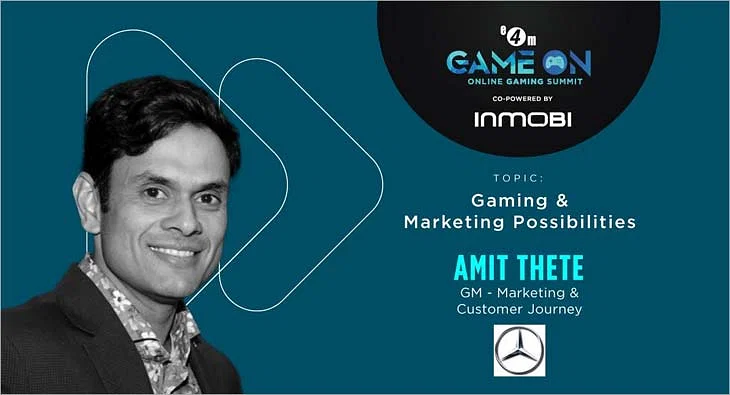 Amit Thete, General Manager – Marketing & Customer Journey, Mercedes-Benz India at the e4m Game On: Gaming Summit presented a case study, 'Gaming & Marketing Possibilities.' Amit highlights, 'Immersive gaming experience accounts for higher brand recall."
Thete on importance and potential of gaming, said: "Gaming is not an area we have ventured into too much in India but globally, it has started to take off. It is no more a child's play. It is much more an involved and matured platform. Currently, it is a $165 billion industry. Accessibility is also another reason why gaming is growing at such a rapid pace." Brands like Coca-Cola, Mercedes, and Redbull are all jumping on the gaming bandwagon. People love the immersive gaming experience, so it's no surprise that brands are turning to it to get their names out there.
Mercedes-Benz India's Thete shared with the audience that 50% of video games are played on mobile phones. "With today's cloud-based technology, mobile has expanded the gaming world. This makes gaming a very convenient platform for engagement", he commented.
Thete reported that the target demographic is comprised of approximately 85% of gamers aged 18-34, 34% of whom are full-time fans, and 32% of whom are in the higher income brackets. Globally, the majority of gamers are male. Thete attributes these gamers to being highly tech-literate millennials, coming from affluent backgrounds, having a thorough understanding of analytics, being up-to-date, and wanting to be in a space where they have discovered their passion for gaming.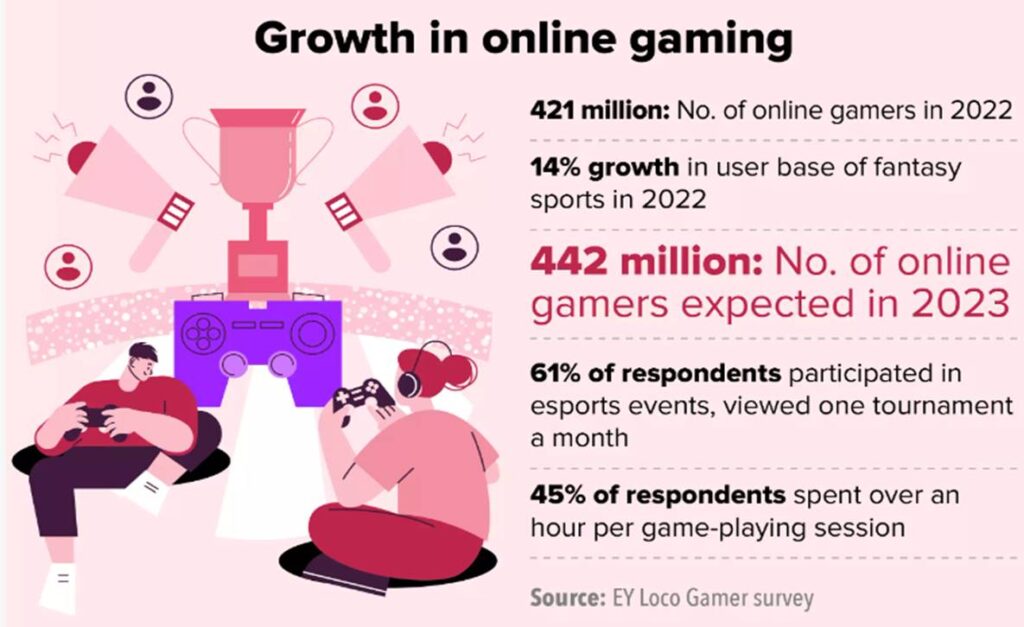 In regards to the Mercedes Benz gaming environment, Thete remarked, "Globally we have a tie-up with online gaming. In 2019, we had one on-ground event ESL at Mumbai. Due to the pandemic, on-ground events weren't happening. For example, Formula 1 was a big challenge and Mercedes Benz is known for its seventh-year undisputed championship at the motorsport. That is when we shifted to online Formula 1 as a sport and that gave us immense viewership. Around 30 million people were watching online. The best of our race drivers were participating there. We are also working on GT racing in terms of simulators and how to take them online from on-ground. In the future, gaming will have to have some integration with the car. We are working on in-car gaming. Recently, in one of the forums, it was announced and in-car gaming is at a developmental stage."
"At the moment the audience needs to be more in place for the luxury car market. However, we see a future with online gaming and we would like to think about this as a platform. We would like to study the platform a little more, ensure that is matured for the target audience, and then venture into it. As a marketer, I'm positive about online gaming and its deployment in the country." Thete informed the audience of his intentions for gaming within the context of Mercedes Benz India.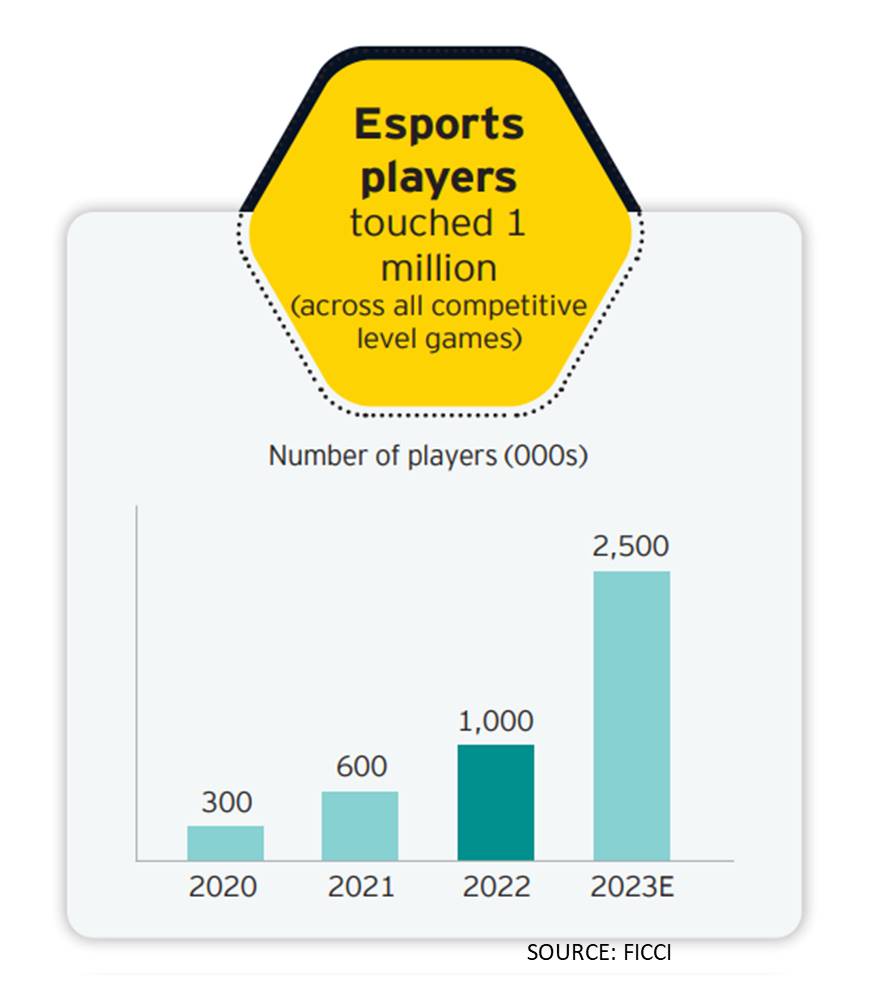 Dr. Annurag Batra – exchange4media Chairman & Editor-in-Chief had an enticing chat with Mobile Premier League (MPL) Chief Executive Officer & Co-Founder Sai Srinivas, who being super bullish on India's esports sector saying, "In 2-3 years, 30-35% of global e-sports audience will come from India, with the theme of the fireside chat being 'Indian Gaming Companies Going Global'.
Gaming has always been a popular form of content, however, the prevalence of the internet and mobile phones has made it increasingly accessible. Gaming is unique in that it does not require a language, unlike other forms of content such as films, videos, audio, and text. This is due to the fact that gaming is a universal language, making it easy for anyone to learn. This is one of the primary reasons why gaming is experiencing such rapid growth compared to other forms of content. In the next few years, it is likely that there will be a platform, such as the Major Online Leagues, to host massive global tournaments. For example, a simple game, such as chess, may be played by a player from New York or a player from Delhi, India, in one to one and a half years.
There will be large-scale online tournaments in which millions of players will participate. Not only is this tournament huge, but imagine if you and I were to play in the quarter-finals of the tournament and there is a good chance that a significant number of players from all over the globe would also want to watch the live broadcast of the game between the two of us because a large number of players have been eliminated. This is the e-sports landscape of the future. It will be mobile-centric as the vast majority of people can only access computing from their mobile devices.
As e-sports expands to developing markets and becomes more accessible to the general public, mobile will be the driving force behind the revolution and will be the only means to bring competitive e-sport to the global audience of 3–4 billion people. This is my vision for the future. The aforementioned 1 million is merely a starting point. These tournaments could potentially reach 5–10 million, or even 12 million attendees. The only limitation is the imagination.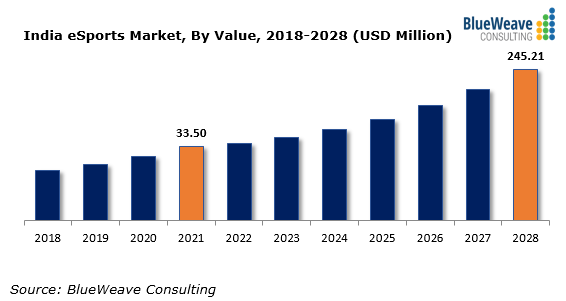 On the role Indian e-sports companies play on the global level, Indian e-sports companies must redefine the concept of e-sports in our country. I understand that Western countries have implemented e-sports on PC and console, however, in our country, the number of PC and console users is very low. To deny the opportunity for 200-300 million users to participate in a tournament simply because they do not possess a PC or console is absurd. We as a country should allow larger audiences to participate in e-sports. Anyone who has access to a mobile phone should have the opportunity to participate in competitive online e-sports. Within the next two to three years, thirty to thirty-five percent of the global audience for e-sports will come from India due to the size of our country. If thirty to thirty percent of the consumption of an industry comes from one geographical area, then it is the responsibility of that geographical area to increase participation and establish clear regulations that are user-friendly.
Viewership of eSports across India from financial year 2019 to 2021, with estimates up till 2025  (in millions)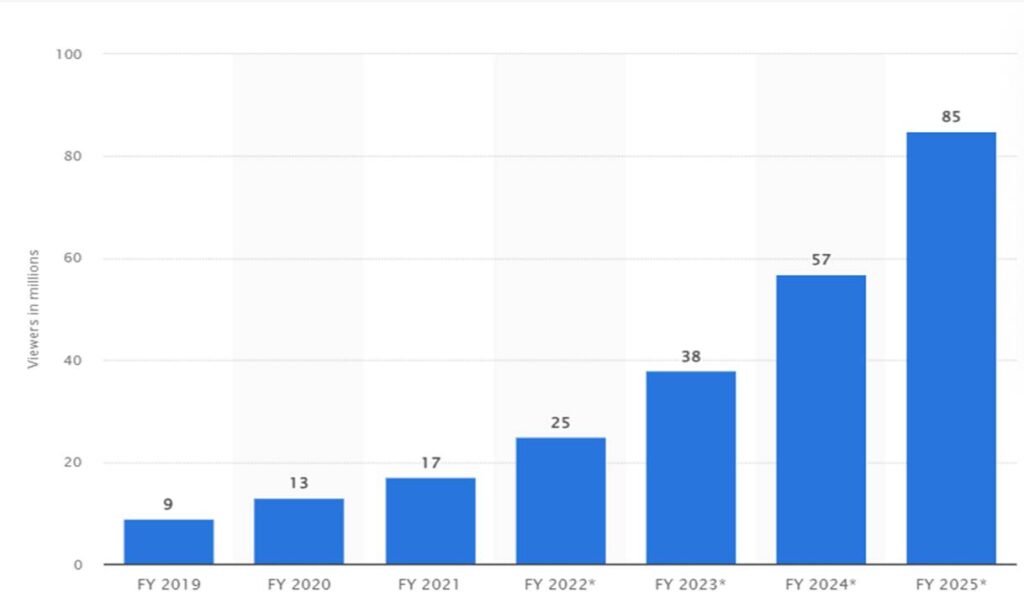 On attracting and expanding Indian esports players and the sector, he remarks, gaming in Indian languages is the next big frontier because that will bring in a newer set of audiences that were never introduced to gaming. In addition to languages, games are also based on Indian narratives. For instance, in Japan, there are numerous games that are based on the narratives that originated from the country. Similarly, in India, there is a wealth of stories to be told and each game is structured in a manner that tells a story. In addition, games that are rooted in narratives that are familiar to the Indian audience are more likely to fare well. As the number of Indians online increases, there will be a growing number of studios that will specialize in certain types of games.
On new employment opportunities, the Indian gaming/esports sector will create, the gaming and e-sports industry, in particular, will be a net exporter for India and its platforms. This will enable the development of a workforce that is primarily focused on the creation of intellectual property. India has traditionally been highly successful in the provision of services, however, the advantage of constructing this ecosystem lies in its emphasis on the creation of IPs. IPs, such as digital properties, are able to be monetised multiple times throughout the world, thus providing a great deal of value to the Indian economy. This will create a wide range of employment opportunities, in addition to the traditional jobs such as engineering and product management, and will add immense value to the trading ecosystem. Currently, the majority of storytellers in the gaming industry are employed in film or related industries, as storytelling is a particularly difficult aspect to game development, and copywriting is a critical aspect to game development. The majority of creative people in the film and OTT industries will find relevant roles in the gaming industry. India has a long history of creative work, and a large number of top-quality Hollywood movies are shot in India.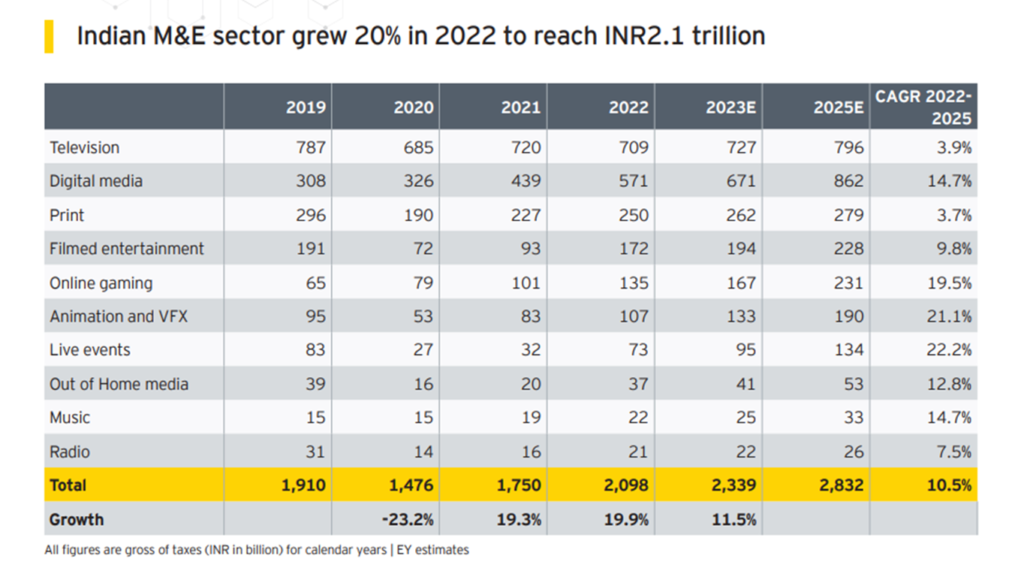 Mr. Srinivas on his top predictions for the Indian gaming industry, Gaming in India is expected to generate more revenue than Bollywood or the entire film industry. I am sure that in any country where gaming is mainstreamed, it will eventually generate more revenue than all other forms of entertainment put together. E-sports will be included in the Asian Games, and eventually in the Olympics, and India will be one of the early three or four nations to win a significant number of medals in the Olympics, provided that e-sports around the world acknowledges that access to the sport is paramount. If we ensure that our people are able to participate in the tournament, and if there are 300 million people participating in the tournament, the highest ranked player in the world is likely to be among the top two or three players in the tournament. Additionally, we must ensure that the right type of devices are provided to our people in order to expand the sport's reach.