Oliver Tolentino: Filipino Designer Achieves International Success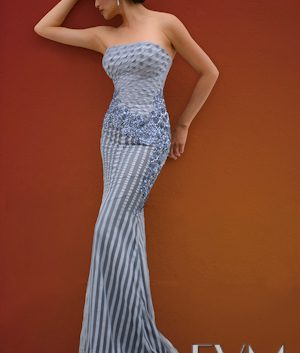 While waiting to interview Oliver Tolentino, I go through the gowns from his latest fashion show and realize how truly talented he is, this international fashion designer who marries couture with eco-friendly materials. He is most certainly a man for all seasons, as he also does prêt-a-porter as well as men's custom-made clothing. Tolentino is also known for his wedding gowns.
Born in the Philippines, Tolentino enjoys working with and showing off his native fabrics. He says, "I want to promote the products and skills of the weavers of the Philippines, who have been creating remarkable fabrics for over three hundred years."
These eco-friendly materials are made from a pineapple that only grows in the Philippines as well as from Manila hemp, water lily leaves, jute, and raw silk .
But, Oliver Tolentino is equally adept in his work with all types of fabrics, conceiving highly original designs which are simultaneously au currant and for the ages.  It is amazing such a range of creativity resides in just one person, who can produce fashion with both a terrific edge and true allure.  As he says succinctly, "My aesthetic in making clothes is to produce romantic designs which are both modern and timeless."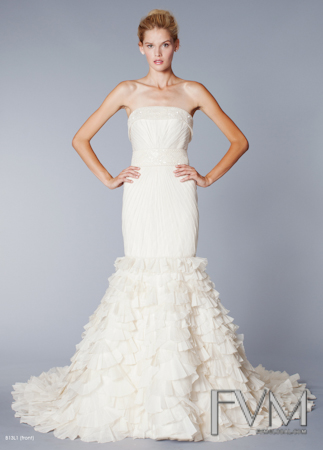 As a child, Tolentino dreamed of designing in Hollywood for the stars and, just like in Hollywood movies, his coveted dream came true. Now his creations are donned by celebrities such as Julie Delpy, Carrie Underwood, Fergie, Jessica Alba, Emmy Rossum, Lea Salonga, Jamie Chung, Jennifer Lee, Carrie Fisher, Anna Paquin, Arnel Pineda, Giuliana Rancic, and many more.
Immediately embraced by celebrities when he moved to Los Angeles six years ago from the Philippines, Tolentino was invited to do the Oscars Designer Challenge. For this competition, fashion designers submit sketches of red carpet dresses to the Academy of Motion Picture Arts and Sciences, and the winning gown is then worn by the woman who presents the Oscars at Hollywood's most prestigious awards ceremony.
A friend of Tolentino says of the Challenge competition: "Oliver was an Oscars Designer Challenge finalist — which was big in and of itself, because he had just arrived in LA and his shop had only been open here for a few months.  Only nine designers were chosen from applicants all around the country, if not the world.  So, Oliver was thrilled to be noticed such a short time after opening his LA boutique. The ultimate winner was determined by online voting, but Oliver didn't have a "following" or base yet in LA to help push him, so he was very happy just for the exposure, which allowed him to be the first Filipino to introduce his native fabrics to Hollywood."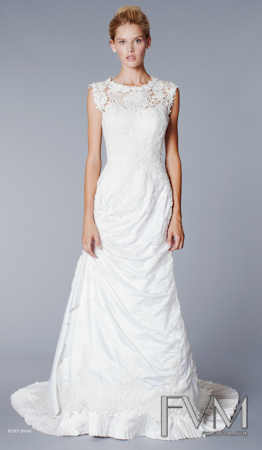 Since then his designs have been worn by numerous celebrities attending such high profile events as the Oscars, Emmys, Golden Globes, Grammys, SAG Awards, Cannes Film Festival, and the Global Greens Pre-Oscar Party, and have been seen on such popular shows as American Idol and Extra. Oliver Tolentino creations now have a worldwide presence as well, having been shown everywhere from New York to Hong Kong to Bali.
When Oliver was growing up, his family had an in-house seamstress, and he seemed to spend more time with her than with other children. As a result, at age seven he already knew how to sew. "I would take a shirt and reconstruct it. My mother would ask where I had obtained it," recounts Tolentino. He told his mother at an early age he would become a fashion designer. At school, he amazed his home economics teacher with his skills and design concepts. In love with Hollywood from an early age, he absorbed the fashion featured in the hit TV programs Dynasty and Dallas and fan magazines, and those influences permeate his designs to this day.
He later studied fashion in Manila at Slim's Fashion School and Fashion Institute of the Philippines.
Tolentino further reflects on his development, "When I was growing up there weren't a lot of high-end boutiques so Filipino designers learned to do couture type work. We also learned to do lot of handwork and embellishments on garments."
Tolentino is the first Filipino designer to expand operations to the United States by opening a boutique in Los Angeles while maintaining his Manila store. From these two locations, he services clients from all over the globe, as his work grows in international prominence. He continues to keep himself sharp by observing fashion at all different levels around the world because, for Oliver Tolentino, fashion most certainly is both his métier and his raison d'etre.
As a youth, he dreamed of dressing the stars of Hollywood, and now he has!
"When you dream, dream big, but you have to work hard to achieve your goal," he explains.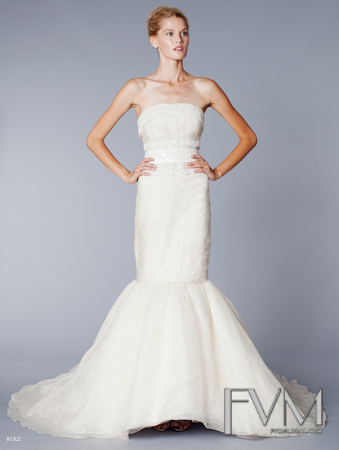 Tolentino is a master of every aspect of his craft, from sketching to pattern making to sewing to embellishing. For instance, his prêt-a-porter is designed so well that you would think it is couture.
Some of his creations are very elaborate and incorporate complicated embroidery; these designs may take six months to reach fruition.
His goal is to make his clients happy and he treats the design process as a collaboration with them, working each individual's physical attributes, aims, and ideas into a unique creation.
A man with perpetual energy whose creative juices are always flowing, he is also peripatetic and has been featured in fashion weeks around the world.  Among his many awards and recognitions, he is very proud of his first prize at the Bali Fashion Week.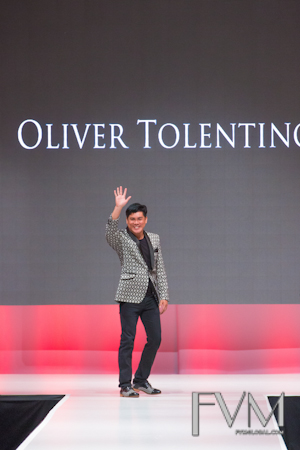 Always in the forefront of new developments, Tolentino incorporates many eco-friendly fabrics into his designs. In one of the environmentally safe techniques he employs, the leaves of a native Philippine pineapple are ingeniously woven into some of his creations; the results are miraculous indeed! Natural dyes are utilized in these procedures as well.
A world traveler, Tolentino cooks and paints for relaxation. He loves to design for high society in his native country, but, of course, everywhere else as well.
When Jennifer Lee won an Oscar for "Frozen" wearing an Oliver Tolentino gown, he became the first Filipino designer to be worn by an onstage winner at the Oscars in 53 years! He was also only the second Filipino in history to have this honor, assuring him a prominent place in the Philippine fashion industry history books.
Tolentino's home economics teacher from grade school still wears the dress he made for her way back when, and her daughter now wears it as well. As he builds his legacy, this says volumes about Oliver Tolentino and the esteem his designs have earned for him.