POWER BRANDS GLOBAL SUMMIT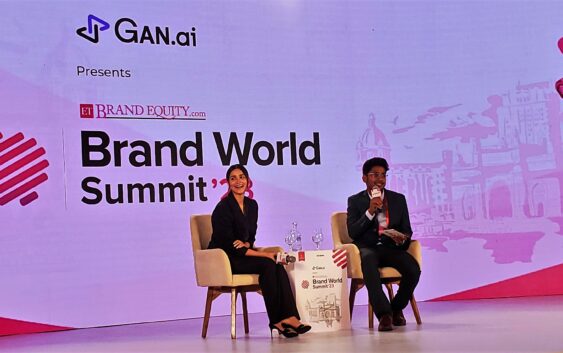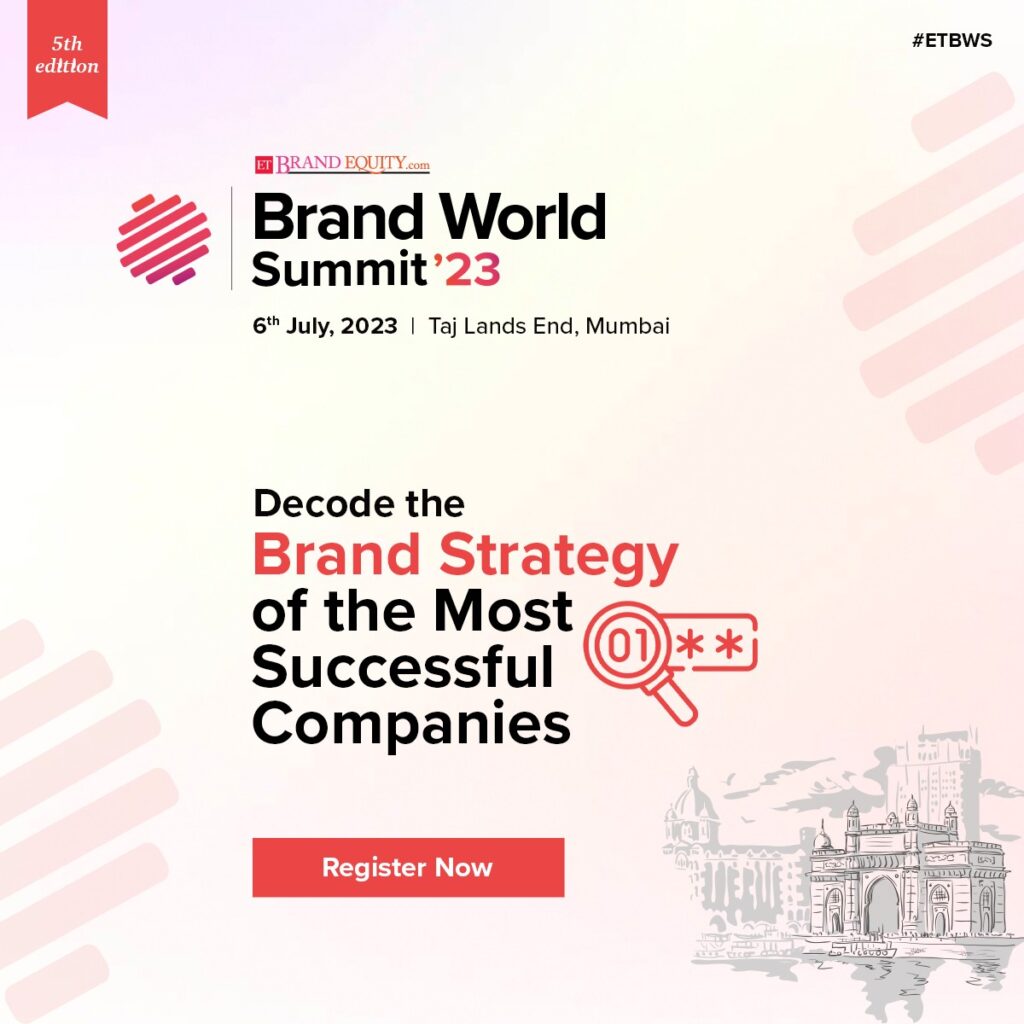 The ability to close deals is no longer a responsibility of the marketing executives. CMOs are the most recent cohort to be promoted to CEO status because this is the closest they have ever come to conversion. technological progress and generative AI. There has been a seismic shift from leaving the major money with the big agencies to entrusting the planning to small enterprises. Both screens and eyeballs have multiplied greatly. More money is being spent by marketers than ever before to advance the brand story that prompts purchases and captures consumers' attention.
India's biggest brands came together in Mumbai at the luxurious TAJ for the fifth edition of the Economic Times – Brand Global Summit 2023 to talk about how to reinvent their branding in the tech-driven world. It was a great opportunity to get together with the best of the best.
Think tanks worldwide have declared this to be the decade of CMOs, being in the midst of a networked economy, where business models and traditional marketing and brand development concepts are subject to scrutiny and diligence.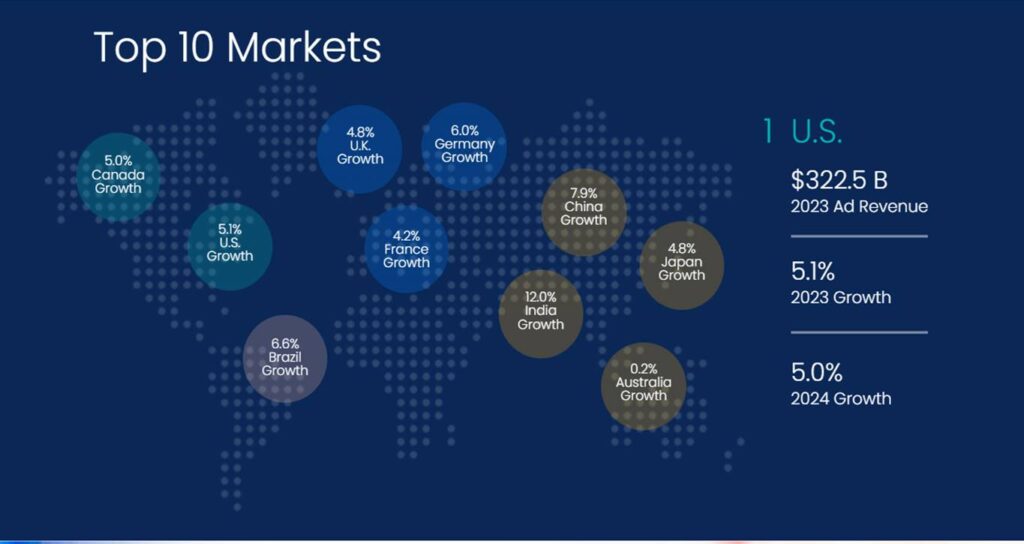 India is the top-growing market among the top 10 ad markets in 2023, according to GroupM's TYNY research, and was rated eighth by worldwide ad expenditure. Digital media accounted for 48% of all ad expenditures of INR1,049 billion in 2023, up from 32% before to the epidemic.
According to industry reports, global ad spend is expected to be around USD 859 billion in 2023, and digital is expected to make up 76% of all ad spend. India is the fastest growing market among the top 10, and it's ranked 8th in the world, where digital, backed by tech, is still the fastest growing medium. The country's brand world has spent over a trillion (INR) across media channels to grab the eyeballs in 2022. Traditional media, as defined by experts as television, print, outdoor, radio, and cinema, garnered INR 550 billion in advertising funds, while digital received INR 449 billion.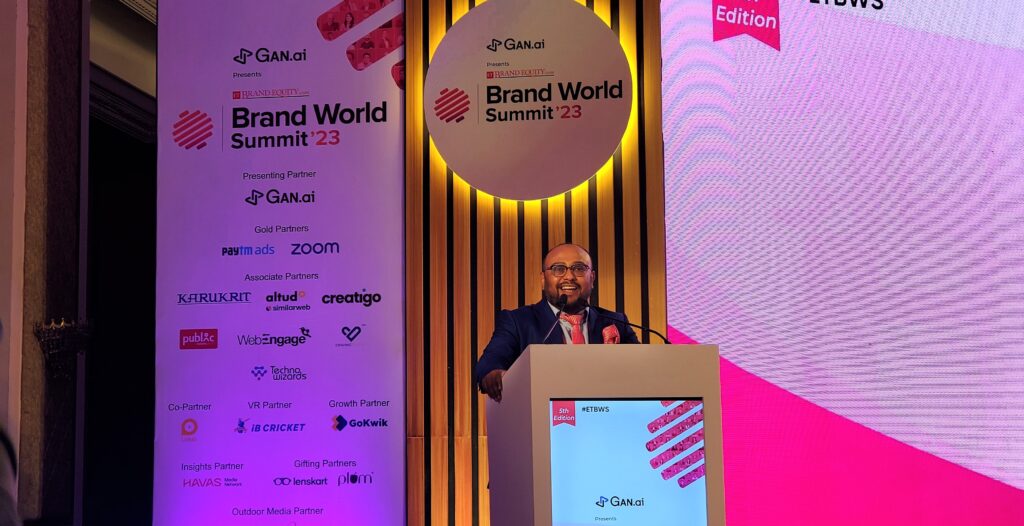 Amit Kumar Gupta, Business Head, ETB2B Business Verticals gave the welcome remarks and said, "The Indian advertising industry is significantly shifting, with core marketing principles being challenged. Some younger organizations have already reorganized their marketing departments to focus on growth. Global investment in marketing technology is expected to grow from 2% to 10% as brands seek to stay ahead of the curve. The Brand World Summit is an opportunity for the best minds in the industry to come together and and discuss the future of marketing."
The summit featured a series of keynote speeches, fireside conversations, case studies and panel discussions that explored a wide range of topics that shape media, advertising and marketing. Topics ranged from the transformative potential of generative artificial intelligence (AI) to the breaking down of departmental barriers for enhanced human intelligence. The agenda also focused on the integration of traditional and contemporary marketing techniques in India.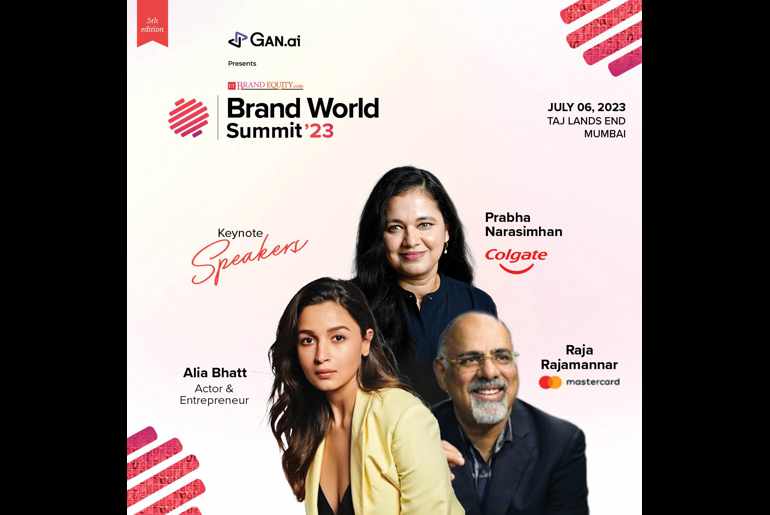 The Economic Times – Brand Global Summit 2023 did a thorough analysis of the media, advertising, and marketing ecosystem in the nation. Raja Rajamannar, Chief Marketing & Communications Officer and President, Healthcare Business, Mastercard, and Prabha Narasimhan, MD and CEO, Colgate-Palmolive, gave keynote remarks at the day-long conference.
Distinguished speakers included the multi-talented Alia Bhatt (Actor and Entrepreneur), Raja Rajamannar (Chief Marketing & Communications Officer and President, Healthcare Business, Mastercard), and Prabha Narasimhan (Managing Director and CEO, Colgate-Palmolive India), with captivating case studies such as Girish Kalyanaraman's (Vice President and Category Leader, Feminine Care, Procter & Gamble India) insightful journey through "Causevertising: The Journey of Whisper #KGIS." Additionally, Vikrant Mudaliar (CMO, Dream Sports) presented the captivating fireside chat on "At the Confluence of Sports & Entertainment: Dream11's Marketing at Play."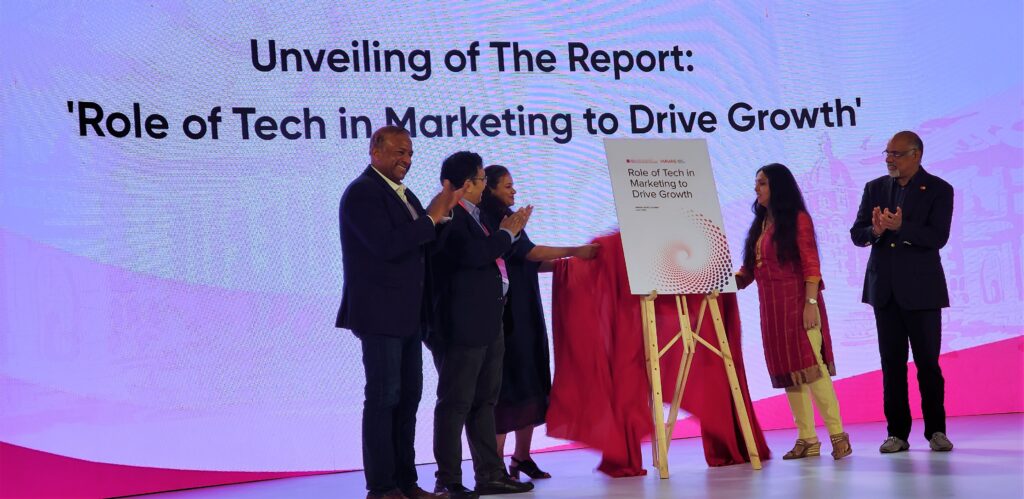 The summit witnessed the unveiling of a detailed report on the "Role of Tech in Marketing to Drive Growth" by Havas Media Network in association with ETBrandEquity.com. An unforgettable experience at the forefront of branding innovation as the Brand World Summit pushes boundaries and sparks new horizons.
Commenting on the launch of the report, Mohit Joshi, CEO of Havas Media Network India, said: "At Havas, we strongly believe in the significance of context. We understand that the media platforms brands choose to invest in are just as crucial as the messaging they convey in their advertising campaigns. Technology and marketing go hand in hand, but the ultimate goal is to activate meaningful connections that enable brands to drive desired actions."

This pioneering report delves into the significant impact of new technologies on consumer behaviour and marketing strategies in India. Spanning two distinct chapters, the report offers a comprehensive overview of the current state of affairs and the potential of new technologies in the marketing sector. This joint endeavor between the two organizations is a testament to their dedication to providing cutting-edge research and thought-provoking insights into the world of marketing and advertising. The aim of this report is to provide marketers with the necessary information to adjust to the ever-changing technological environment and capitalize on its potential to generate growth.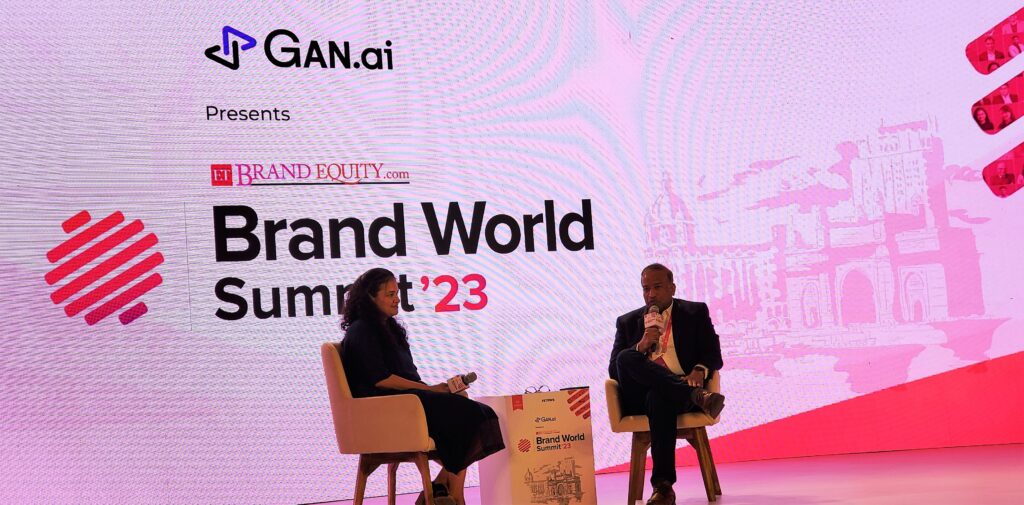 Prabha Narasimhan, MD & CEO, Colgate-Palmolive (India) Ltd delivering her keynote speaker, stated that the company's goal is to maintain the vitality of the Colgate -Palmolive brands, with a focus on consumer centricity, innovation and technology.
"In this digital age, branding and strong brands remain key to unlocking value. Technology has created shorter attention spans and fragmented media channels, but it has also exploded the possibilities for brands to reach consumers through different touch points. Trust, quality, reputation, and the purpose of a brand are as key, if not more so, as consumers choose their preferred brand," said keynote speaker Prabha Narasimhan, MD & CEO, Colgate-Palmolive (India) Ltd.
As one mandate is driving growth, Colgate-Palmolive (India) Ltd., a highly profitable company in India, plans to expand investment in its key brands and investigate new potential for growth. The company's principal goal is to grow while retaining its reputation for sound financial management, sustainability, and governance. The company also declared a strong interest to acquire local brands.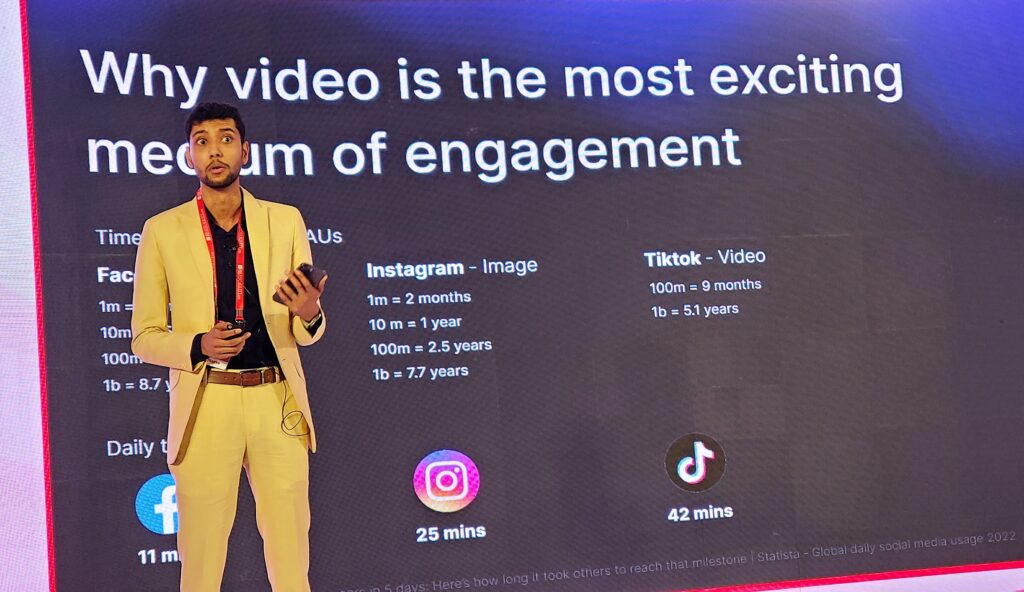 In the current digital age, personalisation and customisation are the order of the day for both marketers and consumers. At the Brand World Summit held by ETBrandEquity at the beginning of the year, Suvrat bhooshan, Founder and Chief Executive Officer, Gan.AI, the lead sponsor for the ET Brand Global Summit 2023, discussed how one can remain ahead of the curve in video personalisation with the help of the latest buzzword of the year – Generative AI.
Suvrat Bhooshan, Founder and CEO of Gan.AI, talked about how you can be the best at video personalization with the help of generative AI at ET Brand world summit 2023. He showed some examples of how Gan.AI has worked with brands such as Zomato and Samsung, and now Vivo to show how video personalization can benefit brands.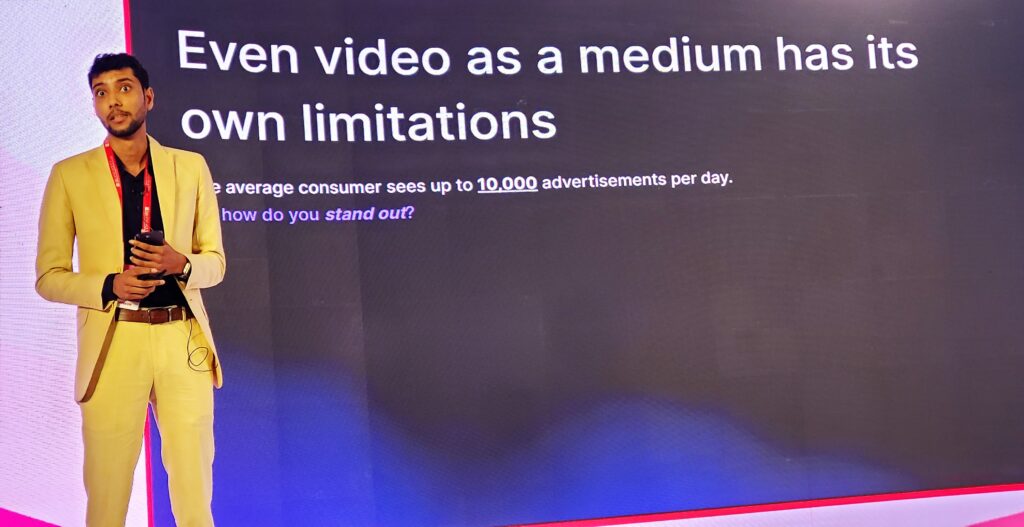 Bhooshan was taking the audience on a nostalgia trip down the social media rabbit hole. When Facebook came out around 20 years ago, people were shocked because they had never seen anything like it before. But it wasn't until about 10 years ago when Instagram came out that the world basically switched to pictures.
"And five years ago, TikTok became the market leader for short format video content. Facebook didn't take it as seriously, and is now trying to catch up with reels," Bhushan added. However, Bhushan pointed out that video too, comes with its set of limitations. "Any consumer on an average is being inundated with 10,000 ads per day. That is a very large number to stand out against, even with video personalization on your side,"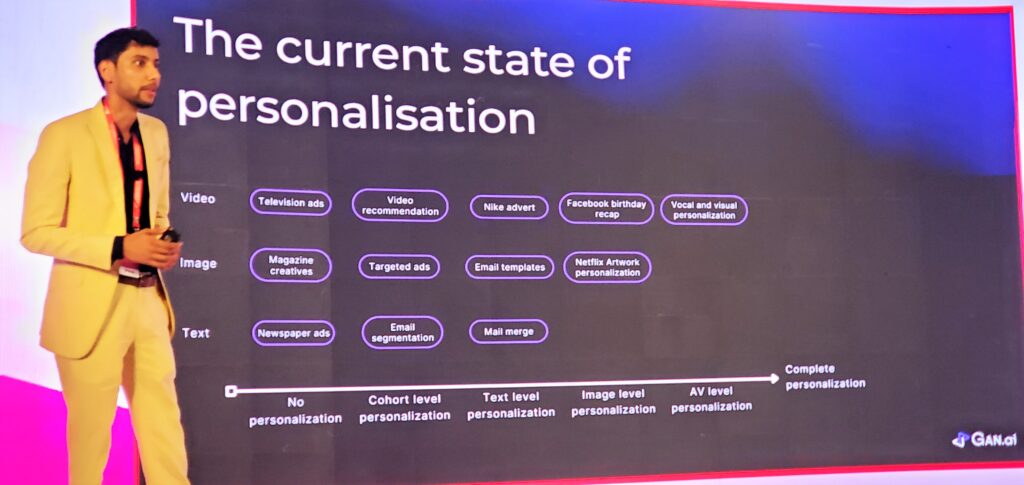 "With Gan.AI, you just have to record one video and reach a hundred crore consumers now," he said.
Gan.ai's video personalisation software is studio-quality, so all you have to do is record a single video, add some dynamic keywords to the script, and you're good to go. With one click, you can create millions of hyper-personalised videos. Plus, you can create customised landing pages and deliver videos through your preferred communications platforms, so you can have specific conversations with users and create custom calls-to-actions.
Gan.ai record videos with influencers and celebrities, and now they call out your name and tell you to take a personalised call-to-action the results are astounding. We saw a 5x increase in our Video Completion Rate, 3x increase in open rates, and 1.5x increase in our Click-Through-Rate," said user Tejnoor Grover at gaming platform Mobile Premier League.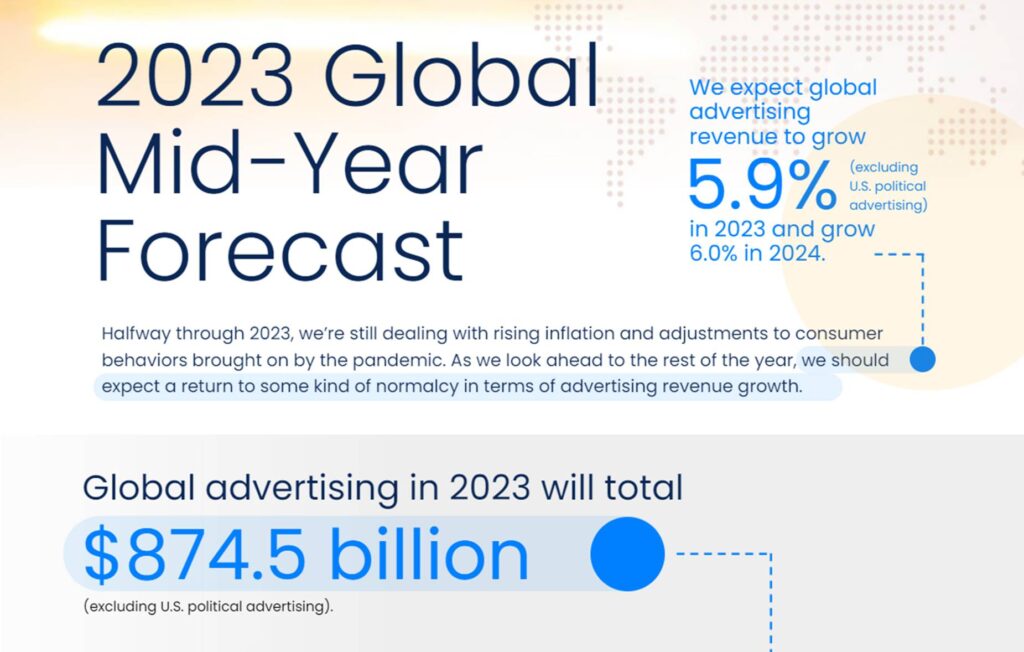 Group M forecast global advertising revenue to grow 5.9%, excluding U.S. political advertising, in 2023, consistent with our December prediction, and expect global advertising in 2023 will total $874.5 billion, ex-U.S. political advertising. The fact that our forecast remained remarkably consistent is in part a testament to the increasing maturity of the digital channel.
Global advertising growth remained unchanged, at an expected 5.9% growth to hit $874.5 billion (although after adjusting for inflation, it's a slight negative). The main reason global growth remains steady is the quick recovery of China, which had spent a good part of 2022 in Covid-related lockdowns that negatively affected its economy. China is forecast to grow 7.9% in 2023 to $150.6 billion, which is up from last December's prediction of 6.3% growth. Other markets expected to show growth include Brazil (up from 3.8 % in December to 6.6%) and Middle East/North Africa (from 4.2% to 6.2%)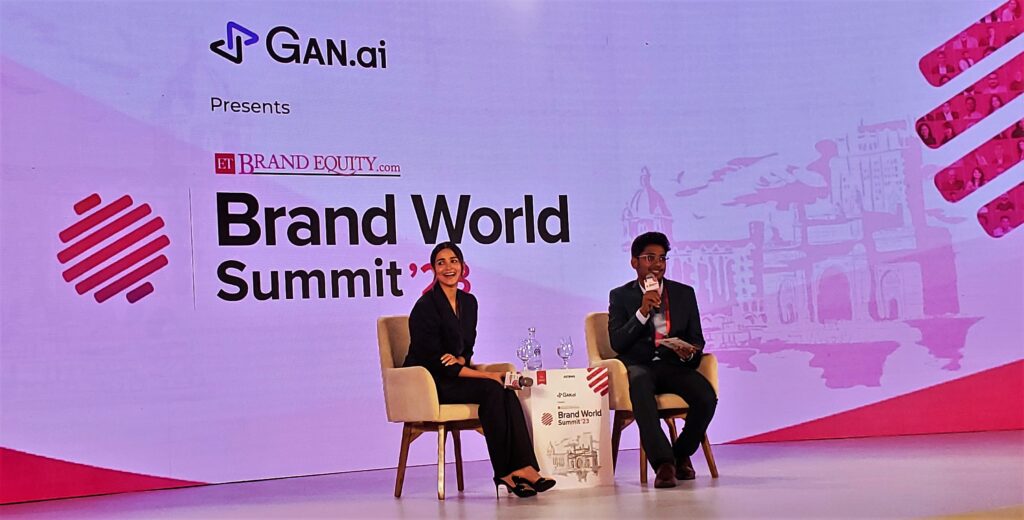 Alia Bhatt recently made history by becoming the first Indian film star to become a global ambassador for Italian luxury label Gucci. The session was chaired by Anirban Roy Choudhury, assistant editor- special initiatives, ET BrandEquity.
Alia Bhatt, a renowned actor and businesswoman, was one of the main attractions of the event, as her presence undoubtedly brought a new perspective to the proceedings. Her presence was indicative of the growing association between the entertainment sector and branding, which emphasizes the importance of innovation in effective marketing.
Bhatt said that starring in advertising commercials was a welcome break in her hectic schedule packed with film shoots. However, she would be very careful of accepting every endorsement that came her way.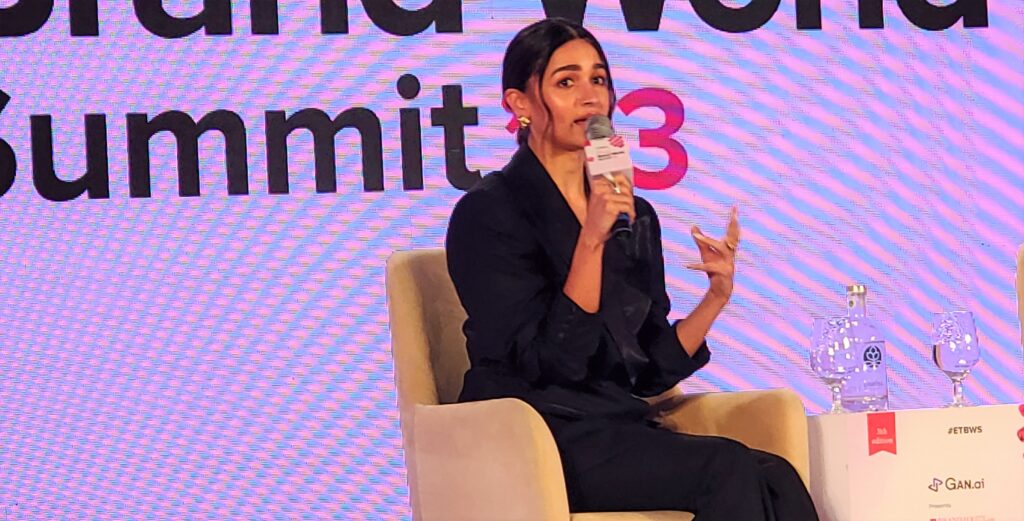 Bhatt said, "I most definitely need to know the brand details. It's very important for it to seem authentic. When you associate a face with a brand, it should match the brand's storytelling and the brand's ethos. because eventually the face is reaching out to that target audience or an audience."
Speaking about her association with global luxury brand Gucci as its ambassador, Bhatt added, "I'm just representing an age demographic that Gucci wants to reach out to in India. Gucci has nothing to do with me personally. They have targeted the people whom the face speaks to. They want to speak to India," Bhatt.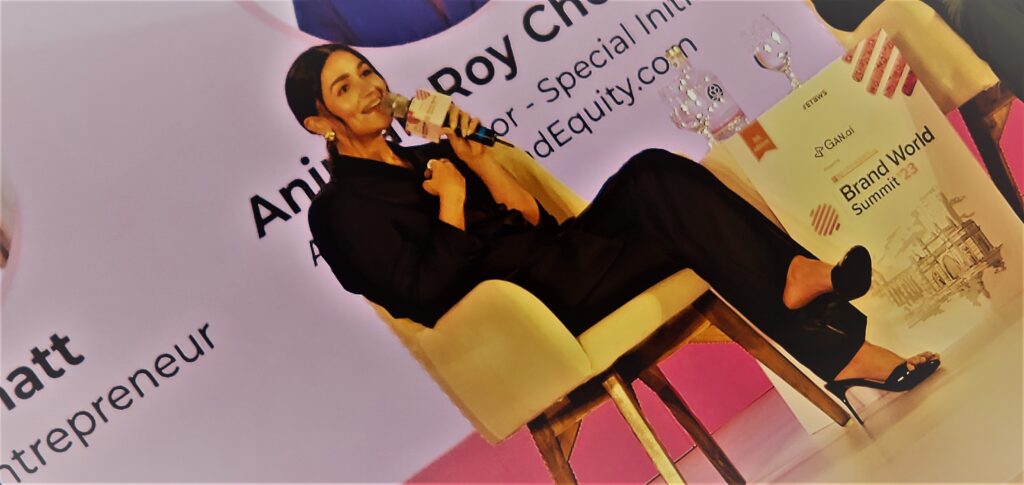 However, Bhatt maintained that brand synergy was extremely critical. "Of course, commercials are extremely important. I have to connect with the story, I have to connect with the brand. Otherwise, I reject it, I feel like I will be doing the brand a disservice if I didn't think I have that authenticity to add to it".
Speaking about closely working with her team, Bhatt said, "To be a leader you have to listen to the people who are part of your team. That's one of the most important things I've learned."
When asked if she is comfortable being called a youth influencer, Alia said, "I am also okay with being called a clown as long as the cheque reaches on time."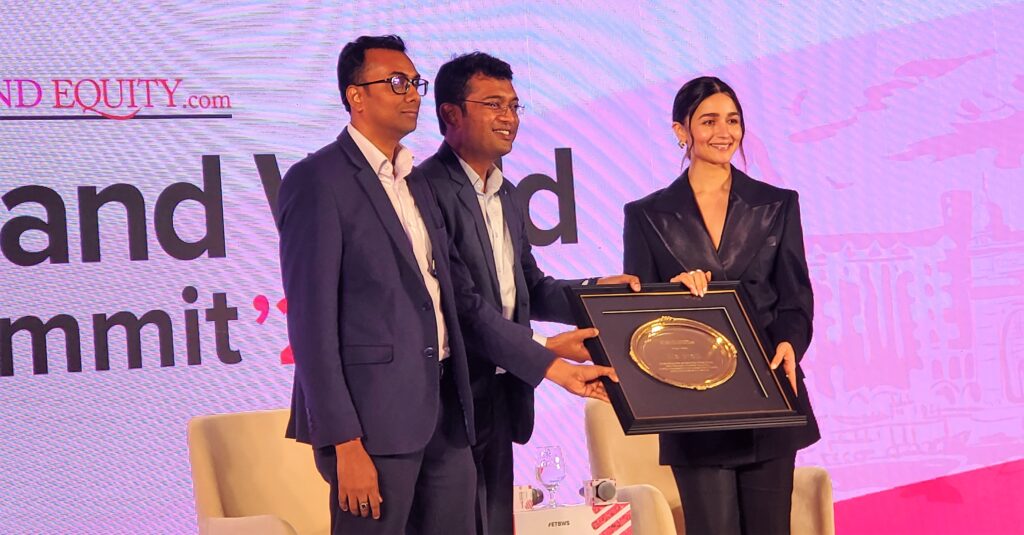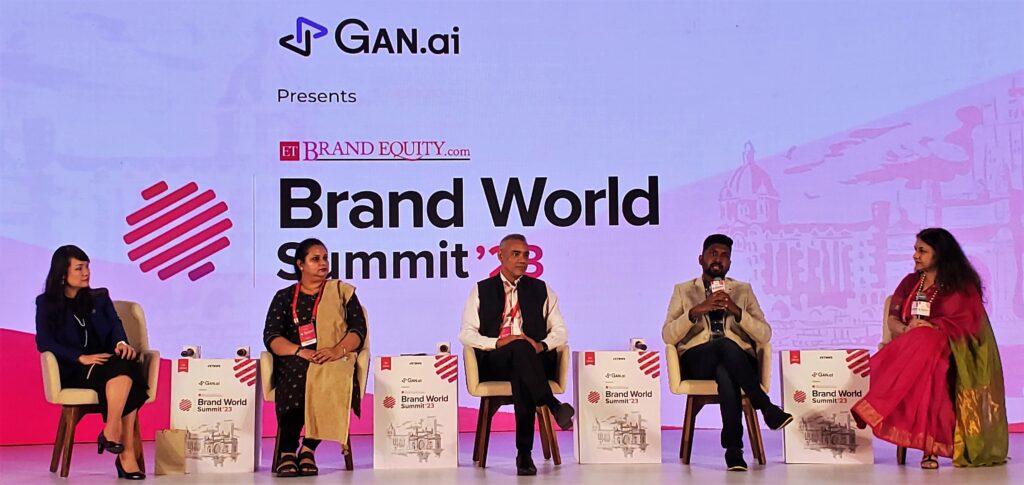 At the panel discussion on "Marketing in a VUCA World", Yin May Lau, Group Chief Marketing and Customer Experience Officer, Malaysia Airlines, Somasree Bose Awasthi, CMO, Marico, Atit Mehta, CMO, BYJU'S, Ravi Santhanam, CMO, HDFC Bank, Vijay Kumar Pampana, Marketing Director, P&G Health and session Chair: Vandana Chopra, Partner & Head of Brand and Communications, KPMG in India delved into the realm of Variable, Unpredictable, Complex, and Ambiguous (VUCA) in order to elucidate the ways in which marketing strategies can successfully navigate the ever-evolving business landscape. They provided their advice on navigating the VUCA world and how to keep up with changing consumer and business cycle trends.
Volatility, Uncertainty, Complexity, and Ambiguity (VUCA) is an acronym, although Vandana Chopra clarified that it simply refers to a situation where "everything is topsy-turvy". Vijay Kumar Pampana, Marketing Director, P&G Health began by saying, "Change is the only constant in life. But when it comes to business, challenge is the only constant."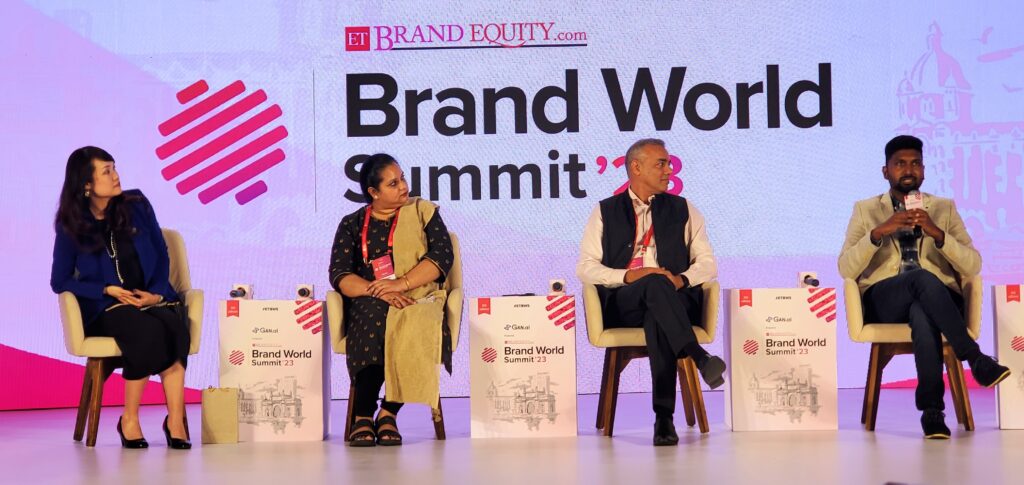 Ravi Santhanam, Chief Marketing Officer at HDFC Bank examined the innovative strategies, adaptive tactics and customer-oriented initiatives implemented by HDFC Bank, and how these strategies have enabled the bank to remain ahead of the competition.
Ravi Santhanam, CMO, HDFC Bank underlines the necessity for banks to provide their customers with regular updates through statements on their EMIs, deposits, interests, and credits in order to keep them fully informed and free of confusion. He discussed using technology for focused marketing. "We think of VUCA as external. But individuals, consumers, sectors and brands have their own VUCA. With the help of of technology, at the right time, we can pitch the right product to the consumer using the right medium," Santhanam added while presenting the POV of the banking industry. Using the acronym VUCA—which stands for "Vision, Understanding, Clarity, and Agility"— Pampana offered a positive perspective on overcoming VUCA.
Yin May Lau, Group Chief Marketing and Customer Experience Officer, Malaysia Airlines, on her experience about transitioning customer behaviour in airlines, added, "Consumer preference has changed substantially. They now focus on flexibility and trust in airlines." This is due to the fact that we don't know what's going to happen next in travel restrictions. So Malaysia Airlines' branding strategy was "to solve the core concerns of passengers". How much can we use predictive AI like ChatGPT to combat VUCA now that it has become a hot topic of conversation for AI? "I wouldn't allow it to fly a plane," said Lau. But in terms of using it as a means of thorough communication, Malaysia Airlines is on top of that game, she claimed. As VUCA is a learning opportunity. "It gets us to constantly learn till you reach a point when there is no VUCA, but you still take every opportunity to to question and challenge yourselves."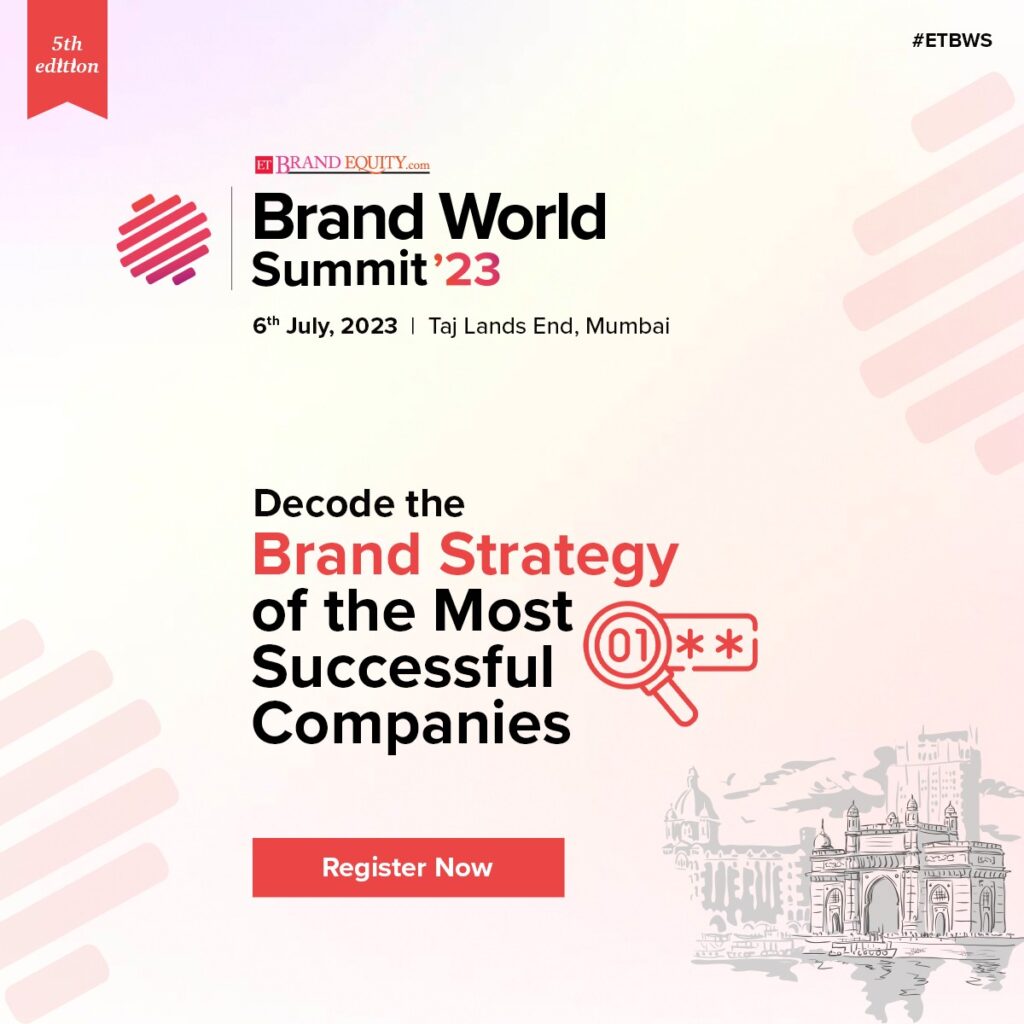 As per Girish Bajaj, as the major challenge is the sheer amount of data that marketers have to deal with. With so much data coming in from so many different sources, it can be difficult to make sense of it all and use it effectively. But at the same time, this data can be a huge asset if it's used correctly. There are a few key strategies that can help marketers overcome the challenges of the VUCA world. The first is to focus on agility and adaptability. Marketers need to be able to pivot quickly when things change, and they need to be able to experiment and test new ideas. Another strategy is to embrace data-driven decision making. Marketers need to use data to inform their decisions and measure the impact of their campaigns. Finally, marketers need to focus on building strong relationships with their customers and creating personalized experiences.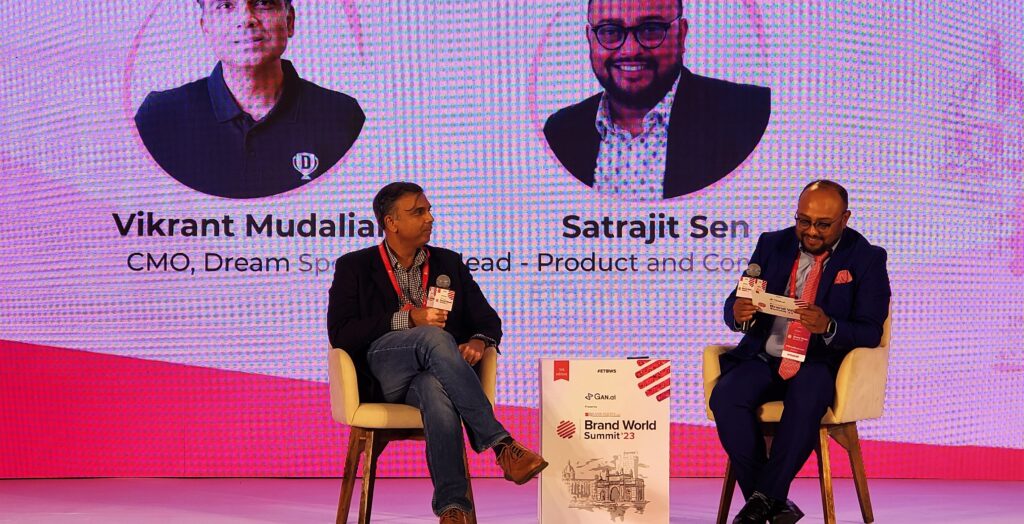 Vikrant Mudaliar, CMO, Dream Sports gave his views on how AI & Martech is being adopted at Dream11 during the topic "At the Confluence of Sports & Entertainment: @Dream11's Marketing at Play" with the session Chair: Satrajit Sen, Head – Product and Community, ETBrandEquity.com.
"Just stick to AI in particular. Predictive technology is something that's been around for a while at dream11, also we've been using it and generative AI will continue to just scale and become even better at in terms of solutions and possibilities. So if the question was that is it a fad, then no it certainly isn't. I think a lot of marketers and advertisers are waking up. I would say just understanding or embracing the importance of let's say technology in the role of marketing at dream 11 which is a sports tech brand you know. It's always been core to us in terms of using technology and digital platforms in particular as far as our entire marketing engine is concerned. But I think traditional brick and mortar clients you know are also now every time and every passing year, witness are embracing technology and tech-led marketing solutions in a greater way so that's heartening foreign players/investors/sponsors."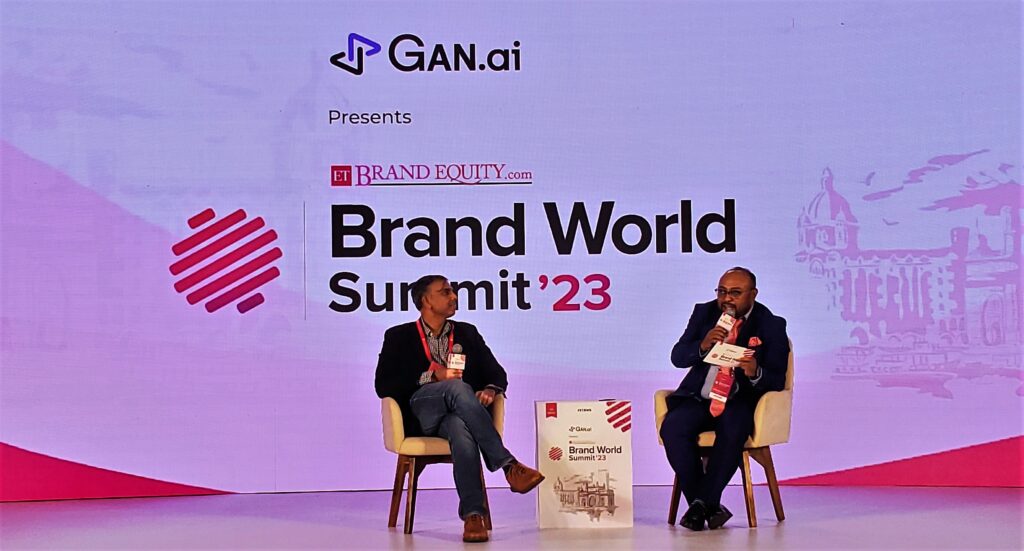 This discussion was especially pertinent in a nation where sports is deeply embedded, especially cricket in the collective consciousness of millions of people. By incorporating sports and entertainment into marketing strategies, marketers can create engaging experiences that truly capture the hearts of consumers.
Dream11 offers fantasy sports for 11 different sports, but none of them can compete with cricket. Indian sports fans love cricket, and we can definitely see that in user engagement and participation on Dream11 compared to our other sports offerings.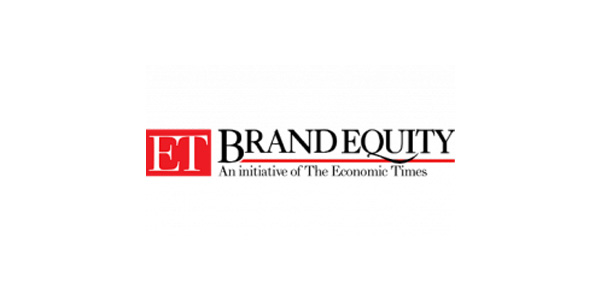 ETBrandEquity.com is the online avatar of Brand Equity, India's premier source of information, news and opinion on the marketing and advertising industries.
For over two decades as a weekly print magazine and for six years as an incendiary TV show, Brand Equity has set the agenda for the Indian marketing and marketing communications industry, chronicling the latest trends, the larger than life personalities and the hottest campaigns and agencies.
ETBrandEquity will be the single largest, most reliable source for information on the latest in the Indian marketing industry: from market share battles, account movements and pitches, quarterly performances of leading consumer goods companies, and the latest movements of key industry personnel.