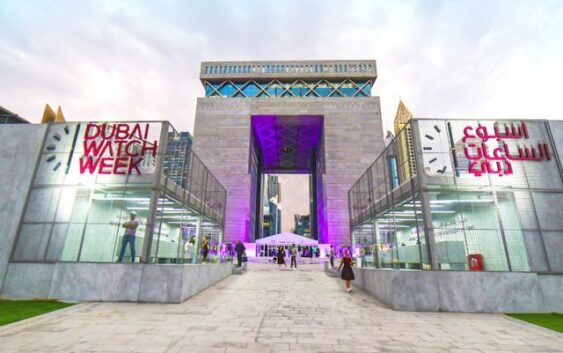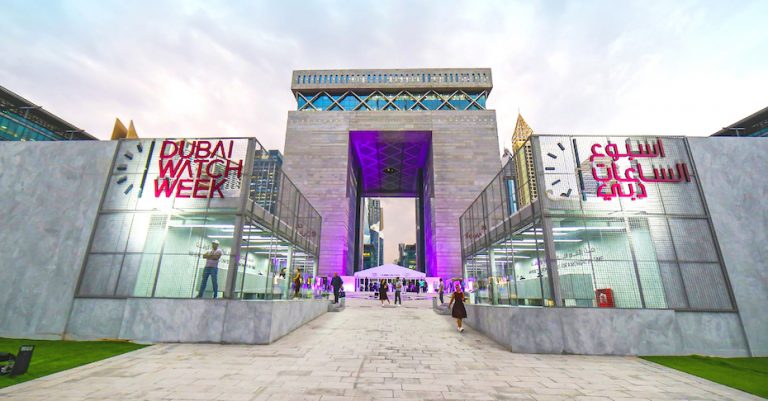 Dubai became the watch capital of the world during Dubai Watch Week 2021, much like Geneva is considered the watch capital of the world year-round. Dubai's transformation during the event is truly something to behold, as the city comes alive with luxury watch related events, exhibitions, and launches. There is a palpable sense of excitement and luxury in the air.
Dubai is transformed every two years, as the world's leading watch brands descend on the city to exhibit their latest creations at Dubai Watch Week. The Dubai International Financial Centre (DIFC) becomes the hub of luxury and opulence, as watch enthusiasts and collectors from around the world gather to experience the finest timepieces.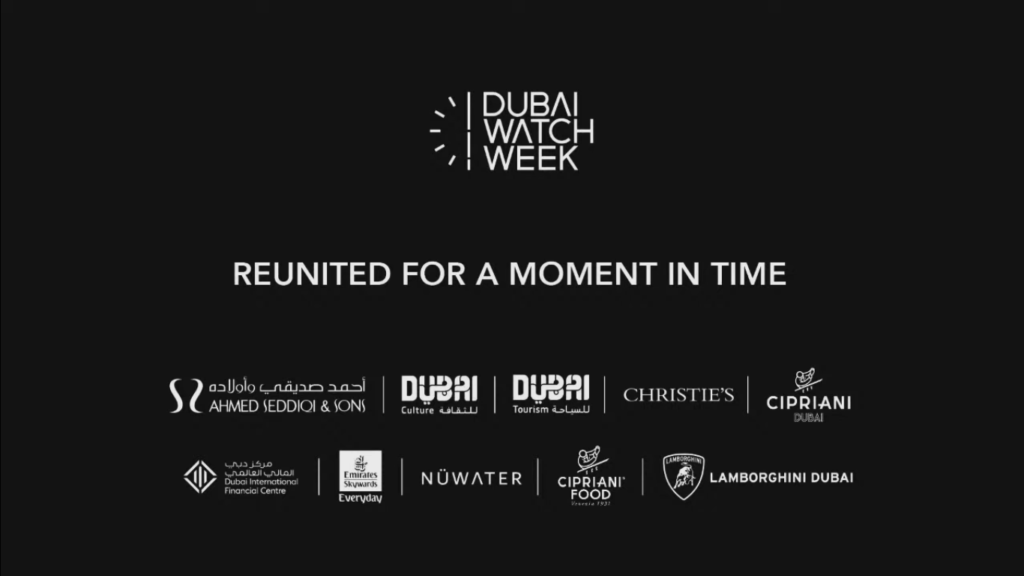 The fifth edition of Dubai Watch Week 2021 by Ahmed Seddiqi & Sons, which ran from 24 to 28 November 2021, brought together the world's leading watch brands in an event hosted at the magnanimous The Gate, Dubai International Finance Centre (DIFC), a venue with over 70,000sqm in the heart of Dubai's financial district. The event was a platform for open dialogue between collectors, designers and craftsmen, as well as some of the brightest minds from various industries, under the umbrella "Reunited for a moment in time".
Dubai Watch Week was founded in 2015 by Ahmed Seddiqi & Sons, one of the region's foremost watch and jewelery retailers and a leading name in the world of horology. The event has become a global platform that celebrates the craftmanship, artistry and innovation of the watch industry. It brings together the best of the watch world, from creators to collectors, to discuss, share and appreciate the passion for timepieces. Dubai Watch Week is a true celebration of the creativity and community of the luxury watch industry, luxury watch brands use the event to showcase the world premieres of their watch pieces.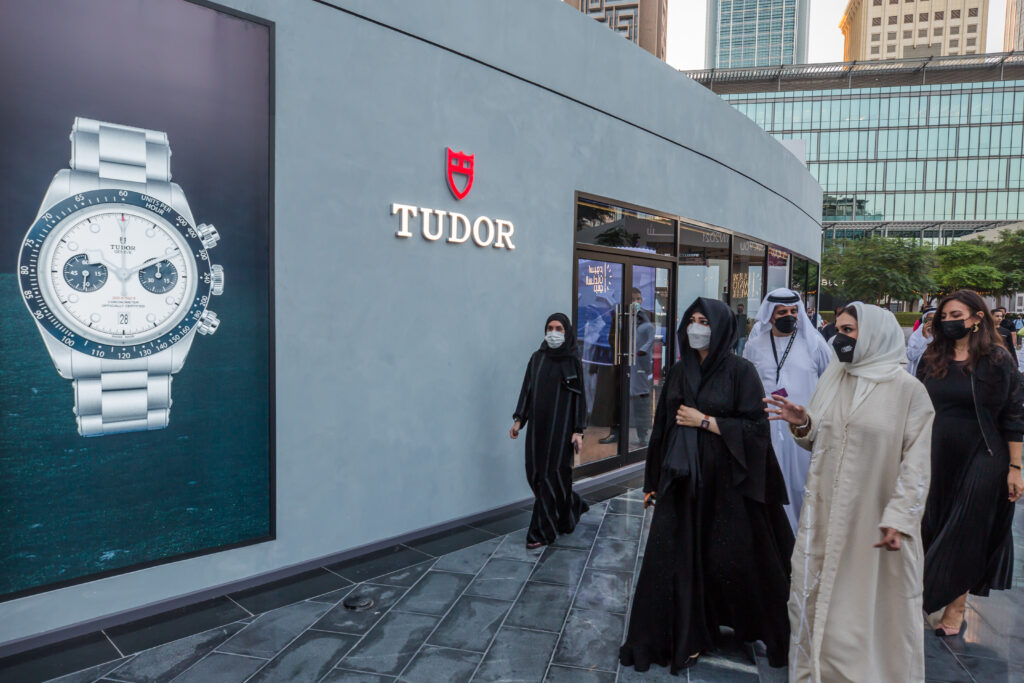 Her Highness Sheikha Latifa bint Mohammed bin Rashid Al Maktoum, Chairperson of Dubai Culture & Arts Authority (Dubai Culture) inaugurated the Dubai Watch Week 2021 and declared it officially begun.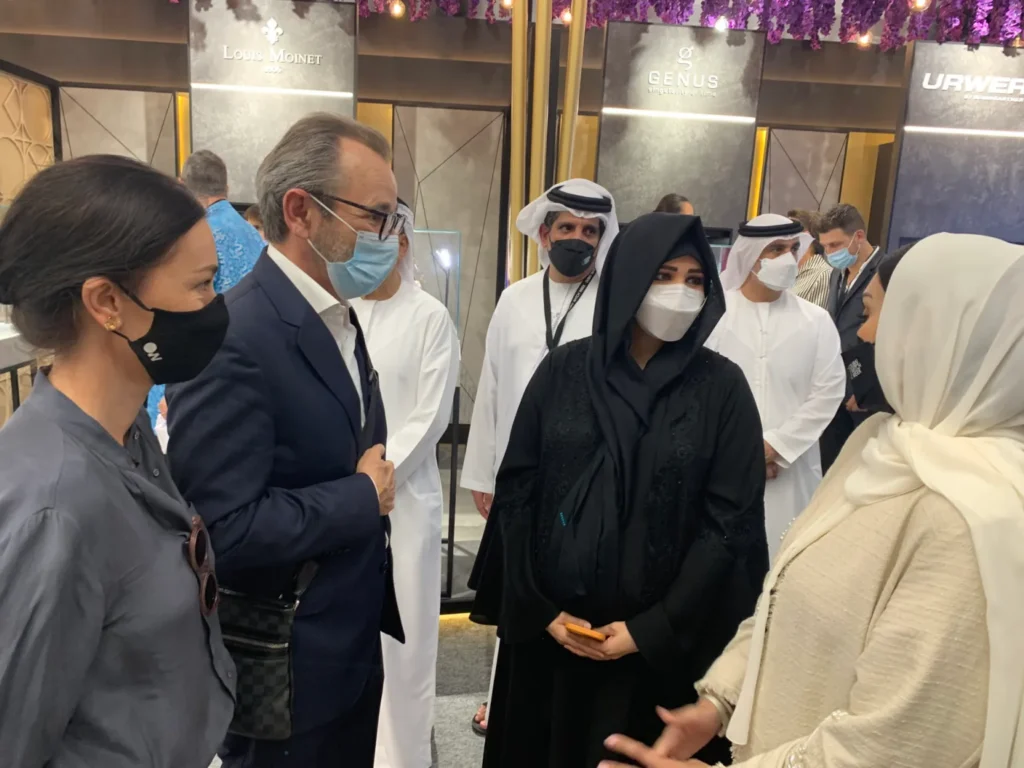 Her Highness Sheikha Latifa bint Mohammed said that "Dubai will continue to nurture creativity in various forms across diverse industries. Dubai provides a platform for industries driven by excellence in precision manufacturing and creative design like the watch industry to showcase their products and gain recognition for their distinctive quality. A one-of-a-kind event, Dubai Watch Week consolidates the emirate's position as a hub for growth, craftsmanship and ingenuity in the watch industry and reflects its commitment to promoting innovation."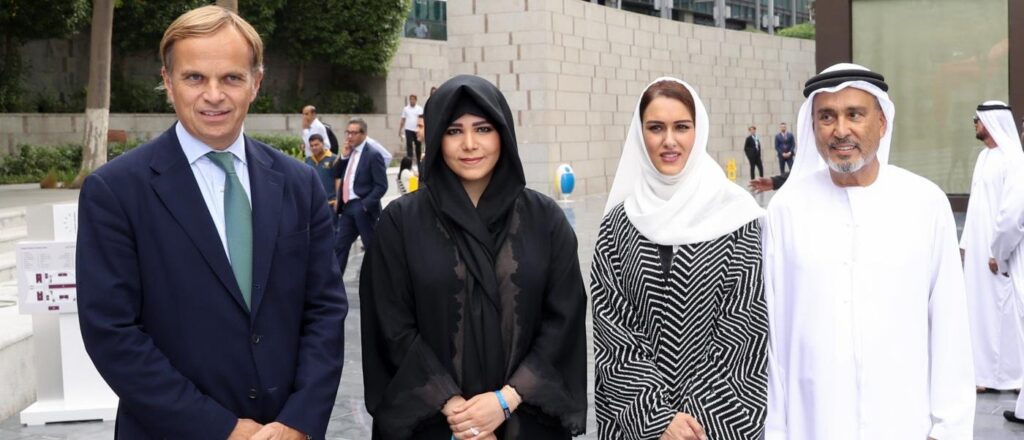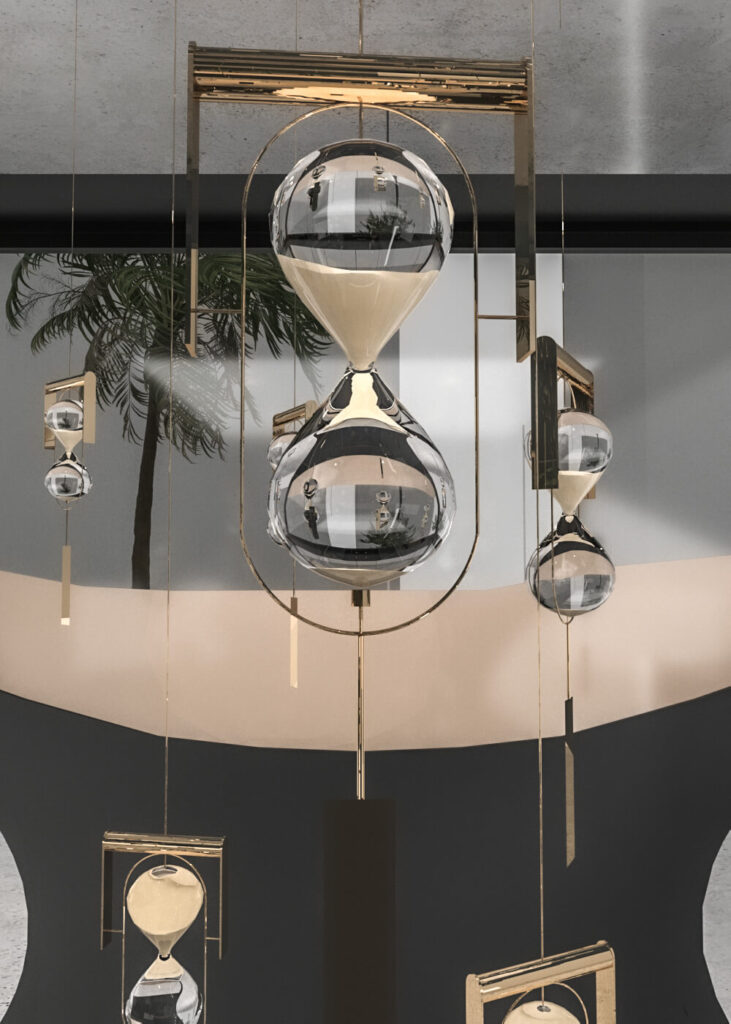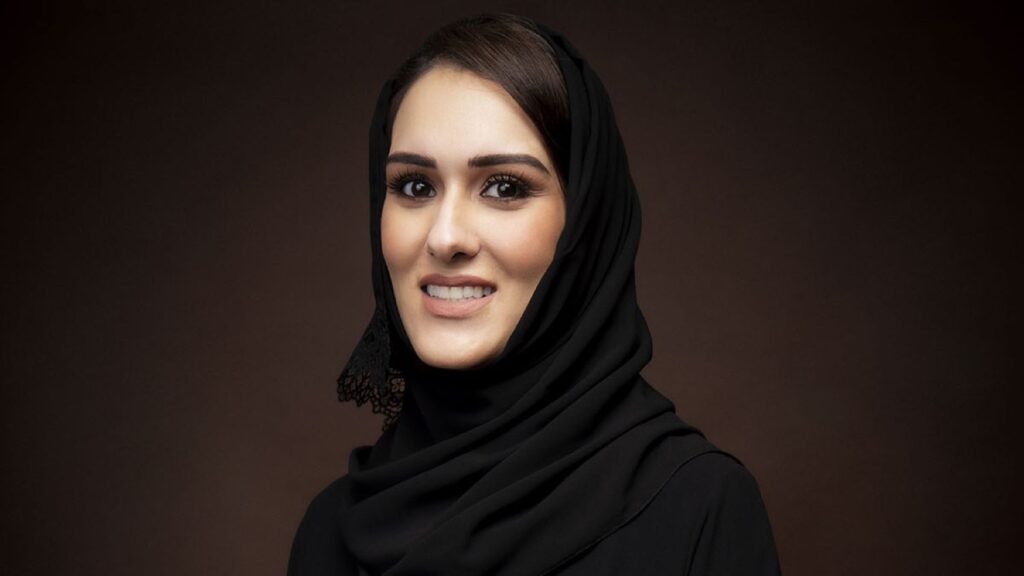 "This is a milestone year for the U.A.E and Dubai Watch Week, with U.A.E celebrating its 50th anniversary and this being the 5th edition of DWW. Our goal this year is to continue to expand on the unique platform we have built and champion innovative concepts & experiences that appeal to a wider audience. We are delighted to reunite soon with our partners, exhibiting brands, members of the press and enthusiasts on the ground to celebrate the industry and the aforementioned milestones" commented Hind Seddiqi, Director General, Dubai Watch Week.
According to Hind Abdul Hamied Seddiqi, Director General, Dubai Watch Week, "Our goal is to create an educational, experiential, and networking event like no other."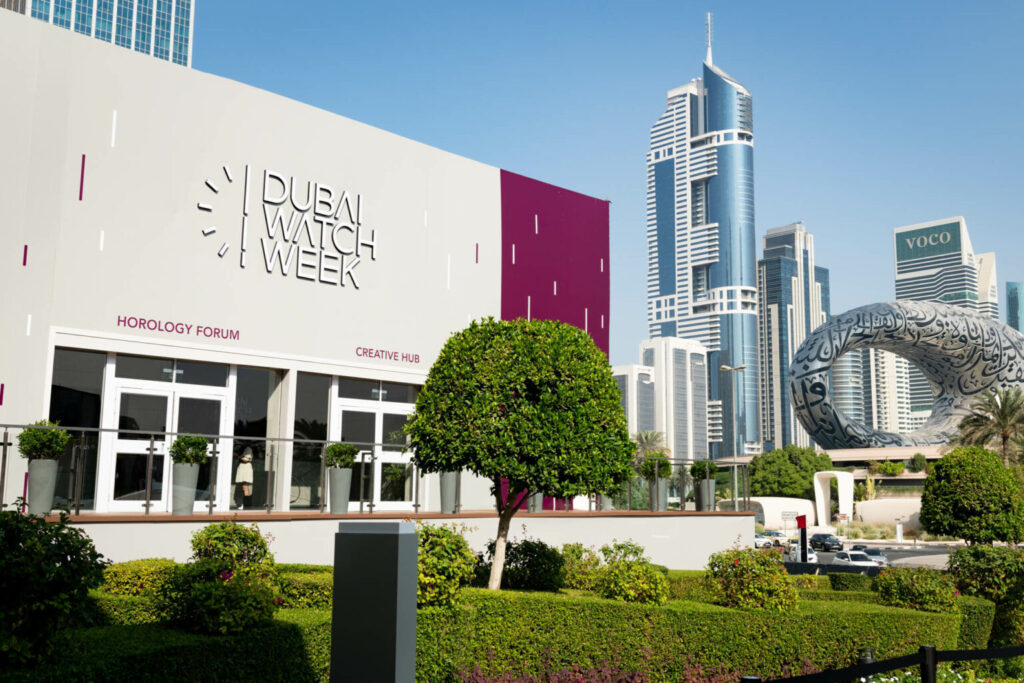 Dubai Watch Week has established itself as a leader in the industry, and in 2021 it returned with a comprehensive programme, inspired by the philosophy of 'Connecting, Creating and Celebrating'. The 2021 edition featured a variety of activations and programmes, which ranged from horological and luxury to other major industries. The objective of the event was to create an experiential experience, with the assistance of local brands and associated partners.
"The significance of Dubai Watch Week 2021 is apparent now more than ever, for the industry, and the economy," says Hind Seddiqi, Director General of Dubai Watch Week. "This year's event will be the most engaging edition yet as we continue to transform and drive forward innovation within the watch industry. We look forward to reuniting for a moment in time with our local and global community as we celebrate our fifth edition alongside the UAE's golden jubilee. We look forward to hosting everyone onsite – from collectors to curious residents to the youth – who can all get involved with the exciting programme."
"Our ongoing partnerships intersect multiple industries. Along with leading watch brands, pre-eminent speakers, and guests from around the world — coupled with entertainment and home-grown & international food concepts — our objective is to create an educational, experiential, and networking event like no other, one that we too continue to learn from. Dubai Watch Week is an unprecedented and inclusive experience, influencing the evolution of the global watch industry in a city that prioritises culture and innovation."

From limited-edition timepieces to cutting-edge technologies, collectors learned more, built communities, and paid tribute to the craft of watchmaking.
"We are very lucky to have Rolex come back again," says Hind Seddiqi, director general of Dubai Watch Week. "We also have Audemars Piguet coming back with a bigger booth. We have Hublot who will be outside the Grand Exhibition, and we have Tudor and Chopard again as well," adds Hind.
"We've made it a mandate with Dubai Watch Week to give a few booths out for free to independent brands. We do not charge them anything, we just ask them to come because we want them to be showcased. We give them smaller booths because they don't have a wide collection. We also make sure we highlight them in the Horology Forum and let people listen to them and get to know them and what they do," says Hind.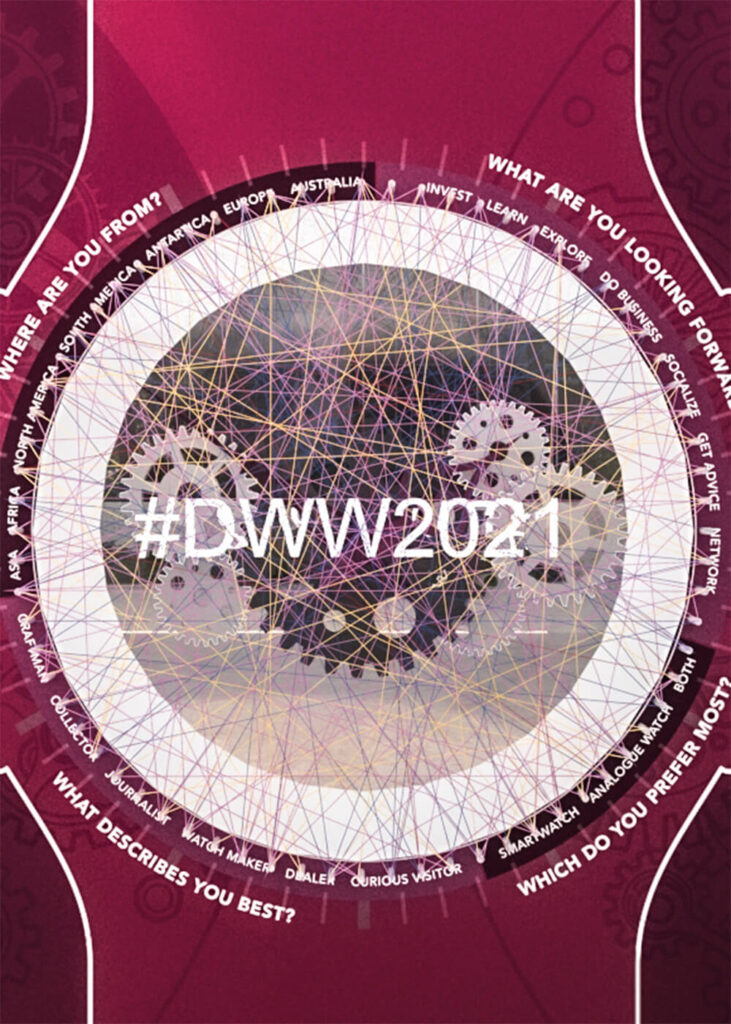 Amongst the brands who exhibited are Audemars Piguet, Tudor, Hublot, Rolex, Chopard, Bell & Ross, Bovet 1822, Breitling, Bulgari, Corum, Czapek, De Bethune, F.P. Journe, Genus Watches, Girard-Perregaux, Greubel Forsey, H. Moser & Cie, Jacob & Co, Konstantin Chaykin, Louis Moinet, MB&F, MeisterSinger, Purnell, Rebellion Timepieces, TAG Heuer, Ulysse Nardin and Urwerk. WatchBox, the leading destination for pre-owned luxury timepieces, returned with a unique space on site.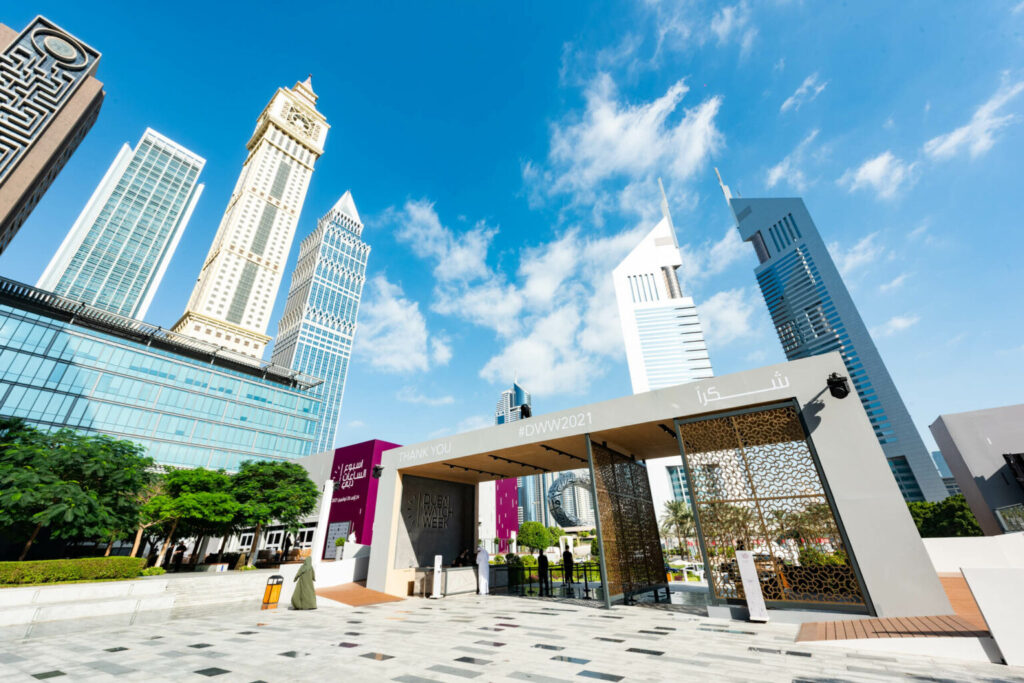 Collectors enjoyed the educational programmes of Dubai Watch Week, which included a Horology Forum and Creative Hub, as well as Masterclasses and a selection of highly anticipated watch brand exhibiting companies. The event was attended by representatives of the horology, arts, commerce and entertainment sectors, who discussed some of the most discussed topics in the industry, ranging from the investigation of collector credibility to the explanation of luxury's transition to cryptocurrency and its ability to transcend boundaries.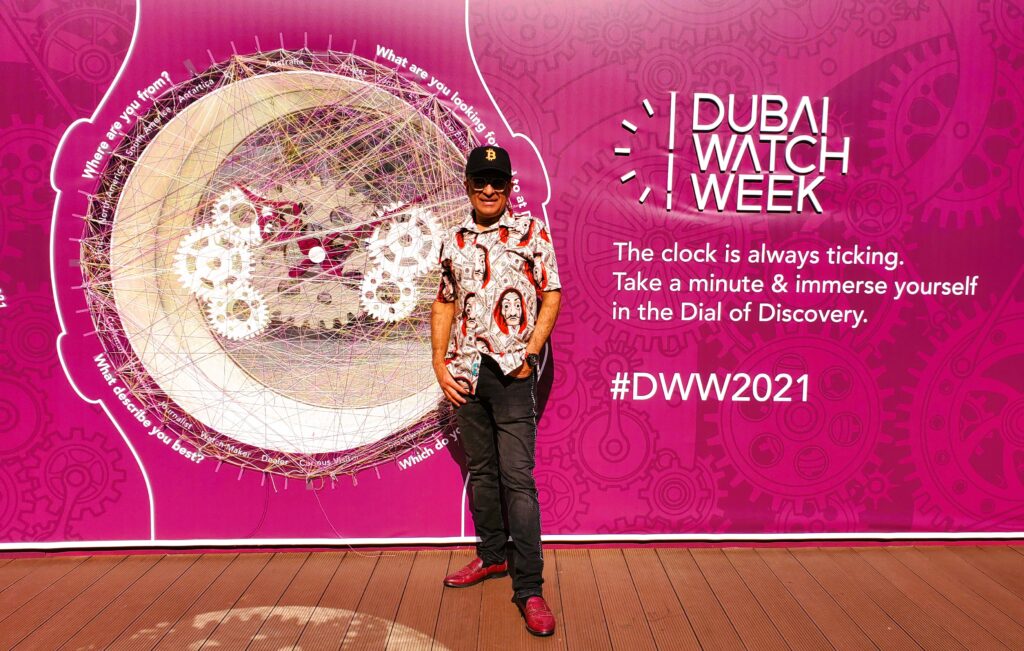 Dubai Watch Week 2021's Creative Hub promoted debates and interactions aimed at stimulating creativity, supporting innovation, and honouring the sector. The workshops addressed a wide range of themes with a focus on inspiring ideas and information exchange, ranging from presentations centred on the community to the introduction of new products. Over the years, the Creative Hub has held a number of regional and international premieres, UAE limited editions, and debuts of limited-edition watches.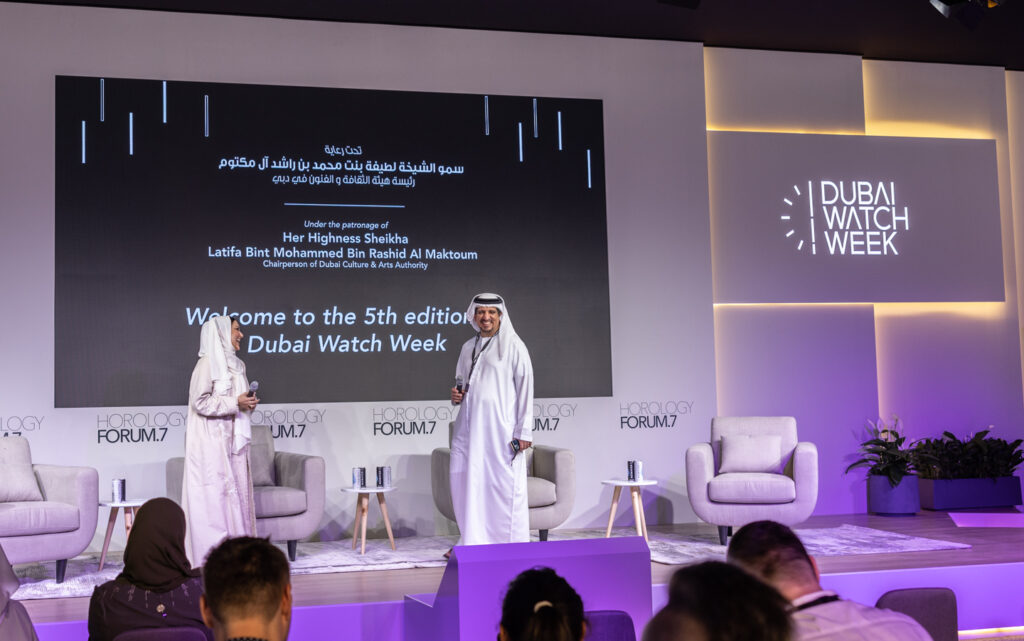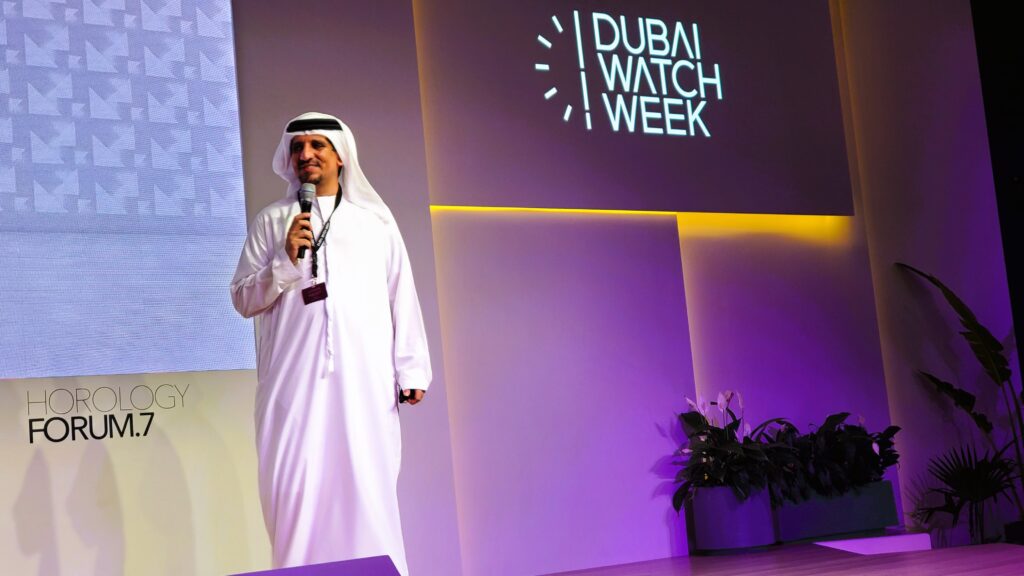 Several notable personalities hosted talks and launches including Hind Seddiqi, Director General of Dubai Watch Week, Aldis Hodge, Watch Enthusiast and Hollywood Actor, Carlos Rosillo, Co-Founder and CEO, Bell & Ross, Christine Hutter, CEO, Moritz Grossmann, Danny Govberg, Executive Chairman and Co-founder, WatchBox, Pascal Raffy, Brand Owner, Bovet and many more.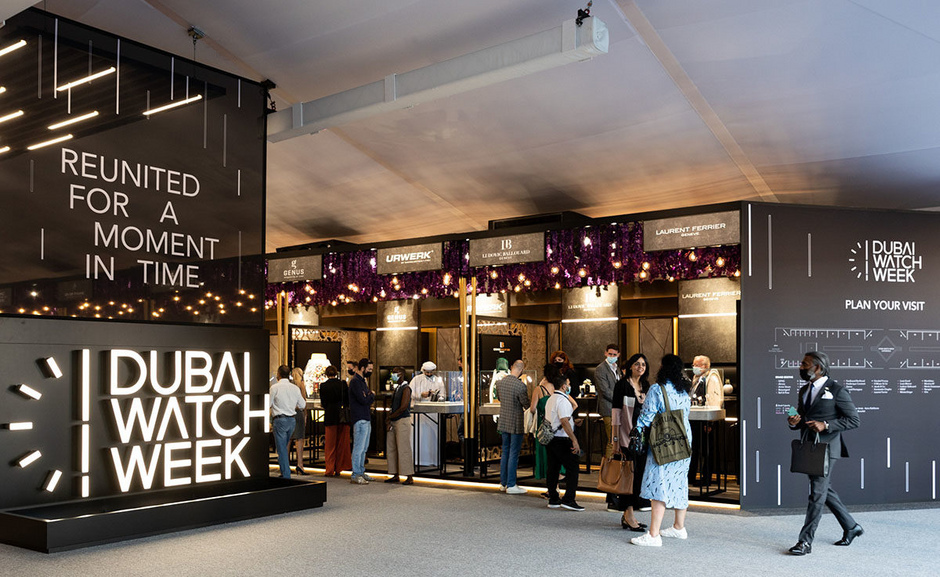 The Brands Exhibition presented a selection of heritage watches and seasonal collections that were carefully curated to ensure that visitors had something new to explore and experience on every day of the five-day event, including the top-of-the-line timepieces from the Grand Prix d'Horlogerie de Genève 2021.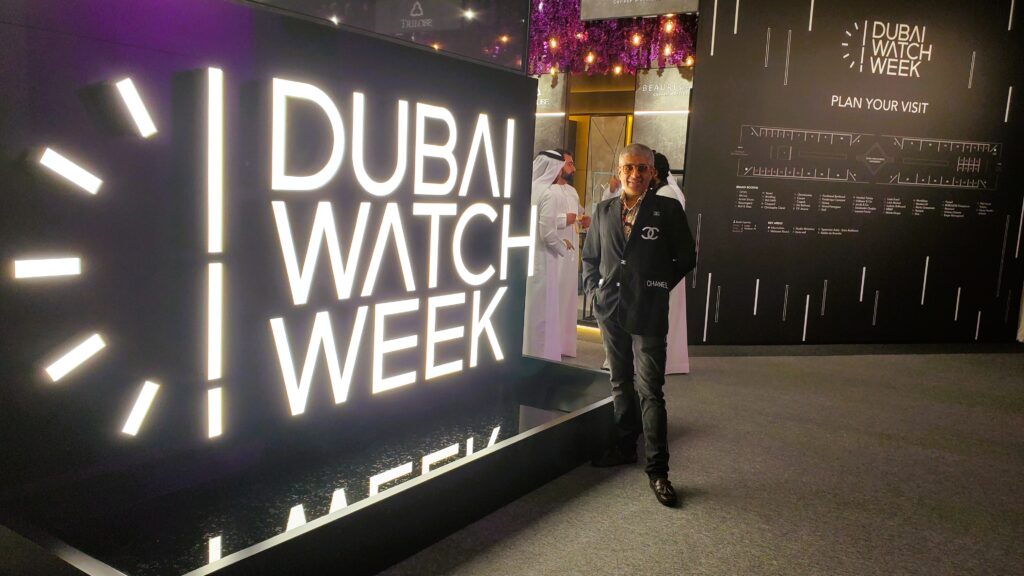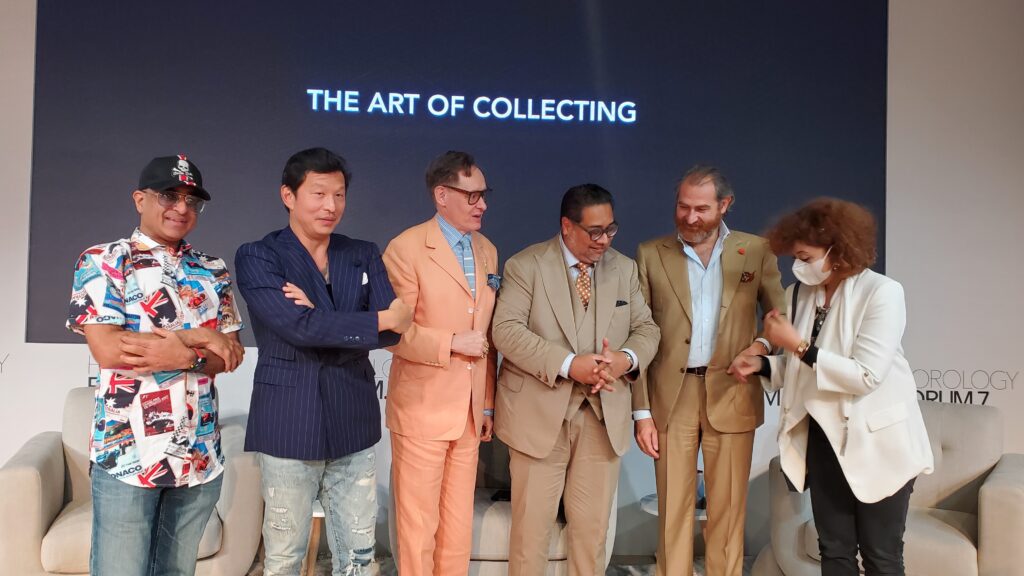 The Horology Forum, a DWW original concept that tackled engaging topics by bringing people from a multitude of industries together who can provide distinctive points of view on the watch industry and beyond, in its seventh edition this year. The Horology Forums involved a series of panel discussions where guest speakers are invited to interact with each other and the audience in a host of freewheeling debates on varied topics. This year's topics ranged from 'Alignment of online personas with actual identities' to 'NFTs and cryptocurrencies in luxury'.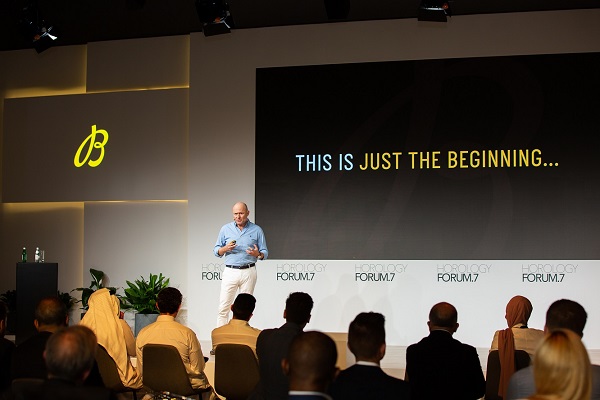 "The Horology Forum, a unique concept pioneered by Dubai Watch Week, facilitates open dialogue, nourishes learning, and promotes education across cultures. We are thrilled to welcome this year's speakers, who will undoubtedly deliver insightful perspectives into their respective professions", said Director-General of Dubai Watch Week, Hind Abdul Hamied Seddiqi.
"We don't only focus on people from the watch industry but [invite people from] the art, automotive and [other] industries. Sometimes, there is a solution for a problem that our industry has that the fashion or the motor industry has already solved," notes Hind.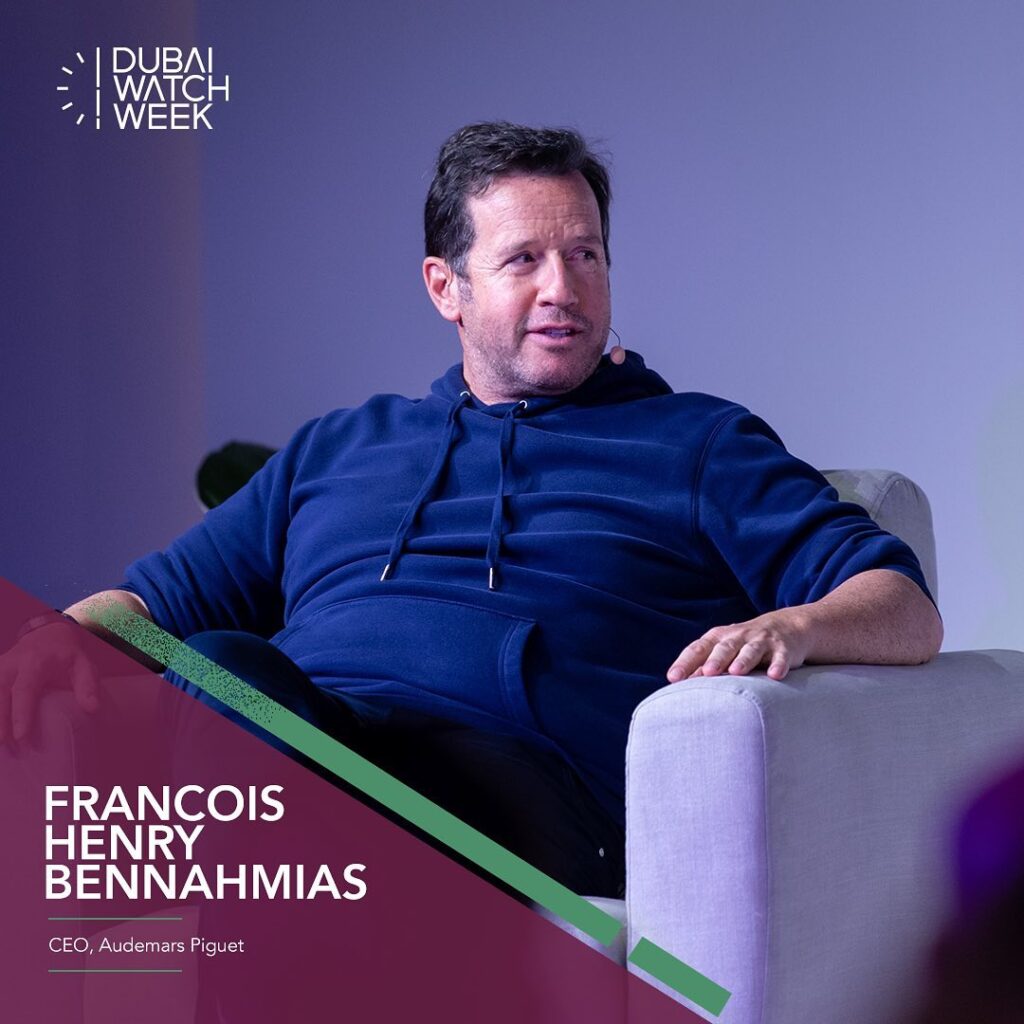 Dubai Watch Week offers a wide range of activities for attendees, and one of the most popular ones is the Masterclasses. These Masterclasses are conducted by expert watchmakers and artisans who teach participants various skills related to watchmaking. For example, participants can learn how to create their own mechanical watch movement, paint on a miniature dial, or practice the traditional art of enameling.
It is worth noting that prominent industry figures like Audemars Piguet CEO François-Henry Bennahmias and Breitling CEO Georges Kern were the speakers for the DWW 2021 event.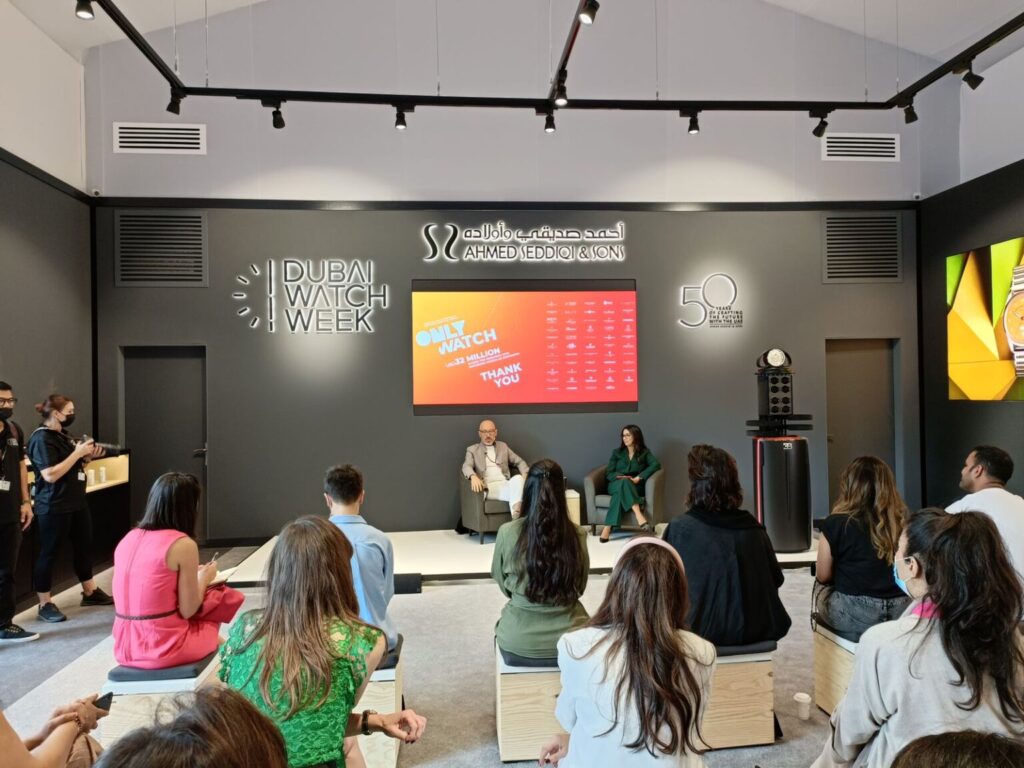 Hind Seddiqi explains the inspiration behind Dubai Watch Week: "Customers and friends always ask us, 'Why are you so obsessed with watches, so in love with watches?' I answer that first of all, it's in our family. I grew up in the business, so it's in my blood. But secondly, as retailers we have always had a VIP, back-door access to the industry—the watchmakers, the artisans, the engravers—and they have played a very big role in making us fall in love with their brands and products. So one of the things we started doing in the early 2000s was taking collectors and potential collectors with us to Baselworld and other venues and giving them the same access. We saw how it transformed their perception of watches, and we saw their passion grow from there. That's one of the things we wanted to achieve with Dubai Watch Week. We also wanted to bring makers together to share their common interests and struggles within the industry, and that's why we created the forum."
The Collector's Lounge was created to provide an informal space for collectors in the region to discuss and educate themselves on the horology industry, with the aim of creating an engaging environment for in-depth discussions on-site.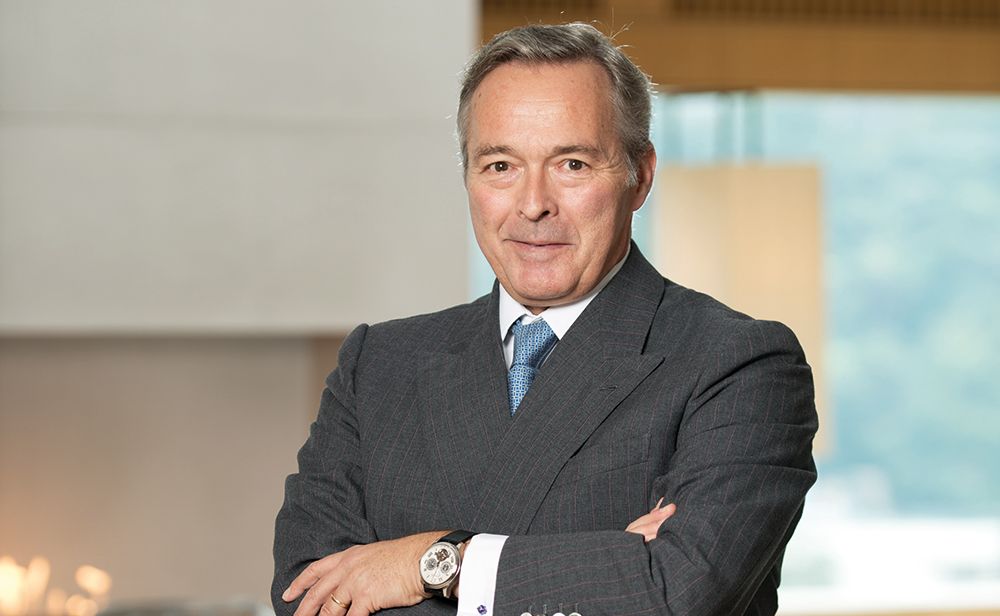 The DWW 2021 edition presented a new space called The Collector's Lounge for watch collectors/lovers to discuss the latest watch releases and horology news with peers and industry leaders. The lounge was chaperoned by Mohammed Abdulmagied Seddiqi and hosted by Karl-Friedrich Scheufele, the Co-President of Chopard, who spoke about the 25th anniversary of the manufacture.
The lounge was a great spot for watch lovers to hang out and chat with each other, as well as with the brands. It was the lounge Ahmed Seddiqs & Sons had set up to show off their collection of some 35 limited-edition watches and jewelry that were specially designed to commemorate the UAE's 50th anniversary. Alongside it, you could also spot pieces from brands like Buben & Zorweg, Miki Eleta and MB&F. Plus, you could check out the winners of the Grand Prix d'Horlogerie De Genève.Tthe Collector's Lounge was hosted by Karl-Friedrich Scheufele, the Co-President of Chopard and narrated about the 25th anniversary of the manufacture.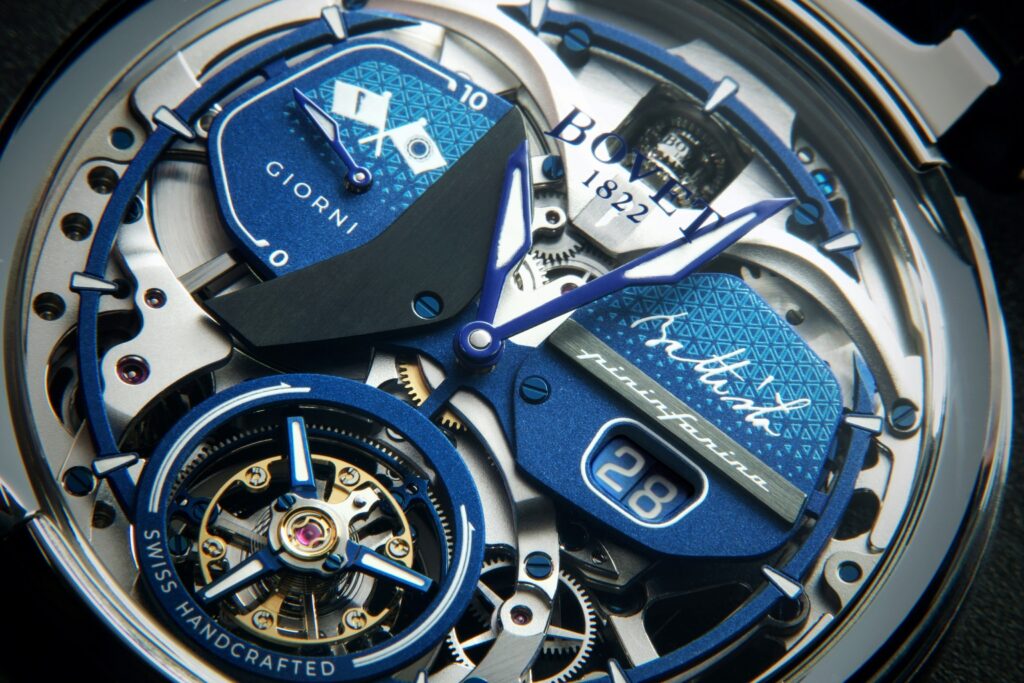 BOVET 1822 premiered two beauties: the Battista Tourbillon & the Orbis Mundi at the Dubai Watch Week 2021.
The newly unveiled Automobili Pininfarina Battista and the newly unveiled Battista tourbillon, both designed in collaboration, are both remarkable works of art that embody the same design concept based on renowned styling and creativity.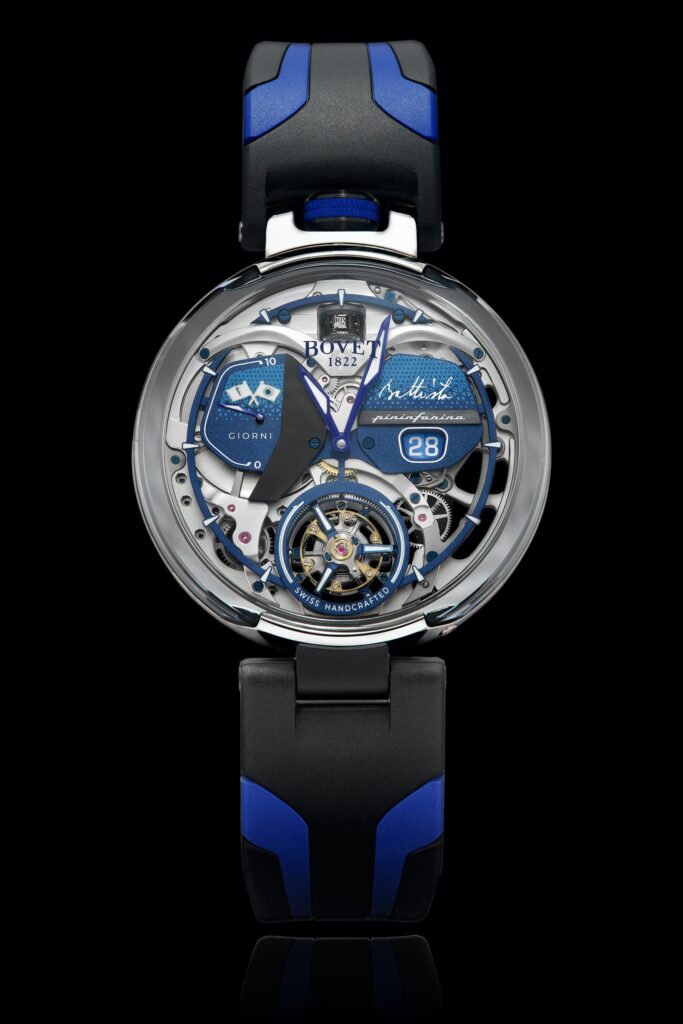 A tribute to the heritage of both Houses, The Battista is a new Tourbillon designed and manufactured in collaboration between the Houses of BOVET 1822 and the Automobili Pininfarina.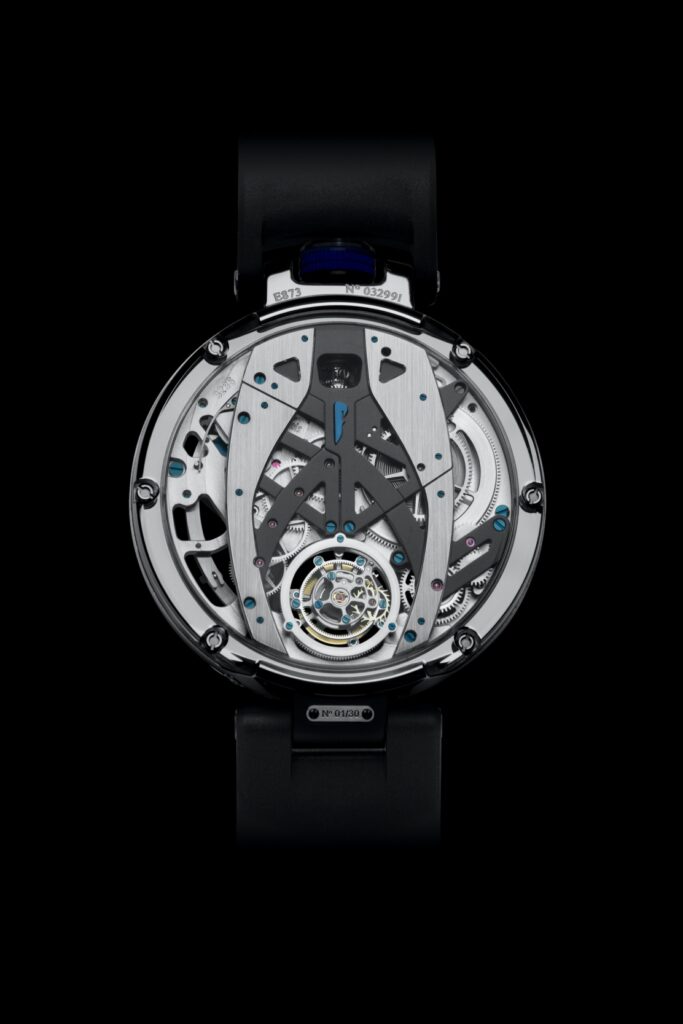 The watch features state-of-the-art movement, Bovet's patented two-sided tourbillon and rewinding mechanism. Additionally, the E-Heart on the dial serves as an aperture for displaying the Big Date. The watch also features a diagonal winding mechanism on its back. Crafted in high-quality titanium, only 30 watches will be produced.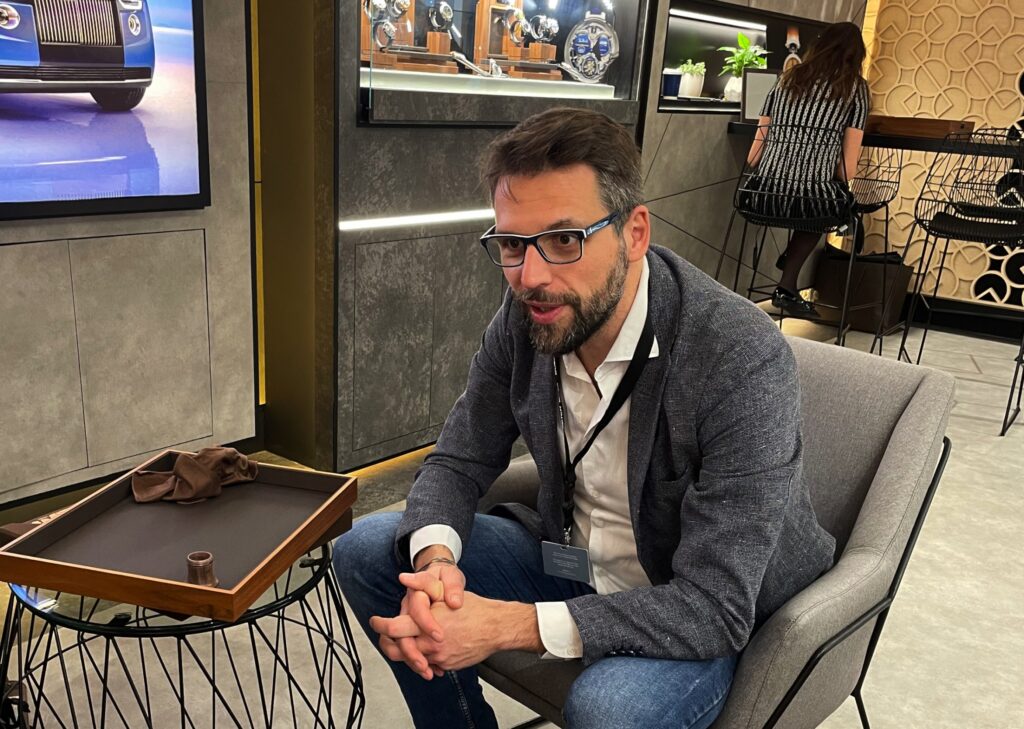 'We have had a truly creative and collaborative designing process when drawing up the Bovet Battista Tourbillon' – said Luca Borgogno, Chief Design Officer of Automobili Pininfarina. 'We took the characteristic motifs of the Battista GT, but then focused on building a wristwatch around the technical content of the watch movement. The calibre itself was created from the ground up by Bovet to fit the desired functionality and design the best.'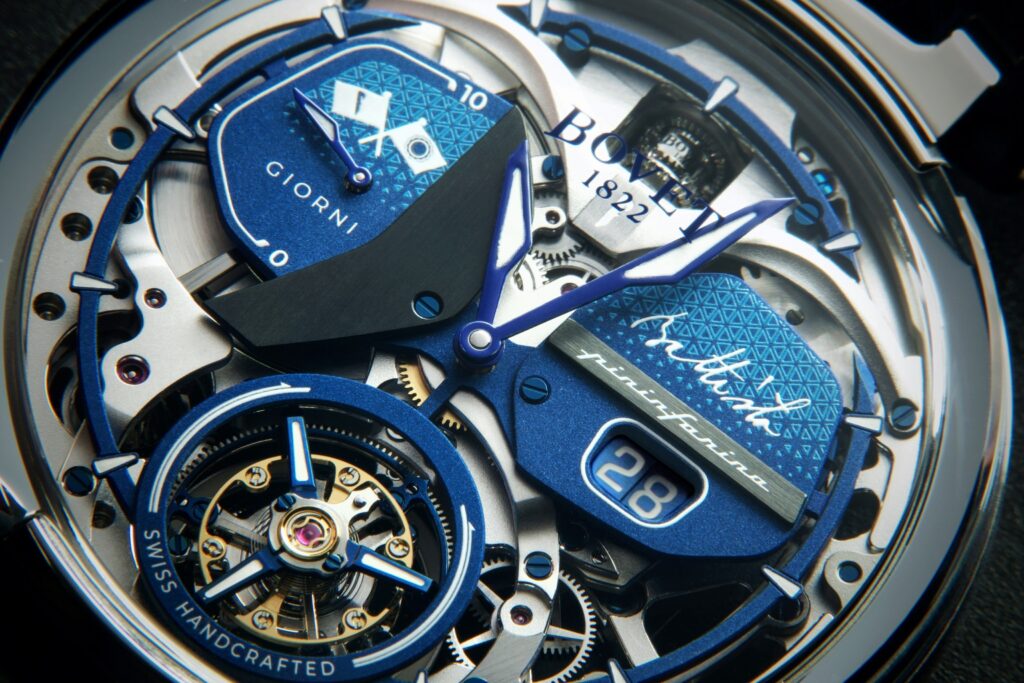 The Bovet watch features an asymmetric dial with sub-dials ranging from lighter blue to Battista's Iconica Blu color, echoed in accents like hands, tourbillon cage, index hoop, and screws. The time is displayed by central hands, while the 10-day running reserve is shown in the sub-dial at 9 o'clock. The date is displayed in the large aperture. The movement's wheels, bridges, and movement stand in cool contrast to the blue details.
The Bovet Battista Tourbillon, a 90-piece limited edition, pays tribute to Pininfarina's 90-year heritage with its sub-dials and black bridge, and will be available in titanium, red gold, and platinum.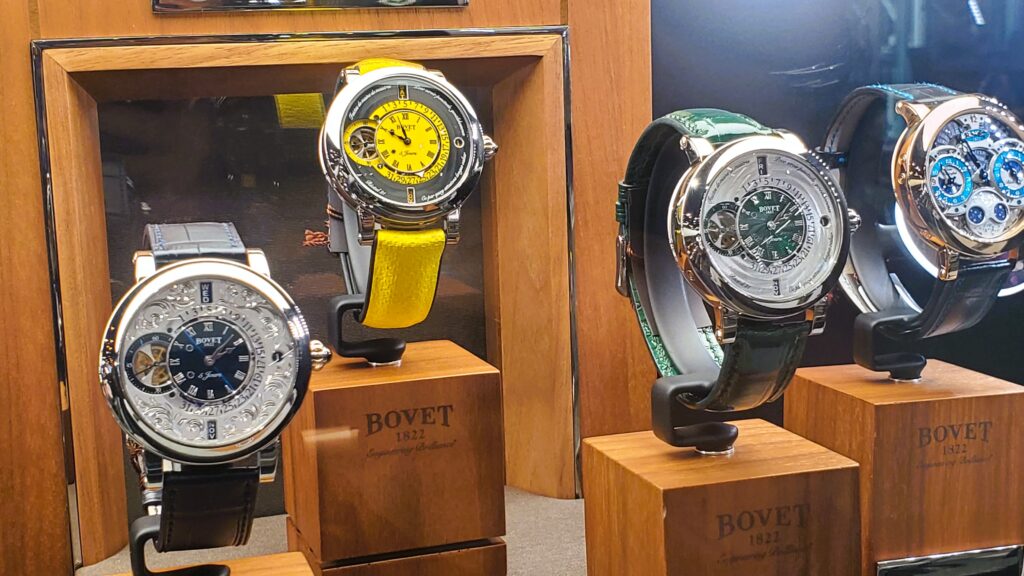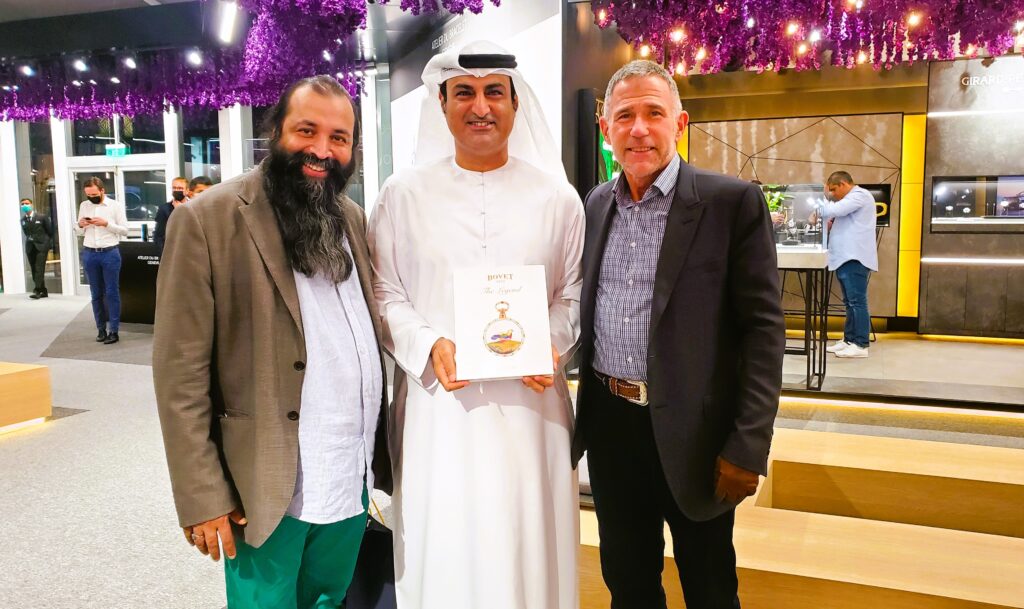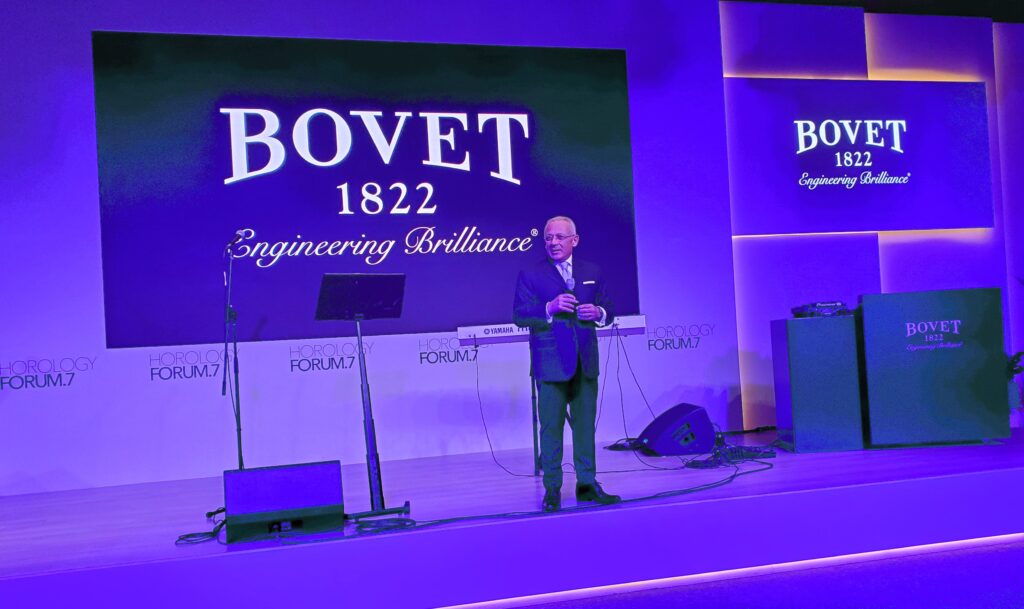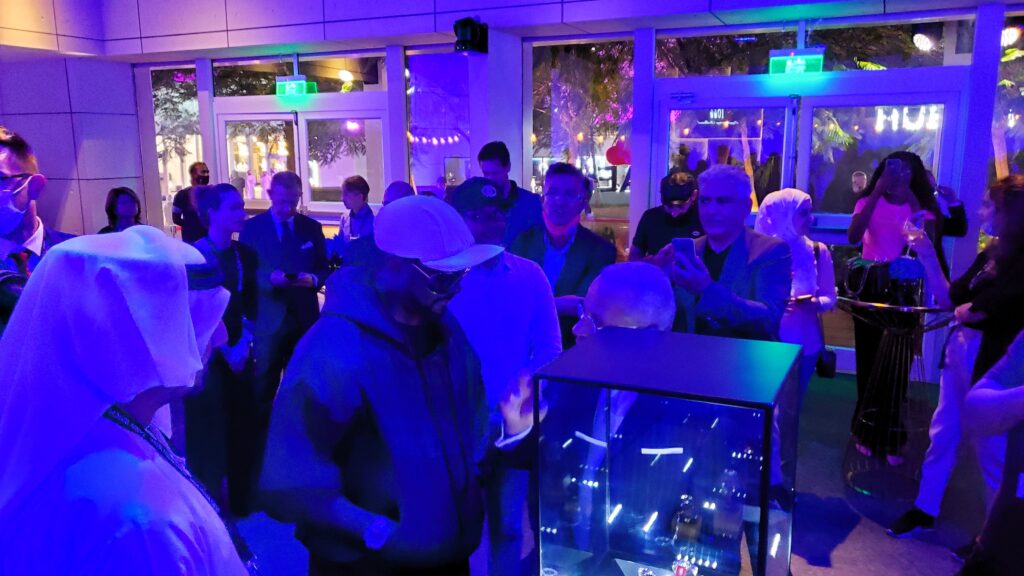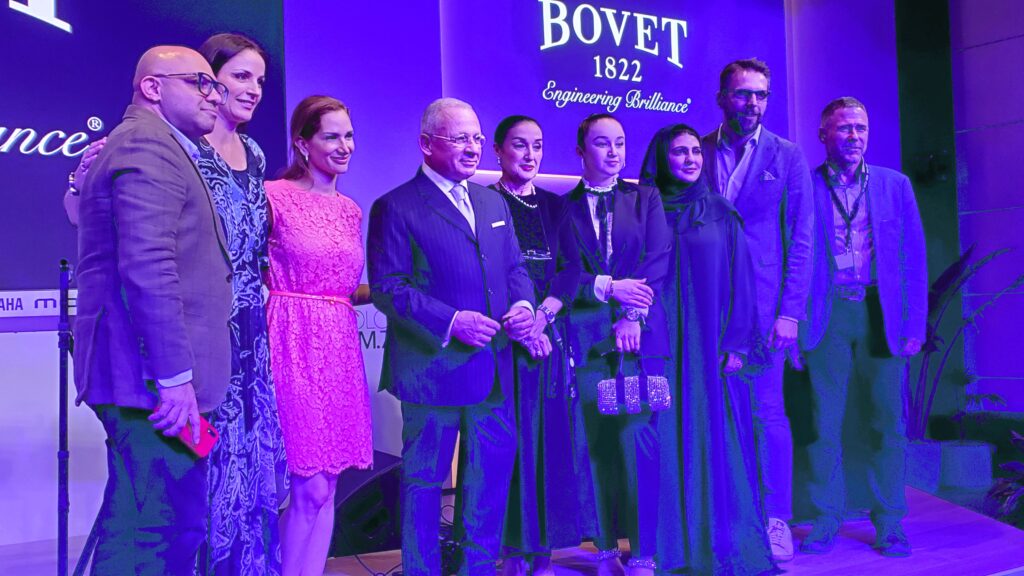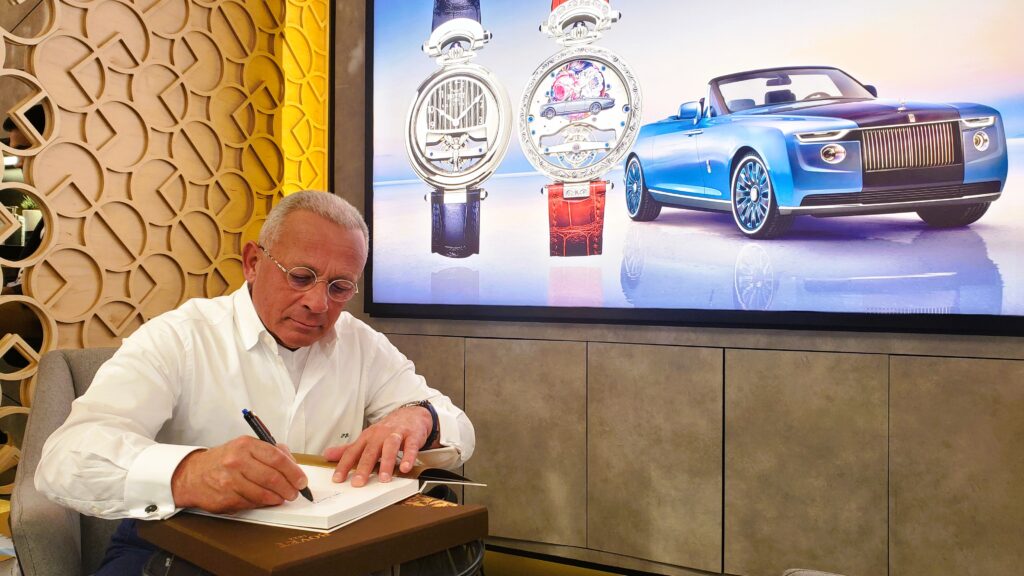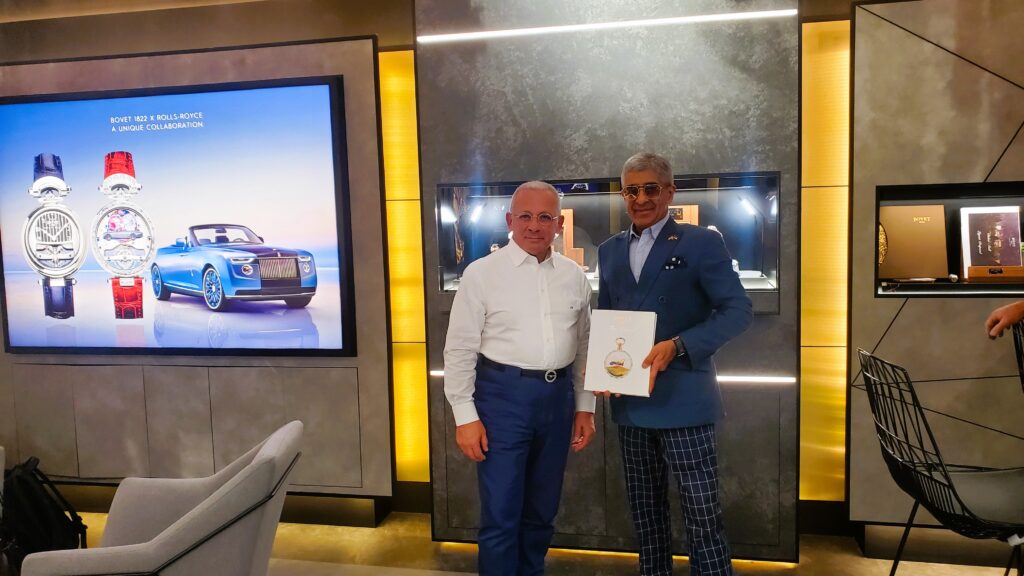 It was great honor to meet Mr. Pascal Raffy, the humble owner of BOVET 1822.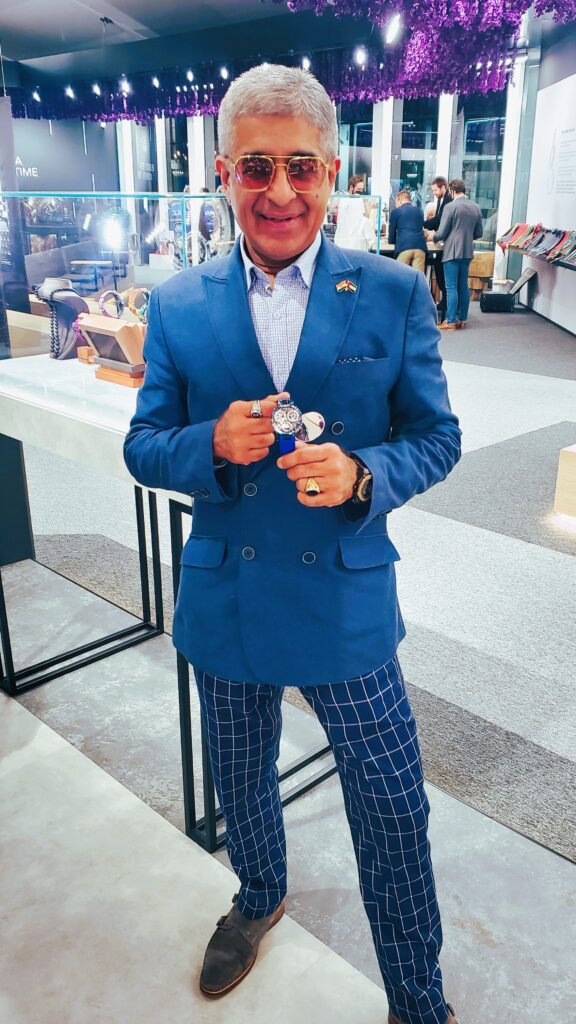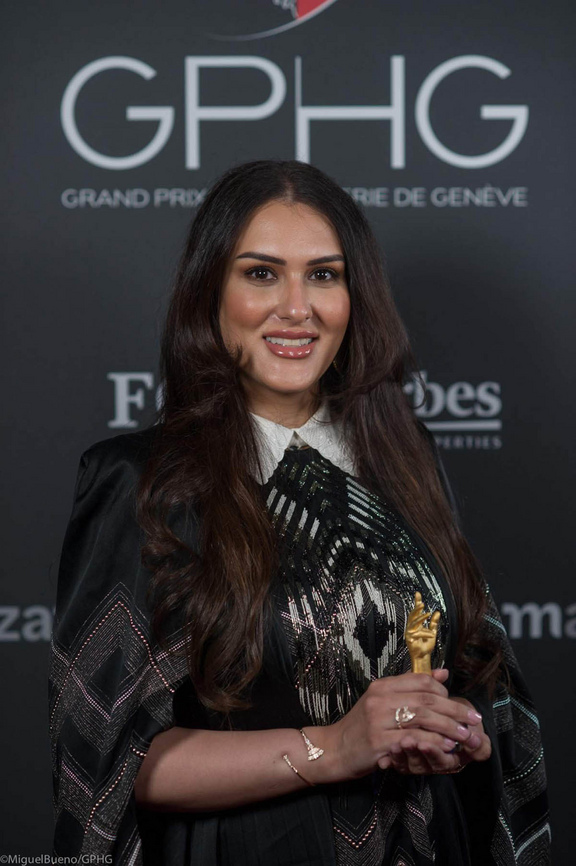 In 2021, the prestigious Grand Prix d'Horlogerie Genève (GPHG), honoured the best in watchmaking, marked its 20th anniversary & on November 4, all the winners were announced at a joyous gala ceremony in Geneva. The Dubai Watch Week and the Seddiqi & Sons retail chain as organisers took home the Special Jury Prize this year, which honours a person or a significant institution on the watchmaking sector. The 2021 award-winning watches are thus unveiled as part of the programme during Dubai Watch Week, November 24 to November 28, and then in Paris, France, from December 2 to December 5.
On the Grand Prix d'Horlogerie de Genève (GPHG) awarded Dubai Watch Week the Special Jury Prize, "We are grateful and honoured that our director general, Hind Seddiqi, was chosen to serve on the GPHG jury. We are certain that this year's jury members will continue to advocate the innovation and creativity that nurtures the sector because they represent a focal institution in the watch industry and because they share similar principles" Hind Abdul Hamied Seddiqi, Director General, Dubai Watch Week, and Chief Marketing and Communications Officer, Seddiqi Holding. Granddaughter of Ahmed Qasim Seddiqi, who founded Ahmed Seddiqi & Sons, UAE's leading watch retailer.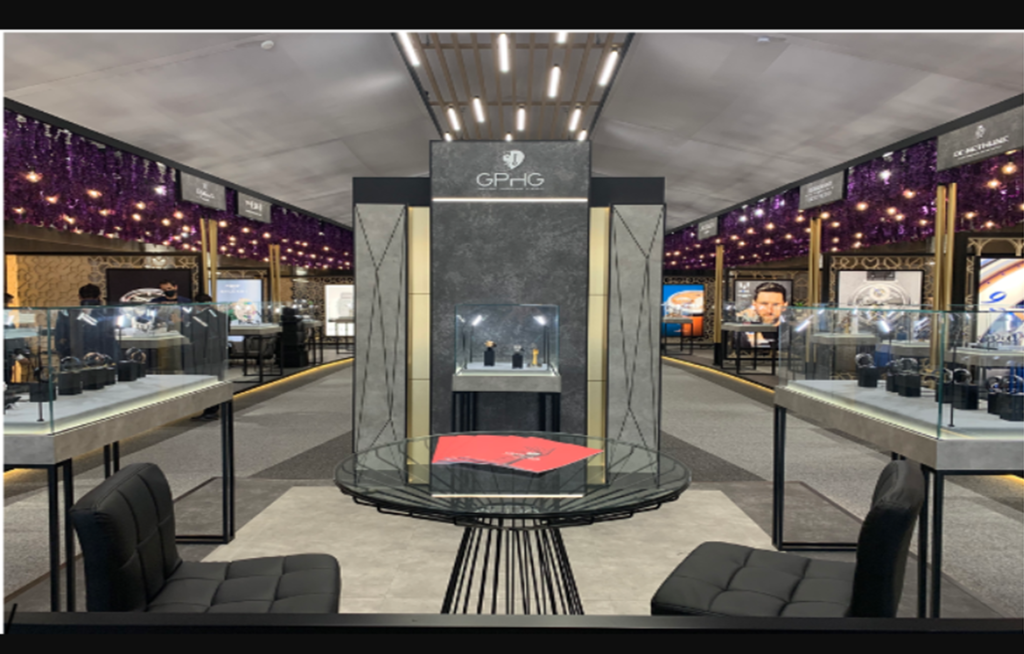 The 2021 Grand Prix d'Horlogerie de Genève (GPHG) winners were exhibited at Dubai Watch Week, marking the 20th anniversary of the event. The 30-member jury awarded 19 prizes in 14 categories, including the "Aiguille d'Or" Grand Prix, Ladies' Watch Prize, and Men's Watch Prize.
"It is an honor to have the GPHG winning watches exhibited at Dubai Watch Week 2021. We have witnessed a growing interest and appreciation for the industry in our region and our guests were thrilled to interact with these unique timepieces first-hand. The exhibition also offered winning brands an opportunity to show visitors and avid collectors their prize-winning timepieces from their respective categories."
Hind Seddiqi, Director General of Dubai Watch Week
"We are very happy with this faithful and long-lasting collaboration with the Dubai Watch Week, which is conceived in a unifying spirit that we share. We are delighted with the development of this event of excellence, which is beneficial to the whole industry."
Carine Maillard, Director of the GPHG.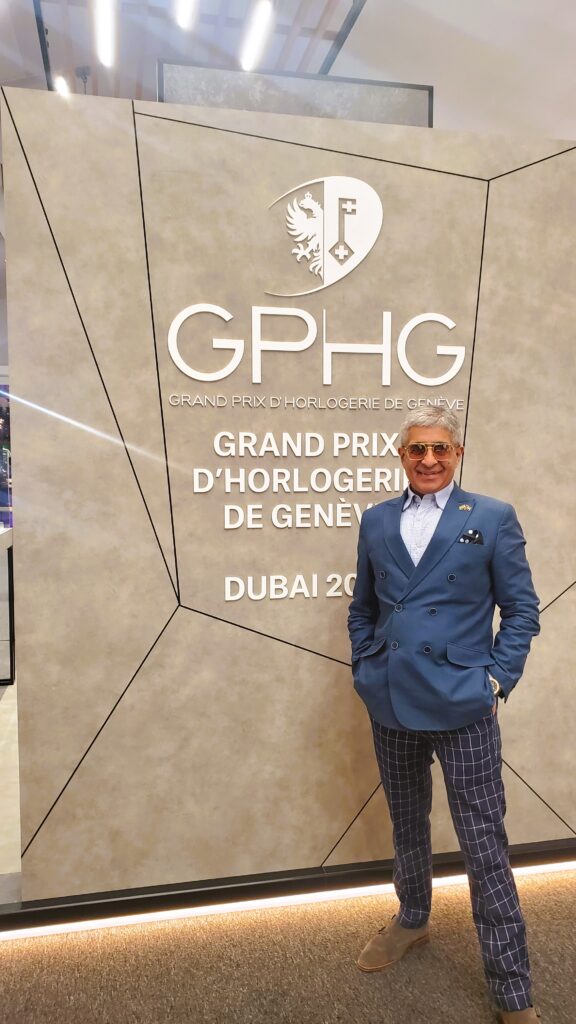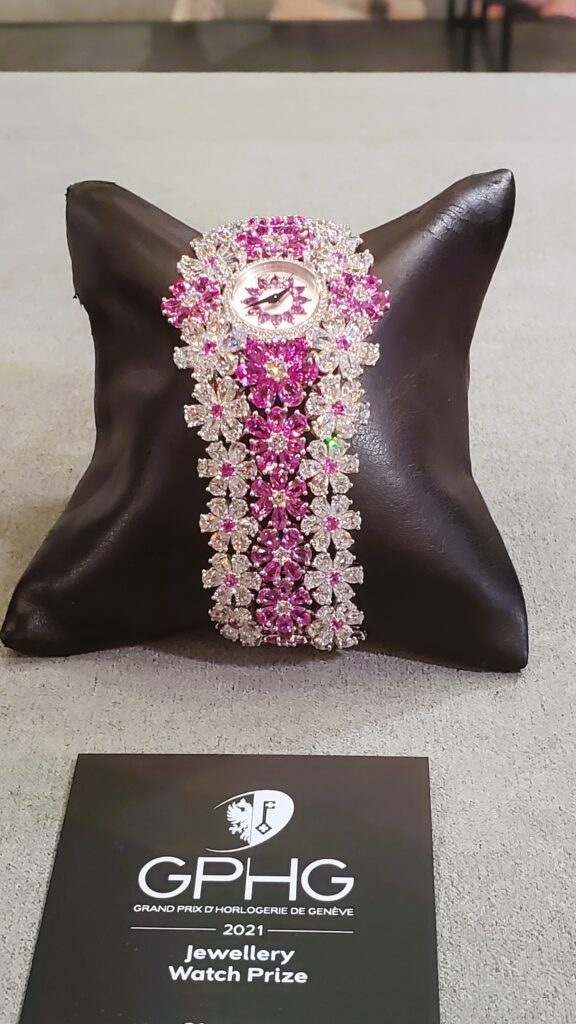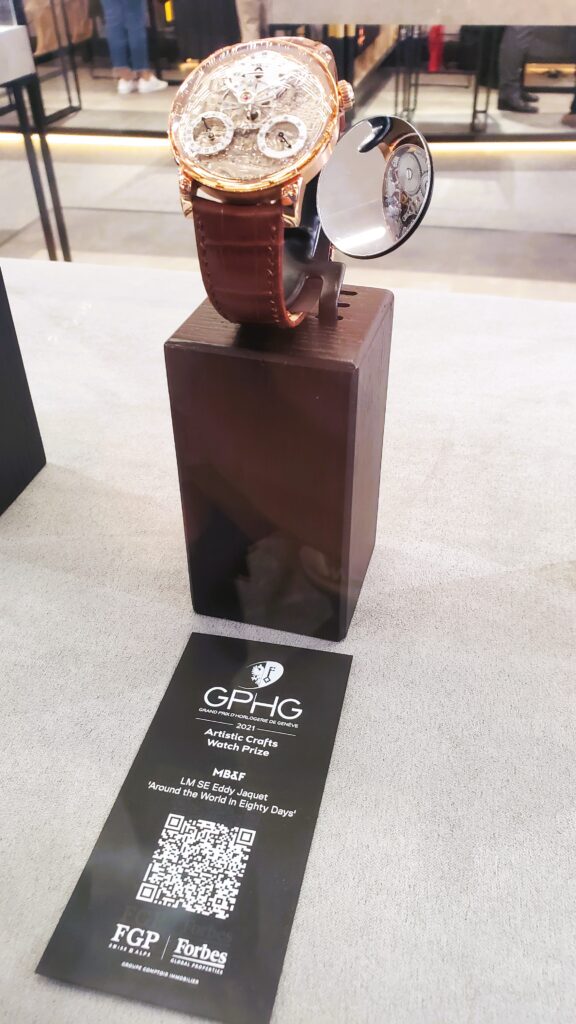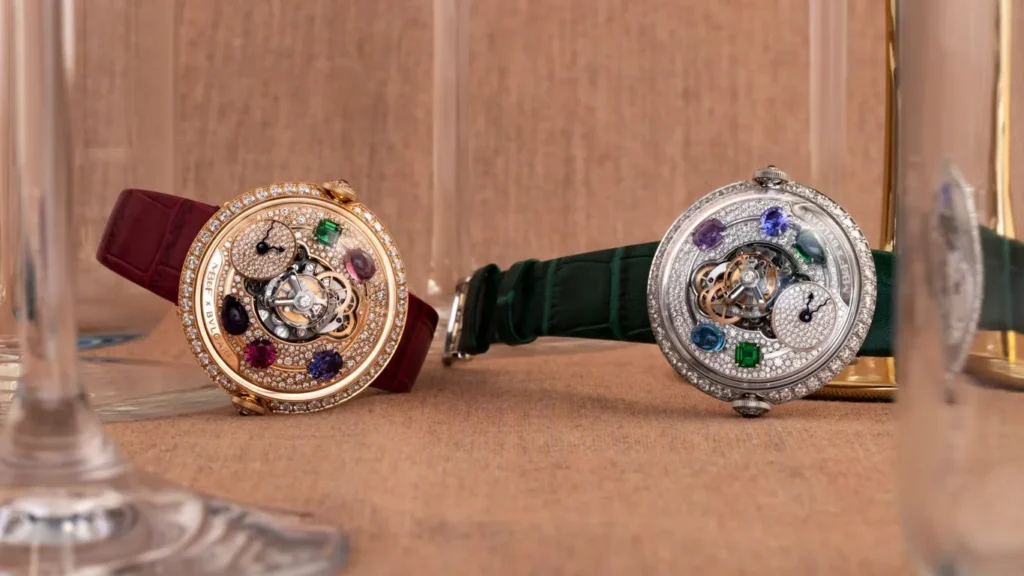 One complex mind and one elegant mind, created the one-of-a-kind genius ingenious watch, the Legacy Machine Flying T Allegra, a collaboration between MB&F and Bvlgari, in harmony and ofcourse for the discerning collectors, limited to just 40 pieces – 20 pieces in 18K white gold and 20 pieces in 18K red gold. He minds are – MB&F's Founder and Creative Director, Maximilian Büsser & Bvlgari's Product Creation Executive Director, Fabrizio Buonamassa Stigliani. The watch dramatic in innovation, its design and construction as well as exquisitely exquisite in its ornate decoration.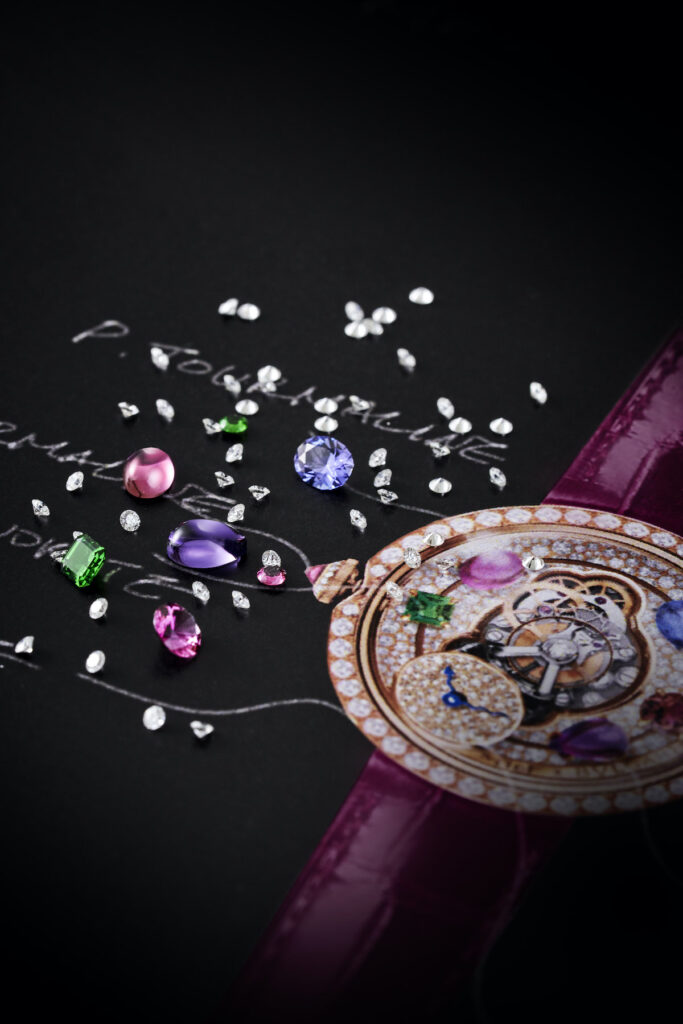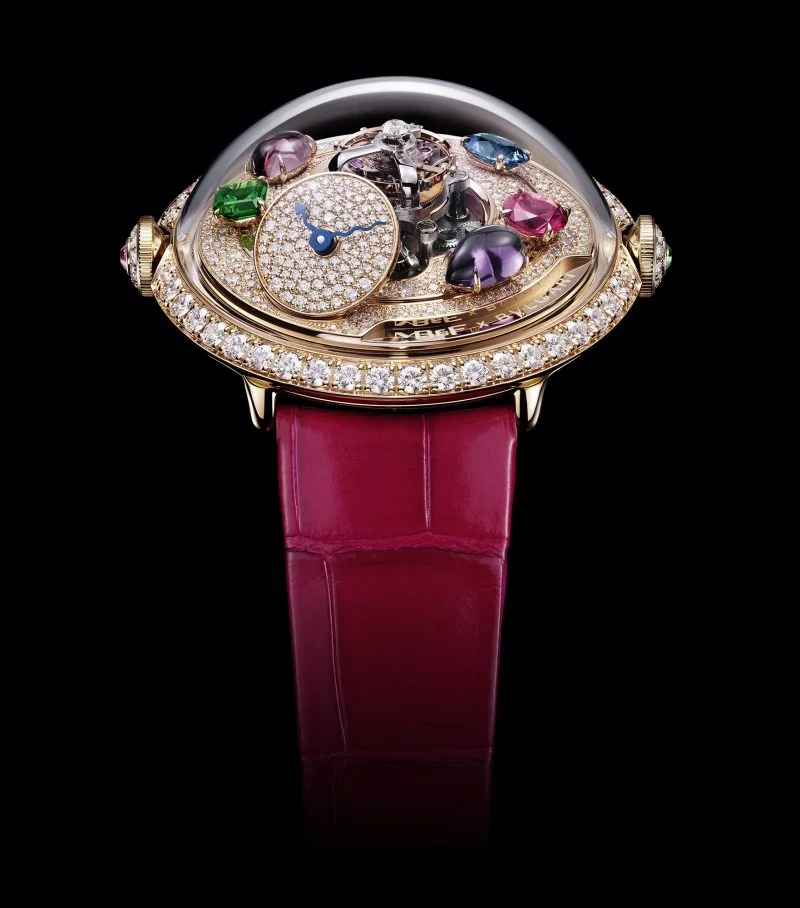 The Legacy Machine FlyingT Allegra is available in two versions: 18K white gold and 18K red gold, featuring Bulgari's favorite gems and snow-set diamonds. The dial features beautiful mix of tourmaline, tsavorite, diamonds, rubellites, amethysts, tanzanites, and topaz. The case measures 39 mm in diameter and 20 mm in height, slightly larger than the original 38.5 mm version.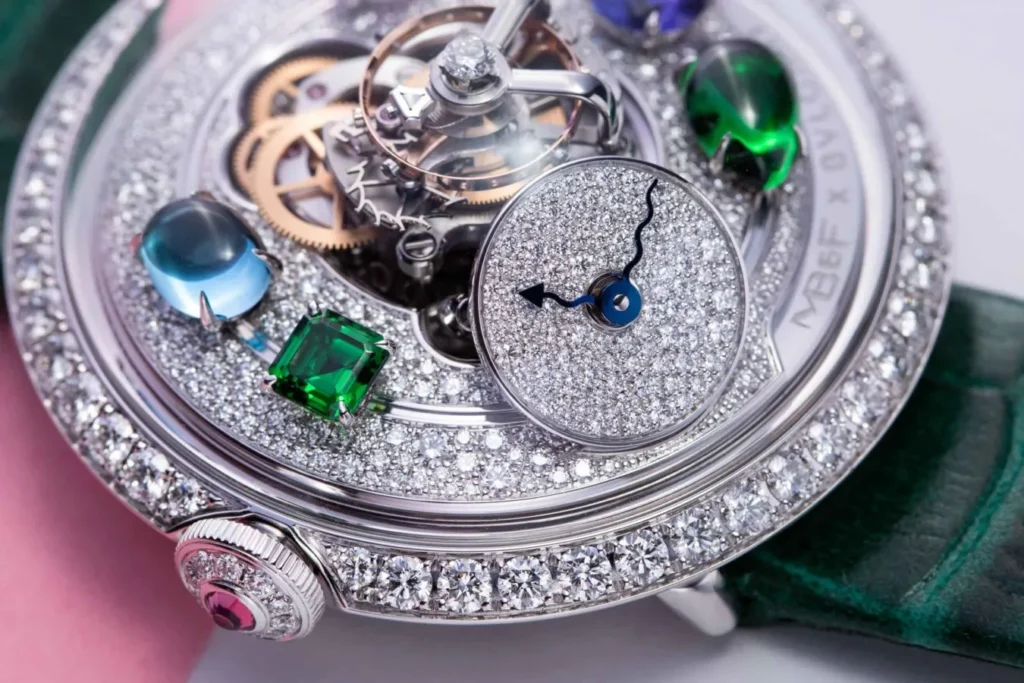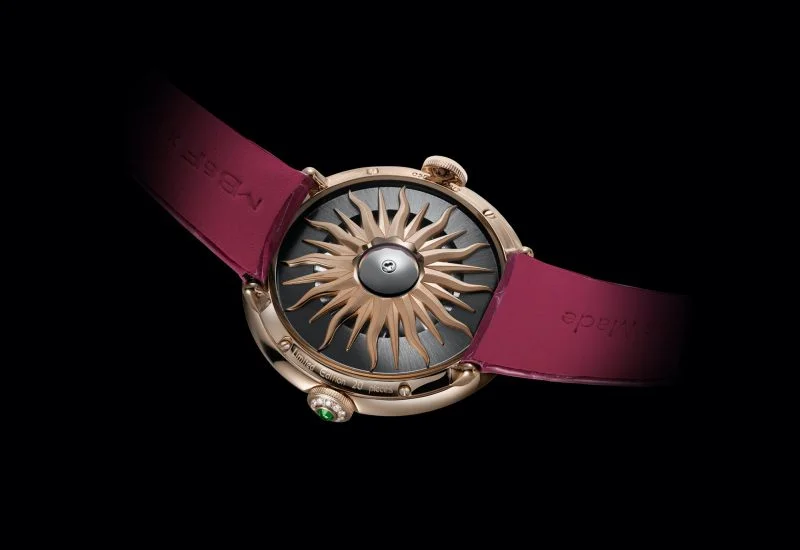 The Allegra stands out from the rest because it's got a bit of a "Bvlgari" feel to it, and it comes in either pink gold or white gold, which makes it stand out from the rest of FlyingT's stuff. The Legacy Machine FlyingT Allegra features MB&F's vertically built 60-second flying tourbillon.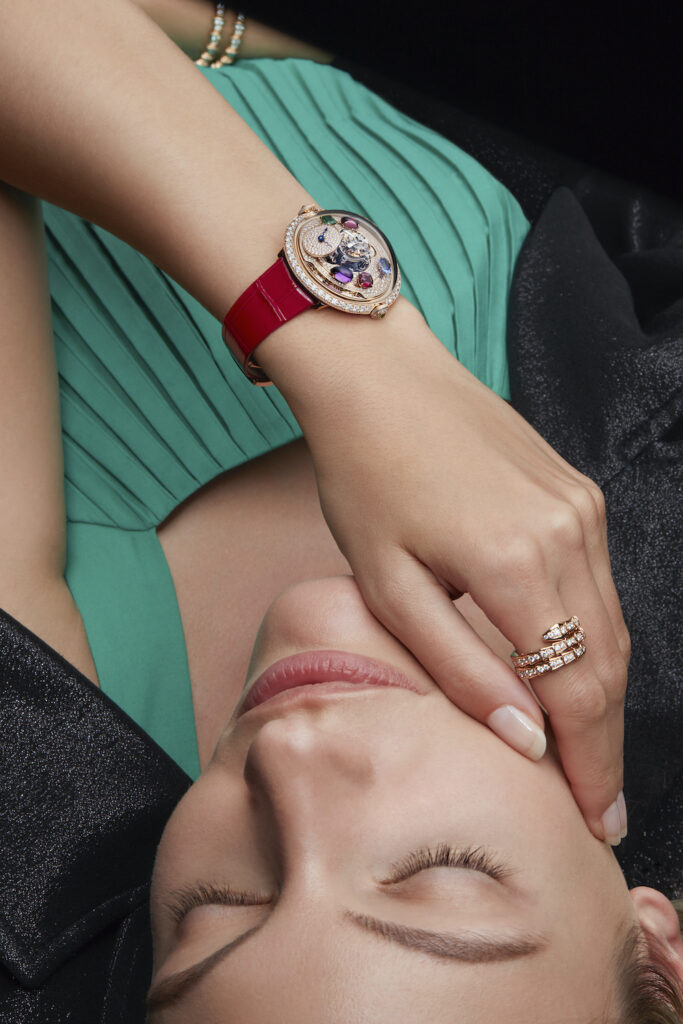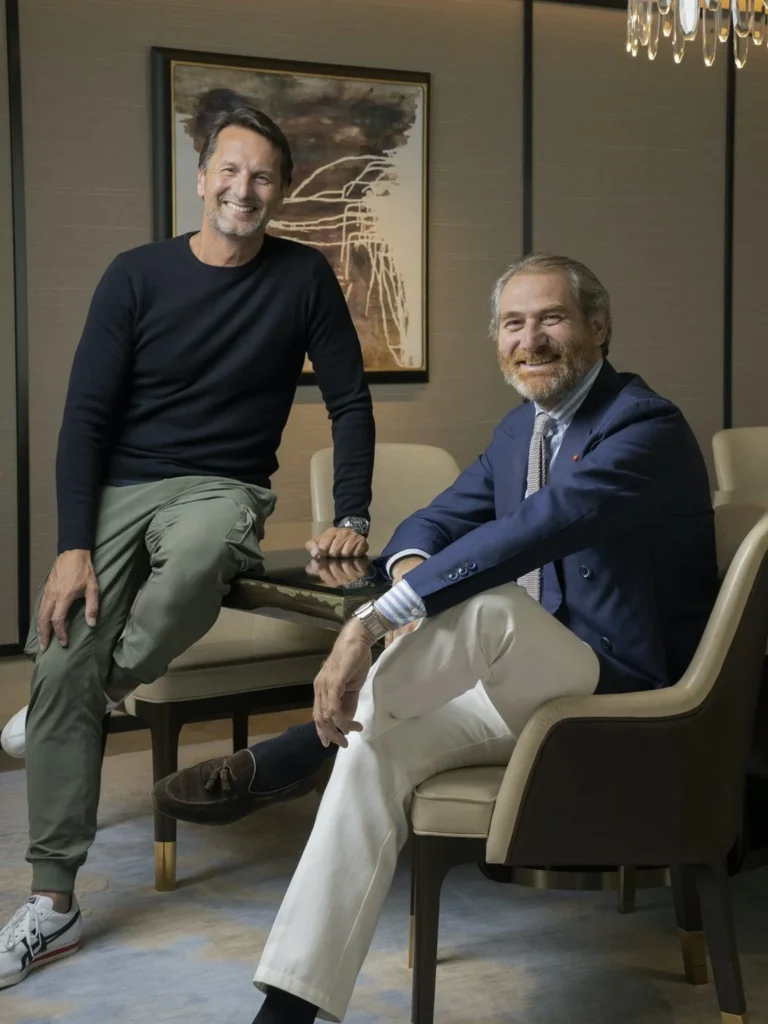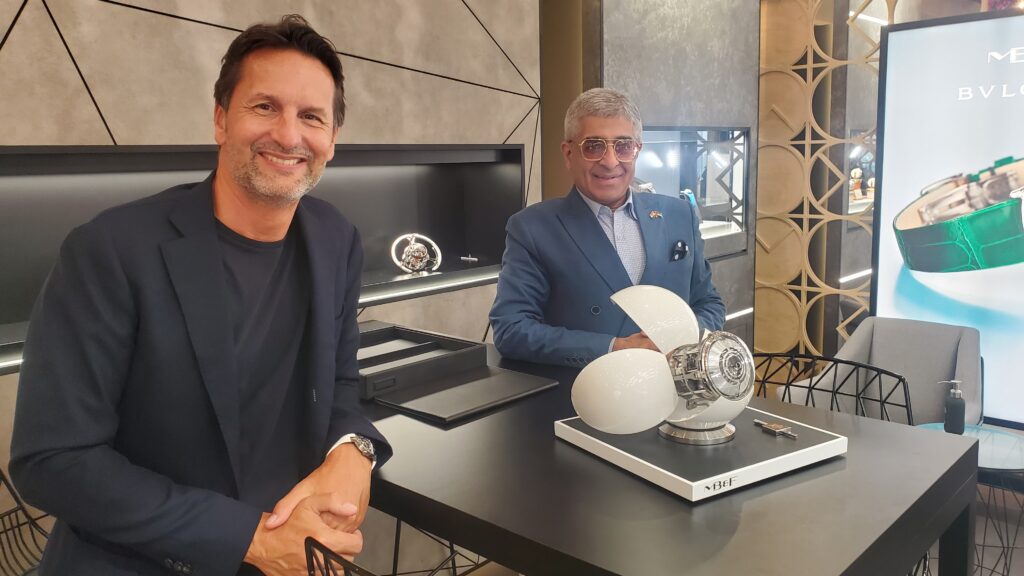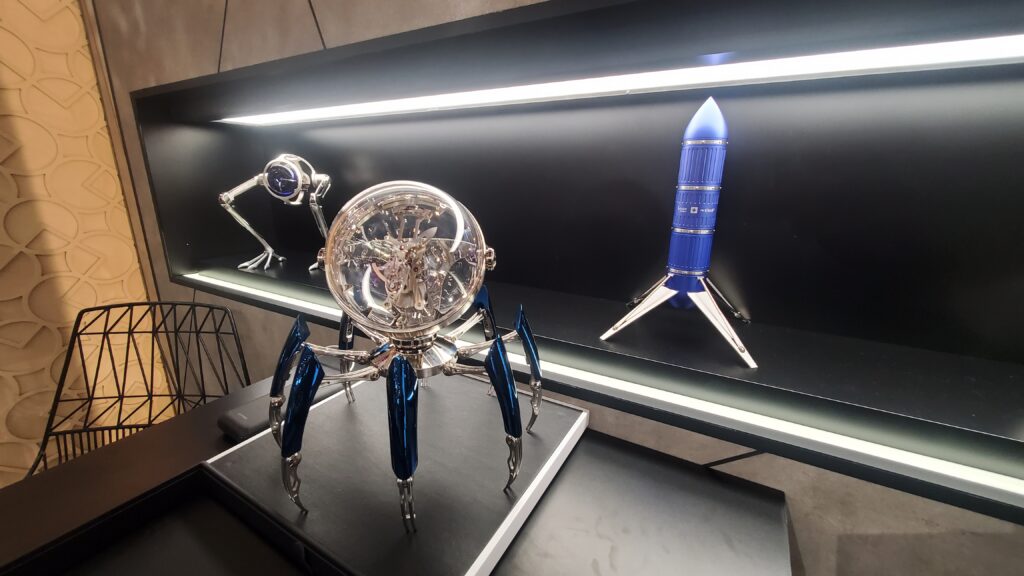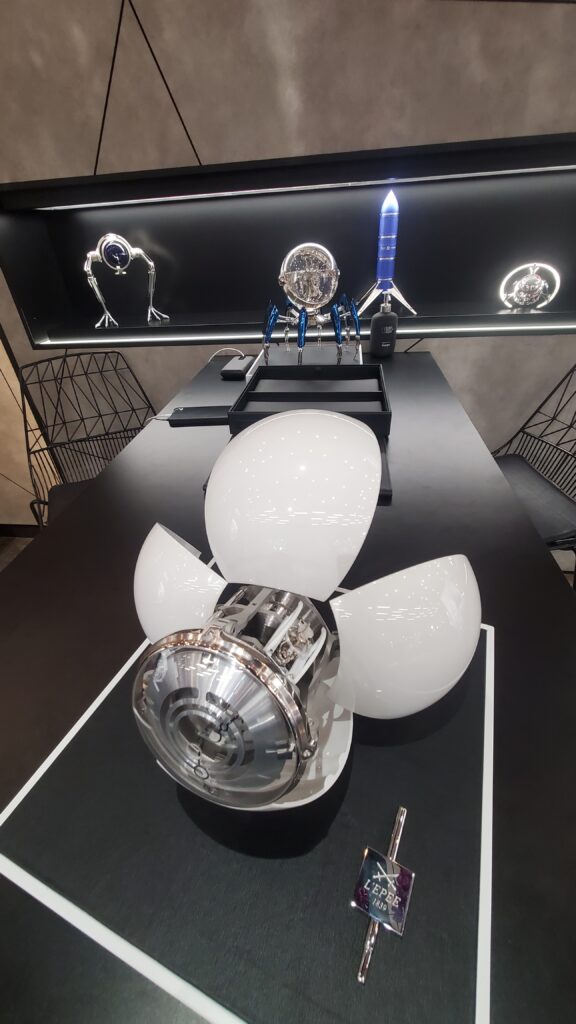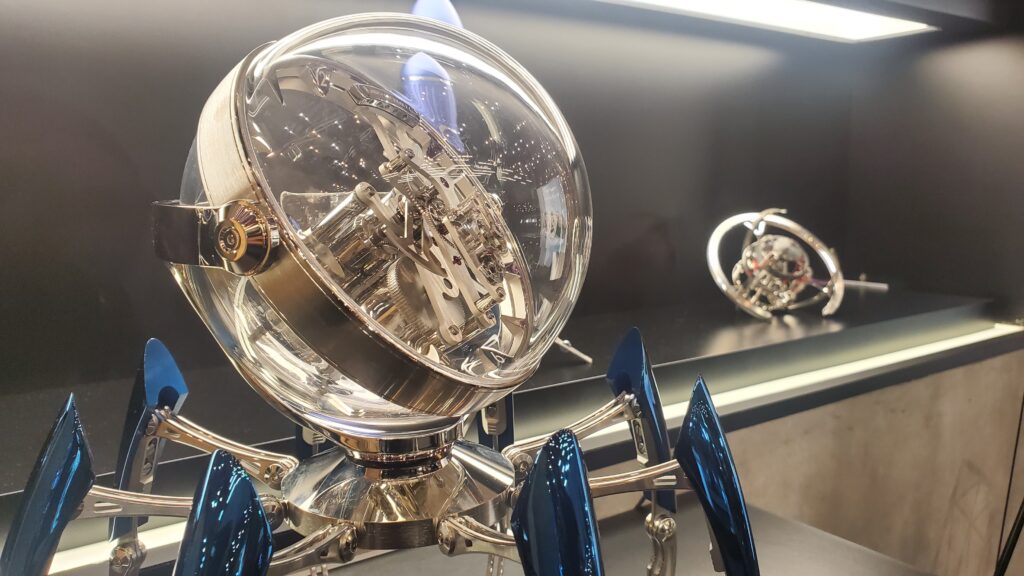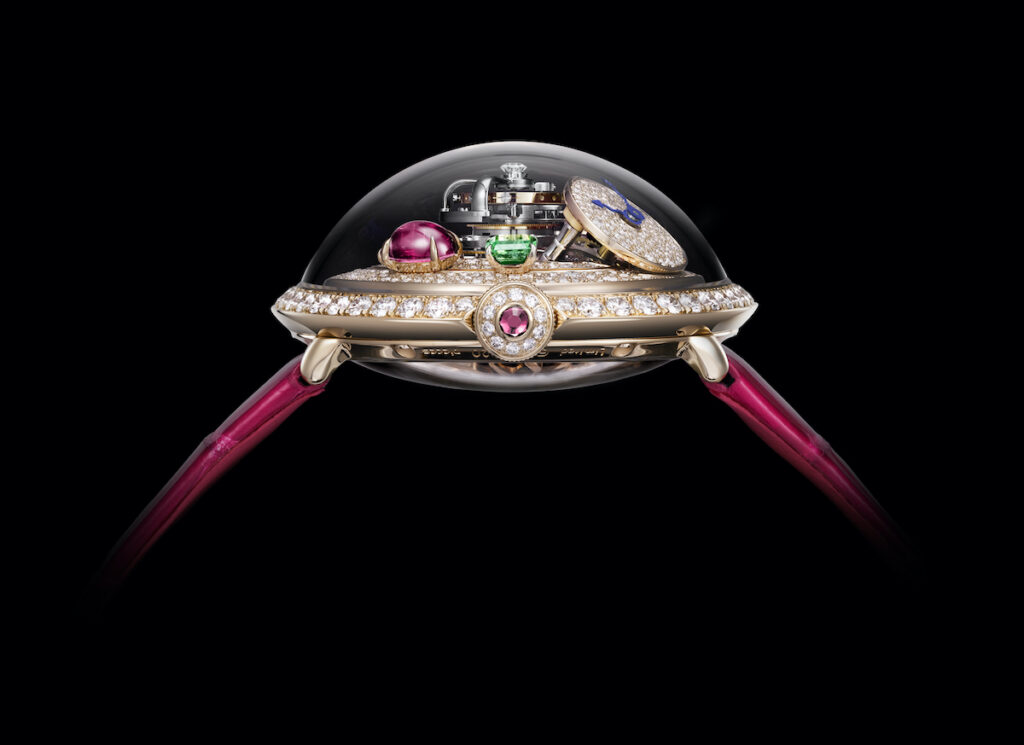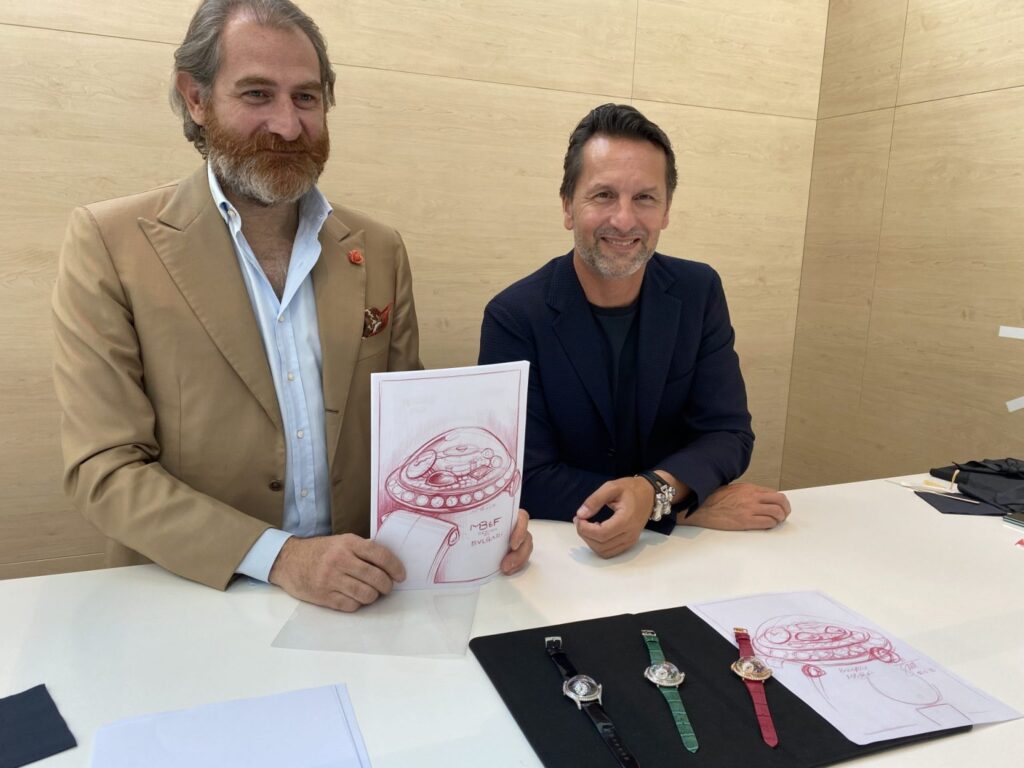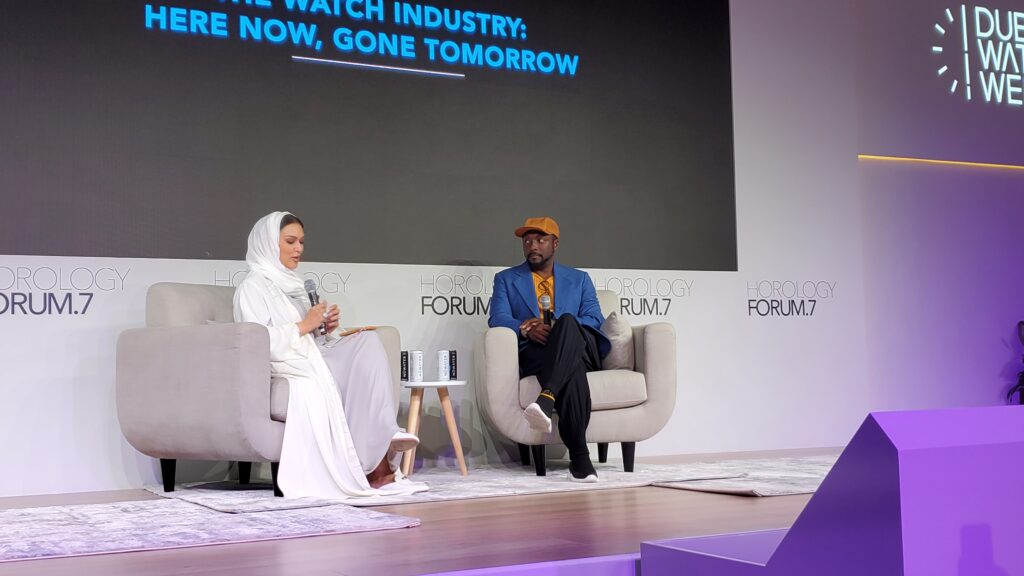 Will.i.am, renowned musician and innovator, and also the celebrity guest, participated in a panel in the Creative Hub titled 'The Watch Industry: Here Now, Gone Tomorrow,' which discussed the challenge of focusing on heritage luxury while finding synergy in a fast-moving digital world, as well as the industry's red flags that can only be seen from a certain vantage point.
At the intersection of tech, luxury and fashion, the watch industry is no exception as the blending of traditional craftsmanship and modern technology is creating some pretty exciting possibilities for the future of watches.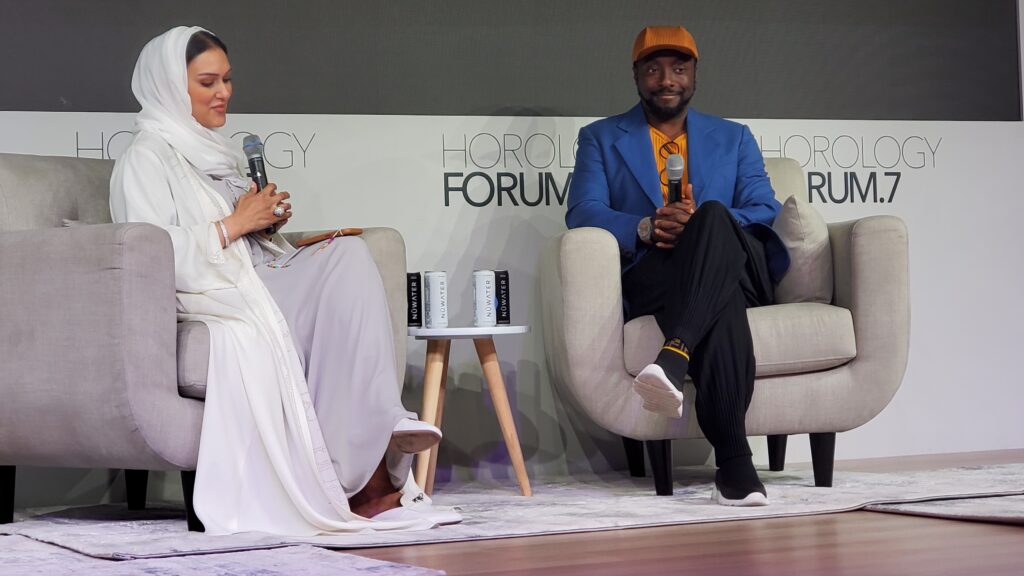 "The Watch Industry: Here Now, Gone Tomorrow" was an insightful talk hosted by Hind Seddiqi and will.i.am. The speakers discussed the challenges that the luxury watch industry is currently facing and the potential future of the industry. They highlighted the importance of innovation and adaptation in order to stay relevant in an ever-changing market.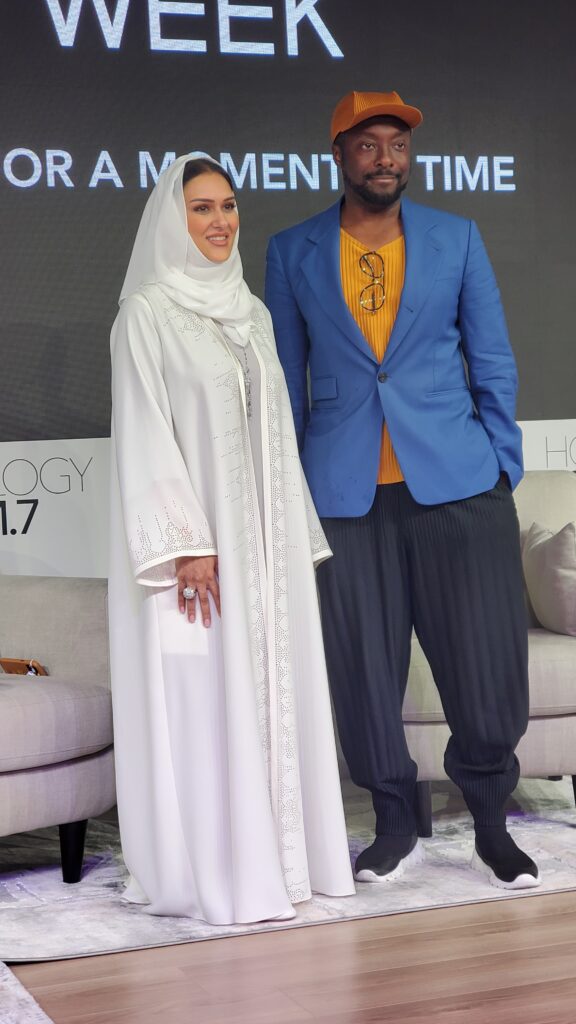 Some of the key takeaways included:
 The need for watch brands to embrace technology and digitalization to keep up with consumer trends and preferences.
 The importance of sustainable and ethical practices in the watch industry.
 The potential of customization and personalization to appeal to younger generations.
 The value of storytelling and creating an emotional connection with customers.
 Watches may become more than just timekeepers, but also health monitors, fitness trackers, and communication devices.
 Design may become more customizable, with features like interchangeable straps and customizable screens.
 AI could be incorporated into watches to provide personalized recommendations and insights.
 Investment in startups and new technologies could drive innovation and create new opportunities in the watch industry.
 The watch industry is facing challenges due to changing consumer preferences and technology advancements.
 There is a shift towards watches that offer more features and functions, such as health tracking and communication.
 They discussed how startups and new technologies could drive innovation in the watch industry and create new opportunities.
 They discussion also touched on the importance of customization and personalization in the watch industry, and how this could appeal to younger generations.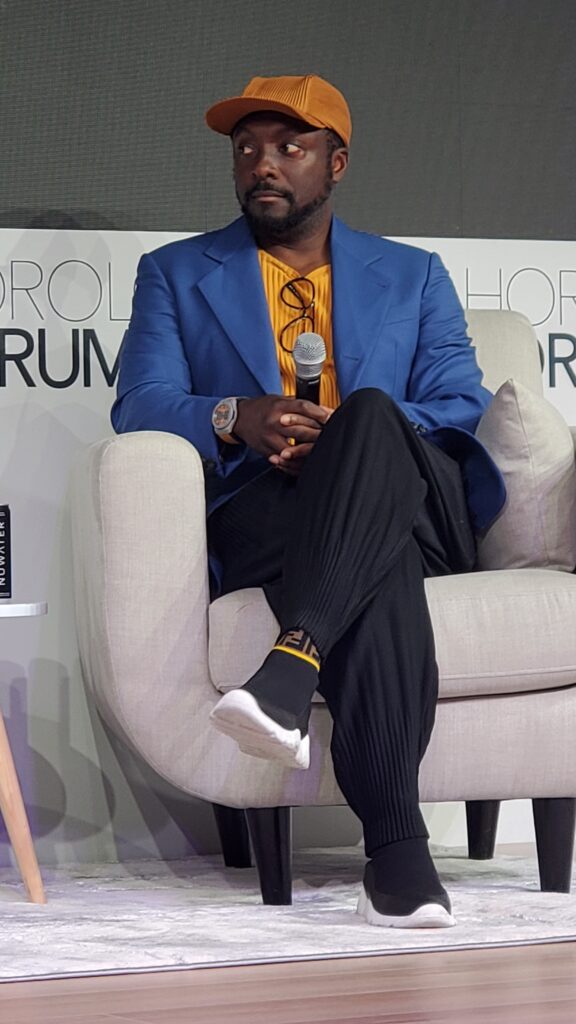 There was valuable insights into the state of the watch industry and its future! Overall, it provided a comprehensive overview of the challenges and opportunities facing the watch industry today.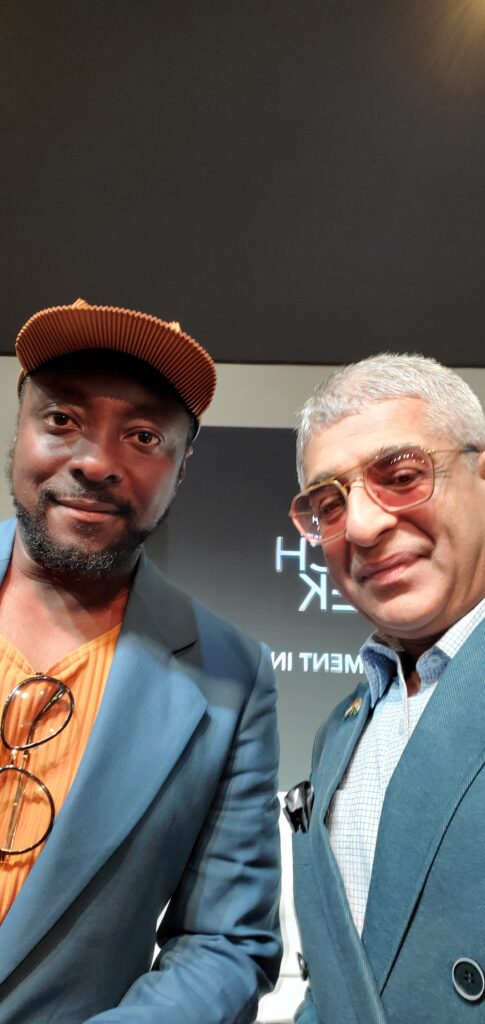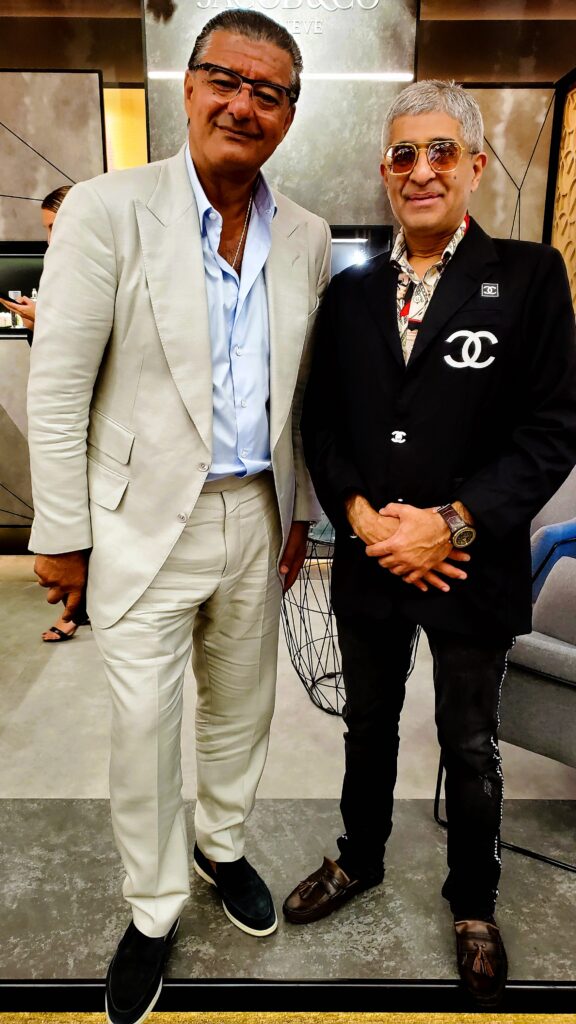 Mr. Jacob Arabo, a passionate and creative individual, is the core of the company, renowned for his exceptional jewelry and unique timepieces, blending traditional craftsmanship and artistry with a blend of edge and elegance. My dream is to invent things that haven't been done before
Jacob & Co.'s original motto, "Inspired by the impossible,"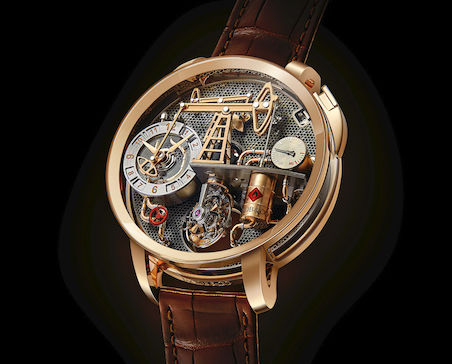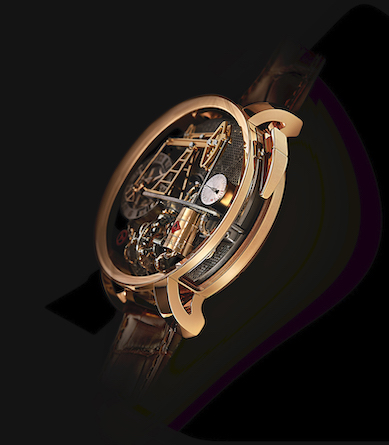 Jacob & Co. unveiled the new Oil Pump-themed timepiece, complete with a working oil reservoir, ahead of Dubai Watch Week. The 47mm case is made of 18k rose gold and features a large domed sapphire crystal on the dial, showcasing a blend of technological innovation and traditional watchmaking.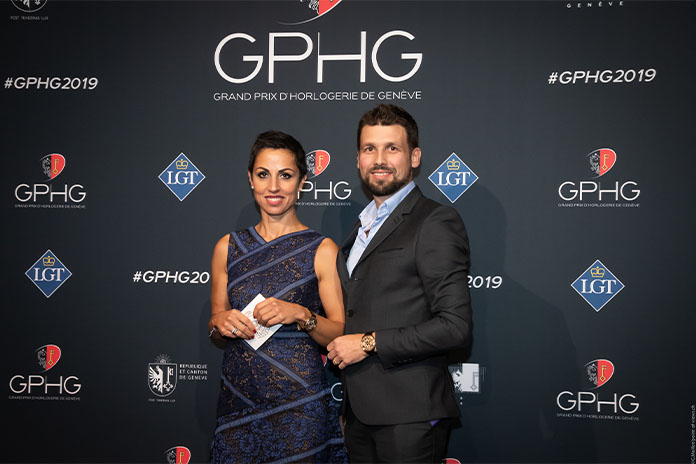 GENUS co-founders Sebastien Billieres and Catherine Henry believes in small production numbers and places quality at the centre of the challenge, thereby assuring value. This expression of passion, artisanship, modern savoir-faire, and beauty in mechanical form, is for enthusiasts, amateurs, collectors – in short, true aficionados.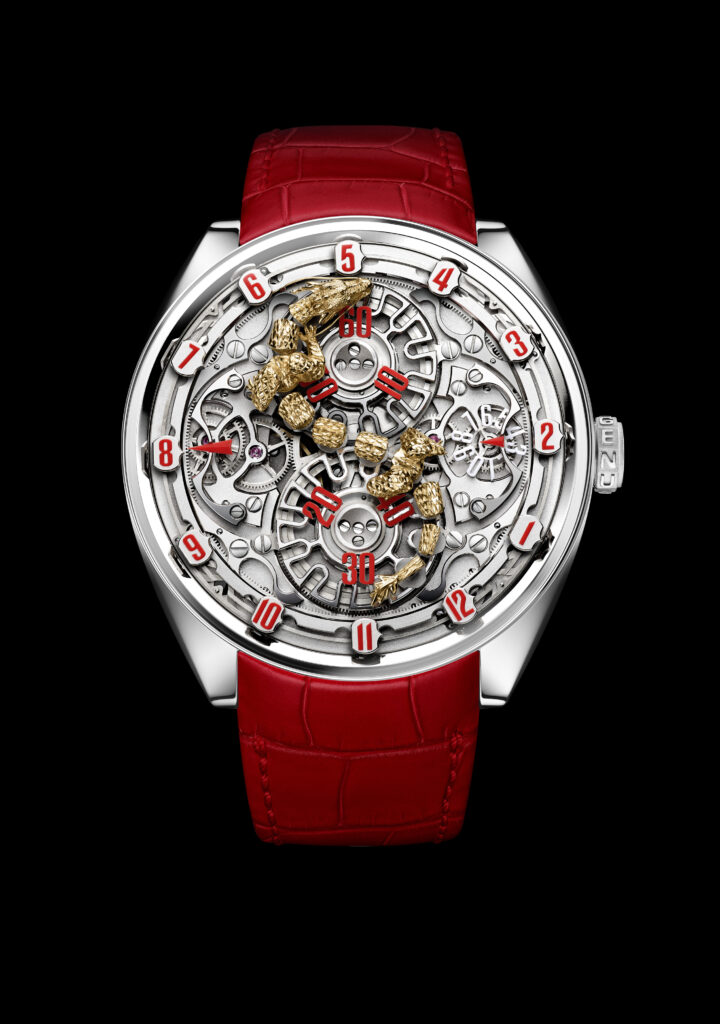 Genus introduced a timepiece with an eye-catching centrepiece: a guardian dragon in motion, indicating the passage of time. Combining Haute Horlogerie, mechanical engineering, goldsmithing, sculpting, and engraving to produce an intriguing balance between technical restrictions and aesthetic requirements.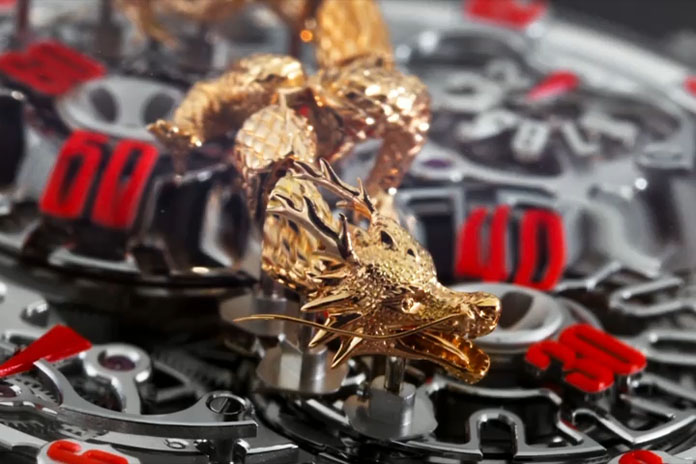 The outcome is unprecedented. an elegant, strong, expressive dragon fashioned from 18K gold, similar to the movement's major components, displaying not only a whole range of horological creativity, but also opening huge creative possibilities.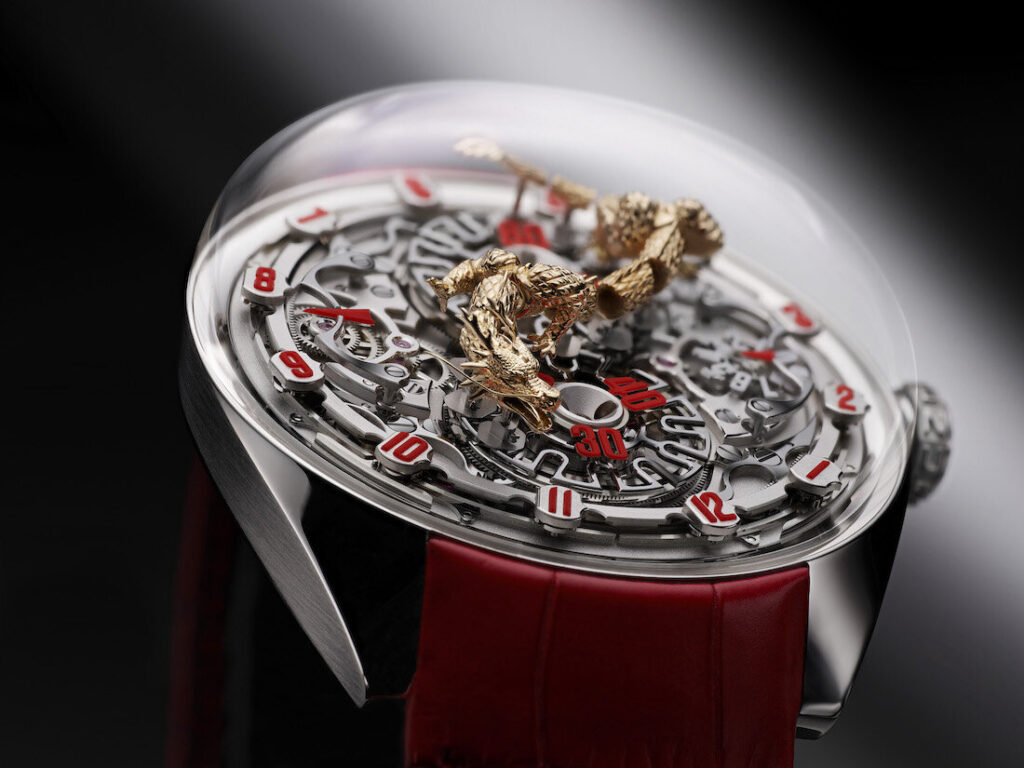 The genera, or moveable components devised by Genus for its tens-of-minutes display, serve as the dragon's body. Eleven carved, embellished, and hand-engraved 18K rose gold segments trace the astronomical course of Genus's analemma (figure eight). The Genus Dragon has an 18K white gold case with a 43 mm case diameter and an 18.8 mm thickness.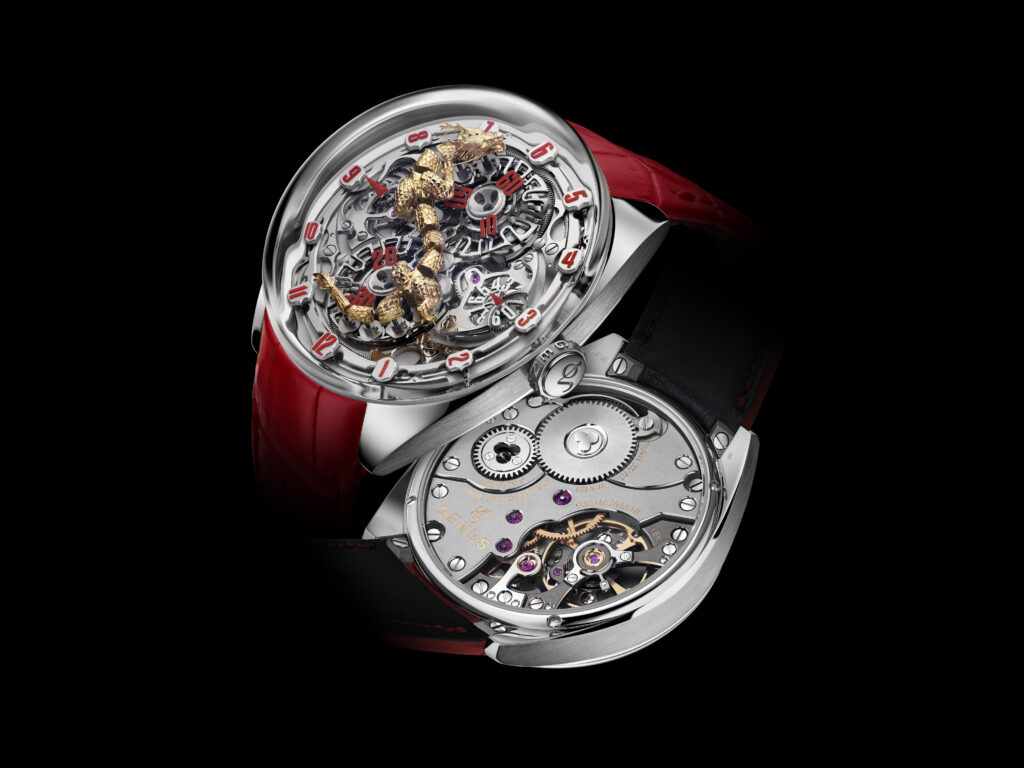 The GNS1 brain is located at the heart of Genus Dragon. However, the tens-of-minutes are signified here by the dragon's head rather than a species. The dragon's mystical look between crystal and movement is built on the same technical principles as past Genus inventions.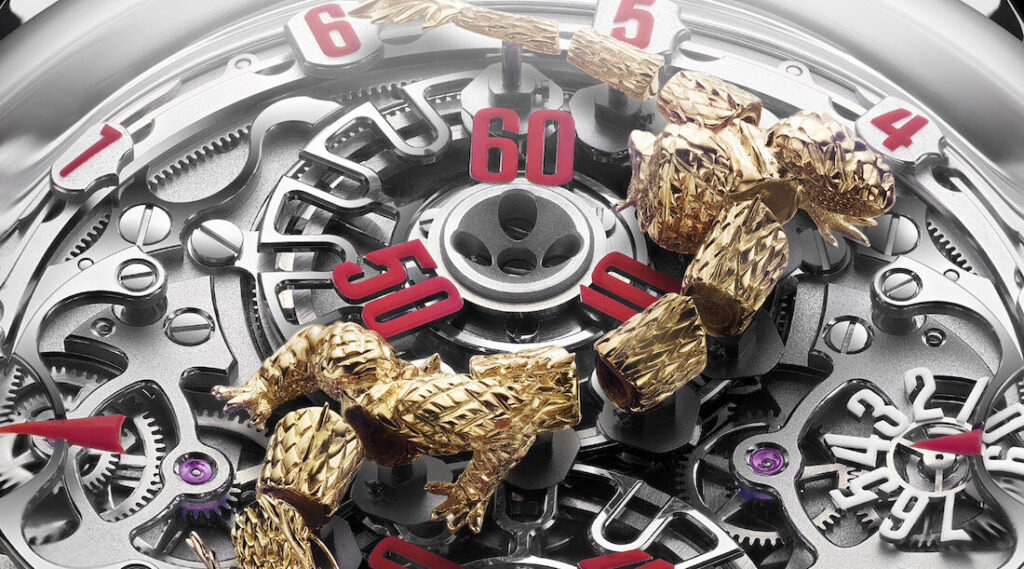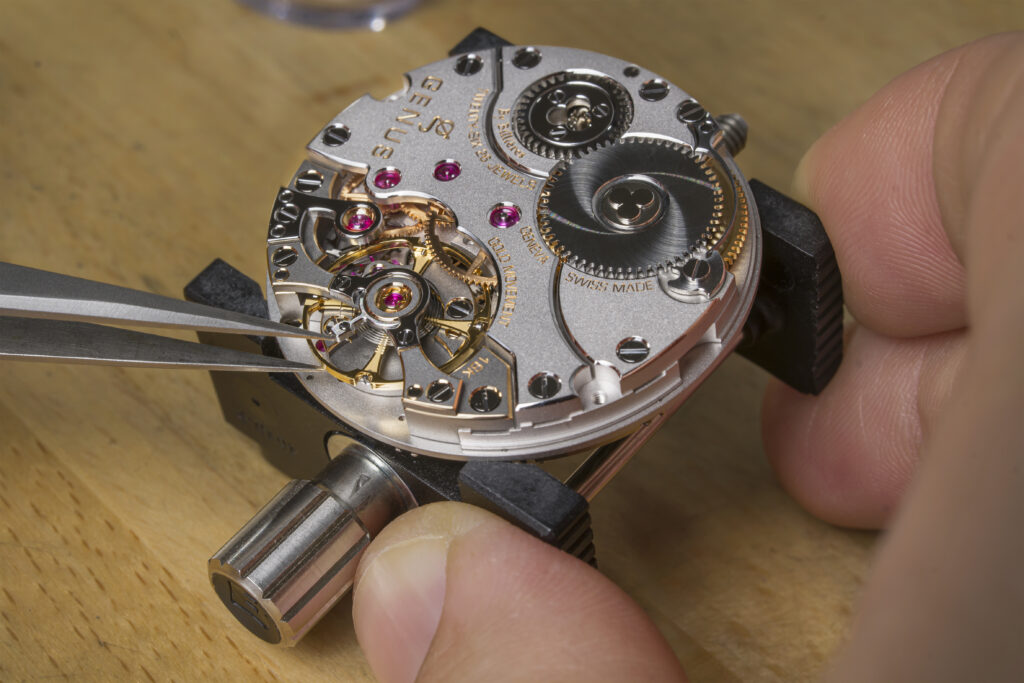 The ideas of freedom, flexibility, and openness to continued growth that underpin Genus are the result of a dilemma. The watch is made up of two pieces, or modules. The first, known as the foundation, organises the core functions, including a single barrel. It provides a 50-hour power reserve, which is significant given the intricacy of the calibre and the masses in motion. The second module, which is layered on top of the first, handles the display intricacy of hours, tens of minutes, and precise minutes. There are 12 satellite indices and 11 movable components shifting between two counter-rotating wheels to display the time.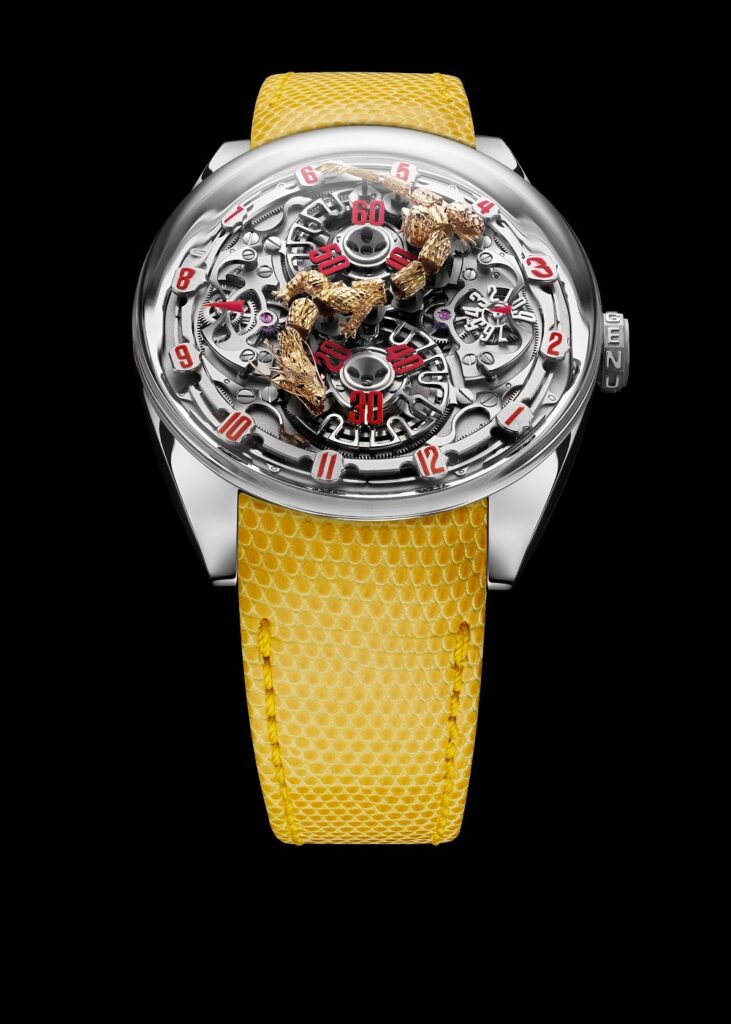 You may even create your own magical beast in your own colours if you want to tame this dragon. Each piece in the GENUS collection is unique and may be tailored to the wearer's preferences.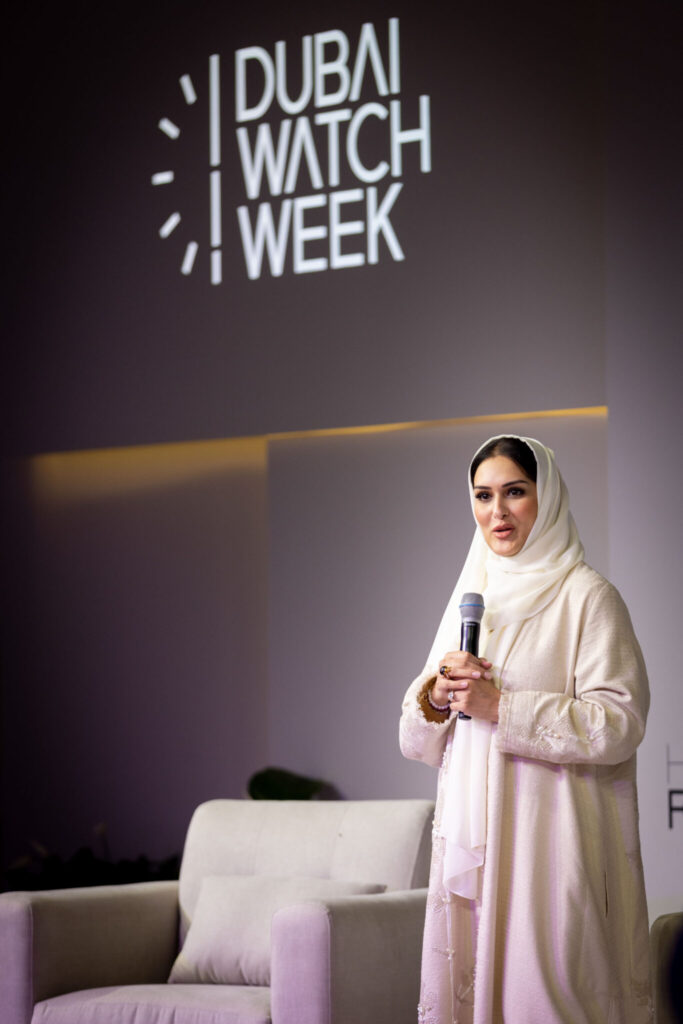 "We've been dubbed as the disruptors, which is something we never wanted to do when it comes to watch exhibitions. My father and my uncle had been going to Baselworld for over 40 years. We do not want to see it diminish, we want to see it flourish. And we've even suggested collaborating with these big exhibitions because they are a legacy. We've had conversations with Michel Loris-Melikoff (the director of Baselworld) who was in a panel discussion with us in 2019. We've partnered with the FHH that runs Watches and Wonders, and they've exhibited several times with us.
"Now there's a difference between how we run things and how the other big exhibitions run things. We are privately owned and privately fund what we do. So, making decisions is way easier for us [compared to] these big entities. And the point is, imitation is not going to help anyone so duplicating or replicating things that are happening in each other's exhibitions is not going to help anyone because our target audiences are different, our strategies are different," says Hind.
Few coverages of the forum, talks.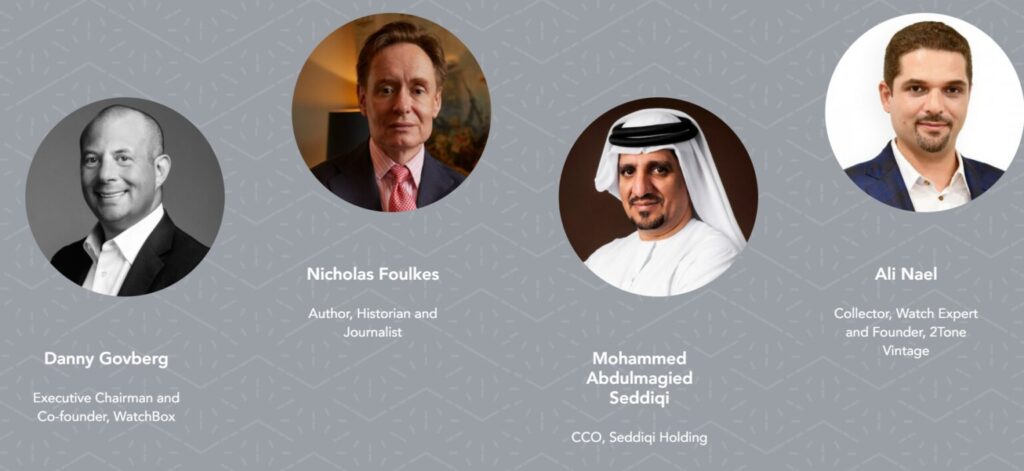 The session – I love my Patek, What does it do, the panellists – Danny Govberg, Nicholas Foulkes (moderator), Mohammed Abdulmagied Seddiqi, Ali Nael, Claude Sfeir discussed of the stigmas and information on the reliability of collectors, particularly when a collector's wealth speaks louder than their knowledge.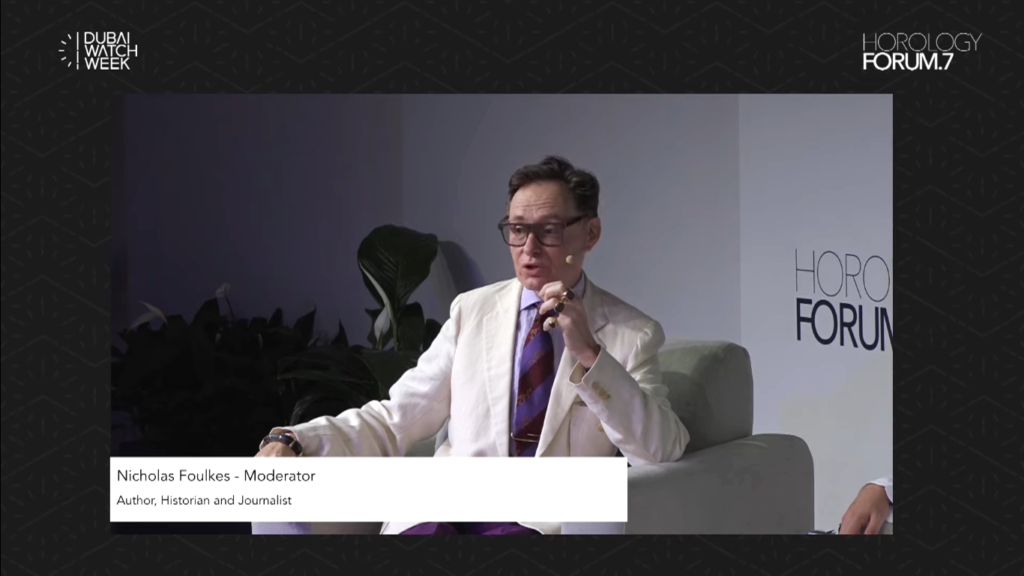 Nicholas Foulke with a very witty personality, is the author of around 30 books on the arts, history and material culture, emphasized to do research before buying a watch, for personal, or collection. Collect a watch because of the reflection of your personality, what you portray, why it makes you happy, No disparity.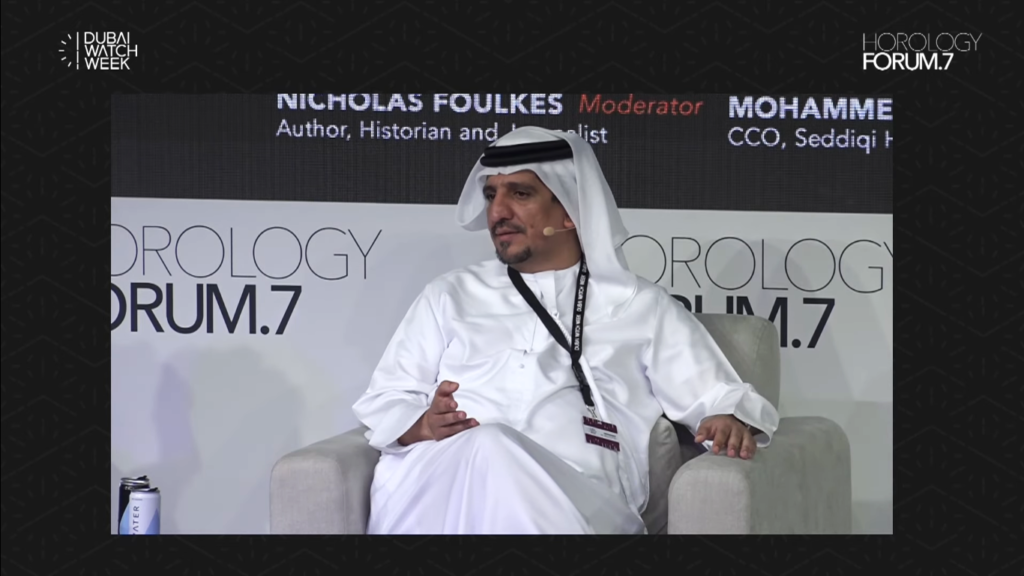 Mr. Mohammed Abdulmagied Seddiqi said the last 2yrs had tremendous wealth creation and demand for watches have shot up, became a status symbol, People just spent money hopelessly for status. As far as DWW, it is a platform for education about watches.
On collectors he observed, the collector is driven by passion and desire of having a precious item, the love for it, s the collector is serious about the history of the watch, why the watch was made, qualities of the watch.
Ali Nael's 10-year journey from being a young watch enthusiast to a seasoned collector and trader is phenomenal. Collecting vintage watches is a life-long journey, with each piece reflecting a certain phase or memory of a person's life. It can be about achieving a particular milestone, a life-changing event happened, enjoying the view at a particular location somewhere in the world, my wedding, or even at a random place when I chanced upon a piece of vintage I fell in love with. Therefore, each vintage timepiece marks a period of time in human history and also entails the life story of the bearers; usually an exceptional individual.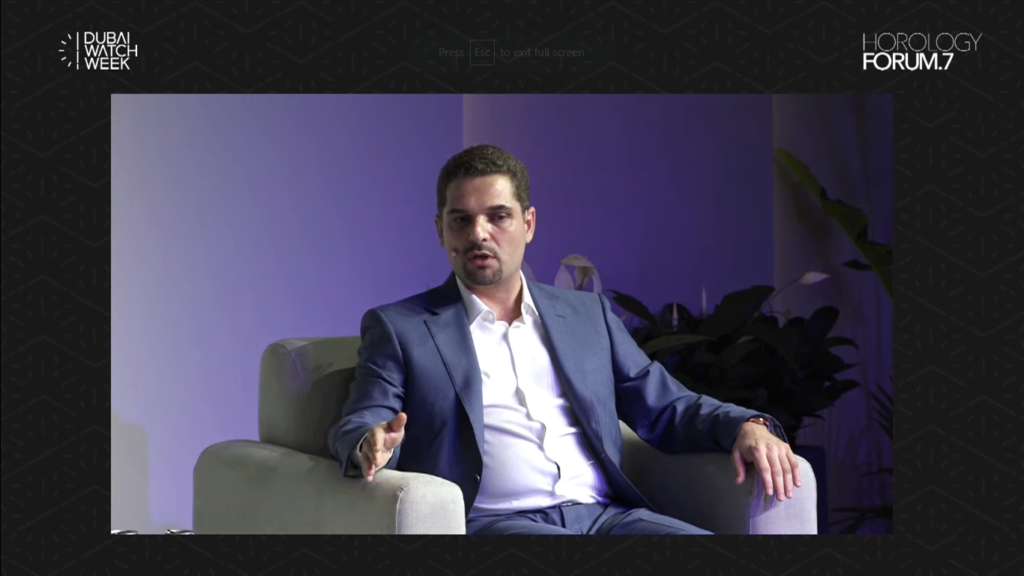 Ali Nael. Collector, Watch Expert and Founder, 2Tone Vintage is a die hard collector of rare and exquisite Patek Philippe vintage timepieces.
In his humble opinionabout collecting watched, especially rare vintage watches, he says "Culture plays a big role on watch collecting. Understanding and appreciating the history and development of watchmaking is important, as is paying tribute to the great figures who have enabled the continued existence of the engineering marvel we wear on our wrists. Regardless of the brand, Ali curates watches that have brought technological advancements and advances to the watchmaking industry."
Ali acquired his first watch from his paycheck, the IWC Portugese, did his research on the watch. It is Ali's passion, hobby to collect watches, and the collector community is important to learn more and interact with collectors, to gin knowledge, understand the distinction of mindset between collector and investor – its education, research. Al built his collection, before he buiit his business, and his clientele are his friends, and know the watches sold by him, his inner most circle.
Ali made observations about the young watch collectors, who are triggered by motivation, emotion, attraction to history of watch, the journey of their life, and they buy a watch as per their lifestyle.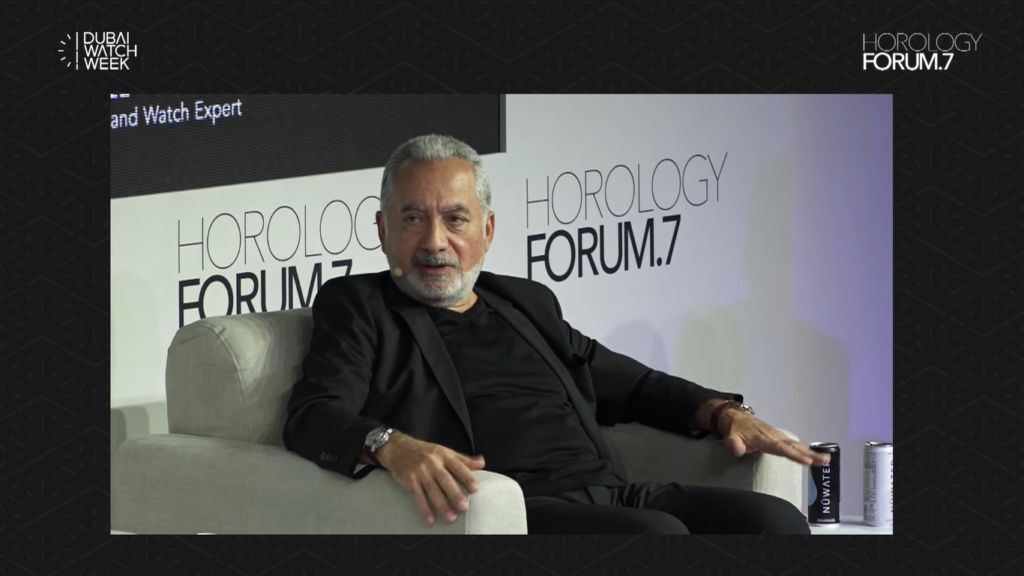 Claude Sfeir – The eponymous and ardent watch collector and Chairman, Sfeir Vintage had the most inqusitive way to learn and his collection of watches.
The primary watch and jewellery auctions are where Sfeir bases his work schedule. This is how this obsessive bargain hunter feeds his obsession. He is known to make lengthy trips in order to outbid rivals and win a few dozen watches, including some of the most wanted and unusual ones.
He was just 16 years old when he started learning about watches in Dubai, and fell head over heels in love with watches. He bought his first Rolex from a Dubai dealer called Seddiqi for a whopping 300 dirham. It was just a regular Rolex, but it was a steel version of the Precision Rolex Reference 6694.
Claude would hammer the watches for its gold value and the watches would come from Oman. He said, I would take out logo with kersosene.
Today for the new investors, it's all about buying watches and flipping fast at x times. The serious investors are buying watches, to pay off home loans.
Claude Sfier's principles and philosophyon colleting nwatches –
1. collector will never sell his watch, others will flip
2. watch is quality, modern is quantity
3. don't just collect for the sake of it, may have no value.
"I would say that the heart has its reasons but that reason is not far behind. I do not buy watches for nothing, I wear them, often two at a time, one on each wrist. Never! I will neither barter, nor sell, that is not me," said Claude Sfeir.
Sfeir's collecting zeal does not spare any of François-Paul Journe's masterpieces. He has them all, from the first watch to the last. Not to mention unique requests.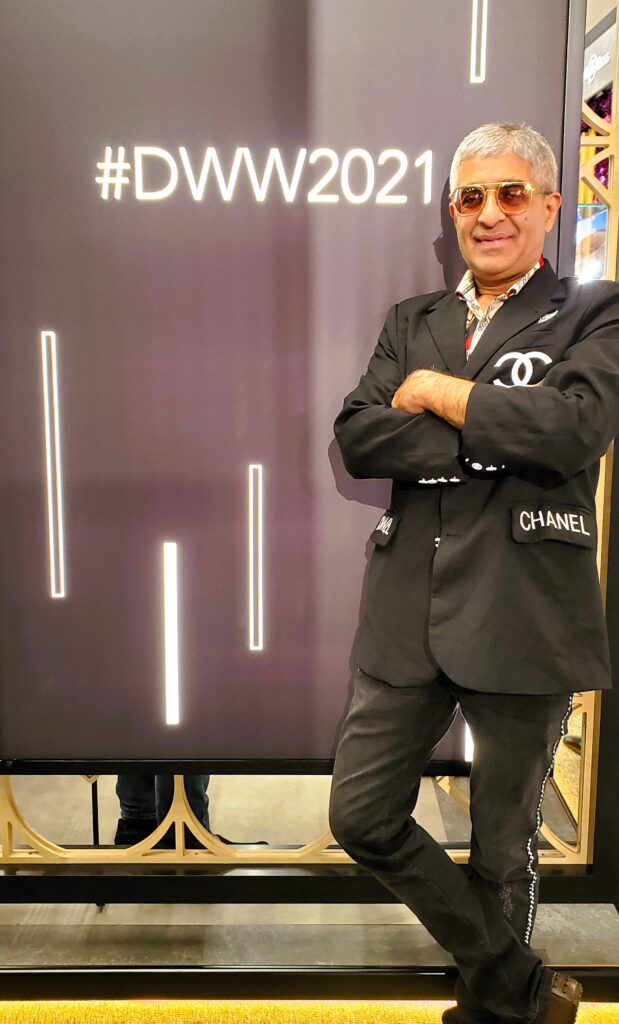 GB Bajaj's view, as some watch collectors are more focused on the financial aspect of collecting, rather than the knowledge and passion that comes with it. This can lead to a stigma that a watch collector's credibility comes from the value of their collection, rather than their understanding of horology and watchmaking. it's worth noting that there are definitely watch collectors out there who are highly knowledgeable and passionate about the art and craftsmanship of horology. They have a deep understanding of the history of watchmaking, the different movements and complications, and the craftsmanship involved in creating a high-quality timepiece. However, there is also a subset of collectors who are more focused on the monetary value of their collection. They tend to focus on the brands and models that have the highest resale value, and they may not have as much knowledge or interest in the watches themselves.
GB Bajaj highlights the few key traits that are often associated with serious watch collectors and aficionados. First, they tend to have a deep knowledge of watchmaking and horology, as I mentioned before. Second, they typically have a large and diverse collection, spanning many different brands and models. Third, they often have a passion for vintage watches, as they appreciate the history and craftsmanship of older timepieces. And fourth, they typically have a high level of discernment, being able to tell the difference between a high-quality watch and one that is poorly made.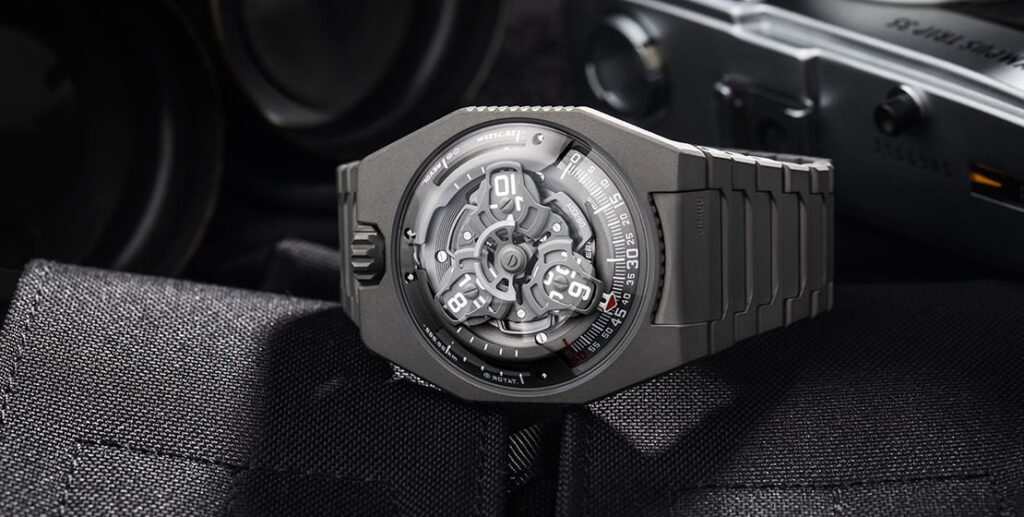 At Dubai Watch Week, Urwerk's made the Urwerk UR-100V even more interesting with the Full Titanium Jacket. This jacket features an integrated titanium bracelet, the first of its kind in the Urwerk line. The original styling of each URWERK model is signed by chief designer Martin Frei, URWERK co-founder. URWERK means "original movement" in English.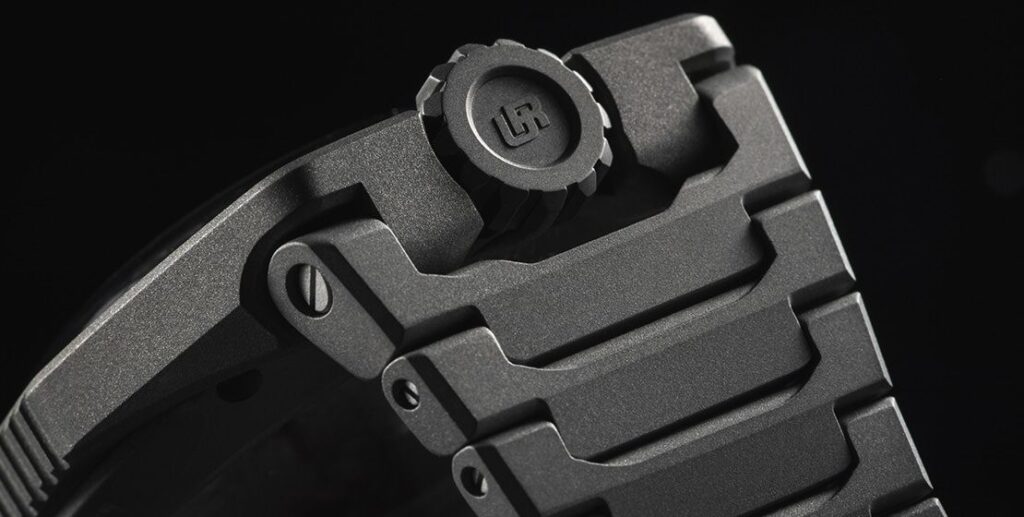 The UR-100V watch features a new muted grey and monochromatic look, with a matte, all-grey finish on the bracelet. The bracelet is entirely sand-blasted, including the bevels on the links, giving it a grey color darker than the dial. The limited-edition watch comes with a one-of-a-kind metal bracelet made of 32 sandblasted titanium links, providing a flawless look.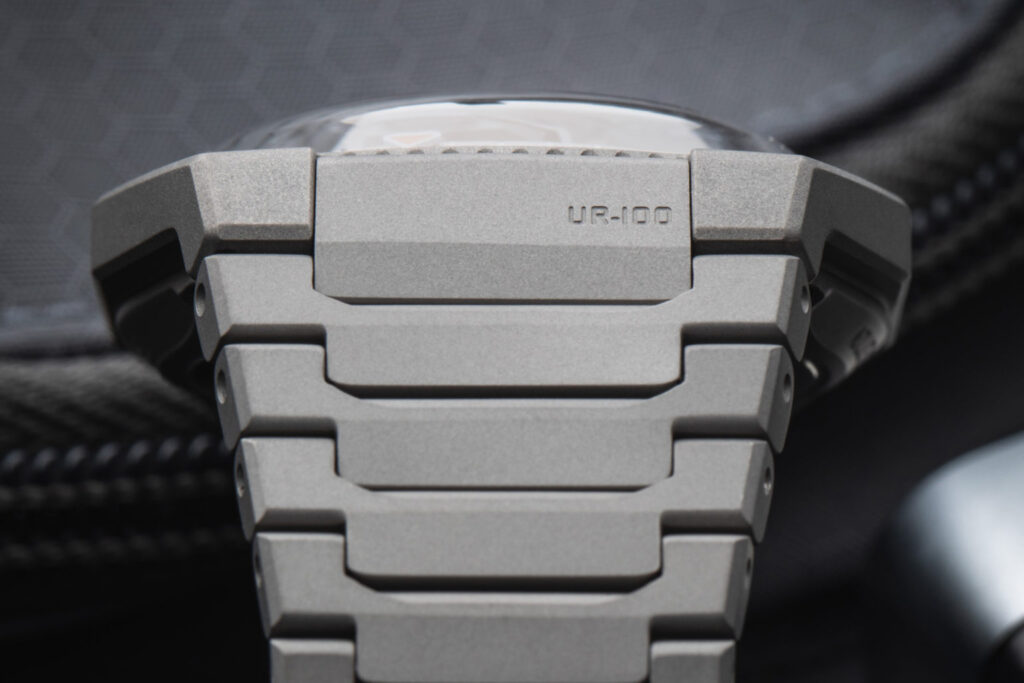 The UR-100V has been given a new look, with a muted grey and monochromatic hue that gives the watch a sleek and polished appearance, serious Global CEO material. The bracelet, like the case, has been sandblasted, resulting in a matte, grey finish. The bracelet is entirely sandblasted, including the beveled edges of the links, giving it a grey hue that is once lighter than the dial. This limited-edition watch is complemented by a custom-made metal bracelet. This limited-edition UR-100V is enhanced by a custom-designed bracelet with 32 sandblasted titanium links.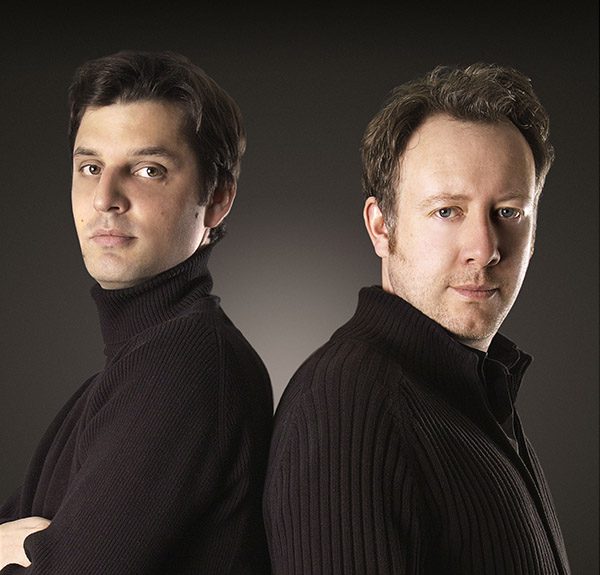 "I come from a background where creativeness has no limits. I am in no way prisoner of the traditional constraints of watchmaking, and I can therefore be freely inspired by my cultural heritage." – Martin Frei.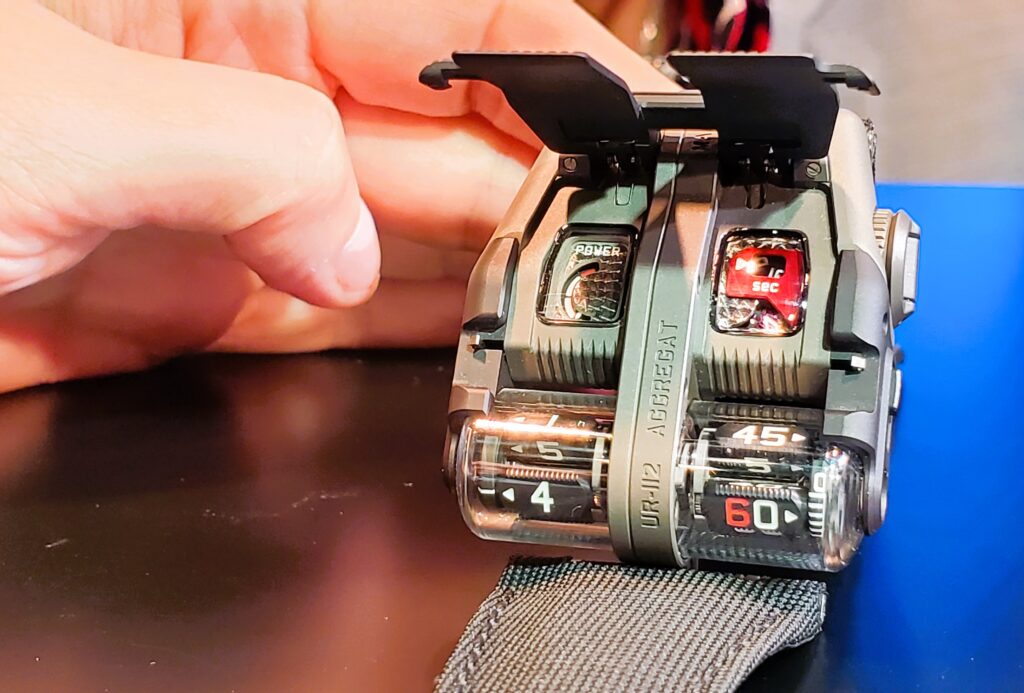 Urwerk has updated the UR-100V's time display to enhance legality, with hour numerals placed next to the red minute pointer due to a redesigned cover over satellites. The display mechanism features alternating sand-blasted and brushed surfaces, creating grey tones that match the case.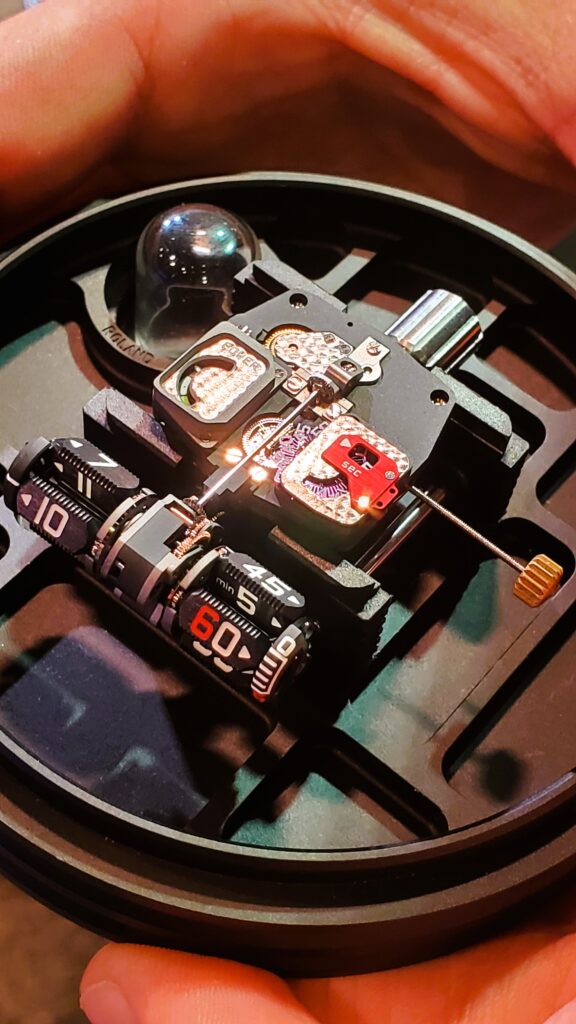 The UR-100V Full Titanium Jacket, along with URWERK's signature satellite configuration, highlights your space journey. The minute's 60-minute journey returns on a 555-kilometer 20-minute scale, indicating your movement around the sun in space. This scale represents your travel around the sun every 20 minutes, compared to the equator of our rotating globe.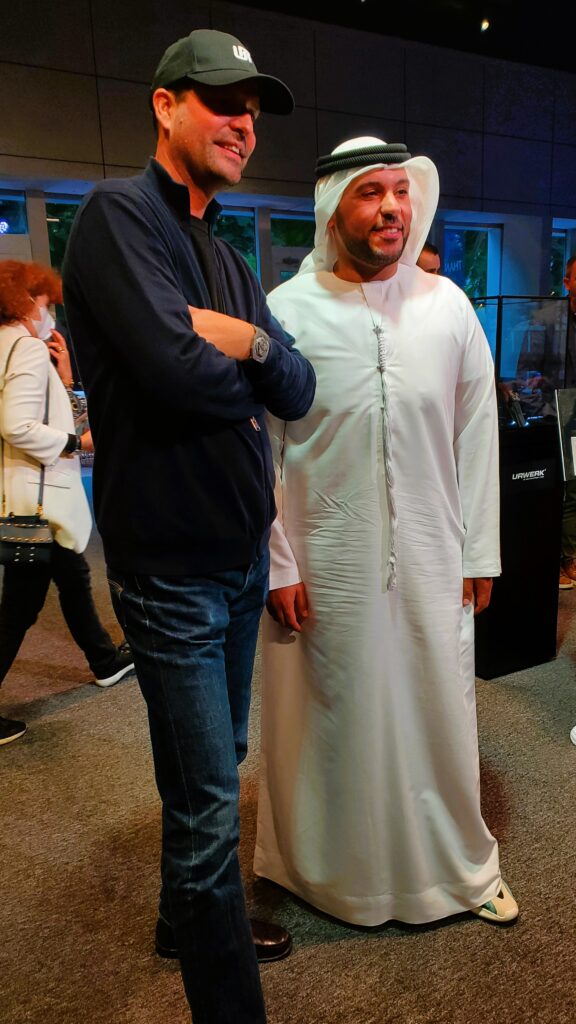 "Our goal was to create a watch that was as comfortable to wear as possible. The UR-100V Full Titanium Jacket is a watch that is extremely comfortable to wear. Its bracelet is exceptionally light and delicate against the skin. It's a pleasure bracelet," said URWERK co-founder and master watchmaker Felix Baumgartner.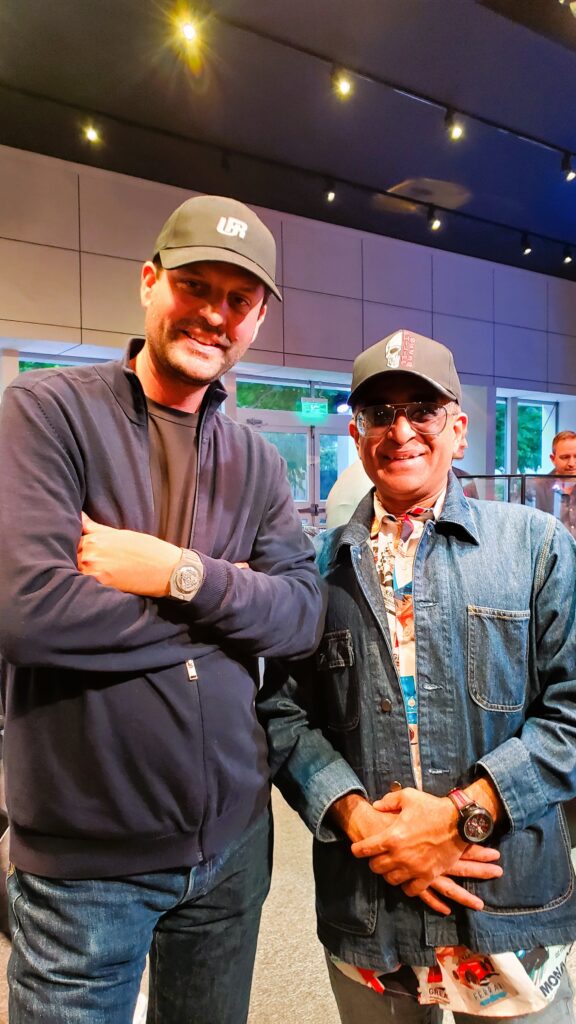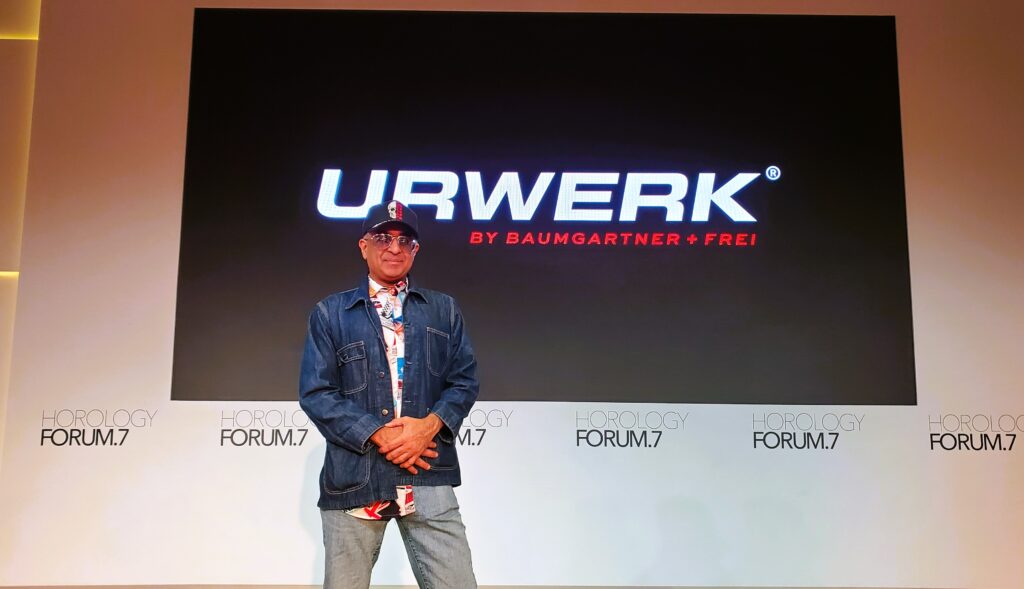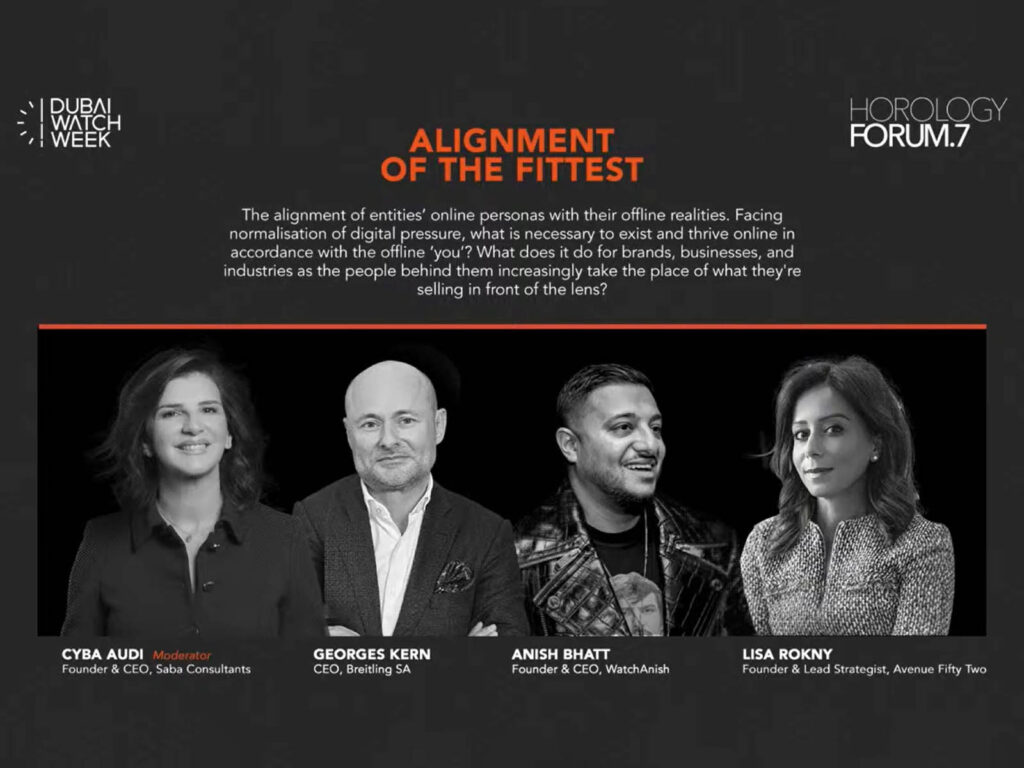 The Horology Forum session – Alignment of the Fittest, Moderator Cyba Audi held the panel discussion with panellists – Georges Kern, Anish Bhatt, Lisa Rokny.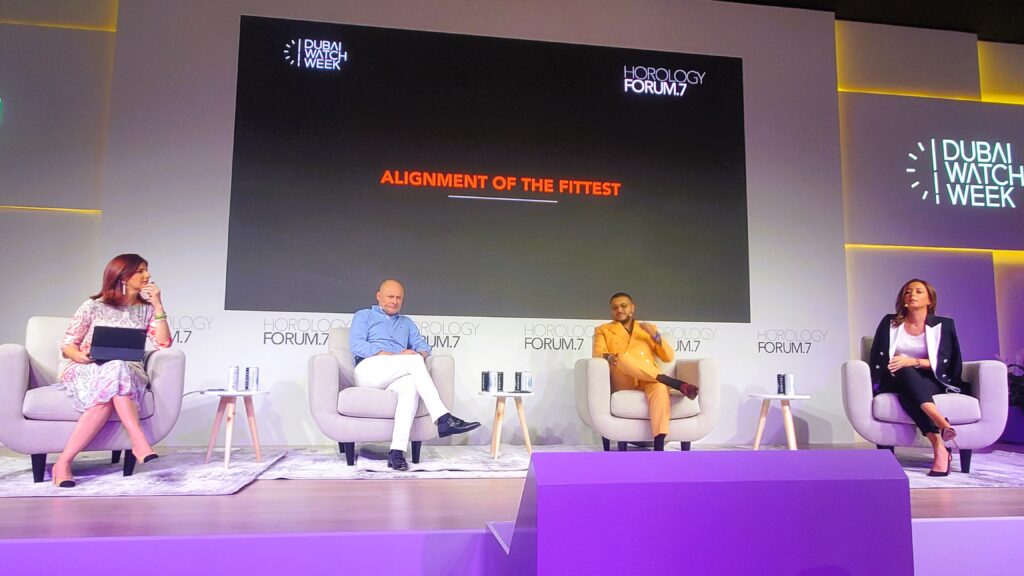 Breitling CEO Georges Kern highlighted about Breitling – the brand's latest innovations, including the debut of the new range in the Middle East. The latest addition to the brand line-up is inspired by the original 1953 "Co-Pilot" Ref. 765 AVI, which celebrates aviation history with modern-retro design.
Breitling exhibited their rest of the collection, which included the Breitling Top Time Classic Cars Capsule Collection, which pays homage to classic sports cars from the 1960s. Breitling's latest collections including the Top Time Classic Cars Capsule Collection, Super Chronomat and Premier Heritage models, their Boutique Limited Editions, which was for the first time in the Middle East as exhibited.
Speaking at the event Breitling CEO Georges Kern said, "After the successful global launch of the Super AVI in Dallas, USA last week, we are thrilled that the Super AVI is making its Middle East debut at Dubai Watch Week, an event which we are very proud to be a part of. This collection embodies that sense of nostalgia for the early days of aviation when pilots relied on their watches as onboard tools. But you don't have to be a pilot or vintage-aircraft buff to appreciate the exceptional craftsmanship and rugged design."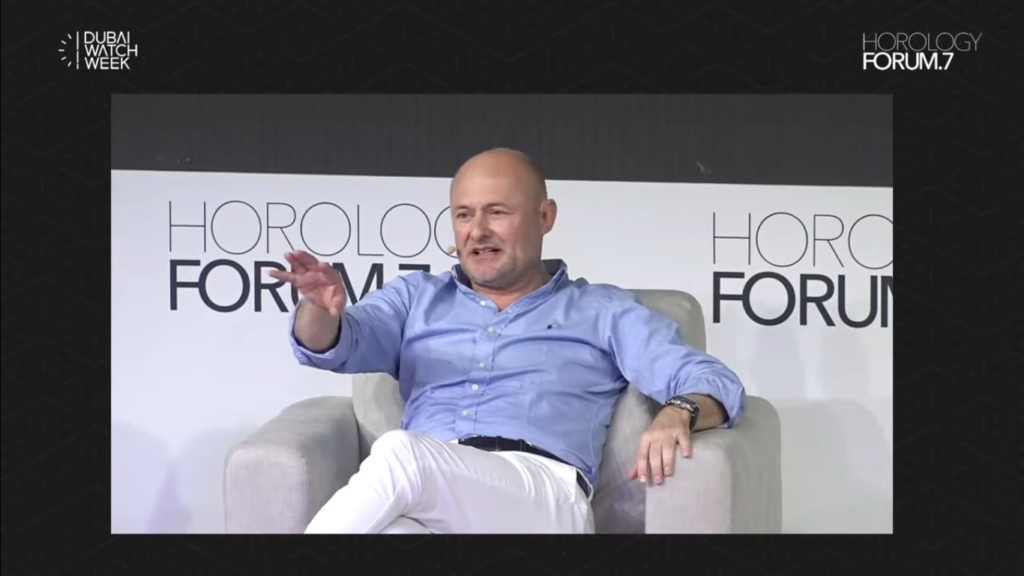 According to Kern, digitalization is not achieved just by having an e-commerce infrastructure. Kern summarizes the issue as follows; "Actually, e-commerce is a small part of digitalization. Going digital means digital media and all the related services you can offer through this platform. Breitling was the first brand to offer the BlockChain system, for example, in this regard. While doing this, we considered concepts such as traceability, originality, and transparency. At Breitling, we use the multi-channel sales system. Therefore, we sell both online and offline, that is, through our boutiques and dealers. The fact is; 70% of the decision-making process takes place through online channels. However, when we look at the watch industry, this rate drops to around 10-15%. Even young customers want to see the watches live, in boutiques. Yes, the pandemic period may have caused an increase in these rates, but this certainly does not mean that online is now predominantly ahead. "
The preference of figures who have achieved success and reputation in their fields as "friends of the brand". Kern explains this issue from the Breitling perspective as follows; "It doesn't necessarily have to be a celebrity that everyone knows. We prefer people who are the best in their field. Like the world's most successful female surfer. We go for the people who reflect the brand best. "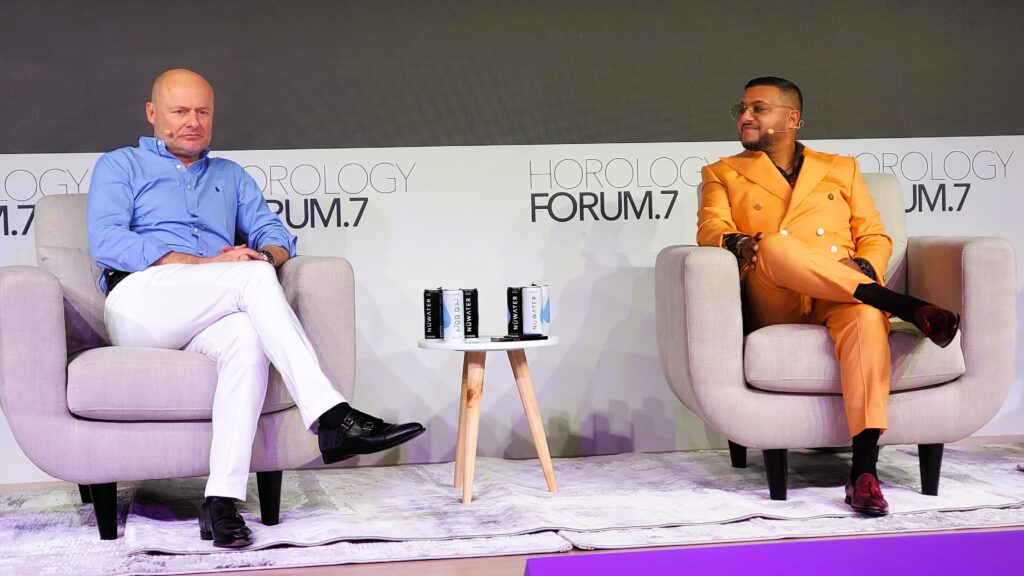 On sustainable luxury, Bern highlighted, We have an internal carbon footprint reduction programme. In order to lead the industry in recycled and recyclable packaging, we are switching to purchasing sustainable materials. We already employ fishnet- and PET-recycled packaging and straps. On synthetically created diamonds, too, we wager. By its nature, a highly crafted mechanical watch like a Breitling is a very sustainable offering. It uses a minimal quantity of raw materials, then it lasts for many decades and can be serviced and repaired endlessly.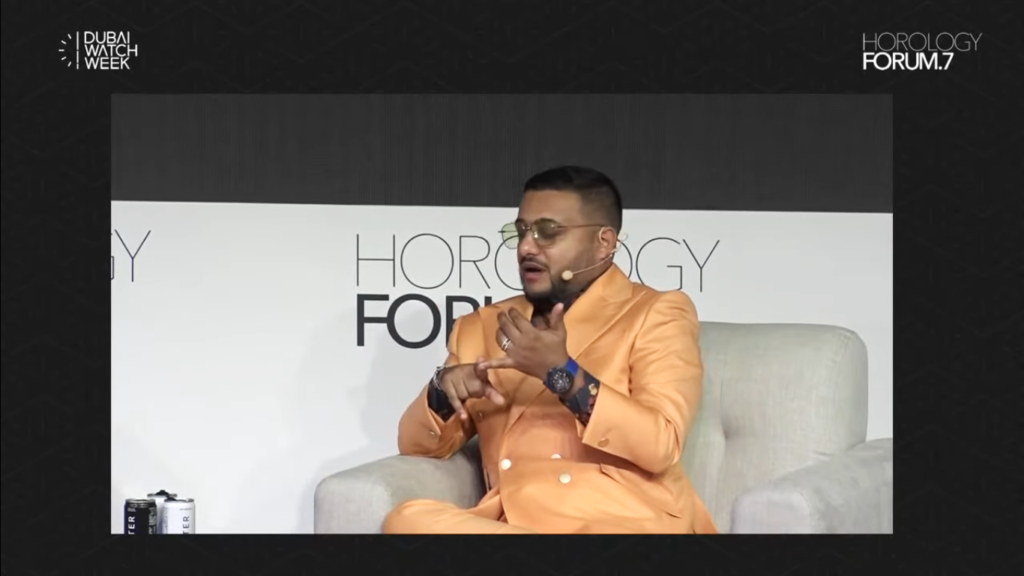 Anish Bhatt – CEO, WatchAnish, the global famous watch collector and influencer, narrated his thoughts on authenticity of ambassadors, dress code pairing with watch, aligning audience with brands ethos. Along with this crucial information, the discussion also covered the veracity of the reports and those who gained notoriety on social media. Naturally, it was my great friend Anish who was tasked with explaining this situation.
Anish's ideas on the subject: "Authenticity is important here. Because the point where we align with our followers is originality. They trust us in this regard because there is not much difference between social media and the rest of our lives. Our product has two different aspects. First, we offer a lifestyle through ourselves. We have our preferences and tastes. The other is that we provide strategy, content design, brand positioning, and 360-degree digital consultancy services for many brands in the luxury industry, including watchmakers. Of course, WatchAnish started life as a single person. The starting point was my tastes, my lifestyle. At the point we have reached now, we are talking about an organization employing 30 people. "
For Bhatt, authenticity is one of the most important factors when it comes to luxury watches. He often says that it's crucial to purchase watches from authorized dealers and to avoid buying counterfeits or fakes. He believes that the history, craftsmanship, and legacy of a watch are all tied to its authenticity, and that it's not worth compromising on those things just to save a few dollars.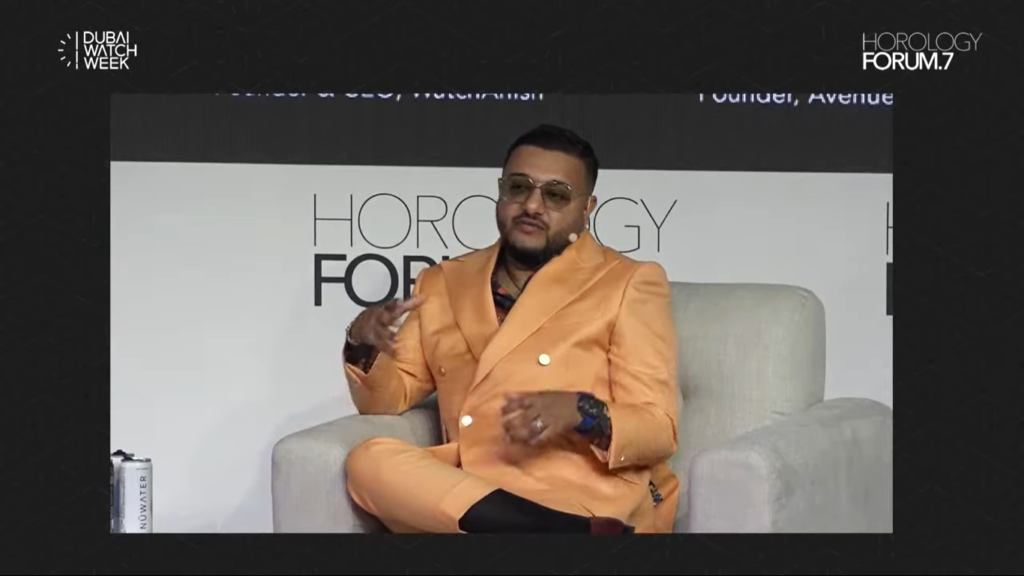 Bhatt is a well-known watch collector and influencer who has a lot of knowledge and insight into the world of luxury timepieces. He's known for his sophisticated and stylish taste, and he often shares his thoughts on topics like authenticity, style, and how to pair watches with different outfits and occasions. He's a strong advocate for buying authentic and high-quality watches, and he often stresses the importance of doing your research and knowing what to look for when purchasing a timepiece.
Anish Bhatt is definitely known for his lifestyle influence and his work with watch brands on marketing and strategy, helping them to connect with consumers and create campaigns that resonate with his audience.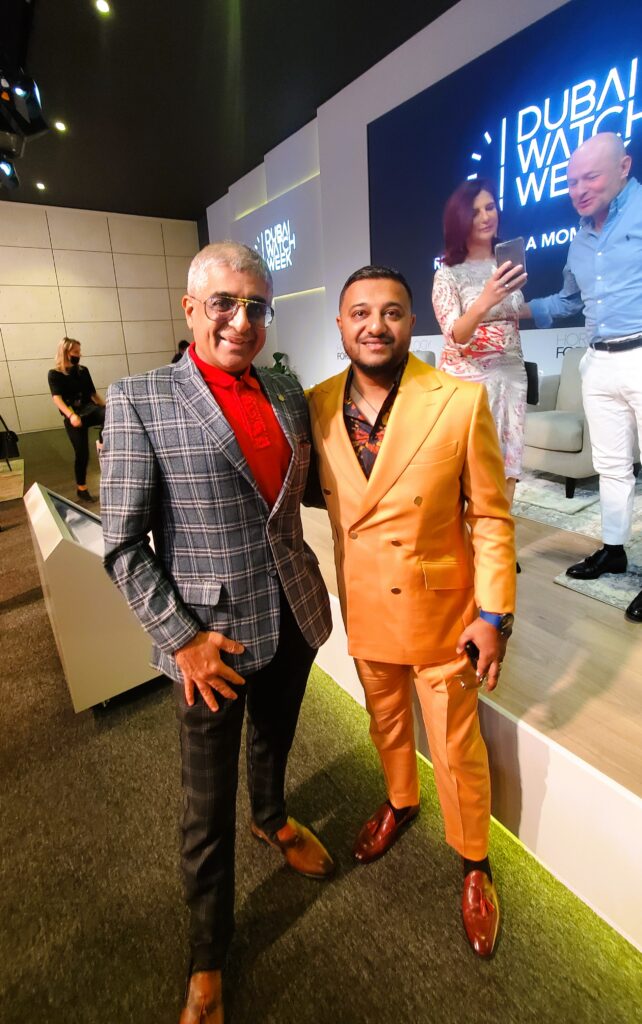 Anish Bhatt is a well-known watch collector and influencer who has a lot of knowledge and insight into the world of luxury timepieces. He's known for his sophisticated and stylish taste, and he often shares his thoughts on topics like authenticity, style, and how to pair watches with different outfits and occasions. He's a strong advocate for buying authentic and high-quality watches, and he often stresses the importance of doing your research and knowing what to look for when purchasing a timepiece.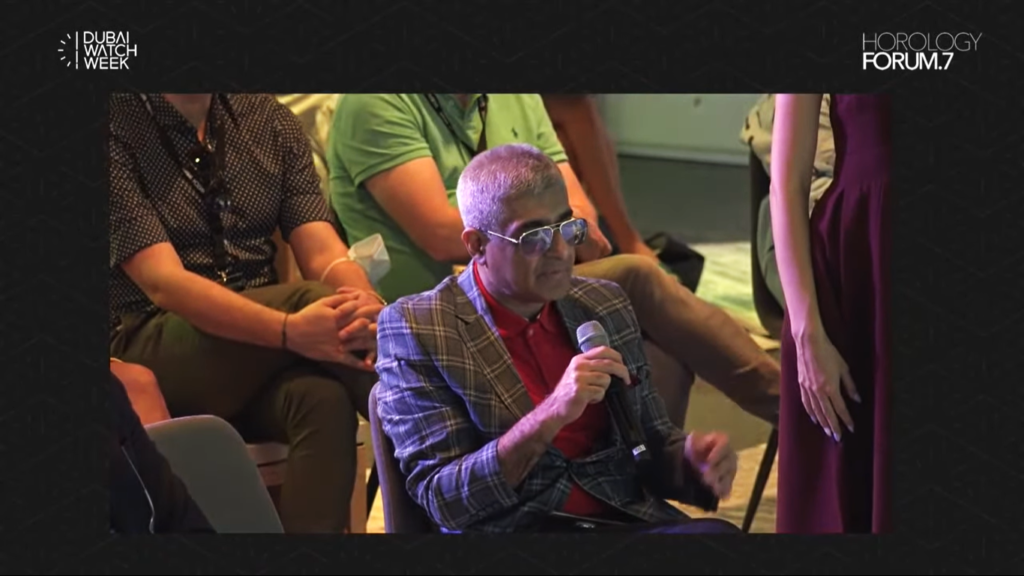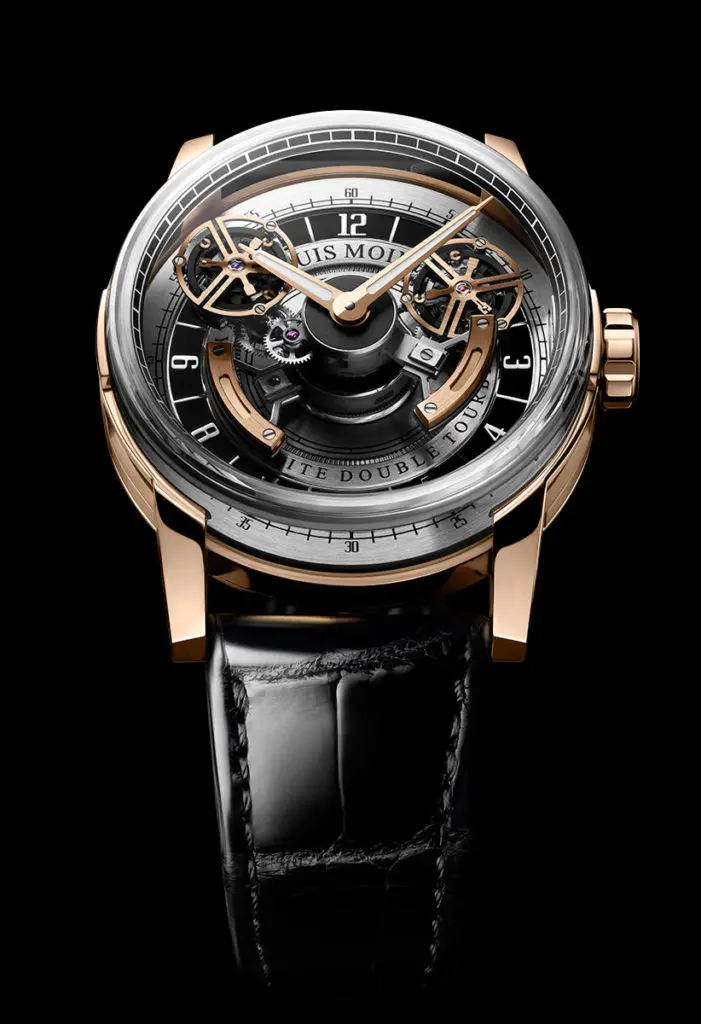 The ASTRONEF, an opulent watch constructed on unique technology and incorporating three world premieres, was introduced by Louis Moinet in a global preview. With this incredible timepiece setting two Guinness World Records, Louis Moinet may have rewritten the history of watches.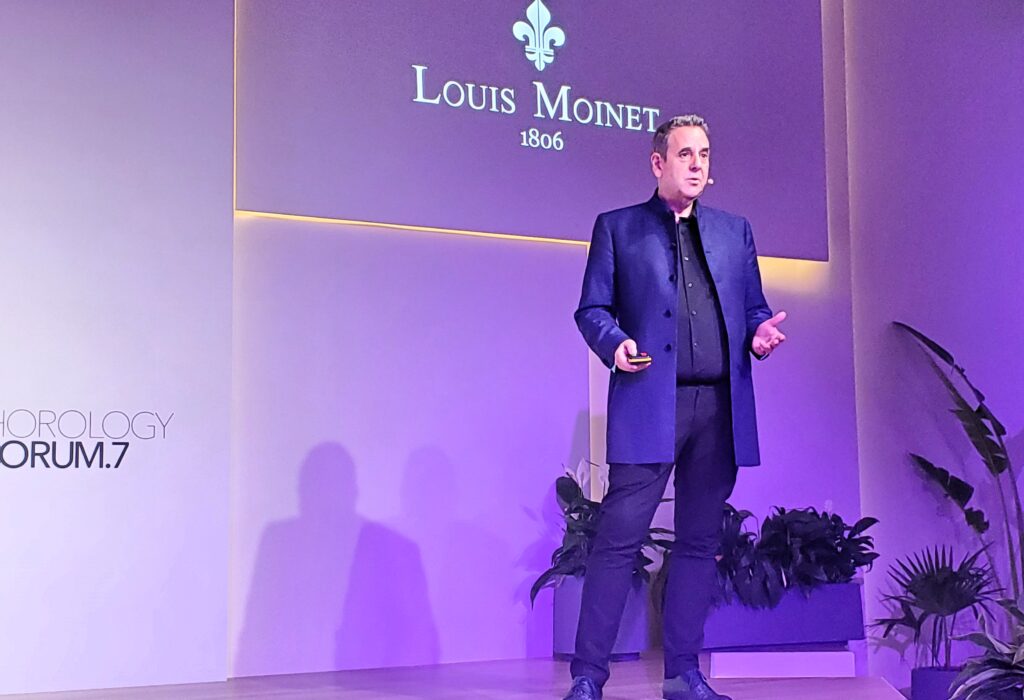 The CEO of Louis Moinet Jean-Marie Schaller emphasized for his brand that Dubai Watch Week "carries a crucial importance at international and local levels."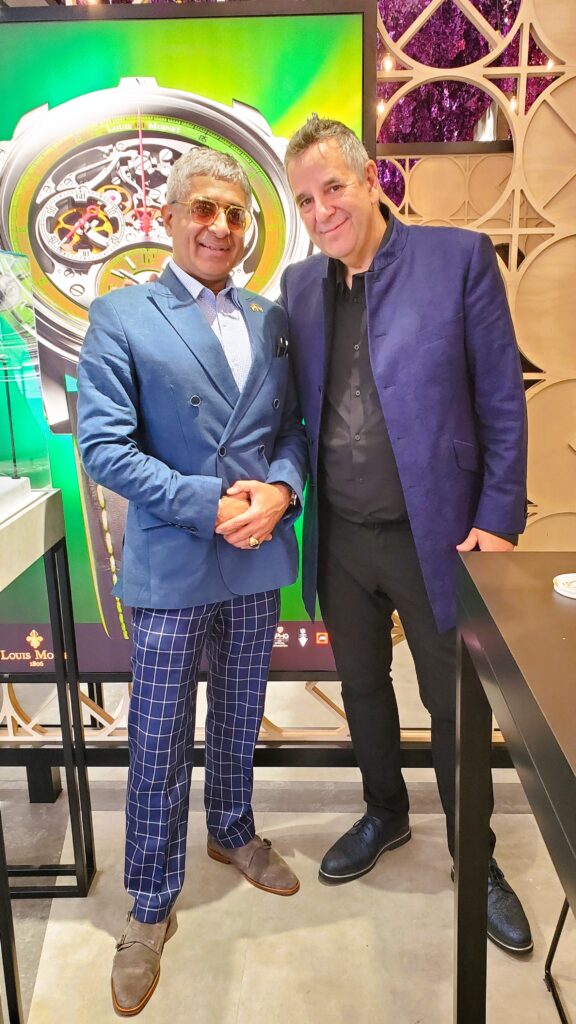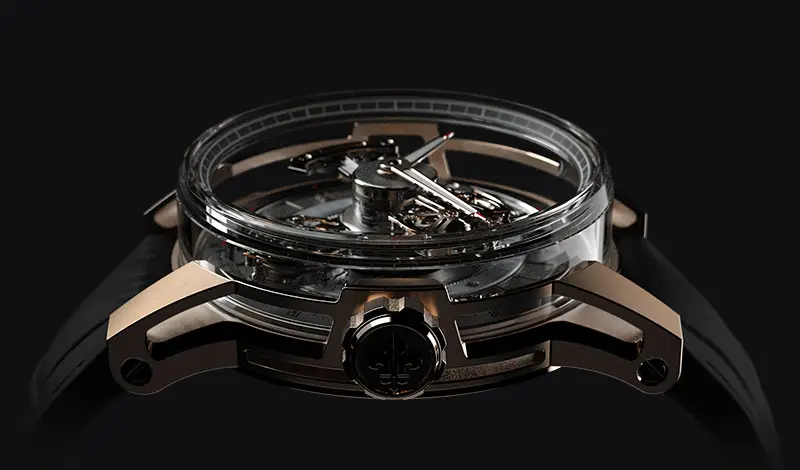 The ASTRONEF
18K ROSE GOLD | SAPPHIRE
LIMITED EDITION OF 8 WATCHES
LM-105.50.60
""Produce an excellent and curious effect":
This maxim upheld by Louis Moinet (1848) was our starting point for designing ASTRONEF. The idea is to push back known limits, just as Louis Moinet did in his time – notably by inventing the chronograph in 1816."
Jean-Marie Schaller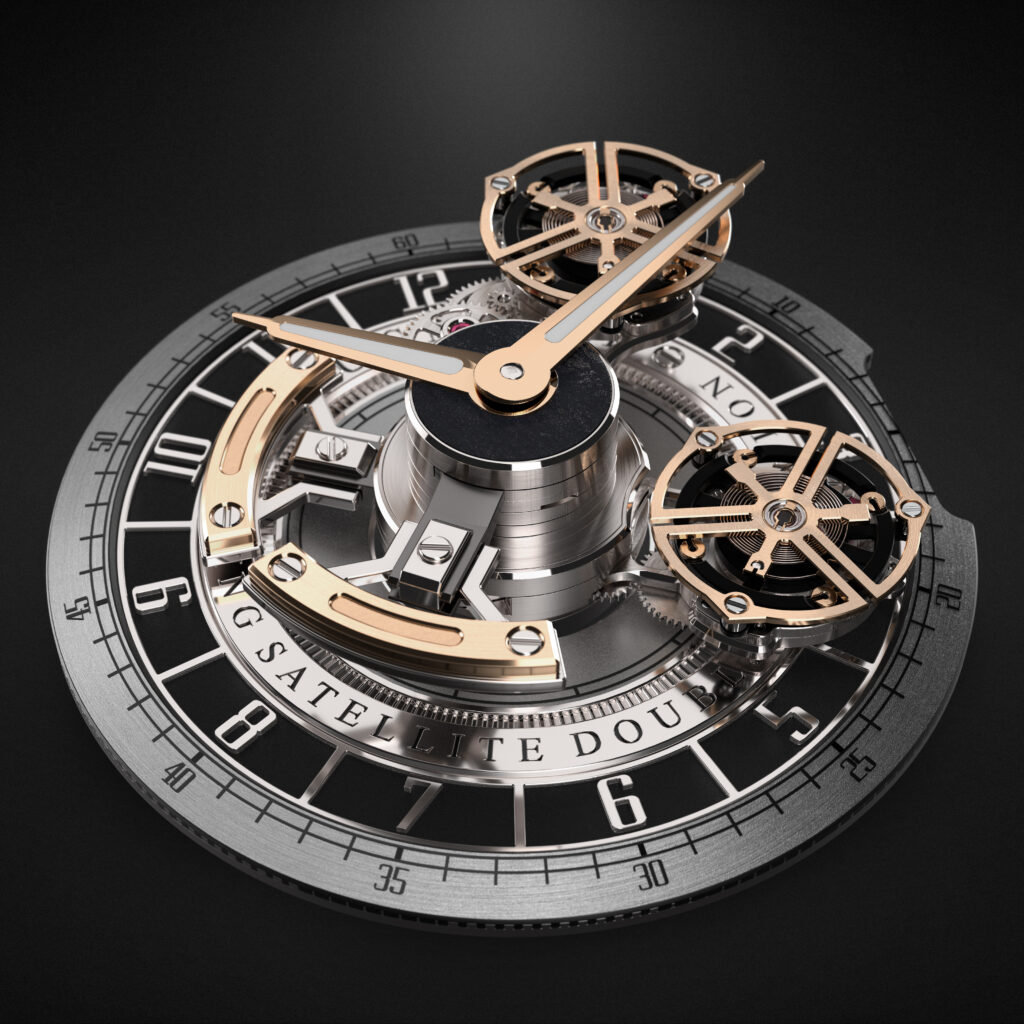 The technical construction of the case is unusual:
a sapphire container mounted on an 18K gold frame openworked lugs and case middle
a sapphire dome and welded inner bezel ring
Only eight ASTRONEF watches will emerge from Ateliers Louis Moinet in Saint-Blaise, a number meaning that only eight owners will jealously safeguard this elite embodiment of contemporary watchmaking technology.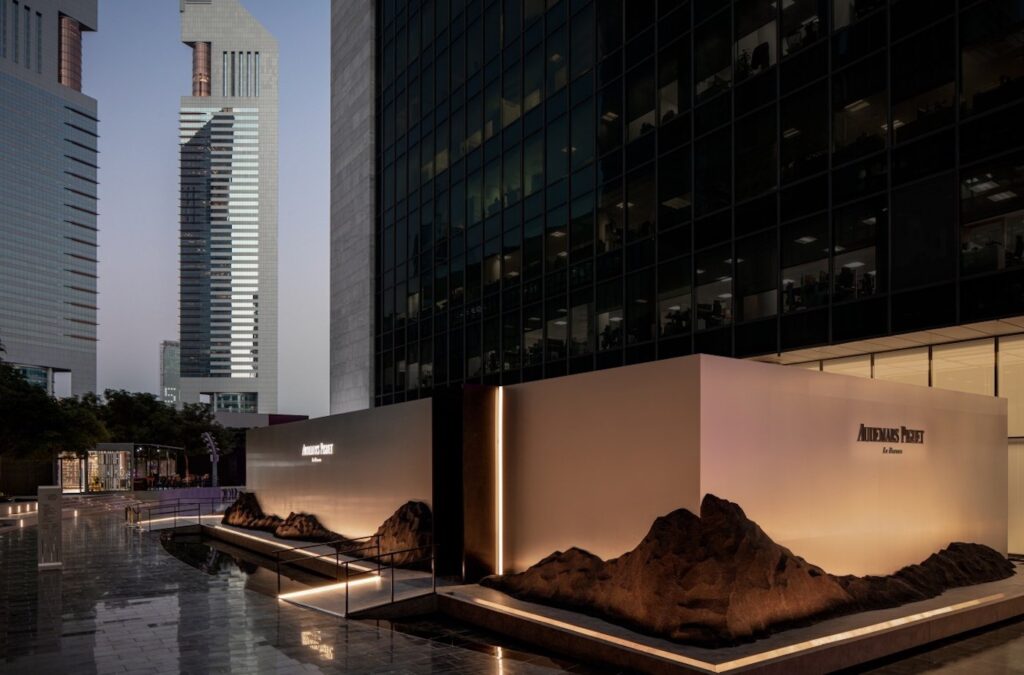 Audemars Piguet had the best exhibitor booth, very well designed, subtle, soothing earth colors, born with the elements of water, plants, and ofcourse the AP watches and the AP watch themed cocktails enjoyed during the evenings, so fresh and delicious.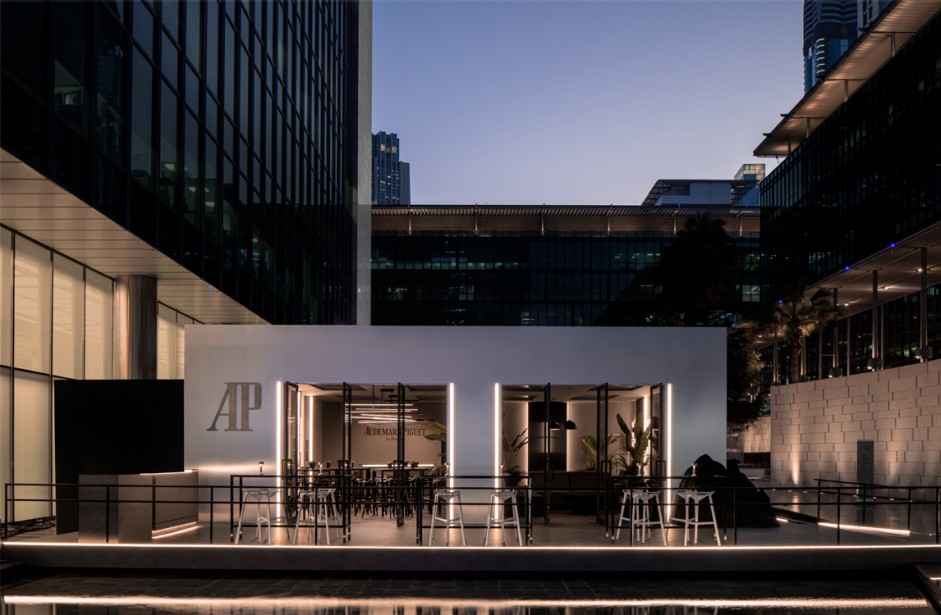 Audedemars Piguet was part of the Dubai Watch Week, which ran from November 24 to 28, 2021, at the Dubai International Financial Centre (DIFC) gate. The Manufacture's space hosted a huge exhibition called Beyond the Limits: A Journey through Time, Design and Materials, which was a journey through time, design and materials. It was a reminder of the Manufacture's constant pursuit of innovation, and was complemented by a series of events that were inspired by the exhibition.
Chief Brand Officer Olivia Crouan commented on Audemars Piguet's participation in the event, saying, "We left SIHH for one good reason: it didn't fit within our strategy. For us, it was a professional fair with retailers coming over with some clients. But as we are now connected directly with our clients, those fairs don't have any more meaning for us. We participate at DWW because it's a suitable platform for our communication elements to convey. The idea is to go where our clients are."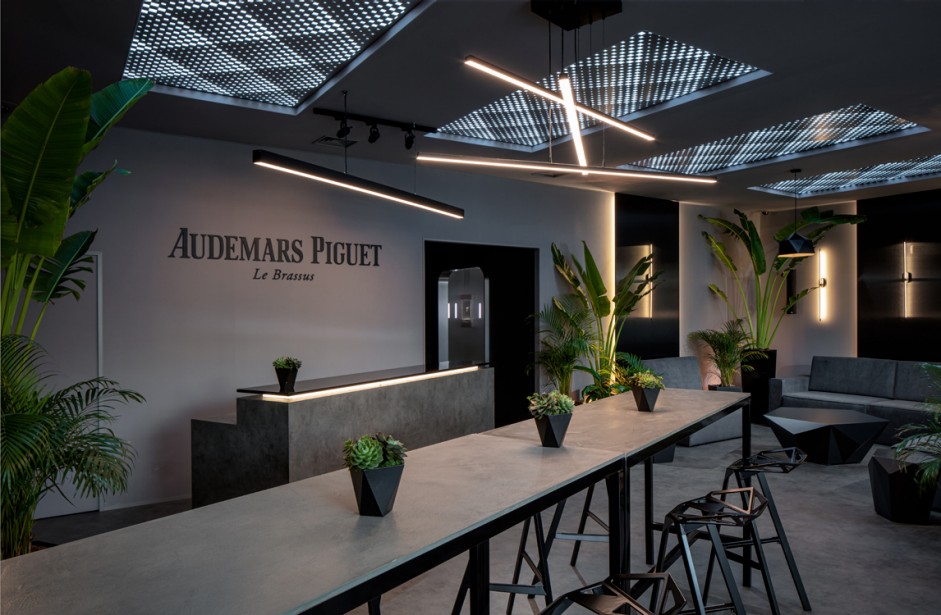 Divided into two rooms, the exhibition displays a selection of heritage and contemporary timepieces, including emblematic Royal Oak Offshore models. In addition, visitors are invited to experiment with a variety of materials, such as ceramic and gold to better understand their unique transformative journey into high-end ergonomic watch designs.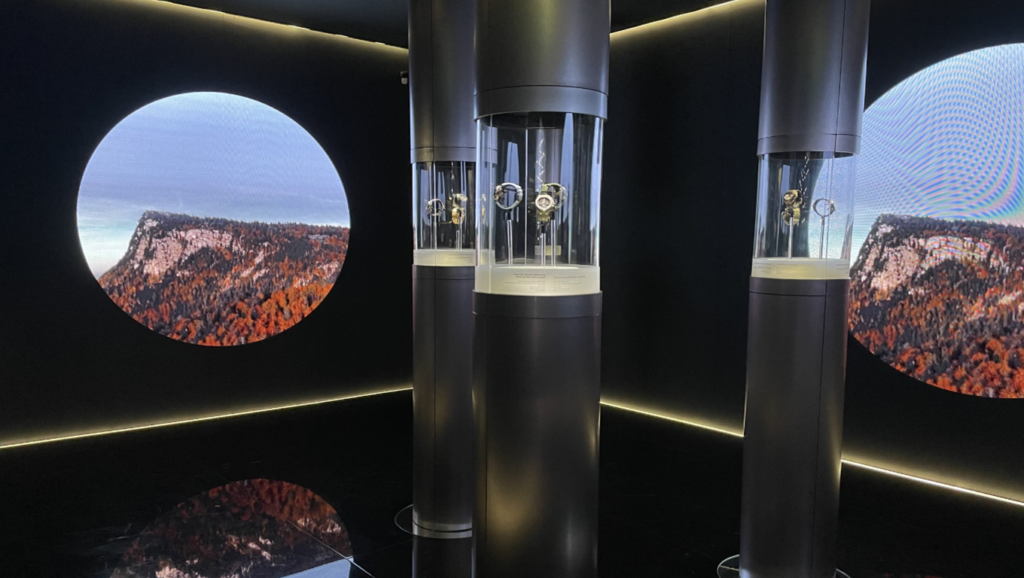 "Beyond the Limits pays tribute to Audemars Piguet's 146 years of experimentation with materials, proportions and forms, which have resulted in the creation of pioneering timepieces built to withstand the test of time," says Sebastian Vivas Heritage and Museum Director. "Since 1993, the Royal Oak Offshore's oversized case and muscular aesthetics have provided the brand with a unique offbeat platform for innovation."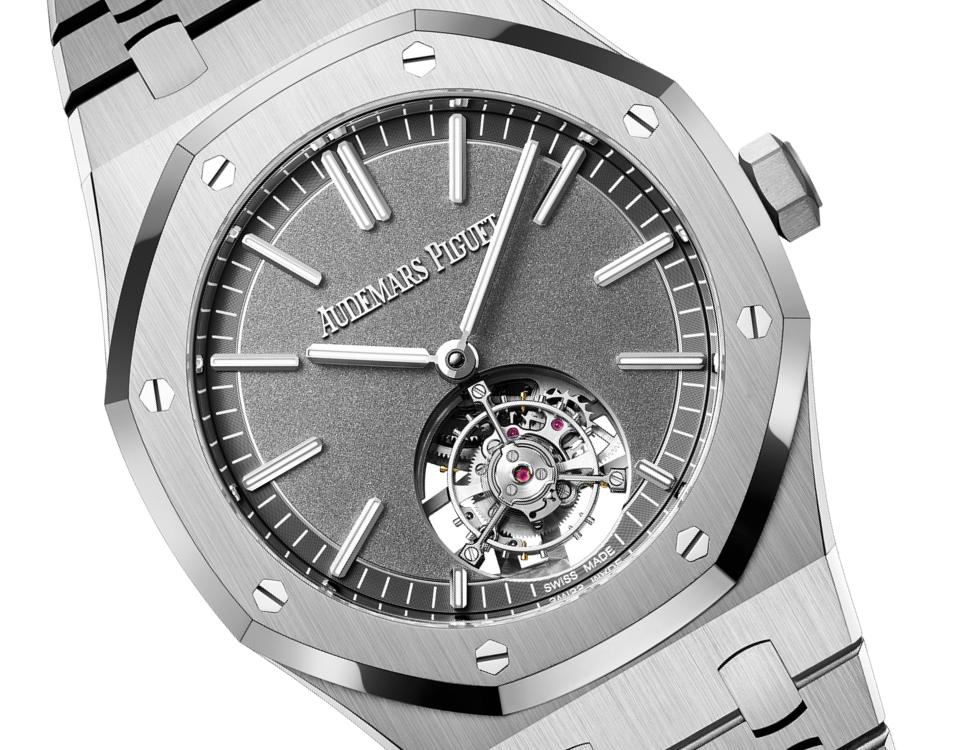 Audemars Piguet unveiled of the Royal Oak Selfwinding Flying Tourbillon, a limited edition of 25 pieces made especially for the Middle Eastern market. This dedicated timepiece features a titanium case and bracelet enhanced with a salmon dial decorated with a sunburst Tapisserie motif radiating from the flying tourbillon cage at 6 o'clock.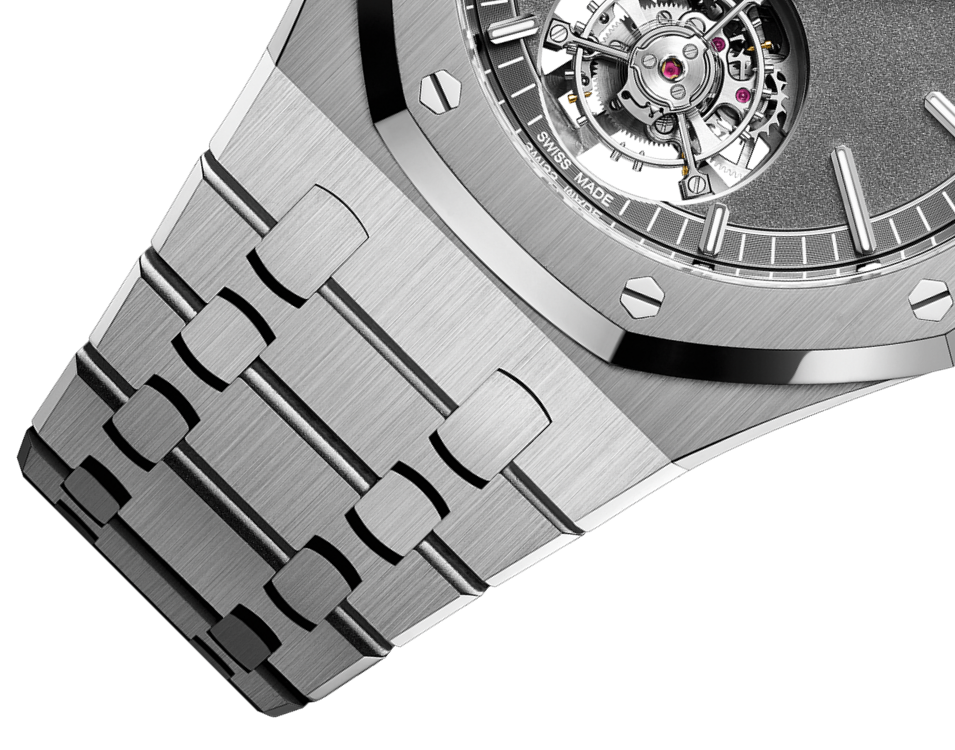 Rebellion Timepieces, known for their unique designs and limited production, participated in the 2021 Dubai Watch Week, held at DIFC's The Gate.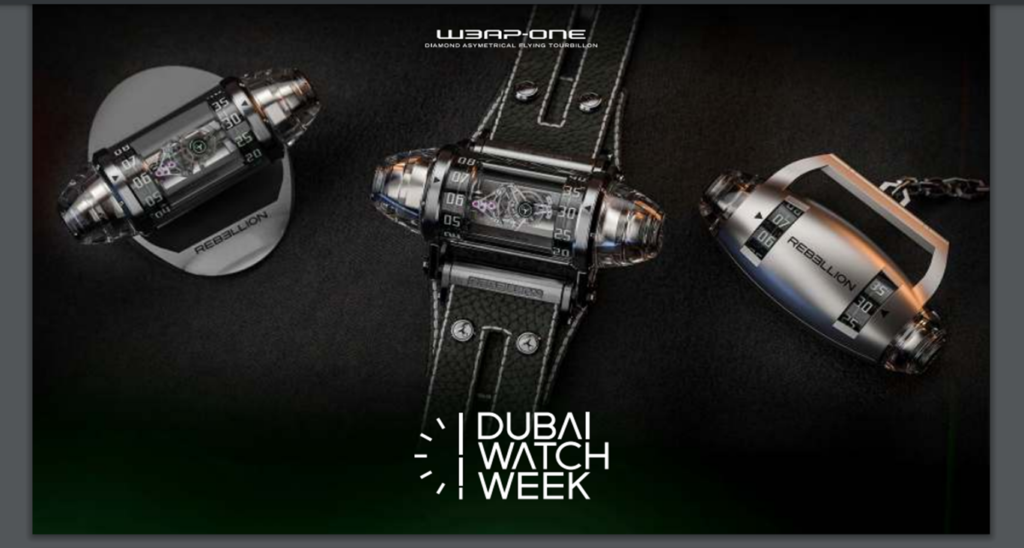 REBELLION Timepieces is a unique player in the world of Swiss watchmaking. Passion, independence and a 'no-compromise' attitude sparked the company's inception and continue to guide its development each passing day. Nothing is left out, or left to chance, in this watchmakers' pursuit for extraordinary quality and performance. REBELLION Timepieces, with their bold design and limited series production, are designed for those who share the same ideals. Designed for the asserted individualists. The intense competitors. Those passionate about mechanical perfection.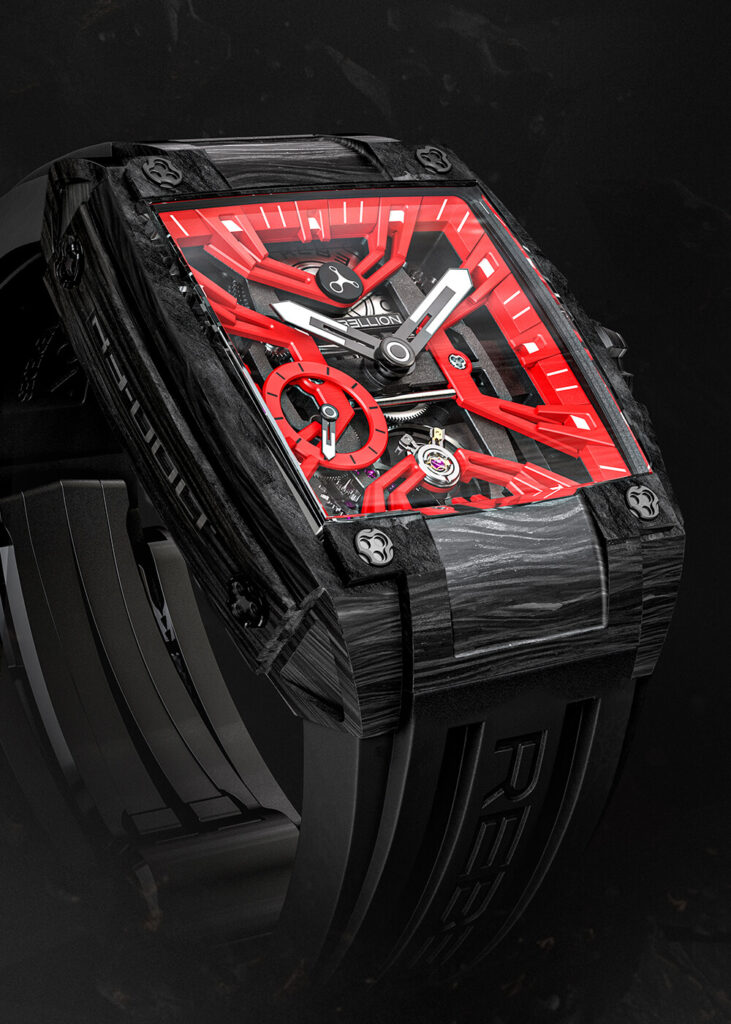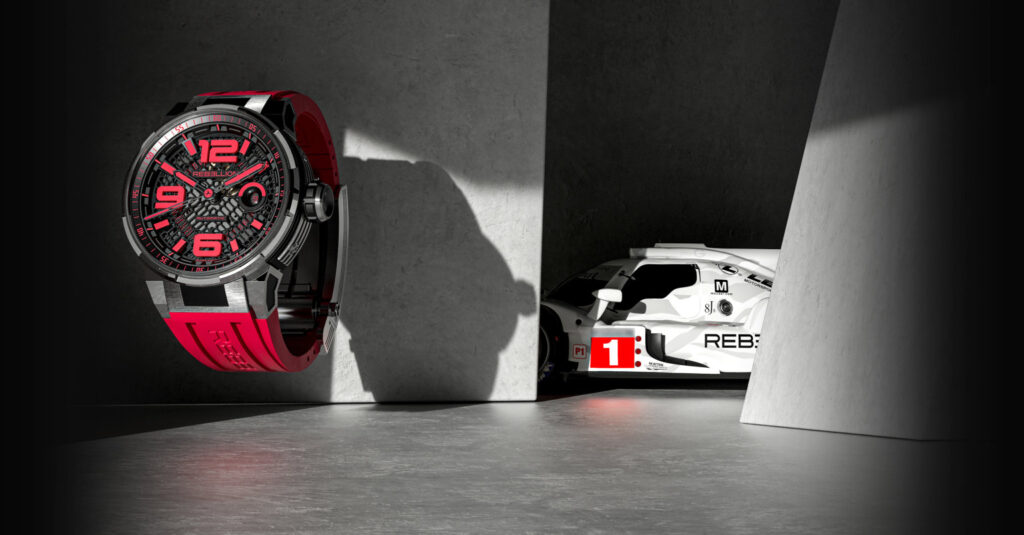 Rebellion was proud to present four major exotic creations at the Dubai Watch Week 2021.
RE-VOLT CHRONO
PREDATOR 2.0 3 HANDS
PREDATOR S BLACK RAINBOW
WEAP-ONE DIAMOND ASYMMETRICAL FLYING TOURBILLON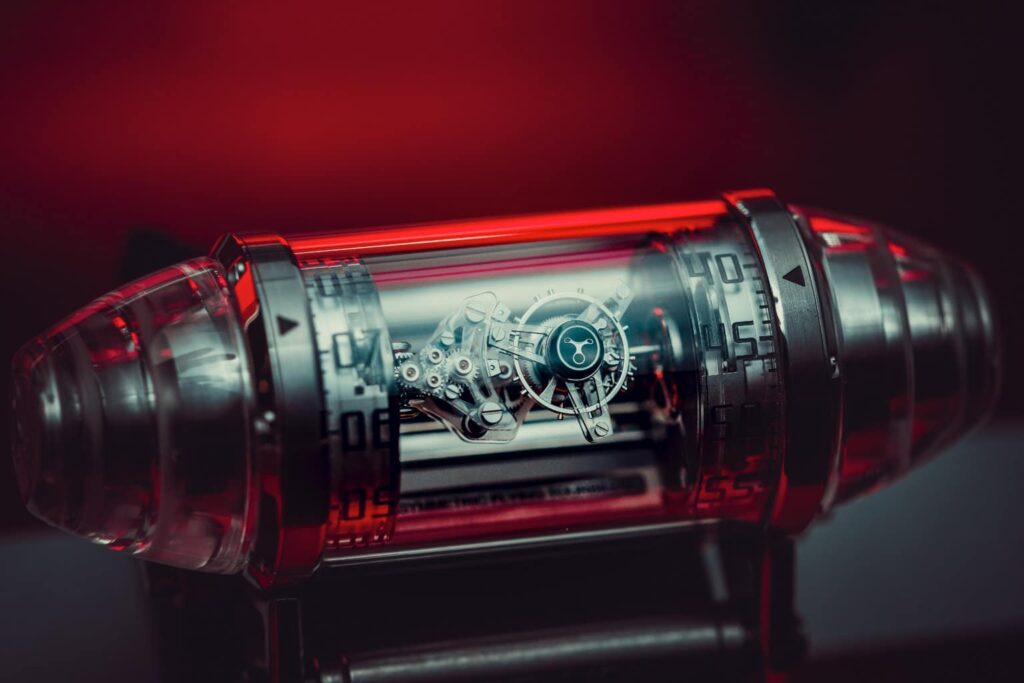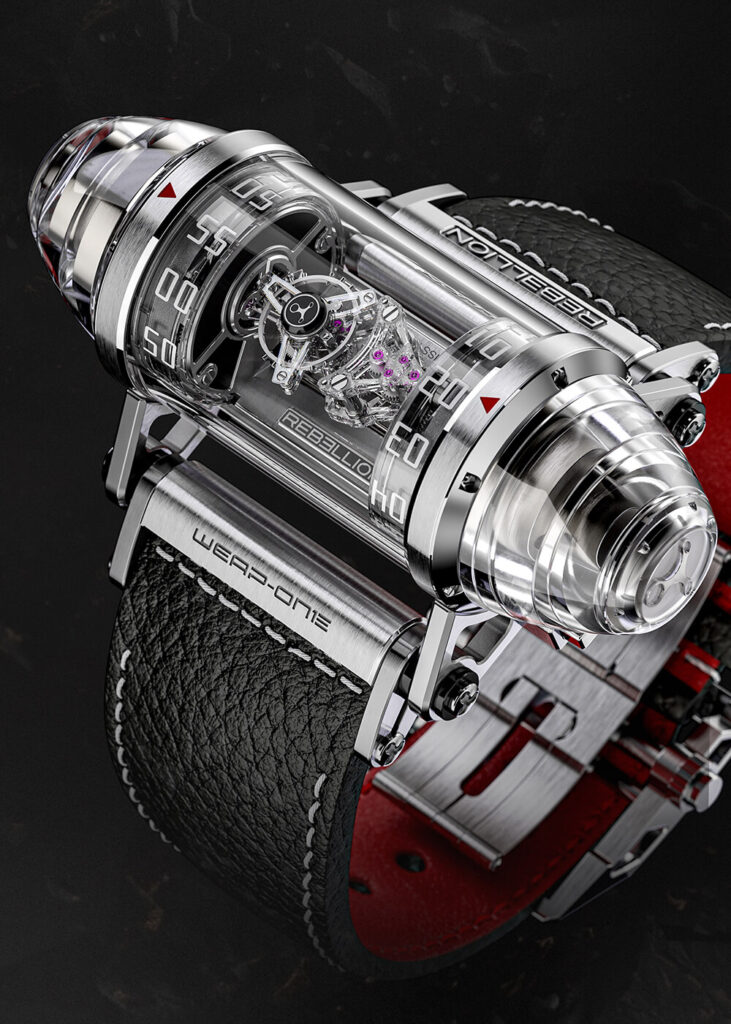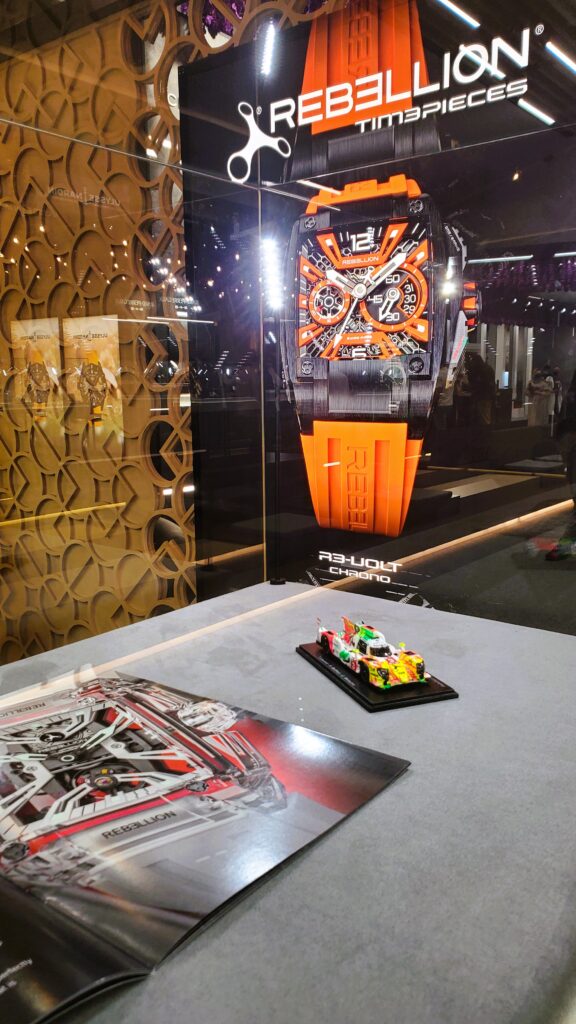 It was a great honor to meet the sporty and adrenalizing Mr. Calim Bouhadra – the CEO of Rebellion Timepieces.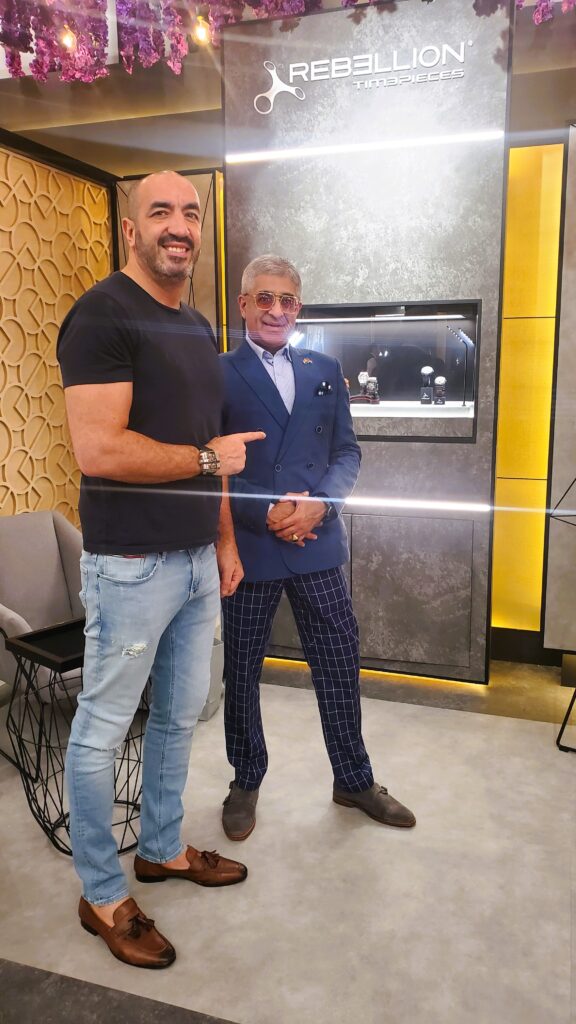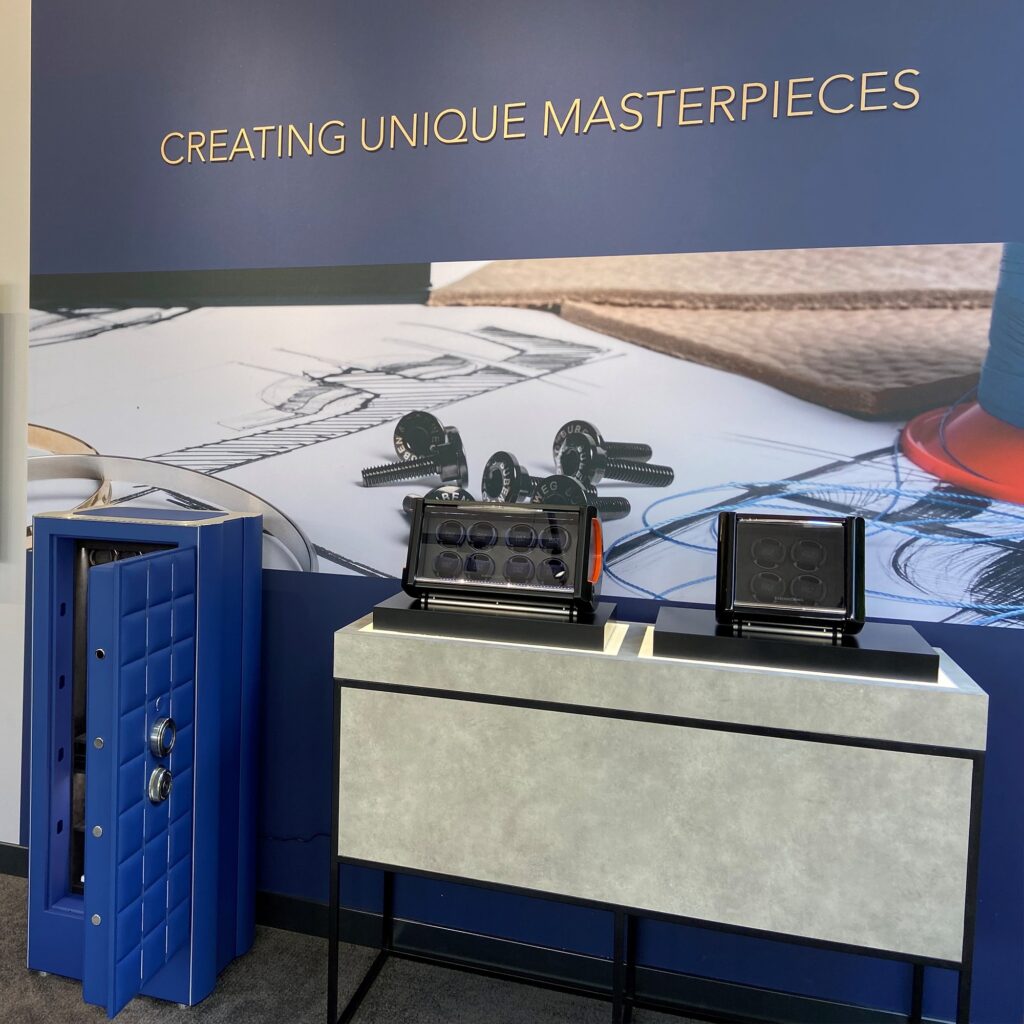 BUBEN&ZORWEG is a German manufacturer of luxury safes, watch winders, and multifunctional presentation objects. Their products not only protect valuable possessions but also increase their perceived pleasure. Each BUBEN&ZORWEG object is a work of art in design and form, making them a magical highlight in any living-room interior. They feature hidden surprises, sophisticated opening and presentation mechanisms, and secret hideouts.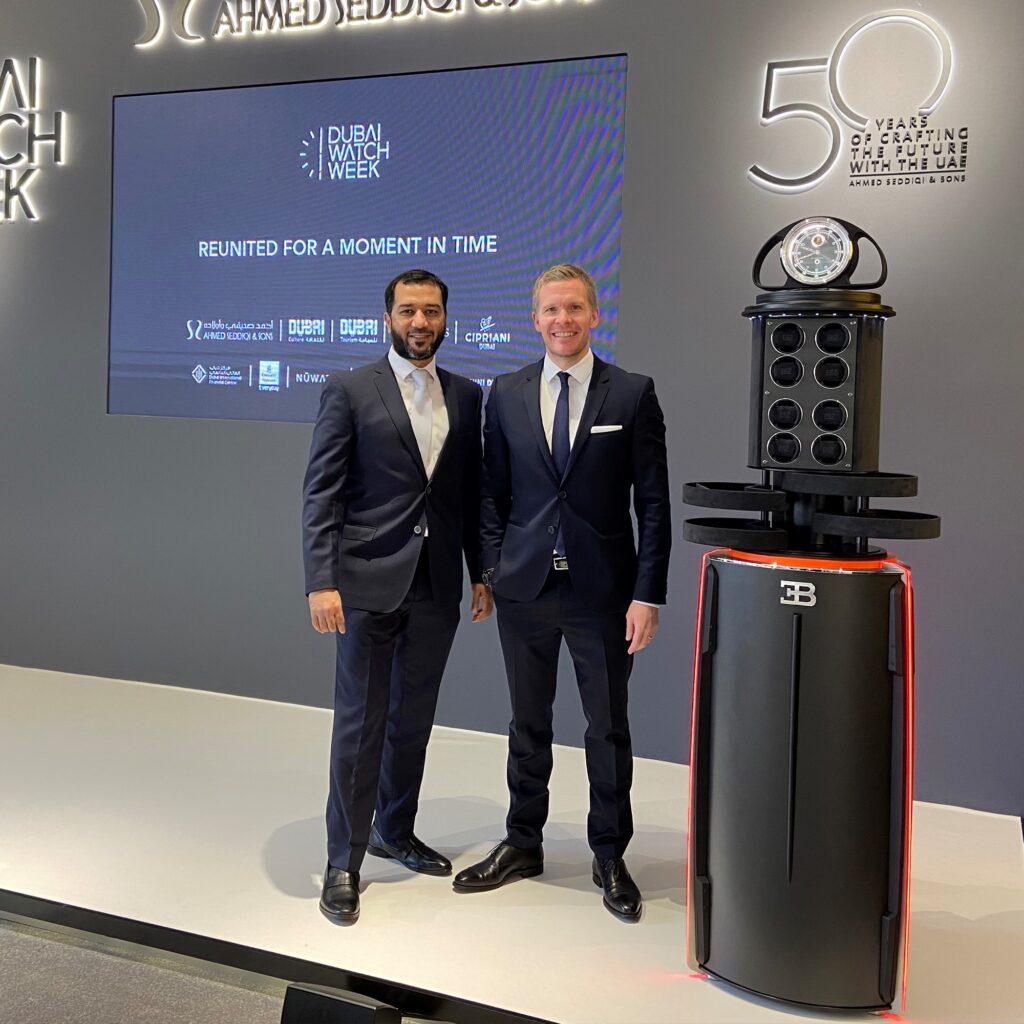 The joint BUBEN&ZORWEG and BUGATTI design team pays tribute to the power of the Bugatti Chiron Super Sport 300+ with a combination of black and orange colour and material accents.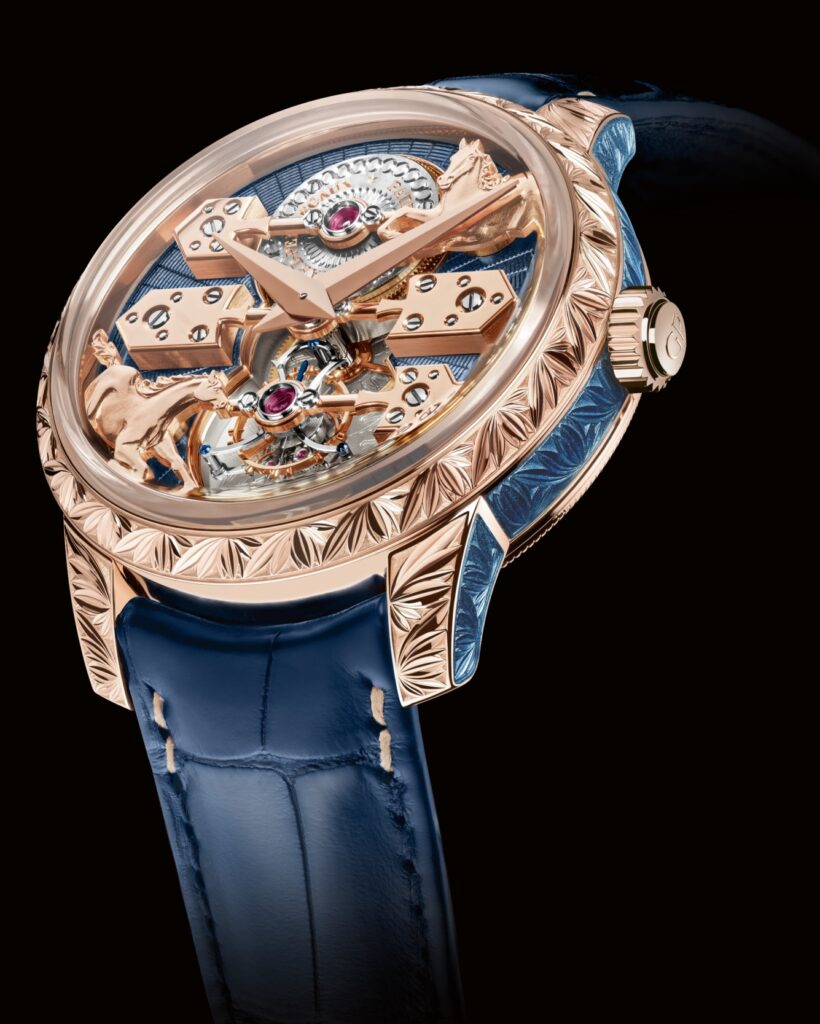 Girard-Perregaux celebrated their 230th anniversary at the Dubai Watch Week 2021 and with the celebrations, Girard-Perregaux launched the new model of its iconic La Esmeralda Tourbillon 'A Secret' Eternity Edition, featuring grand feu enamel and will be available in seven distinct colorways, each with a maximum of eighteen pieces per color edition.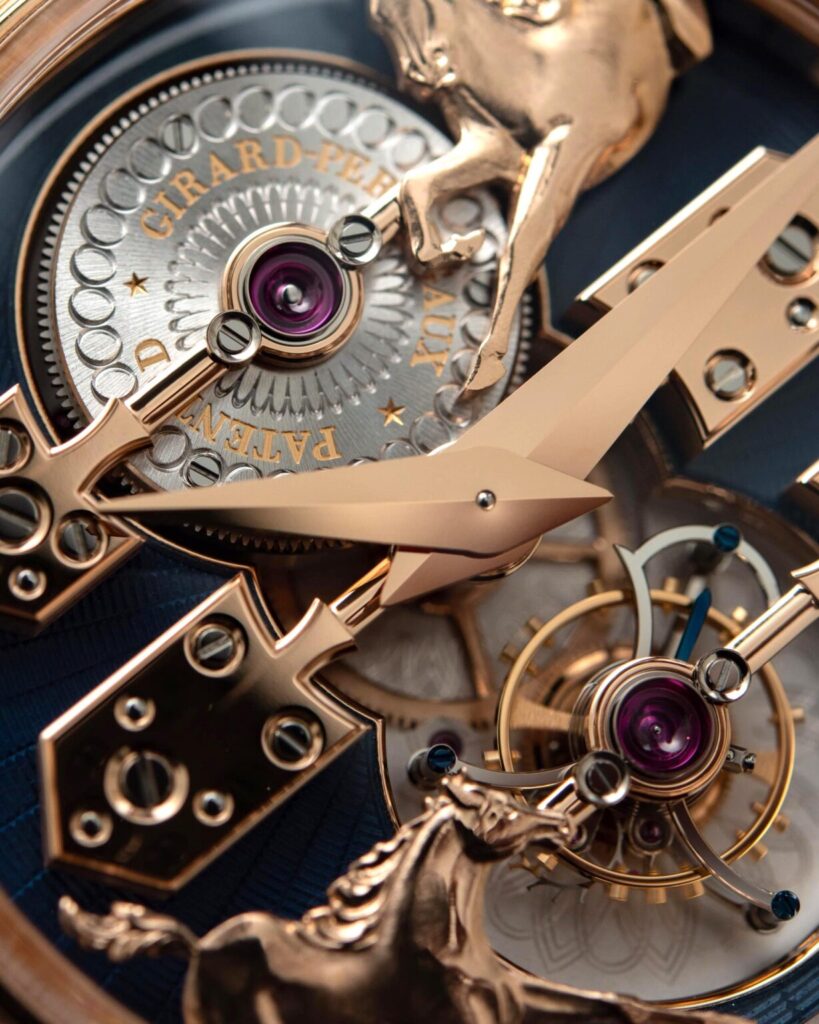 Launched in 1975, the Laureato has become a bestselling collection for the brand, showcasing its timeless appeal. The Eternity Edition series introduces the La Esmeralda Tourbillon 'A Secret' Eternity Edition, featuring two Laureato models and a Cat's Eye model. The watch has a 43mm 18k pink gold case and a hand-guilloché, blue enamel dial with a sunray motif. The blue enameled 'hunter-style' secret cover features three horses inspired by the original La Esmeralda. The pink gold case is hand-engraved with a delicate leaf motif.
The iconic timepiece, the Laureato 42mm Eternity Edition, features a striking appearance with its in-house-produced grand feu enamel in blue or green, with each option limited to 188 pieces. The watch is a tribute to the timeless beauty and meticulous craftsmanship of enamel. Limited to 188 pieces, this model follows the original 1975 design, showcasing a sporty aesthetic. The 42mm stainless steel case is water-resistant to 100, ensuring its composition remains lustrous and never fades.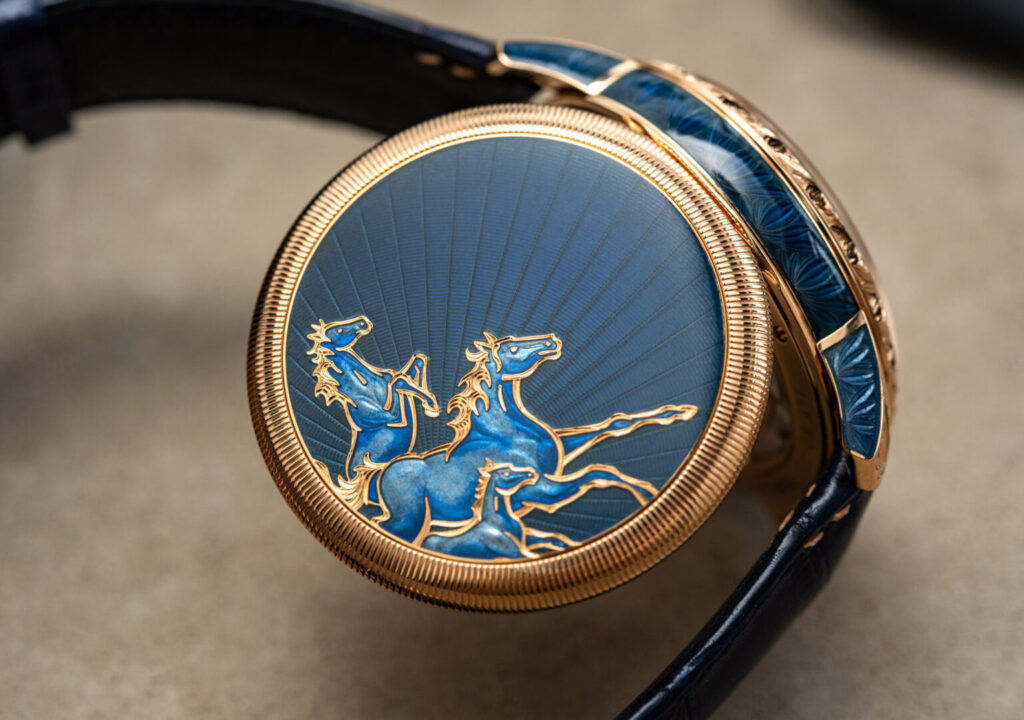 The watch features a blue enameled 'hunter-style' secret cover with three horses inspired by La Esmeralda and sunray guilloché decoration. The pink gold case is hand-engraved with a delicate leaf motif, while the outer part has a fluted pattern. Additional engraving is present on both the inside and exterior of the secret cover.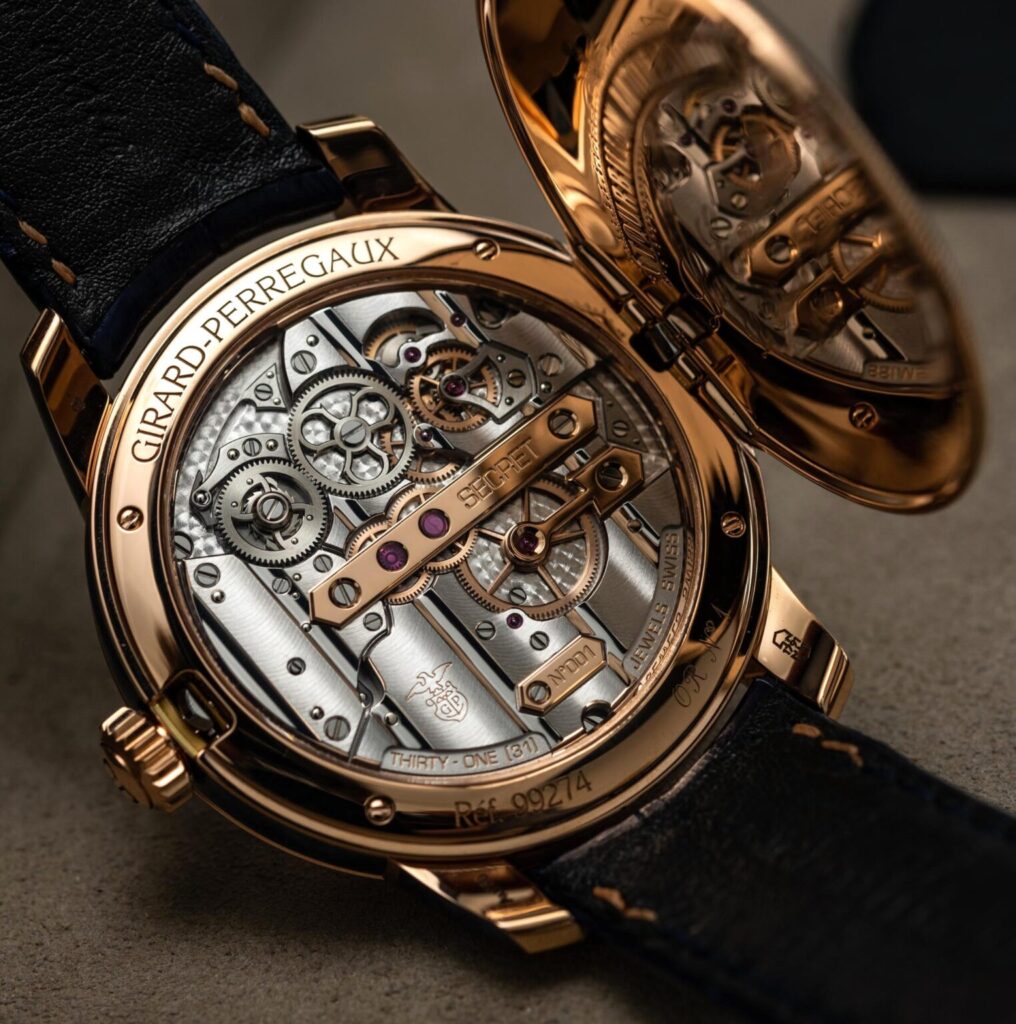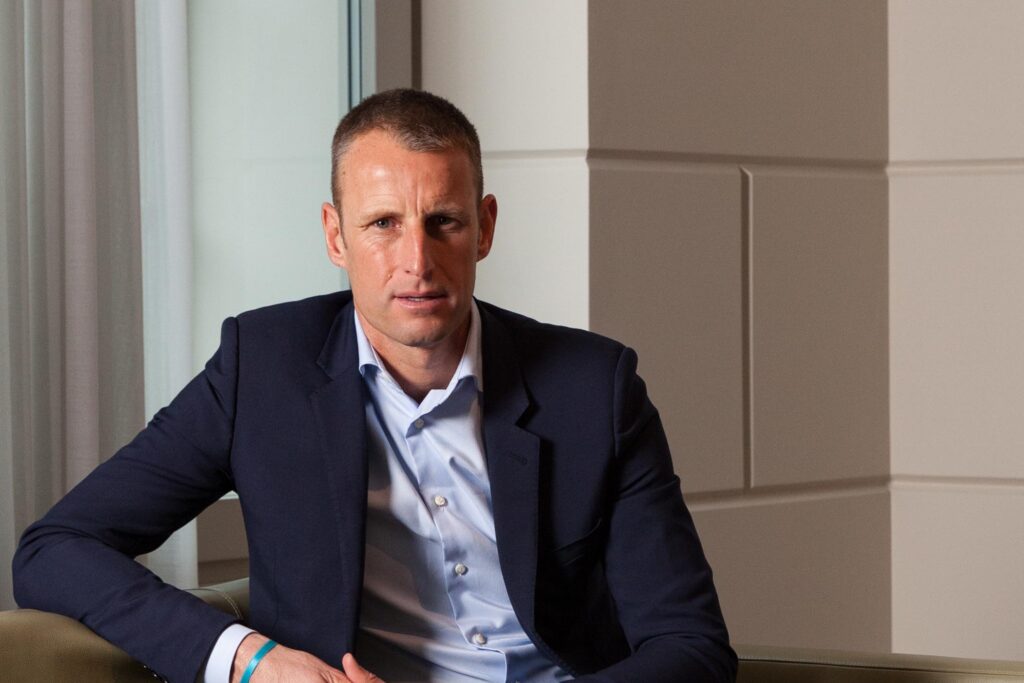 According to Patrick Pruniaux, CEO of Girard-Perregaux, "La Esmeralda is unquestionably our most famous watch and as the current custodian of our Maison, I am always mindful that we should treat such a legend with due reverence. This year, the Manufacture is celebrating its 230th anniversary and we were keen to ensure this milestone did not pass by unnoticed."
Pruniaux adds, "Already this year we have unveiled several fabulous watches, however, La Esmeralda "A Secret" Eternity Edition is without doubt the most ambitious creation we have released to date. It draws upon our vast knowledge of Haute Horlogerie, in particular tourbillons, embraces several types of artistic crafts and, at the same time, honours the history of La Esmeralda, a watch that continues to exhibit lasting appeal."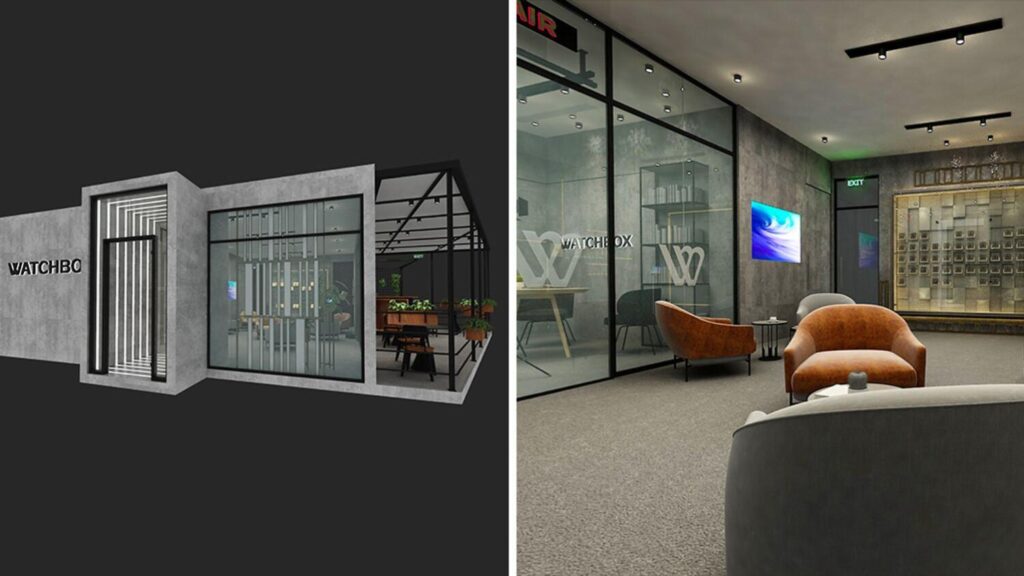 WatchBox showcased a selection of excellent watches from their global vaults, including discontinued favourites, timepieces from renowned luxury watch companies, burgeoning independent watchmakers, and more.
With a dedicated WatchBox Lounge and WatchBox Studio, robust calendar of programming, events, and horological activations, from November 24 – 28, 2021, the world's foremost platform for collectible luxury watches was part of the Dubai Watch Week 2021.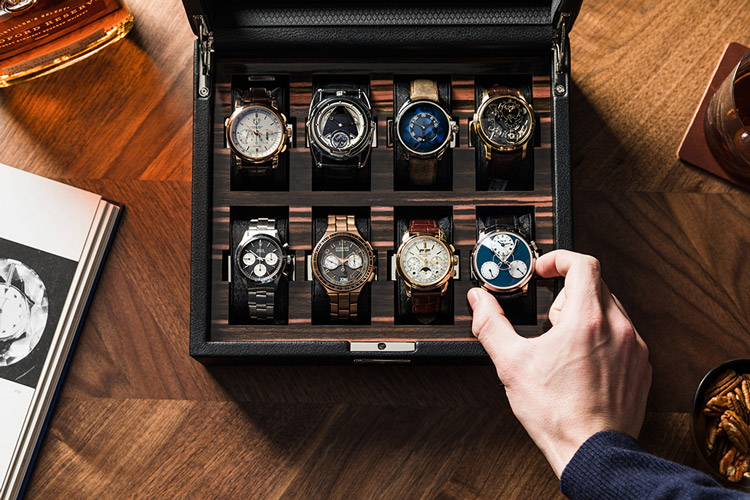 At the designated WatchBox lounge, the company's professional advisors spoke with guests about the booming luxury watch market, WatchBox's culture of collecting, product quality standards, range of inventory, individualised services, and more. Every day, WatchBox invited visitors to fully immerse themselves in the WatchBox experience by shining a spotlight on a distinctive inventory pillar. Throughout the week, guests gathered in the WatchBox lounge each evening to celebrate Dubai Watch Week 2021 and toast the international watch community.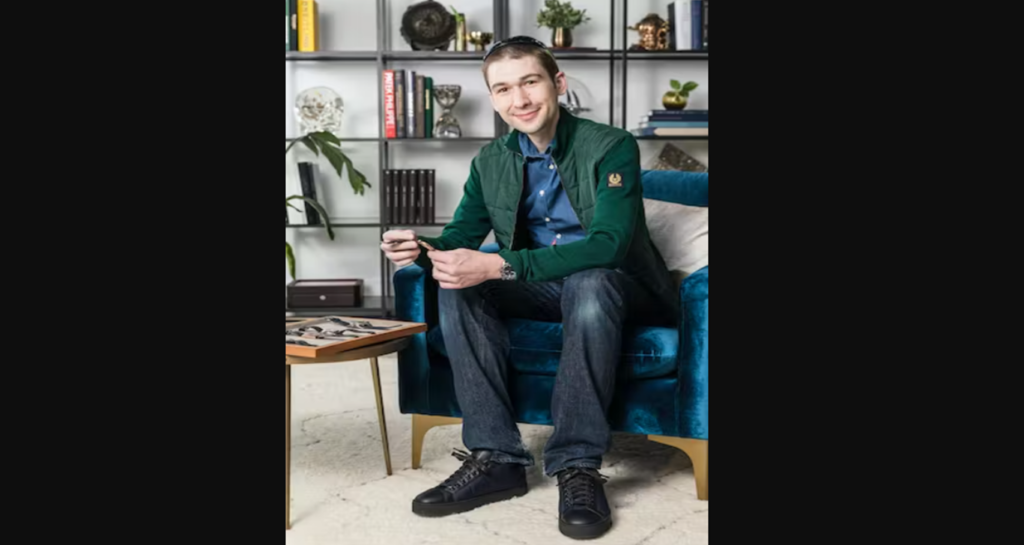 WatchBox showcased a pop-up WatchBox Studio. The heads of WatchBox's creative studio and subject matter specialists from across the WatchBox team worked with Director of Media Tim Mosso to produce unique material and conduct interviews with prominent watchmakers, collectors, business leaders, and visitors to Dubai Watch Week. The firm debuted new programming and content initiatives, such as Open Studio Hours, in which visitors were encouraged to engage in a conversation started on WatchBox's social media platforms and provide short observations on camera.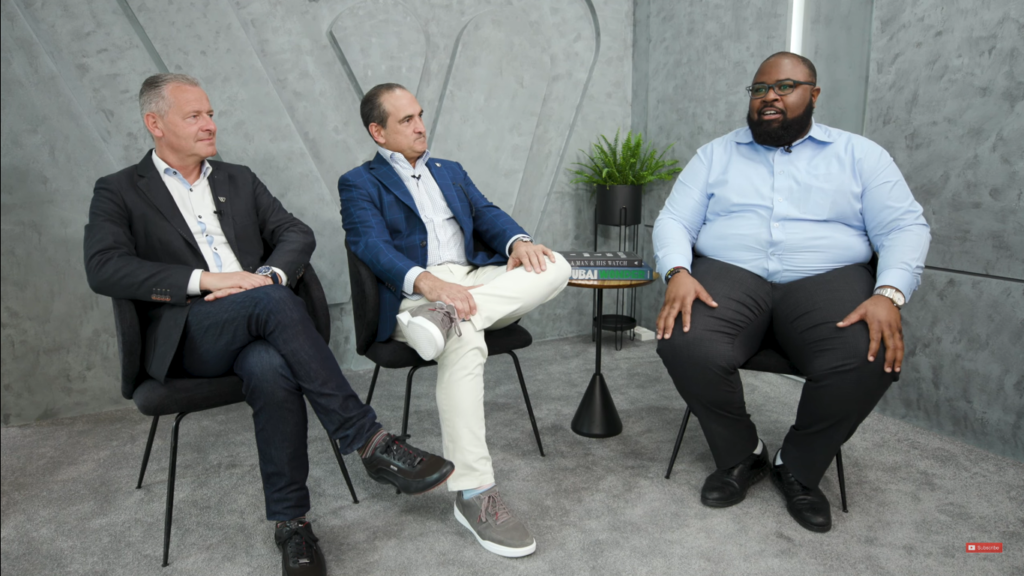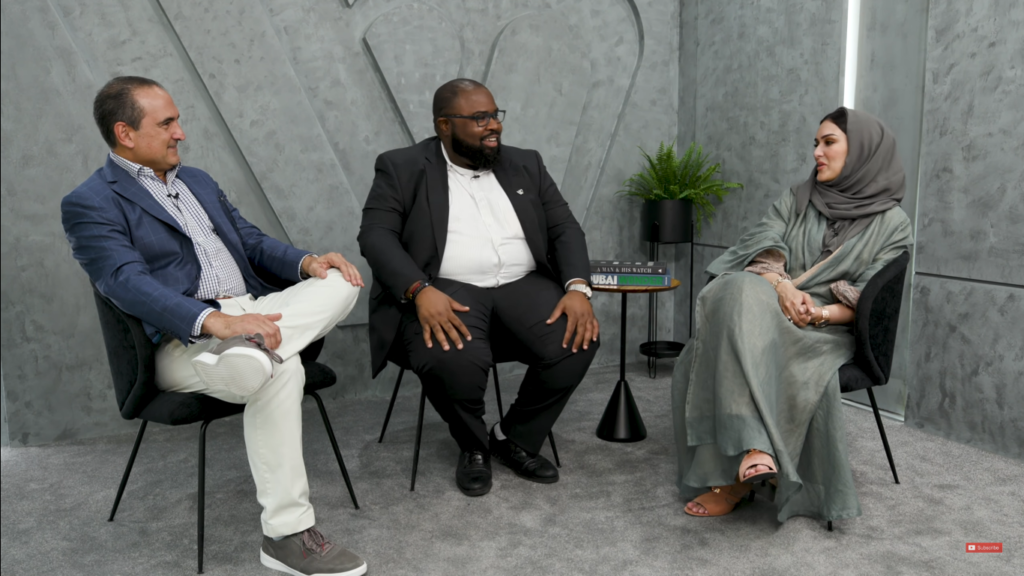 WatchBox hosted a Creative Hub session, exploring evolving approaches to collectability in 2021. Market value, encyclopedic knowledge, mono-brand scholarship, intangible intrigue, and a shared obsession with these mechanical works of art will serve as the basis for a conversation with Tim Mosso, Mike Manjos, Mohammed Abdulmagied Seddiqi, Alp Sever of Langepedia, and collector Hilal Al Zarooni.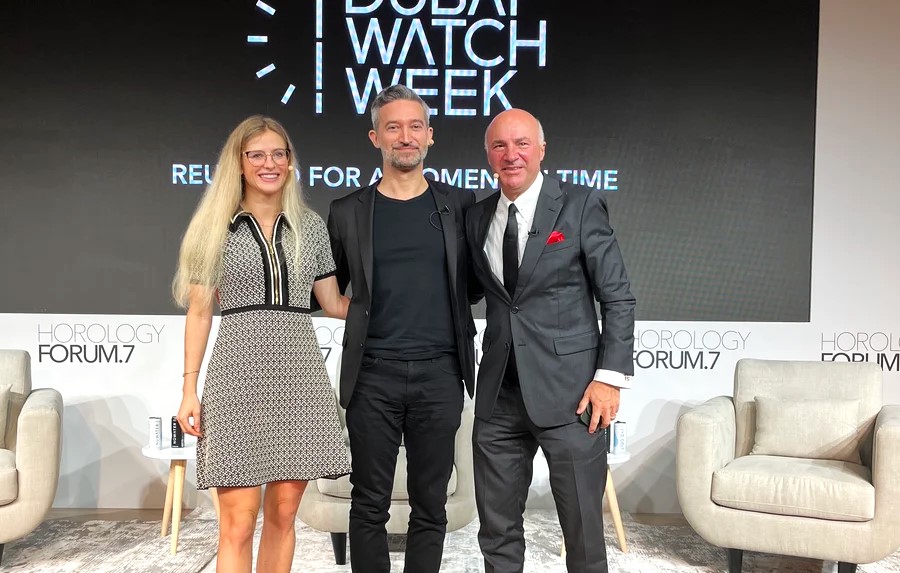 "Cryp Tic-Tac-Toe, Where'd Human Error Go?": A panel deciphering luxury's ascension to crypto and how it transcends limits, panelists Kevin O'Leary, Dr. Noah Raford, and Leonie Fluckiger – moderator.
Blockchain technology from the crypto-currency world has been attracting luxury brands to offer authentication services and ownership tracking. However, most watch companies rejected these ideas due to lack of revenue and profit, and some reasons, such as gifts to officials. They then suggested NFTs (Non Fungible Tokens) for watch brands. Panelists explored luxury's shift towards Crypto and its global fascination, examining its use in luxury industries and the potential transition into the meta sphere, where digital twins are essential for survival.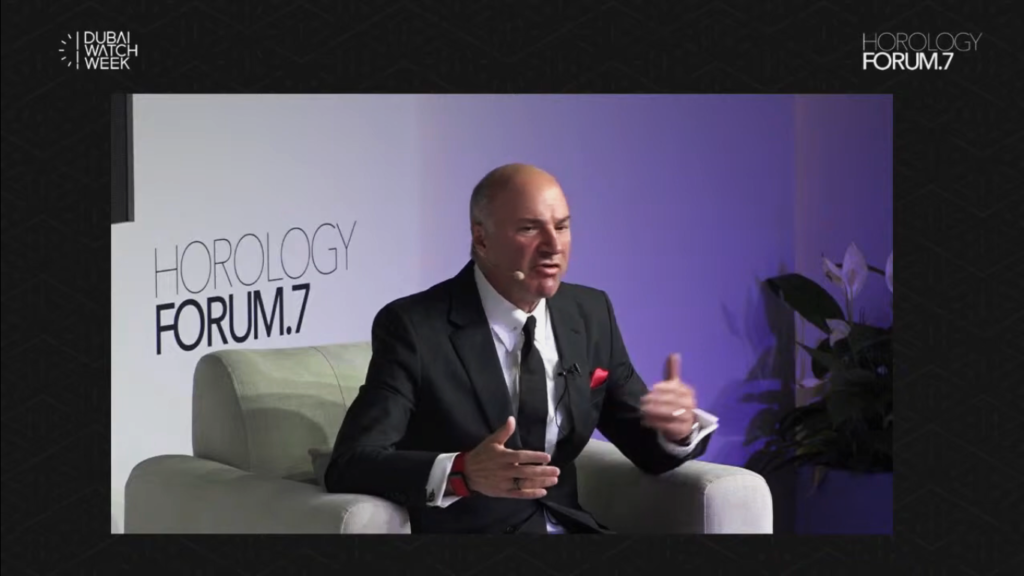 Mega-investor and Shark Tank investor Kevin O'Leary praised the concept of NFTs and their potential to enhance the value of the luxury watch industry. Kevin gave 2 examples –
1. A Non-Fungible Token (NFT) is purchased as an initial investment in a start-up watch company. The digital paper has a value and, over a period of time, converts into a physical watch at some point in the future. The physical watch represents the return on investment for the initial investment in the risky NFT.
2. All are not possible to purchase a high-priced watch, however, an Non-Fungible Token (NFT) can be purchased. The NFT is not connected to a physical object, however, it is issued by a watch brand and can be worn by an avatar of the watch brand on the virtual world of Second Life or Roblox. This is a purely financial gain for the manufacturer, as the NFT is free to produce and can be purchased for thousands of dollars. Buyers are said to be content with the NFT, as it allows them to flex their financial resources and preferences.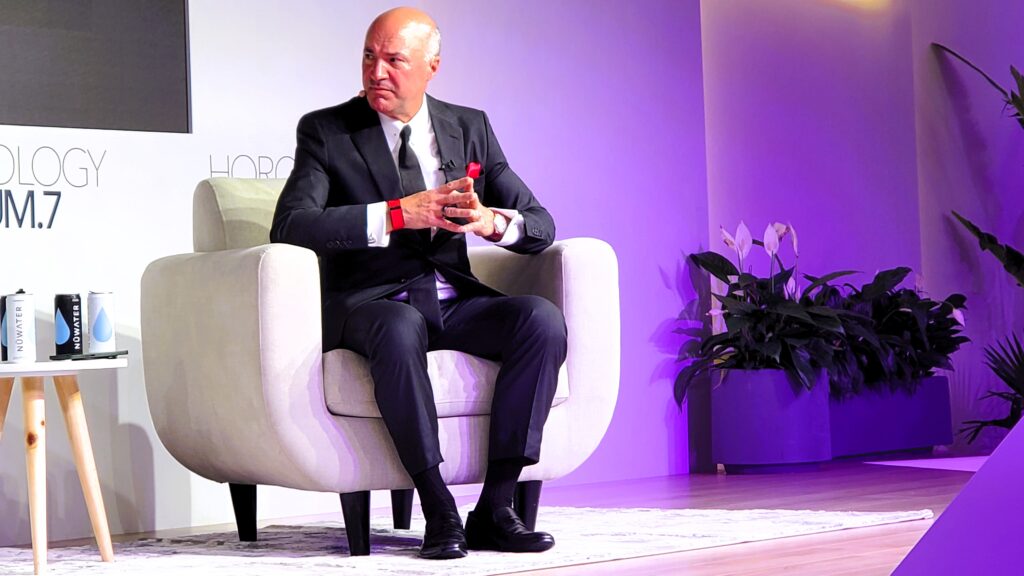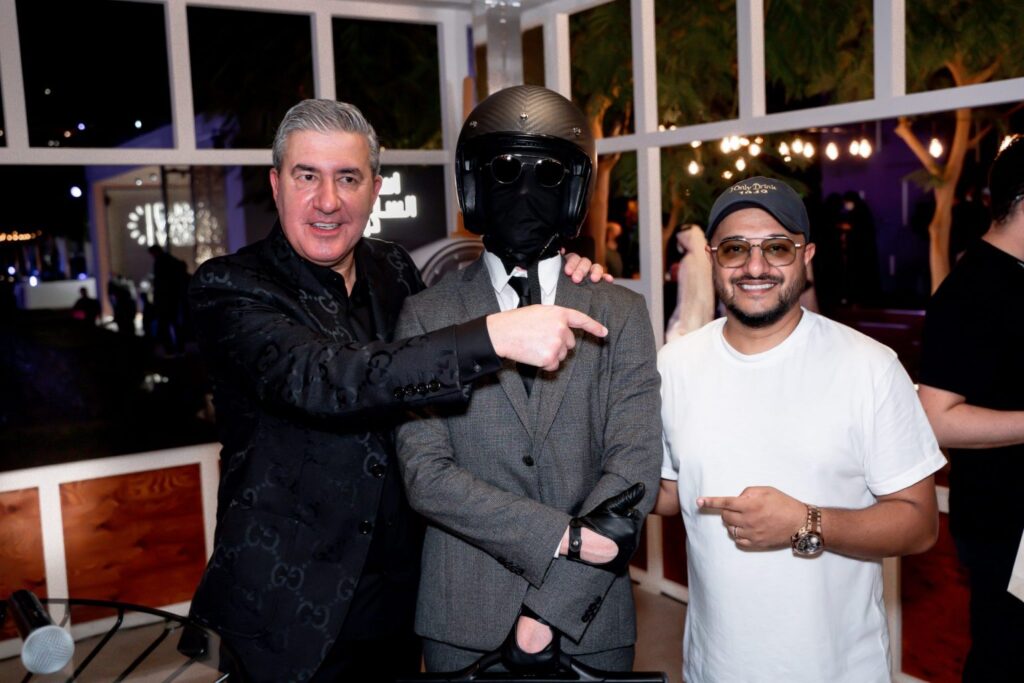 Greubel Forsey has expanded both its brand presence and its strategy since Antonio Calce's appointment as CEO. In fact, the 2021's memorable launch of the new Balancier S2 was carried out by the company using the DWW platform.
The launch party at Cipriani attracted global media and watch connoisseurs. Of the new piece, Antonio Calce, Greubel Forsey CEO at the Balancier S² Launch Event said, "With this new creation, we have refined a number of elements to make a contemporary-looking timepiece. We have made the stepped bridges and small seconds stand out more. The hour indexes around the flange are now three-dimensional and more prominent. And we played with polished, satin, and matte finishes on the movement and the case, which has been resized."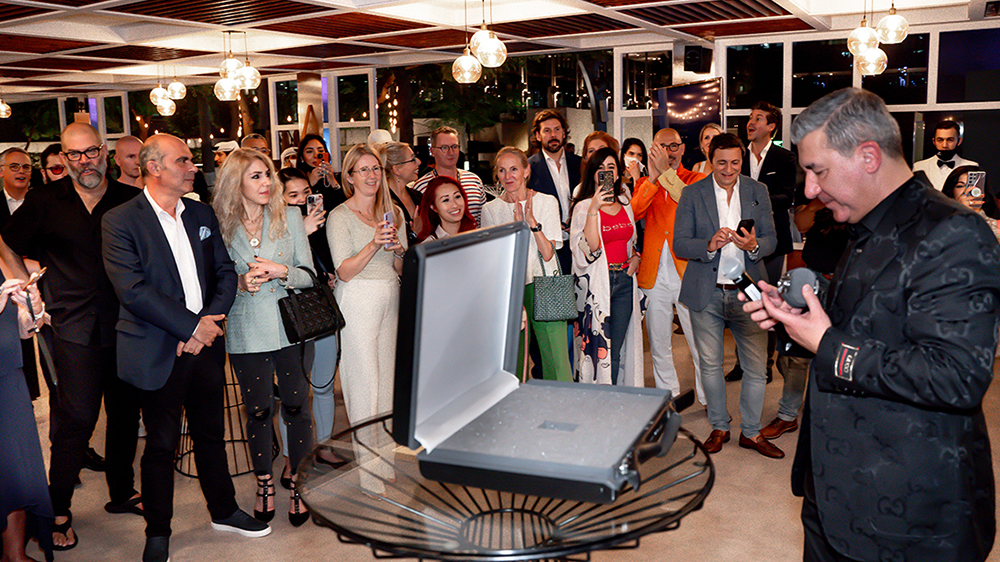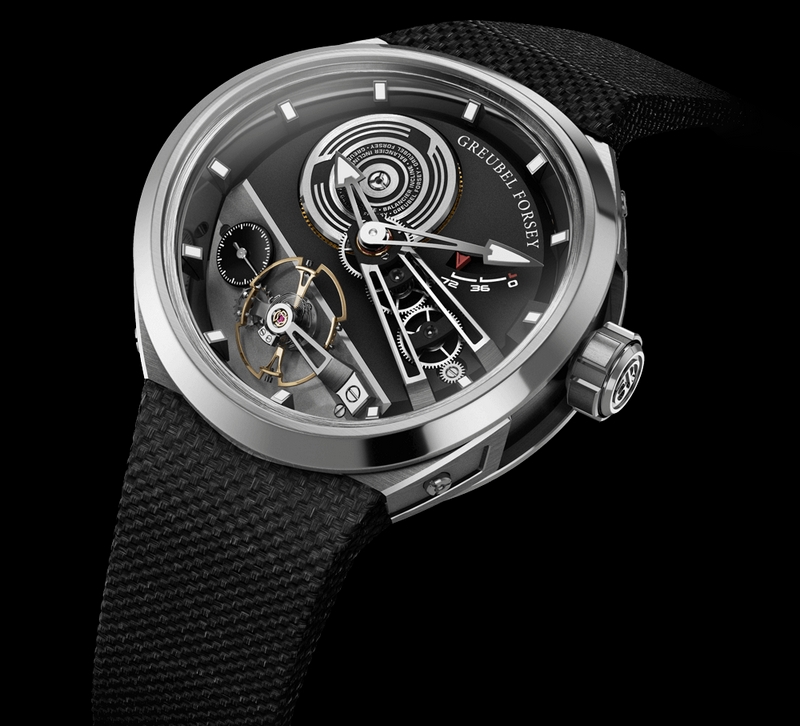 Greubel Forsey's signature watch, the Balancier S², draws inspiration from the Atelier's iconic Balancier S and solidifies Greubel Forsey's position at the forefront of fine watchmaking in the twenty-first century. The result of Greubel Forsey's laborious process of minimalism is an impressive 46.55-millimeter titanium timepiece that is spiritful, modern, and in step with the times.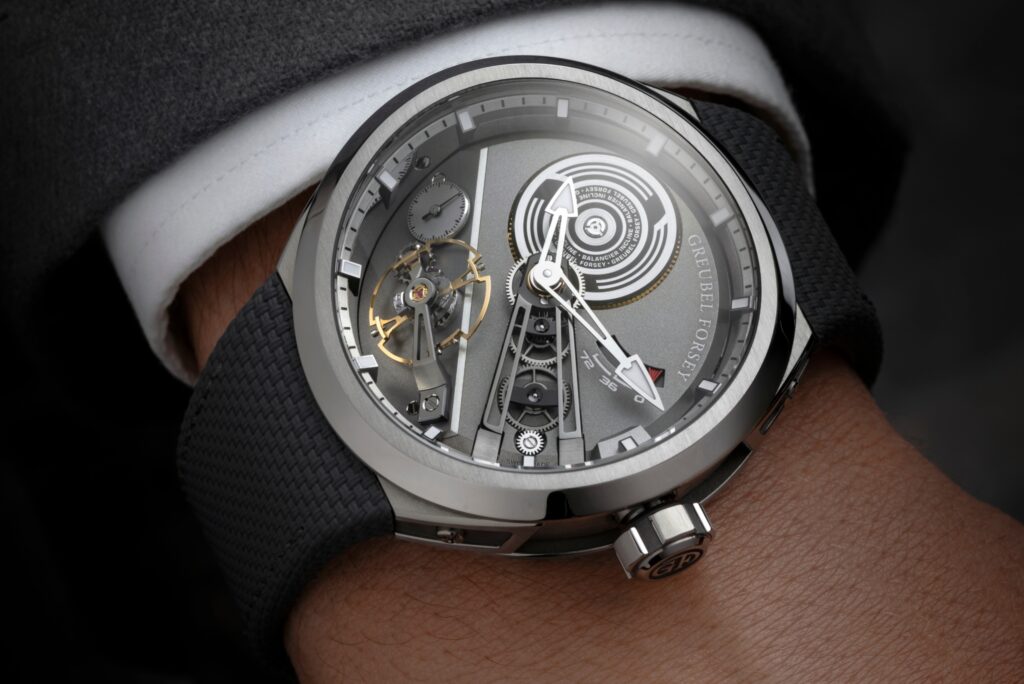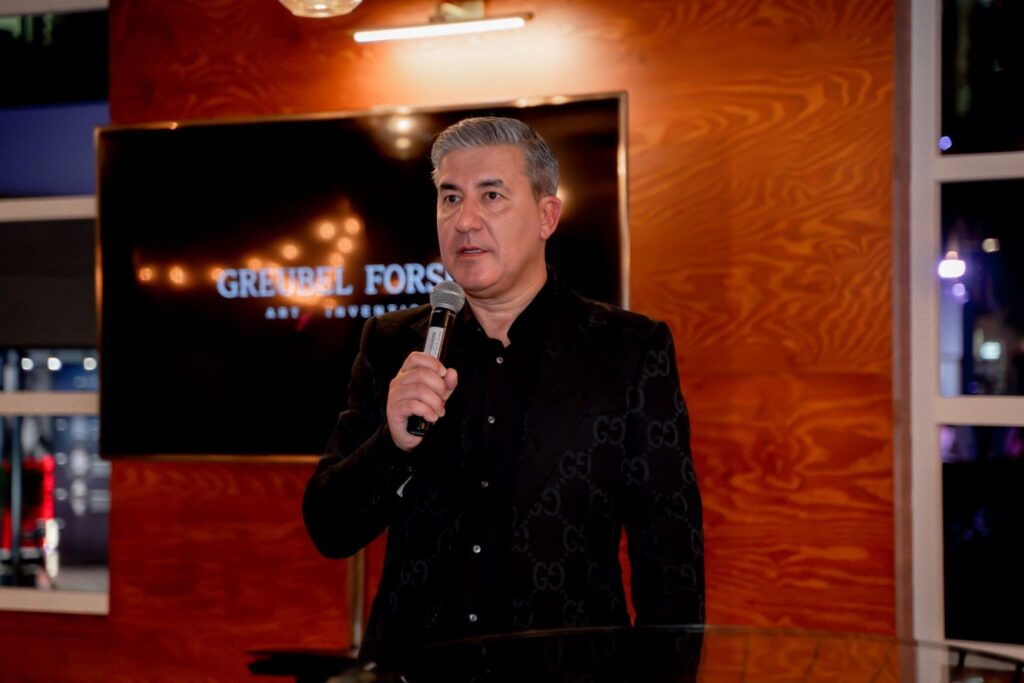 "Dubai Watch Week was the ideal platform for the launch of our new Balancier S². First of all, because of the exceptional relationship we have with our partner Ahmed Seddiqi & Sons, but also because of the quality of the event and the audience participating in it. A new chapter opens for Greubel Forsey." says Antonio Calce, Chief Executive Officer and Executive Board Member.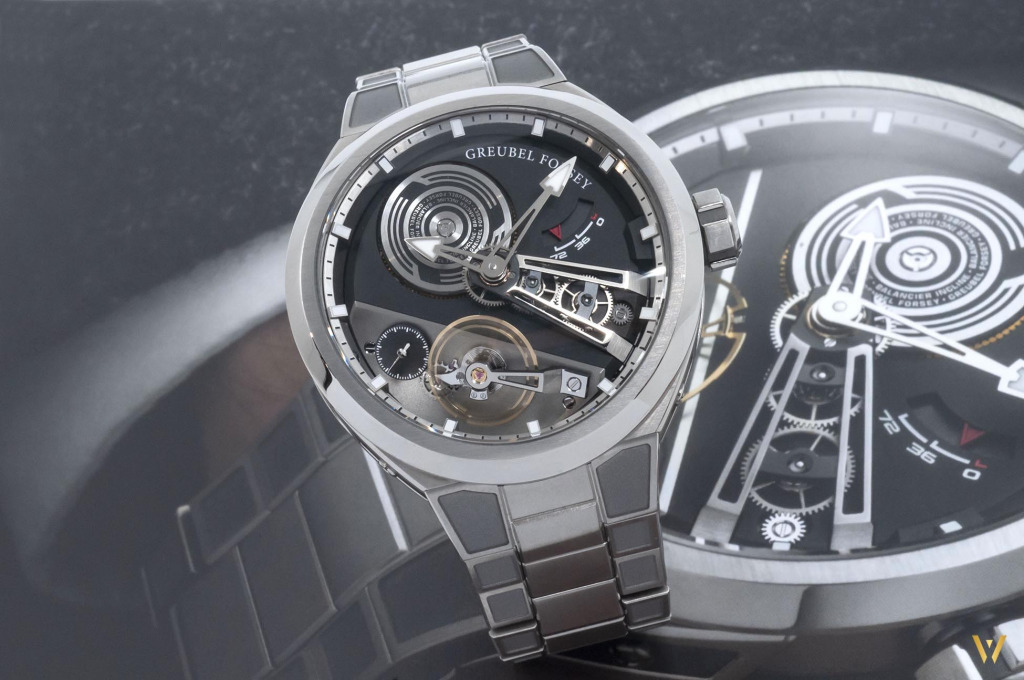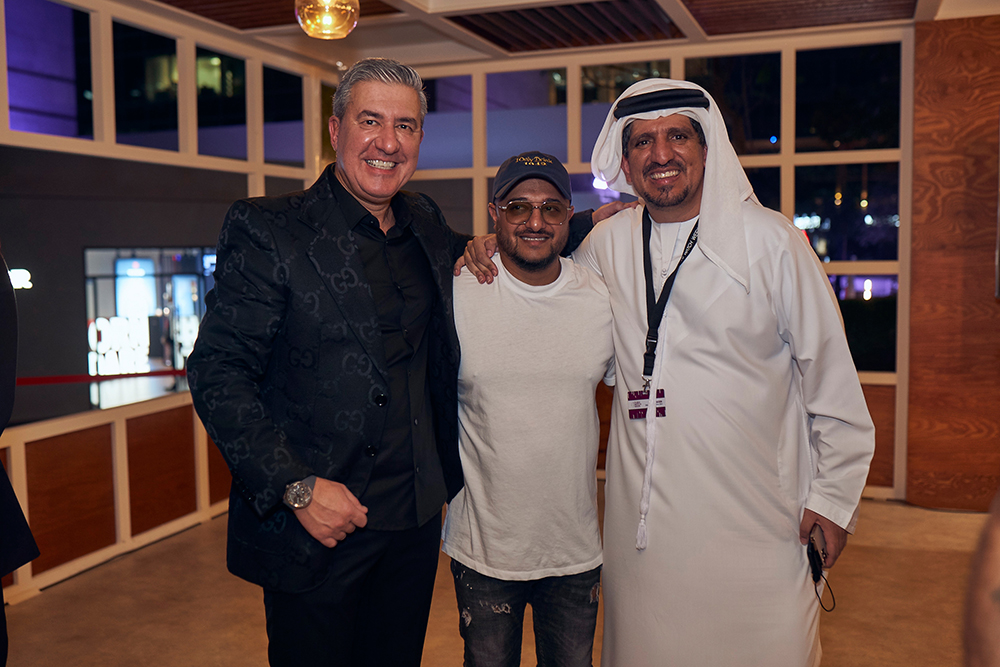 Mohammed Abdulmagied Seddiqi, CCO of Ahmed Seddiqi & Sons announces: "The launch of the new Balancier S2 and of the Balancier S – the Ether is a momentous milestone between Ahmed Seddiqi & Sons and Greubel Forsey and the long-standing partnership between both entities. The first-ever carbon Balancier S – the Ether, developed in collaboration with the brand, with a large titanium bridge limited edition is indicative of the progress made in watchmaking while commemorating the UAE's 50th anniversary."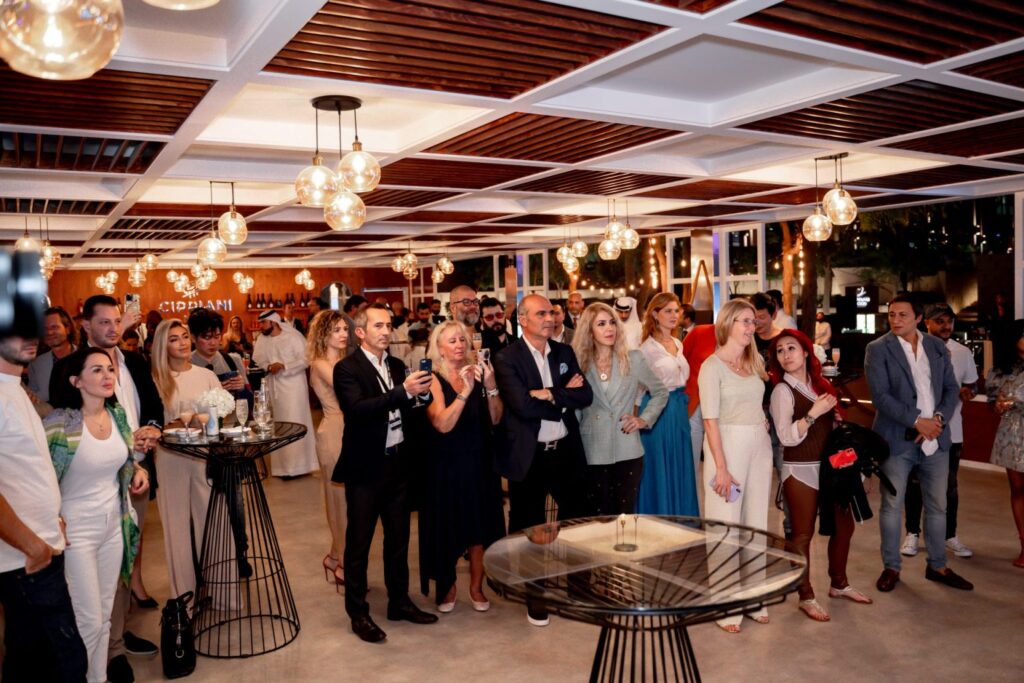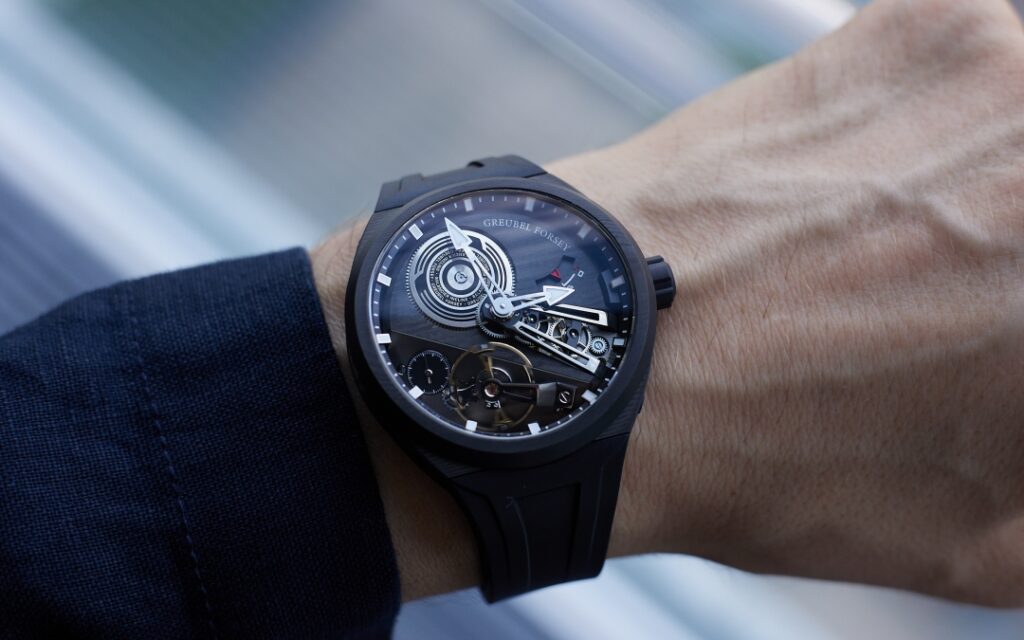 Greubel Forsey's launch party, held on November 27 at the Cipriani Dubai, was a resounding success. The visitors saw a watch that radiated power, contrast, and tension. The centerpiece of the piece is still the venerable inclined balance wheel, which is kept in a brand-new case with finishes that are exclusive to Greubel Forsey and this model.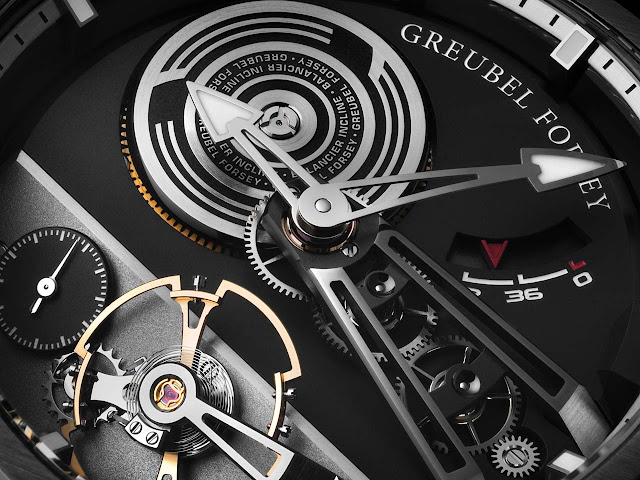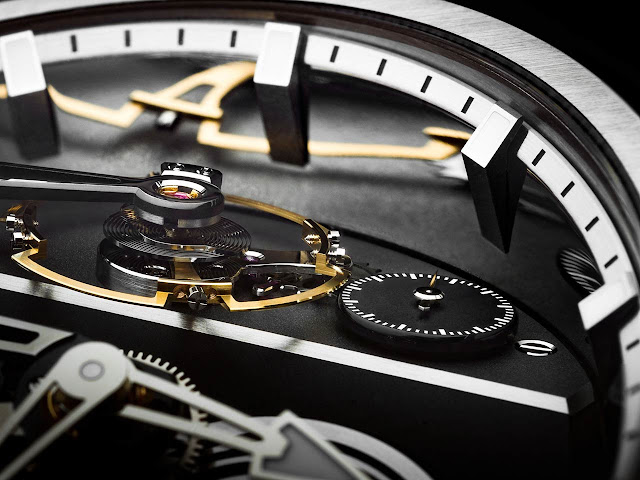 The central double-arched bridge's open worked design, which represents the search for something lighter, simpler, and uncluttered, is unique. The new titanium strap furthers this philosophy by harmonizing with the titanium case, which also has polished sides and is used for the bezel. The latter has been stripped of the manufacturer's customary engraved values, and the barrel cover no longer displays the oversized "Greubel Forsey" logo but rather a modernist circular pattern made specifically for the item.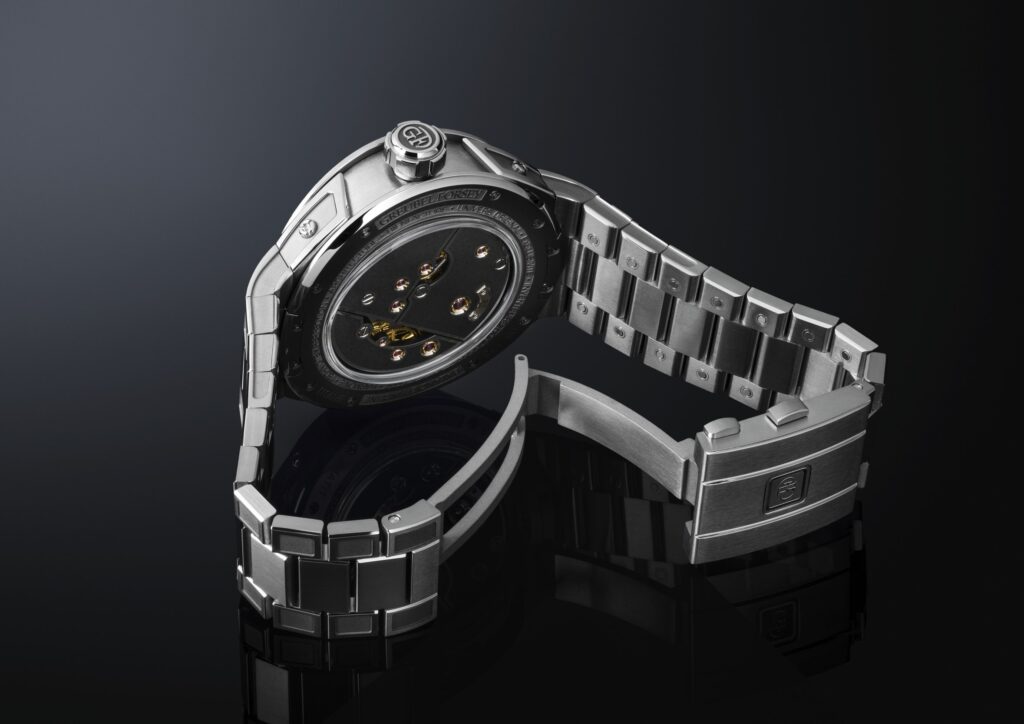 Only 38 of these new Balancier S2 watches will be produced each year for the next four years; 22 will have an anthracite caseback and 16 will have a light caseback. All 38 watches will come with a plain, textured, or patterned black rubber or titanium strap.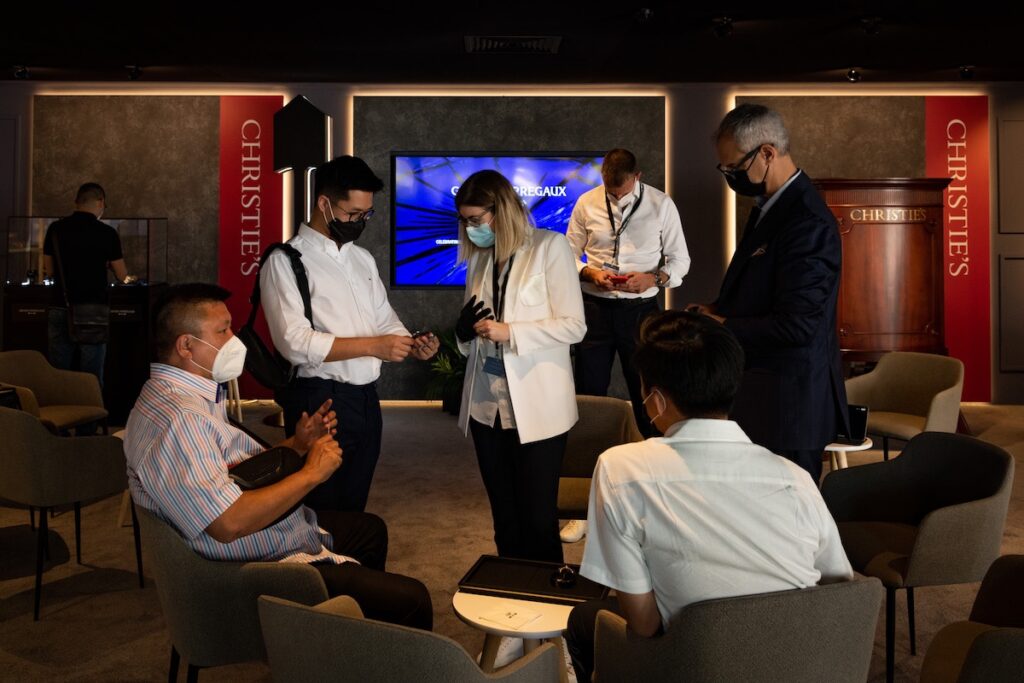 Christie's is pleased to be a long-standing partner of Dubai Watch Week, an annual event that serves as an educational platform for exchanging information, forging connections, and celebrating the art of watchmaking. It brings together the most important collectors and thought leaders in the watch world, who frequently participate in the Horology Forum panel discussions conducted during the event.
Christie's has had a presence at the Dubai International Financial Centre since 2006, dealing in Contemporary and Middle Eastern Art and Important Watch sales since 2013. Christie's had two online sales in Dubai this year, one from 24 March to 8 April and the other from 13 to 27 October.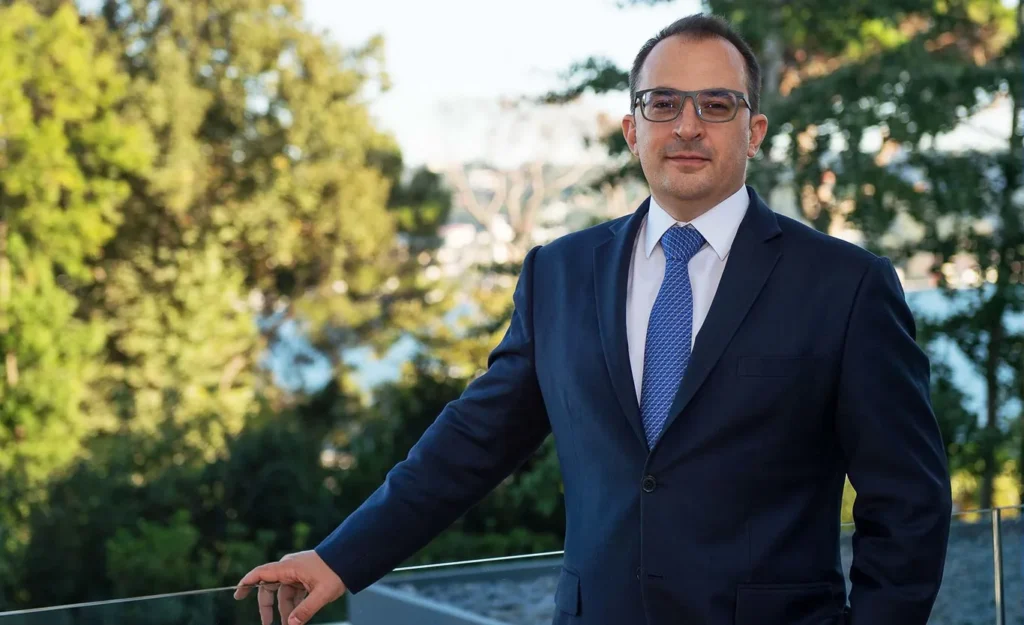 Remy Julia (Head of Watches, Middle East, India, Africa, Russia at Christie's and Committee Member of Dubai Watch Week) says – 'The Dubai Edit online auction is a game-changer. Never in the history of watch auctions has a 100% online event offered timepieces of such quality, be they modern or vintage.'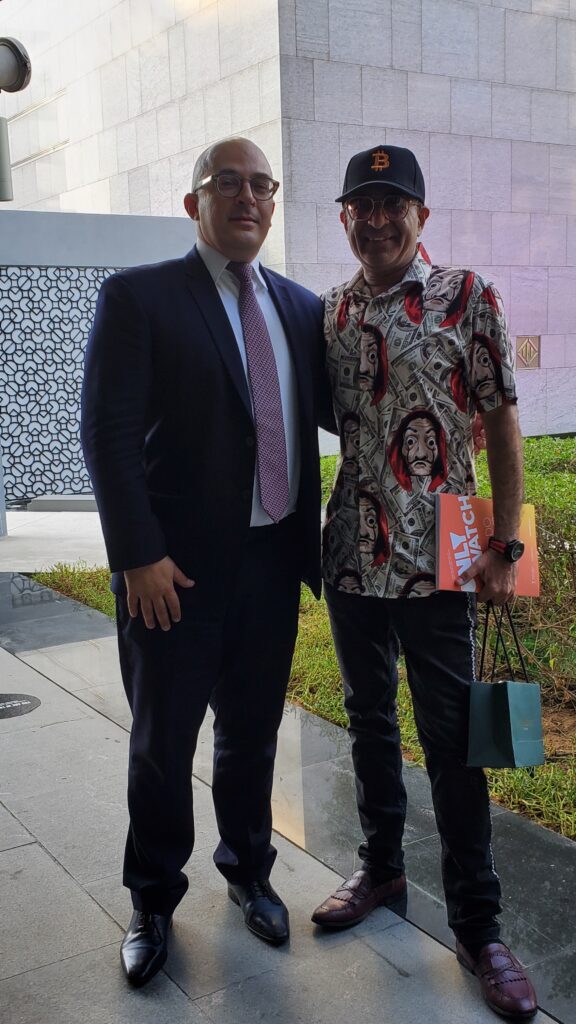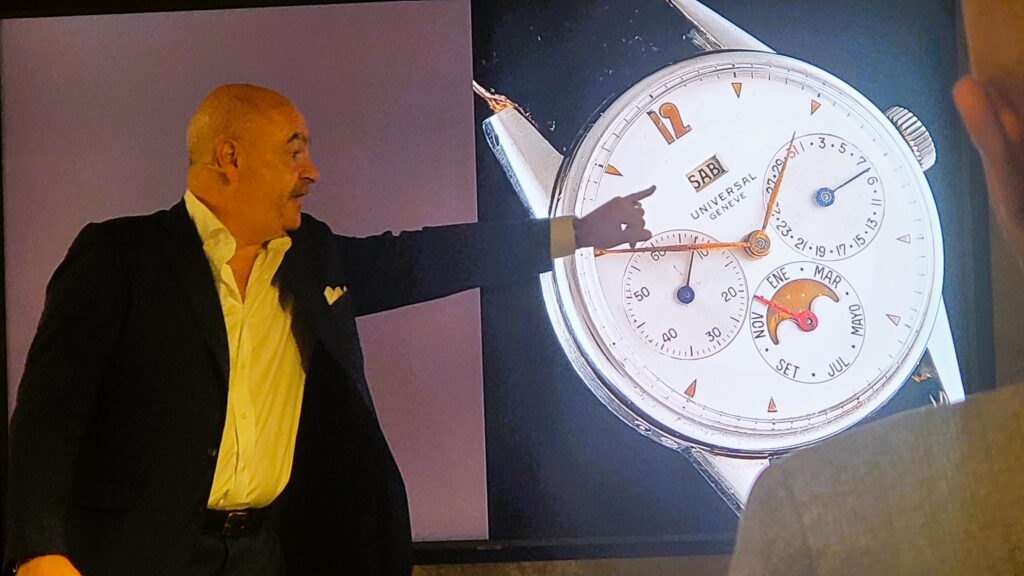 Max Bernardini – Owner of Bernardini Milano, dealer, curator and collector.
Bernardini is one of the real veterans of the high-end rare vintage timepieces market. Italian by birth, but an international globetrotter by choice. Dealer, curator but most of all, collector. Owner of Bernardini Milano, the family business established in 1982.
His gallery is a reference point for a very sophisticated worldwide clientele, as is his legacy of passion and compulsive love of rarity and beauty. From a young age he was introduced to prominent collectors and had the privilege of handling extraordinary watches, in quantity and quality, a situation which is unthinkable today. In these past three decades he has been a very prominent and active player, while witnessing the incredible evolution of this market.
A trusted advisor of fine collectors worldwide, he is fluent in English, French, Spanish and Italian. His modus operandi as a curator is quite simple and efficient: sharing and providing knowledge and guidance, so to recognize the essential difference between value and price and as he often states, 'keep the best, and trade the rest.'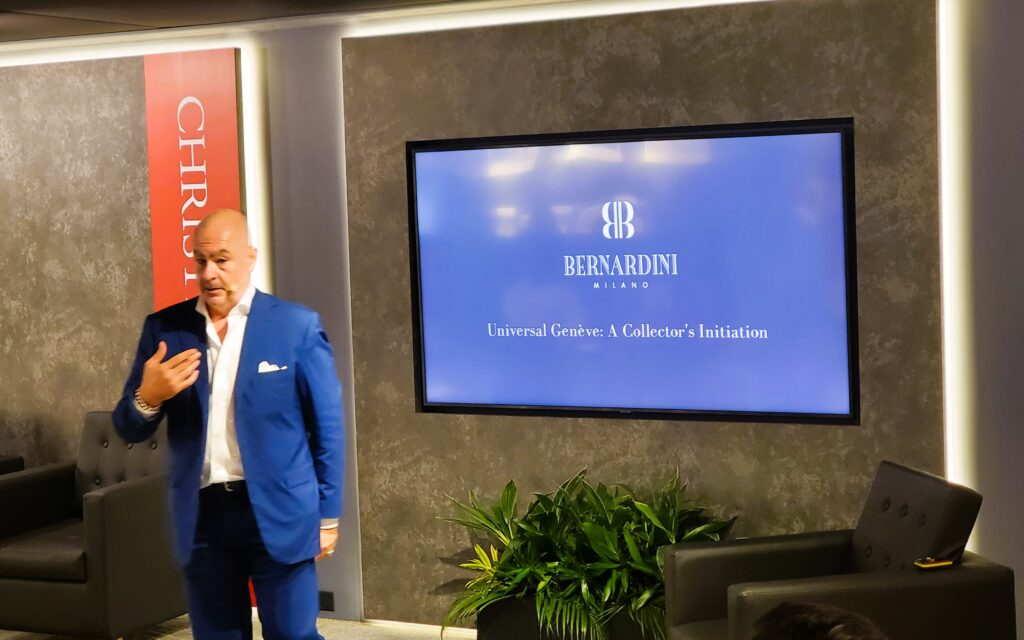 Max Bernardini is a well-respected figure in the vintage watch collecting community, known for his expertise in Universal Geneve watches. At Dubai Watch Week 2021, he gave a talk on the art of collecting Universal Geneve watches, focusing on the unique design and mechanics of these timepieces, as well as their historical significance. He also shared his insights on the current market for Universal Geneve watches, highlighting the brand's undervalued status and potential for future appreciation. Overall, Bernardini's talk was a must-see for anyone interested in vintage watch collecting.
He talked about the unique design and mechanics of Universal Geneve watches, including their in-house movements and unique case shapes.
He discussed the historical significance of Universal Geneve watches, including their role in the development of the wristwatch and their popularity among collectors.
He provided insights into the current market for Universal Geneve watches, including their undervalued status and potential for future appreciation.
He emphasized the importance of doing your research and working with reputable dealers and experts when buying or selling Universal Geneve watches.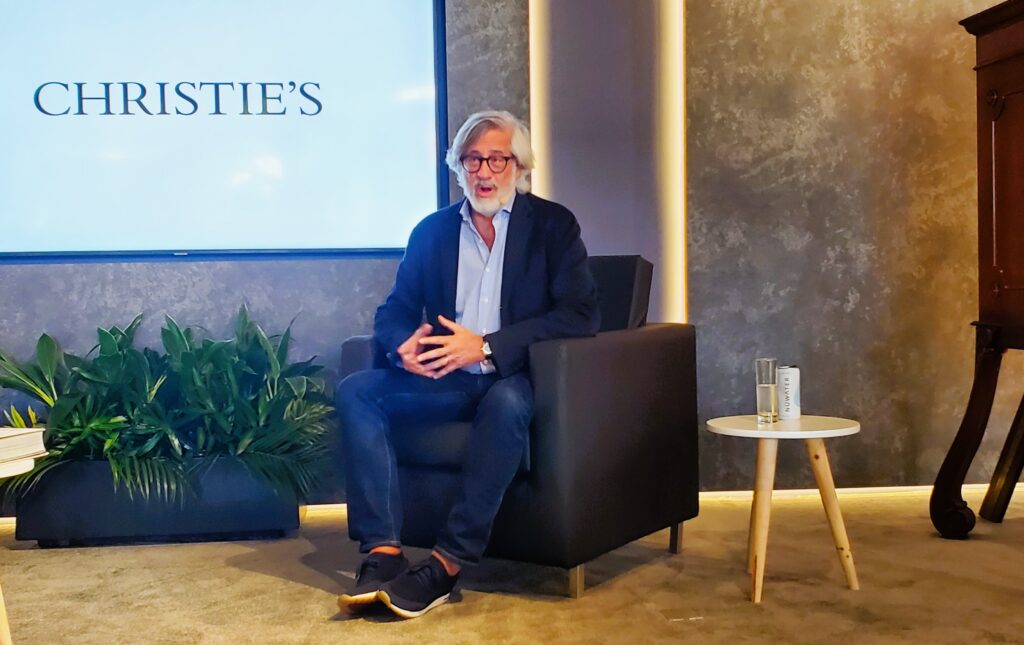 Sandro Fratini is a fascinating speaker! He's an entrepreneur, author, and collector who spoke at Dubai Watch Week 2021 about his passion for watches and the importance of passion in everything we do. In his talk, titled "My Time," Fratini discussed the history and importance of watchmaking, as well as his personal journey as a collector. He emphasized the emotional connection that can be formed with watches and the significance of collecting pieces that have a personal meaning.
Fratini also touched on the current market trends and the unique features of some of the rarest and most sought-after watches, such as the Rolex Daytona. Overall, it was a fascinating and inspiring talk that really highlighted the passion and dedication required to be a true watch collector.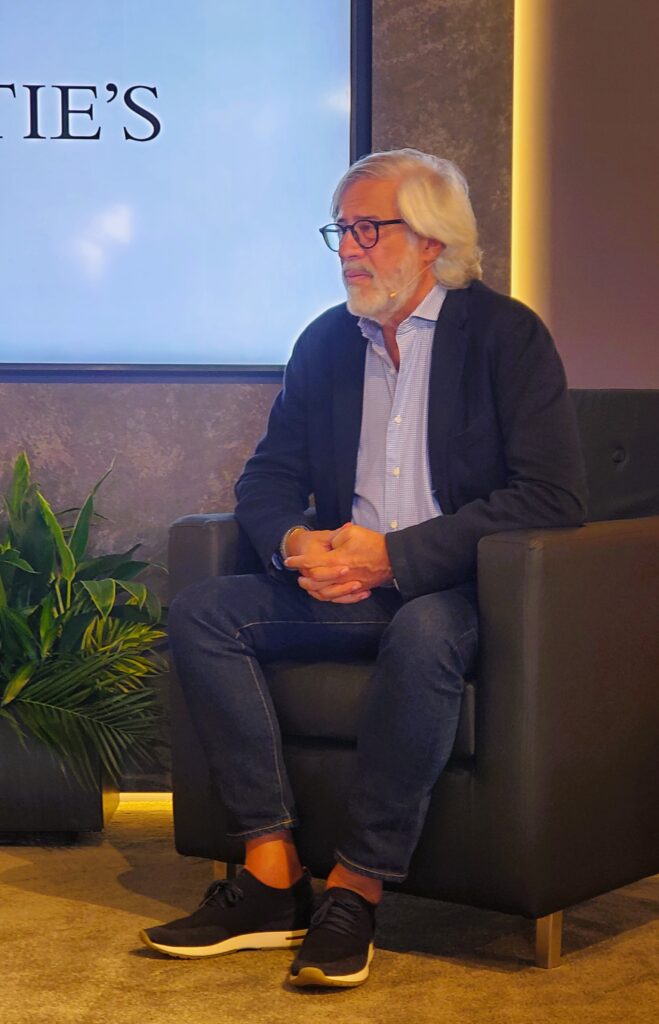 In addition to discussing the history and current market trends of watches, Sandro Fratini also delved into the unique features of some of the rarest and most sought-after pieces. For instance, he talked about the intricate mechanics of the Rolex Daytona, its iconic design, and how it has become a symbol of luxury and status in the watch collecting community. He also discussed the emotional connection that collectors can form with their watches, and how this can add to the overall value and appreciation of a piece. His talk really emphasized the importance of passion and dedication in the world of watch collecting, and the unique aspects that make certain watches so special and sought-after.
Sandro Fratini is a renowned watch collector and expert known for his extensive knowledge and passion for timepieces.
With a collection that spans centuries and includes rare and valuable pieces, Fratini has become a respected figure in the world of horology.
Fratini's insights into the history, craftsmanship, and evolution of watches have made him a sought-after speaker and consultant in the industry.
His passion for collecting has inspired others to discover the joy of watch collecting, and his dedication to preserving and sharing the history of timekeeping is a testament to his commitment to the craft.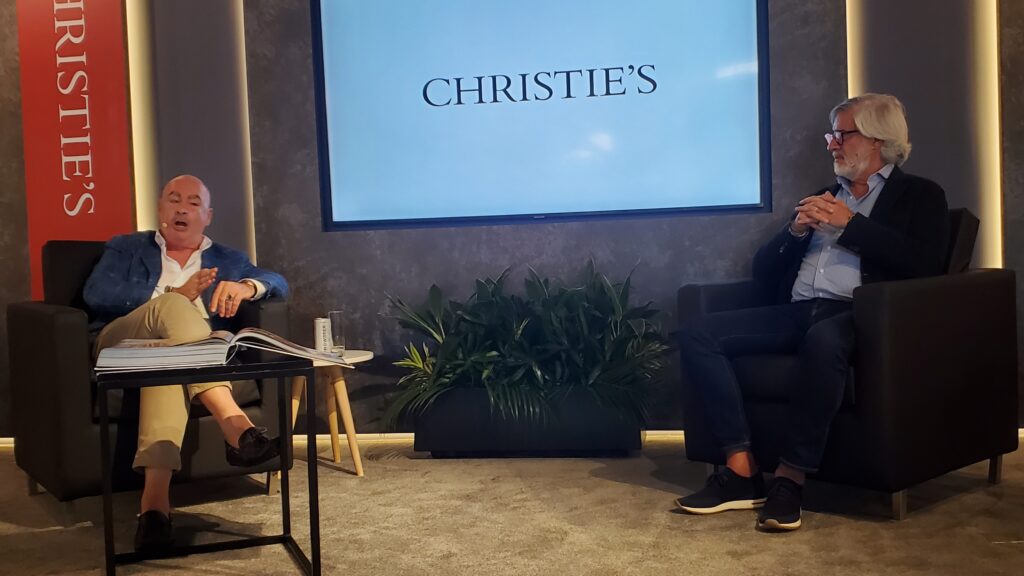 Sandro Fratini's collection is the stuff of legend in the watch world! It's a carefully curated selection of some of the finest and rarest timepieces ever made. Here are some highlights:
A Rolex Daytona with a "Paul Newman" dial, which is considered one of the most iconic watches in history.
A Patek Philippe Nautilus with a unique blue dial, which is highly sought after by collectors.
A Vacheron Constantin Overseas with a striking blue sunburst dial, which is a rare and striking piece.
A Lange & Söhne Lange 1 with a gorgeous white gold case and a stunning moonphase complication.
And, of course, many other breathtaking watches from brands like Audemars Piguet, Jaeger-LeCoultre, and more.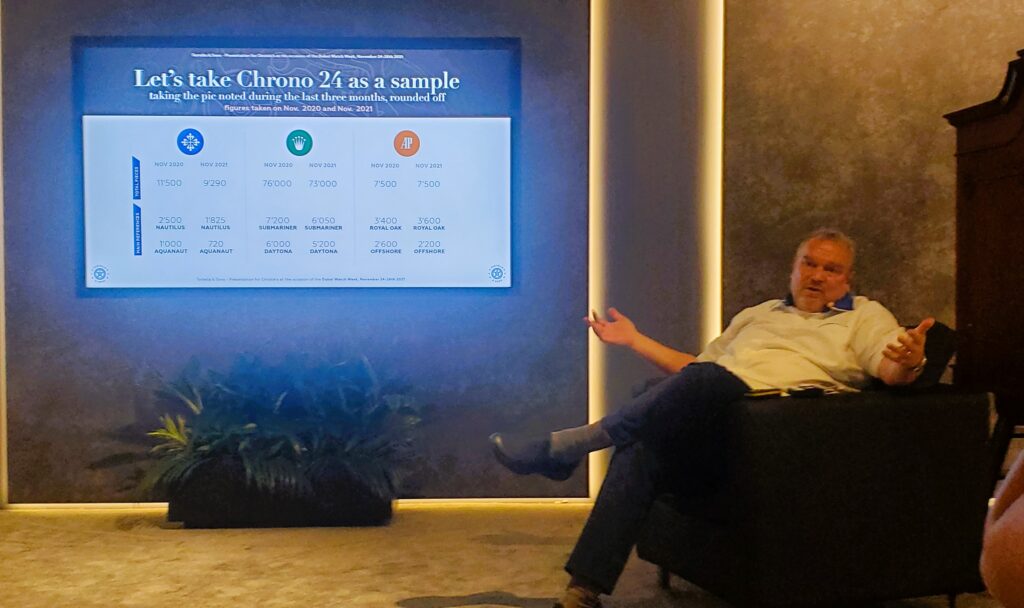 Eric Tortella is a renowned Patek Phillipe scholar, and his talks at the Dubai Watch Week covered a range of topics related to collecting and investing in Patek Phillipe watches. He analyzed the evolution of the collectible watch market, discussed the factors that make a Patek Phillipe watch valuable, and offered tips on how to navigate the market as a collector or investor. He also addressed questions such as how to authenticate a Patek Phillipe watch, what to look for when buying one, and how to care for and maintain a Patek Phillipe watch.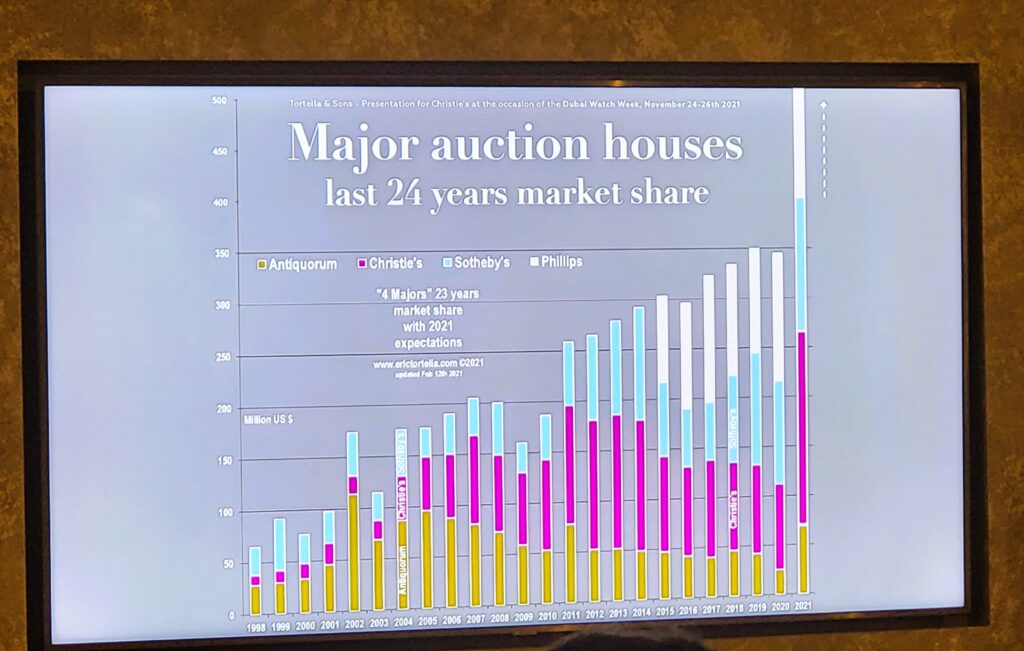 His talks provided a comprehensive overview of the world of Patek Phillipe collecting.
• Tortella highlighted the growing demand for vintage Patek Phillipe watches, especially those with unique or rare features, like rare complications or unusual dials.
• He discussed the importance of provenance and the role that original papers, boxes, and other accessories play in determining a watch's value.
• He also talked about the importance of maintaining a Patek Phillipe watch properly, including regular servicing, cleaning, and protecting it from moisture and extreme temperatures. • Tortella stressed the need for collectors to do their due diligence, research, and work with reputable dealers and experts when buying or selling a Patek Phillipe watch.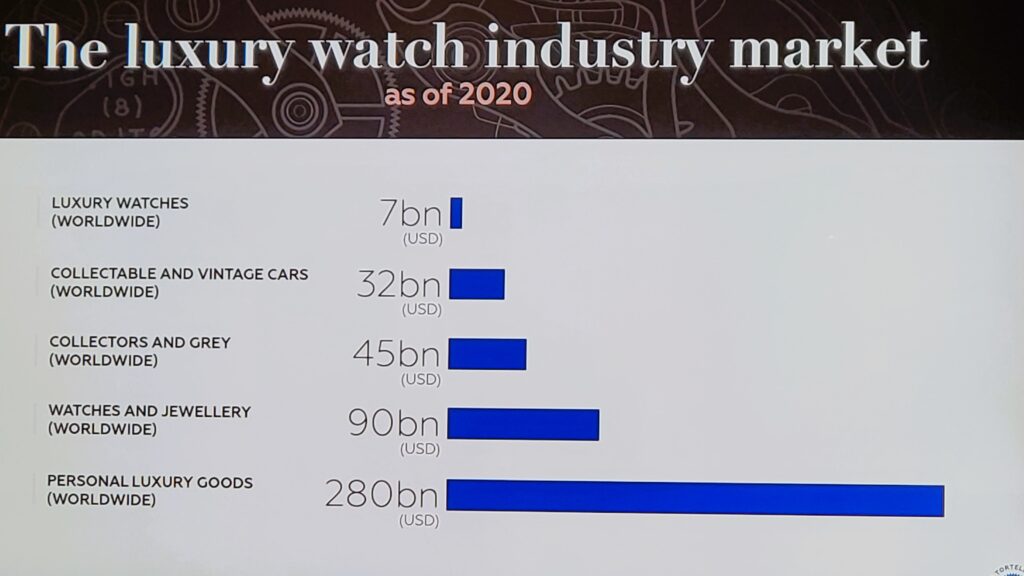 It's critical to recognise why you've opted to buy a watch – or not. The fact that a timepiece retains its worth throughout time is a compelling incentive to maintain it for future generations. The fact that it increases in value overnight is merely a bonus if (not when) it occurs. Tortella feels that any Patek Philippe is an excellent investment since it is unlikely to lose money.
As Eric points out, "The originality of the timepiece, its condition and rarity, as well as the history behind it matter." The quantity of pieces produced, as well as the movement and case production year, are all crucial considerations. It is critical to record whether any changes were made. Documentation such as certifications and data extracts, as well as supporting accessories such as the box in which the clock was housed, aid in the valuation process.
Provenance is also important, as is knowing who the original owner was. Was such a clock previously known and available to the public? Don't forget to read up on production statistics for cases, dials, and bracelets, as well as the most recent market updates and reports, pricing history and evaluation.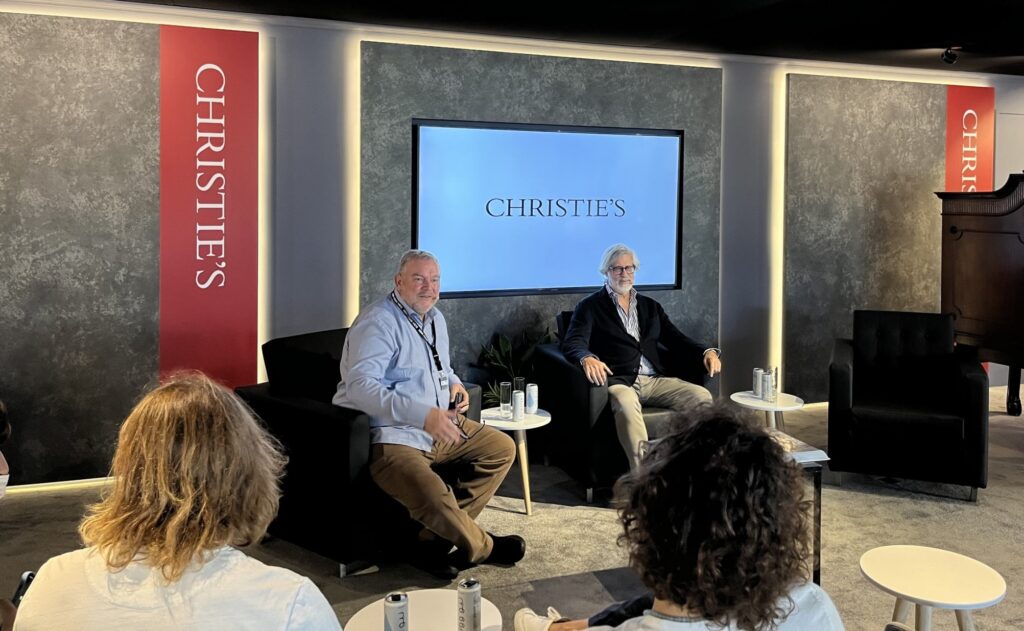 The most fascinating discussion was with Eric Tortella, a watch specialist and Patek Philippe historian, and Sandro Fratini, who is an Italian businessman who owns over 2,000 high-end timepieces (including those that are extremely rare).
'My story is a love story of watches' – as he shares some great examples of celebrated vintage Patek Philippe and Rolex wristwatches, mid-century Audemars Piguet, Vacheron & Constantin and Cartier watches. In November 2018 he launched his book, titled 'My Time' featuring 650 horological masterworks from Fratini's collection. His stories about travelling and finding the watches, purchasing them from auctions, dealers or kind of 'by accident' reveal '… the most important thing is to choose the ones you really like and not worry about market value.'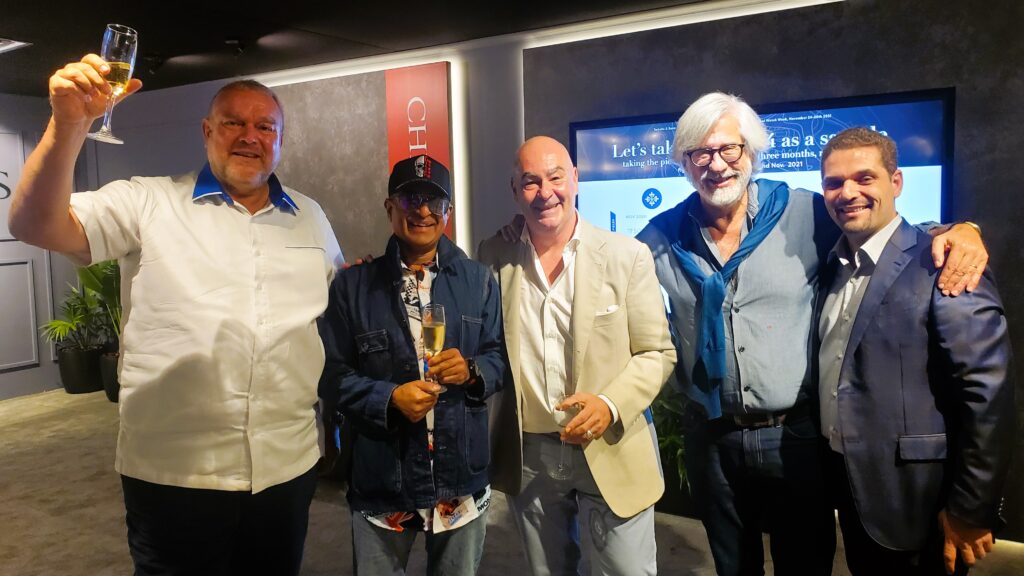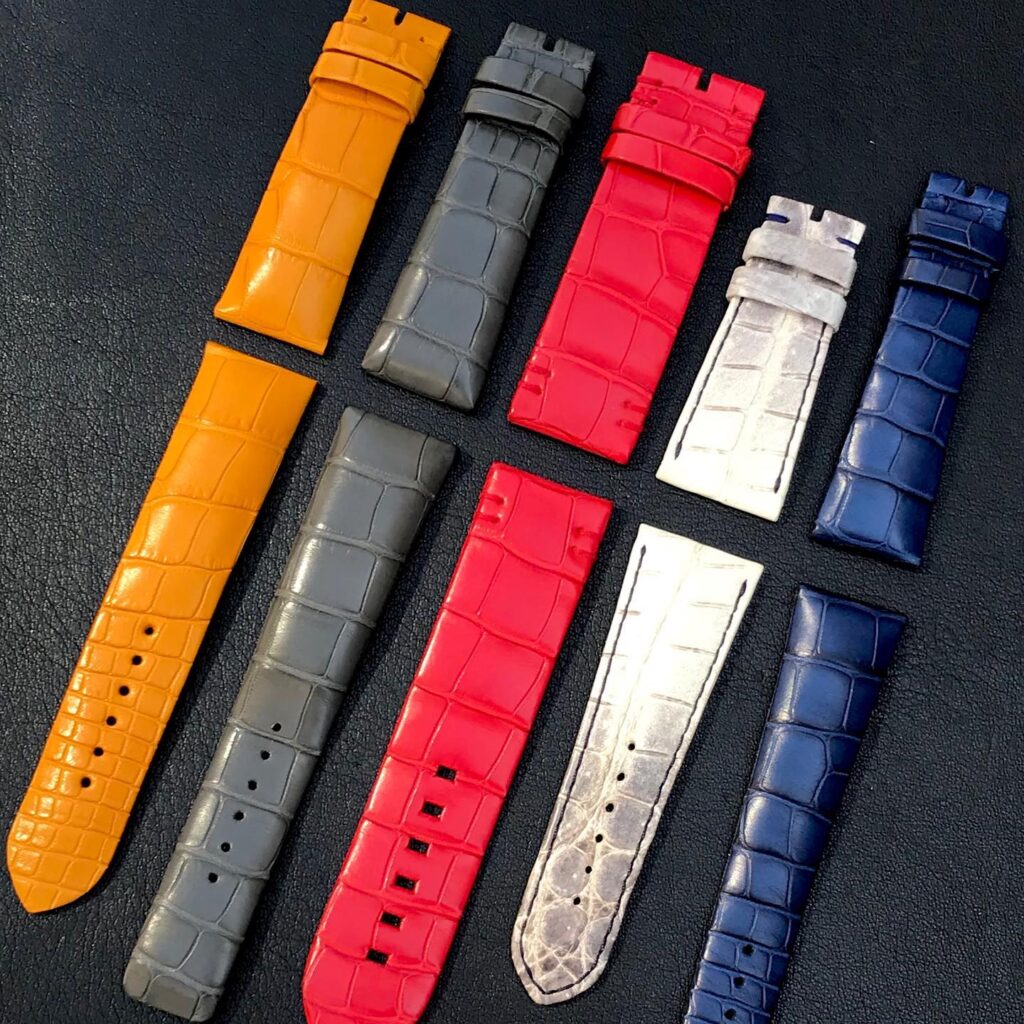 Atelier du Bracelet offered the craft of "rembodé" watch straps exclusively for DWW visitors. The team took orders for customized watch straps as well as offered exclusive ready-made straps for sale.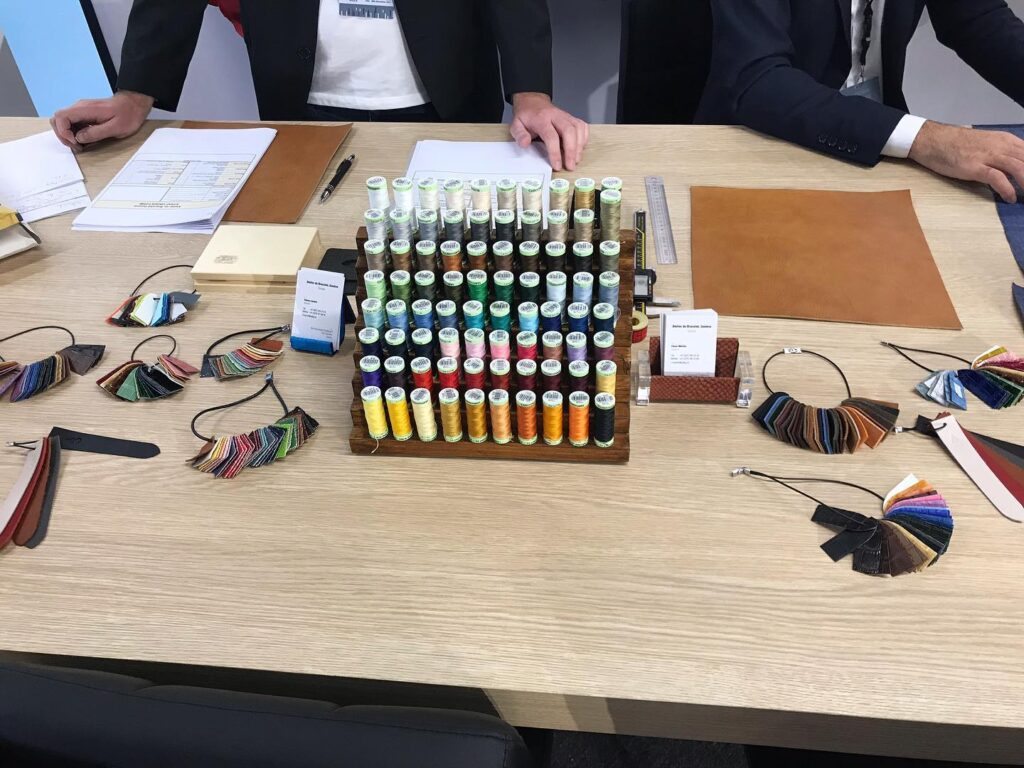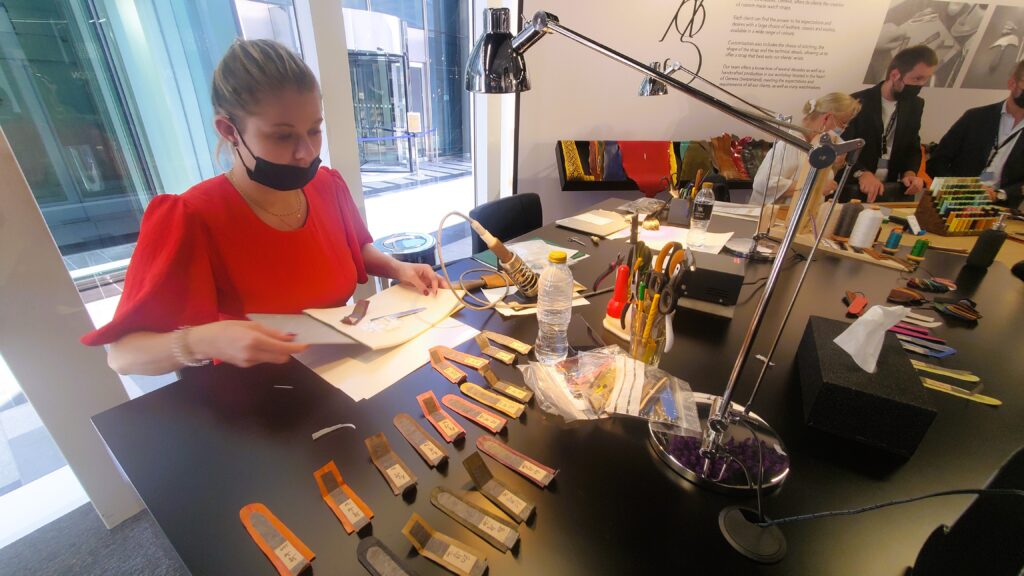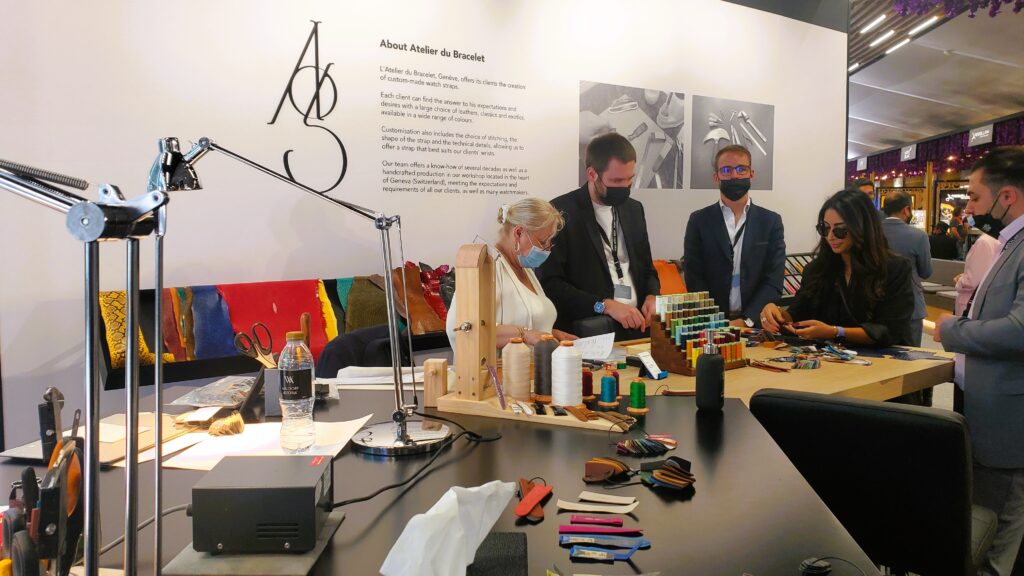 Atelier du Bracelet offers to Clients rembordés (rolled edges) straps of quality that match their needs. Every strap we craft is handmade and tailor-made in Geneva, and we let you choose the leather (classic or exotic), the colors of every part (leather, stitching, lining, loops), the thickness of your strap, its shape and a hot stamping should you want one.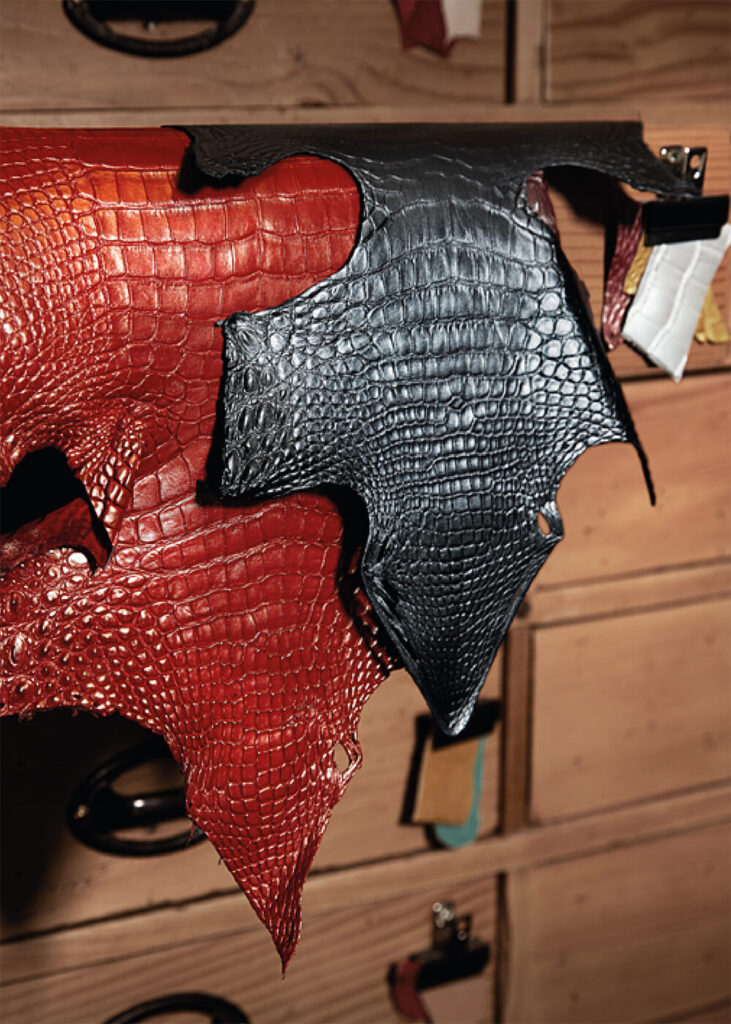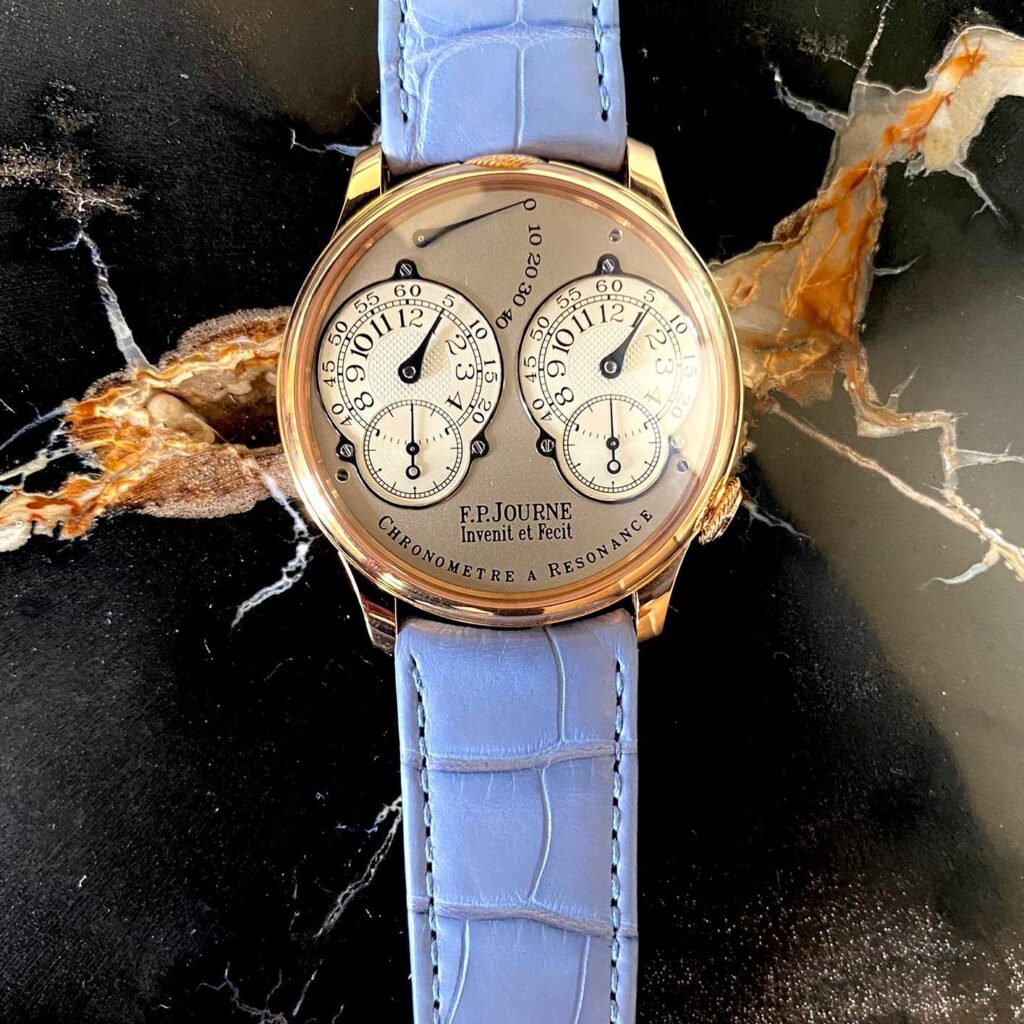 Their wide range of classic (calf, cow, …) and exotic (alligator, stingray, toad, fish, lizard, snake, …) leathers allows us to give you several choices (in many colors as well) so that we can craft the perfect straps for you!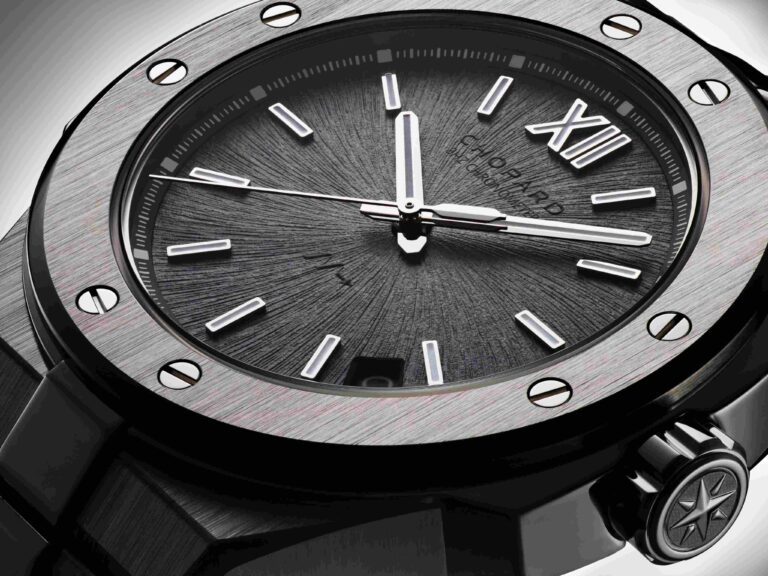 Chopard unveiled the Alpine Eagle Cadence 8HF titanium high-frequency watch during Dubai Watch Week. The limited edition series of 250 pieces combines precision, style, and sportiness. Chopard invited guests to discover the latest design inspired by the Alps and the Eagle in a private exhibition space.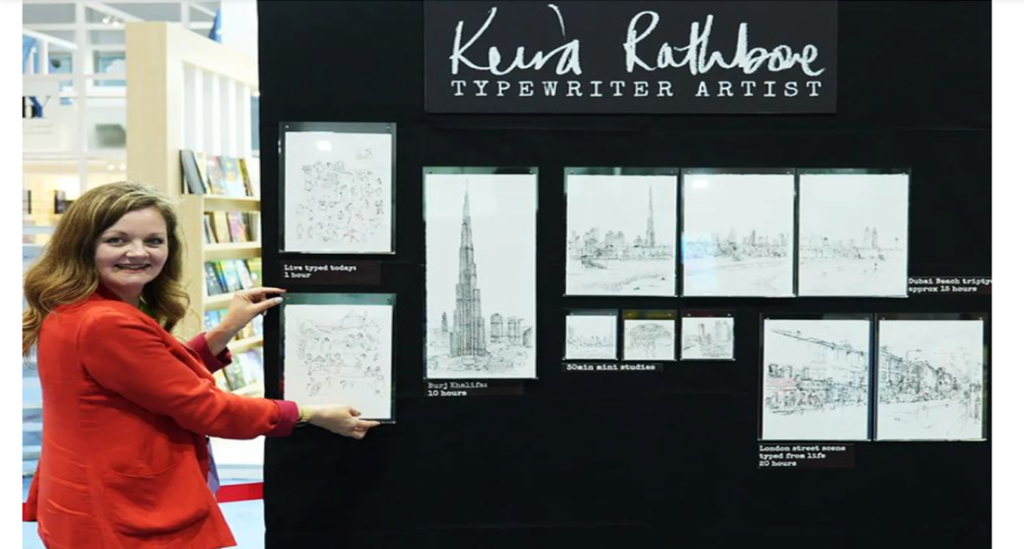 Extraordinary British artist, Keira Rathbone, bringing iconic sights to life using a manual typewriter in the Exhibition Centre doing a live art demonstrations and featured Burj Khalifa, Dubai skyline views, and Al Wasl Dome in Expo City.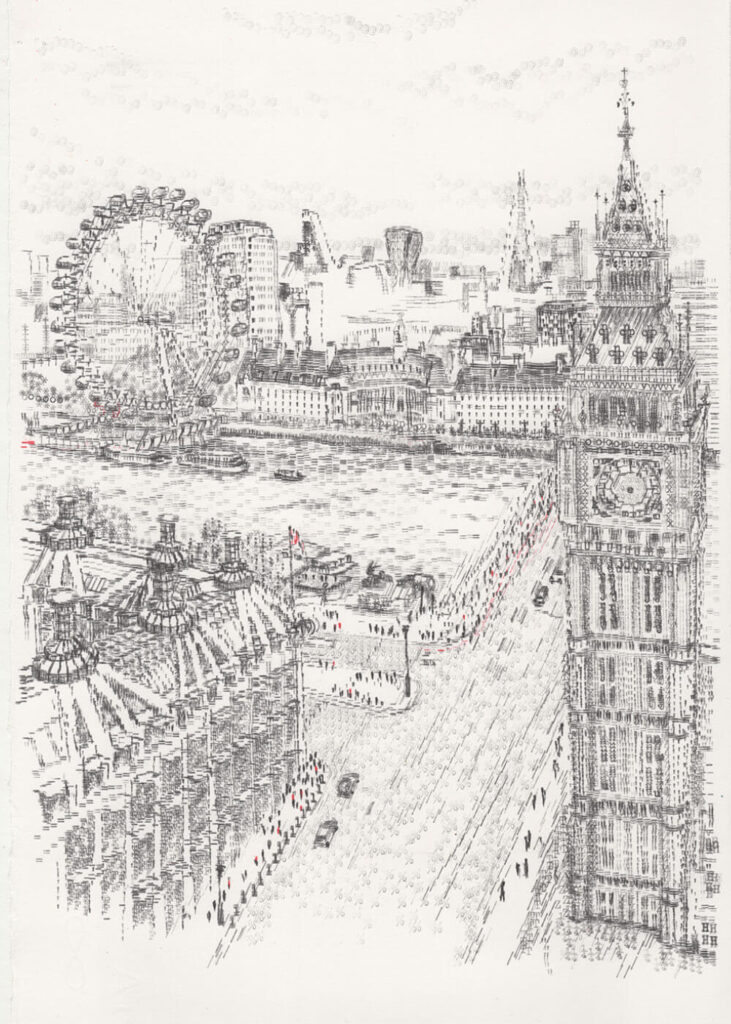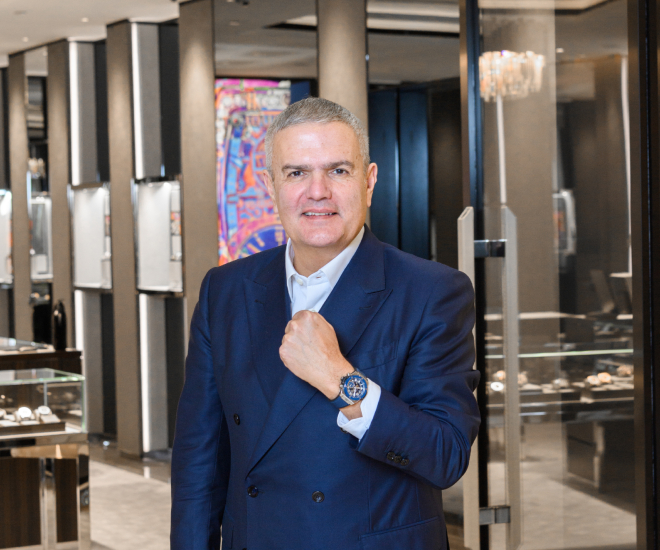 Swiss watch manufacturer HUBLOT is showcased its unique style at a five-day event, showcasing its "First, Different and Unique" approach to watchmaking.
We remain supportive of Dubai Watch Week as it brings the watchmaking industry closer to horology experts as well as to the public. This year, we aim to immerse visitors of our pavilion into the World of HUBLOT and get them better acquainted with our unmistakable identity: the Art of Fusion." – Ricardo Guadalupe, HUBLOT CEO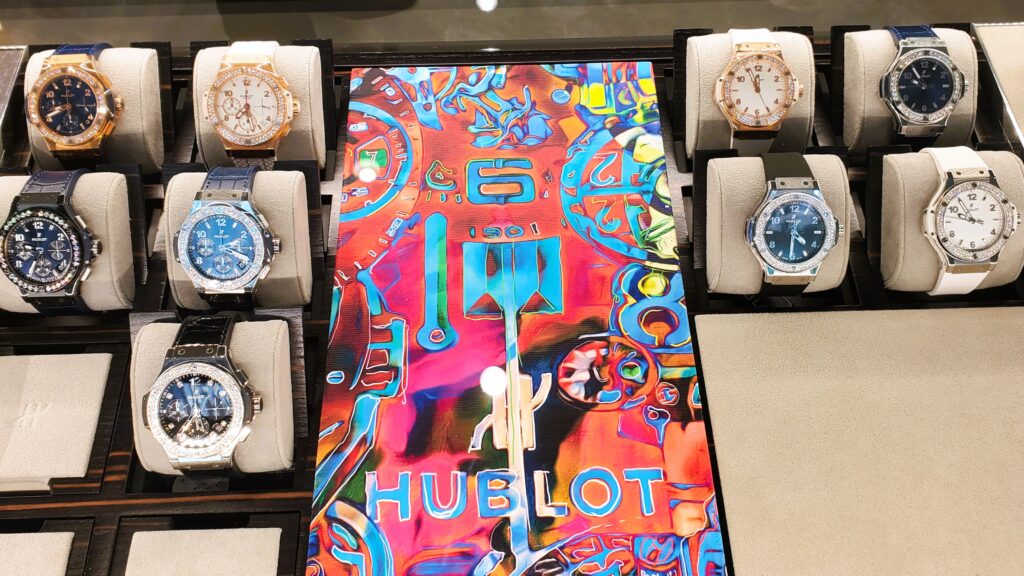 Swiss watchmaker HUBLOT launched daily activities and themed nights at its pavilion in Dubai. , showcasing its novelties and. The exhibition celebrated 40 years of HUBLOT, showcased limited edition timepieces for the first time in Dubai.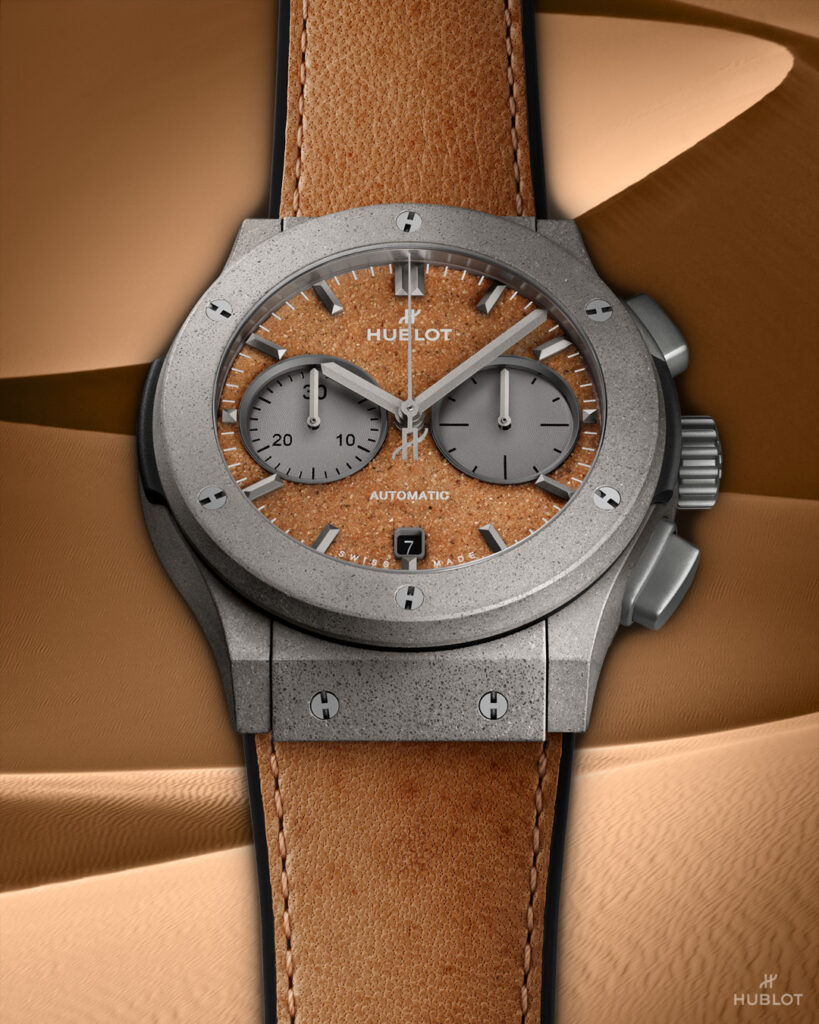 Hublot released the Classic Fusion Chronograph Concrete Sand, a limited edition timepiece to commemorate the 50th anniversary of the United Arab Emirates' founding.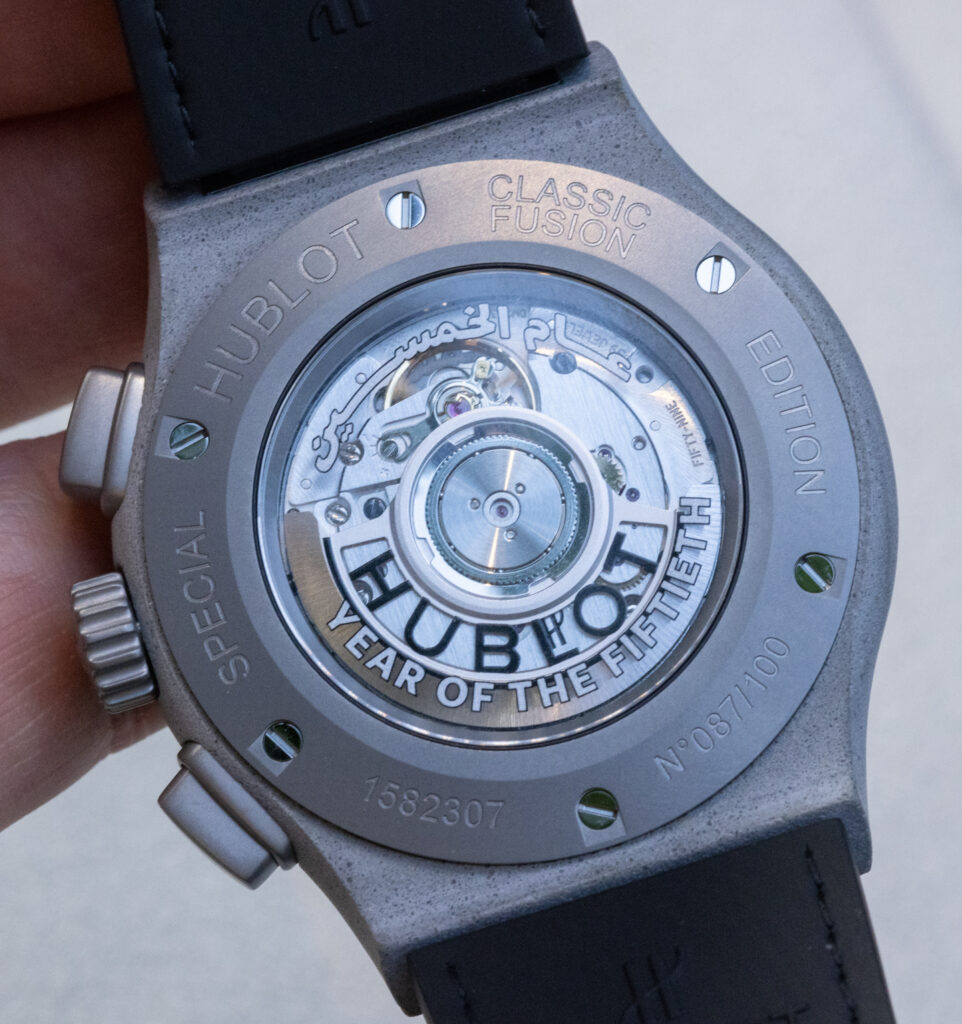 The 45mm watch, launched in collaboration with Ahmed Seddiqui & Sons, is a limited edition piece designed to bring historic materials from the UAE's history and culture to the wearer's wrist. The watch features a case sculpted from composite concrete, a dial incorporating desert sand, and a camel leather strap. The case and matching bezel are cut out of fine concrete, evoking the edges and structure of UAE cities.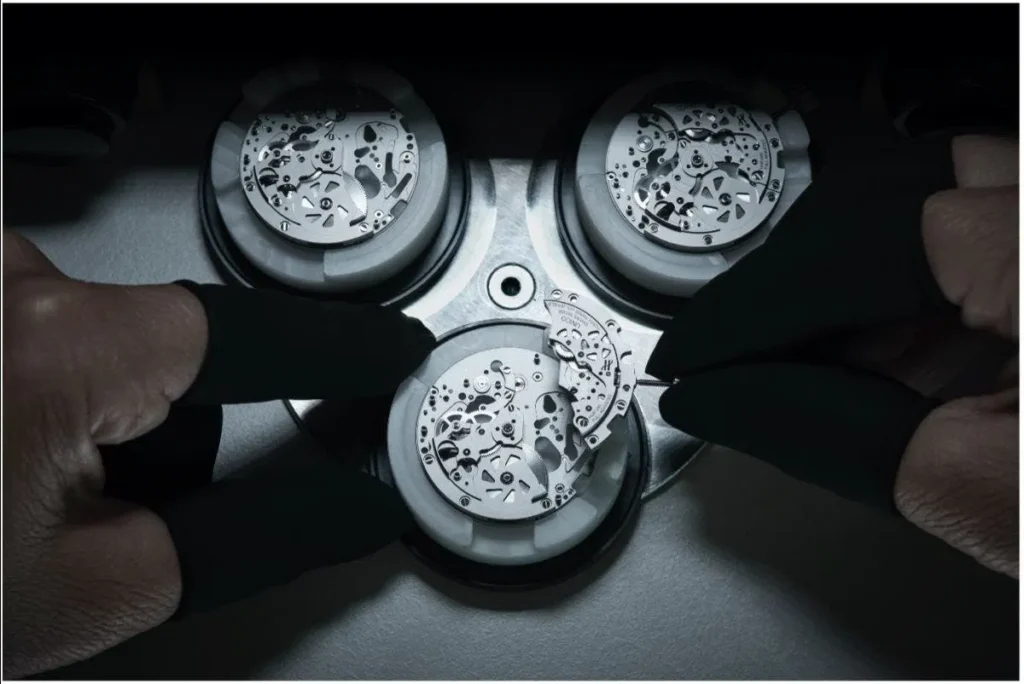 According to Ricardo Guadalupe, CEO, Hublot, "We are happy to celebrate the UAE's 50th anniversary with our partners Ahmed Seddiqui & Sons by launching this special edition which is a perfect representation of the nations's creativity and ingenuity. We are looking forward to seeing the watch on the wrists of Hublotistas and collectors in the Emirates."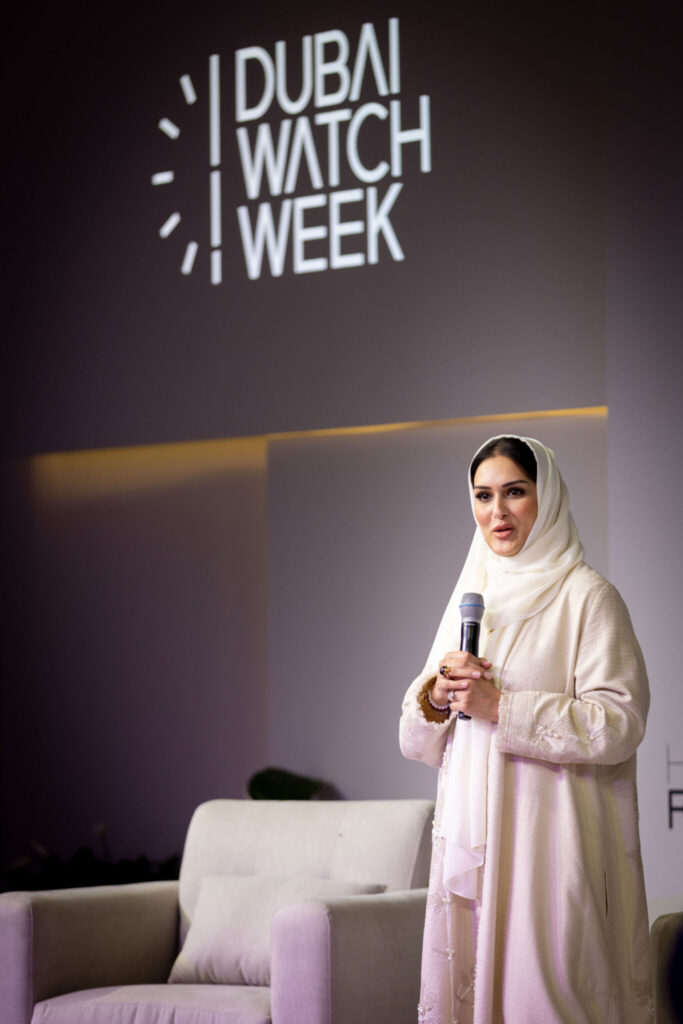 "This year, we have curated the program in order to attract the watch novice as well as the enthusiast, alike, as to introduce more people into the recherche world of horology," stated Hind Seddiqi, Director General of Dubai Watch Week. She added, "I hope attendees take away the best memories and establish new connections. We want them to interact and have simple yet genuine exchanges over workshops, panels, or even lunches in order to further strengthen ties between the industry."
A key cultural and lifestyle event on Dubai's calendar, Dubai Watch Week brings the culture and tradition of watchmaking to the Middle East in conjunction with long-term partners, Ahmed Seddiqi & Sons, the region's leading retailer of luxury watches and jewelery, who founded the event in 2015; Dubai Culture & Arts Authority; Dubai Festivals and Retail Establishment (DFRE); Christie's, the world's leading art business; and Dubai International Financial Centre (DIFC), the leading international financial hub for the Middle East, Africa, and South Asia.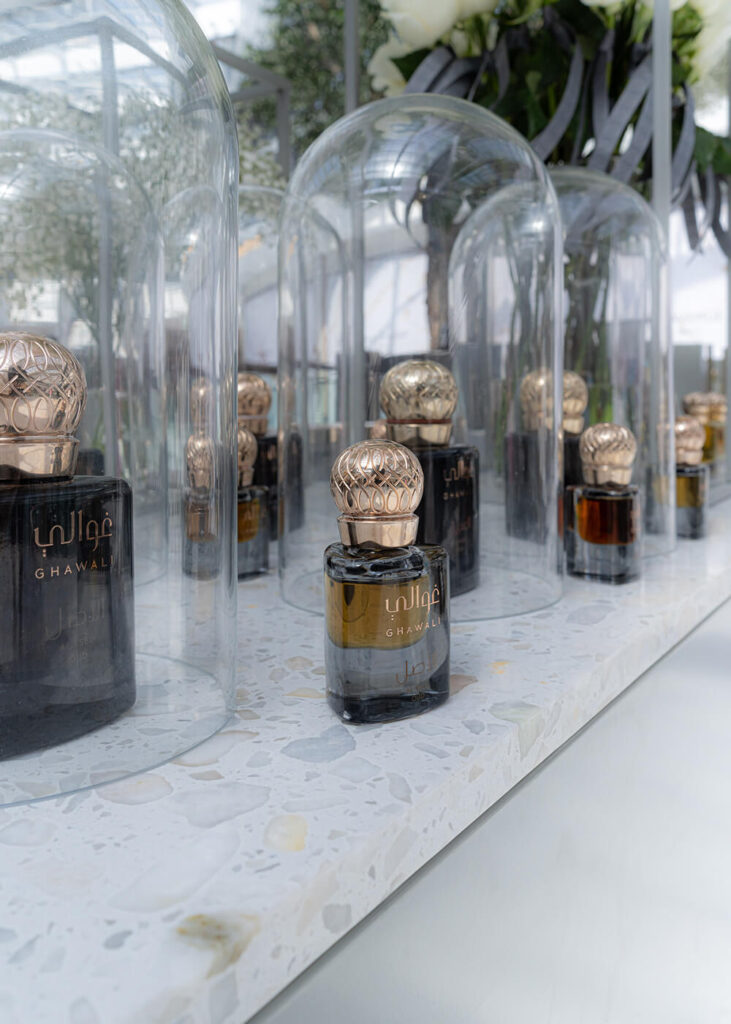 Ghawali, founded in 2016, aims to transform the oriental universe into a luxurious modern experience through personalized fragrances and a passion for community building. During Dubai Watch Week, collectors could indulge in a personalized fragrance stylist session at Ghawali's pop-up, where their stylists created a sensorial experience to capture your story. Ghawali featured a limited edition scent called Time Capsule t the Dubai Watch Week, capturing emotions, memories, and moments evoked by the scents of the golden culture and innovation drive.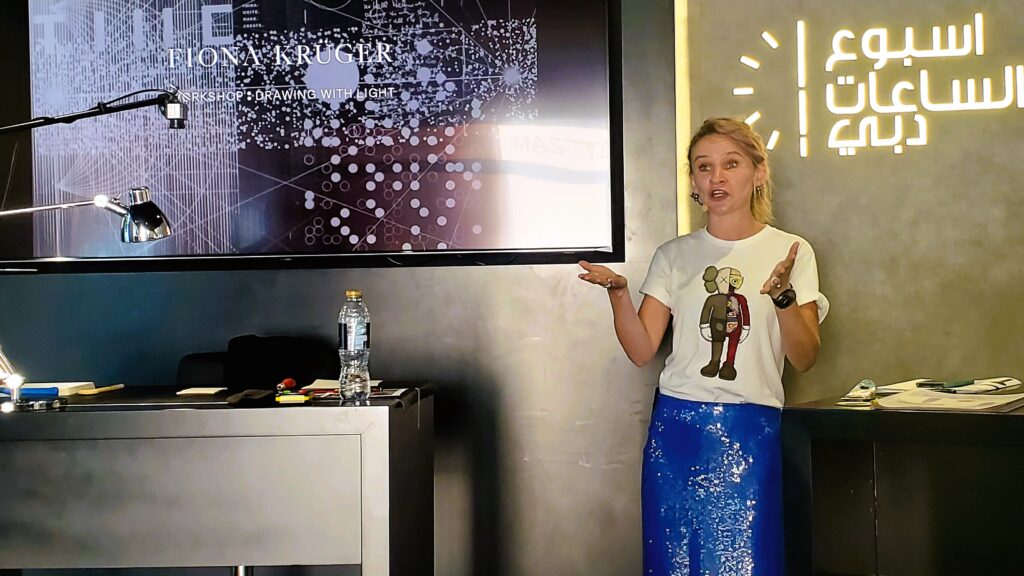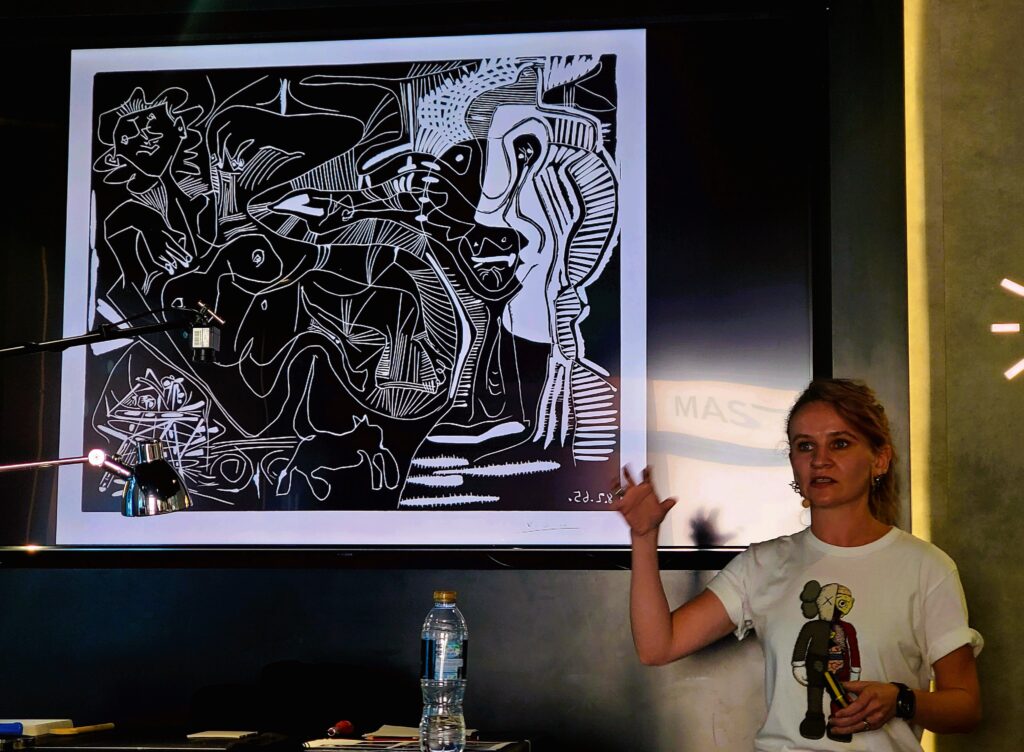 In the creative workshop – An introduction to the techniques used by Fiona Krüger, we got the chance to express our creative side and "draw with light" by making our own linocut print and discovered how to experiment with mark-making and pattern design using printmaking, and how this innovative approach can be applied to horological designs. What a wonderful therapeutic session.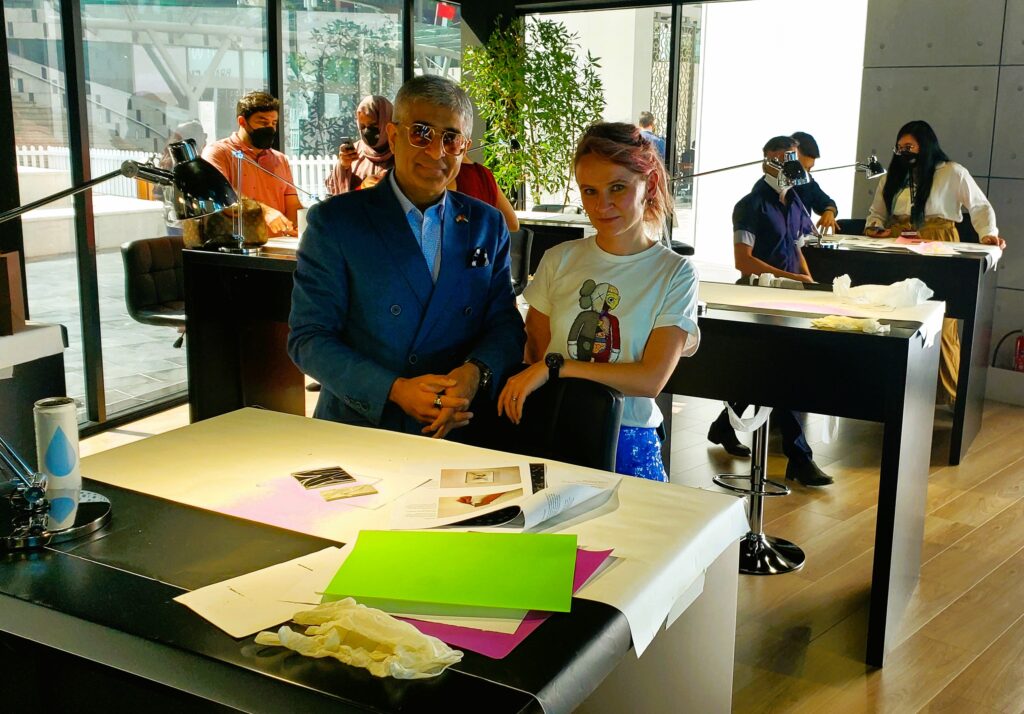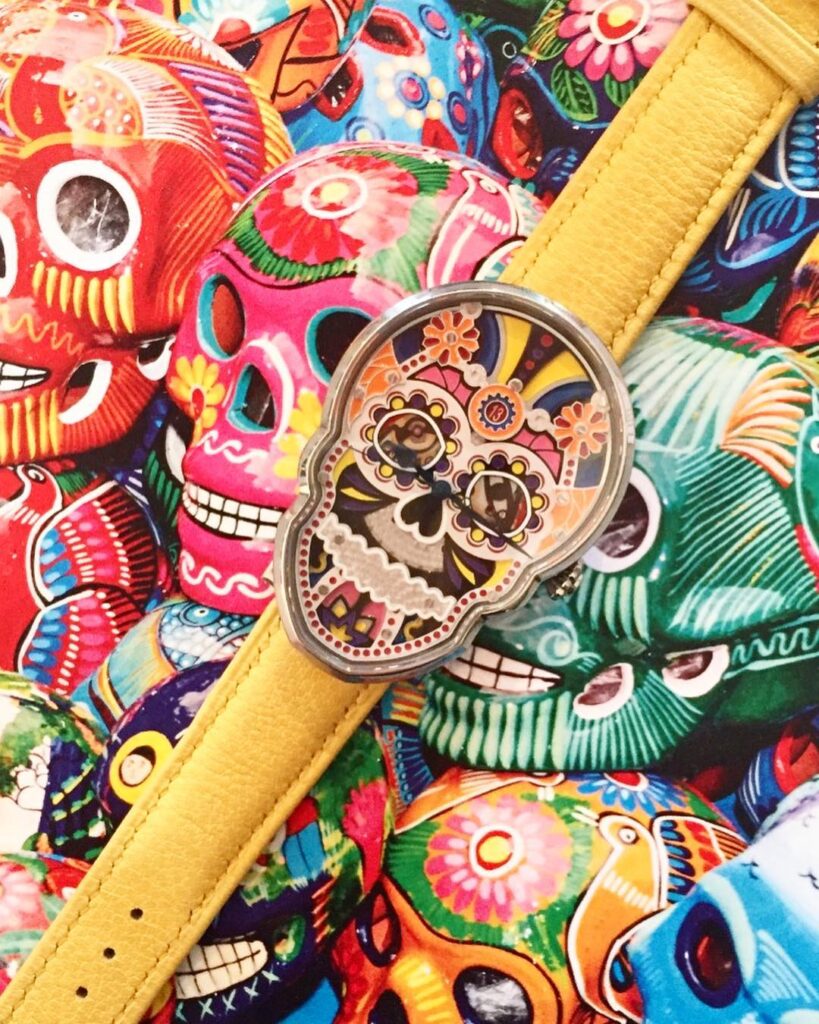 SKULL is Fiona Krüger's statement time piece, drawing inspiration from the 17th century SKULL watch of Mary Queen of Scots, the Mexican celebration of Dia de Los Muertos and beautifully decorated skeleton movements found in today's luxury watches.

In a partnership with TASAKI, FIONA KRÜGER created décalque motifs for her watches in order to draw attention to the play of light on her mother-of-pearl dials.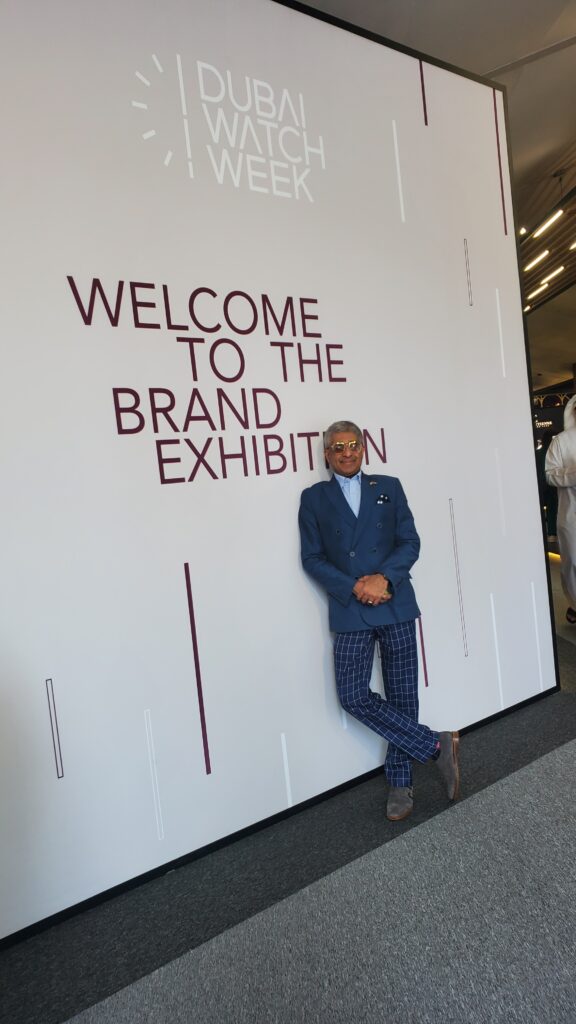 Let me say that there are a few reasons why Dubai Watch Week 2021 was considered the best watch fair in the world. Firstly, the event was very well organized and had a wide range of brands and products on display. Secondly, the location of the event – Dubai – is a major hub for luxury goods, and the city itself is a draw for many people. Thirdly, the event had a strong focus on education and knowledge sharing, with many masterclasses and panels held throughout the week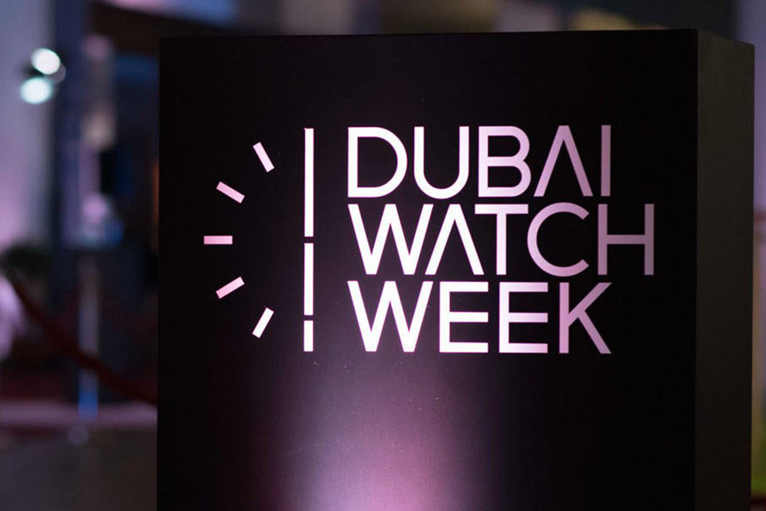 DWW 2023 returns this November 16 to 20, 2023.
This edition celebrates creative confluences at which the currents of luxury, entertainment, craftsmanship, technology, people and ideas collide.
A lifestyle event centered around horology, the 5 day affair brings the best of all worlds for those who simply want to have a good time. Access is free for all, and visitors can register for panel discussions and masterclasses via the website: www.dubaiwatchweek.com