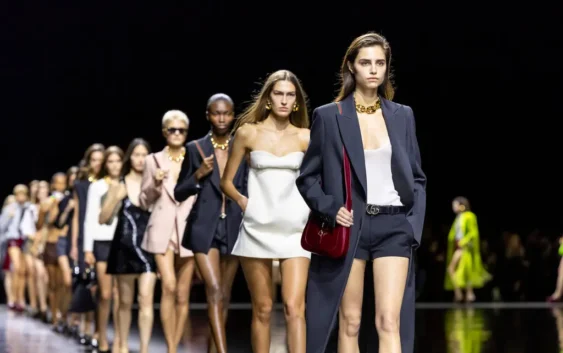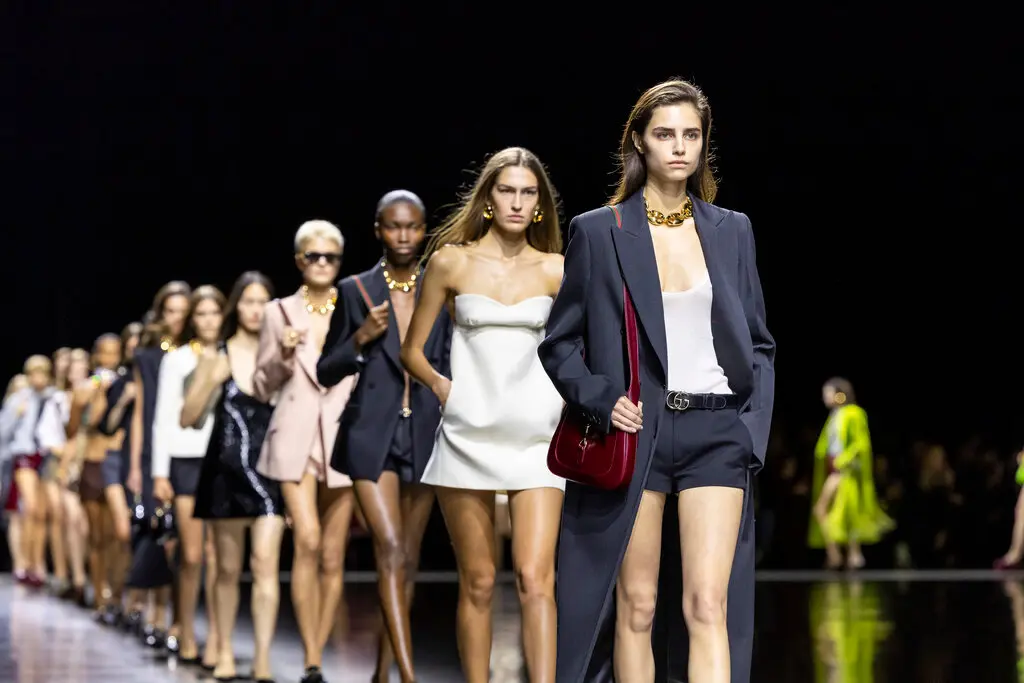 Sabato De Sarno set out to create the fundamentals of his design philosophy, emphasizing cut and proportion as well as repeating shapes for emphasis. "I started from the wardrobe, because I felt the urgency to put together the pieces that I like and that I don't find," said De Sarno.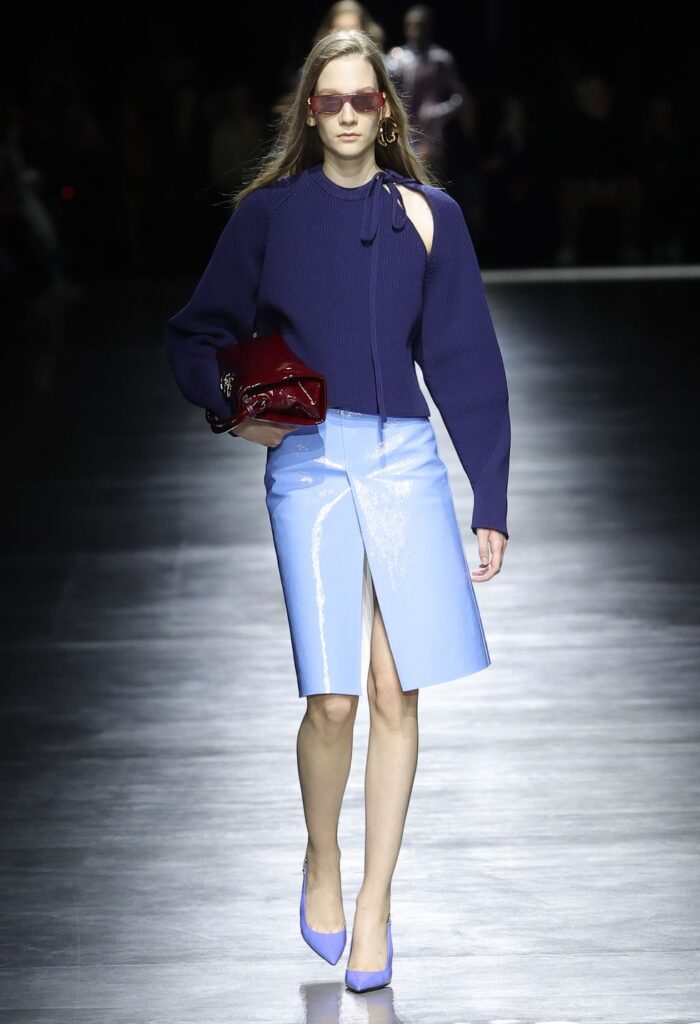 Sabato De Sarno debuted his first full spring 2024 collection for the Italian house. The title of  Sabato's debut collection is "Ancora," which means "again" in Latin. However, he clarified in an interview a few weeks before the event that he meant "again" not in the sense of repetition, as in "play it again, Sam," but rather as the "again, again, again" of desire: the sensation that you can never have enough of something you adore. In Italian, means still—as in still here.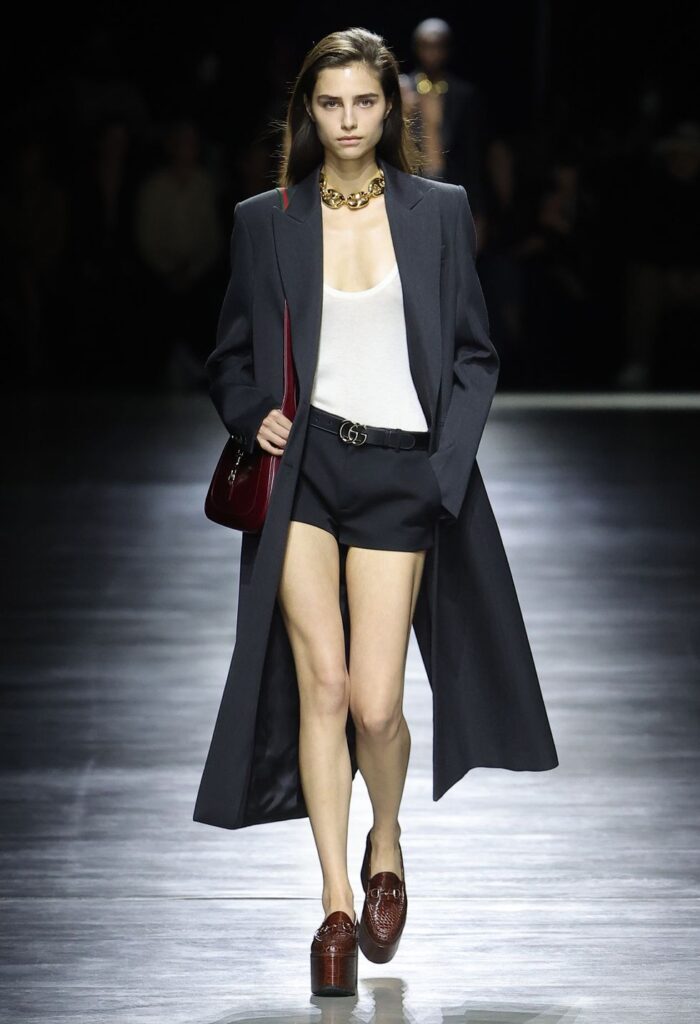 A structured floor-length overcoat, a white tee with a low cut, and tiny shorts were the first items in the collection. They were all connected by an interlaced "GG" belt. Every outfit complemented the one before it, with rope-tied shirts and monogram rompers coming after immobile beaded skirts. With dark red patent leather bottoms, tonal hoodies were debossed with the signature Gucci lettering.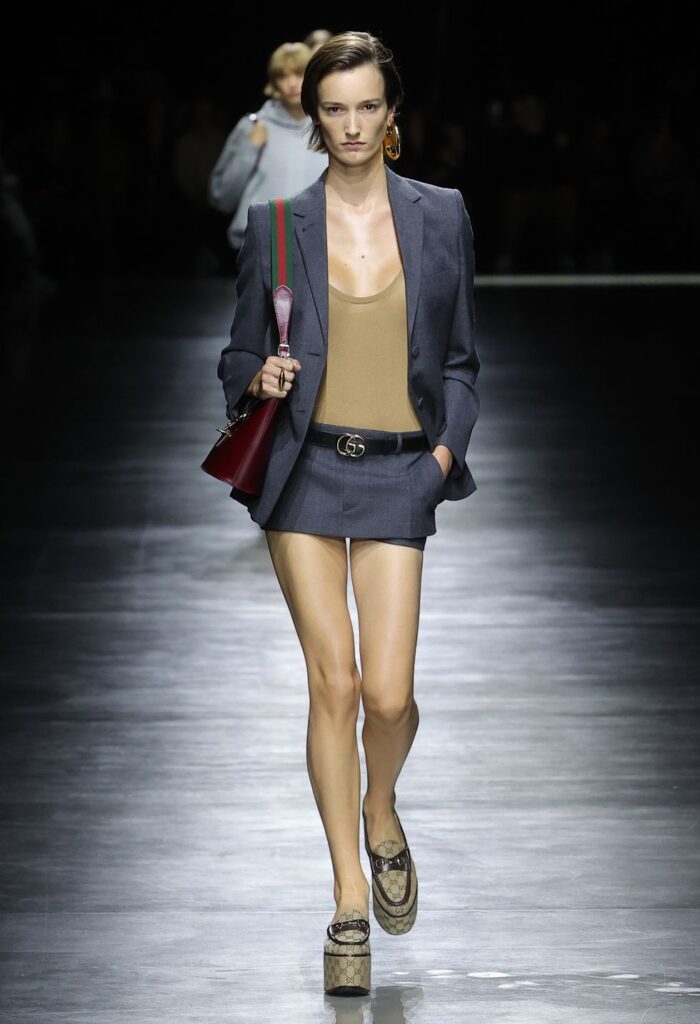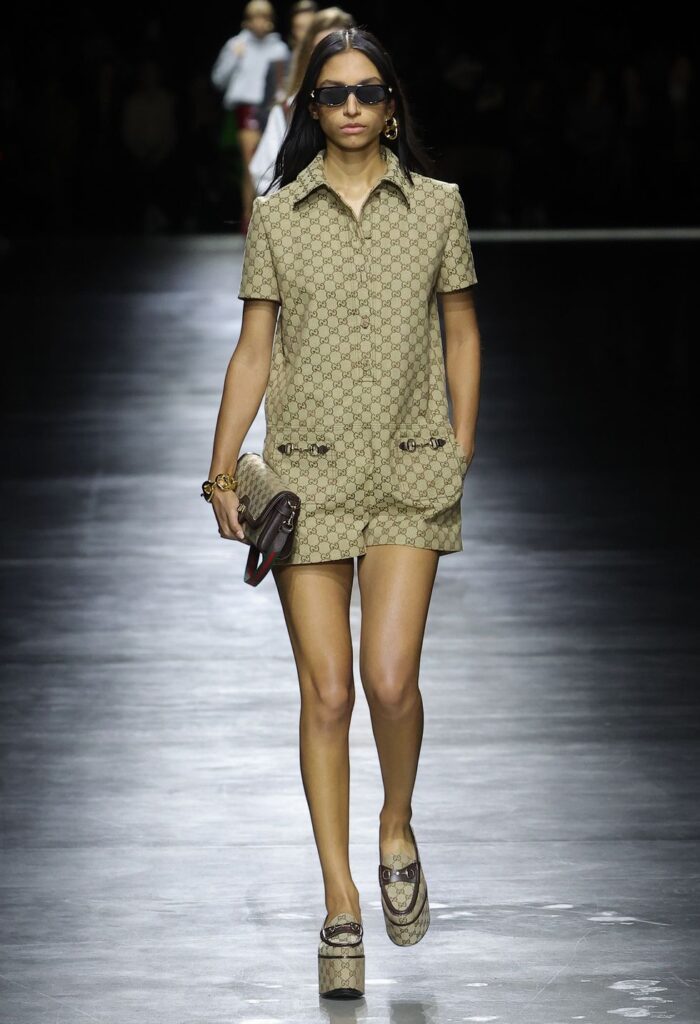 Beyond those small shorts, there were patent leather miniskirts with high slits, the shortest duchess satin party dresses with crystal gridwork embellishments, and lace-edged slip dresses that were barely longer than teddies. The entire aesthetic was quite leggy.
The majority of the time the lengths were only thigh high or slightly longer due to the addition of thick stacked loafers. The colour scheme was muted and consisted of beige, black, white, blues, that red, and a hint of neon green. Only the classic GG monogram, which was reintroduced on playsuits and a patent leather tiny A-line tank dress, was printed.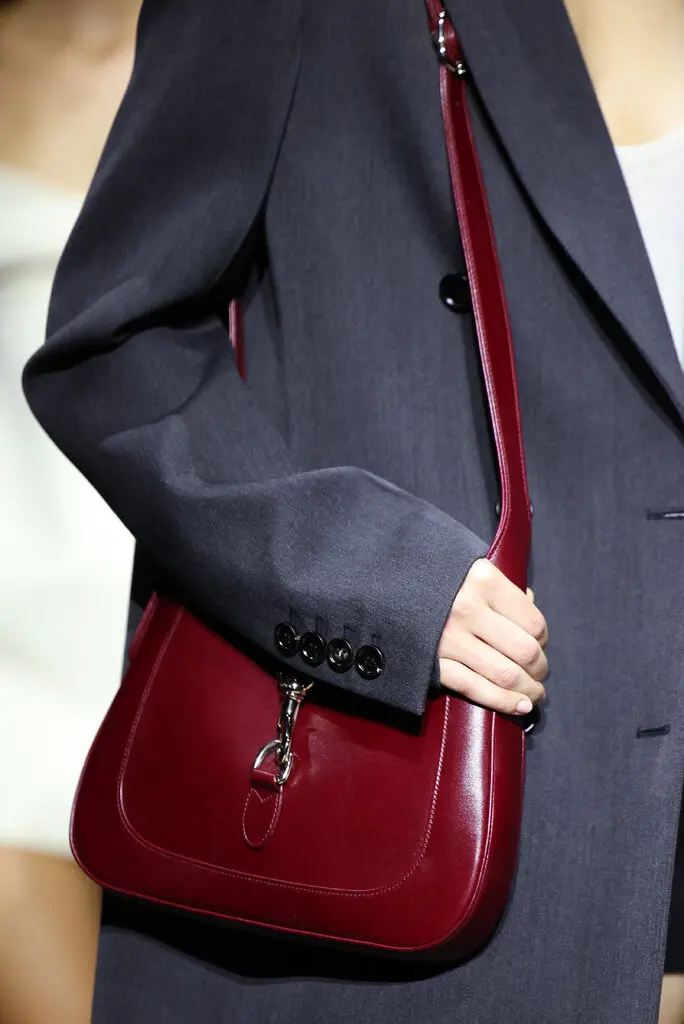 For the Jackie purse, De Sarno utilised softer leather, updated the clasp, attached a grosgrain ribbon to the strap and added a zipper charm that is lined in his brand-new deep red, Gucci Rosso. Given that the street was the ideal location for this collection, it is unfortunate that it rained.
"I want people to recognize Gucci because of the shape" De Sarno.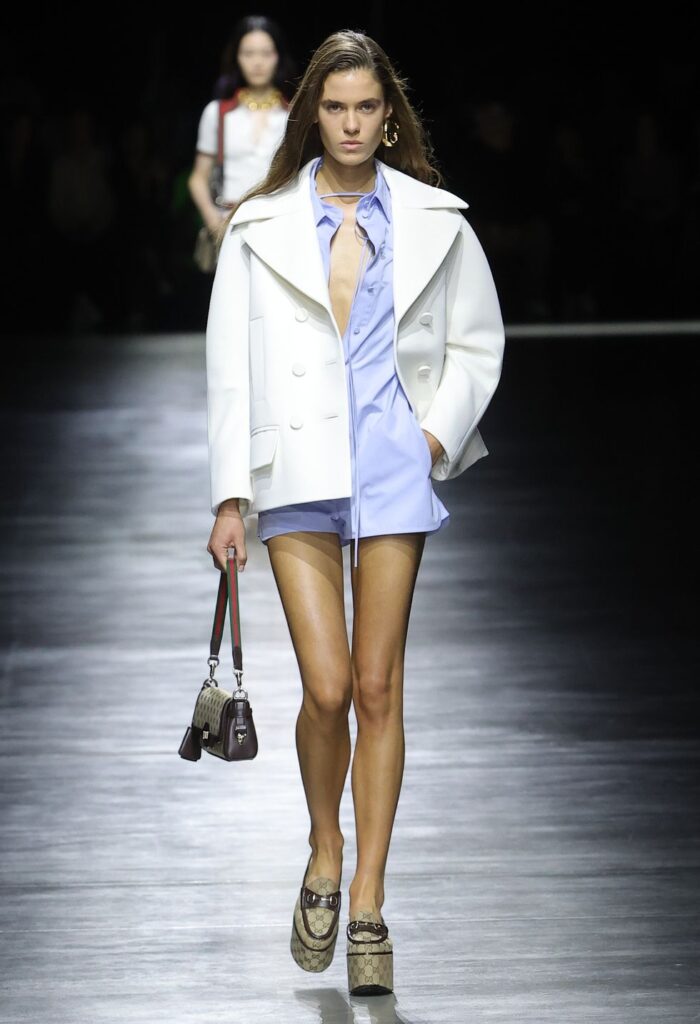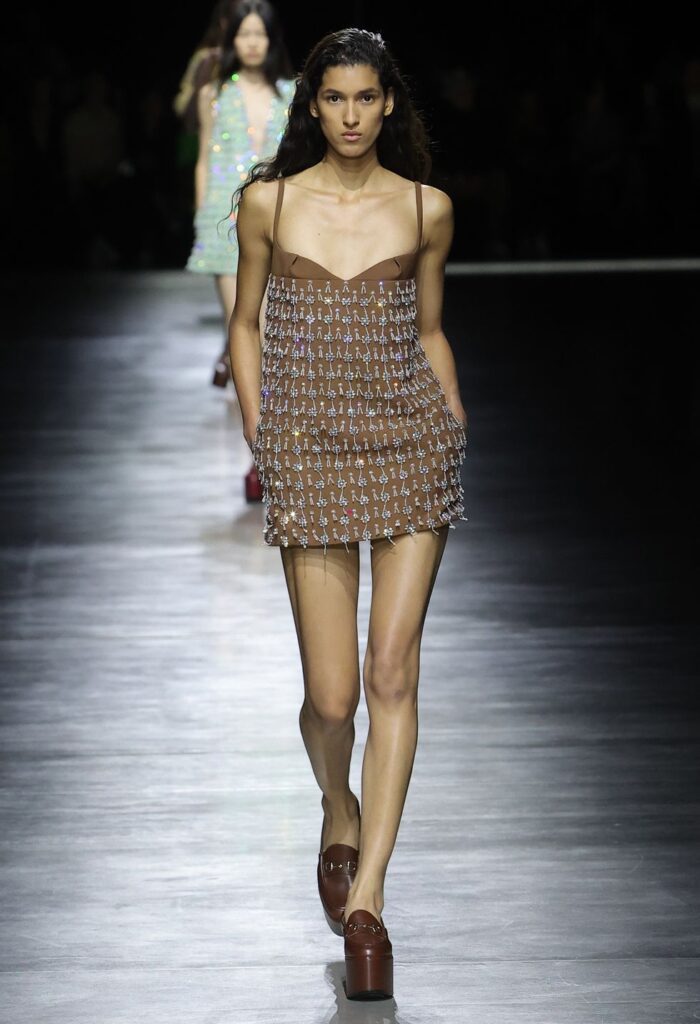 A fresh take on ultra-minimal suiting, featuring redesigned suit components, tiny white tees and tank tops, large platform loafers, white skirts with sharp darts, and—most importantly—blazers and shorts worn alone.
The collection featured a lot of luxurious fabrics, like silk, cashmere, and velvet. There were lots of solid colors, like rich jewel tones, but also some prints, like stripes and polka dots. The silhouettes were a mix of structured and fluid shapes, with both tailored looks and flowing, asymmetrical pieces. As for accessories, there were lots of statement handbags and shoes, as well as plenty of bold jewelry.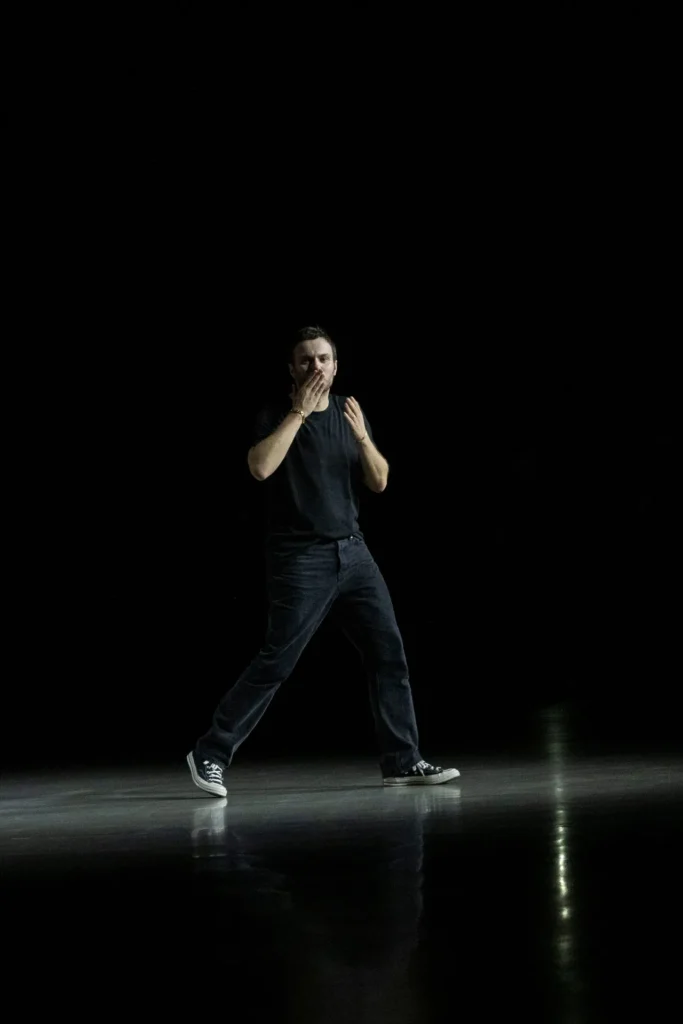 The choice to have the show in the Gucci headquarters, really emphasized the brand's connection to its roots. It was a clever way to celebrate the history and heritage of Gucci while still feeling modern and forward-thinking. This is something that Sabato De Sarno is really good at – balancing the traditional and the innovative.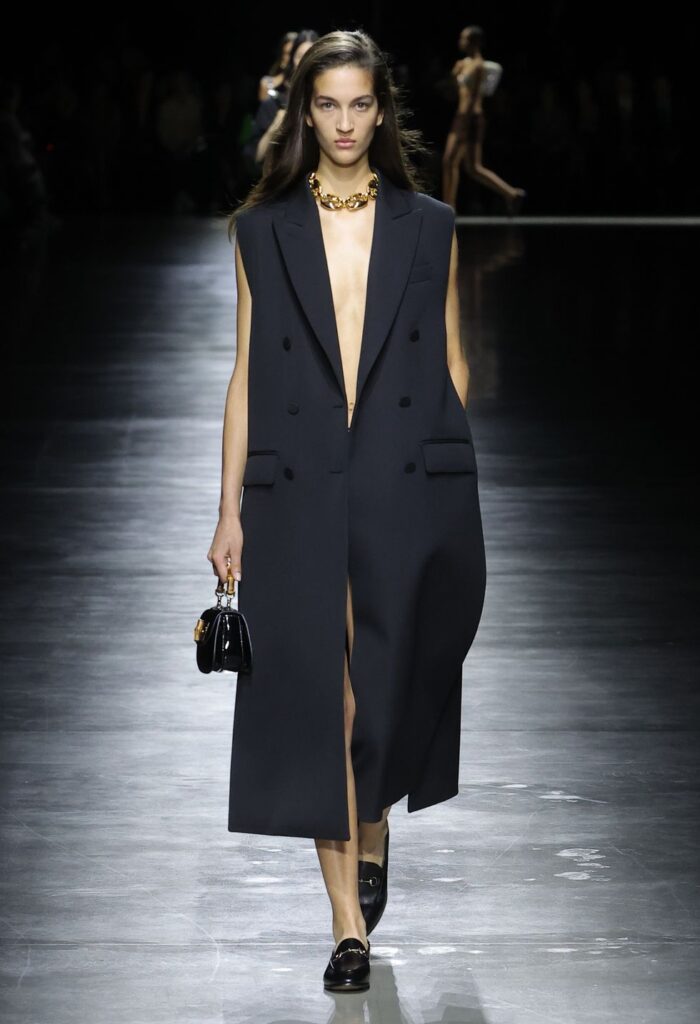 Mr. De Sarno presented a monochromatic ensemble of a dark wool overcoat, matching dark wool micro shorts, a white tank top, a GG belt, and a dab of legs on the side. The coat's vent was decorated with the iconic red-and-green Gucci webbing, and the Jackie bag was ancora red.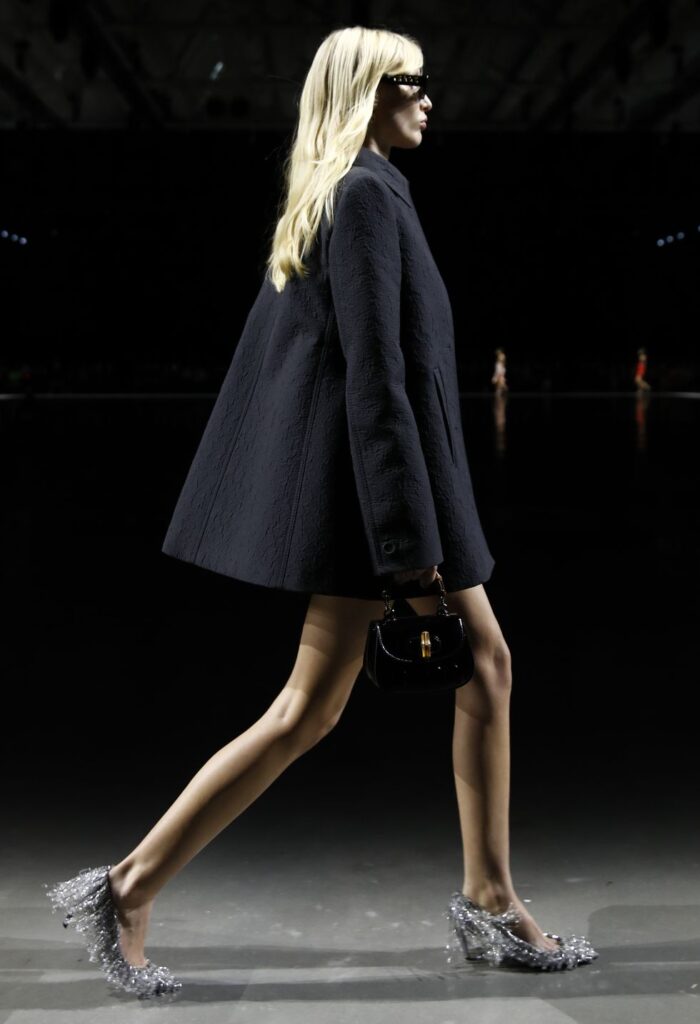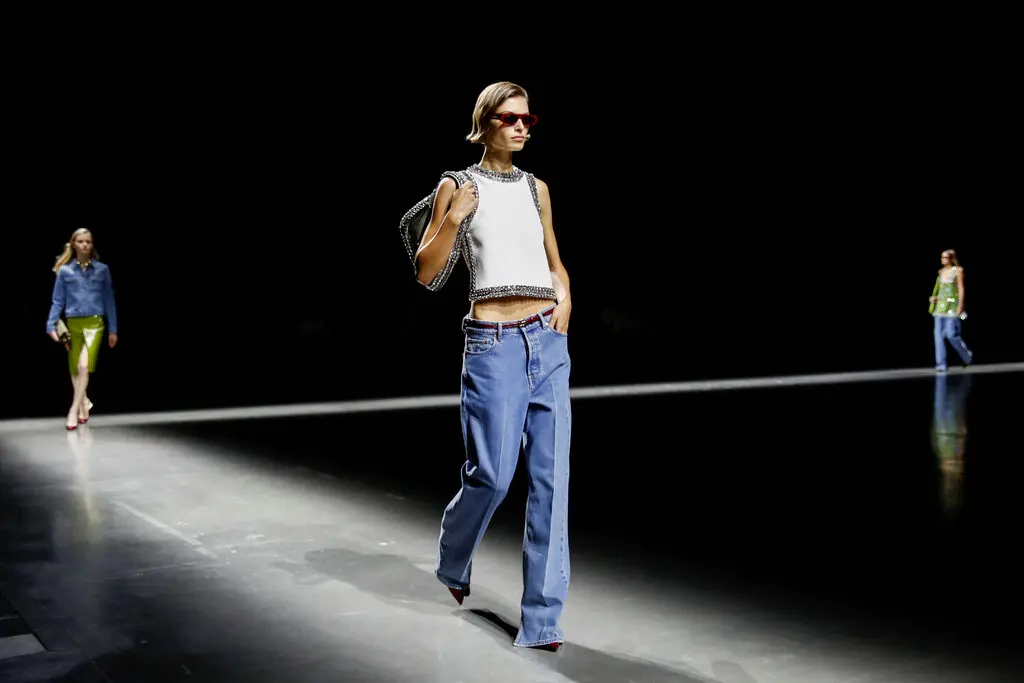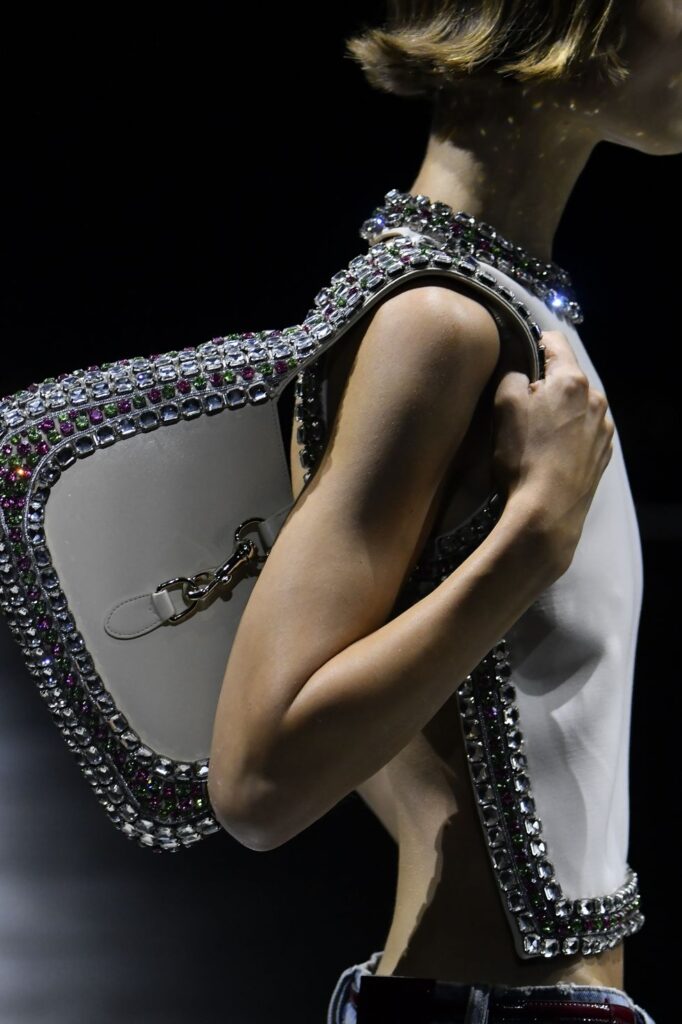 Instead of allowing the Jackie to swing alongside their chest in time with their step, the bags were worn flung over their shoulders with a solid hand on the sturdy strap. Many of the bags were covered in a crystal netting that made them look as though they were caught in a gorgeous, shimmering web, but they weren't treated with special care or cuddled like priceless objects. The way they were handled, though, was more akin to a lady on the move who is too busy to ever preserve a wonderful purse for a special occasion.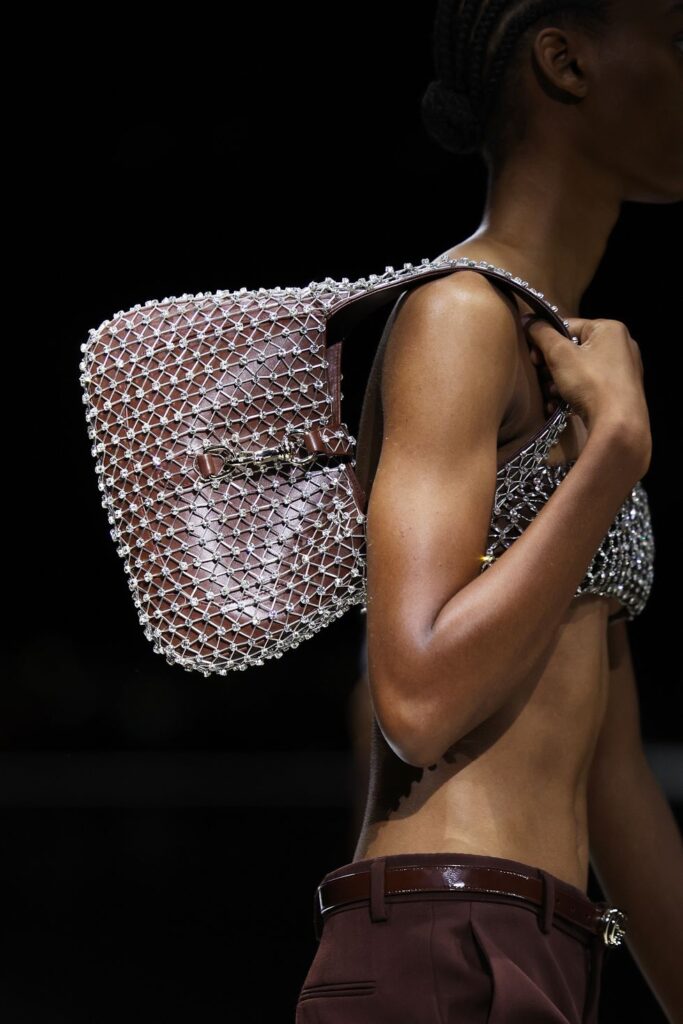 Each model carried a bag, and several of them also wore hefty gold jewelery and sunglasses occasionally. If this collection is any indication, accessories will continue be at the forefront of the business.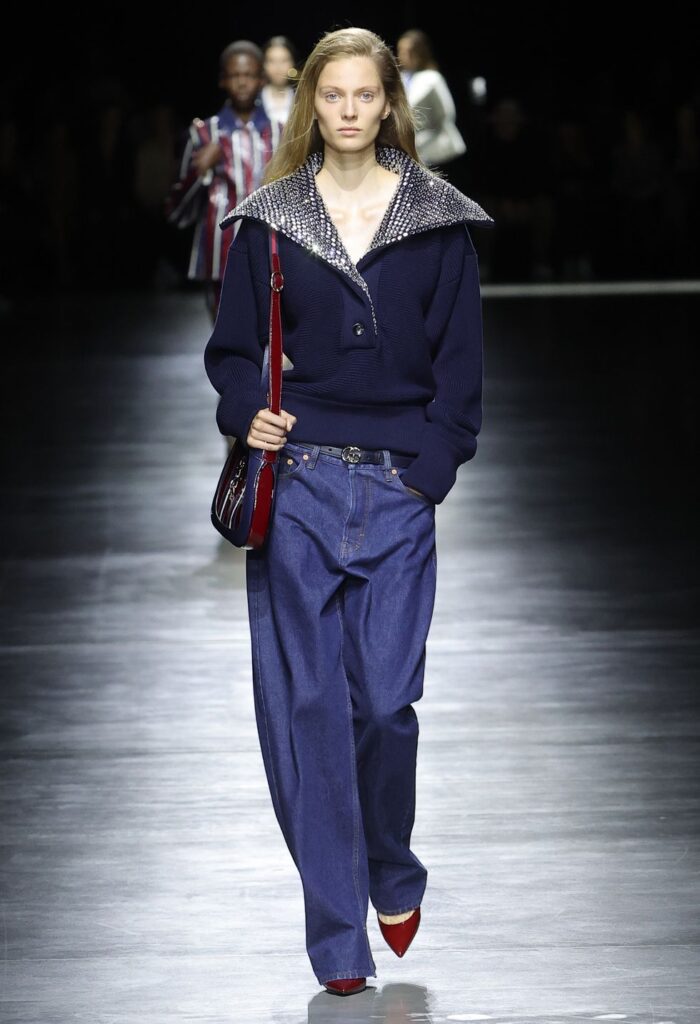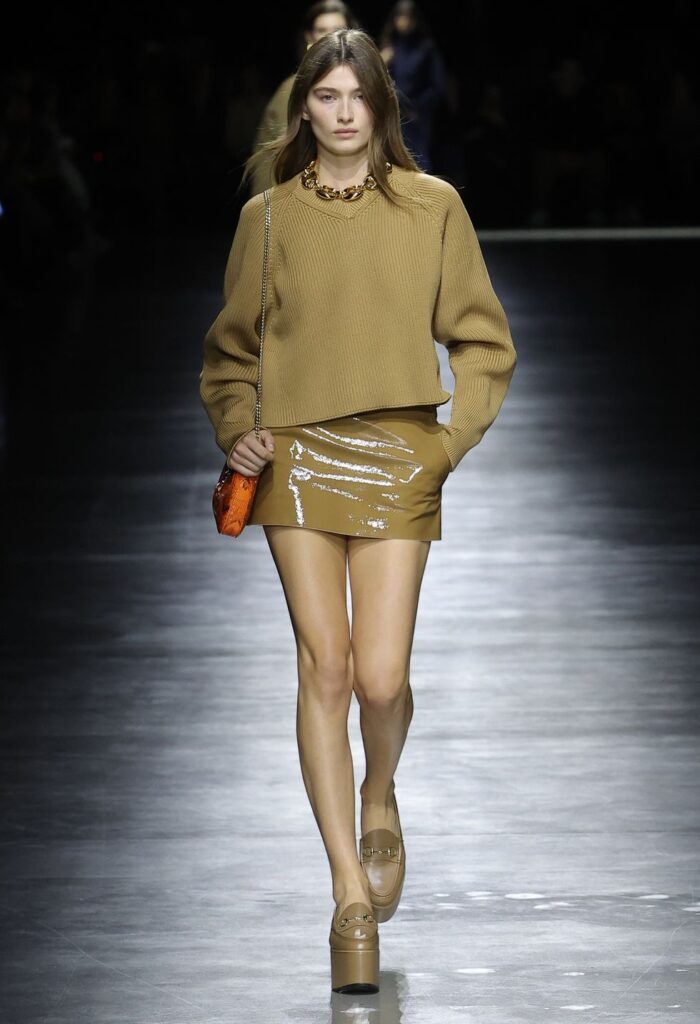 Kering on De Sarno "reinforcing the house's fashion authority while capitalizing on its rich heritage," the press release said during his appointment.
The style of the Gucci Spring 2024 collection, designed by Sabato De Sarno, was quite different from what we've seen from Gucci in the past. It was much more pared-down and minimalist, with a focus on clean lines and simple silhouettes. However, there were still plenty of Gucci signatures, like bold colors, playful patterns, and luxurious materials. De Sarno's vision was to create a collection that felt both modern and timeless, and he definitely succeeded in that. The overall vibe was sophisticated and polished, but still fun and youthful.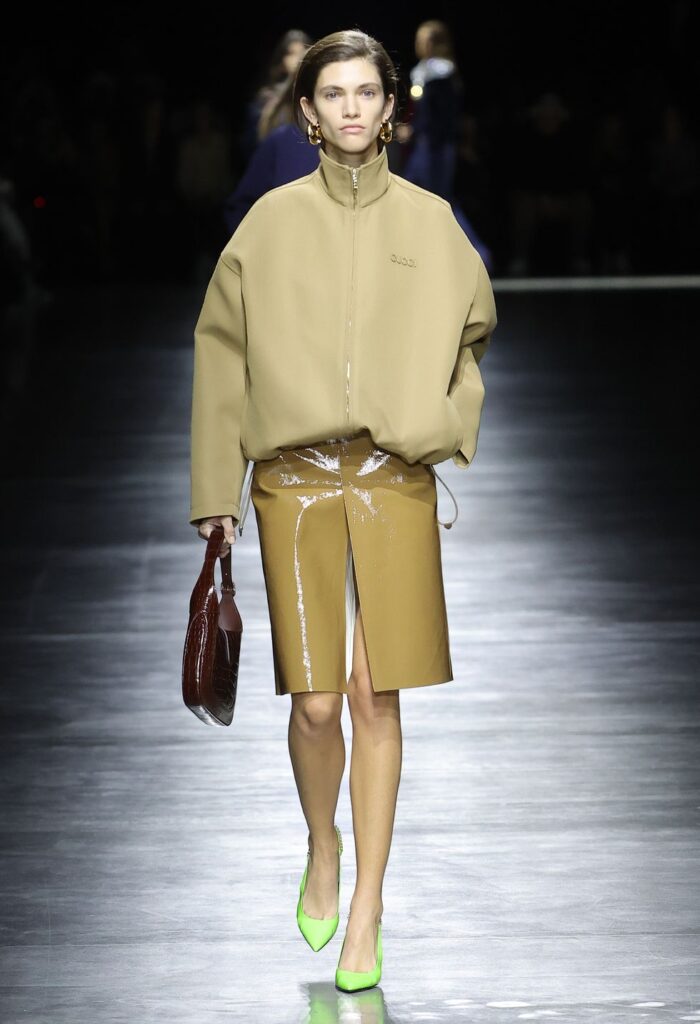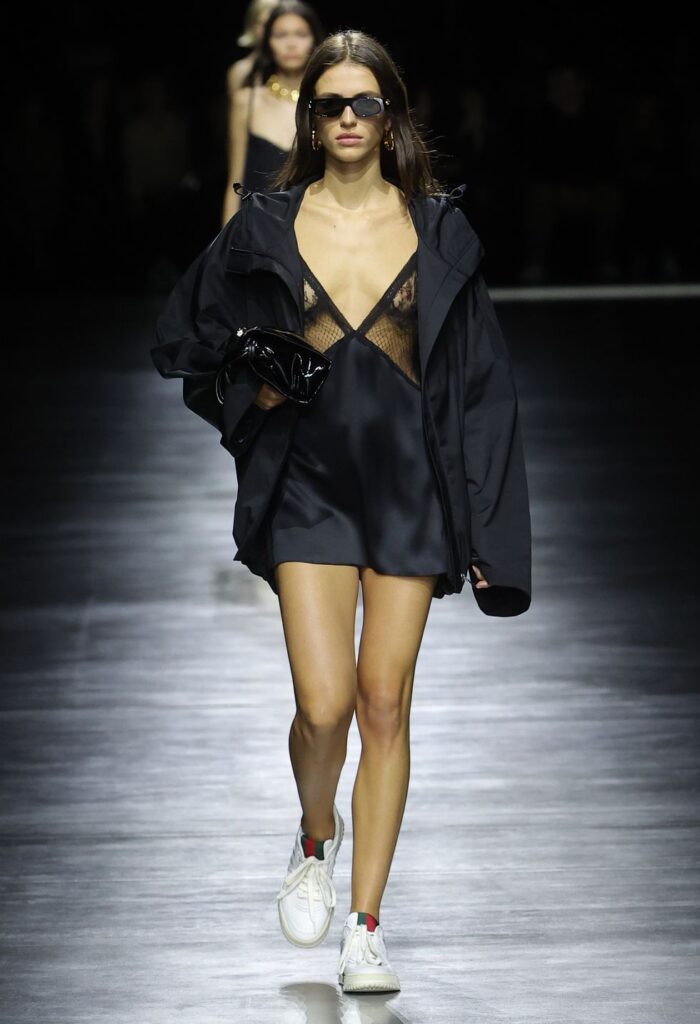 The collection was able to feel both traditional and avant-garde at the same time and this particular collection seemed to have really resonated with people who appreciate both classic luxury and cutting-edge fashion.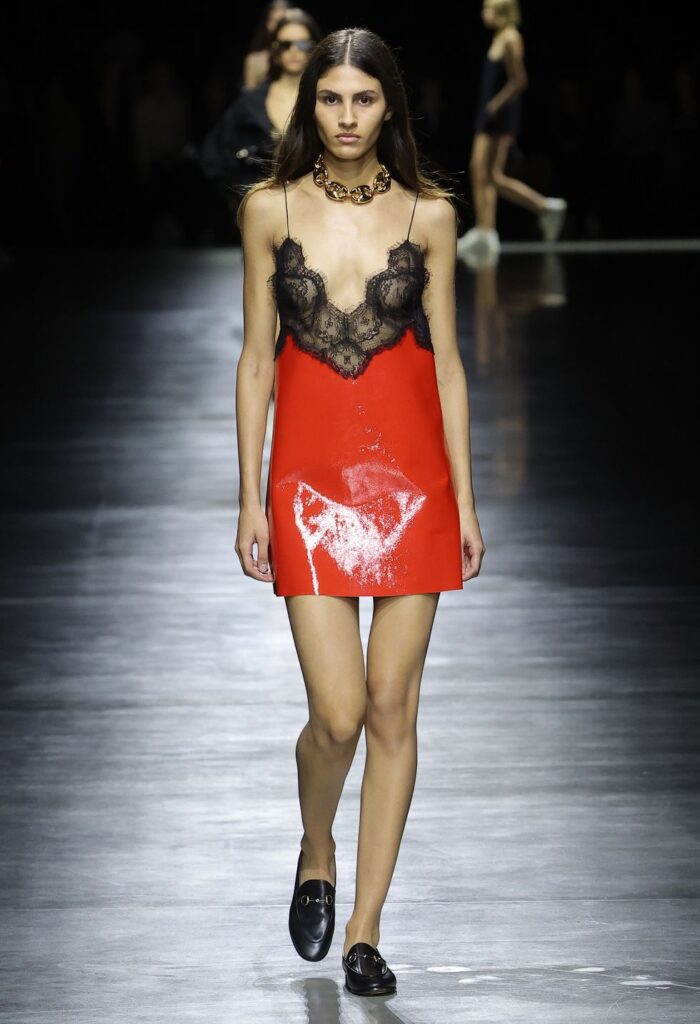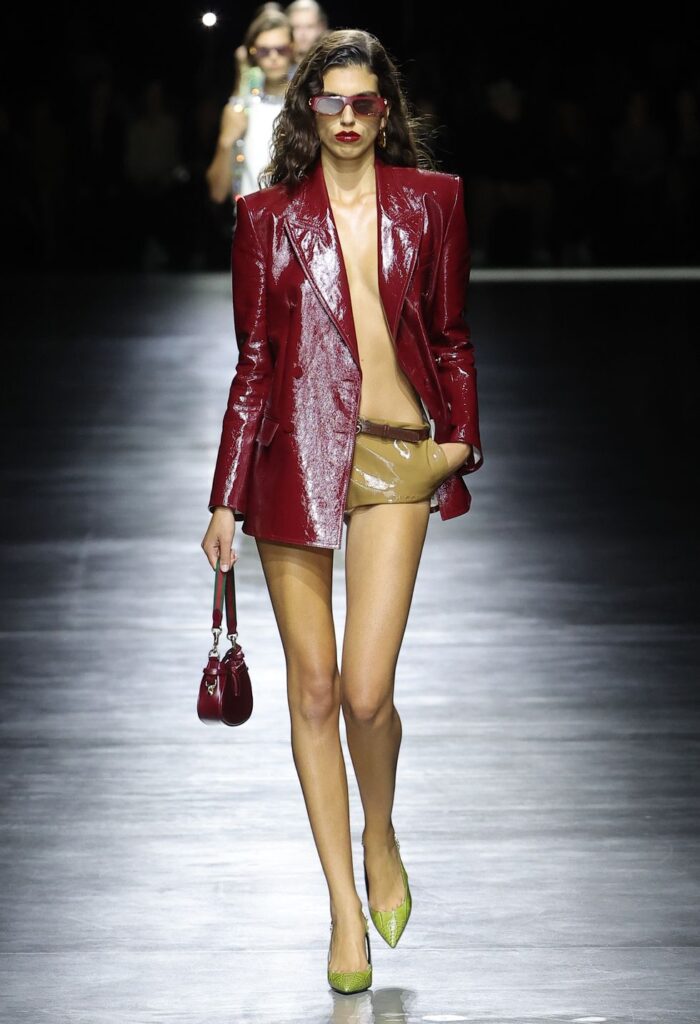 Julia Roberts, Jodie Comer, Ryan Gosling, Paul Mescal. Mark Ronson (produced the show soundtrack) attended with his wife Grace Gummer, Bad Bunny, Kendall Jenner were amongst the celebs who were present for the show.