GLOBAL DESIGNERS ENTHRALL DUBAI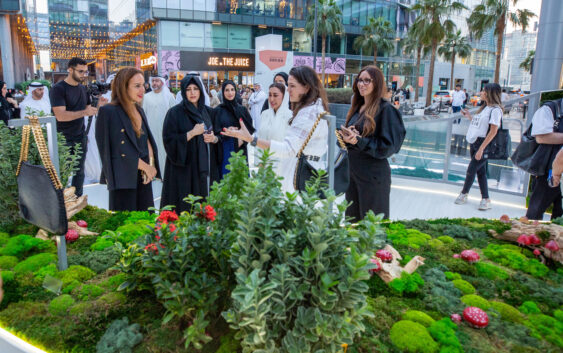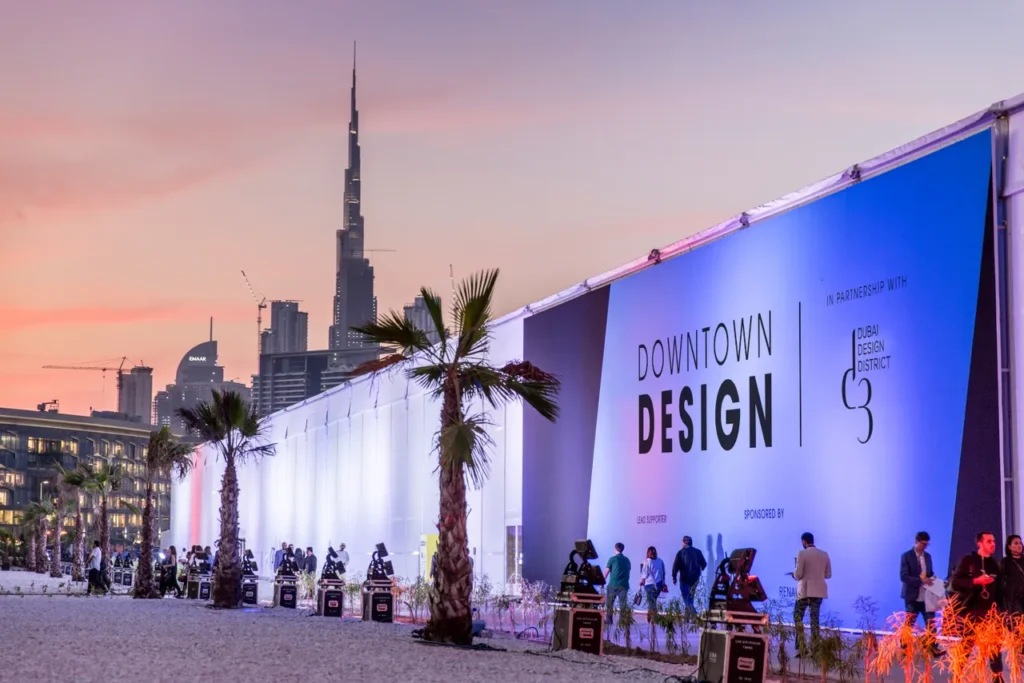 Dubai Design Week's eighth edition was curated in strategic partnership with Dubai Design District (D3) and supported by Dubai Culture, took place between November 8, 2022, and November 13, 2022, in D3, the regional hub for art, design, fashion, and architecture. It further strengthened Dubai's standing as a "Creative City of Design" in the United Nations Educational, Scientific, and Cultural Organization (UNESCO) and raises the profile of the city's creative industries.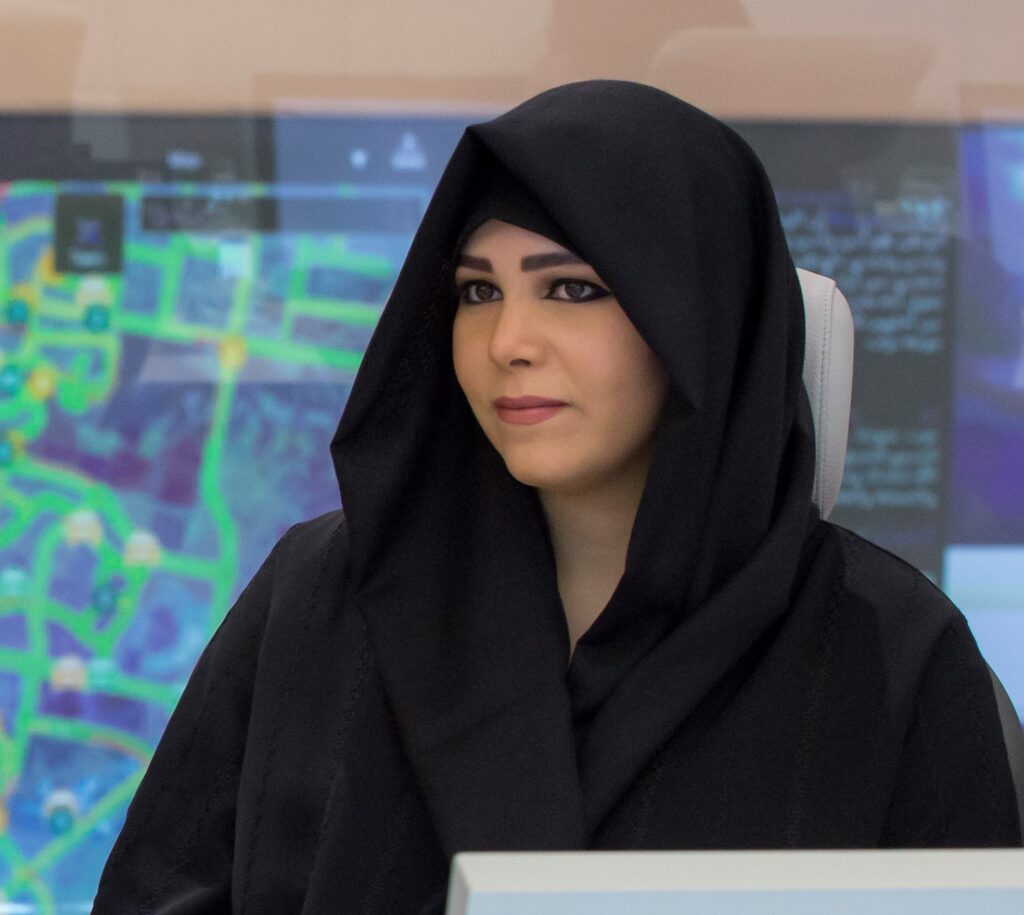 DUBAI DESIGN WEEK IS HELD UNDER THE PATRONAGE OF HER HIGHNESS SHEIKHA LATIFA BINT MOHAMMED BIN RASHID AL MAKTOUM, CHAIRPERSON OF DUBAI CULTURE & ARTS AUTHORITY (DUBAI CULTURE) AND MEMBER OF THE DUBAI COUNCIL.
Sheikha Latifa said: "One of Dubai Culture's key initiatives, the Design Festival has established itself as one of the most anticipated events on the regional cultural calendar. The event offers emerging artists from the UAE and the GCC a unique platform to showcase their work. All of this contributes to the advancement of the emirate's creative economy in line with the objectives of the Dubai Creative Economy Strategy launched by His Highness Sheikh Mohammed bin Rashid Al Maktoum, Vice-President and Prime Minister of the UAE and Ruler of Dubai, which aims to make Dubai the global capital of the creative economy by 2025."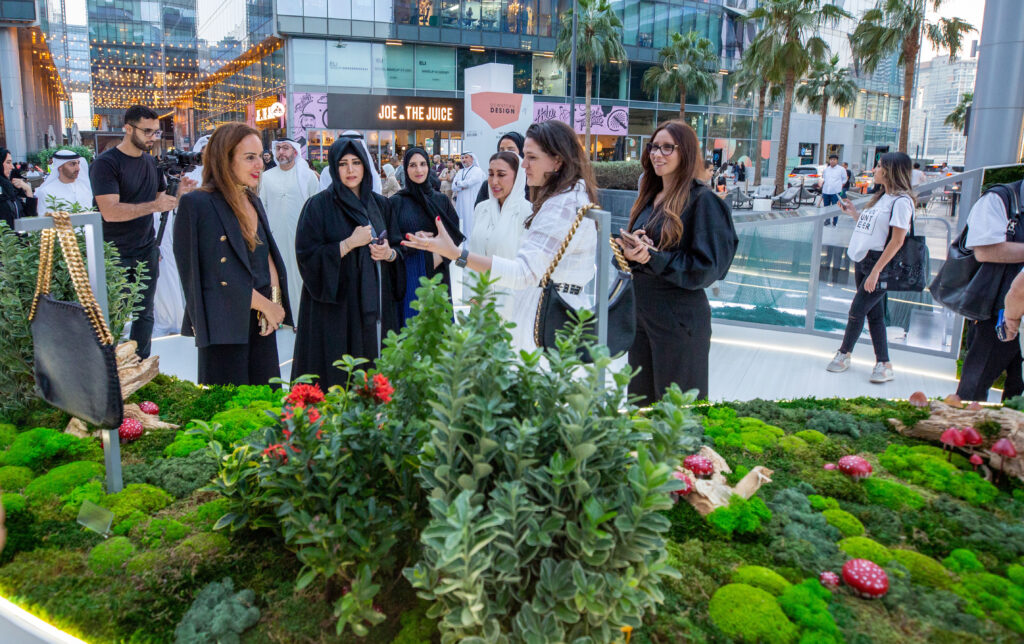 Her Highness Sheikha Latifa bint Mohammed bin Rashid Al Maktoum, Chairperson of Dubai Culture & Arts Authority and Member of the Dubai Council, said: "Dubai Design Week provides a dynamic platform for the region's design industry to advance innovation and explore new opportunities for growth. Over the years, the event has spurred Dubai's development into a global hub for creativity and talent in the sector. This year's edition, which brings together the international design industry's leading talent, architecture firms, and designers, explores design innovations that can have a positive impact on the future of the planet. By showcasing designs for a sustainable future, the event will foster meaningful conversations on how design can accelerate efforts to protect the environment. Dubai Design Week will also help raise the ability of creative industries to be at the forefront of global efforts to advance sustainability and human wellbeing."
The week-long festival showcasing established and emerging designers, focused on design for a sustainable future under the theme of 'Design with Impact'. The event featured talks, workshops, exhibitions, pop-up events, and installations across the city. Dubai Design Week showcased over 200 international brands from 30+ countries, featuring immersive installations and elevated F&B experiences, making it the Middle East's leading design fair.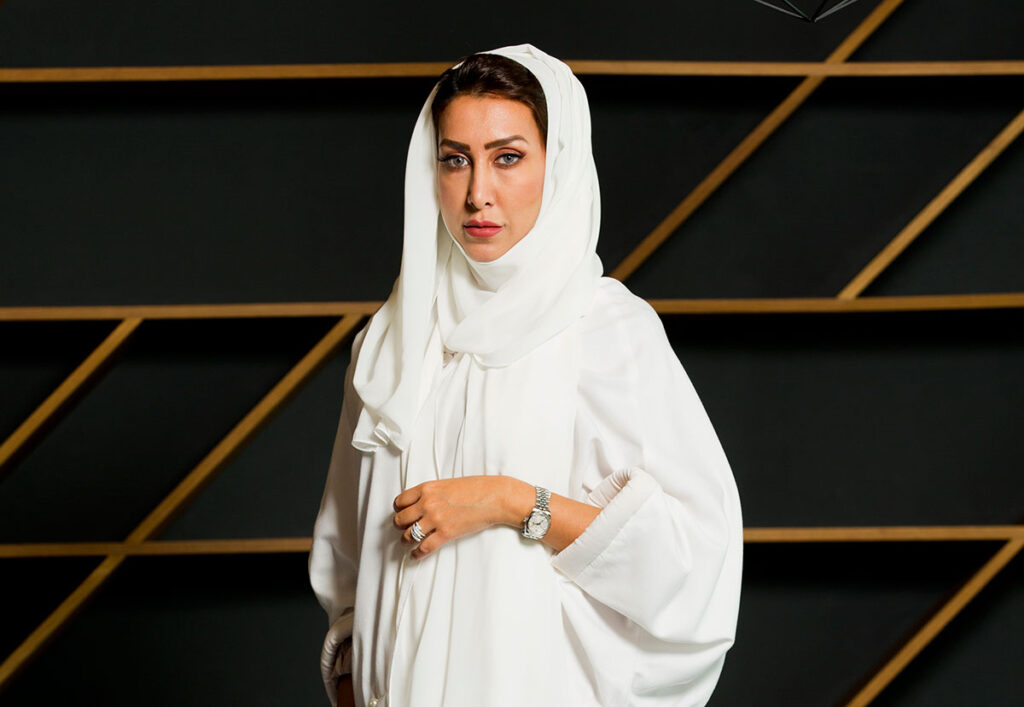 Commenting on the event, Khadija Al Bastaki, Vice President of Dubai Design District (d3), which is part of TECOM Group PJSC, said: "Our leadership's vision to cement an enabling and competitive business environment has attracted some of the world's leading players to Dubai, including in the design and creative industries. TECOM Group's business districts, which include Dubai Design District, have been at the forefront of efforts to deliver on this vision for the past two decades by providing a world-class ecosystem that has attracted more than 100,000 best-in-class talent over the years."
Khadija Al Bastaki, Vice President of Dubai Design District, a member of TECOM Group PJSC, said: "We are excited to kick-off the eighth edition of Dubai Design Week here at Dubai Design District. TECOM Group, of which we are a part here at d3, is deeply committed to supporting the growth and evolution of the creative industries in Dubai. Platforms such as Dubai Design Week have a significant role to play in catalysing the creative community's growth. In our strategic partnership with Dubai Design Week, we are always looking for exceptional talent that rethinks the regular. We encourage the public to explore the installations, exhibitions, activations, workshops, talks, artisan market and the event's unique creative vibe, as well as gain a deeper understanding of how Dubai is reinforcing its status as a UNESCO Creative City of Design."
Al Bastaki added: "At Dubai Design District we have been proud and honoured to play our part in strengthening the creative economy in Dubai, which was identified early on as key in promoting GDP growth for the future of our country. Through empowering hundreds of creative professionals by providing a creative ecosystem like no other housing global corporations, growing SMEs, disruptive start-ups and visionary entrepreneurs in a shared address, and presenting platforms like Dubai Design Week and Arab Fashion Week, we have been a catalyst for the growth of the creative community, cementing Dubai's position as a major regional and global player in the creative sector."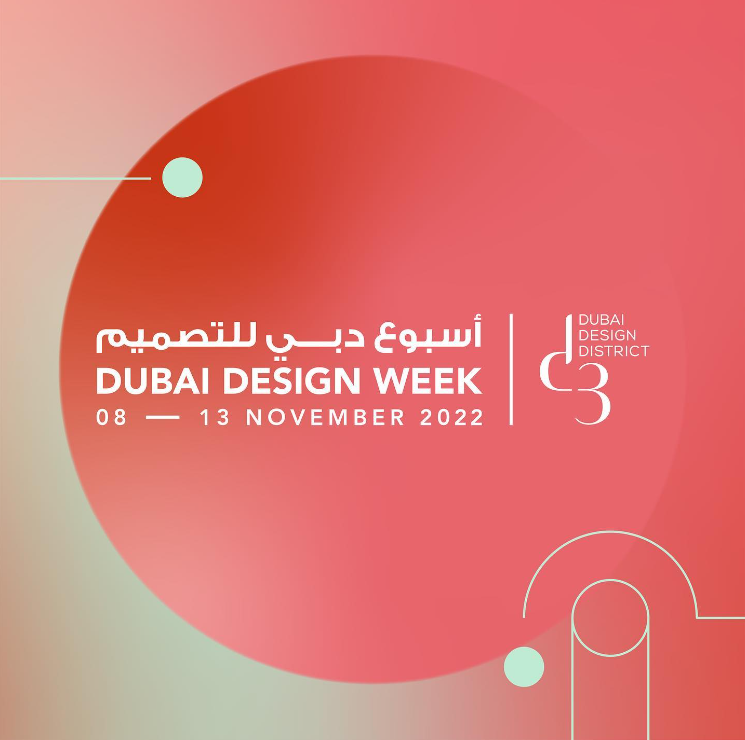 Dubai Design Week and Downtown Design events saw a 56% and 50% increase in attendance respectively, highlighting the growth and prosperity of the design and creative industries in the emirate. The 8th edition of Dubai Design Week attracted tens of thousands of design lovers, while the 9th edition of Downtown Design attracted leading professionals and buyers, reinforced Dubai's status as a UNESCO Creative City of Design.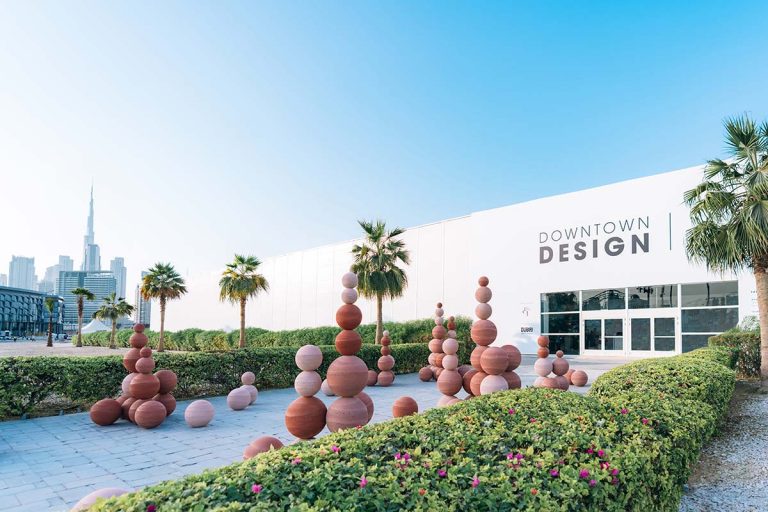 Dubai Design Week featured Downtown Design, a design fair for international designers and brands to explore creative and commercial projects in the Middle East, Asia, and Africa, along with the MENA graduate show showcasing student work.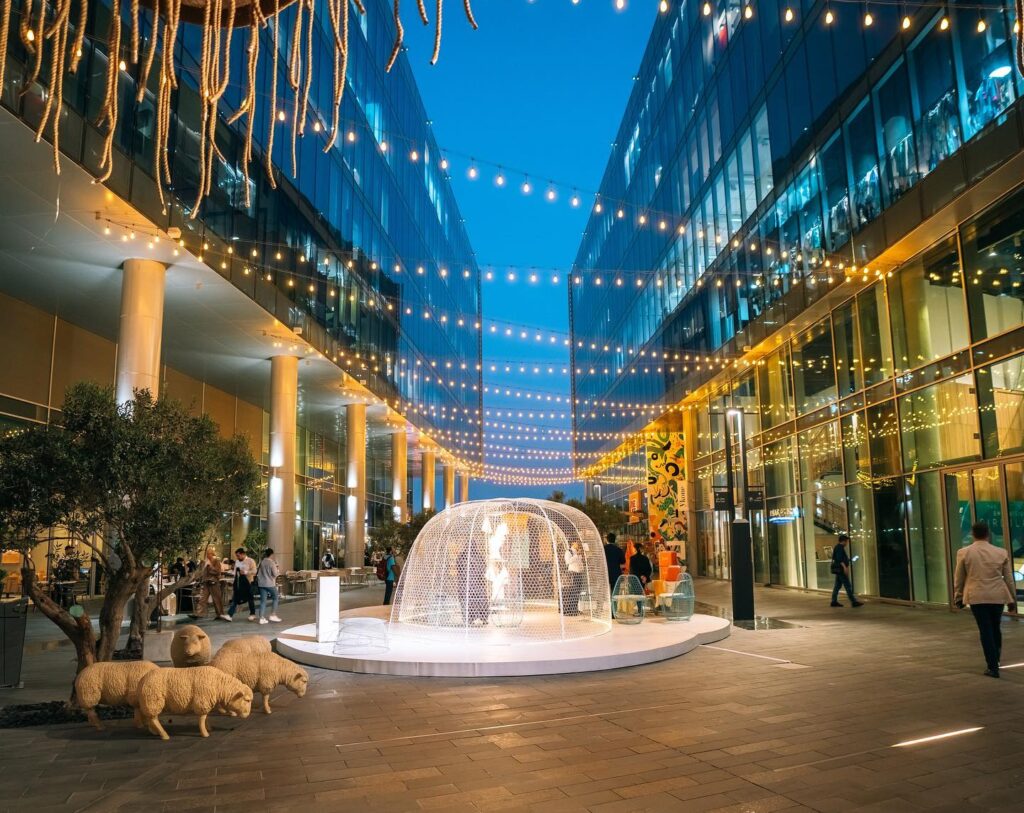 The event showcased architecture, products, furniture, and interior design, inviting international artists, local communities showcased their ingenuity and limited edition creations too, while the Global Grad Show showcased innovative university works.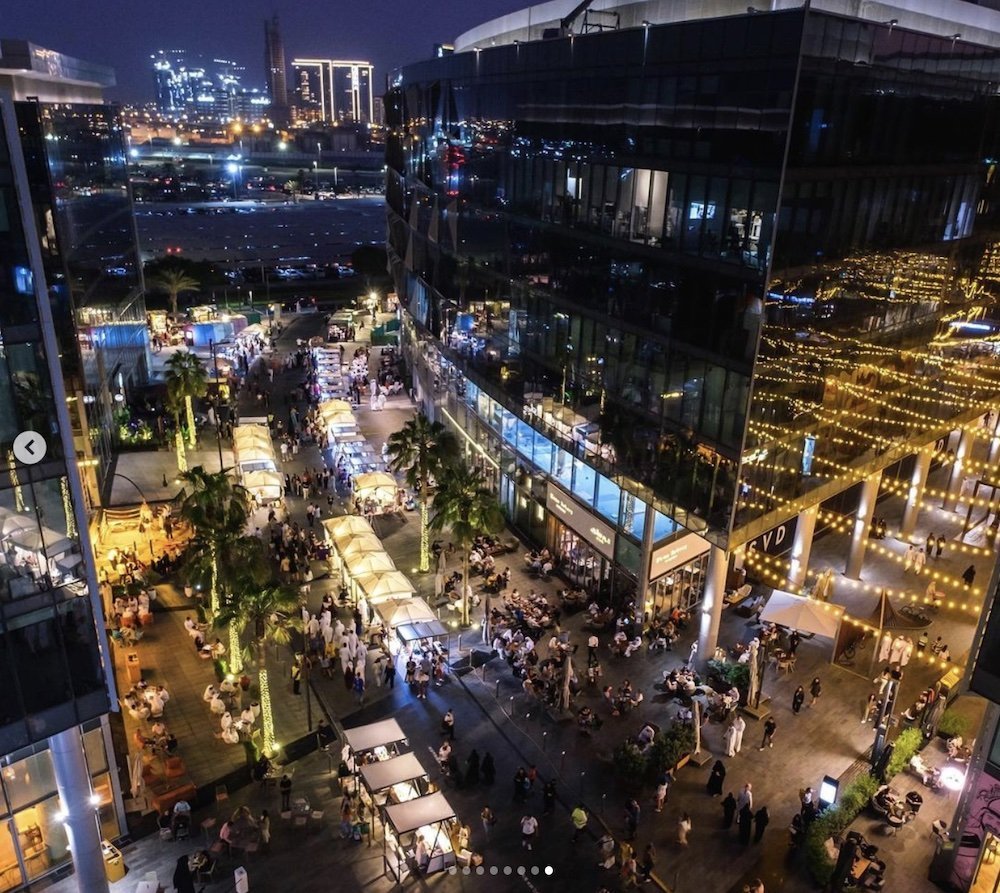 Dubai Design Week showcased regional talent and international studios, with the Downtown Design trade fair showcasing limited edition creations. The Global Grad Show showcases innovative university works from 100 global universities, showcasing the future of creative study.
Kate Barry, Director of Dubai Design Week, commented: "The Week's dynamic programme is a testament to Dubai's position as a leading hub for design and creativity that is working to realise its far-reaching vision for a more sustainable future. This year, we open with a series of installations and exhibitions by international and regional designers and architects that showcase designs that aim to have a positive impact on the environment. Each work is driven through innovation in new materials and recycling and upcycling processes that promote sustainability."
Over 100 talks and workshops took place at The Forum, featuring international speakers like Kelly Hoppen, Duccio Maria Gambi, and Kuwaiti architect Jassim AlSaddah.
Dubai Design Week, a popular festival, featured over 20 immersive installations, showcasing large-scale architectural or experiential designs by brands, designers, or special collaborations, throughout the district, showcasing the city's design culture, featured global brands like Stella McCartney, OBMI, and Grounded Design, alongside over 120 UAE-based designers. The event showcased exhibitions exploring design at the intersection of technology, craft, architecture, and academia, such as Matter-ials and Designing Women.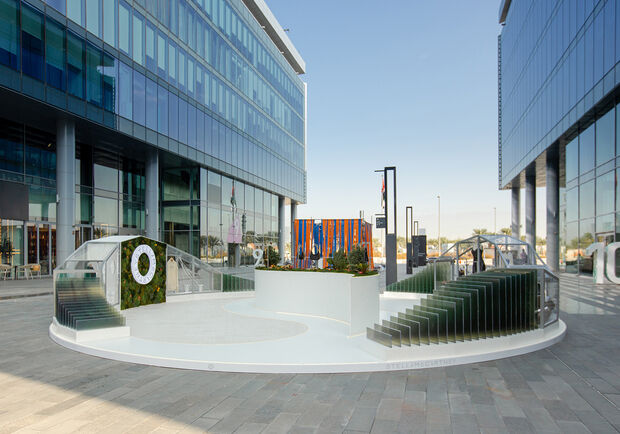 Stella McCartney and Iwan Maktabi have both showcased their collections at international events. McCartney's 'Future of Fashion' exhibition, in partnership with Chalhoub Group, showcased the limitless possibilities of material innovation for creating a more nature-positive market. The exhibition featured curated items from McCartney's over two decades of conscious leadership, such as the Frayme Mylo™️ bag, the world's first luxury bag crafted from mycelium. Iwan Maktabi's Terminal G capsule collection, a curated collection of carpets from five Gulf countries, was also unveiled at d3.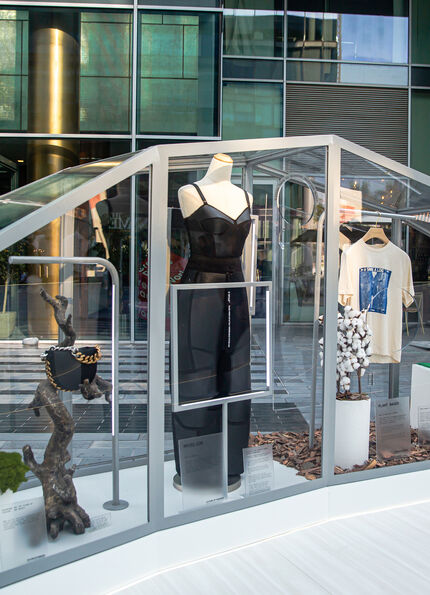 The installation, inspired by Stella McCartney's achievements, promotes environmentally conscious actions. The Dubai Design Week 2022 theme, "DESIGN WITH IMPACT," emphasizes sustainable futures through fashion, art, design, and architecture.
"We have been using fashion and design to start conscious conversations since day one at Stella. I am so proud to see over 20 years of material innovation brought to life in our Future of Fashion exhibit during Dubai Design Week – from my Frayme Mylo™️ mycelium bag to regenerative cotton, which actually restores Mother Earth. Shaped like my new S-Wave symbol, this travelling installation brings together the most pioneering products from our past and present to inspire a nature-positive future; not only in fashion, but for our planet.
STELLA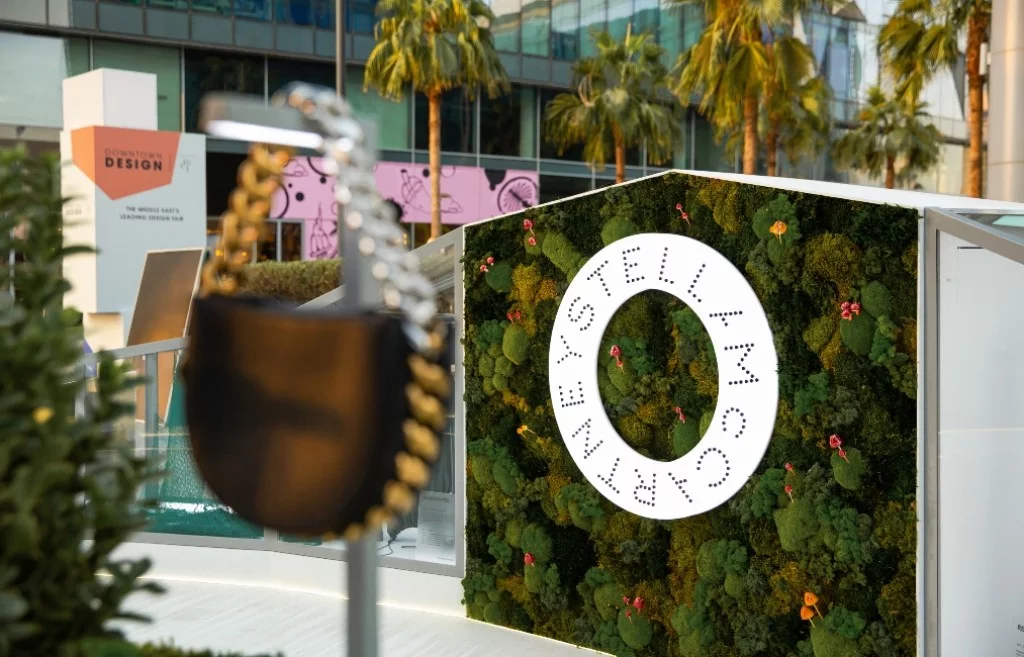 The installation, inspired by Stella McCartney's achievements, promotes environmentally conscious actions. The Dubai Design Week 2022 theme, "DESIGN WITH IMPACT," emphasizes sustainable futures through fashion, art, design, and architecture.
Furthermore, Camelia Georgescu, Vice President of Fashion brands at Chalhoub Group, commented: "We strongly believe in creating an impact through integrating sustainability at the core of our business and providing our customers with products consistent with a circular economy. In our efforts and commitment to support our partners in achieving their sustainability strategies in this region, we are excited to bring a glimpse of Stella's world to our customers and are proud to have brands such as Stella McCartney within our Group portfolio."
"We have been using fashion and design to start conscious conversations since day one at Stella. I am so proud to see over 20 years of material innovation brought to life in our Future of Fashion exhibit during Dubai Design Week – from my Frayme Mylo™️ mycelium bag to regenerative cotton, which actually restores Mother Earth. Shaped like my new S-Wave symbol, this travelling installation brings together the most pioneering products from our past and present to inspire a nature-positive future; not only in fashion, but for our planet," says Stella McCartney.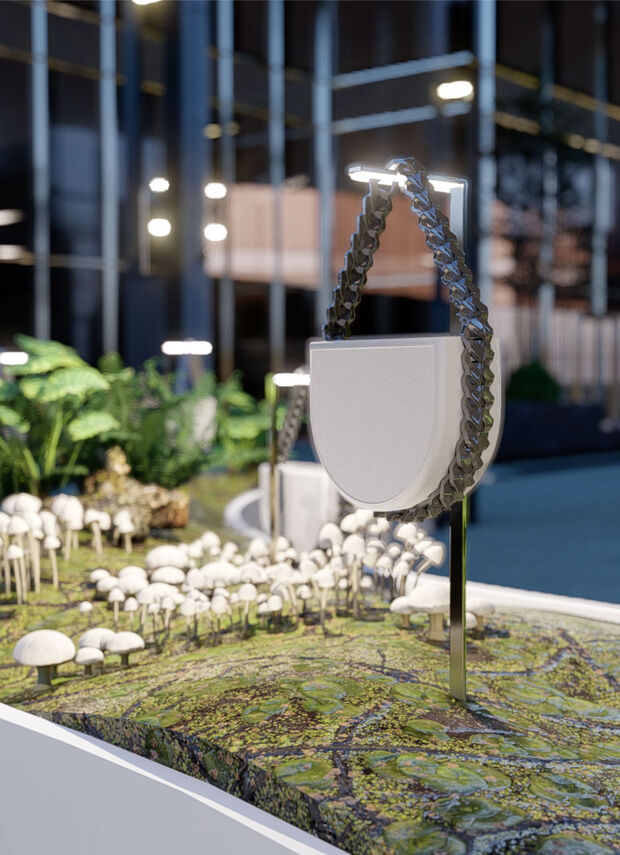 The exhibit features the S-Wave heritage symbol, symbolizing circularity, material innovation, and Earth balance. It blends fashion and design, inviting the world to explore the limitless possibilities of material innovation in creating a more nature-positive market.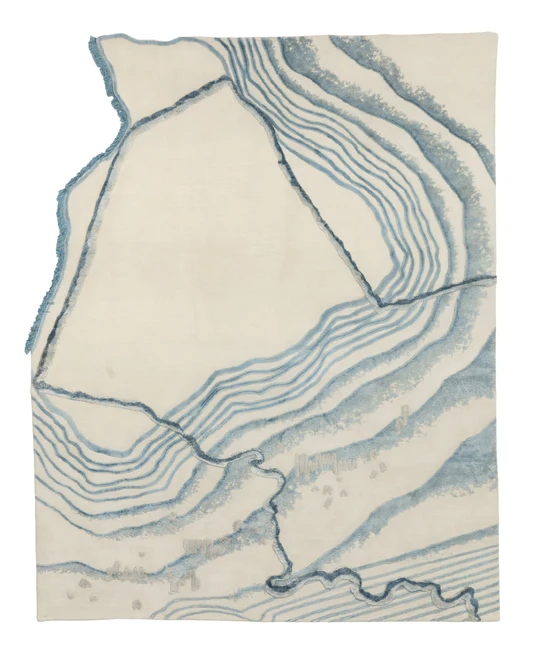 Iwan Maktabi, a Beirut-based carpetmaker, returned for the Dubai Design Week and Downtown Design with groundbreaking presentations showcasing collaborations with local and international design stars. Maktabi's defining character is avant-garde expression, merging oriental carpet design with contemporary carpets, collaborating with artists, designers, and architects.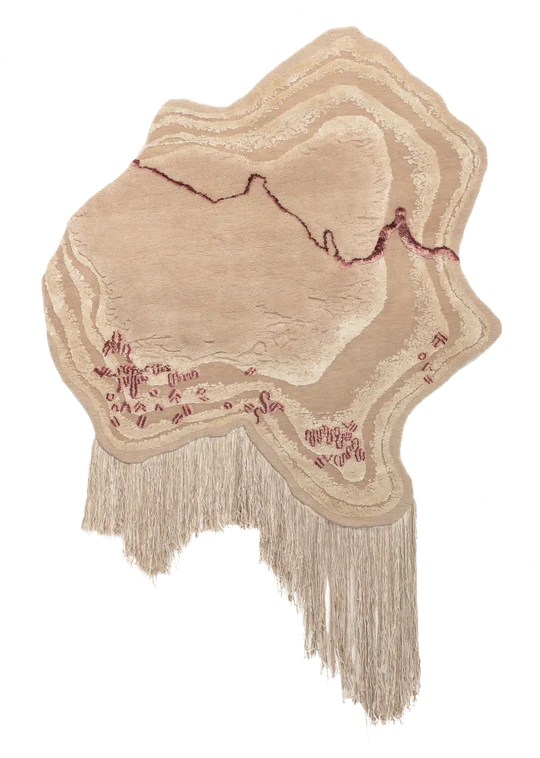 The exhibition "Terminal G" showcases the first collection of carpets and woven arts designed by Gulf creatives. The exhibition, titled "Terminal G," reflects the constant travel connecting countries in the Arabian Gulf. The collection includes designs by Emirati designers Afra and Sheikha Bin Dhaher, Qatari architects Independent, Kuwaiti Aseel AlYaqoub, Saudi artist Sultan bin Fahad, Bahraini-Danish, and Qatari Ibrahim Al-Jaidah. Curated by Samer Yamani and Iwan Maktabi, the exhibition showcases talents from the Kingdom of Saudi Arabia, Kuwait, Qatar, Bahrain, and the UAE.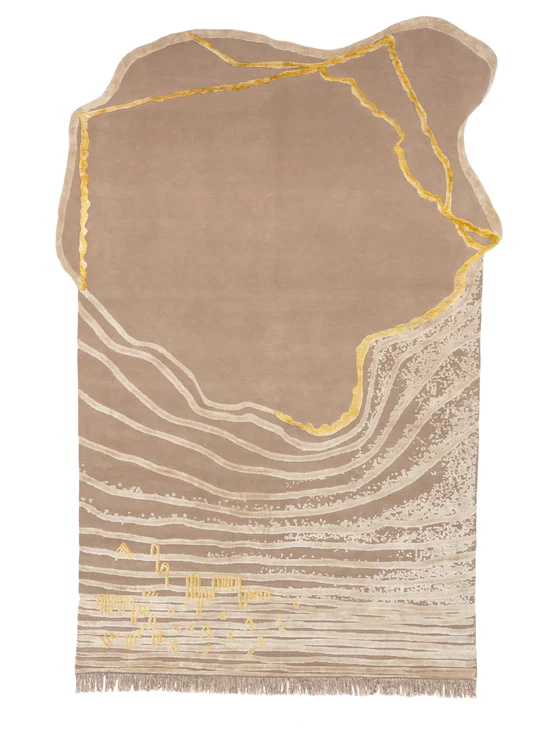 "The Gulf region is known for its ambitious economies and fast-growing cities, which impacts its lifestyle and interactions," explains Yamani. "The modern infrastructure and active aviation scene, the ease of mobility between the GCC cities, creates a dialogue around today's common subjects like local identity, water desalination, architecture, and urbanism, among others. Terminal G is a unique presentation of contemporary Khaliji culture through the eyes of its creatives using the art of weaving carpets as a medium of expression."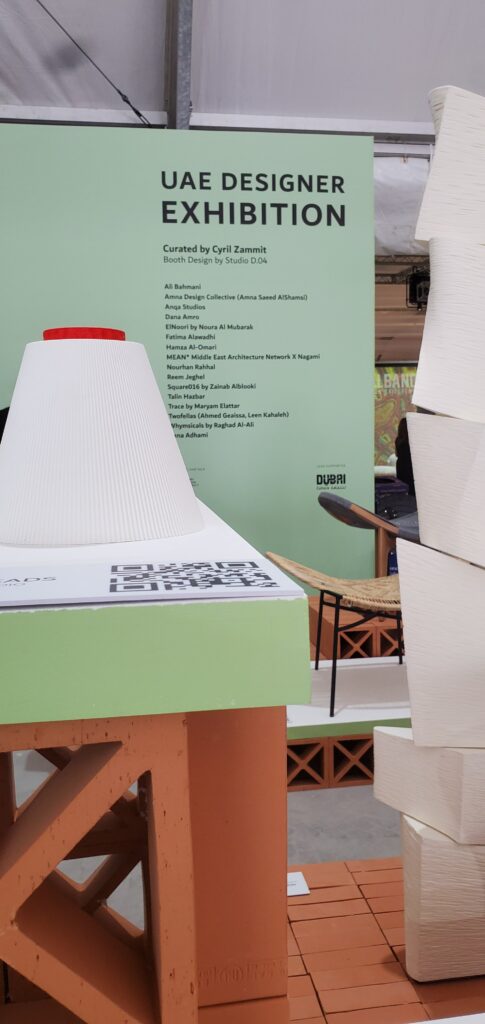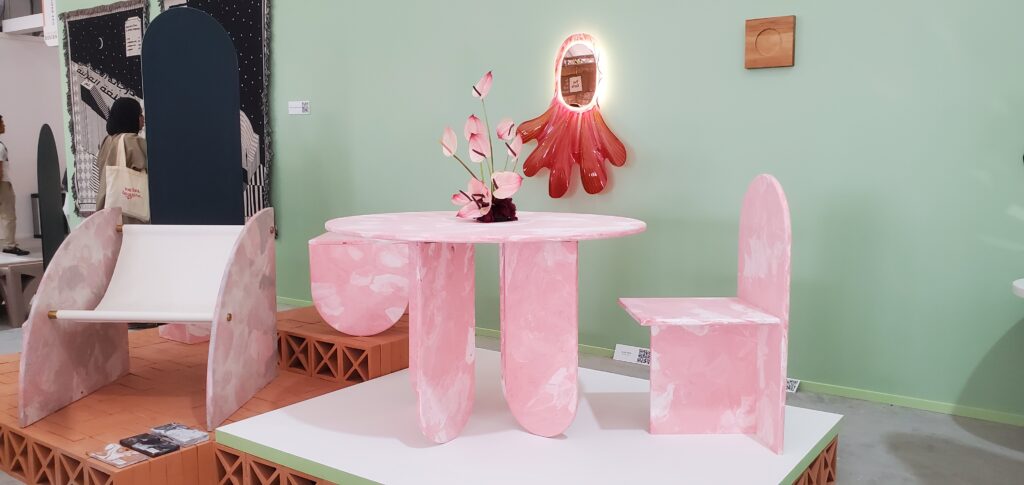 Dubai Design District (d3) held its third annual d3 Architecture Exhibition, featuring eight international and regional architectural works showcasing sustainable materials and design innovation, demonstrating a positive environmental impact.
The exhibition, focusing on sustainable urban development, was organized around four main themes: Mobility and Transportation, Public and Recreational Spaces, Accessibility to Infrastructure & Eco-Tourism, in line with the goals of the Dubai 2040 Urban Master Plan. Architects were invited to contribute to these themes.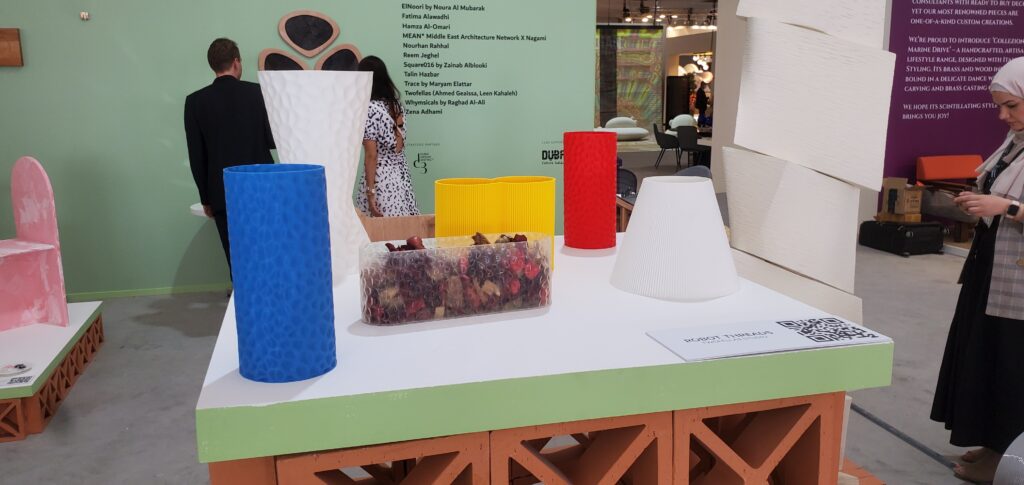 Curating architects were Beyrac Architects, Dabbagh Architects, RMJM Dubai, Tariq Khayyat Design Partners (TKDP), with participations and collaborations from a variety of stakeholders in the architecture and urban planning domain including: American University of Sharjah (AUS), Dubai Institute of Design and Innovation (DIDI), Mobility in Chain, AESG, FUTURE\CITY, DesertINK Architects, XArchitects, Grimshaw Architects and MEAN* Middle East Architecture Network.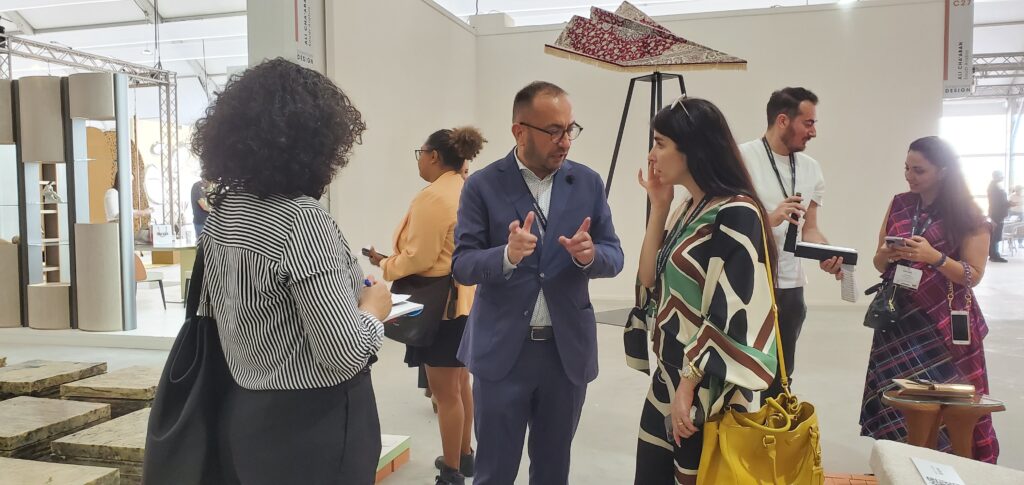 Cyril Zammit curated the UAE Designer Exhibition, which featured the work of sixteen designers and studios across a variety of disciplines. The highlight of the exhibition was the presentation of objects made using the material of Palm Veneer, developed by Reem Jeghel, a designer based in Sharjah. This material was developed by pressing palm fibres for a finish resembling that of wood veneers. Design is an integral part of the city's strategic roadmap, and we are committed to supporting talented people and encouraging creativity in order to foster the development of a creative economy in Dubai. This support strengthens Dubai's status as a world-renowned cultural hub, an innovation incubator, a magnet for talent, sustainable initiatives, and the capital of the global creative economy.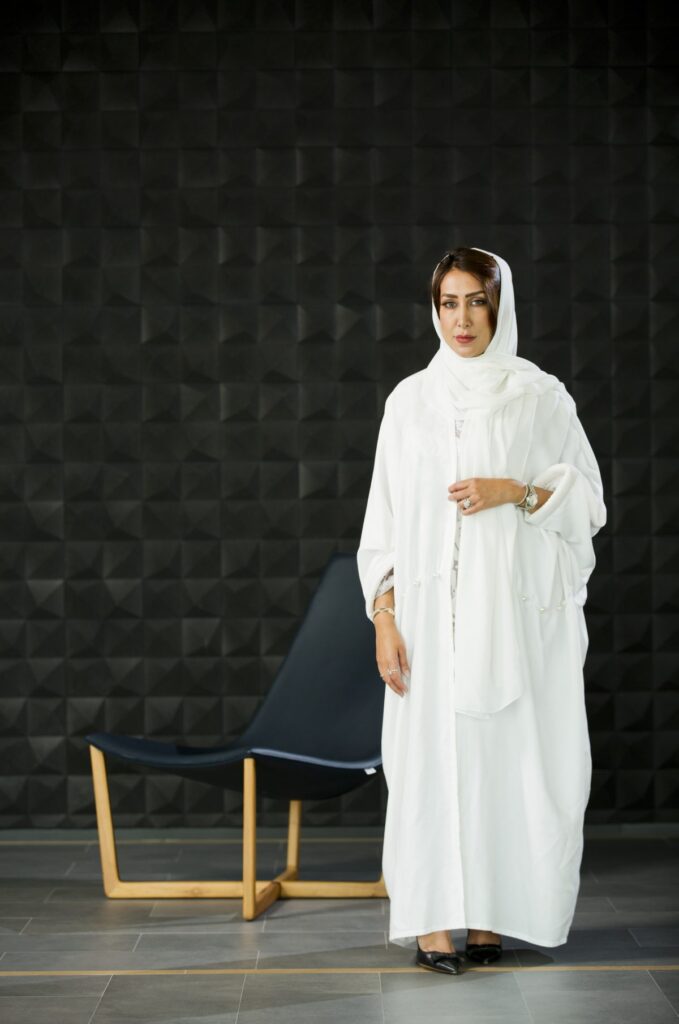 Commenting on this year's exhibition, Khadija Al Bastaki, Vice President of Dubai Design District (d3), said: "Dubai Design Week, held in strategic partnership with d3, demonstrates Dubai's deep commitment to design and innovation and this year's programming will focus on designing for a sustainable future – across all exhibits, installations, workshops, talks and pop-ups. As part of this, we are delighted to present our third d3 Architecture Exhibition, which gathers Dubai, regional and world-renowned architects together to envision the future of architecture, inspired by their direct environments, cultural contexts and experience of working in this region."
"Architects play such a critical role in the development of our cities and built environment and we are excited to see their visionary ideas and installations on the sustainable future of building and how they anticipate future changes and set the foundations today."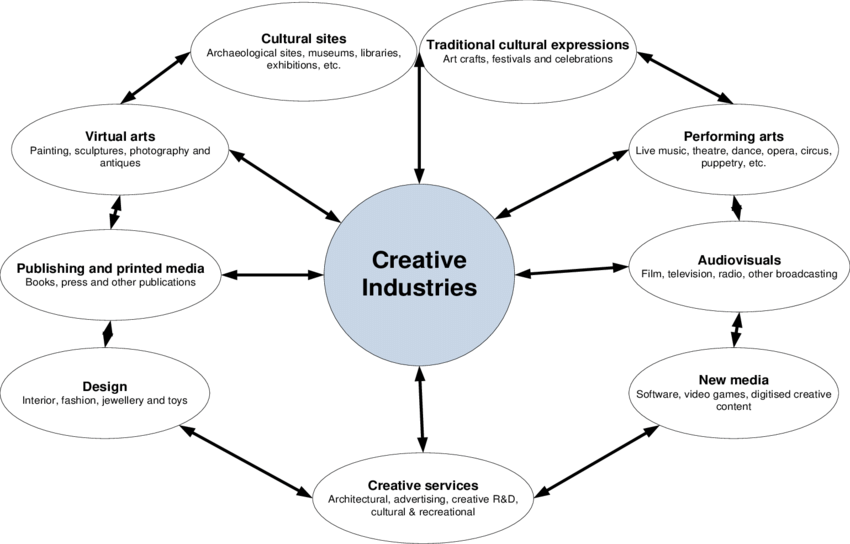 The creative sector significantly impacts economies, with international trade in creative goods and services generating increased revenues for countries. A UNCTAD study highlights the sector's potential to boost economies. Dubai, according to the Dubai FDI Monitor report, attracted 233 new creative economy projects in 2021, surpassing major cities like New York, Singapore, and Berlin. Dubai continues to attract foreign investment and creative talent, making it a vital hub for economic growth.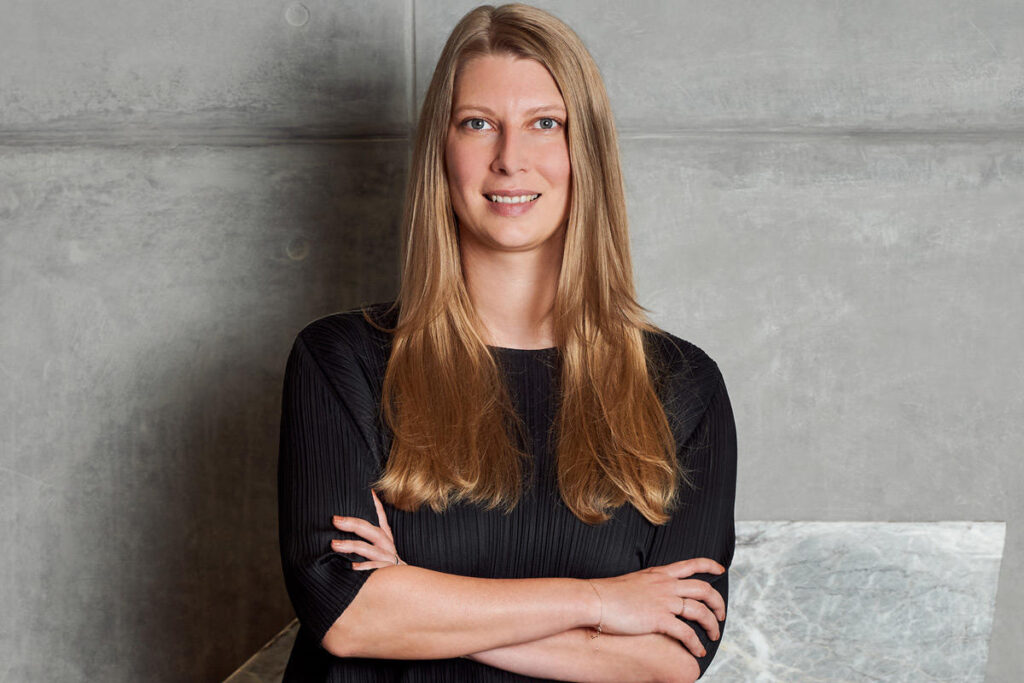 Mette Degn-Christensen, Director of Downtown Design, said: "This year, we set a precedent for Dubai's ever-growing design and architecture community. Drawing on contemporary designs with international and regional industry leaders, we look forward to yet again providing a platform for exceptional talent. With a full programme of installations, exhibitions, talks and activations, Downtown Design 2022 will fulfil its mission to create a premium and didactic experience for this year's visitors".
Veuve Clicquot celebrated its 250th anniversary at Dubai's Design District (d3) with a pop-up installation, The Solair Lounge, inspired by the area and paved with UAE sand. The double lounge featured events, workshops, a cafeteria area, and an exhibition of iconic Veuve Clicquot objects revisited in a sustainable way. The Maison believes that elegant and functional packaging can enhance the desirability of products, making sustainability an essential consideration in packaging design.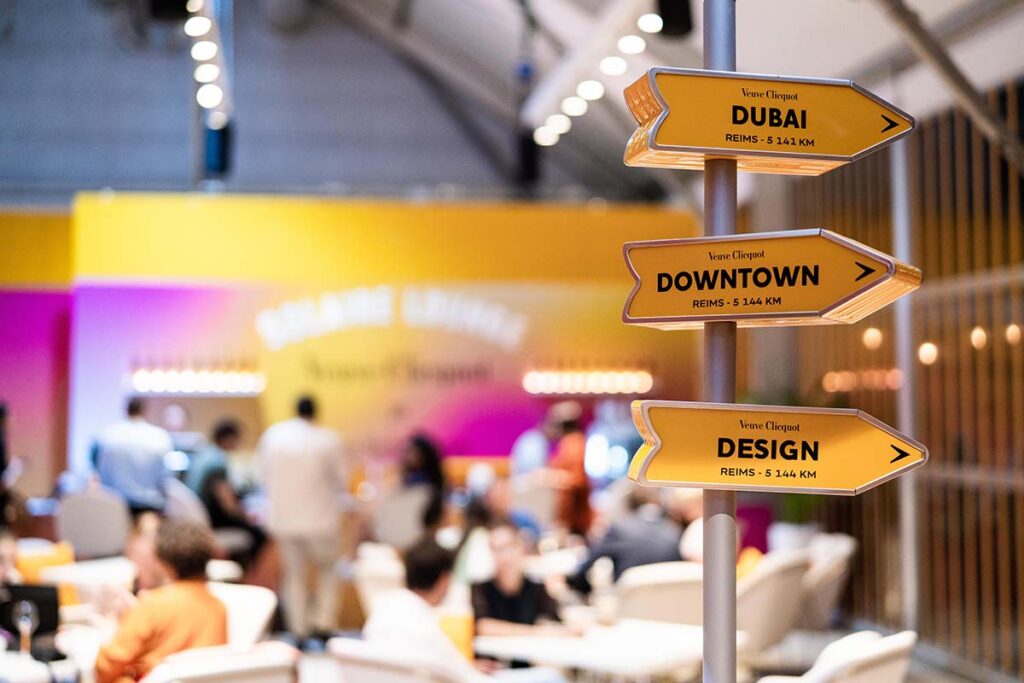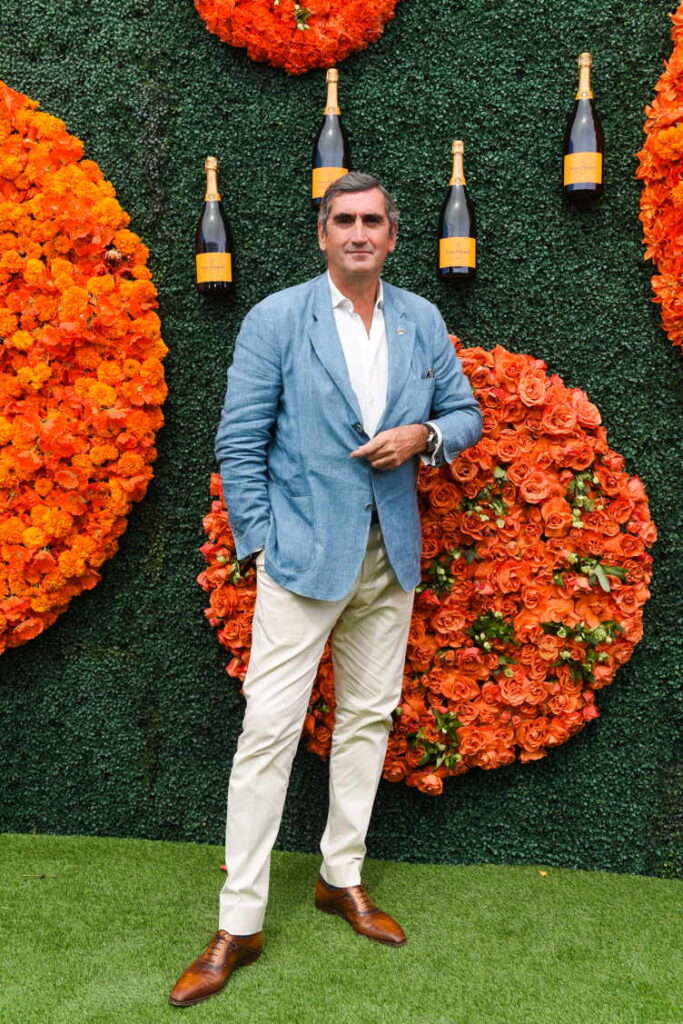 "The 250th anniversary of the Maison is an opportunity to share with the whole world our incredible heritage around the Clicquot culture and its exceptionally rich know-how and design," says Jean-Marc Gallot, CEO of Veuve Clicquot.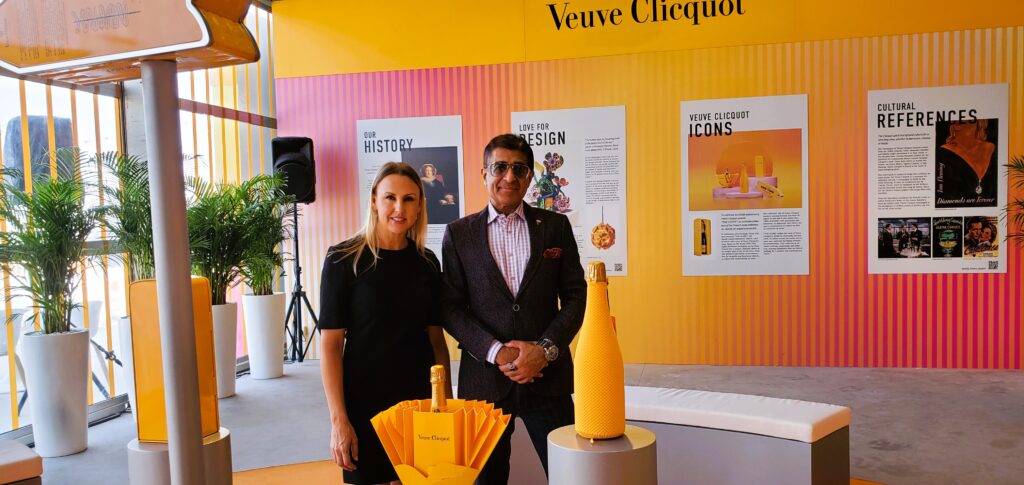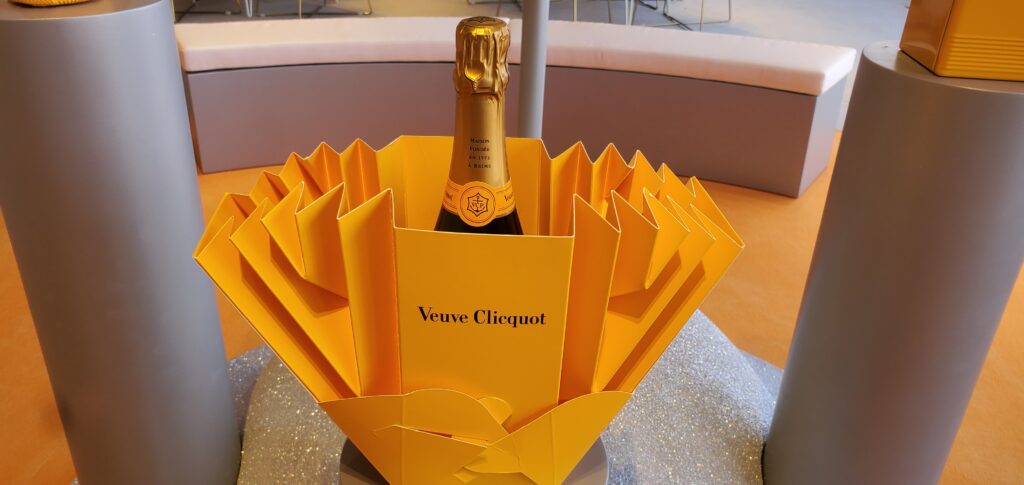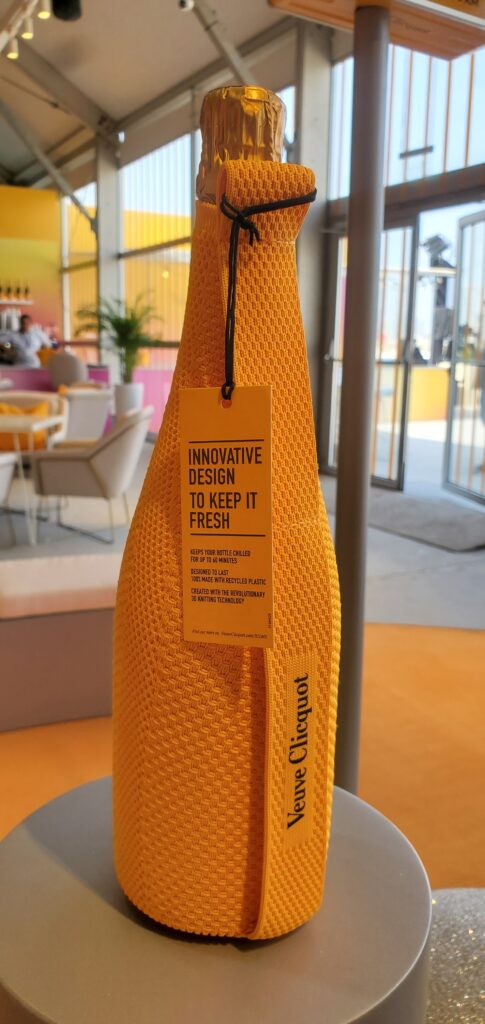 The Solaire Lounge at Dubai Design District (d3) showcased an exclusive collection of the Maison's most emblematic objects, re-edited sustainably, called The Icons, an exclusive exhibition featuring four emblematic items from the Champagne House, symbolizing the creativity and innovative spirit of its founder, Madame Clicquot. Meet the Icons: The Clicquot Arrow, the signature Ice Jacket, the Veuve Clicquot Ice Box and the mini Clicquot Fridge in collaboration with Smeg. All consumers' favourites that have been redesigned with mono and recyclable materials, zero virgin plastic and lower greenhouse emissions than previous iterations, 100% iconic and built to last. The collection explores not only the rich design heritage of the brand that began in 1772, but also demonstrates its love for beautiful and functional objects and its vision for the future.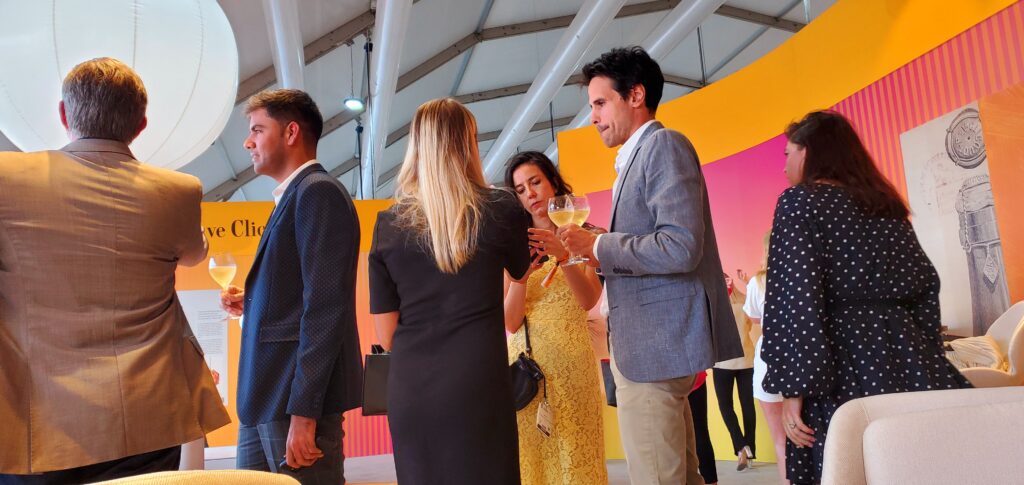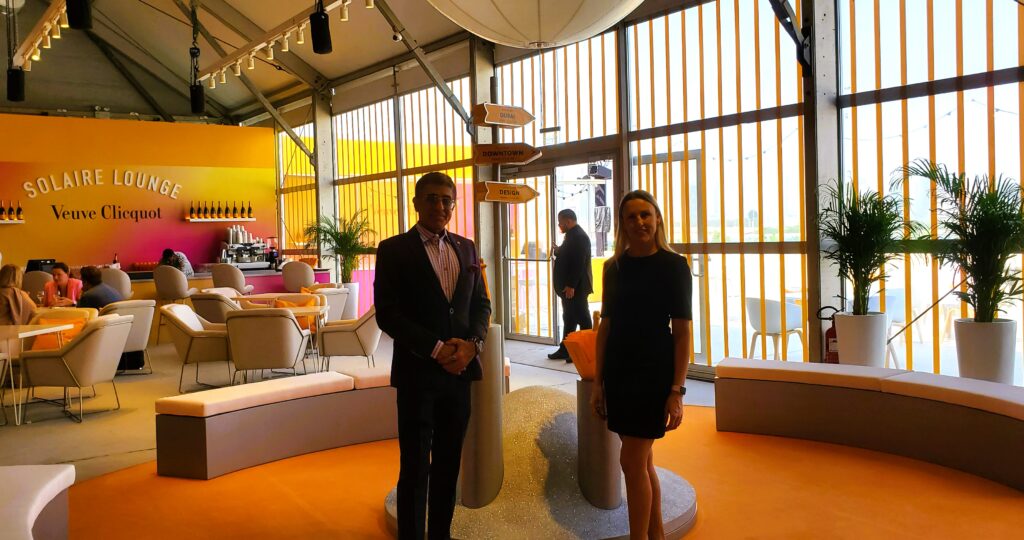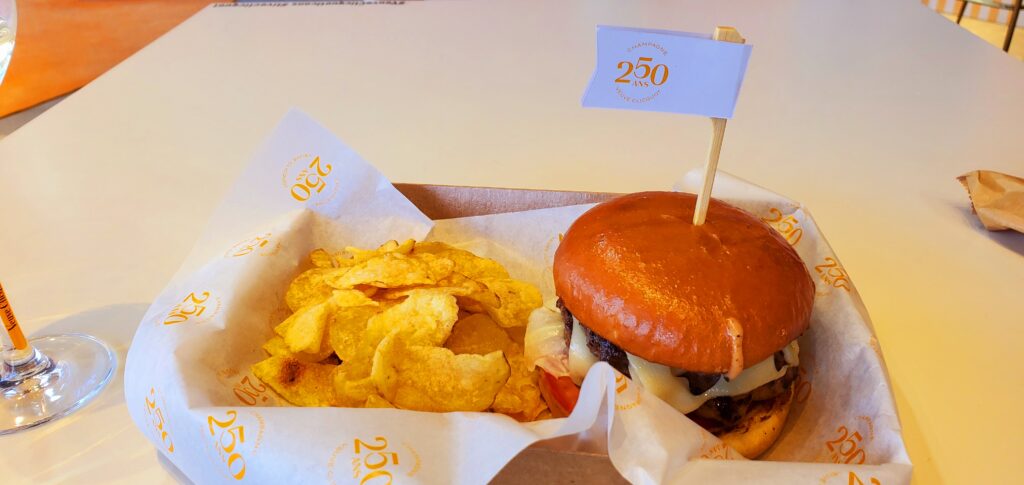 The Lighthouse's pop-up concept offers creative experiences and unique food pairings, featuring a bright café menu and a 1960s poster-inspired Veuve Clicquot burger, ensuring an superb immersive dining experience for visitors.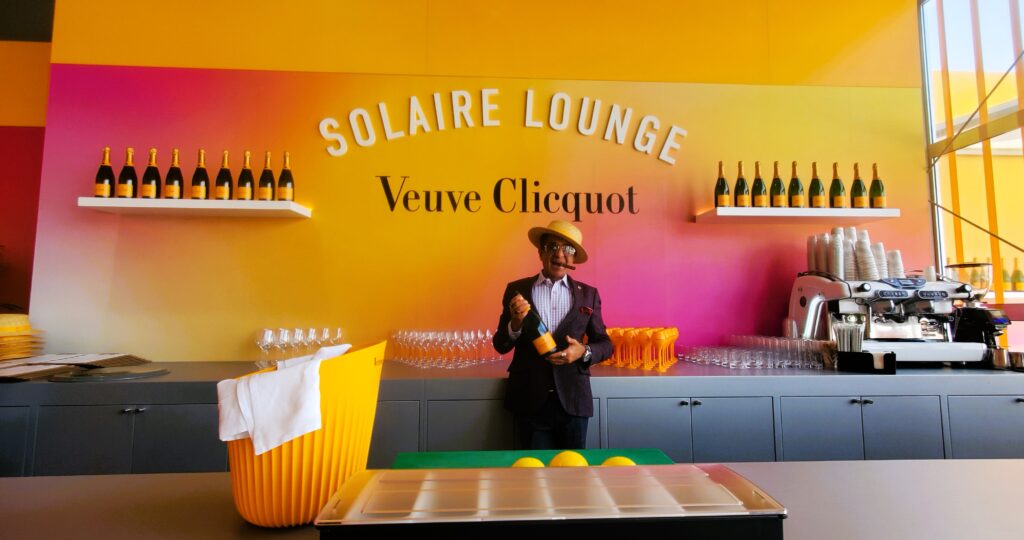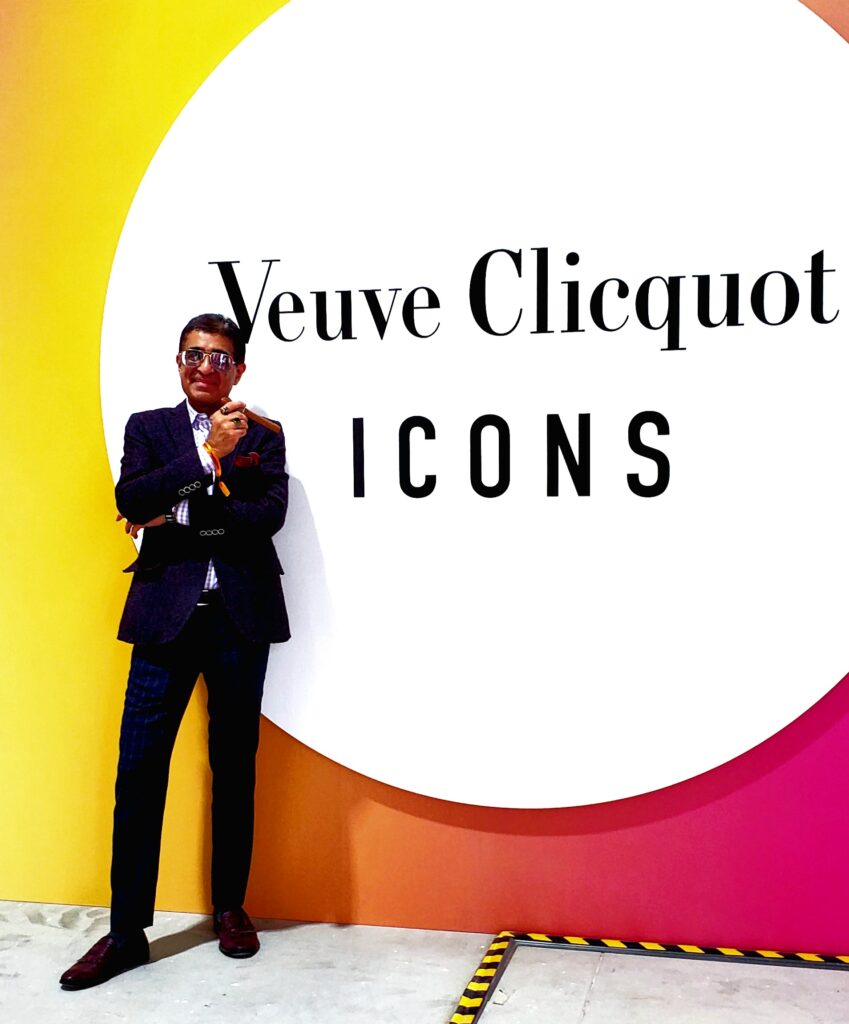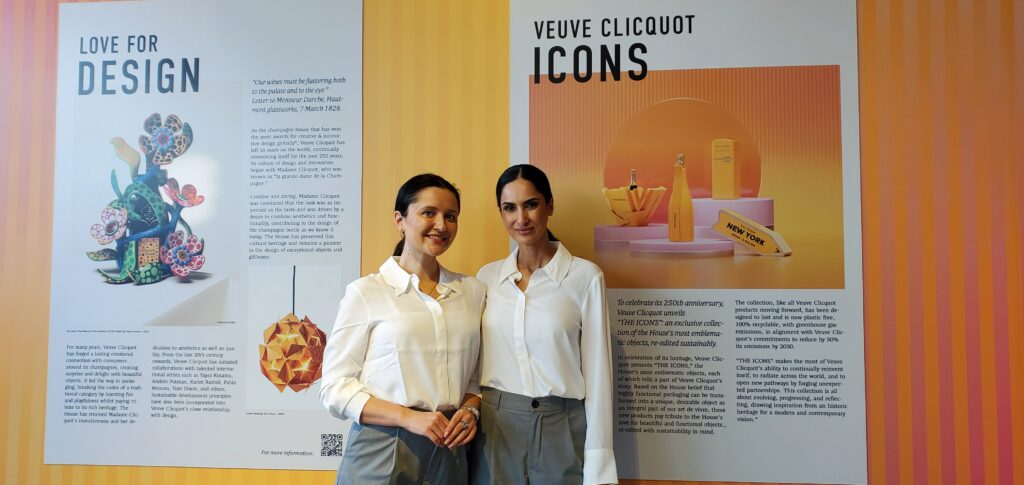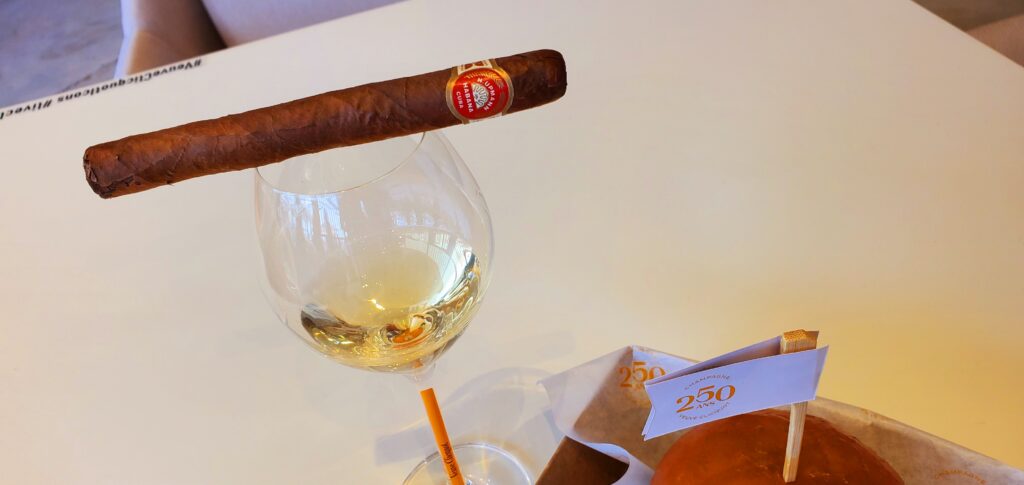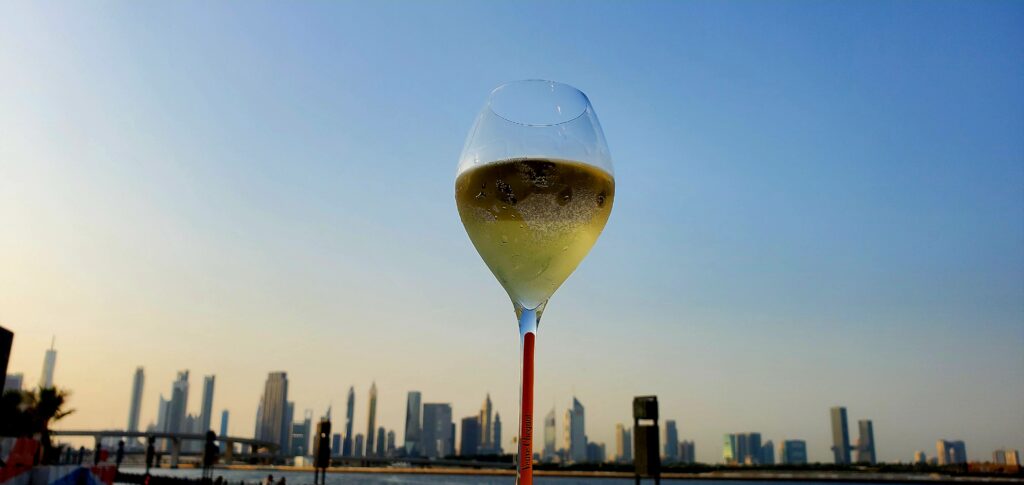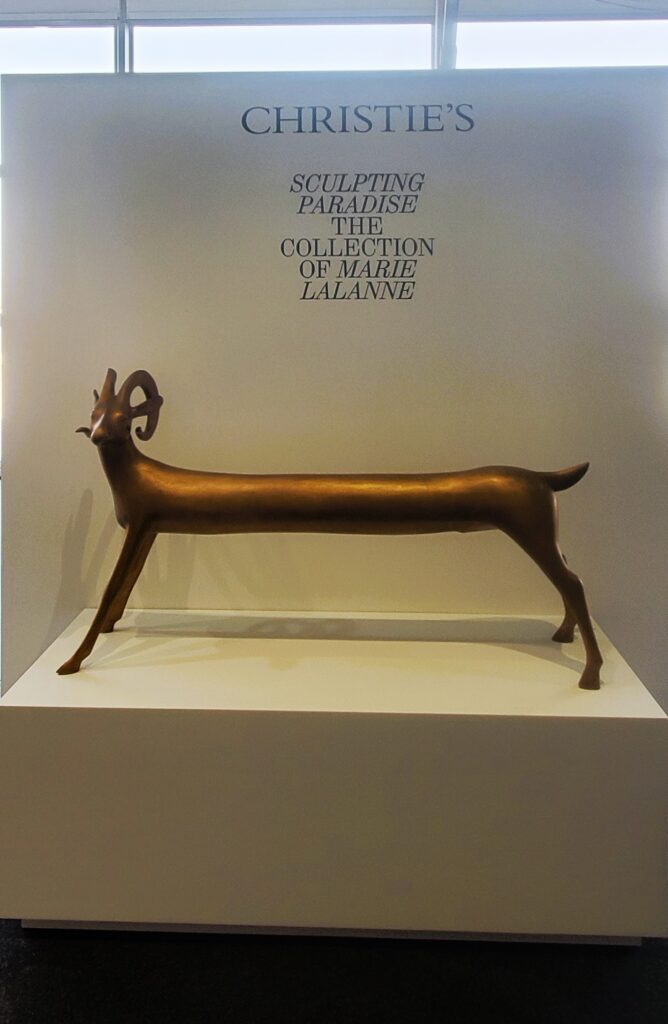 "They are not furniture, they are not sculpture – call them 'Lalannes'." – Claude Lalanne
"The supreme art is the art of living." – François-Xavier Lalanne.'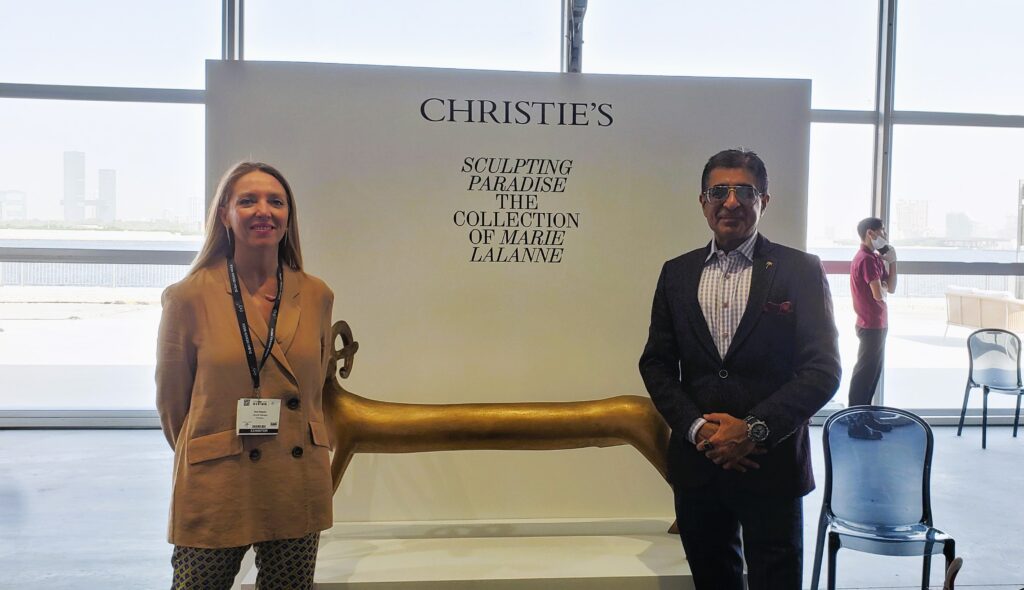 Christie's unveiled 11 exceptional sculptures and other works by French artist couple Claude and François-Xavier Lalanne in Dubai for the first time. The preview took place during Design Days in Dubai (8-12 November) at Christie's Dubai gallery space (8-15 November) and at Downtown Design Dubai. The exhibition showcased the artists' most important works from approximately 150 lots that will be sold at Christie's New York in Rockefeller Center. The Lalannes are known for their talent and originality in the 20th and 21st centuries.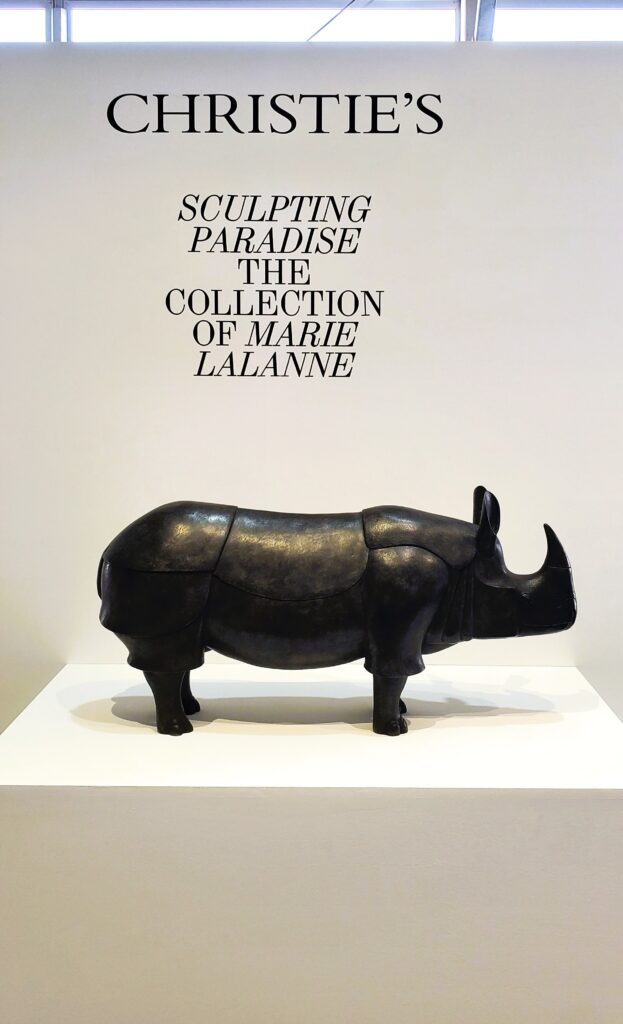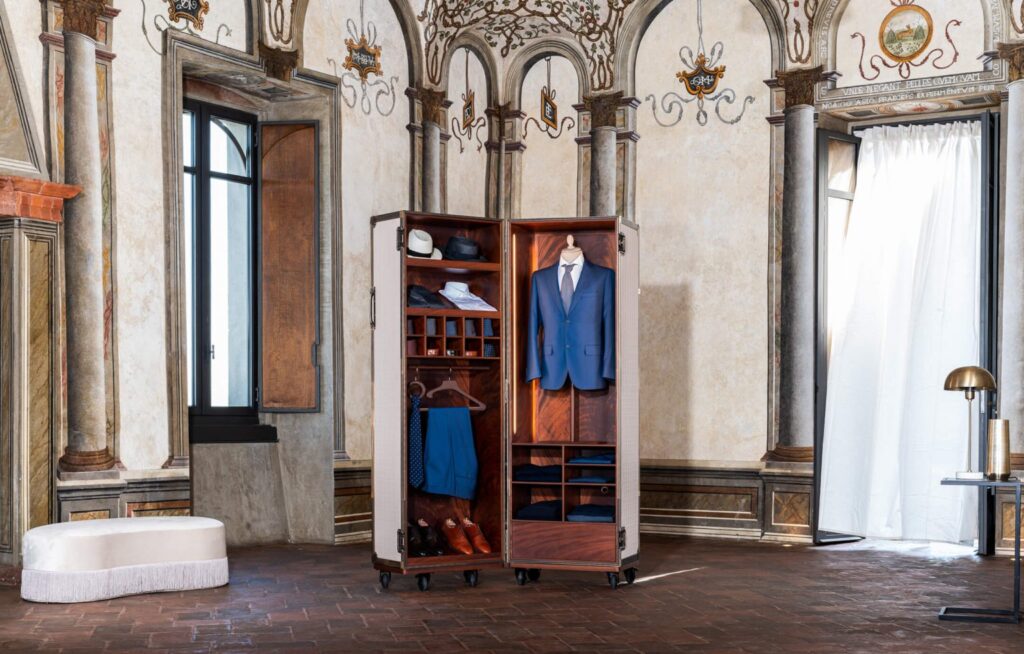 LaErre Trunks is an exquisite designer furniture company based in Italy, known for creating beautiful and sophisticated trunks, wine cabinets, and other furniture pieces that are customized to the needs and desires of their discerning clients, who are connoisseurs and collectors. They use very high-quality materials and meticulous craftsmanship to create truly one-of-a-kind pieces that are timeless and elegant. Their trunks are designed to be both functional and stylish, with features that help to preserve the aromas of wine and spirits. LaErre Trunks are specially-made, customized pieces, generated by the brilliant minds of designers from the world over. LaErre Trunks has such a unique style, and their products are a true fusion of art and utility – they make luxury look effortless. laerretrunks.it/en/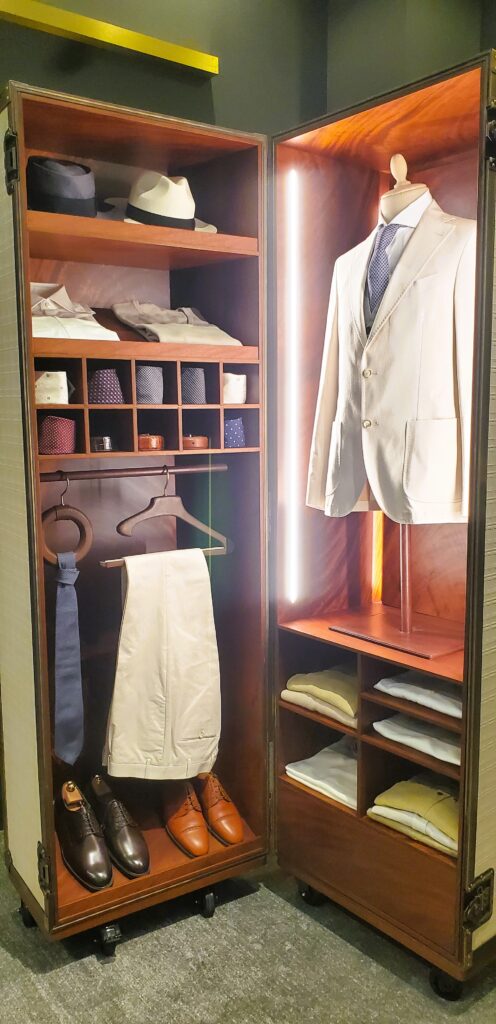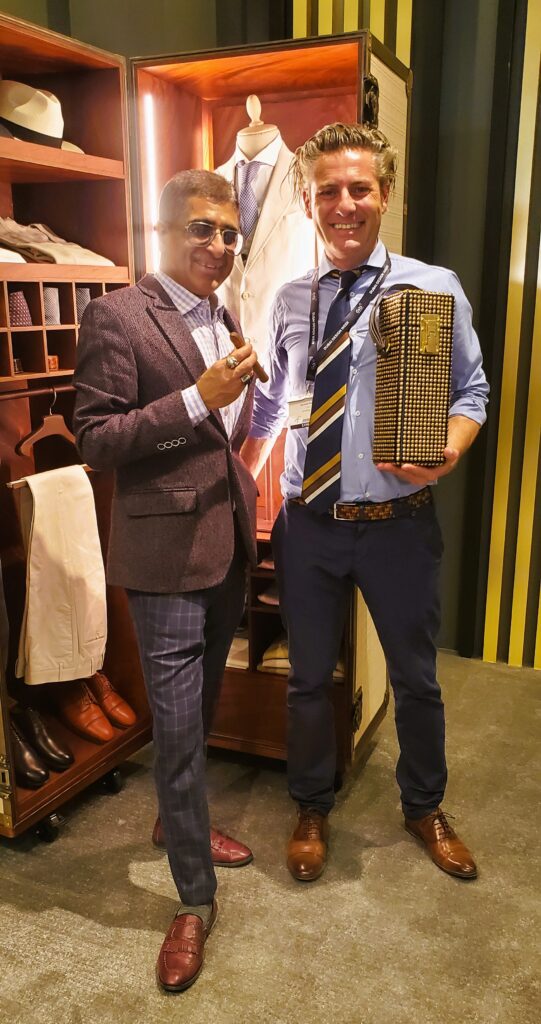 The Milano Trunk is a luxury closet designed to hold the finest sartorial garments, upholstered with an embossed tartan-pattern material. It features crotch mahogany wood, fine leather detailing, and soft lighting, showcasing Italian quality and stylish craftsmanship. The Milano Trunk fits perfectly in exclusive design settings and is a tribute to Italy's capital of fashion and beauty, showcasing the utmost expression of Italian craftsmanship.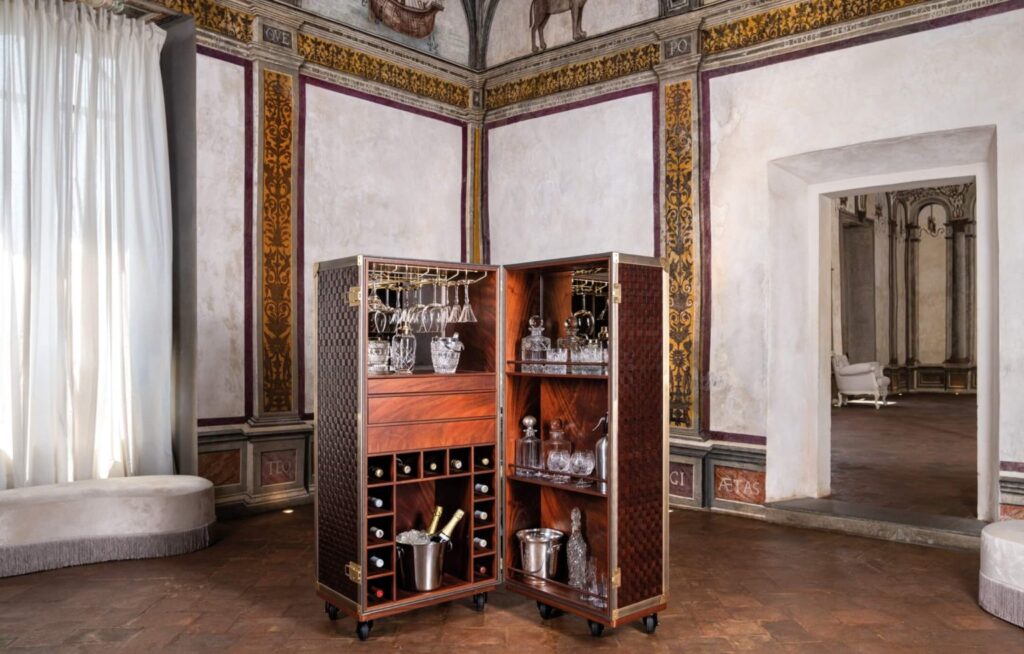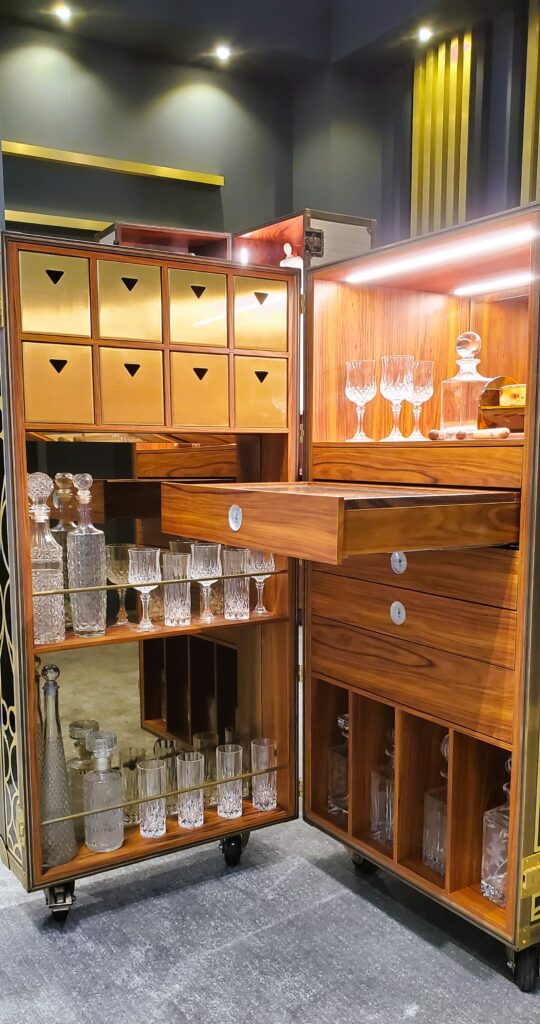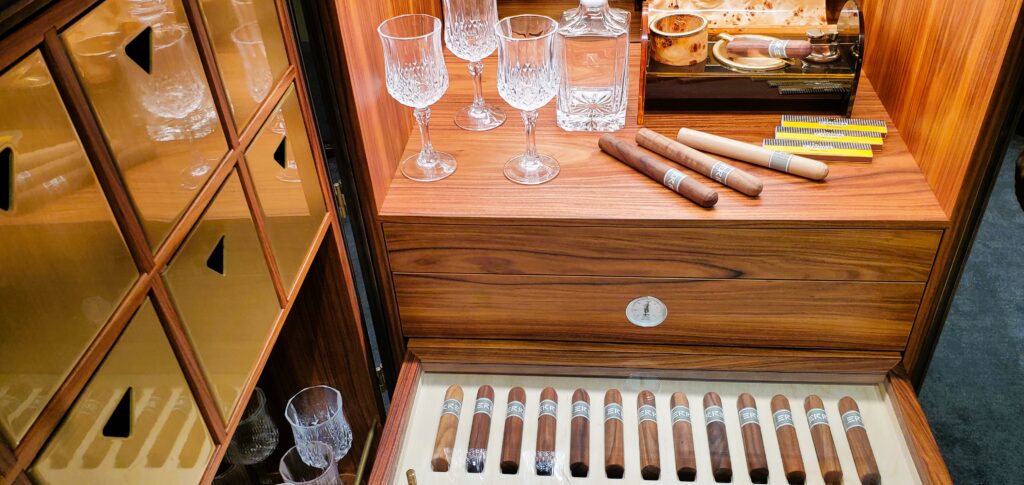 The Wine Trunk is a romantic and elegant wine cabinet designed to preserve the aromas of the finest wines and spirits. It features a temperature-controlled refrigerator and a dedicated storage area for precious raw materials bottles and glasses, making it an essential piece for a unique tasting experience.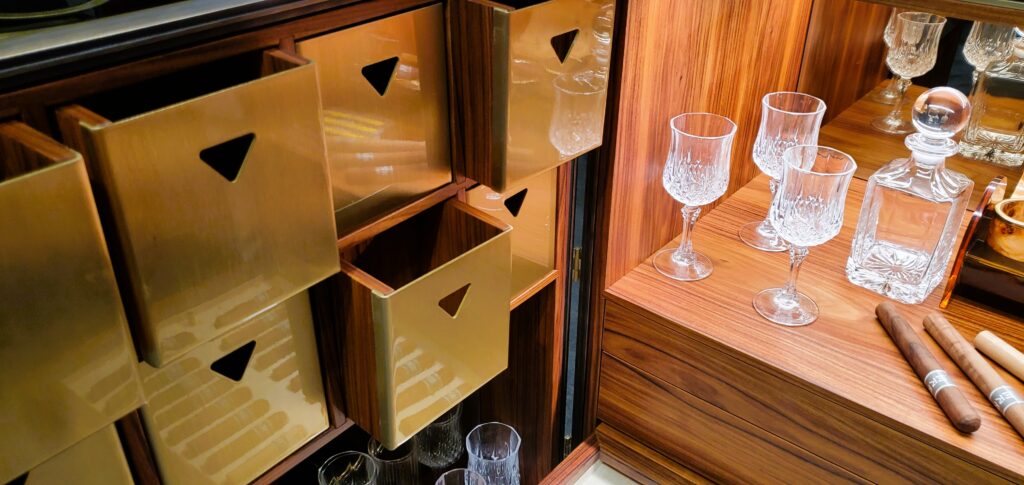 "Elegance is the part of the spirit that is visible to others". There is absolute truth and beauty in the words of Paulo Coelho in which lives the essence of LaErre Trunks.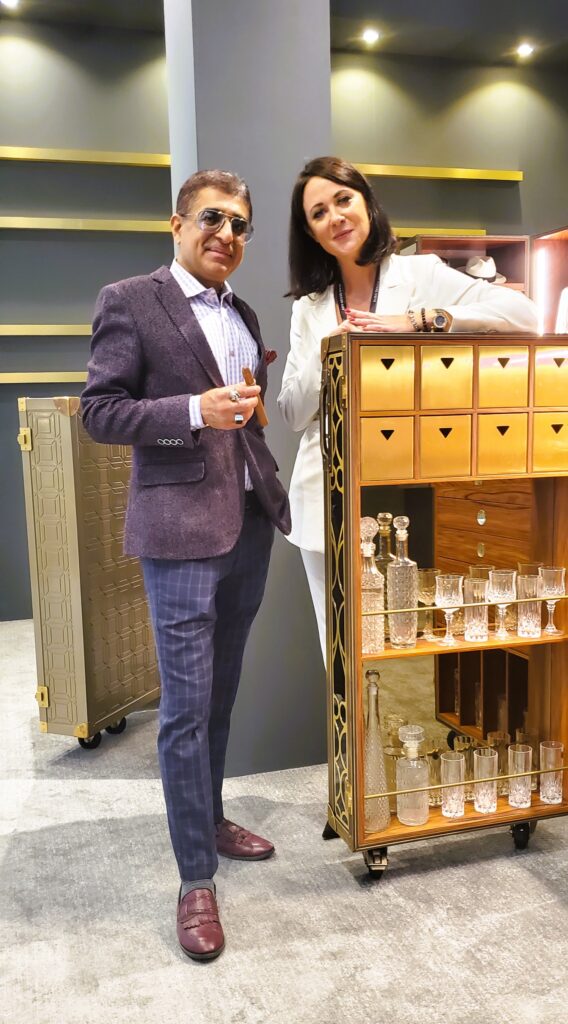 LaErre Trunks' Wine Trunk and Montecarlo are designed to enhance and preserve the quality of precious wines. These mobile wine cabinets, available in two versions, are not just cellars but also design pieces. The Wine Modern Trunk features lacquered green, while the Wine Classic Trunk offers real black leather upholstering and pure brass details for an elegant look. These trunks cater to different palates and tastes, catering to those who value vintage as a life philosophy.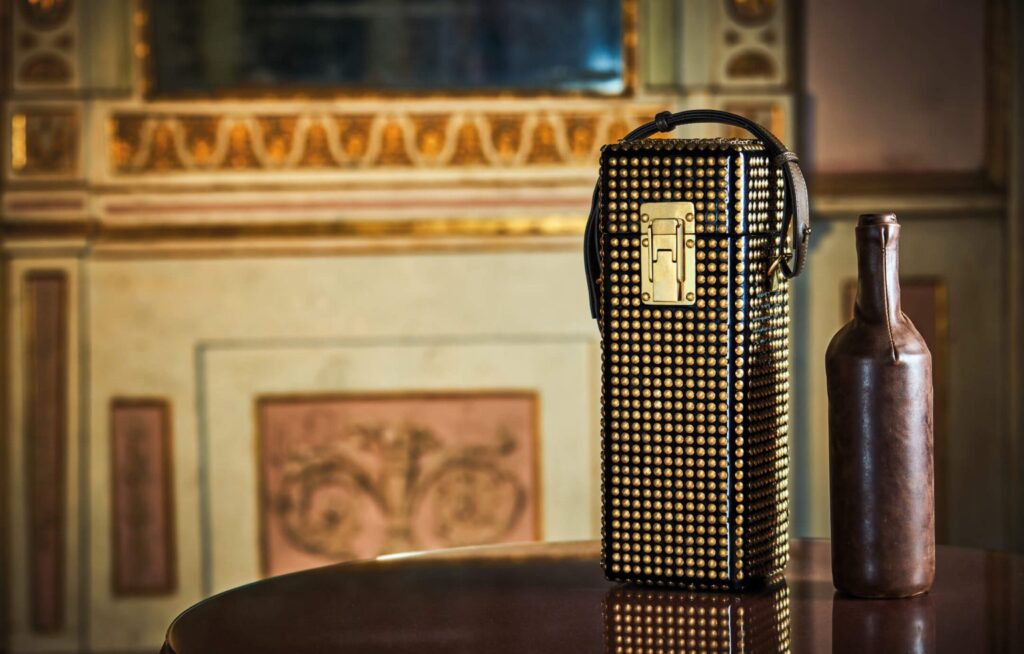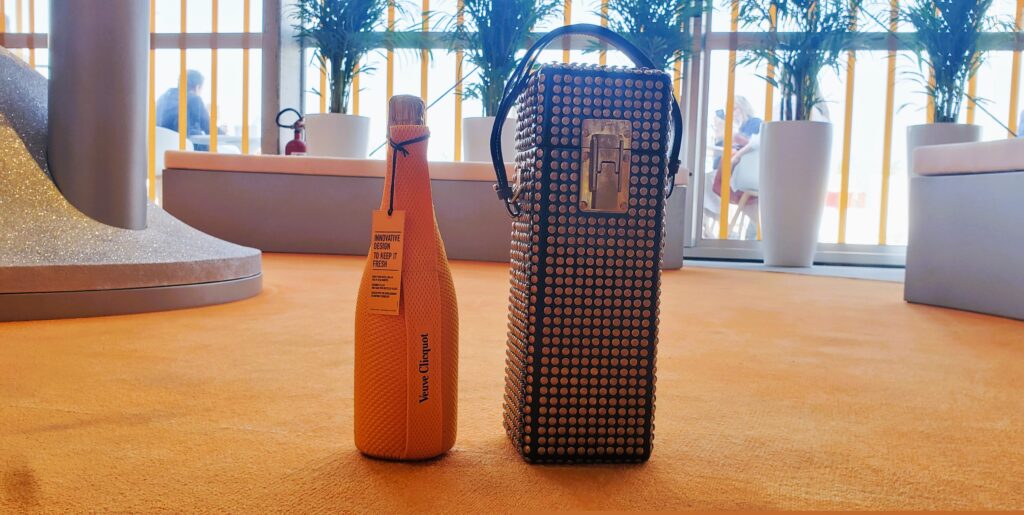 Montecarlo is an elegant bottle holder made from handmade Italian materials, perfect for special occasions. It features a gleaming lacquered black finish, gilded brass studs, and glossy finishes. The soft interior hugs a bottle of wine, preserving its unique characteristics. Montecarlo is a scene-stealing design for every tasting, making it a perfect touch for any occasion.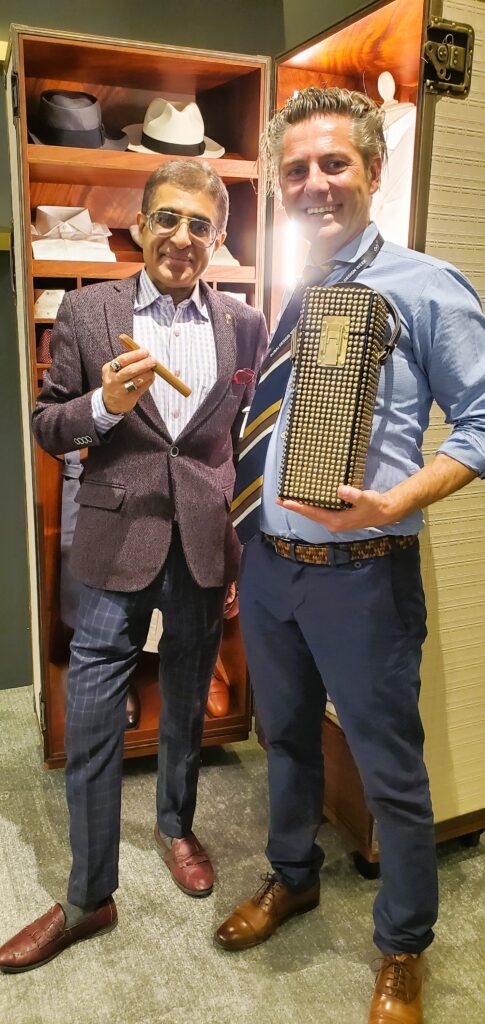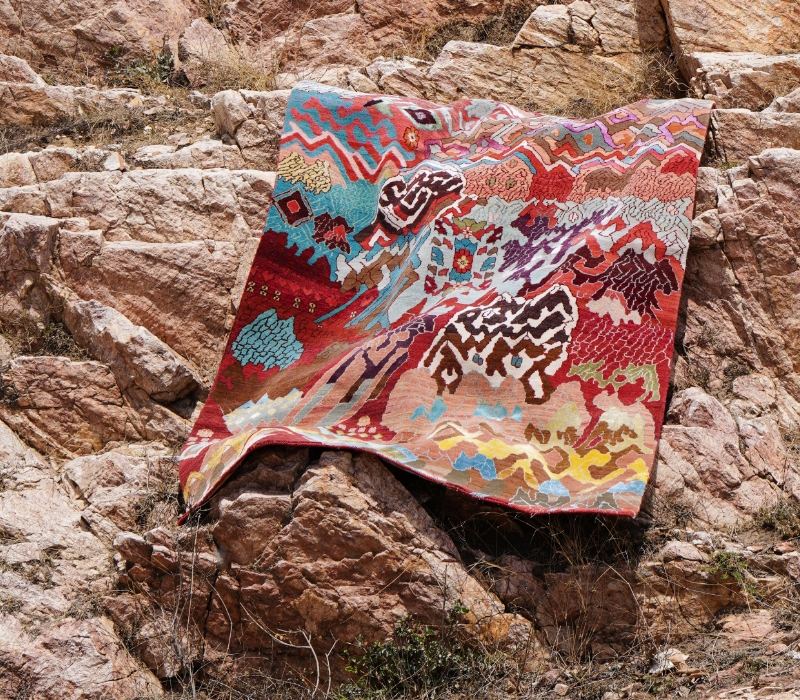 Jaipur Rugs, a family business, protects ancestral knowledge and connects rural craftsmanship with global consumers through handmade carpets, empowering a vast network of artisans and weavers. https://www.jaipurrugs.com/in/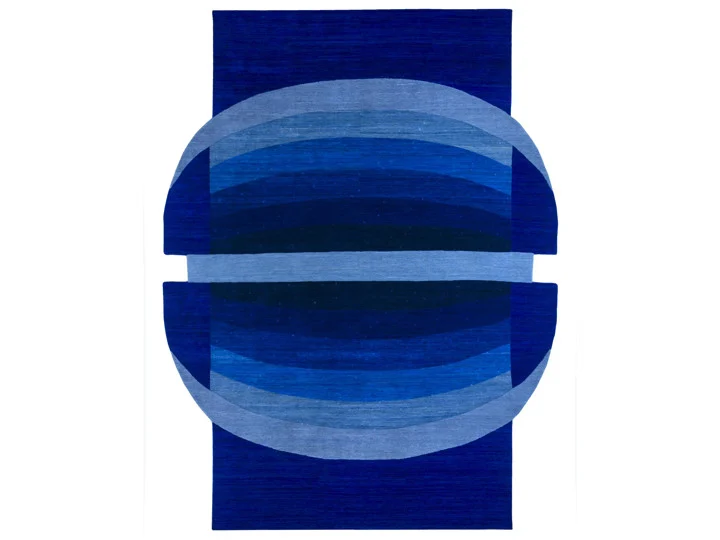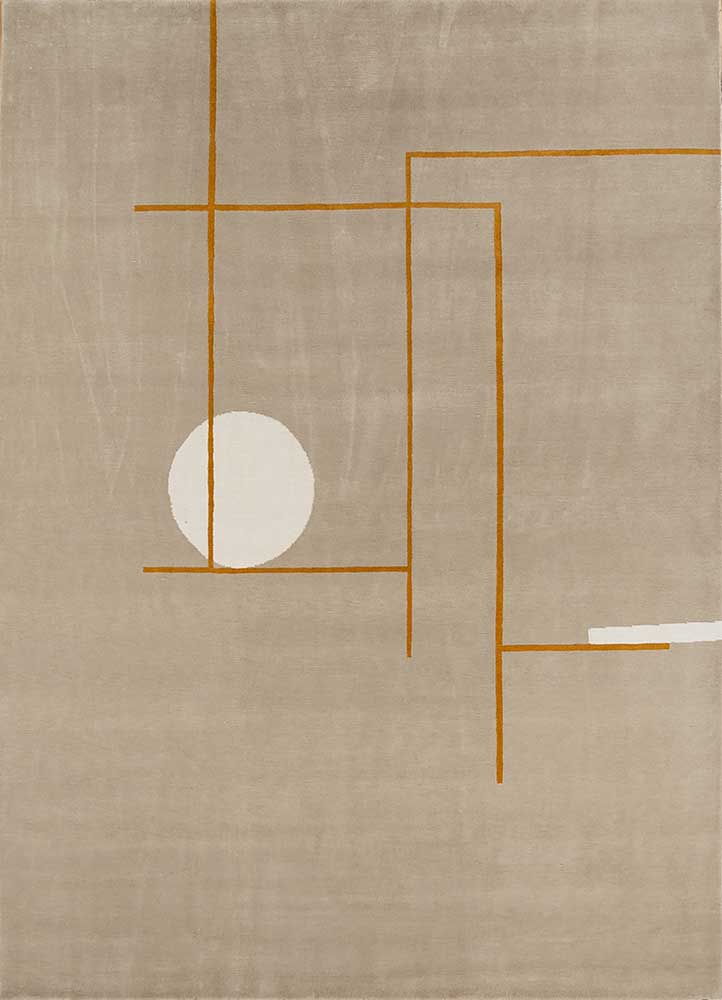 Jaipur Rugs presented their latest collections including distinctive handmade pieces from 'Brahmand' designed in collaboration with renowned design Ashiesh Shah and 'Indie Rose', designer Vinita Chaitanya's lifetime of observations—of nature, gardens, colors, texture, and techniques.
Jaipur Rugs displayed some of their famous designs, including:
Manchacha: A design that combines design innovation and social impact
Sthir: A design that features minimalist lines and primary colors
Brahmand: A new collection of hand-knotted carpets designed by Ashiesh Shah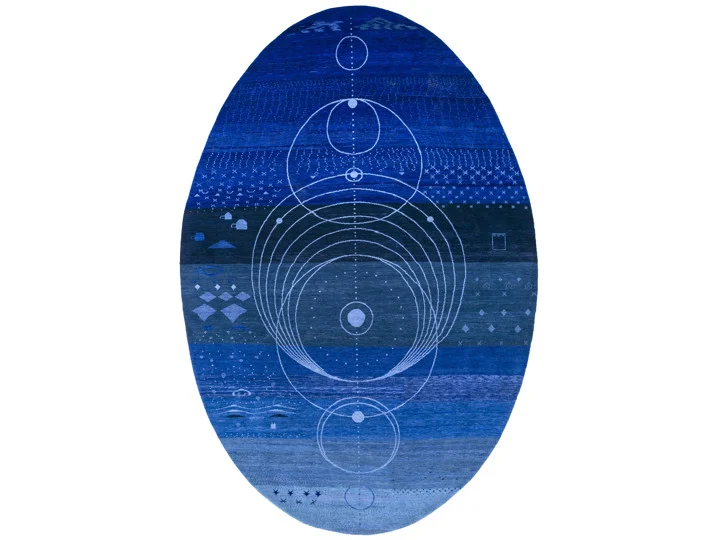 Jaipur Rugs presented Brahmaand, the new collection of hand-knotted carpet designed by Ashiesh Shah. The rugs are inspired by ancient oriental astronomical studies. Jaipur Rugs presents Brahmaand, the new collection of hand-knotted carpet designed by Ashiesh Shah.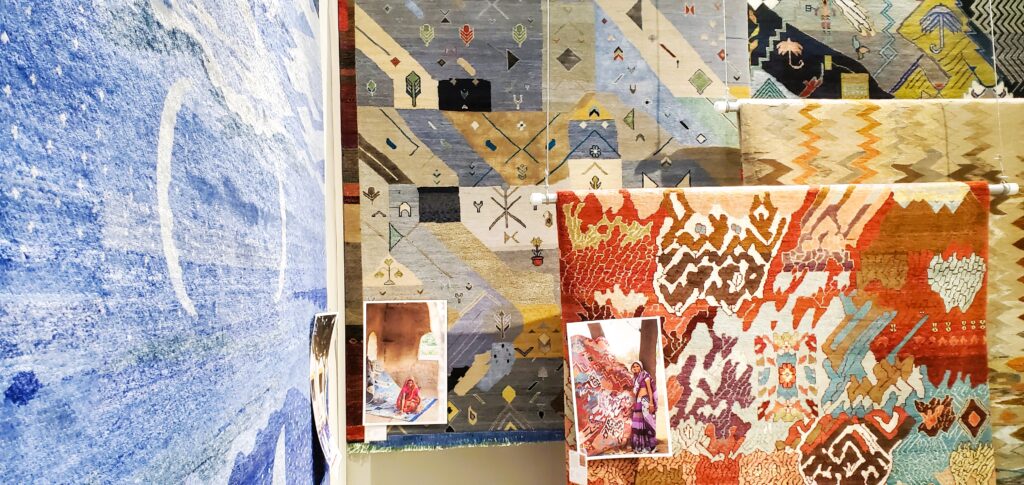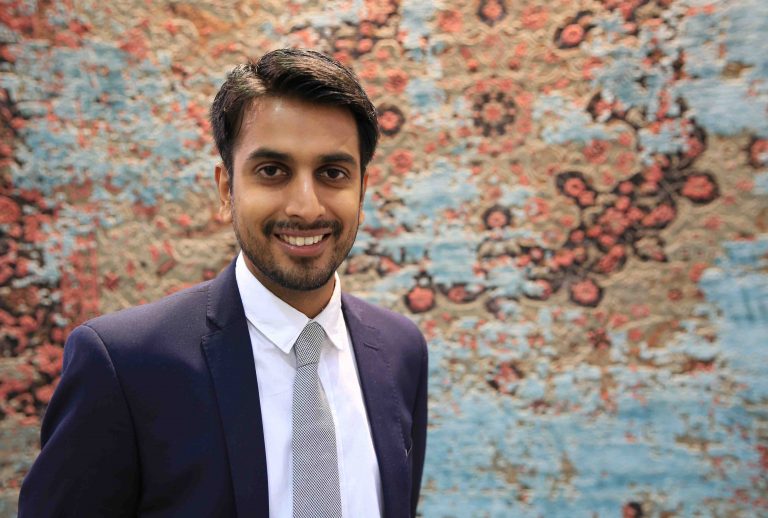 According to Mr. Yogesh Chaudhary, Director, Jaipur Rugs, "Dubai is where shoppers go to discover the latest in design and fashion. As a city, it is innovative and vibrant, making it a great market for new age, socially-conscious brands like ours. As an inclusive design-led brand we are very bullish about showcasing our designs here in the heart of Dubai and bringing handmade carpets from rural India to the people of this beautiful city."
About Jaipur Rugs
Jaipur Rugs is a family business strengthened by the purpose of protecting ancestral know-how and connecting rural craftsmanship with global consumers. By placing the human aspect at its core, the company has grown to become the largest network of artisans in India. It uses the age-old art form of handmade carpets as a tool to bring prosperity into the homes of 40,000 rural artisans of which 80% are women. Founded in 1978 by Nand Kishore Chaudhary with just two looms, it now has over 7000 looms and sells in over 60 countries.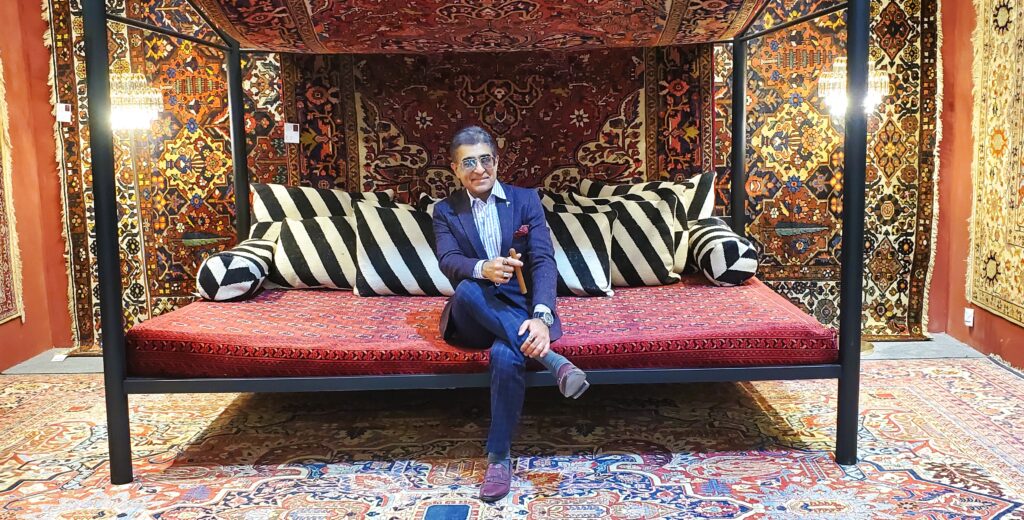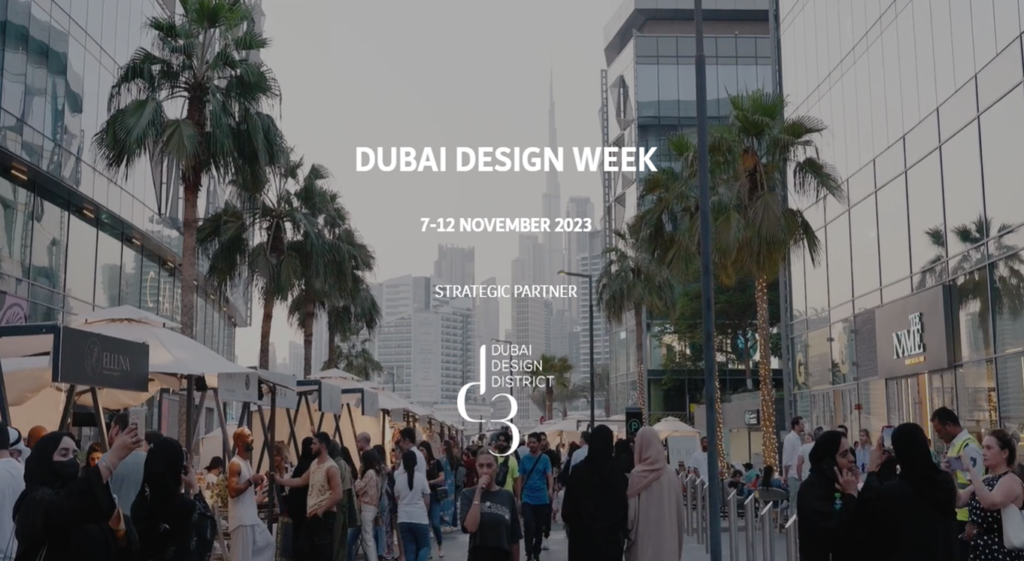 The ninth edition of Dubai Design Week takes place from 7 to 12 November 2023 at various locations across Dubai, with a programme of exhibitions, installations, talks, workshops and markets. One of the festival's largest events is four-day design fair Downtown Design, which showcases furniture, lighting, bathroom and kitchen products. Dubai Design Week explores a variety of design disciplines, including architecture, product design and interiors. The festival takes place in venues in Dubai Design District (d3) and across the city.