LEGENDARY LES LALANNE: FUNCTIONAL SURREALISM OF THE CO-CREATORS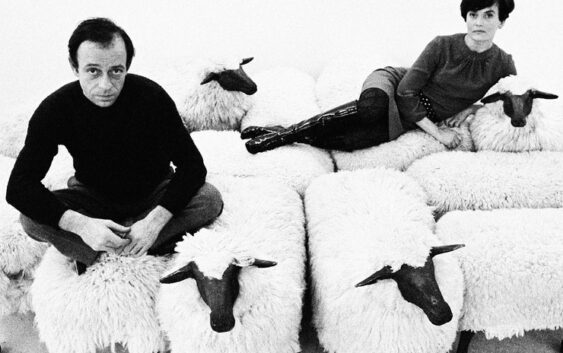 "They are not furniture, they are not sculpture – call them 'Lalannes'." – Claude Lalanne
"The supreme art is the art of living." – François-Xavier Lalanne.'
Christie's unveiled in Dubai for the first time ever 11 exceptional sculptures and other works by the French artist couple Claude and François-Xavier Lalanne, from the collection of the artists' daughter, Madame Marie Lalanne, on 8 November 2022 at the Design Days Dubai (8-12 November).
The art connoisseurs and collectors will have the rare opportunity to acquire the collection at the Christie's Sculpting Paradise sale, taking place in New York on December 7, 2022 (https://www.christies.com/auction/auction-21863-nyr/browse-lots).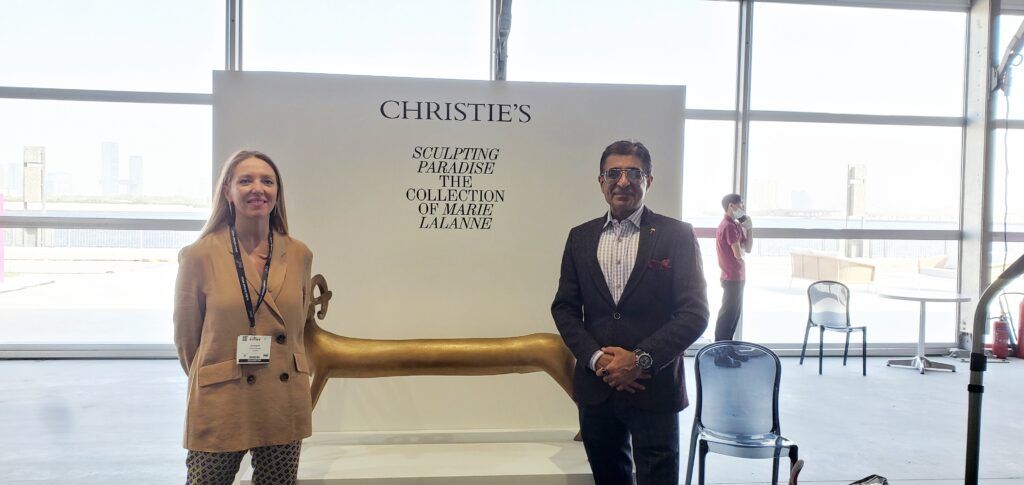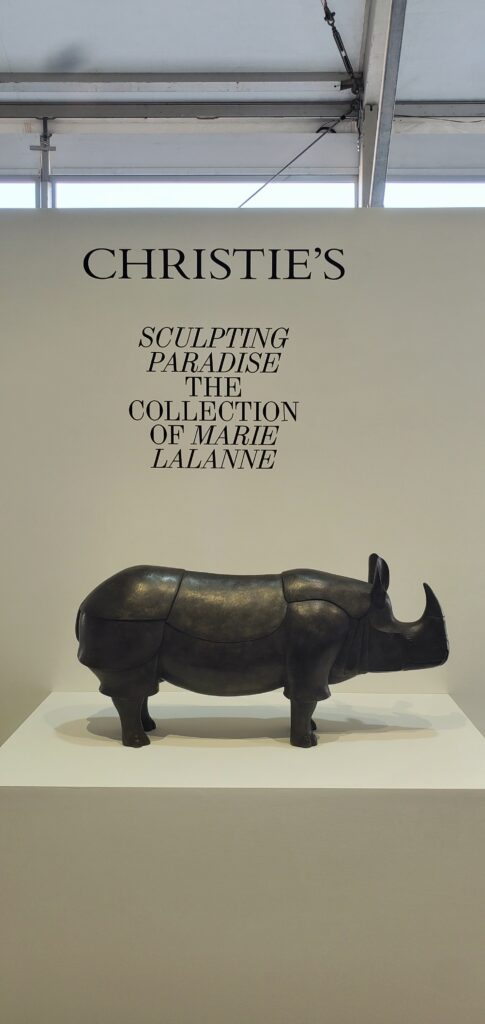 This auction comprises a selection of exceptional works of art created by the iconic Claude and Francois-Xavier Lalanne, two of the most celebrated artists of the 20th century. The items come to Christie's directly from the private collection of Marie Lalanne, the artists' daughter. The auction collection offers more than 150 lots, including sculpture, furniture, jewelry, handbags, dinner services and more, will be sold at Christie's New York in Rockefeller Center. It is the largest collection of Les Lalanne ever to be sold in the United States.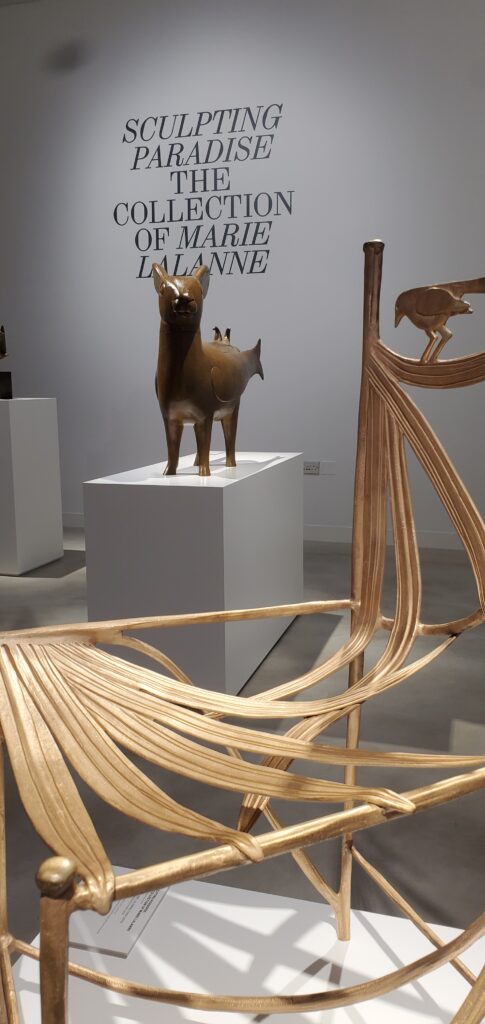 I did attend the private viewing of the exceptional sculptures and other works by the French artist couple Claude and François-Xavier Lalanne, from the collection of the artists' daughter, Madame Marie Lalanne at the Christie's Dubai gallery. I was very fortunate and lucky to understand better the legendary Les Lalanne, who are recognized as the most talented and original artists of the 20th and 21st centuries, truly enticing.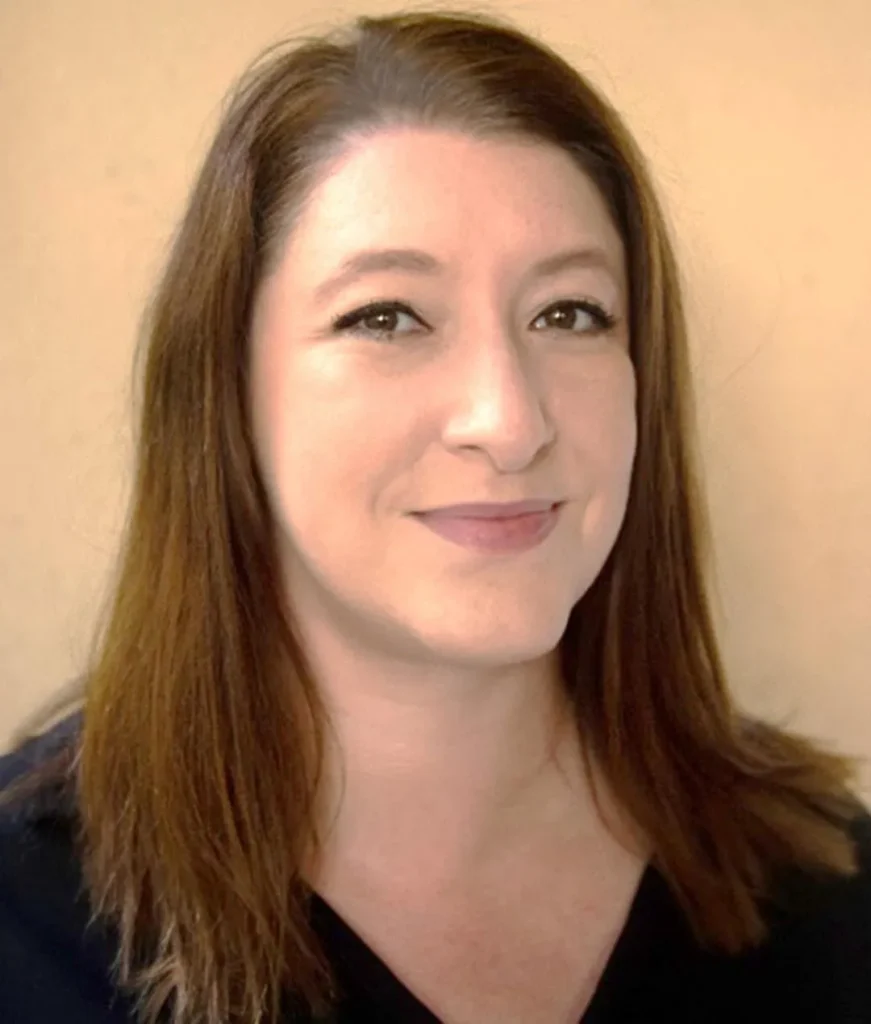 Meagan Kelly Horsman, Managing Director, Christie's Middle East remarks: "It is a tremendous pleasure to showcase for the first time works by Claude and Francois-Xavier Lalanne in the Middle East during Design Days Dubai. Christie's has had the privilege of presenting works by Les Lalanne over the past three decades; despite that long commitment to the artists' market, their work continues to surprise us with its ingenuity and profound poetry."
François-Xavier (1927-2008) and Claude (1925-2019) Lalanne both believed art should be integrated in everyday life, inspired by nature, an ideal reflected in both the sculptural and functional aspects of their creations. The highlights in the exhibition explore the artists' signature themes and creatures, from sharks to sheep, bears to birds. François-Xavier Lalanne's creations demonstrate his virtuosic skill as architect of an imaginary world, combining powerful creativity with a mastery of gesture. The poetic work of Claude Lalanne harmonizes the realms of animal and plant.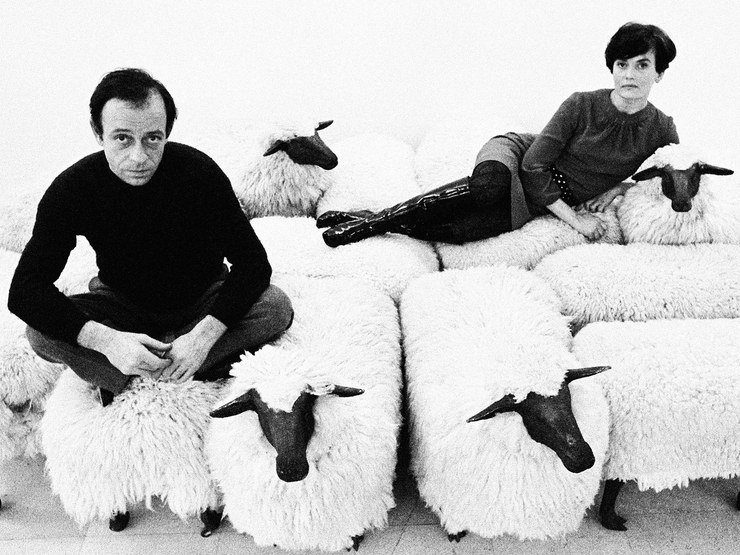 'I thought that it would be funny to invade that big living room with a flock of sheep,' François-Xavier once explained. 'It is, after all, easier to have a sculpture in an apartment than to have a real sheep. And, it's even better if you can sit on it.'
For the 1965 Salon de la Jeune Peinture in Paris, French artist François-Xavier Lalanne wanted to make a statement. "If you come with a snail as big as a thumb, nobody notices," he said. "You have to go with something immodest and slightly embarrassing."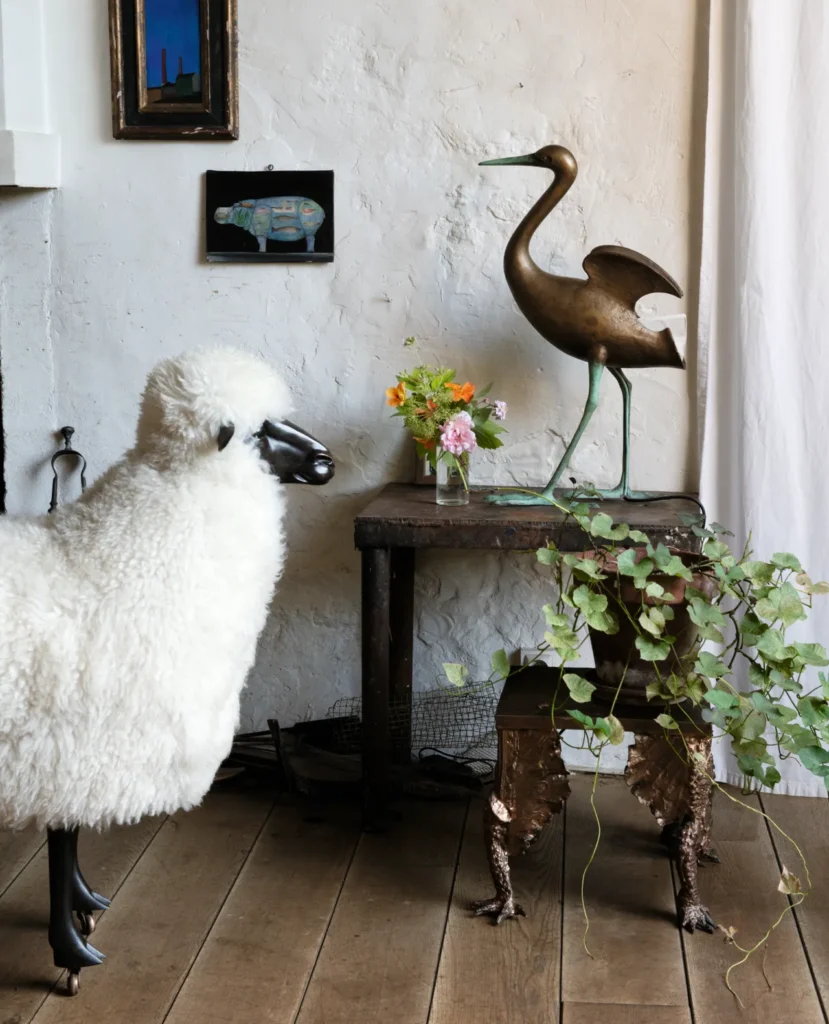 The creations of Les Lalanne, call it zany, whimsical, divine, stunning, there was a strong allure for the collector to acquire it.
Lalanne's living room was adorned with art works and the famous faux livestock, as art furniture, a sculpture but used for seating, in their Paris apartment, who he shared with his co-creator Claude, his loving wife and artistic partner.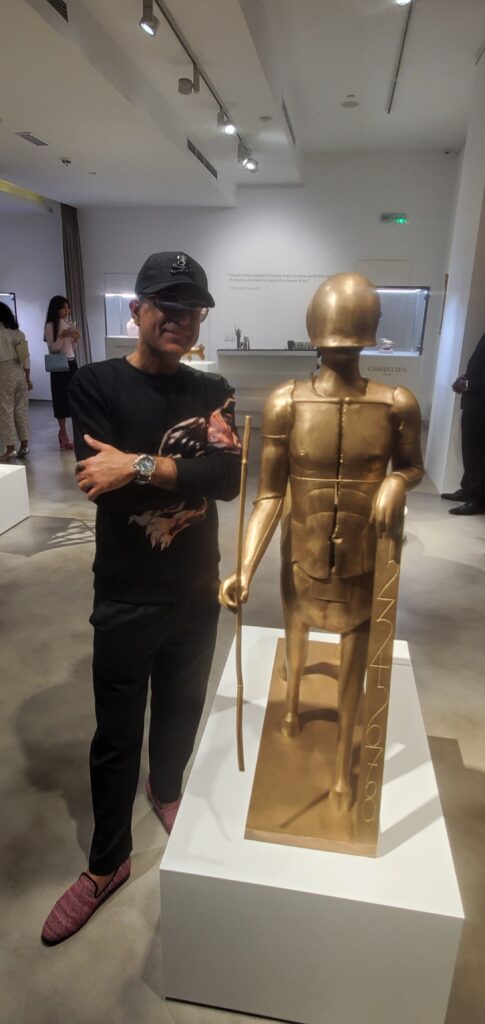 François-Xavier's created the sheep sculptures, now known as the Moutons de Laine, were first presented with the title Pour Polytheme, a reference to history, a passage in Homer's Odyssey. The Ulysses and his comrades blinded the cyclops Polyphemus, and escaped from the cave by clinging to the bellies of his giant sheep, reference from Homer's Odyssey.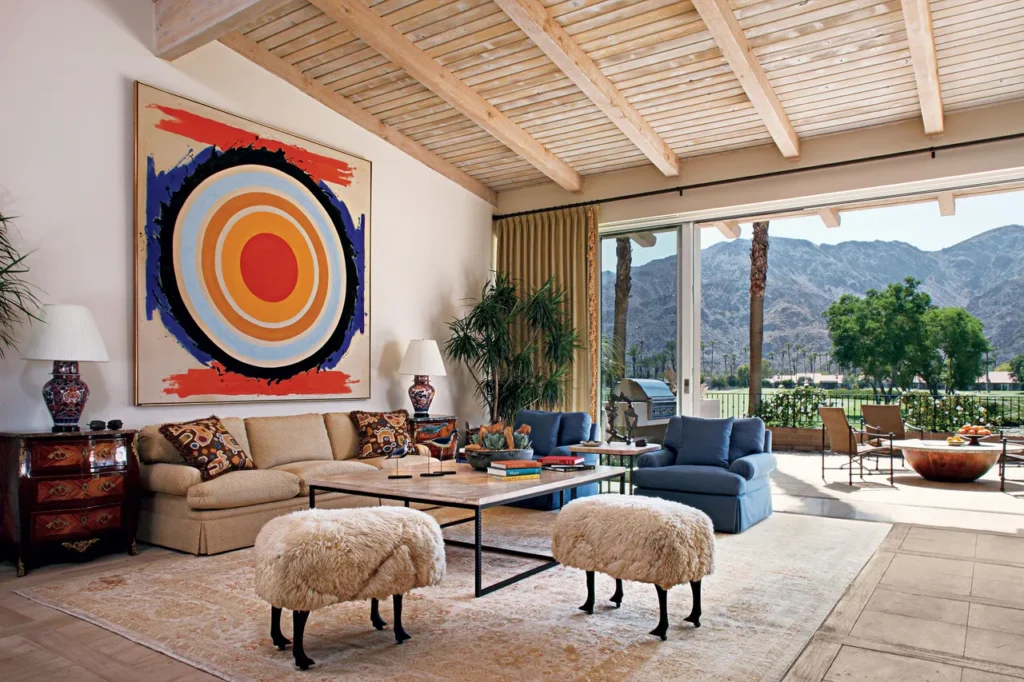 Les Lalanne were deeply and lovingly appreciated by the two major French designers, Yves Saint Laurent and Christian Dior.
Yves Saint Laurent (YSL) and Pierre Bergé commissioned several works of Les Lalannes. YSL who exhibited them in his Paris library, and said "[They help me] pretend I am on a farm in Normandy," as he enjoyed lounging on his Lalanne sheep in his garden too.
YSL also worked with Claude Lalanne, the Empreintes collection of 1969, which was inspired by the gilt metal castings from the body of supermodel Verushka and created the sculpture. Claude Lalanne amalgamated art and design.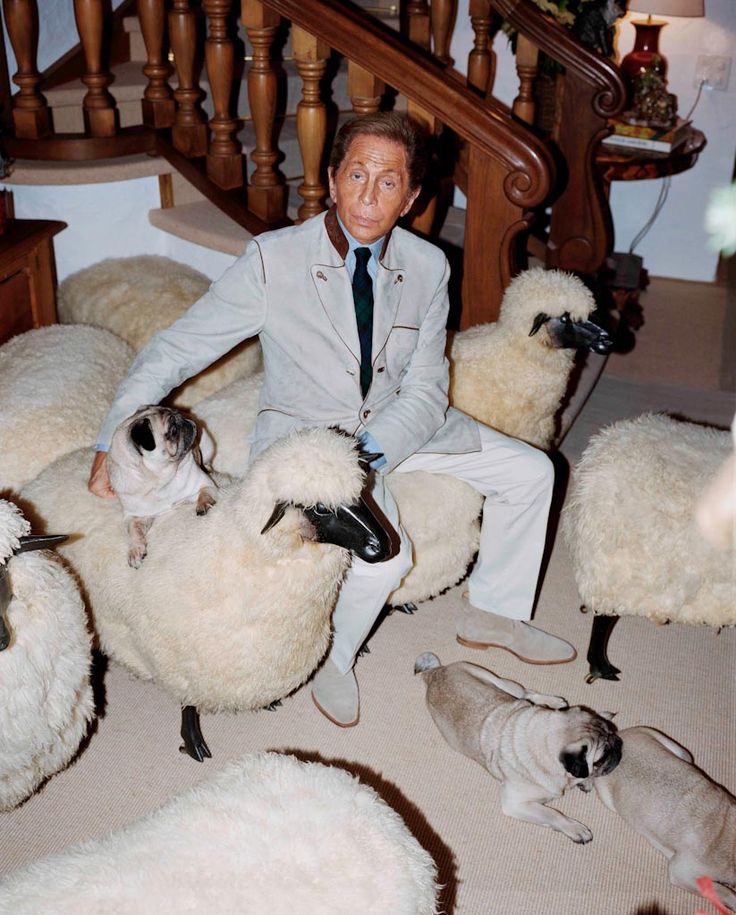 The dynamic art couples of the 20th century, Les Lalanne's creations endured popularity, the fashion world loved them and fashion designers such as Hubert de Givenchy, Karl Lagerfeld, Marc Jacobs, John Galliano and Reed Krakoff, among others, commissioned works from Les Lalannes.
From the 1960s, the surreal sculptures, elegant decorative arts, and functional furniture, mostly in copper, bronze, and aluminium, of the husband-and-wife duos of the 20th century, François-Xavier (1927-2008) and Claude Lalanne (1924-2019) are now more than ever coveted by the contemporary collectors, antiques for the future collectors.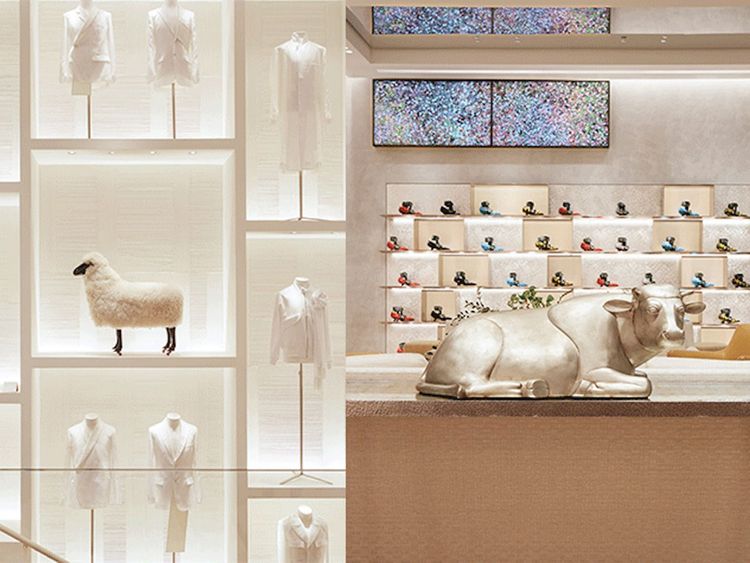 Chanel, Dior and Tom Ford flagship stores have Les Lalanne works installed in, deeply rooted in the fashion world. Renowned collectors, the decorator Peter Marino, who used François-Xavier's sculptures in his designs for Chanel's fine jewellery shops, is a serious committed collector.
In 1964, the couple's first joint exhibition, Zoophites, opened at Jeanine Restany's Galerie J in Paris, and the works on display were the a gigantic brass fly with Plexiglas wings under which a hand-crafted toilet hides and Claude's Choupattes (Claw Cabbages) and François-Xavier's La Mouche.
Even though their styles differed, François-Xavier's creations were inspired by the animal kingdom while Claude favored the botanical, the major emotional connect, was their united love for historic French craftsmanship.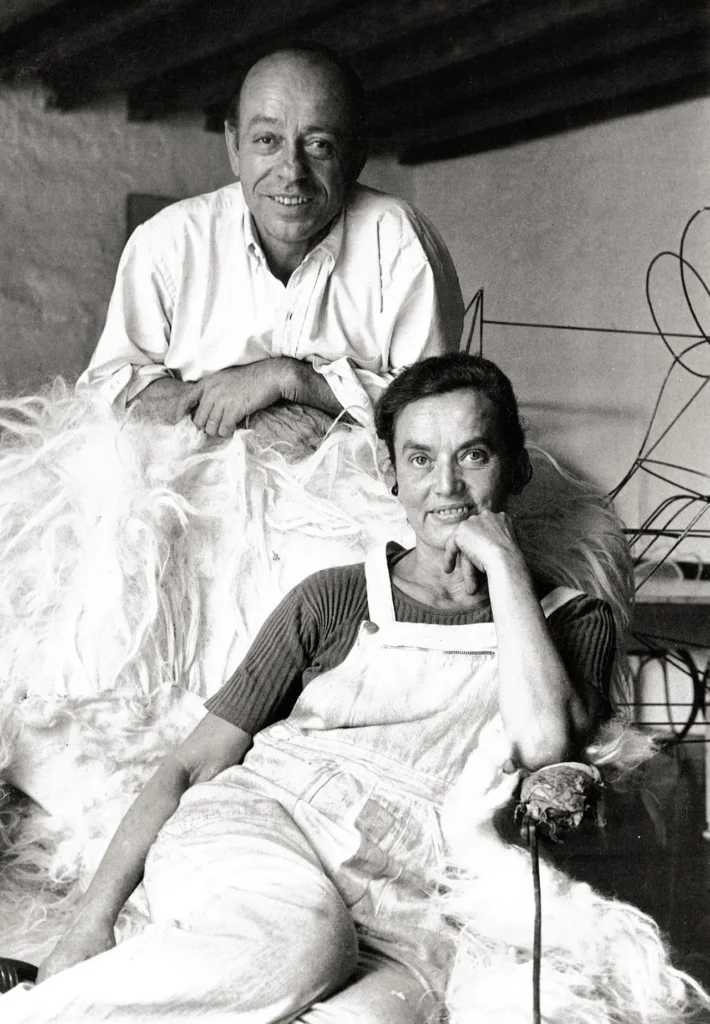 Their art creations, exquisite blend of fine and decorative arts, inspired on naturalistic forms, integrated sculpture with design, exuded humor and surrealism, few creations were functional, and rarely collaborated on individual works, the complete oeuvre of Les Lalanne, artists and artisans, sublime creations.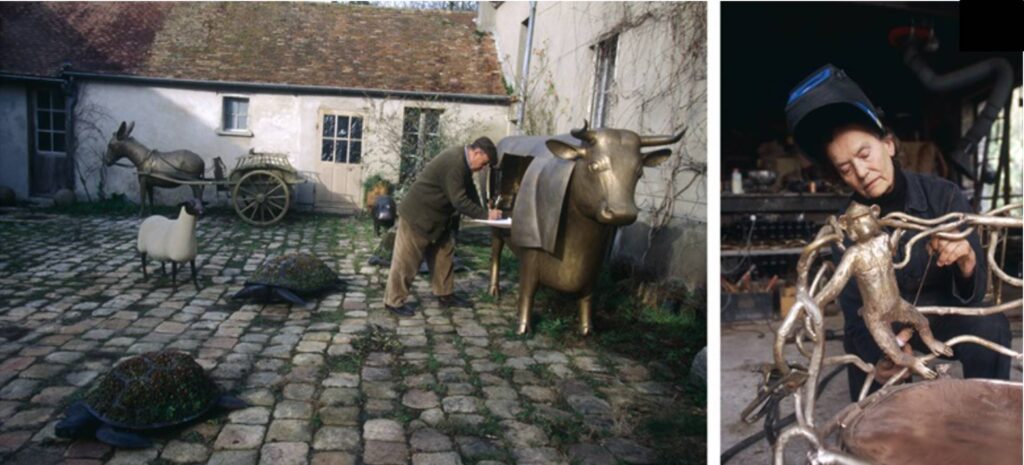 Left: François-Xavier Lalanne working on a statue of a metal bull in Ury. Photograph: © Micheline Pelletier/Sygma/Getty Images. Artwork © 2022 Artists Rights Society (ARS), New York / ADAGP, Paris. Right: Claude Lalanne working in her studio in Ury. Photograph: © Micheline Pelletier/Sygma/Getty Images. Artwork © 2022 Artists Rights Society (ARS), New York / ADAGP, Paris
The husband and wife worked in studios side by side at their maison atelier in the rural French village Ury, south of Paris, with distinctive ideologies, and always exhibited together, as Les Lalanne, until their deaths: François-Xavier in 2008, Claude in 2019. Is at their maison atelier, their brilliant creativity and ideas was unlocked and unfurled to objects of allure, and having a rich and contently art of living.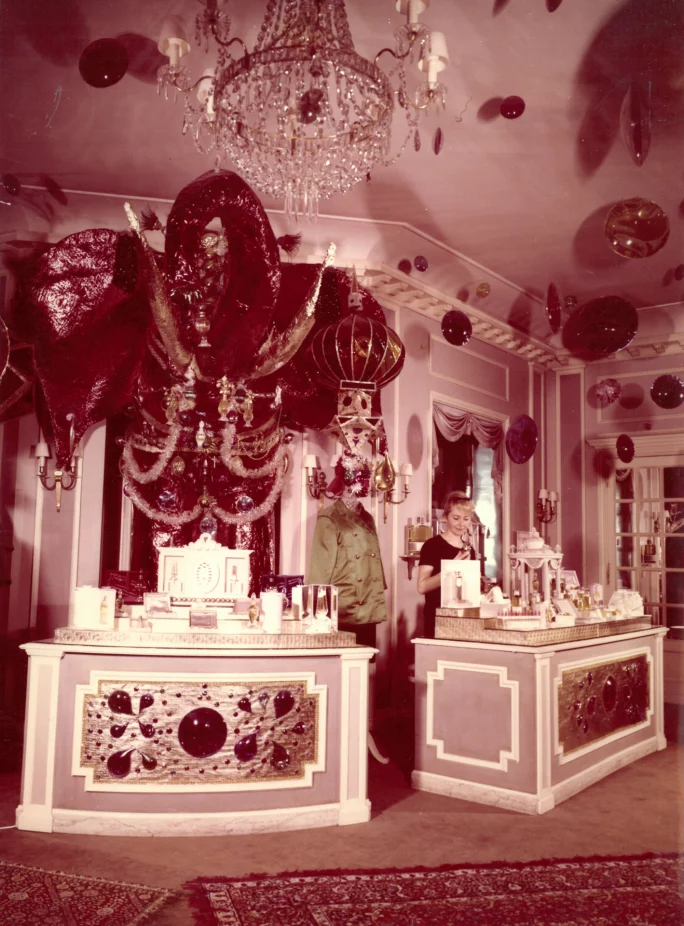 In 1957, Maison, Christian Dior's relationship with the Lalanne couple commenced and Dior commissioned decors for his boutique at the corner of Avenue Montaigne and Rue François-Ier, he founded the Maison. The strong relationship continued, and in 2007 Claude Lalanne once again decorated the boutiques of Dior, and when the House's Creative Director Maria Grazia Chiuri created her first spring-summer 2017 haute couture Dior show in Paris, she called on Claude to create and design the jewelry for the collection.
"The creations of the sculptress displayed conjured-up flora and fauna, exalting the enchanting magic of couture," shared the DIOR House in their notes.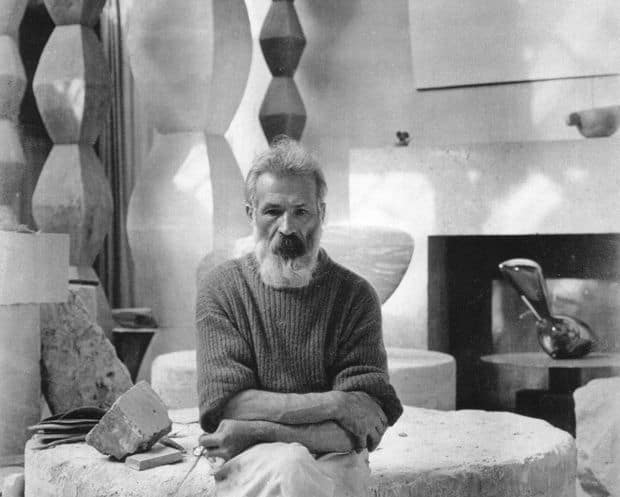 The strong influence of surrealism was thanks to his neighbour, the sculptor Constantin Brancusi, he often visited gifting vodkas, plums and cigarettes. He met Constantin, when at the age of 18, François-Xavier Lalanne moved to Paris and rented a studio in the Impasse Ronsin, an area where artists lived, in Montparnasse. Constantin, the great sculptor introduced François-Xavier to the Surrealists circle, artists Salvador Dalí, Man Ray, Jean Tinguely, Niki de Saint Phalle and James Metcalf, including Max Ernst and Man Ray. It was in 1952, Claude met her future husband, François-Xavier Lalanne at an exhibition of his work, deeply in love, moved in together but married in 1967.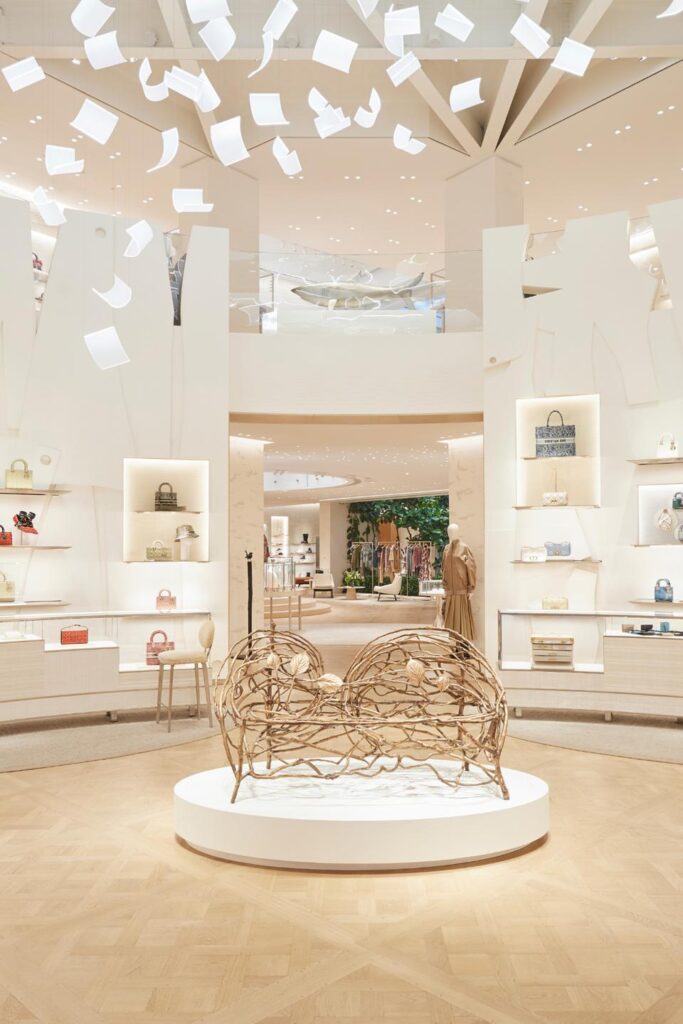 Currently, Chanel, Dior and Tom Ford flagship stores have Les Lalannes art works, their legacy remains strong, and collectors such as the decorator Peter Marino, had François-Xavier's sculptures in his designs for Chanel's fine jewelery shops.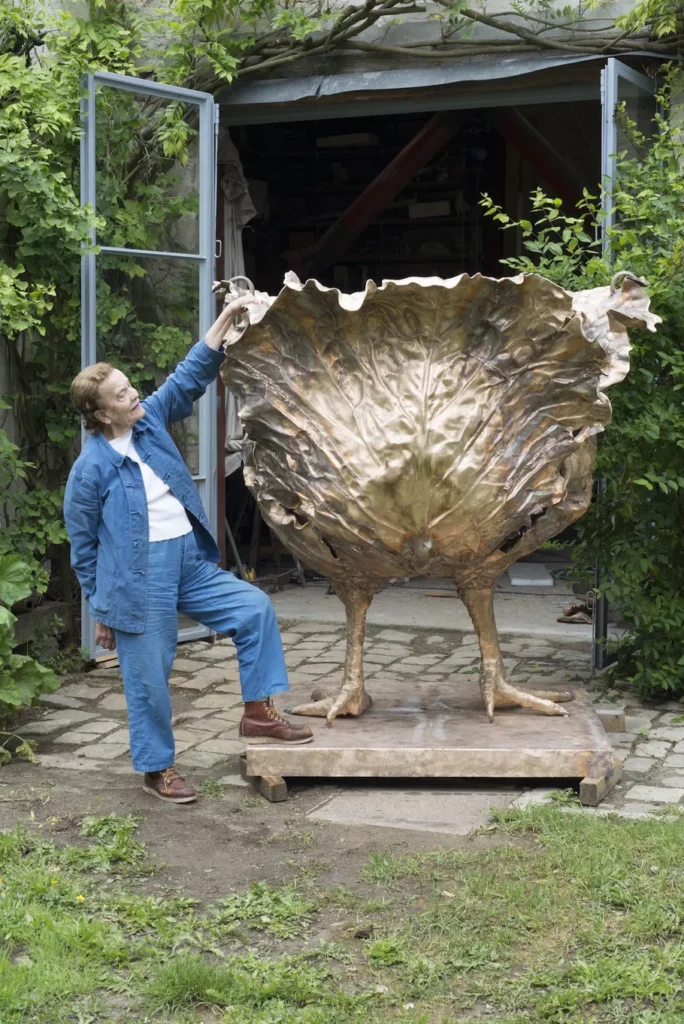 '[They] completely ignored us; for them, making sculptures which had a use was a complete nonsense,' said Claude Lalanne in 2013. Often being ignored strongly initially by the critics, when they first showed their work, Les Lalanne refused to conform, and in time they became extremely popular, with their works everywhere, from designers boutiques, in magazine covers to Paris's most fashionable galleries.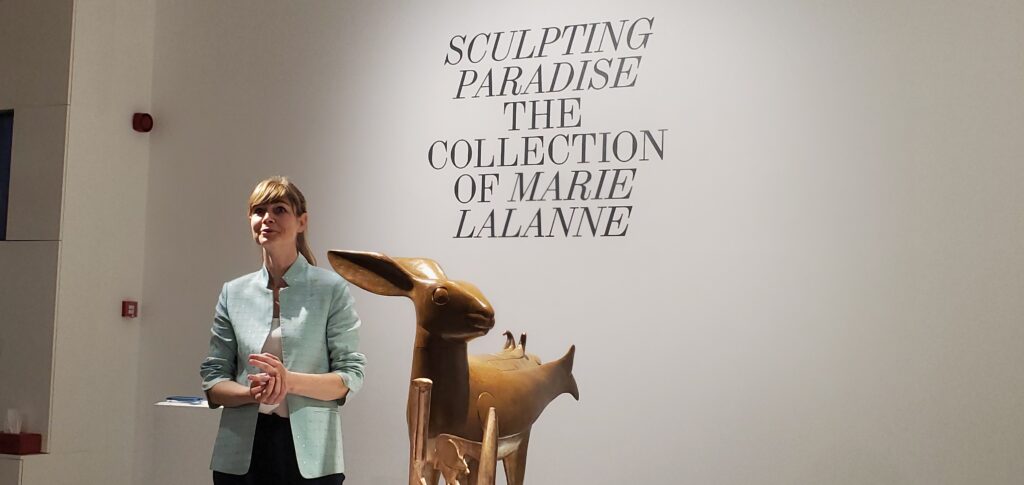 Senior Specialist and Head of Design, Christie's Americas, Daphne Riou comments, "Claude and Francois-Xavier Lalanne were among the most powerful voices of the 20th century, standing alongside Brancusi, Max Ernst and Yves Klein as singular luminaries from the Impasse Ronsin who together defined an entire generation of artistry. Les Lalanne saw the world through a unique lens, mixing a Surrealist beauty with witticism and strength in the artworks they created, both together and separately. The timelessness of their art is undeniable. We are honored and humbled to have the opportunity to showcase this phenomenal group of objects that come directly from the collection of the artists' daughter, Marie Lalanne."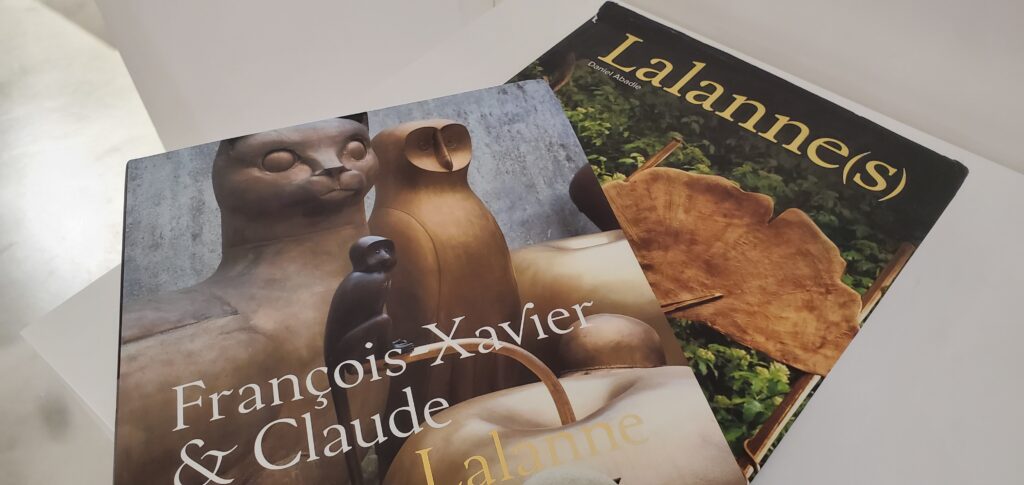 I had the honor to meet Ms. Daphné Riou, Senior Specialist and Head of Design, Christie's Americas, and gather knowledge about Les Lalanne, below do find the Q&A.
How have they come about functional forms of their creations,
Their inspirations, thought process, how it evolved through their journey?
Francois-Xavier was born in Agen, in Southwestern France, in 1929. In Agen was a museum famous for its stuffed animals, which he would look at as a child. At age 18, he moved to Paris where he trained as a painter and sculptor. For a brief period of time, he worked as a security guard at the Musée du Louvre, in the Assyrian and Egyptian Antiquities department. In 1949, he moved in a small studio, impasse Ronsin, in Paris, where he became friend with other artists such as Brancusi, Max Erns, Yves Klein, among others.
Claude was born in 1924 in Paris, in a family of artist. As a little girl, she was fascinated by her father, an alchemist experimenting with metal, in the search of the philosophical stone. She studied architecture at the Ecole des Beaux-Arts and met Francois-Xavier in 1953. They both started to live and work one next to eachother impasse Ronsin, and their first show together took place in 1964, at Galerie J in Paris. A few years later, they decided to move together to a house/workshop in Ury, near Fontainebleau, where they spent the rest of their lives. In Ury, they drew inspiration from their gardens and the French countryside.

Both were influenced by different inspirations, what was the end objective of their creations and bonded their art professions?
The Lalanne were a very unique creative couple: they worked alongside each other and had very similar sources of inspiration: the natural world, the animal kingdom and mythology. They created a whimsical universe, bringing together imagination, humor and poetry, with works that re-enchant the familiar and the functional. However, they rarely collaborated and their techniques were different. Claude employed techniques of molding and electroplating, while Francois-Xavier would have a more traditional approach of drawings before executing his pieces. The Centaure presented in Dubai is a very rare and spectacular collaboration between the two artists, signed by both of them. While Claude designed the head and bust of the man, Francois-Xavier is responsible for the animal body.
Lalannes worked very closely with top fashion designers at the time, which are the works strongly influenced from the fashion designers/their design creations?
Francois-Xavier's first private commission was the sculptural bar he designed for Yves Saint Laurent and Pierre Berge in 1965, later sold at Christie's in the 2009 legendary sale of their collection. Saint Laurent also worked with Claude, whose gilt metal castings from the body of supermodel Verushka were incorporated into the designer's Empreintes collection of 1969. Yves Saint Laurent often visited the couple in Ury. He also owned an example of the "Williamsburg" chair (an example from the same model is presented in Dubai).
The Lalanne also knew Christian Dior, who presented their works in his boutiques in the late 1950s, and Claude in particular, had a close connection with fashion thanks to her jewelry design. The "Butterfly" earrings presented in Dubai are amongst her earliest designs.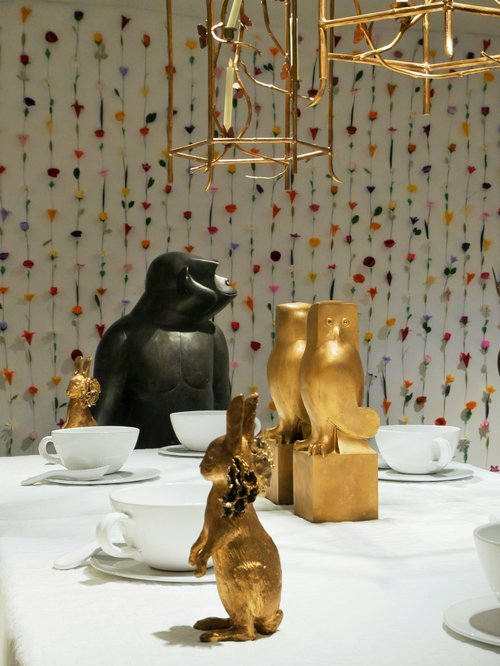 Les Lalanne attracts discerning art collectors from around the world, who are fascinated by the depth of the works and objects created by the Lalannes, which portray beauty and poetry. Marie Lalanne, an artist herself, is very committed to expanding to a wider art aficionados, who desire to acquire Lalanne creations.
French president Emmanuel Macron and his wife, Brigitte, released a statement of condolences, speaking of how the couple kneaded together 'imagination, humor and poetry' to create works that 're-enchant the familiar and the functional', when Claude Lalanne passed away in April 2019, age 93.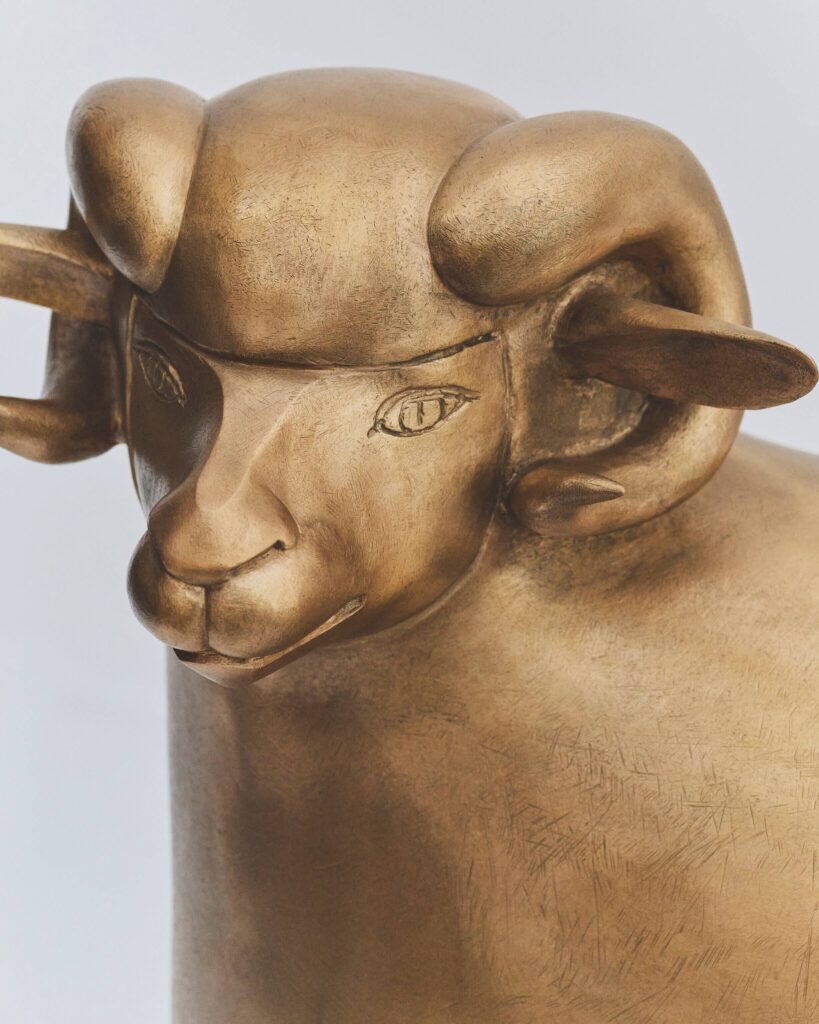 Their work appears in major collections of museums, the Museé Nationale d'Art Moderne/Centre Georges Pompidou, the Cooper Hewitt Museum in New York, and the Museé d'Histoire Naturelle in Paris.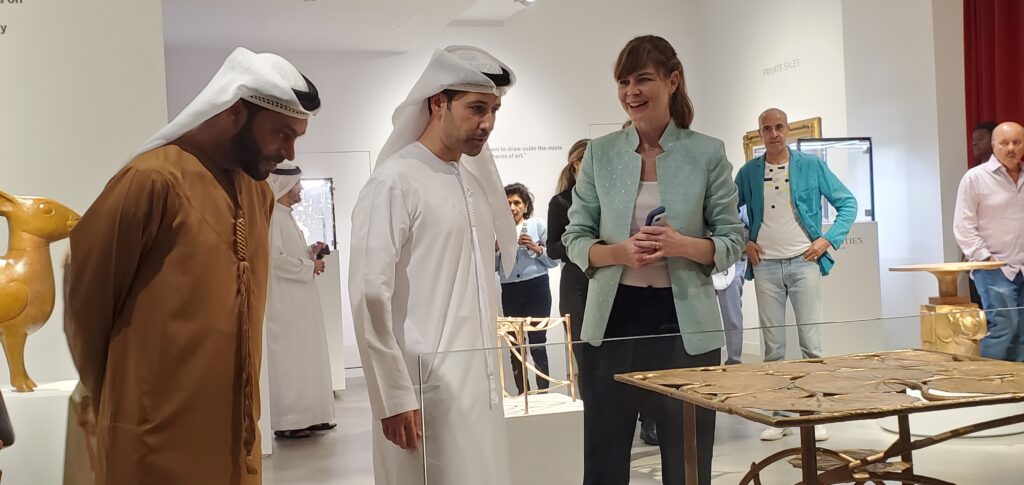 "If you're a Les Lalanne collector, these are the triple-A, triple-plus works," says Todd Levin, an art advisor and director of Levin Art Group. "The extra power of the provenance—coming directly from the Lalannes because they've held those works back [from the market]—should push the prices for those really significant works even higher."