ENTERTAINMENT WITH BRANDS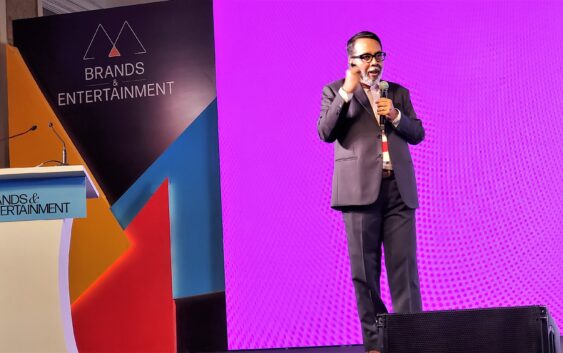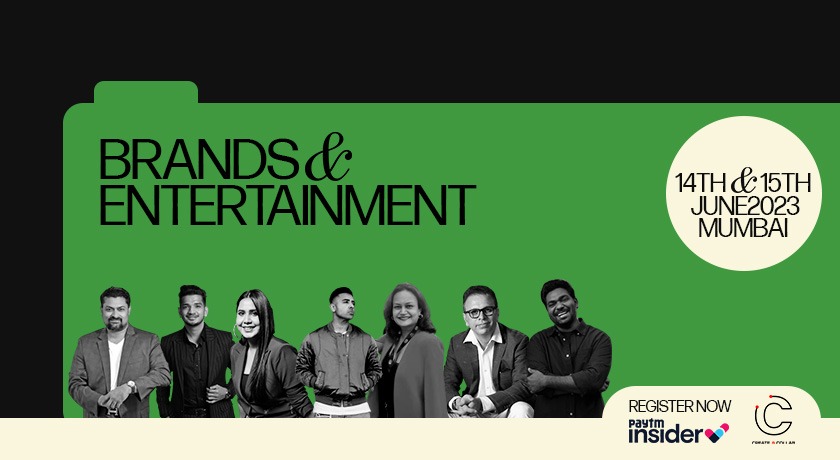 At the conclusion of a two-day conference, Brands & Entertainment, held at Taj Mumbai, the event left a lasting impression on the world of branded entertainment with the presence of over 80 esteemed speakers. The event attracted an impressive crowd of over 1700 attendees from across the globe, with a focus on brands content, media, sports, and entertainment, provided a stimulating environment for networking, staying informed of industry developments, and promoting effective collaborations. The conference provided an opportunity for engaging discussions and networking opportunities. The event was hosted by the creative team of create & collab, the team behind All About Music.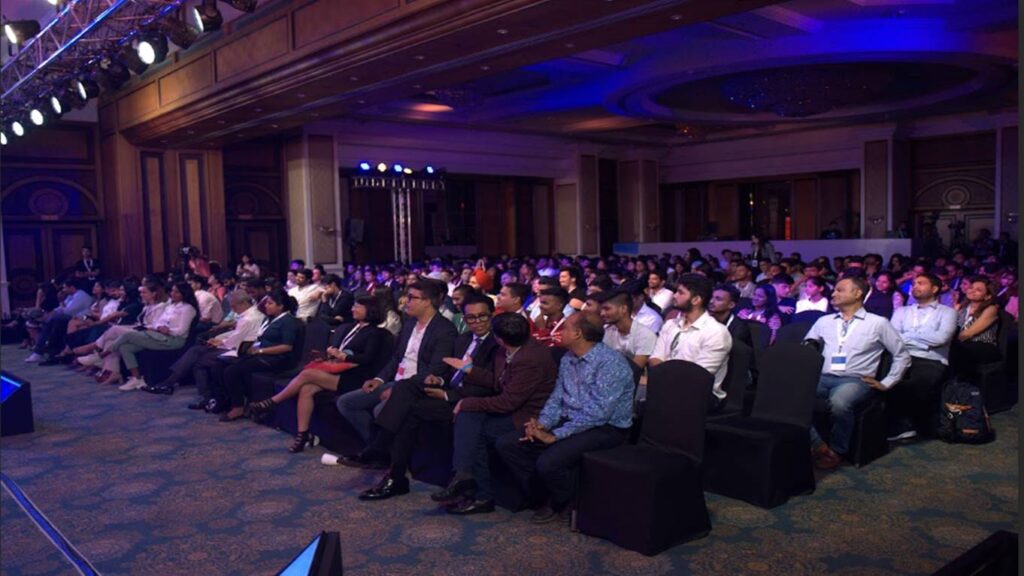 The objective of the conference was to contribute to the development of branded content by promoting partnerships and highlighting industry trends. Attendees from a wide range of industries, such as marketing, advertising, record labels, creative agencies, television networks, performers, film and production companies, OTT platforms, gaming and e-sports, and more, gathered to network, stay informed of industry developments, and form effective partnerships. Attendees from all walks of life, from entertainers to media buyers to producers to content creators, all contributed to the success of the conference.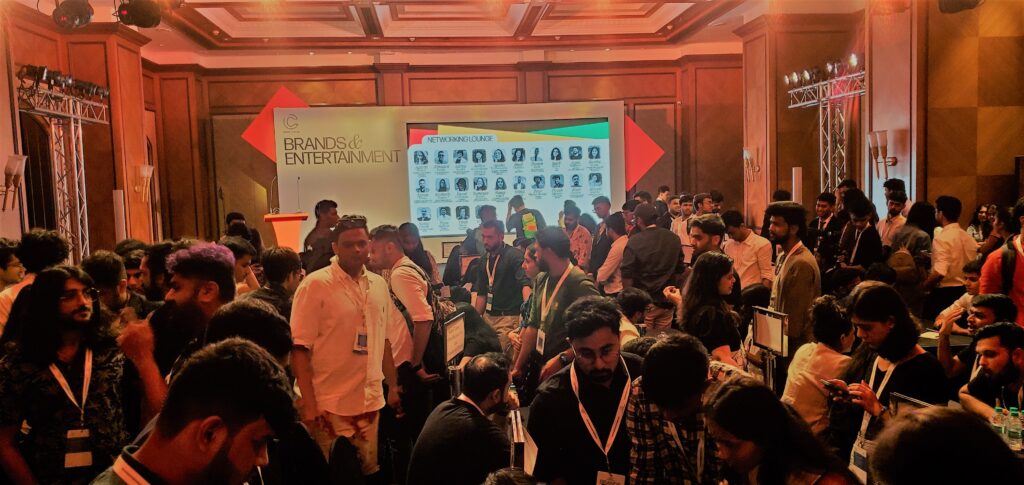 The Networking Lounge was a prominent feature of the event, providing a platform for creators, brands, agency, and production houses to engage in cross-cultural conversations and foster innovative collaborations.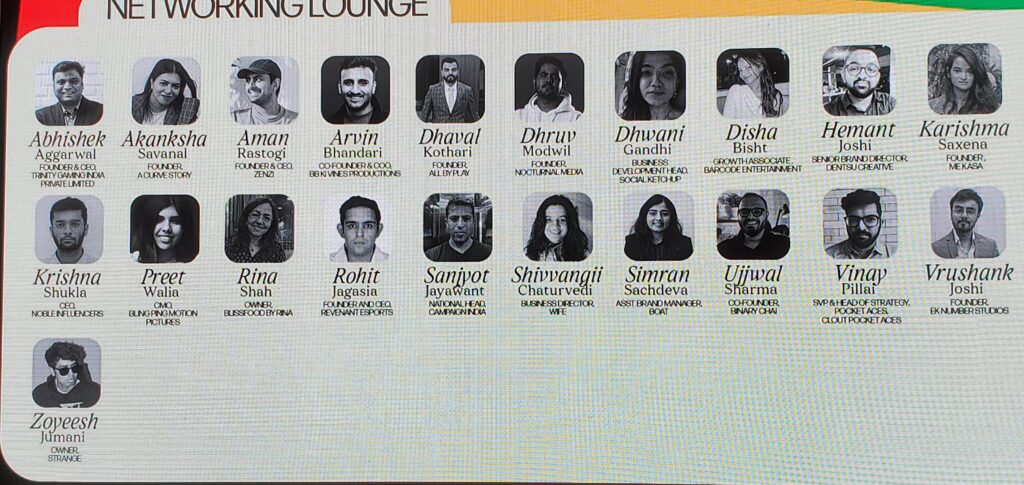 Attendees were able to access networking opportunities with more than 200 organisations, including Mumbai Shaving Company (BMS), Deloitte (Deloitte), Dolby (Dolby), Fairplay Sports (Fairplay Sports), Ghost Kitchen (Ghost Kitchen), Google (Google), Heiniken (Hiniken), Maya Pistola (Maya Pistola), Meta (Meta), Mivi (Mivi), Moj (Moj), Moonshine (Moonshine Meadery), and many more.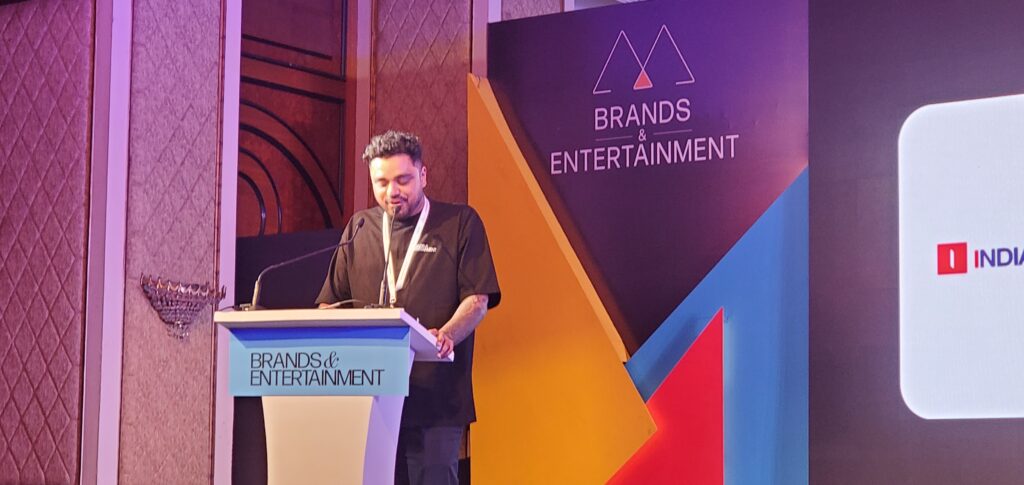 Welcome opening remarks was done by Ashish Jose – Bussn. Head – Crete & Collab.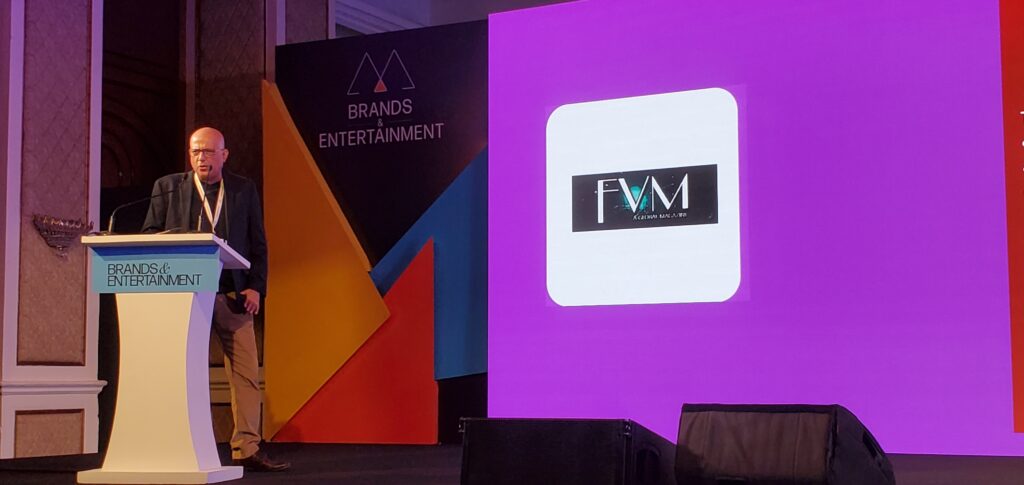 An excellent keynote presentation by Vikram Sahuja, Partner and Group CEO Media & OOH, Madison Communications, on Global trends in branded entertainment – "Branded entertainment is the icing on the cake, but not the whole cake itself."
"In today's day, data is gold! Currently, I look at the marketing funnel. It is like an hourglass model. The awareness is very high and so is the performance while the consideration is pinched. The activities we do with branded entertainment, with the apt collection of data. We can make it from an Hourglass to an Onion."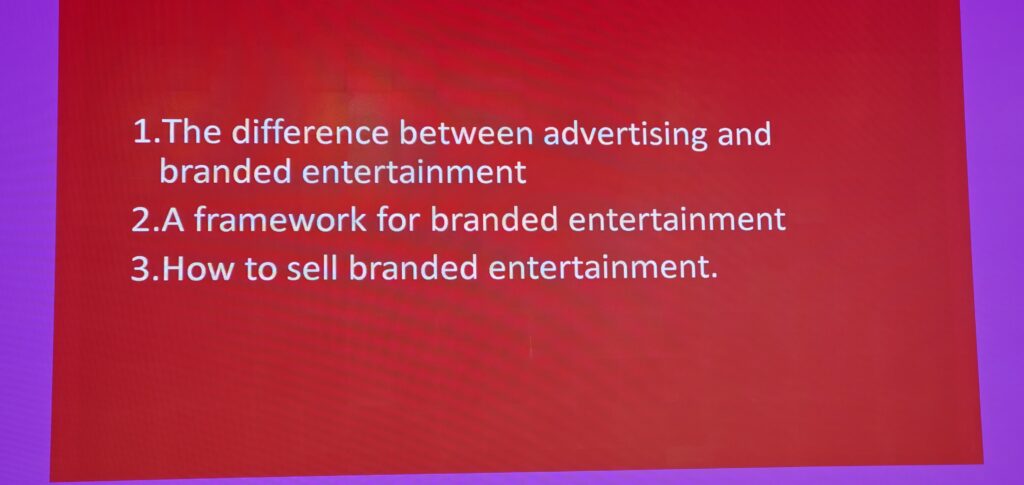 Branded entertainment is a marketing strategy that uses storytelling to connect with consumers in a more meaningful way. By creating content that is both entertaining and informative, brands can build relationships with their target audience and drive engagement. Branded entertainment can be a great way to connect with your target audience and build brand awareness.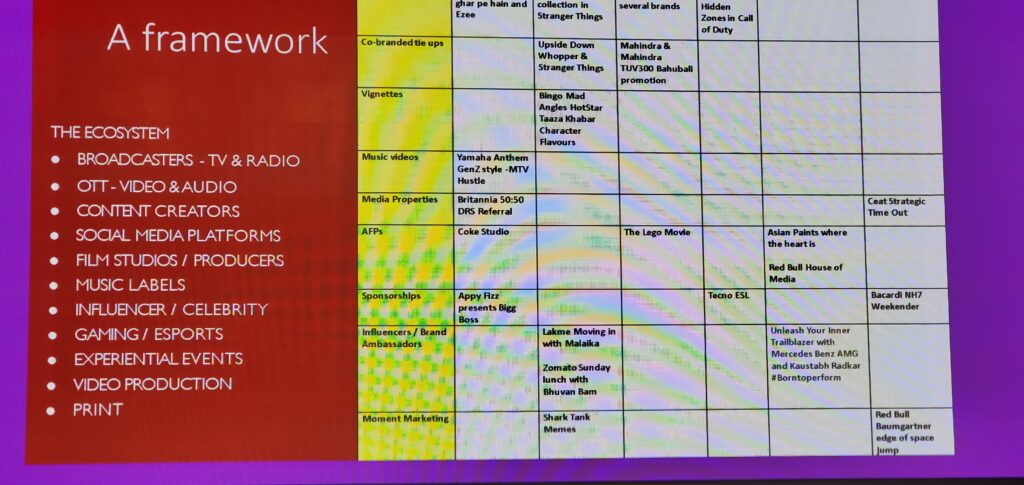 3 tips, best way Girish Bajaj feels, on how to do branded entertainment right:
Create content that is entertaining and engaging. The content should be something that people will want to watch, listen to, or read, not just something that they will tolerate because it's an ad.
Make sure the content is authentic and aligned with your brand values. The content should feel like a natural extension of your brand, not something that was forced in. Be authentic in your storytelling and let your brand's personality shine through.
Promote & amplify the content in a way that is organic and non-intrusive. Don't just blast it out to your audience, find ways to make it part of the conversation.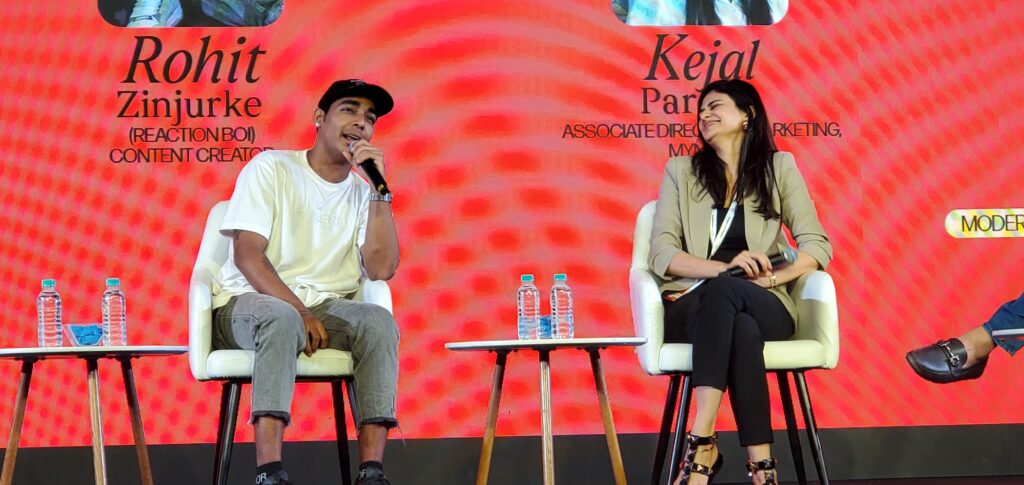 Rohit Zinjurke, the Tik Tok fame influencer from Surat, Gujarat better known as, reaction boi' is a renowned Social Media Sensation, narrated his story and how content is critical with optimizing spending, in rural or urban areas to win customers.
I never intended to become a content creator. I simply knew I wanted to pursue a different career path. My journey began with TikTok, where I began to create dance videos and reaction videos. To my amazement, I quickly amassed a large following on TikTok, and in doing so, I discovered a passion for fashion and lifestyle, as well as simply being behind the camera.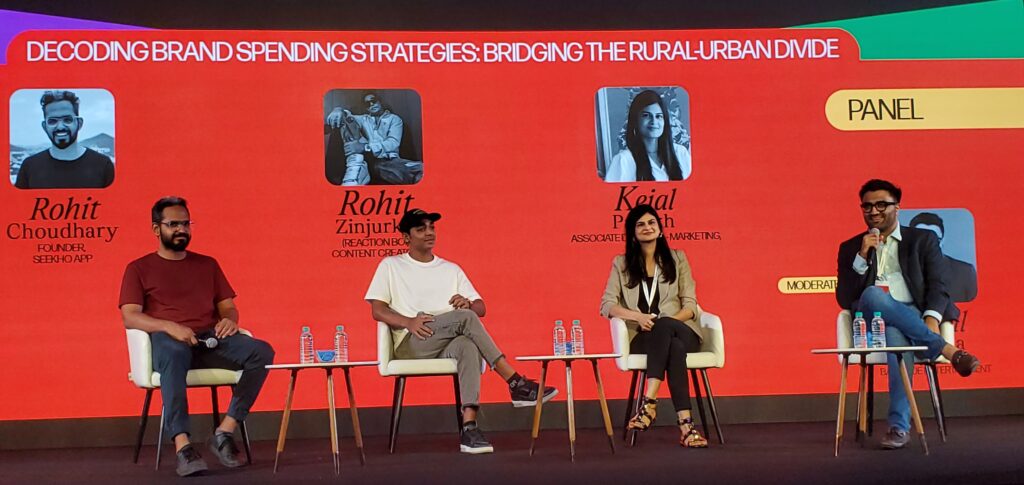 In terms of visual content, I would like to express my gratitude to my team. It would take an entire army to produce all the content you will see on my social media channels. As for information, I prefer to keep it straightforward and approachable. I do not have a pre-determined approach to engaging my audience. Rather, I consider the type of content they consume, strive to create something that resonates with them, and ultimately communicate the desired message.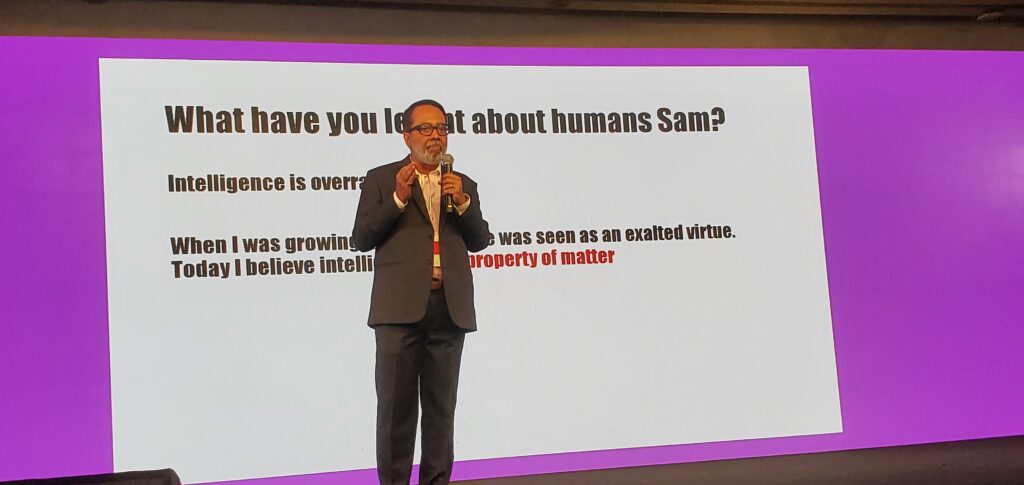 In a very insightful keynote presentation on Brand building, In the age of AI/GPT, Partha Sinha, President – Response of Bennett, Coleman & Co., startled the delegates on the deadly adoption of ChatGPT. "Apps makes us smarter but that may not necessarily be the right goal "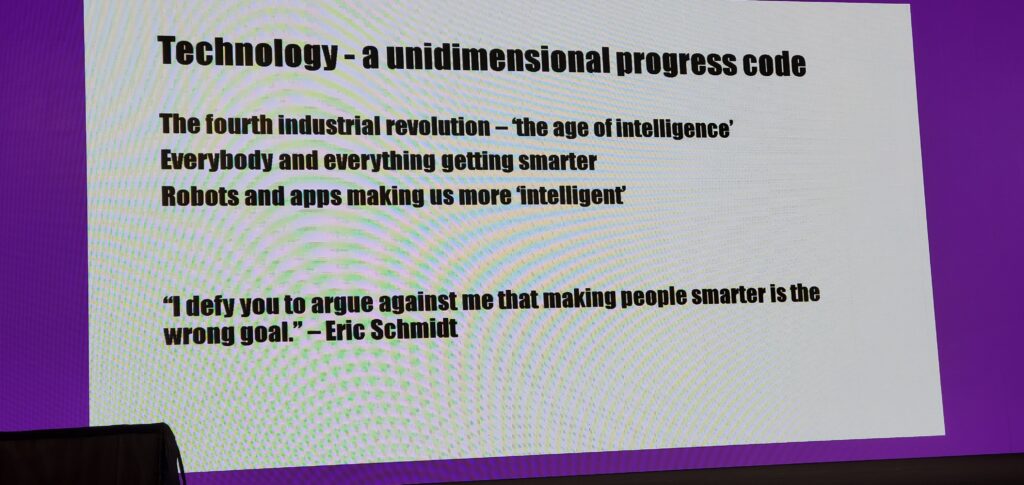 Customer-centric, not technology-centric: The GPT/GAI technology should be used to address customer pain points through a three-step process of recognition, request, and response (RDR). The RDR process takes into account the needs of the customer, analyzes expectations using algorithms, and then develops solutions.
Think about what your customer needs right now and then ask yourself, "What can this technology do for me?" To help you figure out what your customer needs, we like to think of customer experience as a three-step process that starts with the letter R.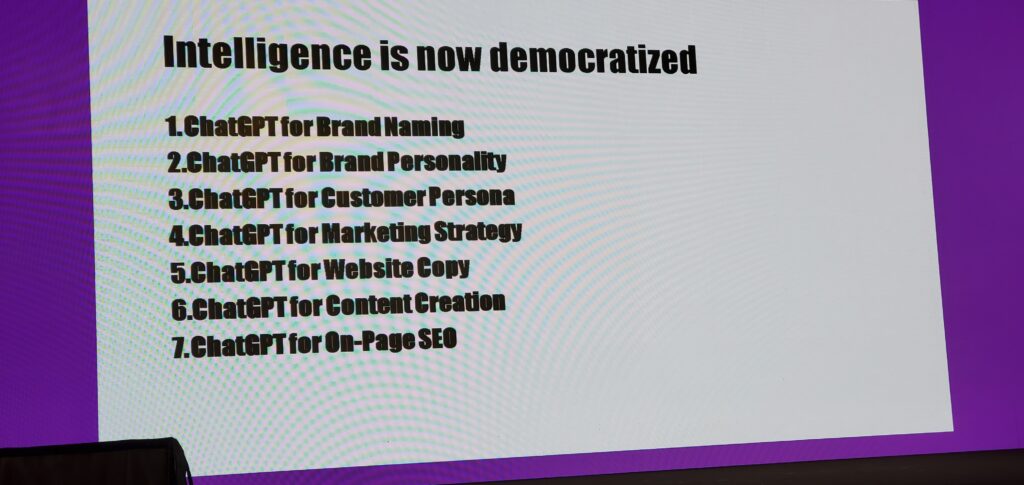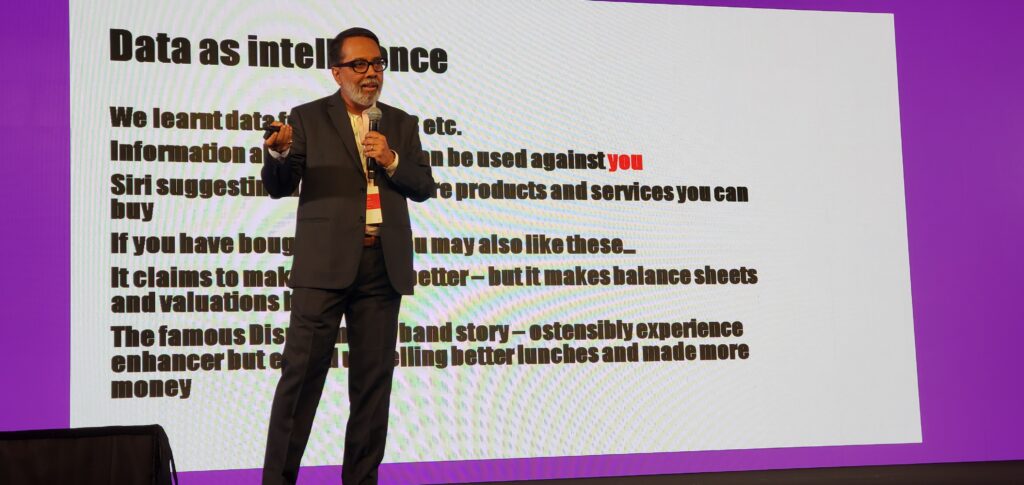 The fourth R is repeat. When a company interacts with a customer for the first time, it should be able to learn something new about them so that the next time the customer interacts with the company, the company can do a better job of recognizing them, requesting them, and responding to them. This repeat dimension can be used to create a positive feedback loop. The more a company is able to provide the customer with a positive experience, the greater the likelihood that the customer will have a repeat experience with the company, and the more likely the company is to learn more about the customer in the future.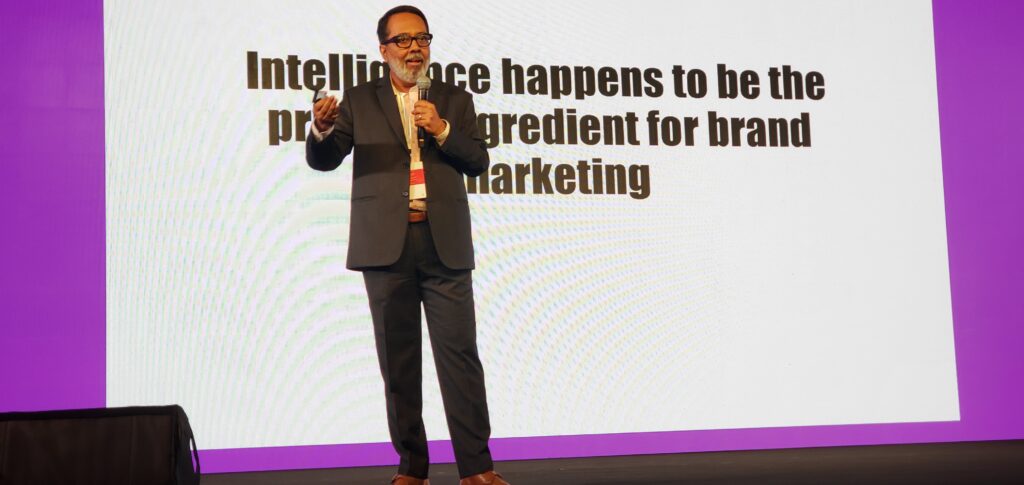 Generative AI has the potential to be used throughout the entire sales funnel, from initial contact to post-sale engagement, allowing for more sophisticated segmentation and targeted targeting. By identifying new patterns in large datasets, new segments can be created based on novel trends. Once trained, the generic AI can automate the process of segmenting niche segments and delivering hyper-personalized content.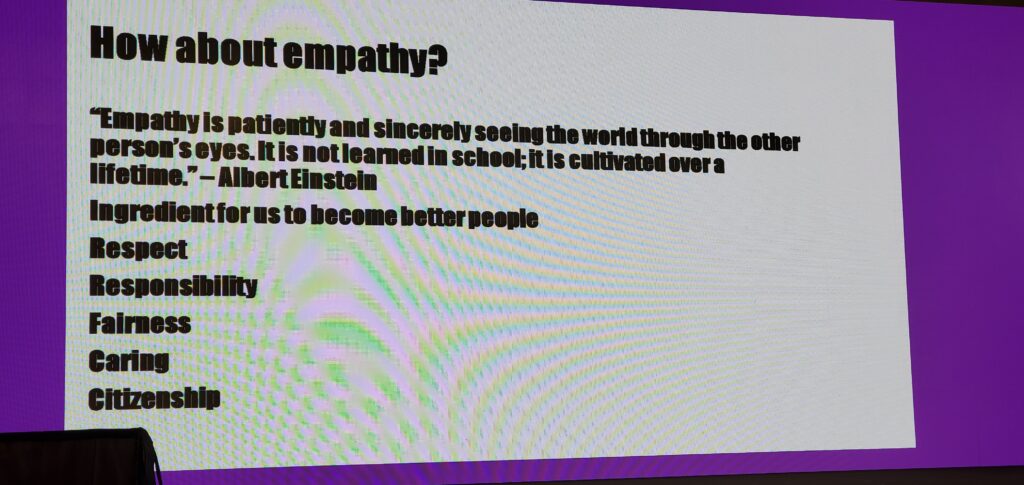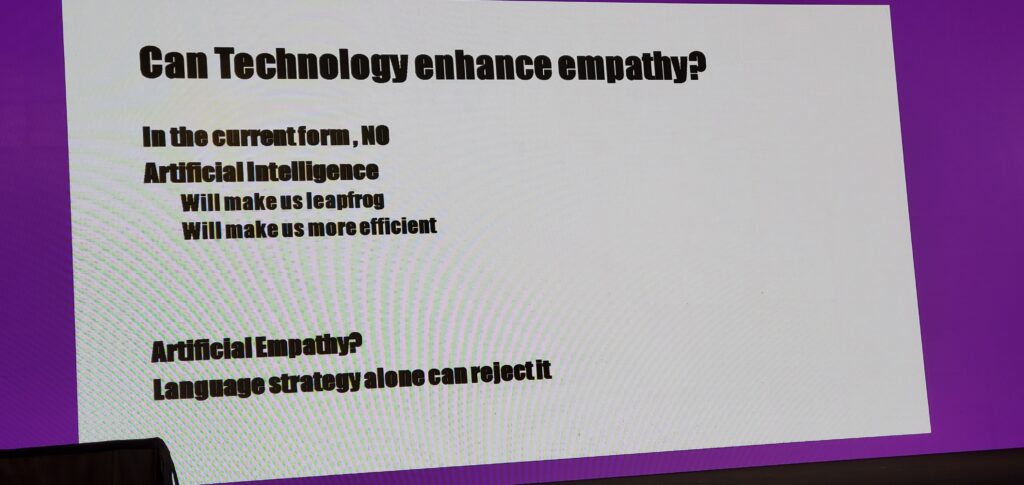 The new technologies should be viewed as an addition to an organization's existing capabilities, rather than a substitute for them.
Incorporating empathy into the technology ecosystem can lead to enhanced consumer involvement. When teams are guided and employees are treated with compassion and understanding, the workplace can become more inclusive, and employees can better empathize with consumers. This can stimulate creativity and the creation of digital experiences with a human touch. Digital journeys built on trust and connection should keep consumers engaged and open to new experiences, ultimately leading to increased transactions.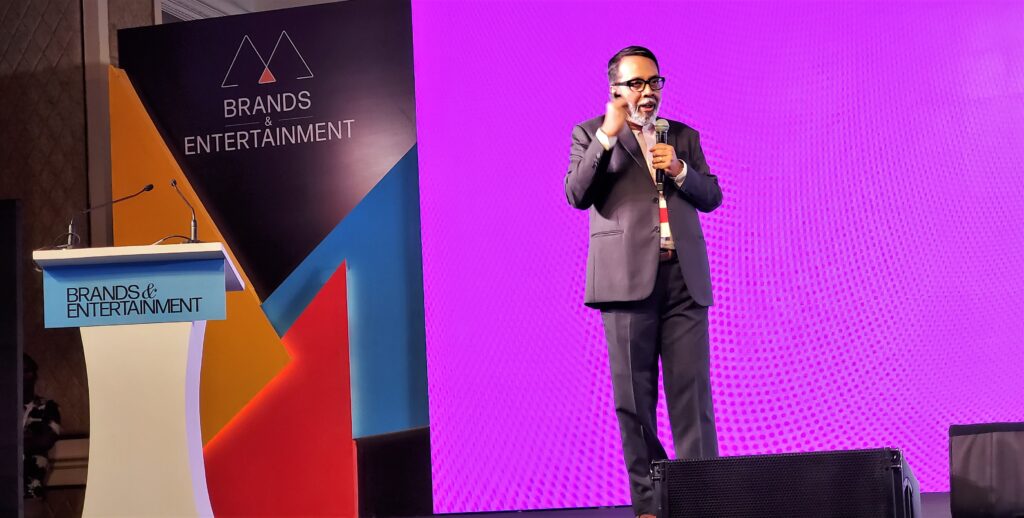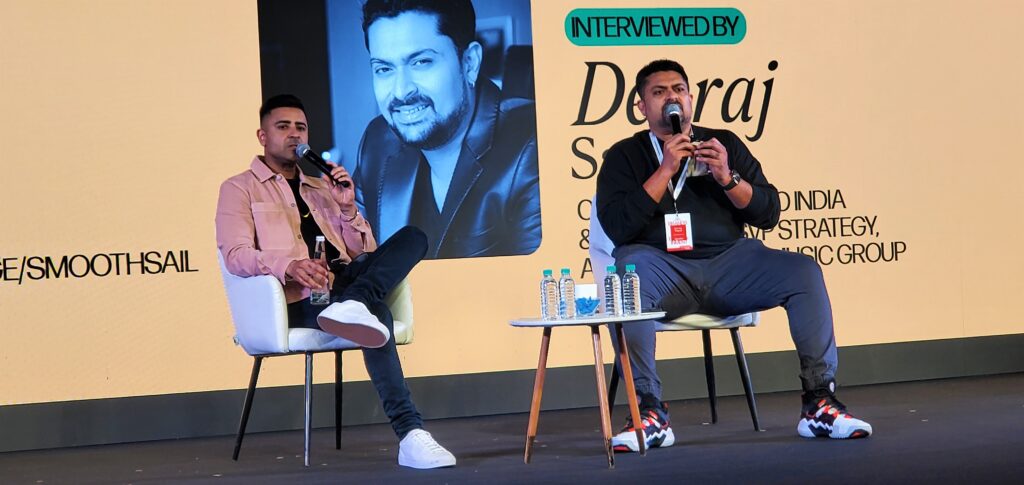 British pop singer Jay Sean chatted with Devraj Sanyal – Chairman and CEO of Universal Music India & South Asia, about his journey, the future plans and deeply expressed his love for India and his lovable Indian fans.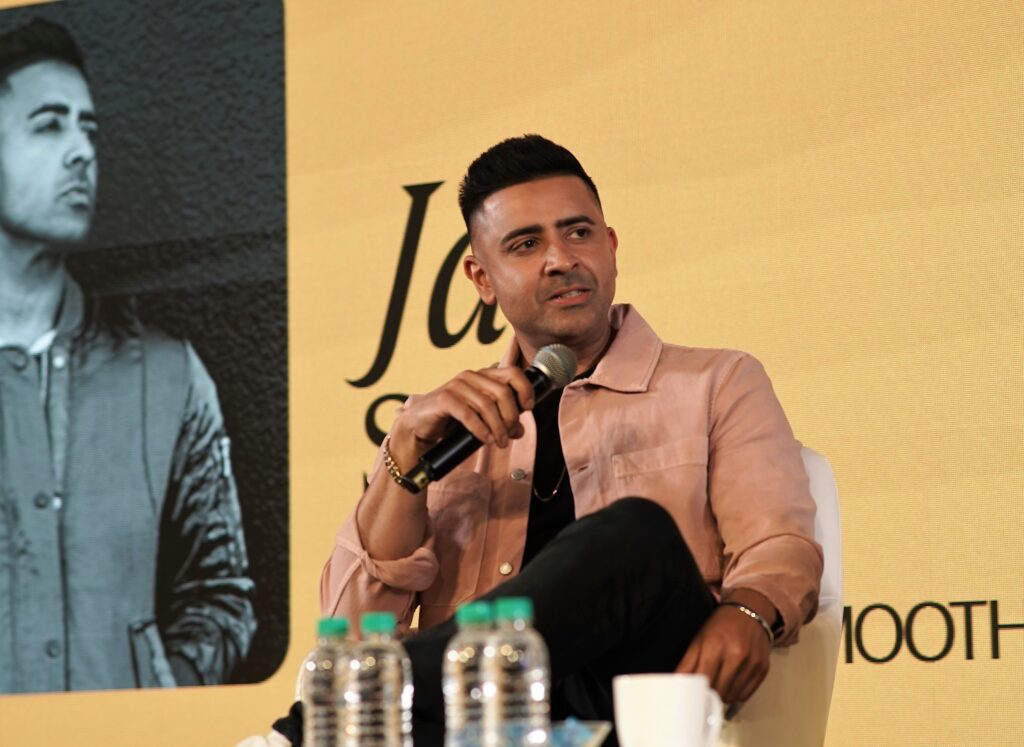 India has been, and forever will be, an integral part of my life. India has always been there for me, and I am grateful for the opportunity to express my gratitude through music. My fans in India have been a source of strength and support throughout my life, and I am immensely grateful for their love and support.
20 years of music will come to an end in 2024, and it's been an amazing experience.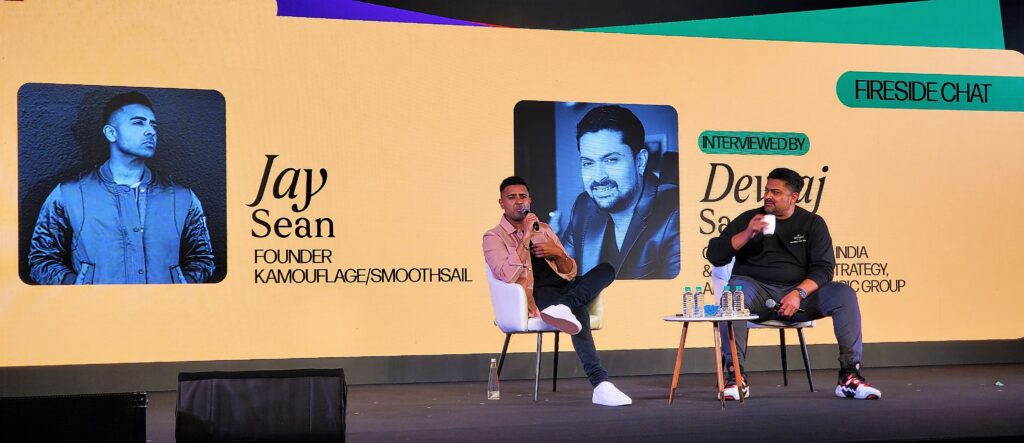 The chemistry between me, Rishi and Juggy is undeniable. When we first embarked on our career journeys, we were all young and eager to embark on our musical journey. We had a lifetime of possibilities before us, and we could not believe that we would be able to collaborate in the studio and embark on tours together. I was not alone in this venture; I was accompanied by two of my closest friends. Even though it has been a while since we last worked together, when we come back to the studio the chemistry is undeniable.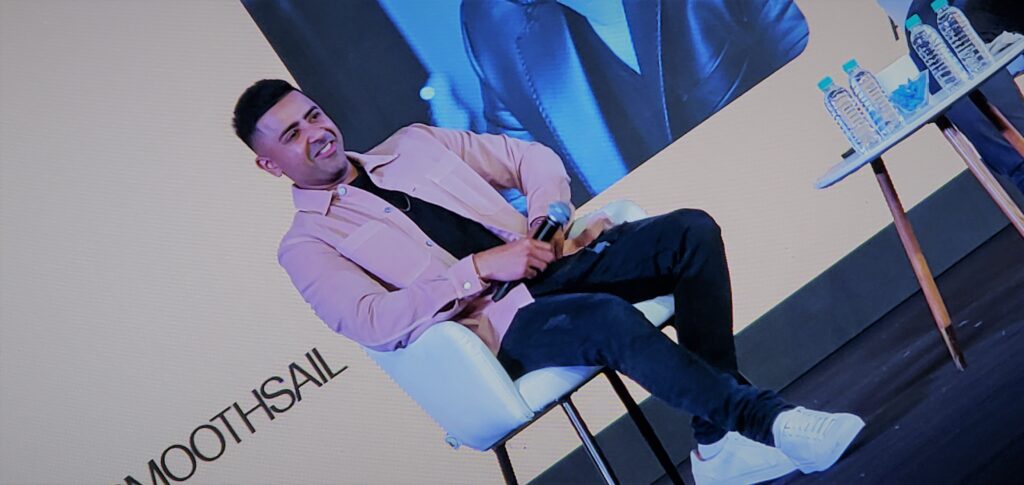 For Indians who were born and raised in the United Kingdom, there are certain customs that are customary: one's parents will watch Bollywood, one's parents will make rotis and one's own ears will be filled with RnB music. These customs were authentic, and this is what the trio brought to the recording studio. Their music resonated with every Indian child who had grown up in England. They expressed their admiration for the trio's ability to encapsulate their lives in a single song.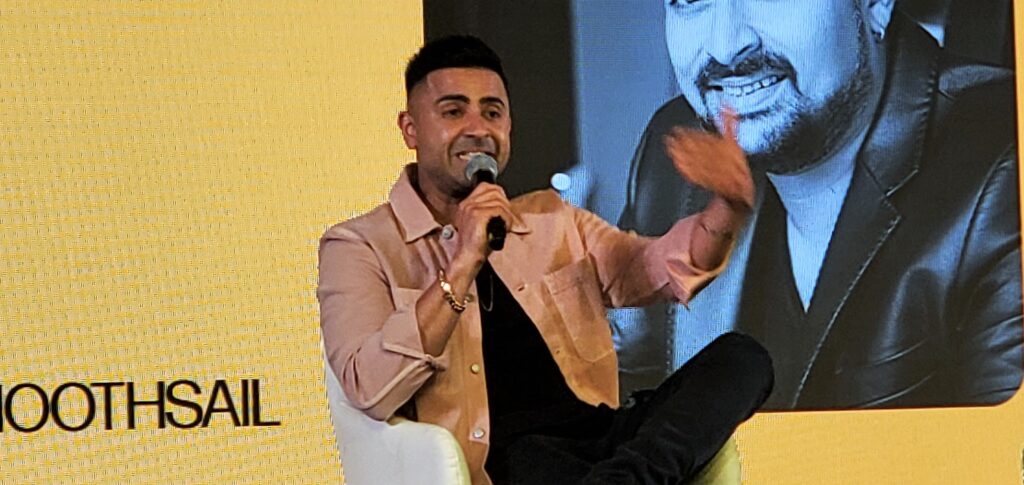 Deciphering audience for targeting my songs, I never consider from that angle. I didn't need an Indian sample when I made Down. That's how I approach my music. But you can make some songs with that mindset. Stolen, for example, was that. It was originally a ballad but when me and Rishi heard it, we thought it would sound great with that tune – "Churaliya hai tumne". So, there's one song that's for the Indian market and one that's for the rest of the world, and then there's songs that do both.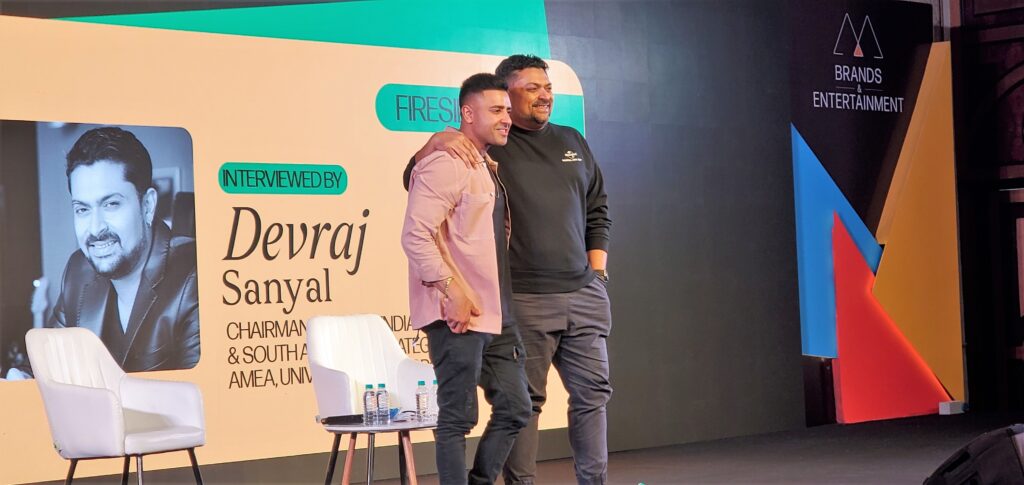 I am currently the most enthusiastic I have been in a while, and for good reason. When I began my career two decades ago, many of the present-day producers were not even born yet. I collaborated with a producer who was only 20 years old when I began my career. At the time, it was all about watching Bollywood films, listening to RnB music, and combining the two genres. Nowadays, for young producers, this is happening all the time. A 20 year old has already listened to Travis Scott, Drake, and Bollywood music, so what they are creating in the studio today is the same as what I encountered twenty years ago. This is the essence of my new album.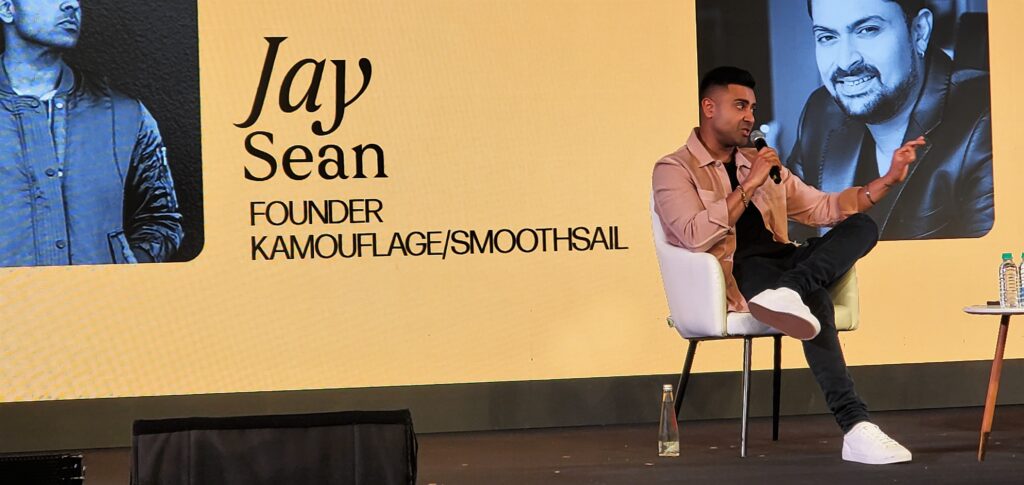 This is my first album to be released in a number of years, and it will feature a fusion of Eastern and Western influences. It will feature a Punjabi vocalist singing over an Indian RnB composition, or an Indian composition with a Punjabi singer singing over an English composition. Therefore, it is a fusion album. This album will feature a variety of collaborations. Some of the artists will be household names, while others are up-and-coming musicians. Ali Sethi is one of them, and we have been meaning to collaborate for some time. The song itself took me an entire hour to write due to its smooth flow.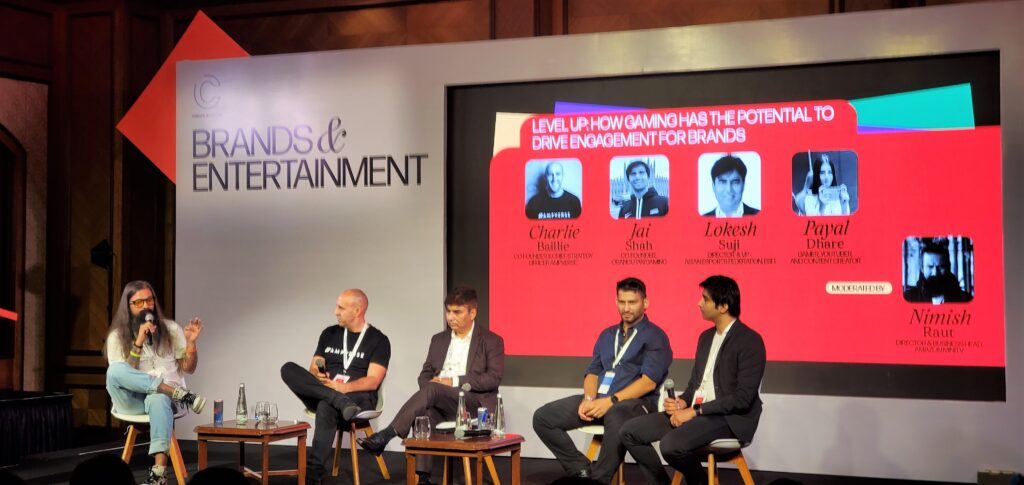 In the panel discussion, "How Gaming has the potential to drive engagement for brands," the panelists mutually agreed that Gaming plays a major dominating role to take interests in brands.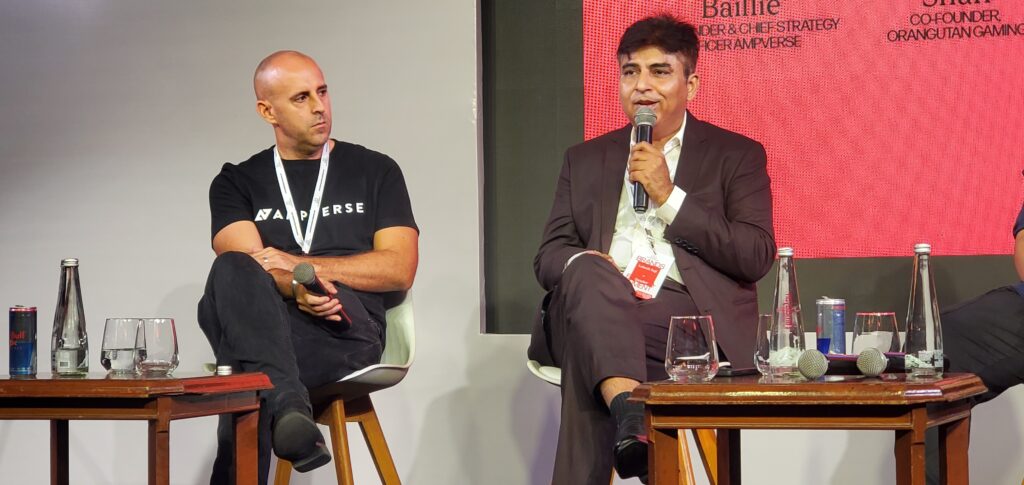 Brands are increasingly seeking to collaborate with gamers in order to capitalize on the demographic growth of the sector. There is a widespread belief in the industry that gamers can assist brands and products in reaching the desired demographic. The audience is eager to consume gaming content, and production houses and creators are creating new formats of content such as documentary-series, web series, and creative streams to captivate and engage players. Gaming not only draws in large numbers of users, but also engages them for extended periods of time. A study has revealed that online gaming has now surpassed e-mail as the most popular form of engagement.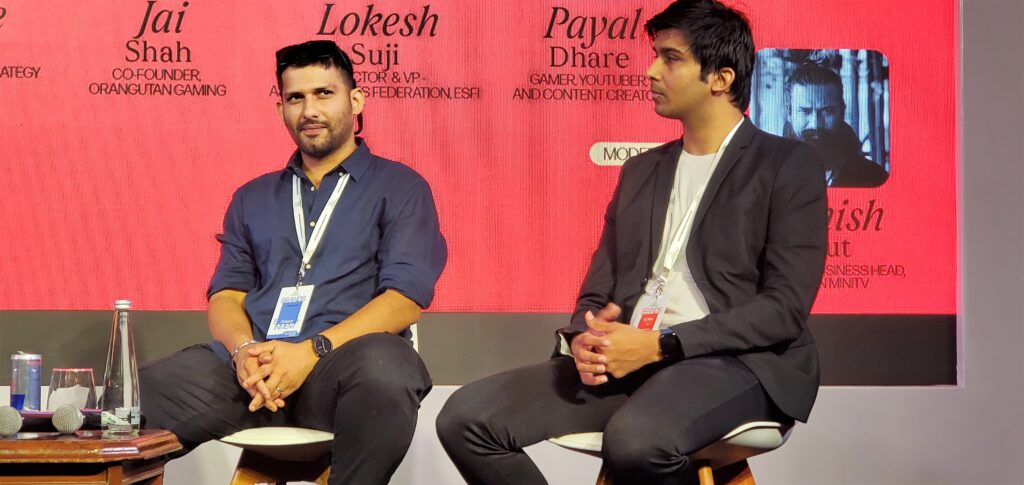 The consumer is captivated by games because they are enjoyable. The opportunity to win is thrilling. The process of learning how to play and how to win is captivating.
Gaming is a transformational medium for marketers, providing more than just entertainment. By utilizing gaming, brands can open up new avenues of engagement and create meaningful connections with the current generation of consumers. Gaming has the potential to be a powerful marketing tool, allowing brands to create memorable experiences and engage their target audiences in a meaningful way. It is time for brands to take advantage of gaming and capitalize on its potential to succeed in the ever-changing marketing environment.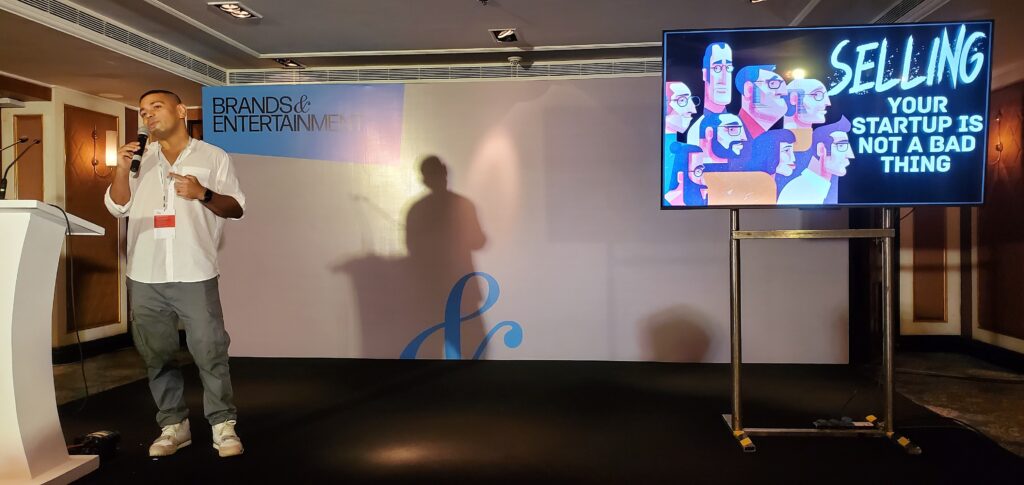 A special workshop by Rohit Raj, Build to Sell – Why crafting an exit strategy is essential for startups, provided investors view of an exit strategy when they invest in startups to emerging companies.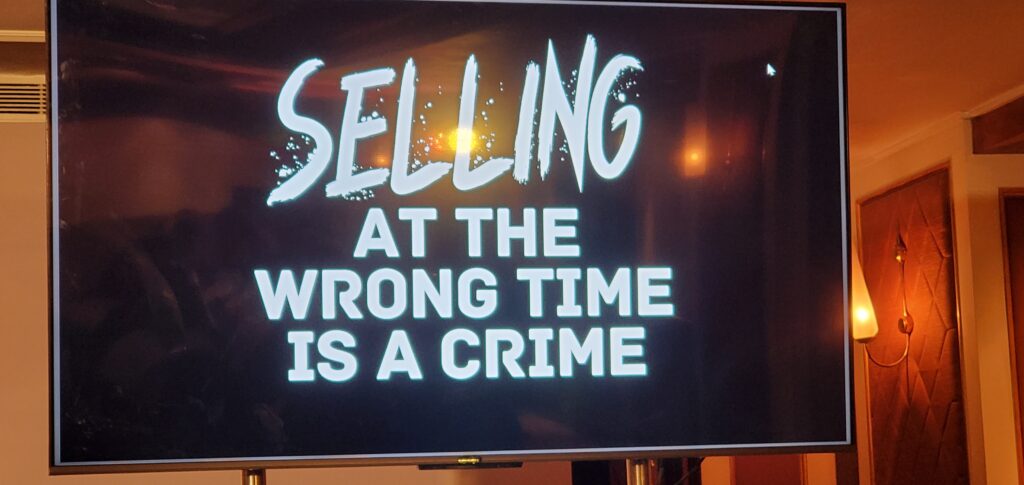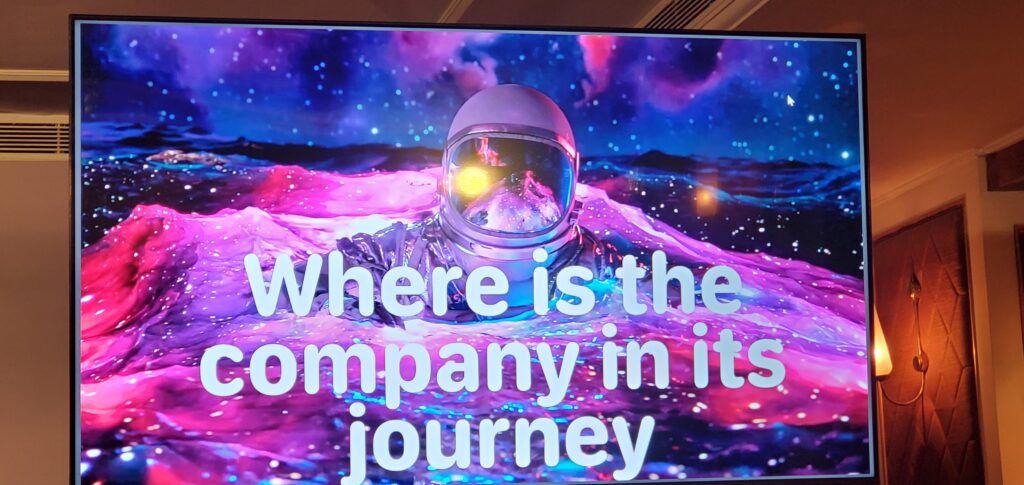 The process of acquiring smaller strategic acquisitions can be comparable to that of a larger enterprise, which is why companies often choose to acquire larger businesses and build strategic solutions. Done Deal strives to disrupt this mindset with urgency, and while some may view it as a lofty goal, Done Deal views it as an opportunity to disrupt the industry and broaden TAM. A comprehensive exit strategy not only assists in making informed decisions about the future of the company, but also helps to draw in potential investors who share the same goals.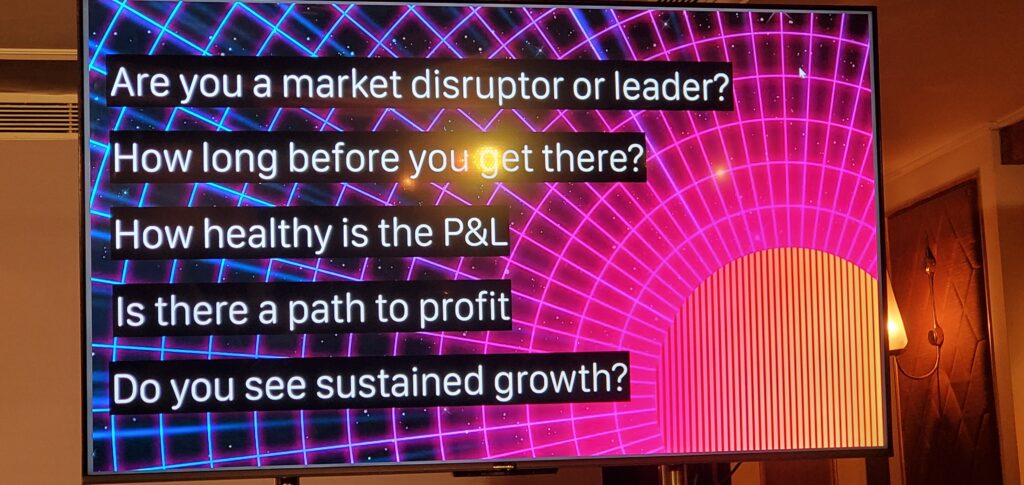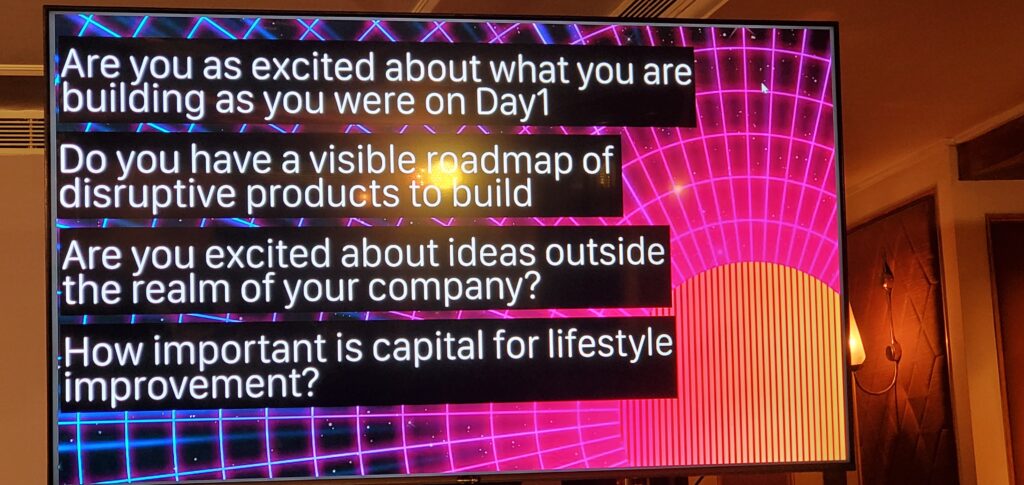 By identifying exit opportunities, prepping for the exit process and aligning the exit strategy with potential investors, a founder can position their business for sustained growth. From the investor's point of view, a founder who is able to articulate a clear strategy for constructing a profitable, scalable business from the outset, including an exit plan, is already in a position to demonstrate their investor-worthy entrepreneur status. Investors seek not only founders who are able to build profitable businesses, but also founders who have a clear exit strategy.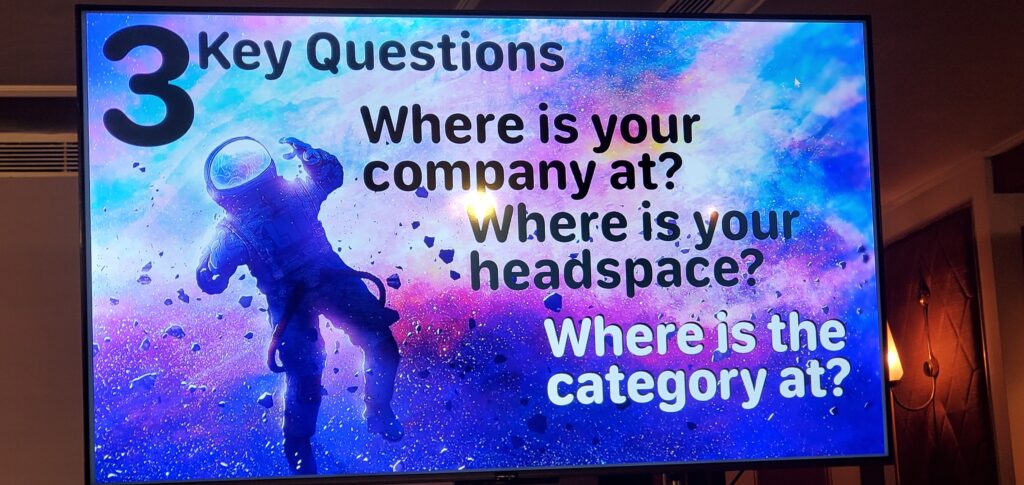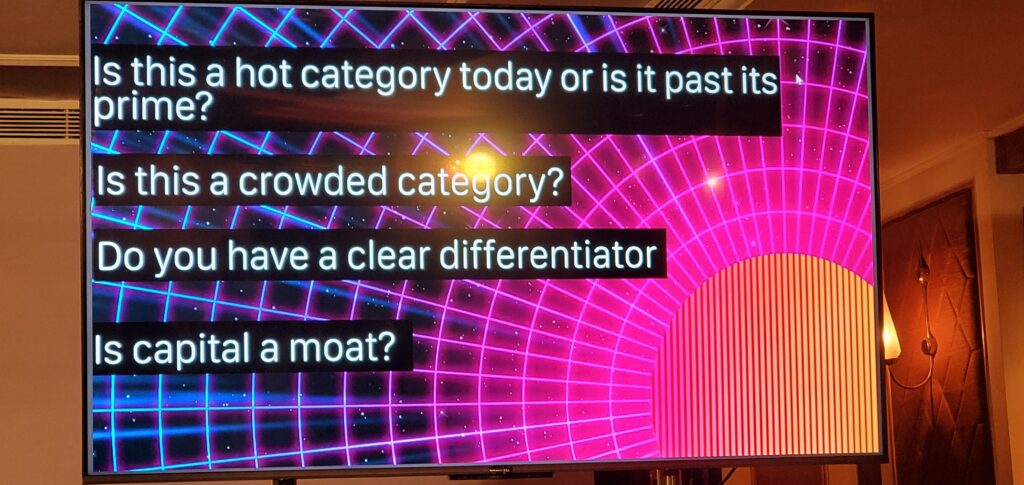 An exit strategy is not only a component of the three fundamental elements investors expect to observe in financial projections (growth and speed being the other two); it also serves to define the objectives of the business. Without a clear understanding of the objectives, it is impossible to devise an exit strategy, making an exit strategy an effective way to assure an investor that the business objectives are well-defined. The exit plan for the Startup is one of the most significant advantages and draws for investors.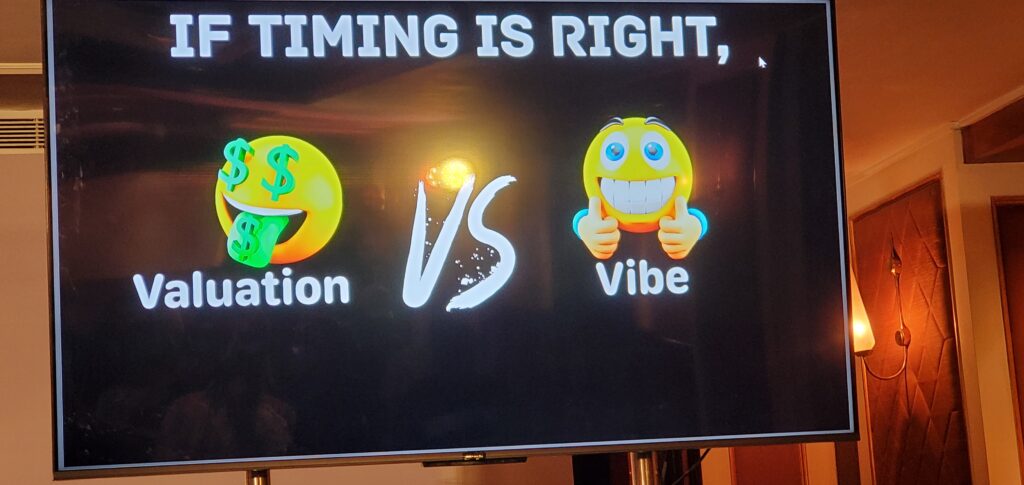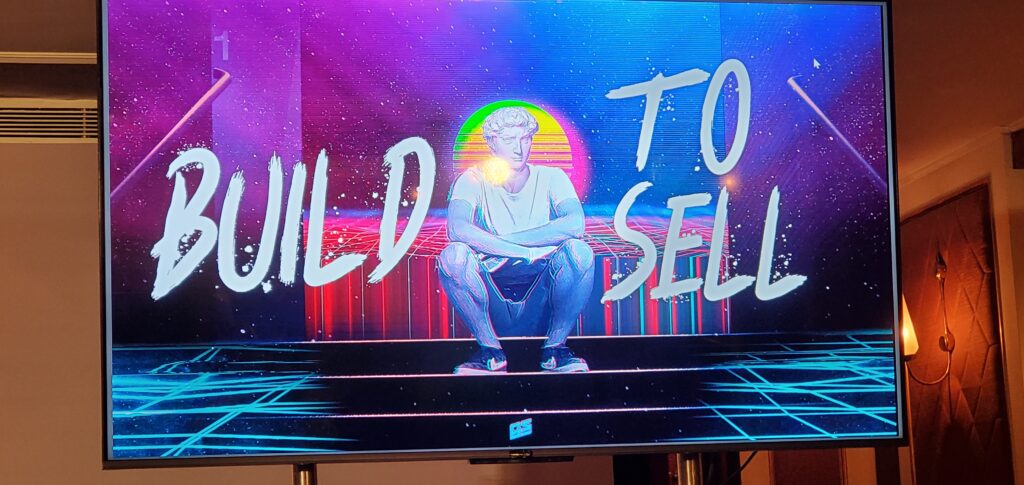 Main criteria is how to valuate your company. How much is your company worth? This is an important question to answer, as it will help you determine what kind of exit you can realistically pursue. There are a number of factors that can affect the valuation of your company, such as your revenue, profits, and growth potential.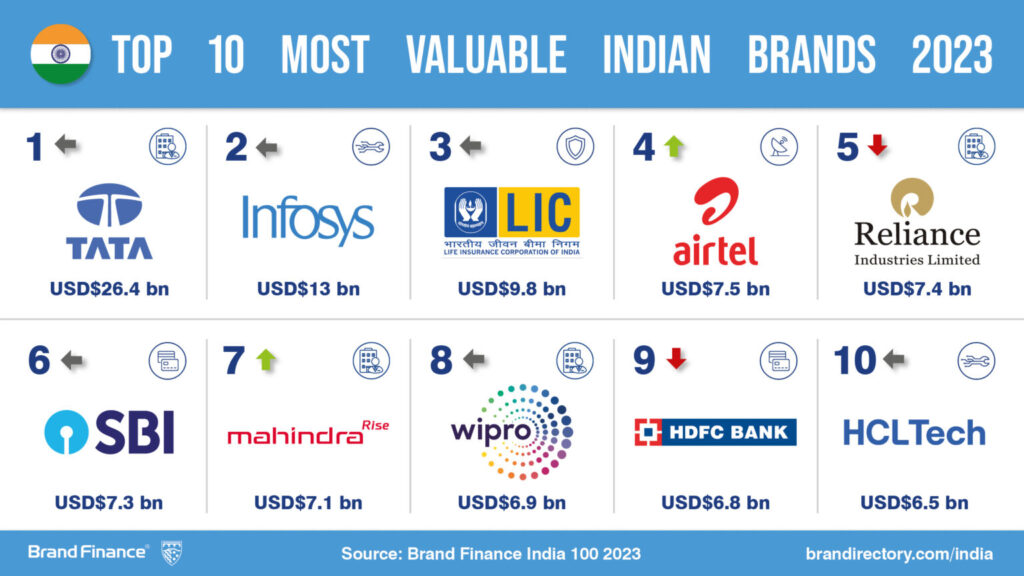 The Brand Finance report has once again confirmed India's dominant position in the global market, with the Tata Group maintaining its position as the most valuable brand in India. The brand value of the Tata Group has reached USD 26.4 billion, making it the first Indian brand to surpass USD 25 billion. Furthermore, Tata has been included in the Global 500 rankings of Brand Finance for the year 2023, placing it within the top 100.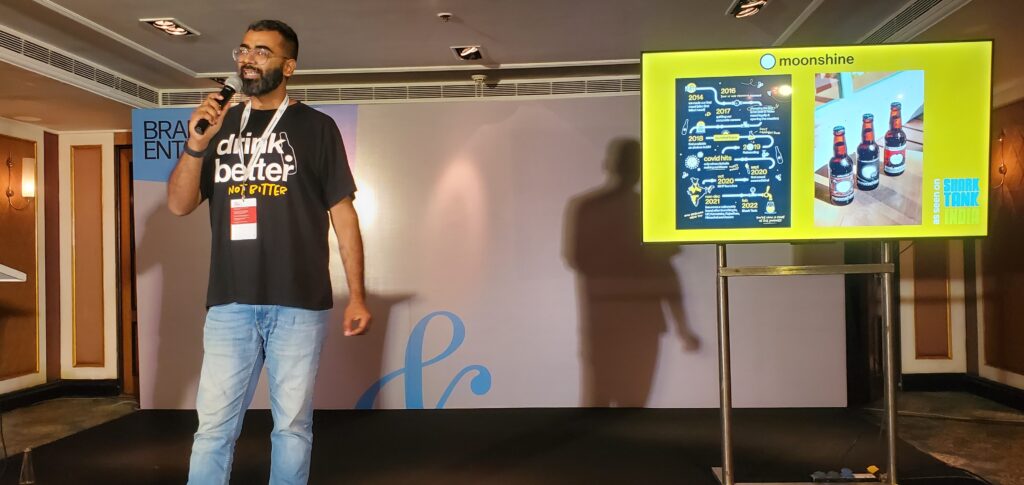 Moonshine is a pioneering mead brand in India, founded in 2018 by Rohan Rehani and Nitin Vishwas. Their meads are made by combining pure honey with a variety of fruits and spices, and are low in alcohol and carbonated, forming part of the rapidly expanding Ready-to-Drink segment within India.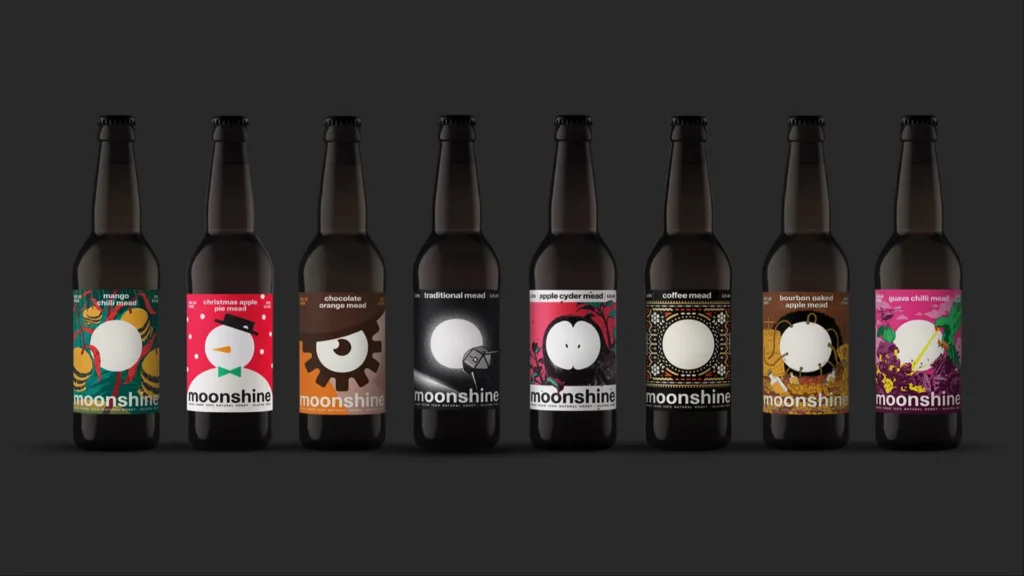 The brand experiments with a variety of ingredients, including multifloral honey and orange blossom honey; coffee beans; guavas; apples; chillies; kaffir lime; and more, to offer a range of meads to suit a variety of tastes. Along with their flagship meads (Apple, Traditional, and Coffee) and seasonal meads (MeadLABs), Moonshine has become a well-known brand in the Indian alcohol-bev sector, and is available in a number of states, including Maharashtra, Karnataka; Goa; Haryana; Rajasthan; Himachal Pradesh; UAE; Australia; and New Zealand.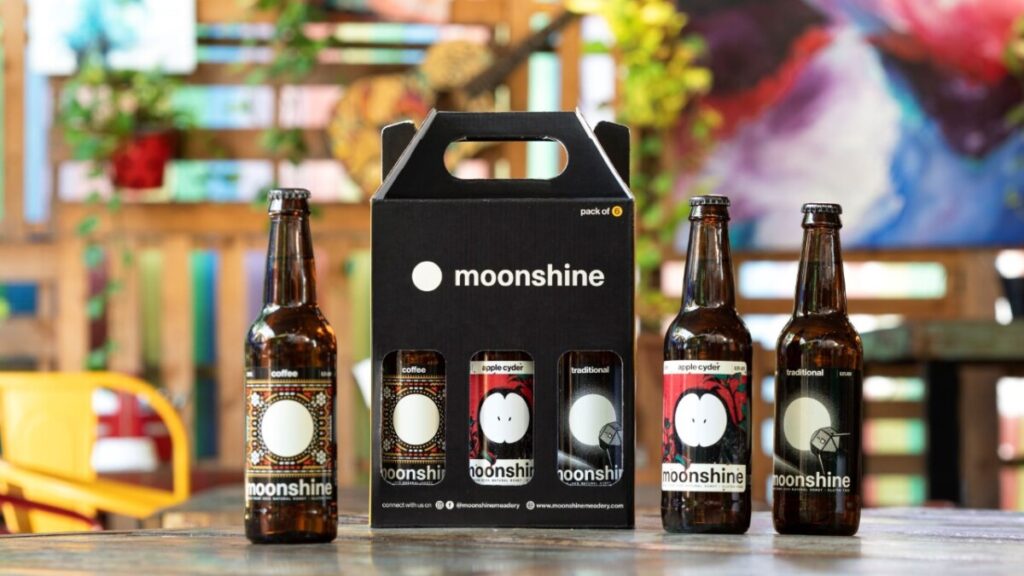 Mead comes from the Latin word medo, which comes from the Sanskrit word madhu, meaning honey.
Moonshine has recently expanded its selection of Meads, a centuries-old alcoholic beverage made from the fermentation of honey. This expansion is a testament to Moonshine's commitment to revitalizing and reimagining the classic beverage, making it more accessible to craft beverage aficionados across the nation. The brand now offers Coffee Mead, one of their flagship Meads, as well as the seasonal limited edition range known as the "MeadLABS" series, which includes the "Hopped Mead", Salted Kokum, Chocolate Orange, Mango Chilli, Guava Chilli and "Bourbon Oaked Apple Mead" flavours, , amongst several others.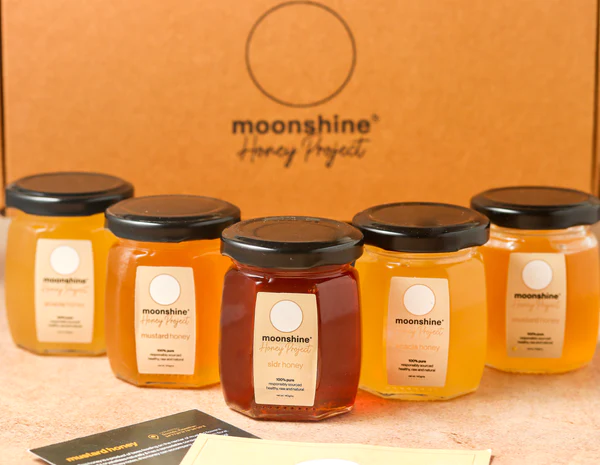 Moonshine Meadery also introduced The Moonshine Honey Project in 2020, through which they offer customers honey in its purest form, sourced directly from beekeepers across the country. These include uniflora honey like Sidr Honey, Acacia Honey and Mustard Honey, as well as Multifloral Honey.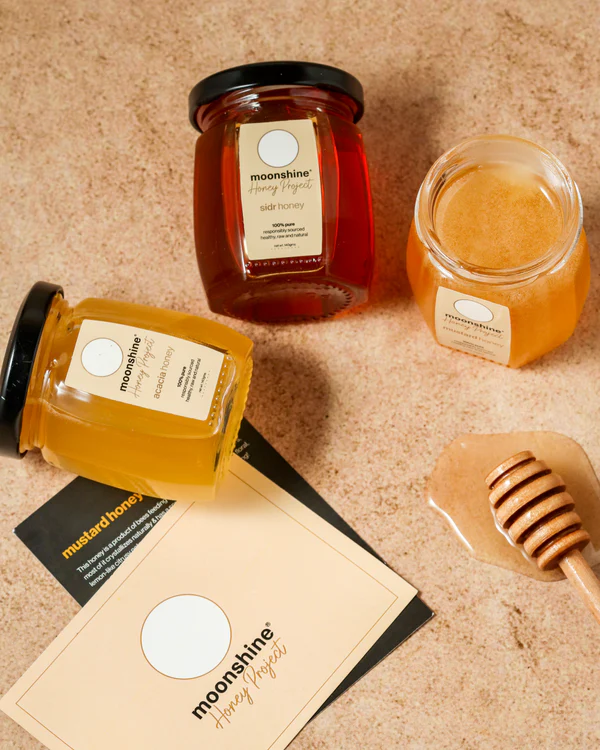 Launched in 2021, Moonshine Honey Project has been actively engaged in the sale of honey through both direct-to-consumer (B2C) and direct-to-business (B2B) channels. Furthermore, the project has recently initiated an innovative initiative, 'Bee Hotels', to support the preservation of solitary bees that are suffering from urbanization and deforestation.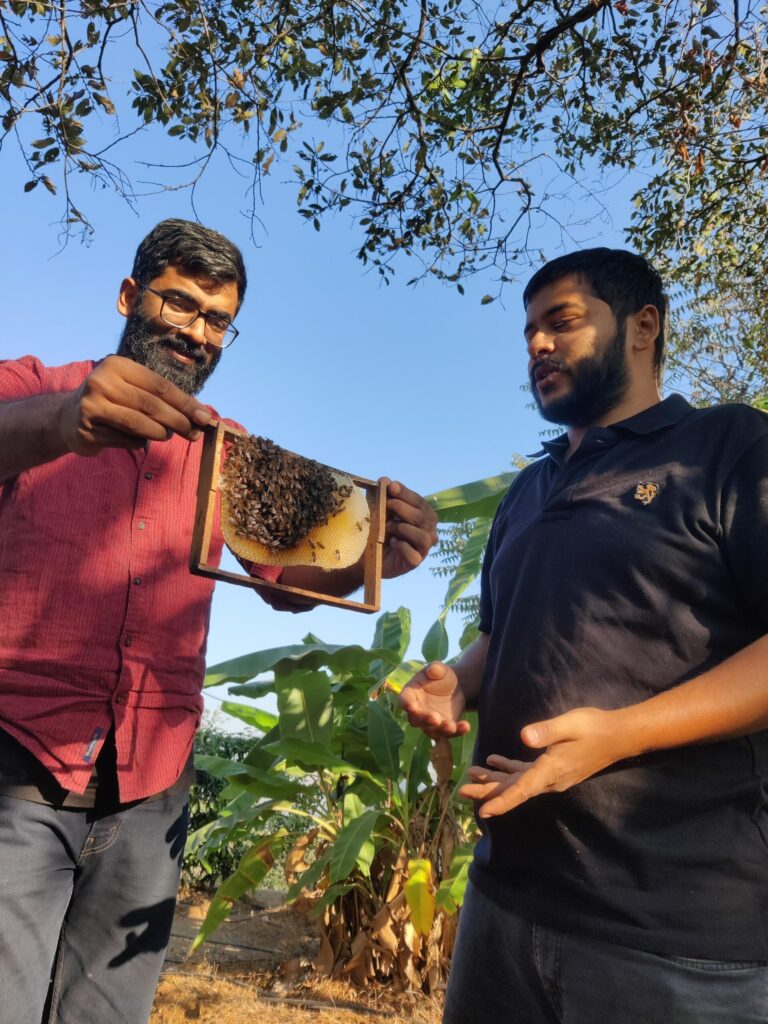 Developed during the period of the Covid-19 pandemic, the moonshine honey project aims to address shortcomings in honey traceability and to regulate the supply chain within the honey sector, where confidence is essential in the sourcing, harvesting and processing of an ingredient. The main objective of their chapter in Pune is to increase the number of bees, which aids in pollination of various trees, thus sustaining the ecosystem.
The moonshine honey project is our initiative to promote sustainable beekeeping practices. Our small batch honey is sourced directly from our bee boxes located in India, and is hand-crafted by the bees themselves. Therefore, whether it is in our mead or in this vessel, you can rest assured that the honey is sourced responsibly and is 100% pure.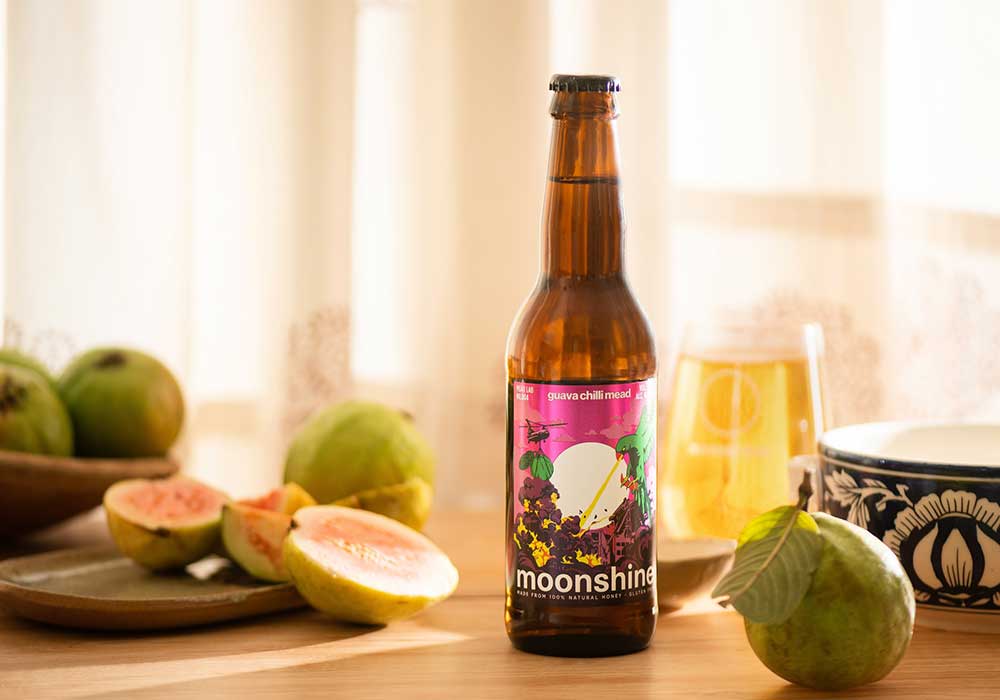 Moonshine, the first Meadery in Asia and India, has been awarded a prize in the category "Alternative Drinks including Lighter/Low and No Alcohol" at this year's International Wine & Spirits Competition, one of the world's most prestigious and most renowned spirits competitions.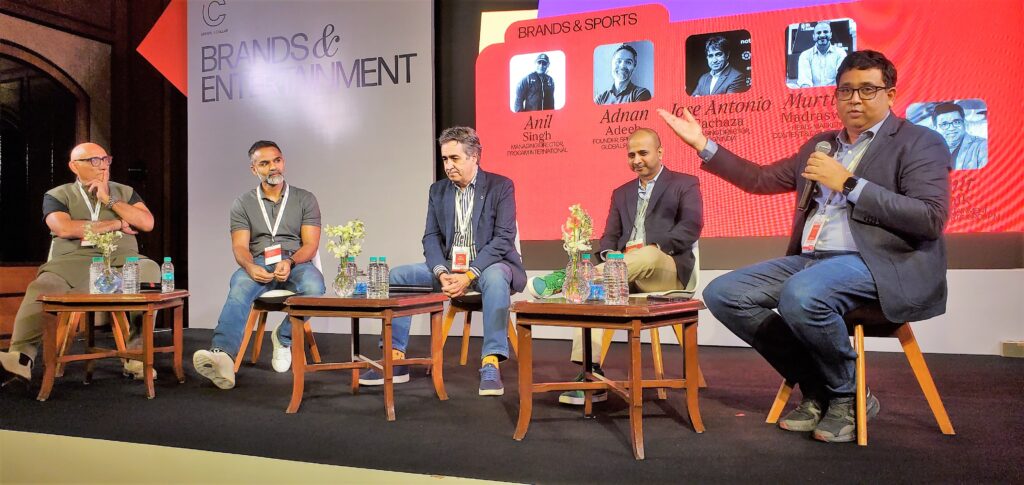 At a panel discussion on Brands and Sports, the panelists agreed on the use of sports as a marketing channel is highly effective as it allows the company to take advantage of the enthusiasm that consumers possess for a particular sport.
Sports fans/enthusiasts are passionate supporters of their favorite team. They are captivated by every match, win or loss, and have a visceral connection to and affection for the teams they follow.
The majority of urban Indians are utilizing social media platforms for their sports content requirements, and the majority of adults aged 25 to 34 are very interested in viewing lifestyle-oriented sports content, with three out of ten claiming to be very interested. To establish a stronger connection with viewers, it is essential to expand the number of fans in order to enhance commercial and unified brand value. Additionally, a stronger digital interaction with fans/audiences is essential, as this is where the advantage lies over the competition. Promote customer loyalty by associating your brand with topics that are important to your customers, such as the professional sports teams they support.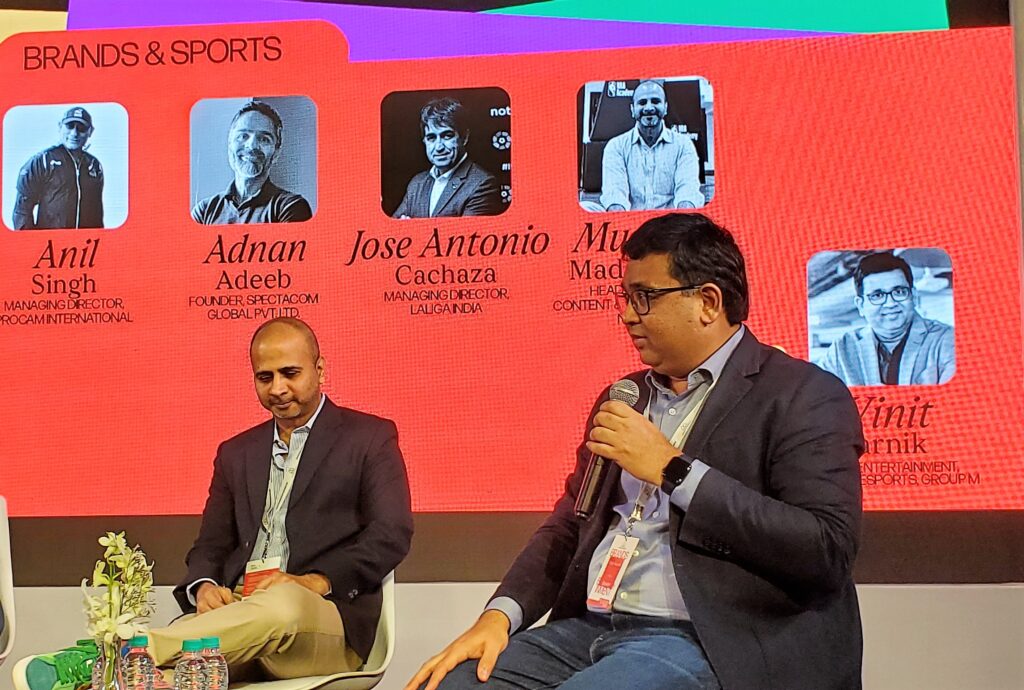 Sports brand target a specific group of consumers, particularly fans. Brands need to choose the sport that resonates the most with their target audience, analyze television and other media outlets, gain insight into competitors' strategies, analyze the sports market and create a communication plan based on that data. Sports offer ideal opportunities for live marketing as they are a series of unforeseeable events that can take place at any time.
The goal of fans is to own, control and define the games they enjoy, rather than simply sit on the sidelines. Every marketer is cognizant of the fact that excellent marketing is rooted in culture, and that culture is rooted in people. Sport remains a universal cultural phenomenon across the globe, uniting individuals and communities for a fleeting period of time, reinforcing the sense of community and belonging.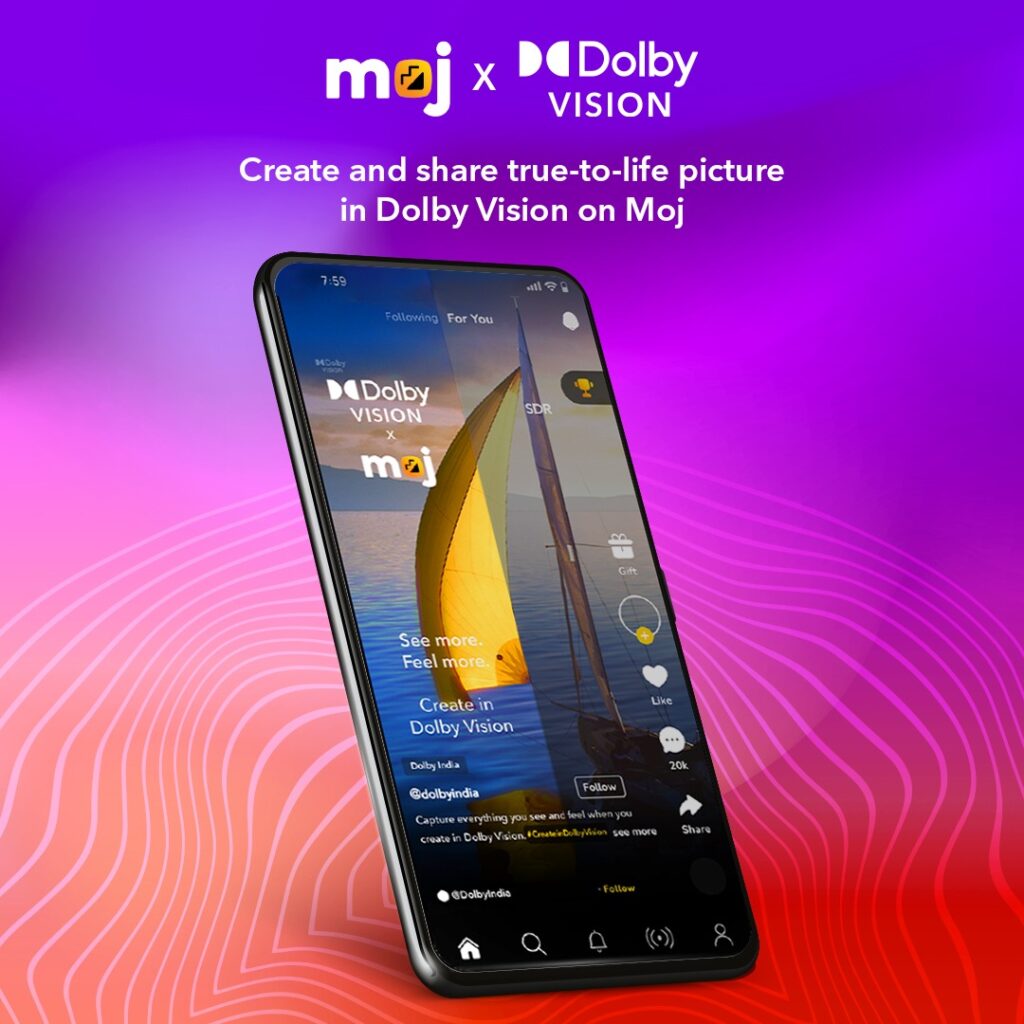 Moj, a short video platform, has entered into a partnership with Dolby Labs, , a leader in immersive entertainment experiences, to facilitate the integration of Dolby Vision High Dynamic Range (HDR) into its platform. As part of the collaboration, Moj users will be able to capture Dolby Vision videos from compatible iOS and Android devices and upload them to the Dolby enabled Moj app, thus expanding the reach of the platform. Dolby Vision will significantly enhance the viewing experience on the platform.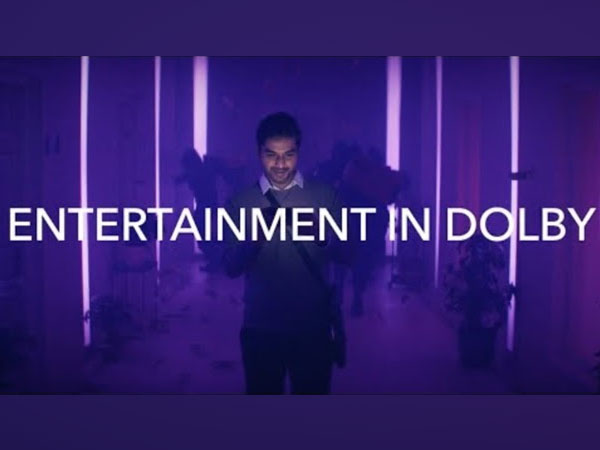 Dolby Vision allows content creators and users to produce and distribute videos with high-quality colour, contrast, and detail – drawing viewers in with dynamic image quality that enhances the entertainment experience. Furthermore, Dolby Vision is said to improve the visual experience on the platform, regardless of whether the video is a cinematic landscape or a family adventure.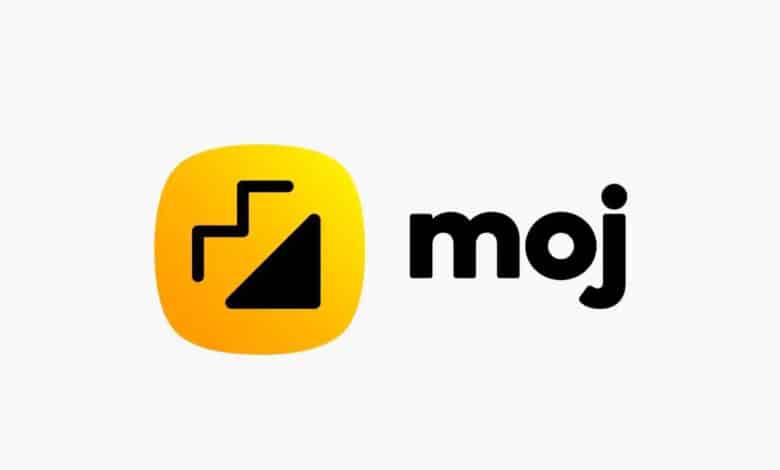 "With this partnership with Dolby Vision, a first in India, Moj enables creators to share richer stories and experiences, empowered by cutting-edge innovation and advanced technology. Viewers, in turn, enjoy a more immersive and enhanced viewing experience. Advertisers on Moj also have the opportunity now to showcase their products in a more impactful and realistic way to their target audience. Dolby Vision marks a significant stride forward for Moj and opens up a lot of possibilities for our users in the future," said Setal Patel, director of product, Moj.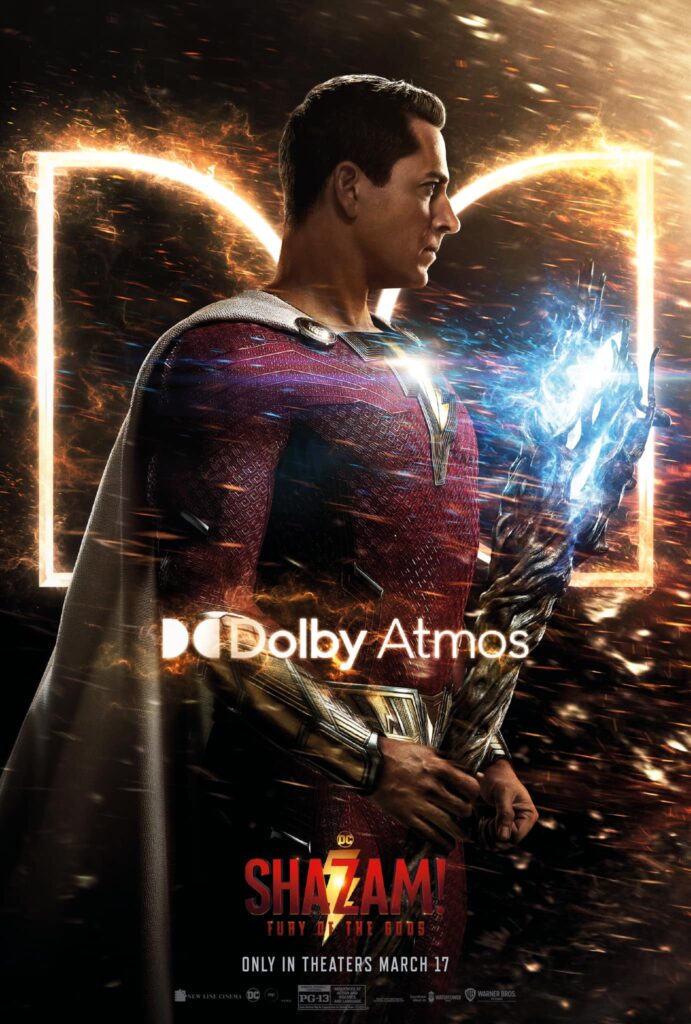 "At Dolby, our singular focus is to deliver immersive audio-visual experiences to our customers. We are thrilled to work with Moj to bring the Dolby Vision experience to the Moj platform. It is exciting to know creators and consumers of Moj will now be able to shoot videos that capture all of the details and textures with the incredible resolution and image quality of Dolby Vision," said Karan Grover, senior director commercial partnerships – IMEA (India, Middle East & Africa) at Dolby Laboratories.
Dolby currently has a presence in India across all aspects of life, including cinema, television, computers, mobile devices, video games, and automobiles, catering to a wide range of interests, including film, television, music, podcasting, sports, and vernacular content.
"Because the expectations of consumers for an enhanced and best-in-class audio-visual experience has never been higher, particularly in India, Dolby comes into the picture and unlocks the real power of sight and sound in the pursuit of delivering inspiring experiences," Sameer Seth, Director-Marketing (India), Dolby Laboratories said.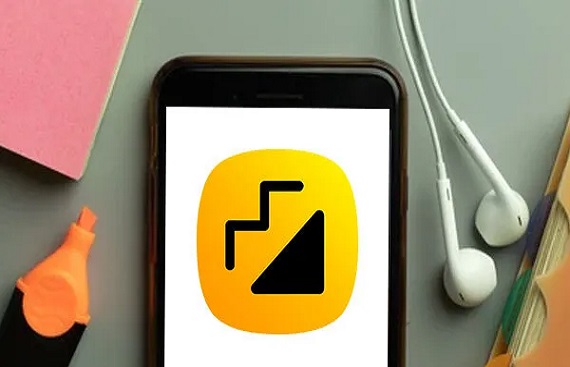 "With this partnership with Dolby Vision, a first in India, Moj enables creators to share richer stories and experiences, empowered by cutting-edge innovation and advanced technology. Viewers, in turn, enjoy a more immersive and enhanced viewing experience," Setal Patel, Director of Product, Moj.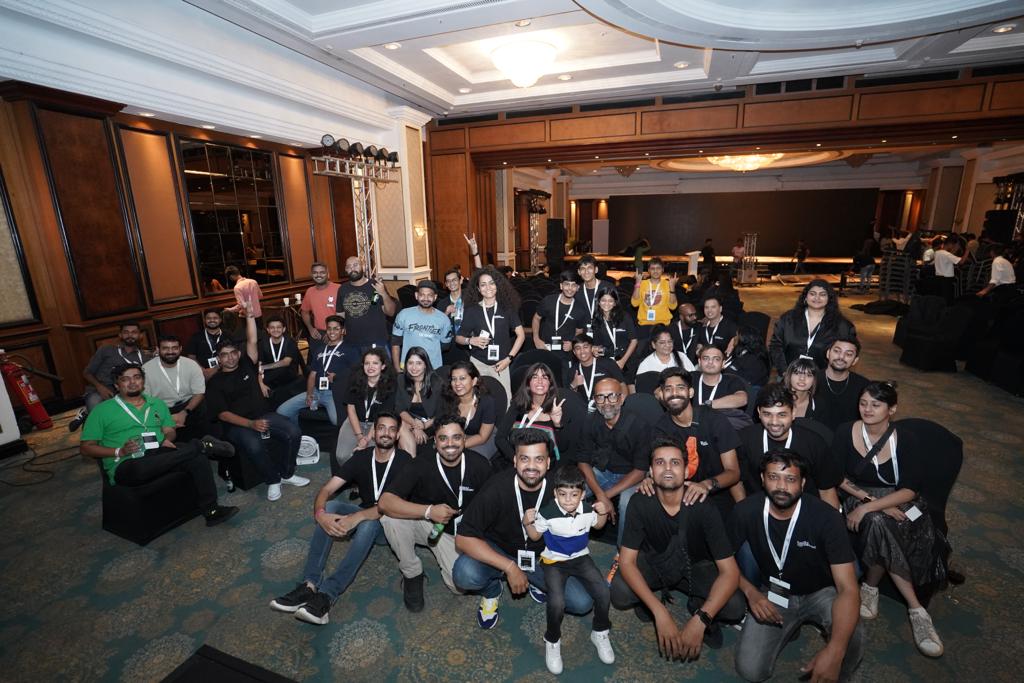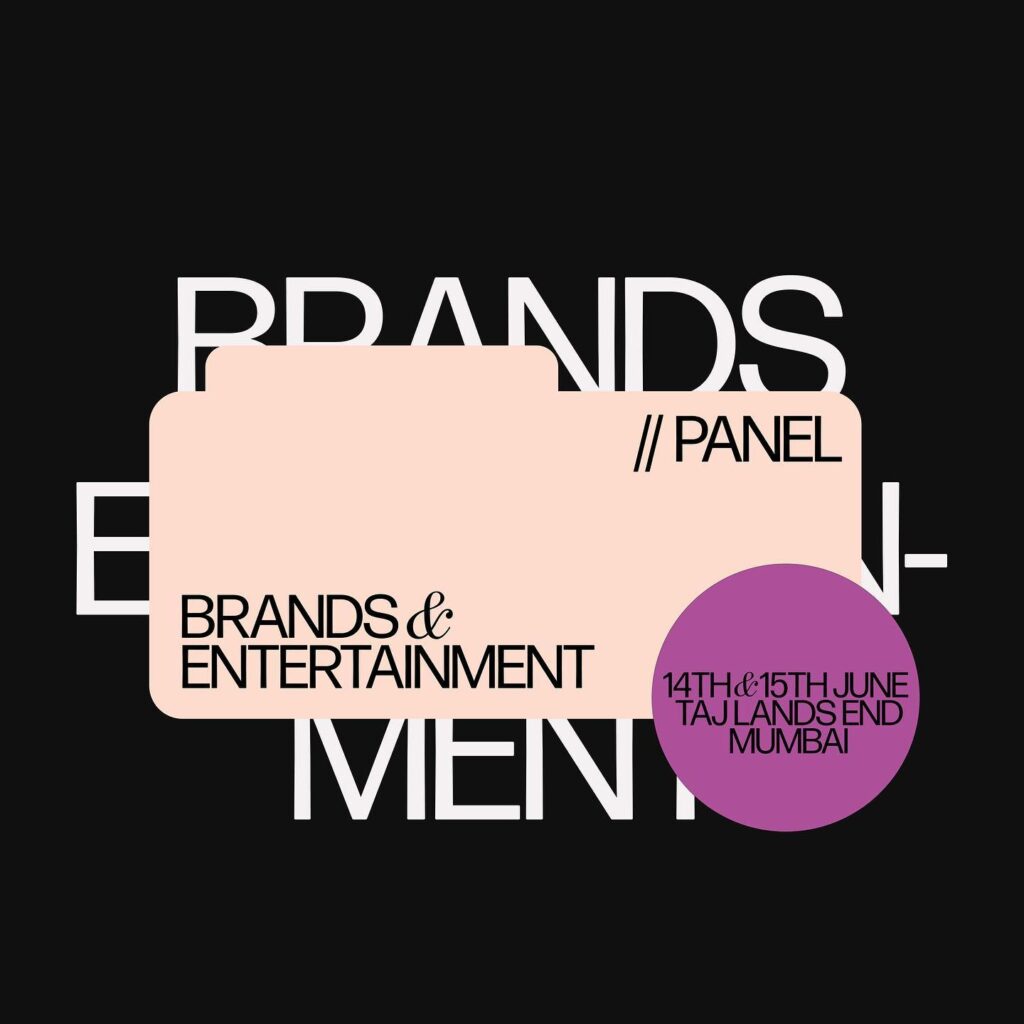 The conference featured an impressive lineup of speakers, including industry leaders and influencers, who shared their insights and experiences, inspiring attendees with their expertise. Notable speakers included the likes of Abish Mathew, Co-Founder, of Absurdist Studios, Aruna Daryanani, Director, Amazon miniTV, Jay Shah – Vice President, Head – Cultural Outreach, Mahindra & Mahindra, Jay Shah – Vice President, Head – of Cultural Outreach, Mahindra & Mahindra, Kejal Parekh, Associate Director- Marketing, Myntra, Prajakta, Actor & Content Creator, Rohan Rehani – Co-founder Moonshine Meadery, Sushant Divgikar, Artiste, Mango Films & Productions to name a few and topics such as Brand building in the age of AI, Global trends in branded entertainment for 2023, What's next for short-format and audio-based app: Reels, influencer marketing, and podcasts, Decoding brand spending strategies: Bridging the rural-urban divide, Ideas that don't work in 2023, "Build to sell" Why crafting an exit strategy is essential for startups" and many more.