GEMS OF SUSTAINABLE CITIES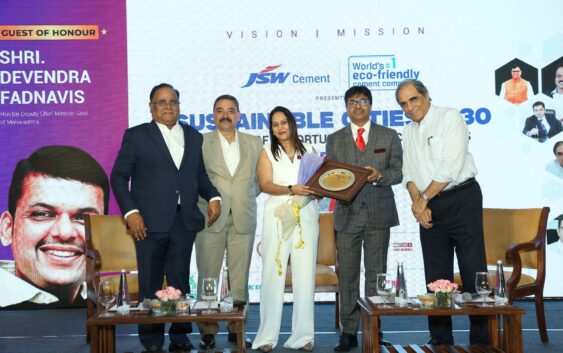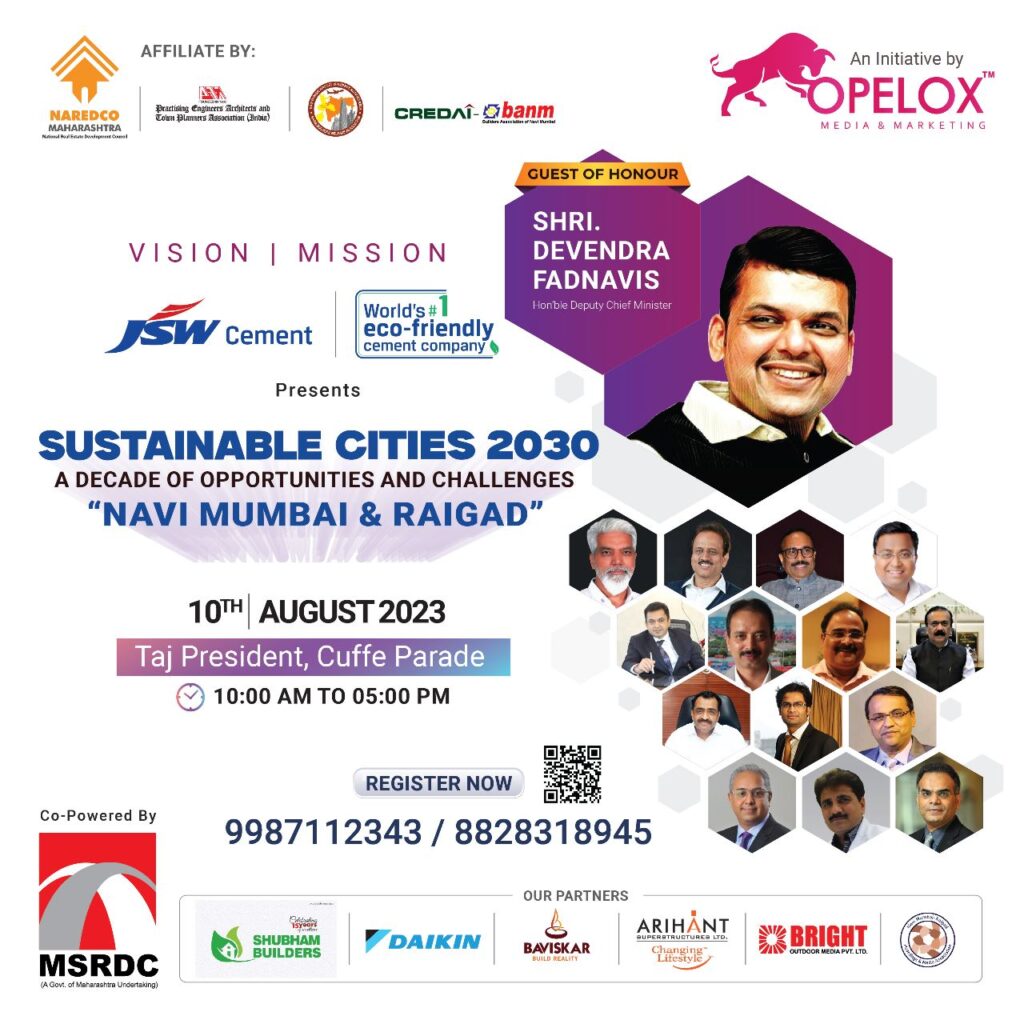 In order to promote Navi Mumbai as a sustainable city, Opelox Media and Marketing organised a one-day seminar on the topic of Sustainable Cities 2030, powered by JSW Cements world no.1 Eco Friendly cement and co-powered by Maharashtra State Road Development Corporation (MSRDC) at the luxurious TAJ. The conference was attended by a large number of developers from well-known organizations, such as the National Agricultural Research Council of India (NAREDCO), the Maharashtra Chamber of Commerce and Industry (MCHI), the Credit Rating Agency of India (CREDAI), and the Navi Mumbai Builders Association.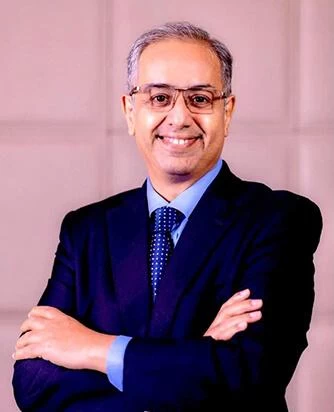 In the welcome address, Tata Realty's Managing Director, Sanjay Dutt, emphasised the importance of Navi Mumbai in the nation's growth and development, citing its historic significance as the location of India's first Petrochemical Plant and the largest port in the country, JNPT. Dutt further asserted that Navi Mumbai is playing a key role in the nation's development, particularly in the implementation of major infrastructure projects such as the airport and the Marine Harbour Link Link (MTHL). He has also noted that land-rich Mumbai has moved into the league of 'billionaire-making' locales, and has suggested that the introduction of MTHL may have a potential impact on Mumbai's property valuation.
Currently, residential property rates in Navi Mumbai fall within the range of Rs 5,000 to Rs 45,000 per square foot, while rates in Mumbai fall between Rs 20,000 and Rs 1,30 lakh per square foot, depending on the locality.
With several infrastructure projects like the airport and MTHL, Navi Mumbai which is land-rich, is expected to have a bright future, he said, adding, "Those who have invested in land-rich Navi Mumbai are today in the billionaire's club, and going further due to MTHL, Navi Mumbai is expected to reduce the valuation of even Mumbai for that matter."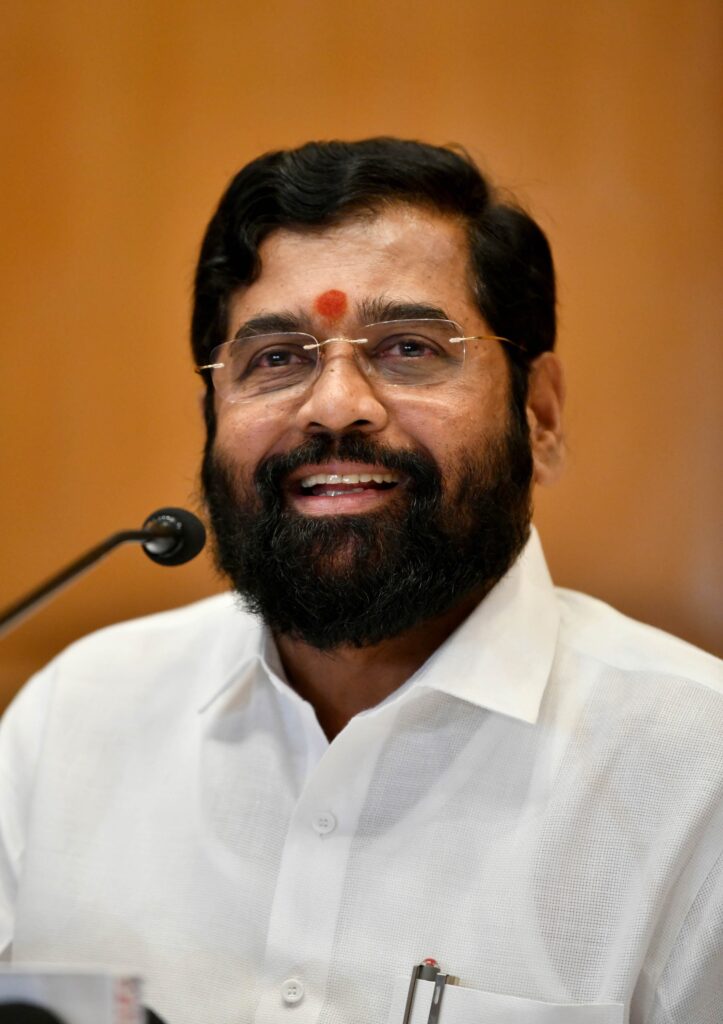 Honourable Maharashtra Chief Minister Shri Eknath Shinde on Thursday graced his presence virtually announced the opening of Mumbai Trans Harbour Link (MTHL) connecting between Navi Mumbai and Mumbai shortly in the next few months & will boost infrastructure and real estate of Mumbai Metropolitan Region.
Addressing real estate developers, architects and urban planners through video conferencing, Shinde said, "When we talk about Sustainable Cities 2030, we need to remember that 2030 is not far. Several infrastructure projects in MMR including MTHL, NMIA, Coastal Road, and unified development control regulations (DCR) will bring drastic changes and growth opportunities for infrastructure and real estate of MMR including Navi Mumbai."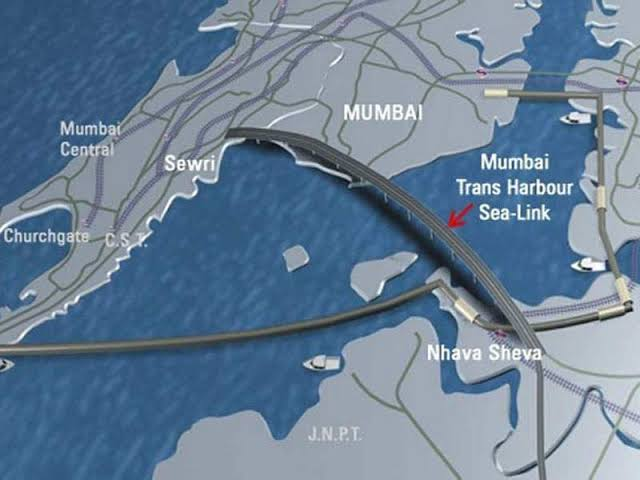 Mumbai Trans Harbour Link Bridge, a 22-km long six-lane bridge, is being constructed under the Maharashtra Metropolitan Region Development Authority's (MMRDA) auspices and is being financed by Japan International Cooperation Agency(JICA). The MMMR encompasses Navi Mumbai, an adjacent satellite city that was established in the 1960's. The Mumbai Trans Harbour Link Bridge is expected to facilitate travel between Mumbai, Pune, and Goa, as well as to alleviate traffic congestion between Mumbai and the neighbouring city of Navi Mumbai.
"With Navi Mumbai Airport, MTHL and the planned Virar-Alibaug corridor, which is expected to go live by 2026, Navi Mumbai is expected to overtake Mumbai going further. We are constructing the Virar-Alibaug corridor, for which work is expected to start by year-end. The corridor will give opportunity for 9 townships along the corridor to come up, which, in turn, will benefit Navi Mumbai and Raigad belt at a large scale," said Radheshyam Mopalwar, Vice Chairman and Managing Director, Maharashtra State Road and Development Corporation (MSRDC).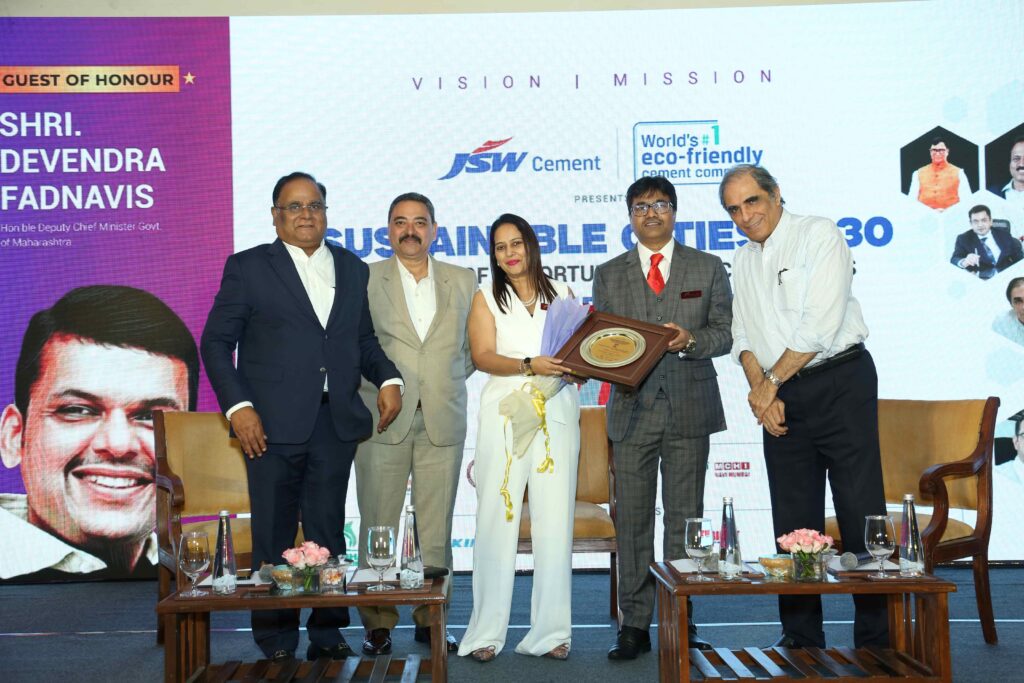 The summit in Mumbai was attended by representatives from the construction sector, including those in the real estate, construction materials, architecture, and urban planning sectors, as well as representatives from the IAS. The summit addressed a range of issues and perspectives related to the Sustainable Navi Mumbai, Raigad 2030 initiative.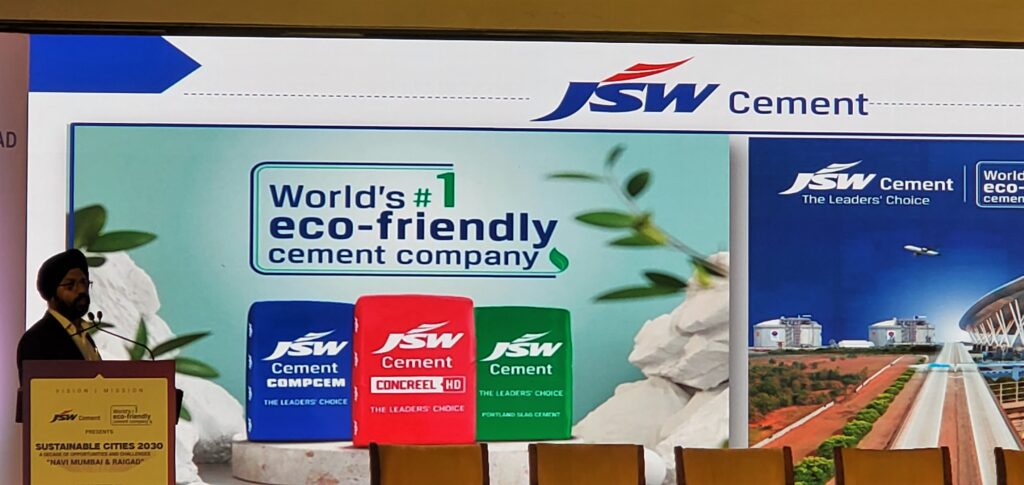 Shri Manoj Rustagi, Executive Vice President Sustainability, R and D, JSW Cement said, "At JSW Cement we continuously strive to be committed to our core business value and ensure sustainability when it comes to our revenue and cash flows along with also ensuring that carbon emissions from our business remains at the minimal level. In the last 10 years, our business has grown immensely, and at the same time our carbon emissions also have come down significantly to ensure the growth and development is sustainable."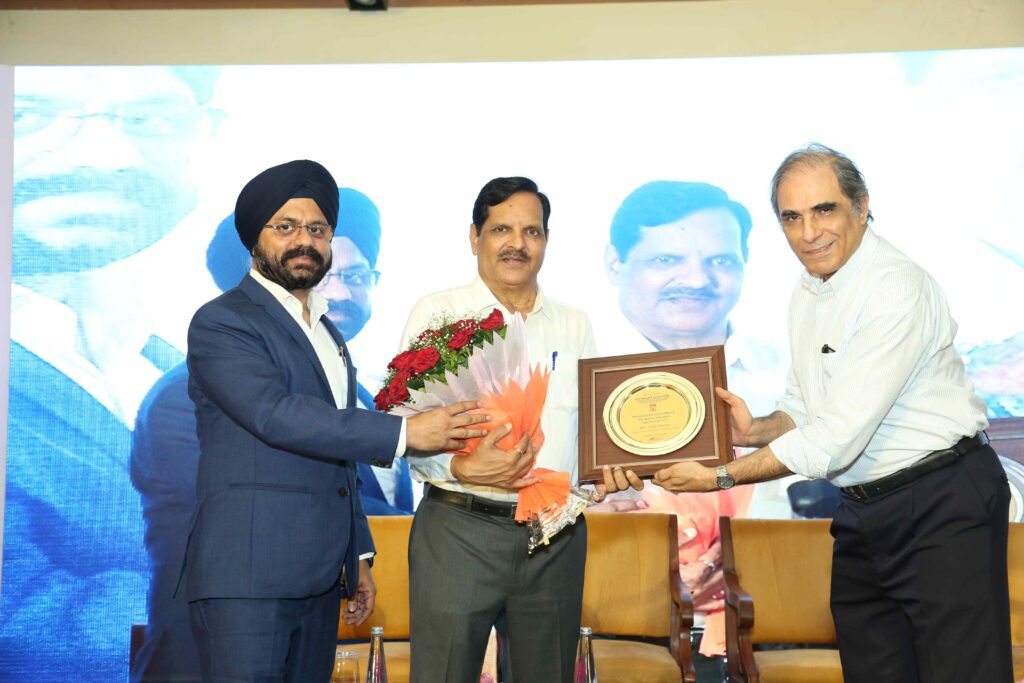 The day long business summit was also attended by Shri Vijay Nahata -IAS, Chairman State Environment impact assessment authority real estate developers from National Real Estate Development Council (NAREDCO), Confederation of Real Estate Developers' Associations of India (CREDAI), Maharashtra Chamber of Housing Industry (MCHI) and the Builders Association of Navi Mumbai (BANM). Shri Sanjay, Dutt, Managing Director, and Chief Executive Officer of Tata Realty, Shri Ashok Chhajer, Chairman and Managing Director of Arihant Superstructures, and Shri Prakash Baviskar, CMD of Baviskar Group also attended the business summit and voiced for Sustainable Development of Navi Mumbai further adding that Navi Mumbai has immense scope and opportunity to take on several cities like Mumbai, Pune, Bengaluru, Hyderabad etc.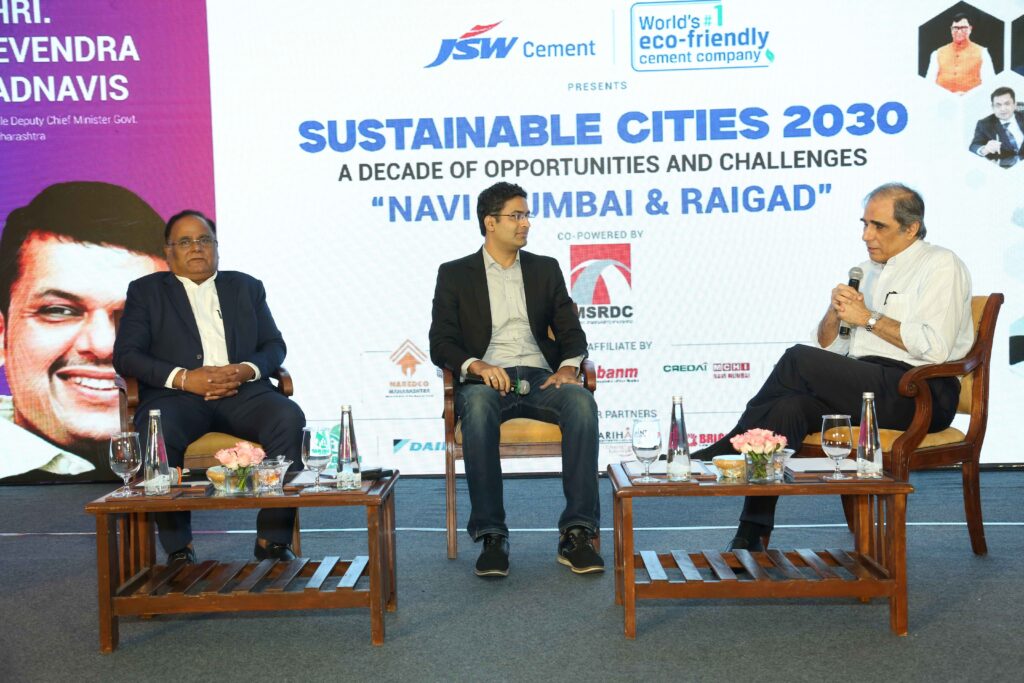 Hafeez Contractor is a renowned architect who has been active in the field for over thirty-five years, having received more than seventy-five national and international accolades for his outstanding work in architecture. He is renowned for his open and outspoken opinions, particularly on the subject of high-rise construction. According to him, vertical construction is the only viable way for cities to expand, a view which has been widely criticised by urban planners. In light of the fact that India is projected to have a population of two billion people in the near future, it is essential that high-density cities are condensed in order to avoid the wastage of land. The importance of green buildings is no longer paramount, but rather the conservation of land. No one can create land.
"NEW BOMBAY SHOULD BE MADE BETTER THAN DUBAI." Hafeez Contractor
Despite being India's financial capital, Mumbai is far from being a world-class metropolis. There are three main issues that affect the city: the need for mass housing to alleviate the slums, improved infrastructure to facilitate faster connectivity, and the desirability of green open spaces for a city that lacks public greenery. The primary cause of the housing shortage in Mumbai is the restricted FSI, height, and coastal regulation zone.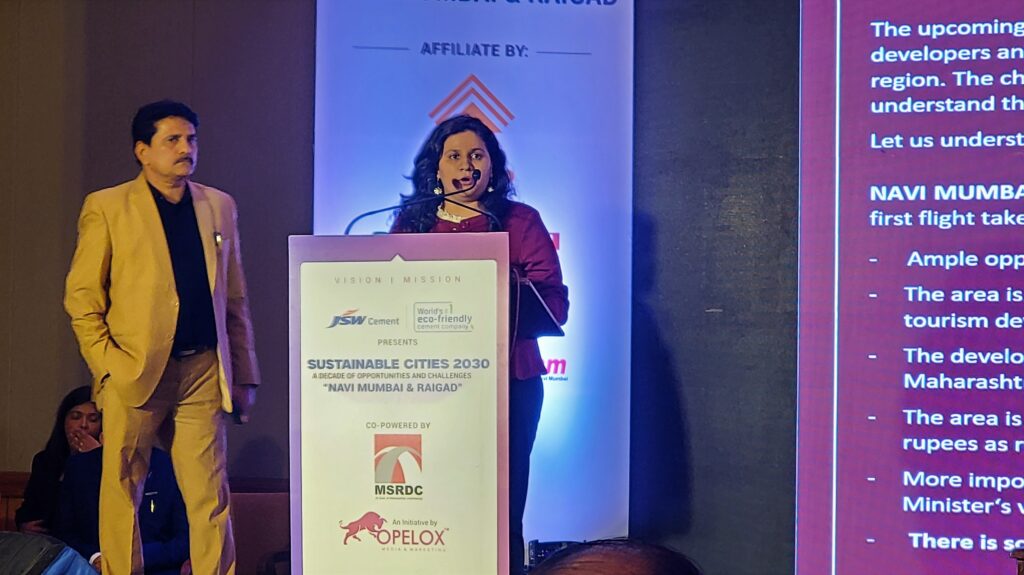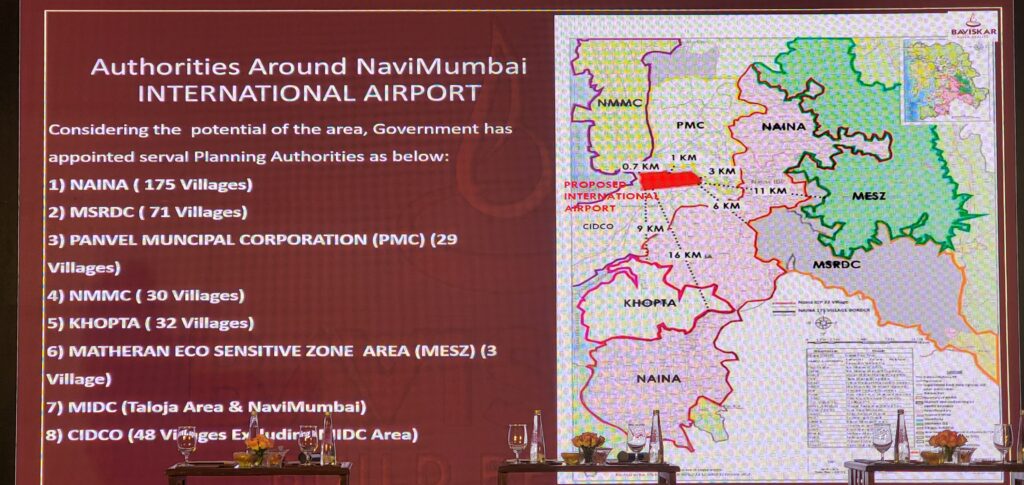 Shri Prakash Baviskar, CMD of Baviskar Group gave an excellent presentation about the potential of New Bombay.