PAINTING BY JOHN FRUSCIANTE OF RED HOT CHILI PEPPERS OFFERED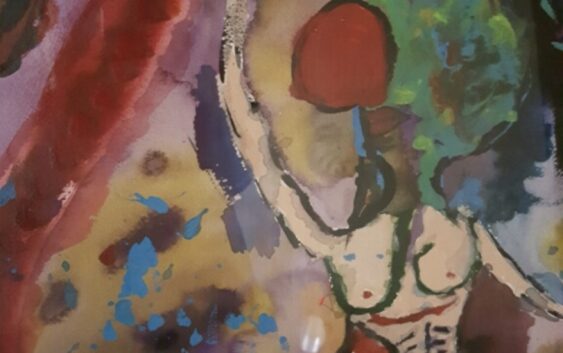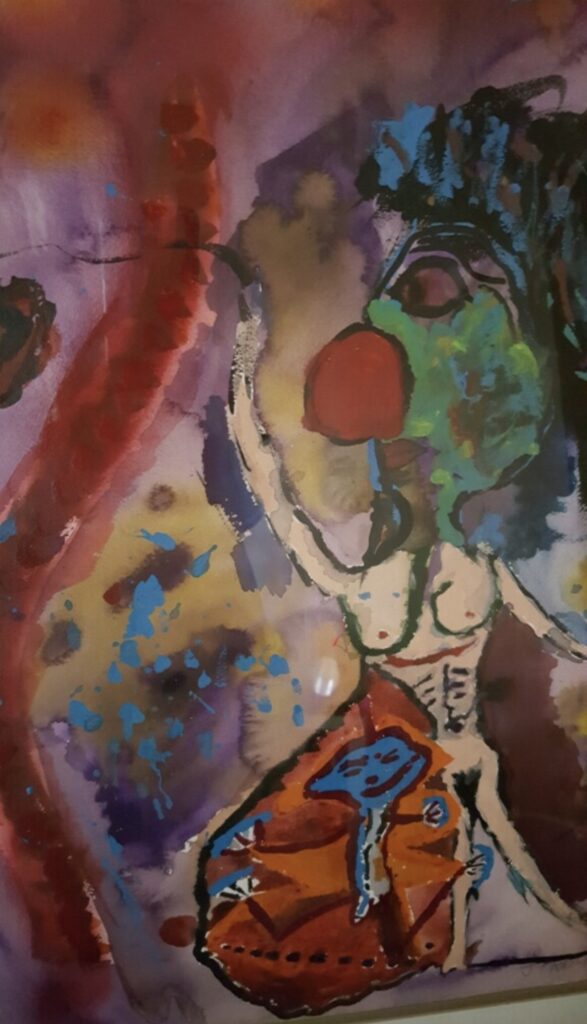 In a world where a rare Mickey Mantle rookie baseball card sells for $12.6 million dollars, of what value is a not just rare but one of a kind painting by one of the greatest rock guitarists in history created when he, John Frusciante, too was just a rookie? And, further, unlike the card, this painting is signed!
So, how much is such a painting worth in today's market and exactly why would it command such a price? This is a complex question and must be investigated in its various contexts: historical, emotional, and financial.
There are three key players in this drama: John Frusciante, the Red Hot Chili Peppers, and Larry Berkley.
John Frusciante has assumed legendary status as a guitarist with the Red Hot Chili Peppers, a band which is a true phenomenon in popular music and after 40 years of performing still maintains a vast and wildly enthusiastic world audience. A recent interview on 60 Minutes, seen by 9 million viewers, confirmed the long-lasting magnetic appeal of the band. Indeed, the Red Hot Chili Peppers can now be ranked with the Beatles and the Rolling Stones in terms of popularity, longevity, creativity, and critical acceptance. John Frusciante has played an integral part in the historic rise of the band: joining the group at just 18, his incomparable skills as a musician and writer as well as his charismatic performances on stage have been instrumental in lifting the band to the pantheon of the greats.
And behind all greats there is a savvy, compassionate, and nurturing influencer: that is the role John Frusciante's stepfather Larry Berkley has played in this story. Early on, Larry not only allowed but also encouraged John to pursue his musical interests. As a boy, John was troubled with allergies, so Larry changed his diet and lifestyle, and this enabled John, now free of his ailments, to follow his passion for the guitar full bore. It was Larry who maintained the physical and psychological environment crucial to John's development as a performer and creator of the first rank. In a fond remembrance, Larry recalls driving John to a meeting with music icon Frank Zappa, which John had engineered through his own determined initiative. After hearing John play, Zappa confided to Larry that his 14 year old stepson was already too good to play with Zapps's band!
Without Larry's caring guidance, the world would not have seen a John Frusciante. In interviews over the years, John has expressed his gratitude to Larry for his efforts. As a token of this gratitude, John later presented Larry with a painting he had created at l8. It is this cherished painting, that Larry has held for many years, of which we speak. In the context of the modern world where an aficionado/investor can buy the aforementioned Mickey Mantle rookie baseball card as part of a collection for just $1,000 in 1986 and see it multiply in value by an astonishing 12,600 percent, of what value is such a painting? Priceless, to an individual who wants to connect physically and spiritually with John Frusciante and the Red Hot Chili Peppers and who also realizes the truly amazing financial potential for such a passion!
So, both emotionally and practically, this is the investment of a lifetime!
CONTACT: LARRY BERKLEY 702 592 8077