BTYKWN: IF YOU DON'T FIT IN, STAND OUT!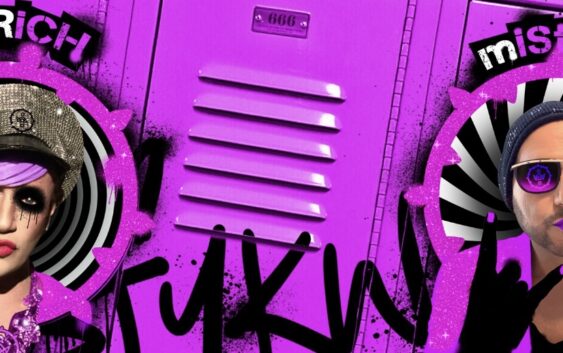 BTYKWN: A Vision in Loveliness














The above statement is indeed the motto for BTYKWN, an oasis of the extraordinary in a desert full of the mediocre and the mundane. Who and/or what is BTYKWN?
Well, makeup aficionados, wake up and join the club! Yes, makeup super fans of every age and persuasion, your platform has arrived! BTYKWN is a platform for fabulousness, where one might find unicorns among the rainbows! Icon or outcast, you are invited to view the free streaming offering of BTYKWN, pronounced BEAUTYKWEEN, which totally envelops you in the makeup metaverse. If makeup is your obsession, BTYKWN is your destination! BTYKWN is the vision of the ebullient Mister D, a marketing and branding megastar who always wanted to unite the glam community, and this is the vehicle. "BTYKWN is simply the most delicious digital place for the makeup obsessed, a place where we turn makeup into pop culture," says Mister D.
E Entertainment Television co-founder Larry Namer along with former E VP of Production Rick Portin are preparing the way for the free-streaming, members-only, gender-free platform for all things make up, BTYKWN TV.
Fashion icon Richie Rich has been tapped as headliner, with Namer and Portin serving as Executive Producers of BTYKWN TV and co-founders of BTYKWN along with Mister D, Richie Rich, and Kevin Aviance.
"This has the potential to be bigger than E," says Namer, "in that it launched to a global audience on Day One. There is an audience that knows no age limits craving this content and this audience has gone unaddressed for far too long. We aim to change the conversation immediately."
Catering to everyone who prizes and appreciates the enhancement of beauty, BTYKWN is the first-ever streaming home dedicated exclusively to makeup cutting edge tutorials, Hollywood makeovers, in-depth masterclasses, and exclusive interviews and presentations with celebrities and influencers featuring revelatory content about beauty in every sense of the word.
The Principals of BTYKWN
Mister D:
In Mister D's awe-inspiring career, he has taken companies such as Nars, Victoria's Secret, and Ed Hardy from the ground floor to rock star status brands. This brilliant pioneer in the field of branding is now bringing those creative sensibilities to BTYKWN. As the sagacious Larry Namer has stated: "Mister D is a true visionary regarded with the utmost respect for bringing hipper-than-thou, bleeding-edge cool to the public." Mister D has proven again and again that he can take fashion and beauty brands off the runway and both surround them with celebrities and engineer television exposure for them in order to bring their brands closer to their fans. Sought after by labels exhorting him to wave his magic wand and make them household names, Mister D has a reputation for creating spectacular live shows and has worked with a bevy of celebrities including Kate Moss, Linda Evangelista, Jon Bo Jovi, Naomi Campbell, Elton John, Madonna, and Snoop Dog.
Richie Rich:
The iconic and extremely creative Richie Rich is a fashion designer, pop culture star, legendary Club Kid, and revered style idol. In 1999, Rich and Traver Rains created a cult classic fashion label, Heatherette. Heatherette runway shows kicked off Fashion Weeks throughout the world and became prestigious productions for a model to walk, with a seat in front becoming a dearly prized ticket. As a result, Young Hollywood came running and Richie Rich's designs were graced by the likes of Paris Hilton, Miley Cyrus, Naomi Campbell, Pink, and Fergie. Dubbed fashion's transformer, he moved his eponymous line the House of Richie Rich to Los Angeles and New York as his fashion star skyrocketed. Soon he counted Ellen DeGeneres, Pamela Anderson, and Dita Von Teese as clients. Always the social butterfly, he has received significant notoriety by appearing on America's Next Top Model and Project Runway. The coup de gras for Rich was being honored by the New York Metropolitan Museum of Art for an award-winning dress design in 2019. His motto is "Everyone is a star," which fits exactly the theme of the BTYKWN makeup metaverse he will co-create with the other principals.
Larry Namer:
The presence of Larry Namer as one of the prime driving forces behind BTYKWN is of incalculable value to the franchise. He is, after all, a media phenomenon with a 50 year record of smash successes in every conceivable venue: in the United States, he co-founded and developed the ever popular and revolutionary E Entertainment, a company now valued at over five billion dollars; in Russia, he developed the most highly rated television show and the largest independent music company, bringing international stars to the country; and in China, he created several series, including an immensely popular and highly praised sitcom. Over the last five decades, this inimitable entrepreneur has continued to serially re-invent himself, uncannily sensing and then shaping new media trends. Larry specializes in doing what the experts say cannot be done; indeed, one can say that is his life history.
Just the presence of this dynamo of creativity is an inspiration: an indefatigable worker and creator, he is ever open to new ideas and is continually adapting and evaluating his projects. The prescient Mr. Namer sees BTYKWN as an absolutely essential platform of expression for today's multi-gender and multi-culture fascination with makeup and beauty, a fascination often approaching unbounded obsession. Most certainly Larry Namer will bring his usual unusual enthusiasm and skill to the facilitation of the site's goals of education, implementation, and presentation; under his aegis, all of this will be achieved in a manner simultaneously colorful, dramatic, informative, and entertaining, providing the viewer with an experience with makeup and beauty which is both meaningful and memorable.
Kevin Aviance:
The legendary Kevin Aviance is a queer culture idol and multi-hyphenate talent: international drag performance artist, DJ, fashion designer, and Pop Artist. Indeed, he is a Renaissance man and an inspiration to his public worldwide. A bon vivant with a fan base that stretches from New York to Tokyo, Aviance has four #1 Billboard dance hits and has been featured in over ten groundbreaking music videos. Besides his unique dance and music performances, he is admired for his gender fluid avant-garde fashions and his award-winning pop art. Aviance is a proud presence in and huge star among LGBTQ+ circles. His debut album Box of Chocolates introduced Aviance's signature sound and he has performed with Bette Midler, Whitney Houston, Cher, Lil Kim, Mary J. Blige, Natalie Cole, Janet Jackson, and Cyndi Lauper.
Aviance, too, brings his idiosyncratic skill set and personality to BTYKWN as co-founder.
Rick Portin:
An Emmy Award-winning techno-entertainment wonder and visionary, Rick Portin is a dynamic amalgam of technological skill and creative genius who has the ability to make the single screen experience come alive with exciting and entertaining interactive content. His blending of innovative technologies and inventive programming provides a not-to-be-forgotten total immersion for the virtual viewer across a variety of genres. Having helped build global celebrity pop culture entertainment networks for E! Entertainment Television, Hollywood Reporter TV, and Metan (in both the US and China) with his productions of virtual trans-media experiences, he now has his own company and has provided streaming, broadcast, digital, virtual, gaming, augmented reality, and live content productions for such prestigious clients as Microsoft/Xbox, Fox Television Studios, Viacom, Starbucks, Blizzard, and Halo. Creator, director, and producer par excellence, Rick Portin brings all his acumen and enthusiasms in to play as he constructs an enticing virtual world at BTYKWN, of which he is co-founder.
Seldom has such a concatenation of wonderfully diverse talent been assembled as principals for an enterprise! It can truly be said that with a standout team like this at the helm of BTYKWN, viewers of every persuasion can indeed fit in and relish every moment of their exposure!