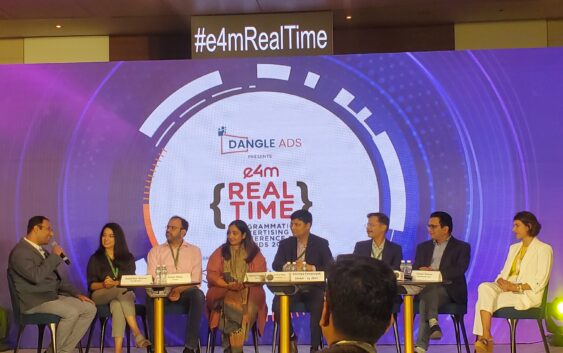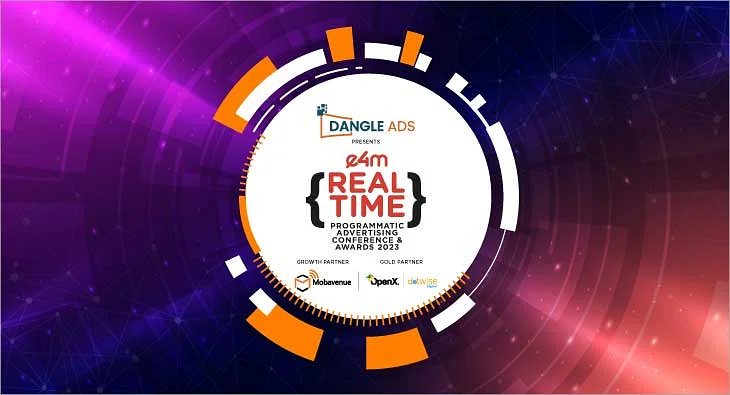 Marketers have more power than ever before in the digital world. With all the tools, media channels, and data available, the challenge is to stand out from the crowd.
Programmatic advertising has become increasingly popular among marketers since the onset of the Covid-19 pandemic, as digital marketing continues to expand at an unprecedented rate. Programmatic advertising offers marketers the promise of improved targeting, increased reach, and real-time optimization in an industry characterized by discrepancies, impact, and relevance.
The e4media Group organized a comprehensive conference and awards ceremony to showcase the latest developments in programmatic advertising. The event was held at the luxurious TAJ, Mumbai, and featured a variety of separate keynotes and fireside chats, as well as panel discussions. Attendees of the conference were able to gain insight into the current state of the industry, the expertise of seasoned professionals, and the strategies of leading brands. The presenting partner of the event is Dangle Ads, the Growth Partner is Mobavenue while the Gold Partner is OpenX/Dotwise digital.
India is a nation of over 500 million people, making it one of the world's largest digital markets. This has resulted in a surge in online content consumption in both urban and rural areas.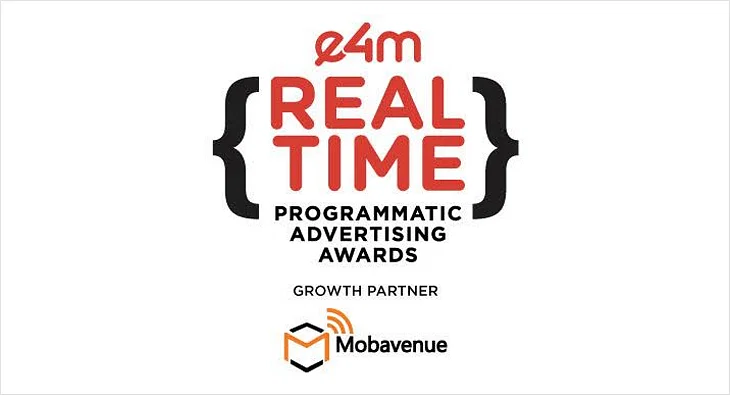 In today's highly competitive digital environment, it can be difficult for marketers to gain a competitive advantage over their rivals. With the abundance of tools available, a wide range of media channels and extensive data sources, advertisers and marketers alike are now taking advantage of the potential of programmatic advertising to improve their marketing strategies. The conference provided marketers with the opportunity to gain knowledge and networking opportunities with the industry leaders to unlock the full potential of their brand through programmatic advertising.
Programmatic advertising has the potential to revolutionize India's advertising industry by providing data-based insights and revolutionizing the manner in which brands interact with their customers. This is due to a combination of technological progress, the rapid expansion of digital media consumption, and the increase in data usage. Programmatic advertising promises improved targeting, increased reach, and real-time optimization.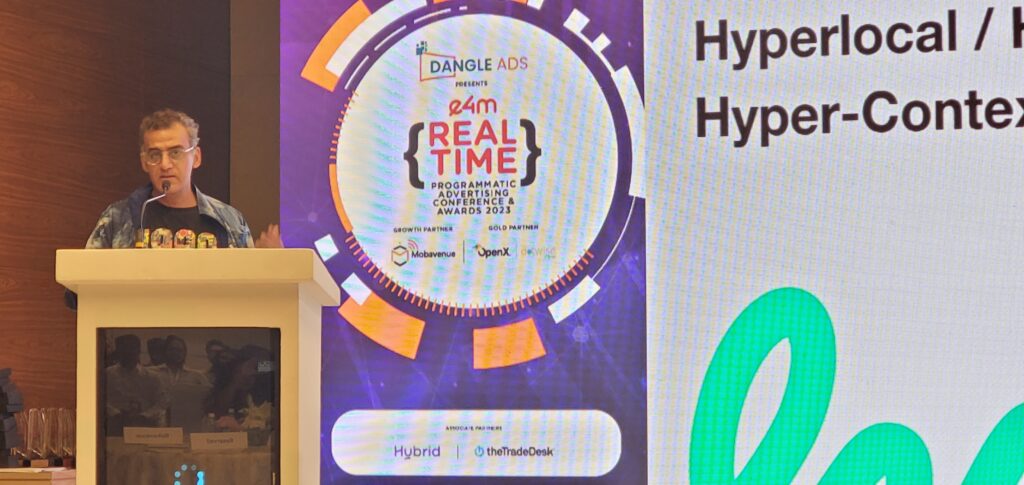 Azazul Haque, Chief Content Officer, Media Monks, presented on the "Going from hyper local to hyper personal using technology and programmatic advertising".
"In today's world, it is possible to do storytelling which is more contextual," said Azazul Haque, Chief Content Officer, Media Monks, as he kickstarted the e4m Real-Time Programmatic Advertising Conference, with his presentation about going from hyper-local to hyper-personal using technology and programmatic advertising.
Haque added that storytelling is no longer like the classic advertising that speaks to the masses. "I call this the shift from mass advertising to 'me' advertising. You have enough data to know and understand what a particular person is doing at a certain point in time," he said.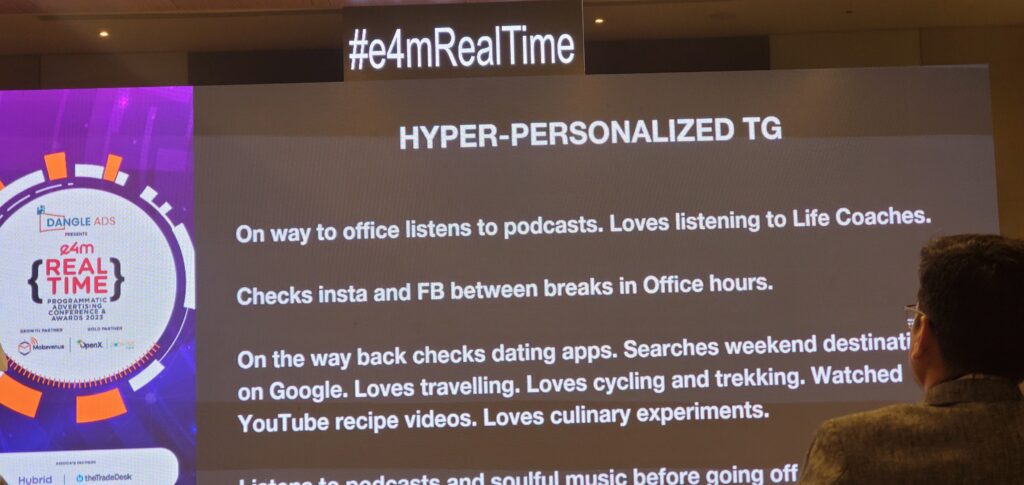 To make contextual storytelling even better, Haque says it's important to define who your target audience is in your advertising copy. Brands are implementing a new approach to providing consumers with unique experiences, and the latest initiative provides users with the opportunity to enjoy AI-driven hyper-customized experiences that are tailored to their individual preferences, and to celebrate events and occasions of their choosing that they can easily share with their family, friends, and loved ones. The new campaigns integrate hyper-local stories into the realm of hyper-customization, while simultaneously bringing a new technology experience to the general public like never before.
Haque said that a person's day-to-day digital habits are a treasure trove of unique and relevant information. "To me, data is the new consumer insight. It's not about what the person wants to do five years from now, it is about what the person is doing every moment. Insights for one person may not be singular, they can be many," he mentioned.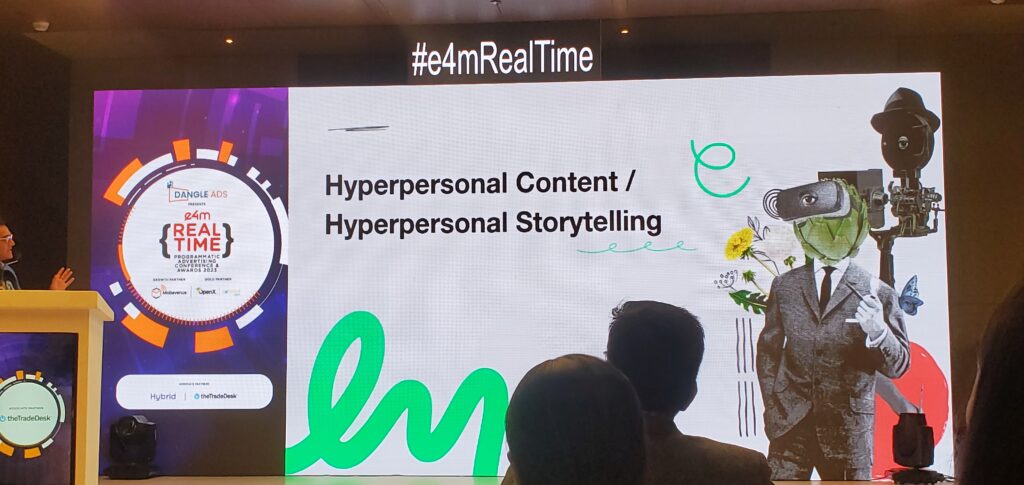 An example of Media Monks' most recent work was shared by Haque, who noted that the team's greatest challenge in developing the ad film was the fact that it was losing its shelf life. "So the question now was, how do we turn mass content into hyperpersonal content," he shared.
"We made one mass content film, and to turn it hyper-personal, we just changed the subject and made 30 films, which is contextual content, out of it with no extra money," Haque further shared.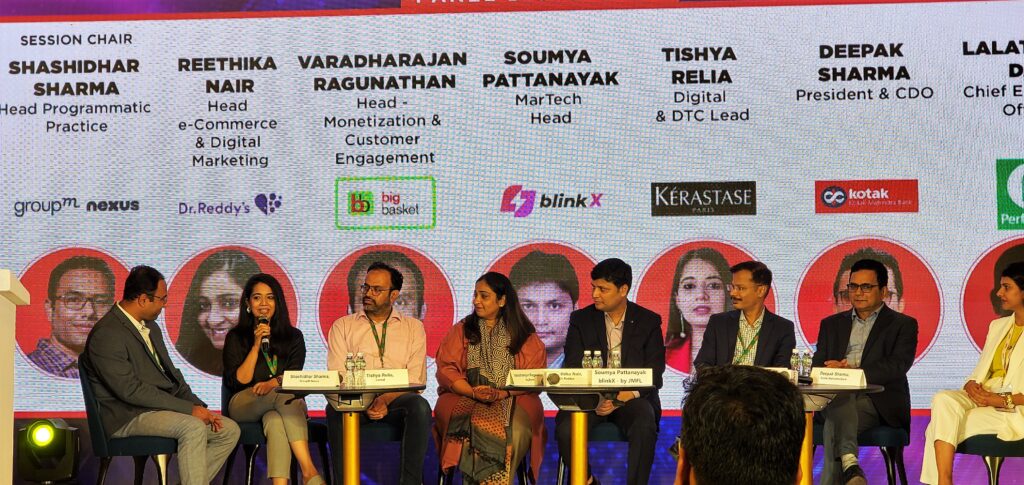 At the panel discussion, "Assessing the Future of Digital Advertising & Digital Transformation Through Data," the panellists – Reethika Nair, Head e-Commerce & Digital Marketing, Dr Reddys Varadharajan Ragunathan, Head – Monetization & Customer Engagement, Big Basket Soumya Pattanayak, MarTech Head, BlinkX Tishya Relia, Digital & DTC Lead, Kerastase India, Deepak Sharma, President & CDO, Kotak Mahindra Bank Lalatendu Das, Chief Executive Officer, Performics India Session Chair- Shashidhar Sharma, Head Programmatic Practice, GroupM Nexus shared their thoughts on the future of digital advertising & digital transformation through data, challenges faced by the programmatic industry and discussed how marketers are utilizing multiple channels and data to drive digital transformation. Programmatic advertising can be used across a variety of channels and formats, such as Native, Display, Video, Connected TV (TV), Audio, In-Game Advertising, and Digital Out-of-Home (OOH). Additionally, the panel will discuss the various challenges associated with multichannel advertising, as well as how e-Privacy, Cookie-less Browsers, and regulatory issues will influence programmatic strategies.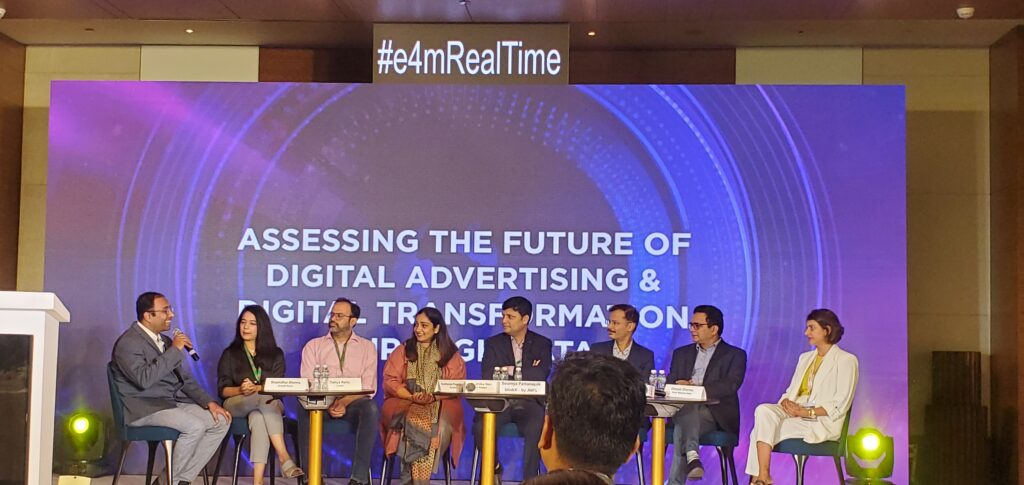 Bhatia said, "We were waiting for the day programmatic will really evolve and that's the case with some of the mature markets like the US and that's not happening with the APAC market, especially India. It needs to evolve and how it can be used in an efficient way. Where you are achieving your objectives as a marketer in the best possible way."
On a similar note, Sharma said, "I think we are seeing a transition, especially, as organizations are massively investing in the CDP because one of the biggest challenges when you go for programmatic was about the consumers, their profile on the basis of which you can provide the content to them. I think the CDP part has been solved. But for the large business, it is still a challenge."
Adding to that Das said, "I see there are three innovations that have taken place in programmatic. First is – the inventory has increased, like CTV, DOOH, etc. Second is – the contextual targeting, there are a lot of third-party data providers to identify the TG. Lastly, its the personalisation, it gives a great way. There are still attribution and fraudulent problems. But there are a lot of positive steps that have been taken."
On the other hand, Nair, said, "Why are we thinking that Google and Meta are not programmatic? Technically they do play on real time. The ecosystem is changing, Google is probably going to take audience data. There are programmatic challenges too and we need to give specific TG who you think is relevant. These are the transitions we are seeing from moving from media planning, getting sharper at finding the right TG."
As for Pattanayak, "Google and Meta are moving in the direction of programmatic with the channels they are bringing in. If you see in the recent times, the way AI and tech have been used by but they have limited assets. Data is very important for all of us."
While Raghunath said, "How do you speak to someone without poking them. The right level of contextuality from what I've seen so far is to talk to you at the level of a cohort which you'd like to be associated with, which broadly is not controversial and doesn't indicate strong views about you. The problem is people think that data cut is the way you want to communicate. The data cut means nothing to the customer, he is interested in the psychographic characters of the cohort he belongs to."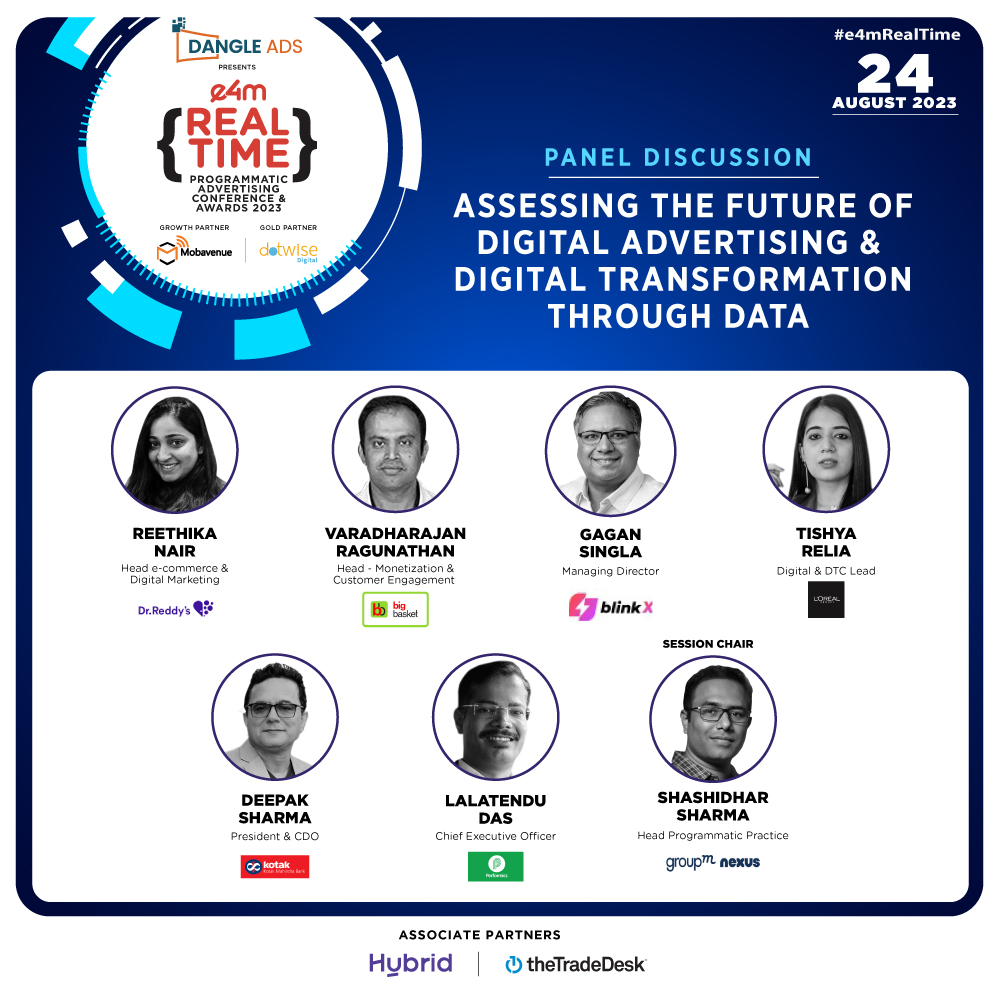 Girish Bajaj's view – Real-time programmatic advertising is set to become the future of marketing, as it allows for more efficient and effective ad spending. By using data and algorithms to make decisions in real time, marketers can ensure their ads are seen by the right people, at the right time. This can lead to better ROI and more successful campaigns. Additionally, real-time programmatic allows for greater flexibility and adaptability, making it an ideal solution for the ever-changing digital landscape. Overall, real-time programmatic is a powerful tool that marketers should be taking advantage of.
Hyper personalization and hyper localization are key components of real-time programmatic advertising. With hyper personalization, marketers can use data to create targeted ads that speak to the specific interests and needs of individual consumers. Hyper localization allows marketers to tailor their messages and ads to the specific location of consumers, which can increase engagement and conversion rates. These strategies combined with real-time programmatic make for a powerful combination.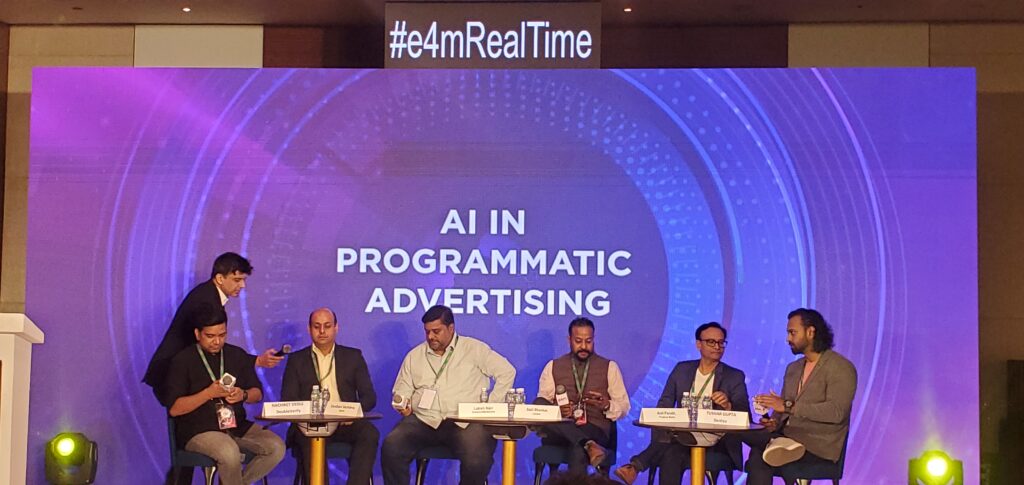 Generative AI has opened up new avenues for creative and media strategization, ranging from automating repetitive tasks to quickly visualizing ideas and refining copy to creating hyper-personalised campaigns. Post lunch, the panel discussion with panelists Anil Pandit, Publicis Media SVP, Lead-Precision (Programmatic), India Salil Shankar, Regional Head – South Asia, Lemma, Tushar Gupta, SVP- Programmatic Growth and Partnership, Amnet Dentsu, Latish Nair, CDO- Ecommerce and Performance Marketing, Essence Mediacom, Gandharv Sachdeva, Country Head – India & Thailand, Hybrid Session chair – Nachiket Deole, Head of Sales, India at DoubleVerify on "AI in Programmatic Advertising' kept everybody very alert and question such as, How can marketers responsibly experiment with AI while mitigating issues around copyright, bias and more? was answered with deep insights, such as –  how marketers are using AI and developing best practices in this panel, how advanced data analysis and insights optimize targeting, creative and bidding strategies can help you gain a competitive edge in the current environment in this panel.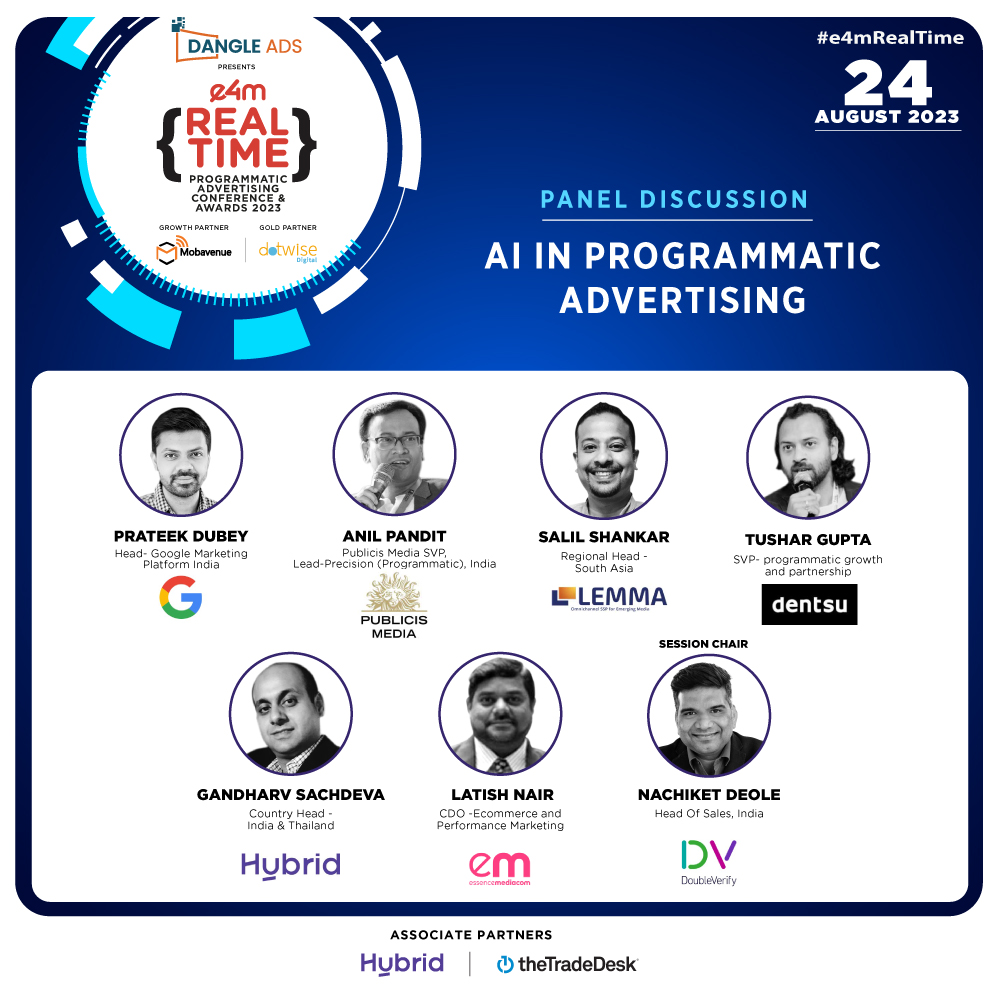 The consensus among media and creative experts attending the e4m real-time Programmatic Advertising Conference in Mumbai was that Data is the foundation for Artificial Intelligence (AI), and it is essential to establish the appropriate expectations and provide the appropriate data that is pertinent in order to achieve the desired outcomes.
At the event, which was moderated by DoubleVerify's Head of Sales India NACHIKET Deole, industry experts discussed how AI's generative capabilities have opened up new possibilities for creative and media strategies, like automating repetitive tasks, quickly visualizing ideas, improving copy, and creating hyper-personalised campaigns.
Talking about best AI practices, Tushar Gupta, SVP-programmatic growth and partnership at Amnet Dentsu said that the richer the data, the best is the output. "Data is at the core of AI. Without data, there is no AI. Your data sets have to be very rich and diverse. The best data you feed in, the best output you get. So once you have the user preferences, patterns, you're able to personalize your campaigns better.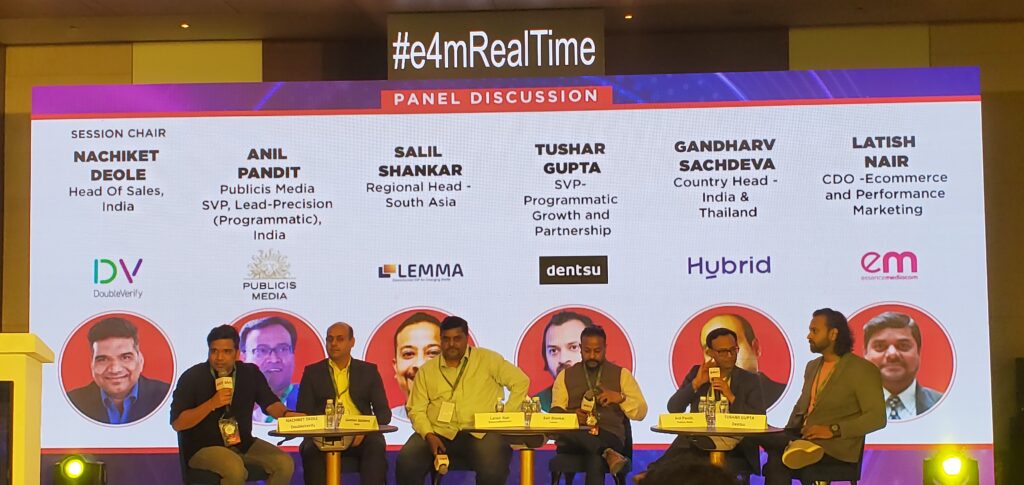 "Coming to best practices, there is a need to set right expectations as to what is to be achieved and those are the kind of prompts that should go in AI so you get the desired results. The data quality should be good and there should be a good oversight as well. There should be a combination of man and machine and not man vs machine," Gupta said.
Sharing his insights, Latish Nair, CDO, EssenceMediacom, said that from the media lens, there is tremendous potential.
"The mundane jobs of manual optimization, data sets reading and large data curating have been outsourced but there is human intervention and not complete dependability on AI.
"From a creative side, there is a challenge of copyrights and violations coming in but again there is a huge potential in terms of creating copies by the fly provided the elements that are put in and taken care of from the copyright perspective," he said.
Talking about opportunities created by AI for creative agencies, Anil Pandit, Publicis Media, SVP, Lead-Precision (Programmatic), India, said generative AI is not a new trend but a transformative technology.
"At Publicis, we are fully aware of the immense possibilities and opportunities that exist and benefits that kind of grew to clients/brands and everyone in the ecosystem. There are a lot of learning programs and training sessions that are on.
"As we speak, we have our own Publicis GPT which comprises of aspects- a factory GPT which helps in creating workflows and we have a Sandbox GPT which gives clients an easy, exclusive and a safe access to the large language model tech to fulfil their creativity and productivity," Pandit said.
Talking about how AI can enhance video ad efficiencies, Salil Shankar, Regional Head -South Asia, Lemma, said in the times of the changing behaviour of audiences, AI plays a vital role.
"The days have gone where everything was manually setting the entire campaign, like identifying the customer audiences. Now it is more of an AI generated hybrid hyper targeted campaign, so it's from screen to screen. Behaviour of audiences has completely changed and AI plays a vital role in overall marketing perspective as well," Shankar said.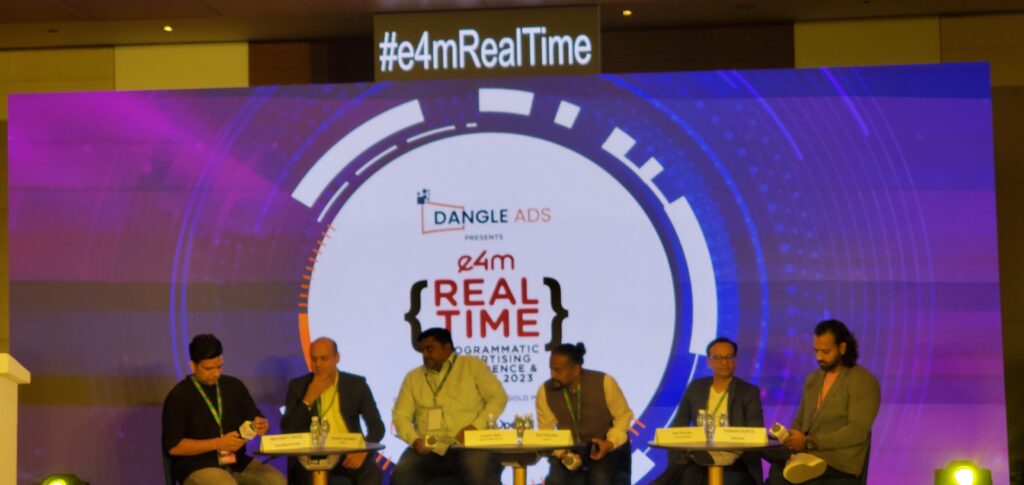 Girish Bajaj view – The more AI/ML programs are used in programmatic marketing, the more important it is for efficiency and accuracy, personalization, cost savings, data privacy and ethics, and skill gaps. AI/ML algorithms can look at a lot of data and make decisions quickly and accurately, which can help make media buying more efficient and better target people with ads. They can also help personalize ads to people based on their habits, likes, and interests, which can lead to more engagement and better customer experiences.
AI and machine learning are having a huge impact on programmatic marketing. Platforms powered by AI are helping advertisers make their data smarter and get better business outcomes. AI is helping advertisers get more accurate targeting, better ads, and better campaign performance. AI is only going to keep getting better and better, and it's going to open up even more powerful tools to programmatic marketing.
AI/ML is becoming more and more popular in programmatic marketing. It has the potential to totally change the way advertising works, but it also needs to be carefully thought out for ethical and privacy reasons. As AI/ML grows in popularity, there's a growing need for people with the skills to create and use these technologies.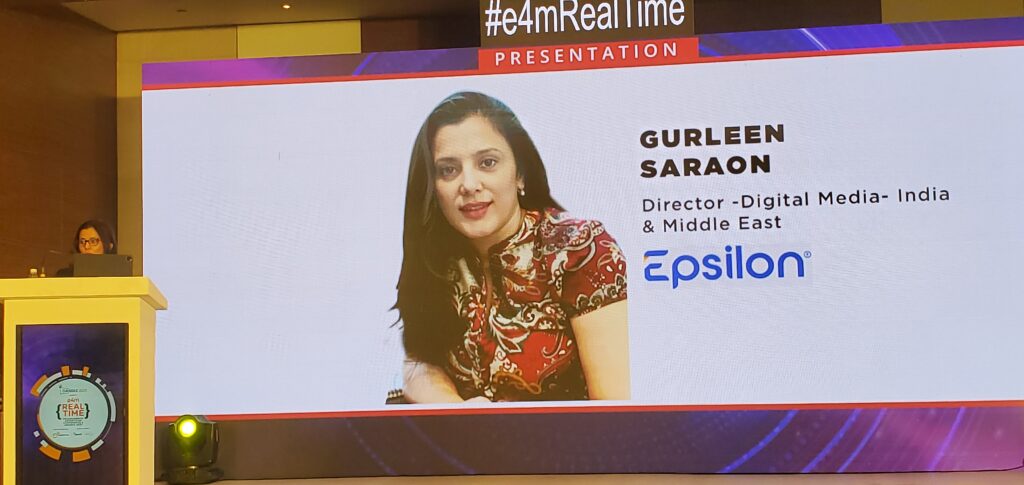 The presentation on "Correlation vs. Causation – The debate on measurement of Incrementality" by Gurleen Saraon, Director -Digital Media- India & Middle East, Publicis Epsilon was a superb knowledge packed masterclass.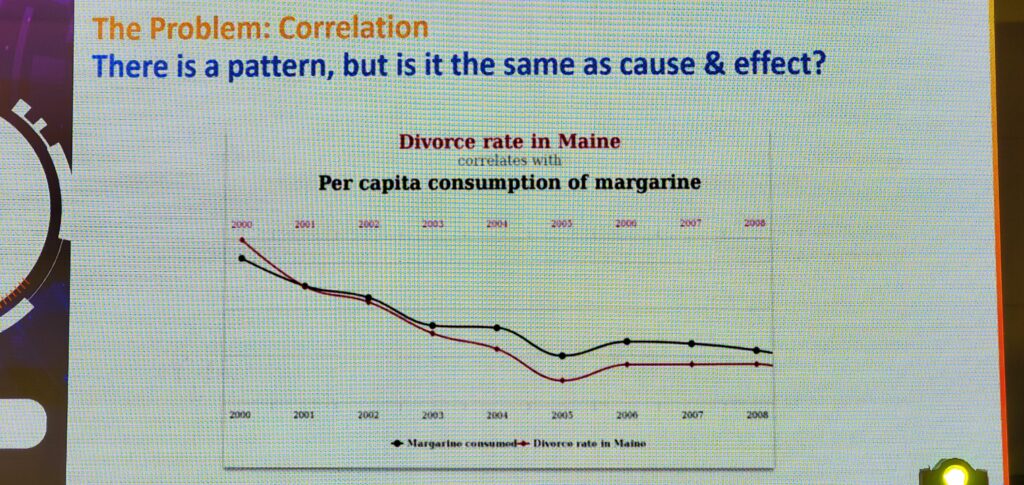 Gurleen Saraon, director- digital media, India and Middle East, Publicis Epsilon, decoded the debate between correlation and causation for digital-first brands by understanding that the marketing analytics is all about three main things: getting to know the consumer, connecting with the consumer, and proving the results. "Correlation and causality are fairly misunderstood terms as far as measuring in programmatic is concerned," she said.
Saraon displayed a graph that combined the divorce rate in Maine with the per capita margarine consumption on the same graph, demonstrating a direct correlation between the two. The graph showed that the divorce rate and per capita consumption decreased and increased respectively.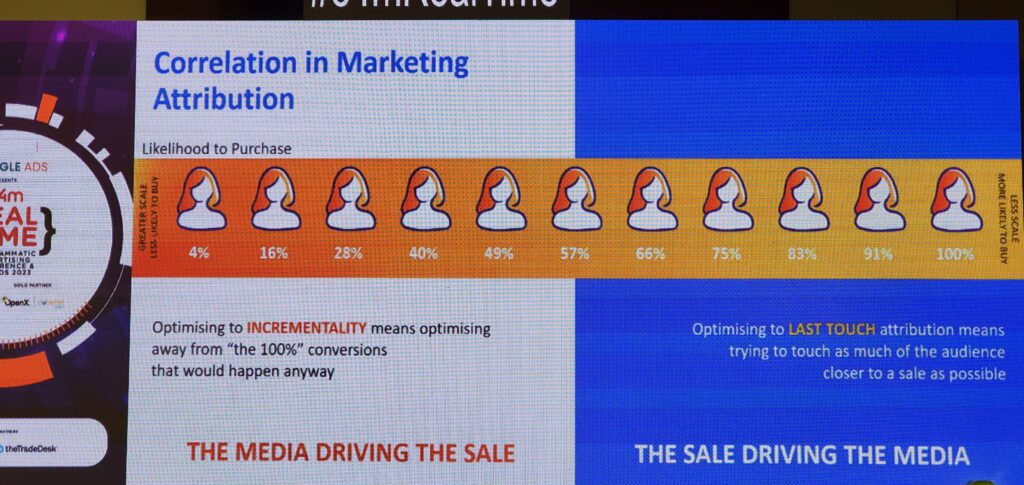 Saraon explained, "So would this mean that increased higher consumption of margarine or butter leads to higher divorce rates? No. There exists a positive, coefficient of correlation definitely but there is no causal relationship between the two. This is exactly the problem we face in marketing analytics."
In the context of programmatic attribution, where the sale is the driving force behind the media, the primary objective is to reach as wide an audience as possible that is likely to convert into a sale. Conversely, the media that is driving the sale is to optimize the incrementality beyond the 100% conversions that are likely to occur.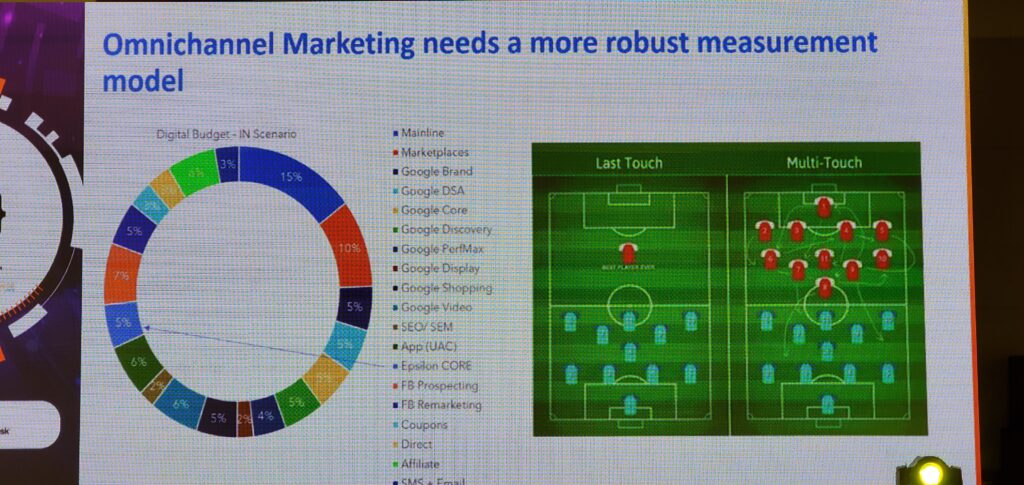 She delved further into the distinction between last-touch attribution and multi-touch attribution, using a soccer field graphic as a reference. Last-touch attribution is focused on capturing the final click, while multi-touch attribution is more focused on all stages of the consumer journey. The latter approach assists a marketer in comprehending the value and return on investment generated by each touchpoint.
"If you see soccer, the last goal is hit by their strongest player like Ronaldo. That person gets 100 percent credit and recognition for the win. But this becomes a bit of a problem when we look at various omni channels and that is where multi-touch helps," she added.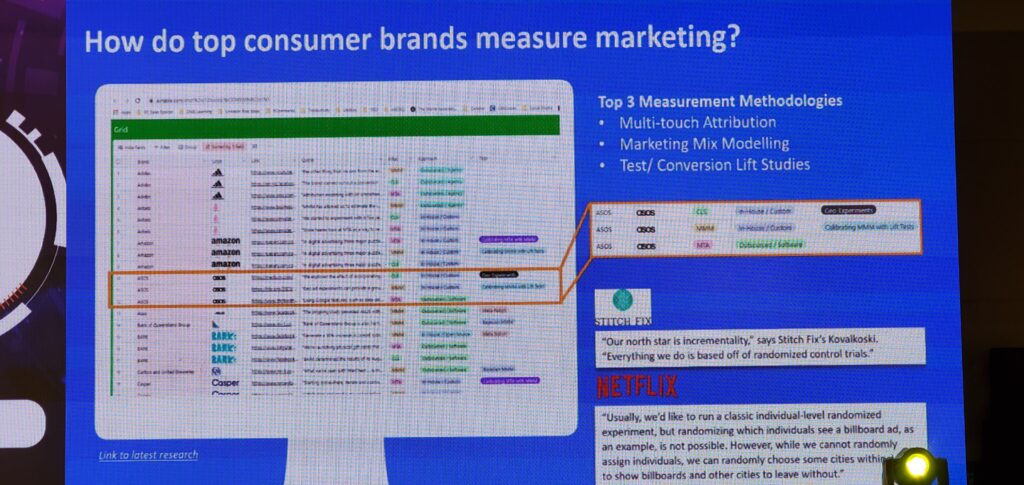 Top consumer brands use multi-touch attribution to measure their marketing efforts, as well as a marketing mix modelling and conversion lift studies.
Towards the end, Saraon quoted the famous statistician George Box who said, "All models are wrong but some are more useful".

"This basically means depending upon where a business is, certain models work more efficiently in those scenarios, but it really matters what goal the business is taking on. If the business is aligned to report click-throughs or easy to navigate touchboards, then that's what it's useful to go with," she concluded.