Jean Paul Gaultier Couture by Olivier Rousteing Fall Winter 2022-2023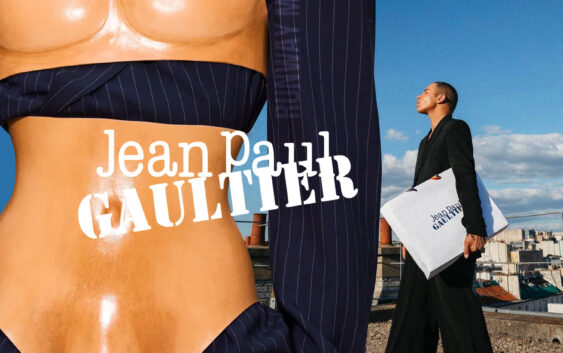 Jean Paul Gaultier Couture by Olivier Rousteing Fall Winter 2022-2023. Review by Eleonora de Gray, Editor-in-Chief of RUNWAY MAGAZINE.
Unfortunate but symbolic accident at the show: model Kristen Mc Menamy, who represented a bride, felt on runway and couldn't stand up without help. Later she posted this photo with the comment: "Olivier's Fallen Bride"… That accident has so much meaning… Read following…
Master of copy, Olivier Rousteing was invited officially to see the archives and re-fresh the looks of Jean Paul Gaultier. He is a master of reproducing. "Jean Paul such big inspiration," – said Olivier Rousteing, and getting into his archives such great possibilities for copy, I might add. We only can imagine how he feels, like a little boy in a candy factory. Rather than visiting libraries, taking pictures of the famous looks from old magazines, as he did for years, and reproducing them, Olivier Rousteing got the access to the archives.
That is indeed fabulous Jean Paul Gaultier and his best looks. The famous bra, so well copies by Daniel Roseberry from Schiaparelli, was the new season hit. What Olivier Rousteing added to it, you may ask? Only "Kiki" (French, child expression for phallus).
"You ate that Olivier!!!" – commented Olivier Rousteing's friend. But don't chock on it. Jean Paul Gaultier doesn't let any counterfeit go… And you don't want to make Jean Paul feel bad and sad, if tomorrow you'll reproduce his designs, and claim that these are your own, don't you Oliver?
You got it! Finally!!!! The moment of glory, for Jean Paul Gaultier that is, and a bit for you… Enjoy while it lasts. That is the real love and admiration to the great designer. I'm still talking about Jean Paul Gaultier. You got your chance to be part of it… Now go for good to make your furniture, and whiskey.
Useful links about Olivier Rousteing – Balmain:
Artistic Direction : Olivier Rousteing
Jean Paul Gaultier Creative Direction : Florence Tétier
Casting Direction : Anita Bitton
Movement Direction : Nicolas Huchard
Hair stylist : Sam Mc Knight
Makeup artist : Isamaya Ffrench with MAC Cosmetics
Nail artist : Lili Creuk with Kure Bazaar
Sound designer : Jean-Michel Derain
"Sans contrefaçons" Mylène Farmer (Mylène Farmer / Laurent Boutonnat)
© Bertrand Lepage Ed. Sarl – Universal Music Publishing France (P) 1987 Polydor France avec l'aimable autorisation d'Universal Music France
Copywriter : PLUME
Show Design & Production : La Mode en Images
With the support of Dyson, Evian
Special thanks to Olivier Rousteing and his Team,
Monsieur Jean Paul Gaultier, the Atelier and the Jean Paul Gaultier Team.