The Boom Effect: Richie Rich Fashion Victorious in its Los Angeles Debut!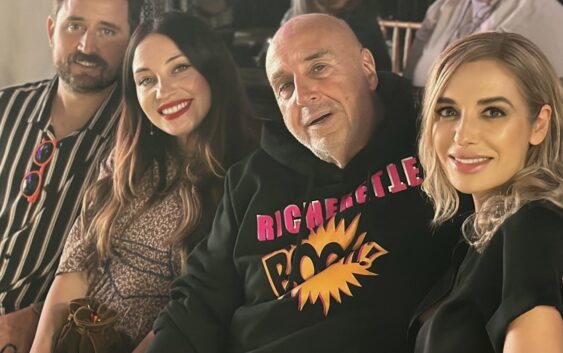 RICHERETTE
































































The boom effect of the Richie Rich RICHRETTE fashion show has jolted the Los Angeles fashion scene with a stylistically splendiferous outpouring of colour and flamboyance!
The Boom: Disco Pop Fun Collection, where street and trans gender meet queer meet disco meet RICHRETTE, exploded onto the scene Thursday night, October 19, 2023 at the Majestic Theater as part of Los Angeles Fashion Week hosted by Art Hearts Fashion.
The press release said prepare to be enchanted and indeed we were! The collection spans a multitude of hues and fabrics, is mischievously playful and imaginative, and takes us on a grand adventure into pop culture.
Out came graphic tee shirts, leggings, dresses, skirt-top sets, and shorts, variously adorned with a hypnotic palette of bright colors, ruffles, tulle, and sequins. Particularly fetching outliers and my personal favorites were: a red bolero jacket with gray rosettes on the bodice accompanying a black jumpsuit that tied on the sides; a diaphanous mini skirt with a matching bandeau top, both strewn throughout with mirrored diamond squares, all of this dramatically paired with black boots; and a blue hooded sweatshirt emblazoned with RICHERETTE and matched with leather pants.
Rich defines RICHRETTE as "a love letter to queer club culture; echoing the beat of my Club Kid Days and the soul of house music." With '90's fashion making a resurgence as well as the band 'N Sync, Rich is right in step and has found his niche.
Richie is pure sunshine and his every creation conveys that message. His winning personality and talent have taken him to great heights in his career: fame, a fabulous world wide brand, and now the artistic conquest of Los Angeles.
Rich's motto, as verbalized by his good friend Larry Namer, co-founder of E Entertainment and head of Metan Global Entertainment, is "If you don't fit in, stand out!" And, boy, did he stand out on Thursday night! (Namer's son, Jonny Namer, walked the catwalk for Rich on this fateful night.}
Heathrette was Rich's famous former fashion brand that propelled him from celebrity club kid to stardom. Heatherette has clothed luminaries like Naomi Campbell, Pamela Anderson, and Kim Kardashian, and reached iconic status, thanks to groundbreaking collaborations with Mac Cosmetics, Vans, and Hello Kitty.
In addtion, Rich has co-created with a constellation of fashion and music icons, including Madonna, Paris Hilton, Nicky Hilton, Boy George, David Beckham, Backstreet Boys, 'N Sync, Gwen Stefani, Britney Spears, Kylie Minogue, Mariah Carey, and Beyoncé.
Though humble by nature, Rich's trademark is his personal positivity no matter what the situation and this drives his creativity. His fashion reflects his personal affirmation that everyone has a right to exist as they are, and this show is a resounding proclamation of that affirmation. "I'm set to create magic anew with RICHERETTE," he says, "celebrating the resurgence of 90's club fashion, queerness, and the captivating world of gender-bending androgyny."
Most certainly, the 90's era and gay nightlife scene are prime sources of inspiration for him. Richie shares, "From my appearances on iconic talk shows like The Joan Rivers Show, Geraldo, and Phil Donahue, and my tenure on Project Runway, my journey in the entertainment and fashion industries has been a whirlwind of fun and excitement. I can't wait to embark on this thrilling new chapter with RICHERETTE."
Rich usually shows exclusively at New York Fashion Week, but this time also chose Los Angeles Fashion Week to showcase his new beginnings. And we are most happy he did!
Photographs by: Joe Garcia
Thank you Joe Garcia for the photographs