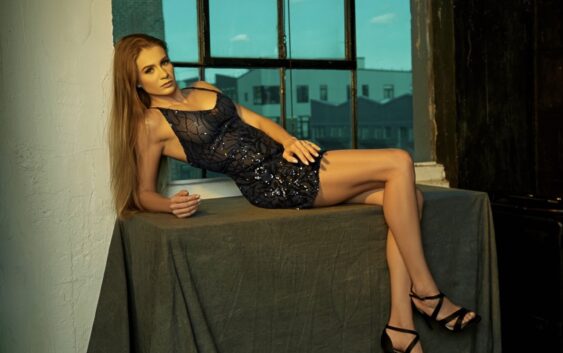 Editorial Staff – FVM Global Magazine – In art's ever changing landscape, you almost never find the words fashion and technology together. Enter fashion photographer Marty Gottlieb, a Massachusetts Institute of Technology engineer who has become internationally recognized for working with iconic fashion staples such as Tom's Sons International Pleating, New York Fashion District's top couture and silk specialists and with Alien Earth Designs couture, specialist for Hollywood red carpets and runways.
Gottlieb's big break came while shooting routine headshots for modeling portfolios when he ran into someone well-connected in the fitness world. He shot a series that exploded on social media, soon becoming the "it photographer" in the fitness world.
Gottlieb has since transitioned to fashion creating a unique signature style using his knowledge about photography learned from his father and from MIT.
FVM: Describe your photographic style.
MG: My style is all about what I call "Heroic Beauty." The images are about strength, inner power, confidence, respectability, and beauty. Yes, my models are gorgeous and yes they are draped in dazzling fabrics from talented designers, but what captures the viewer's attention is that these women command the space that they appear in. It's my job to direct the scene, the posing, styling, lighting, and camerawork to achieve this. But this is what I mean by heroic beauty.
FVM: Explain your work flow while working with fashion models.
MG: It starts with getting an idea of what the client wants. We develop a mood board – which can range from a sketch on a napkin to several pages of photos and swatches, but in the end the client is trusting me and my vision. And from there we cast the models based on the campaign.
Day of the shoot I'll arrive early to direct the crew and as the models arrive I'll greet them with a hug if we've worked together before, or I'll introduce myself if it's someone new. My goal is for everyone to be relaxed and comfortable because people work best that way.
When a model hits the stage the first thing I'll do is start a basic dialog. I'll ask is if she's warm or cool enough. It shows my interest in her as a person, not just as a thing I'm taking pictures of. It then becomes a conversation between two (or more) people working together to achieve the perfect photo.
FVM: From your point of view, what makes a good fashion photograph?
MG: A good fashion photograph (really any photograph) tells a story. It has drama, emotion, and a recognizable style. I like to say that people look with their eyes but linger with their hearts. So I always go for the viewer's heart. We've all seen a portrait that's done with perfect lighting and it's in a great setting but emotionally it falls flat. Then you see what a 10-year-old enthusiastically does on his iPhone and you're like "Wow! He really got it!" True, I spend a lot of time working on my technical abilities, but these are only just tools I use to tell a story.
FVM: How did famous fashion photographers influence your thinking, photographing, and career path?
MG: I've always looked at the work of other photographers. For years I've been keeping a scrapbook of pages torn from magazines and every few months I'll spread them out on the floor of my studio, arrange them by similarities, and really study them both as a collection and individually. And I'll hone in on elements that intrigued me enough to add the page to my collection. But to answer your question, several photographers have influenced what I do today. Helmut Newton and Ellen von Unwerth have taught us that fashion can be sexy, playful, and fun. I look up to Francesco Scavullo and Mario Testino as masters of simplicity and soft, beautiful lighting. And of course, Annie Leibovitz and Erwin Olaf have influenced my use of color to add drama and emotion.
FVM: How did you develop your style?
MG: Personally, I've always been drawn to strong, independent, beautiful women. Prior to my career in fashion, I worked primarily with women in fitness, and that's where you see a lot of strength and independence. And as I'm always looking for that dramatic and personal angle to make my photos meaningful, I started to see this pattern of a sort of heroism. So I pushed that as a message in my work, and as I pushed that message I began to stand out as unique, and well, that's when my career really took off. And that's when I coined the term "Heroic Beauty."
FVM: What are some of the biggest lessons in the photography business you have learned along the way?
MG: First and foremost is that you have to develop your own artistic style. Clients pay for your uniqueness because they want something that will make their products stand out among their competitors. So it's better to spend your time developing your own style than to try copying everyone else. Because trends change with the winds and while your particular style may not be in demand this season, when the winds change you will own that space.
Next, I would tell you that this is a marathon, not a sprint. You've got to keep at it 24/7. If your style is to use film then shoot a few rolls a day. If like me you shoot digital, then learn all the buttons and controls on your camera. My goal is always for the next time I click the shutter the photo will look better than the previous shutter click. And as the saying goes, "your first 10,000 photos will be your worst," and that was said back in the days of film.
FVM: What does fashion photography mean to you?
MG: To get very philosophical, my mission is to make women feel unique, beautiful, admired, and respected. Although we are seeing some progress, throughout the ages strong, independent, beautiful women have been marginalized. Men who exhibit these qualities are considered "men", while women are considered "pushy", "too aggressive", and even "promiscuous." Just look at how Arthur got a kingdom, and Joan of Arc got burned at the stake.
FVM: How did you go from being an internationally renowned fitness photographer to fashion?
MG: I love this question… it started several years ago. I was doing very well in the fitness world, but of course I'm always looking for that unique angle. And one night I was out to dinner with my wife at a very elegant restaurant in New York. You know the type – jacket and tie, rare wines, very romantic and very private. And I noticed a woman sitting with her date in a remote corner and wearing a sleeveless, low cut, very revealing gown. And she was gorgeous; long, lean, wiry, and as fit as any of the champions that I had ever shot. And I noticed that I wasn't the only one trying not to stare at her. When she got up to use the ladies room every eye in that room followed her. And that's when it hit me. So I asked a few of my fitness clients to bring a long dress to their next photoshoot. And the idea took off. From there it was pretty easy to secure my first fashion clients. And the rest is history.
FVM: What are your thoughts on this year's Met Gala?
MG: The Met this year was spectacular! The creativity was off the charts – the wardrobe ideas, the models, the designers, the celebrities, everything was perfect. And great to see two women who I really admire, Gigi Hadid, and Donatella Versace. I've followed both of these Heroic Beauties over the years and Gigi is probably the hardest working model ever, and Donatella is not only just as driven but has overcome tragedy to create an empire.
FVM: Which one do you prefer – American Vogue or British Vogue?
MG: Italian Vogue. By American standards, it's edgier and a bit more "out of the box."
FVM: Five things you would tell Anna Wintour from a fashion photographer's point of view.
MG: I think she is brilliant. Her eye for beauty, fashion, and trends, combined with her administrative skills have made Vogue what it is today. The photos she chooses are always eye-catching and dramatic. I'm really impressed that she can be so in touch with her audience.
Second, from an editorial perspective her focus on body positivity is very much needed. Everyone, regardless of body type, needs fashion.
Third, I'm not sure if she sees it this way but her efforts add real beauty to this world. And this world really needs it.
Fourth, her success at taking the Gala to its current heights is another stroke of genius. And while the media focuses on the celebrities and pageantry the real purpose of the Gala is to fund the Met's Costume Institute. This is so very important in that it preserves things people actually wore at various points and places in history.
And lastly, that she should give me an 8 page spread with the model, designer, and location of my choice.