MEFW DESIGNERS STUNS THE WORLD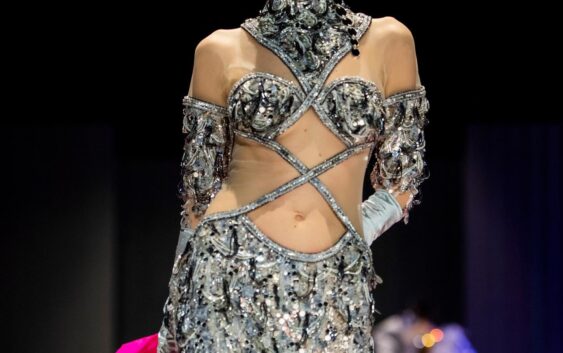 The second edition of Middle East Fashion Week (MEFW), the four-day fashion festival and trade event took place at The Agenda in Dubai Media City, a remarkable success with a focus on sustainability. The Middle East Fashion Council (MEFC), the governing body behind MEFW, encouraged local and international designers to showcase their collections to the world, with the aim to fostering and development of regional creative talent.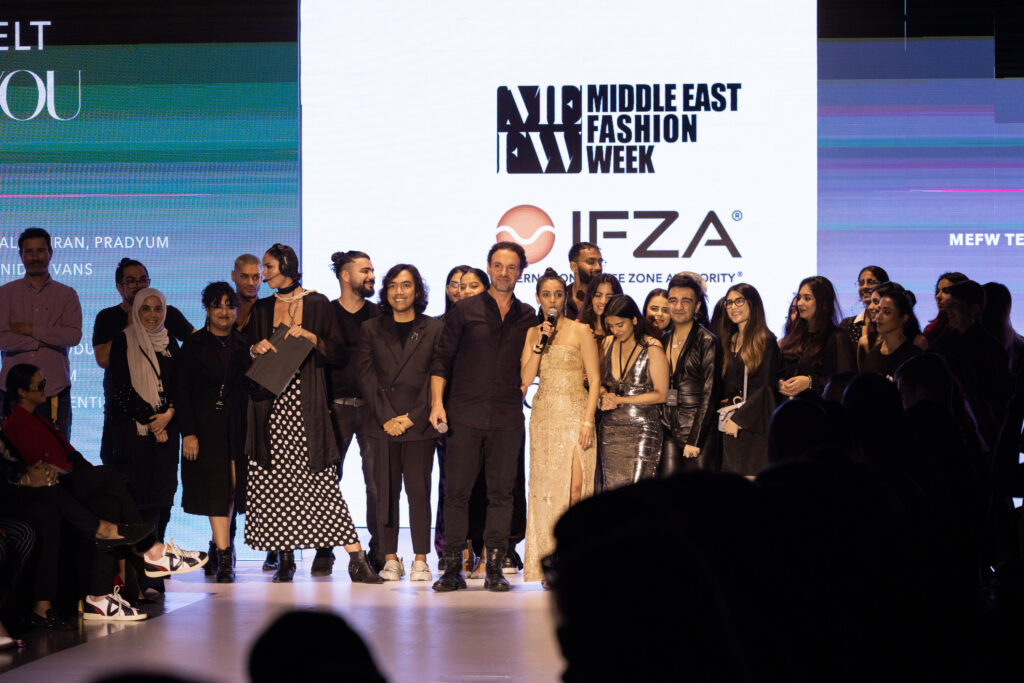 "The region is home to fantastic designers, yearning to share their creations with the world. With international and local buyers flocking to Middle East Fashion Week, it is without a doubt this is the perfect platform to make their debut," said Simon J Lo Gatto, founder and CEO of MEFW and MEFC.
With the fashion end users and fashionistas more environmentally conscious, sustainability is currently and in future the core mission of the MEFC's mandate. Educating and nurturing designers to adapt and embrace environment friendly materials, which is imperative to the future success of the industry, MEFW held the second edition of the Middle East Sustainable Fashion Forum –  a panel of speakers leading discussions on environmentally responsible and financially viable ways to integrate sustainable practices into the design process and the supply chain. The MEFC will help local and global talent connect with retailers and buyers, focus on the business-to-business segment.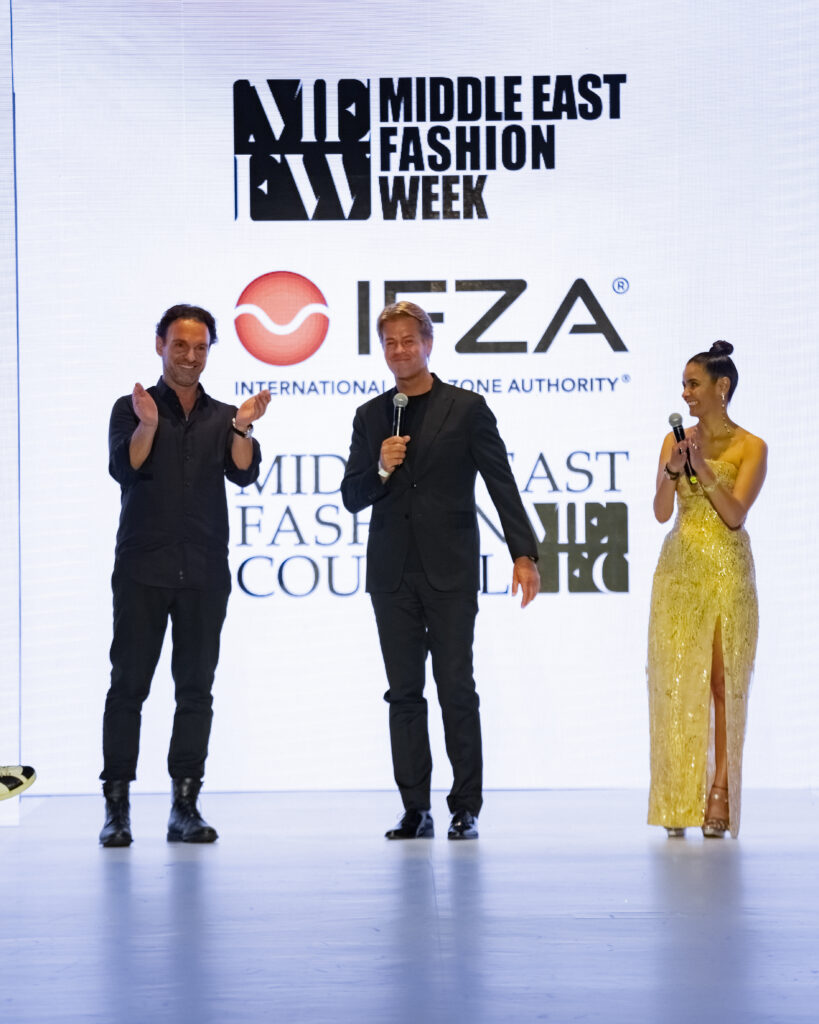 "While the glitz and glamour of the runway makes a lasting impression, the real magic happens behind the scenes. By bringing the brightest minds in the industry under one roof, we are working hard to help our designers propel their careers. We at the MEFW strive to set the wheels of change in motion for the fashion ecosystem in the region," adds Payal Kshatriya Cerri, co-founder of MEFW and MEFC. "Beyond silk and sequins, fashion is a key driver as a form of art passed down generations,  one that creates employment and connects us all in so many ways."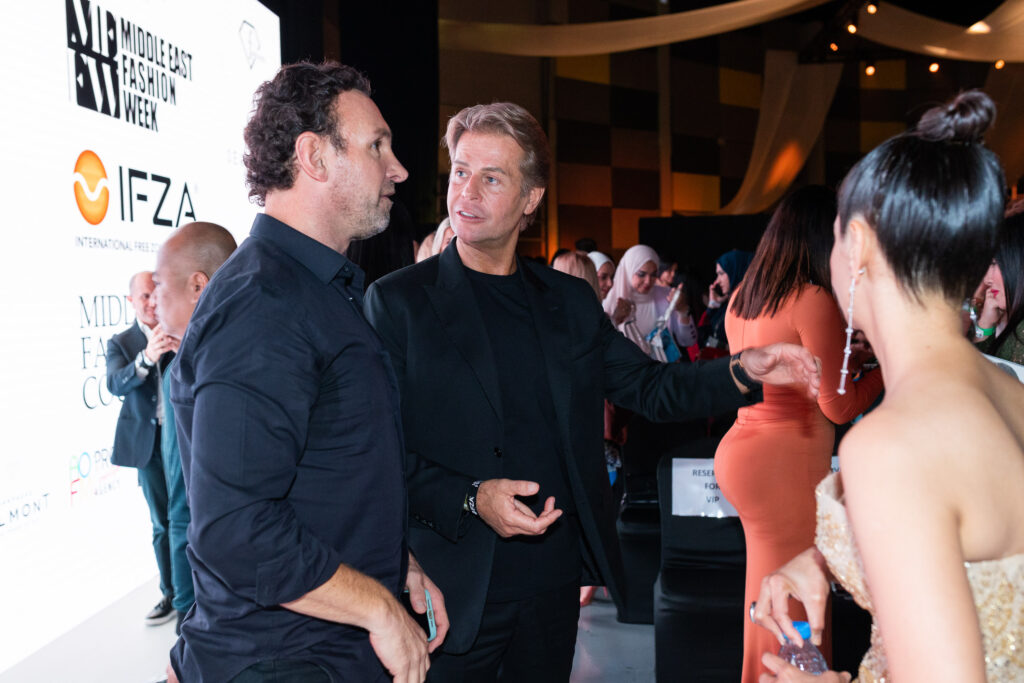 IFZA Dubai, the UAE's most dynamic and truly international Free Zone, was the main title sponsor of the second edition of the IFZA Middle East Fashion Week.
Regarding this collaboration, IFZA Chairman Martin G. Pedersen says, "Dubai has risen to a prominent position as a global fashion and creative capital through public and private partnerships such as the Middle East Fashion Week.
IFZA is relentless in our pursuit of partners who share our commitment to create a supportive ecosystem that attracts businesses to Dubai and to contribute to its economic prosperity. Thus, it was a natural decision for us to support the Middle East Fashion Week."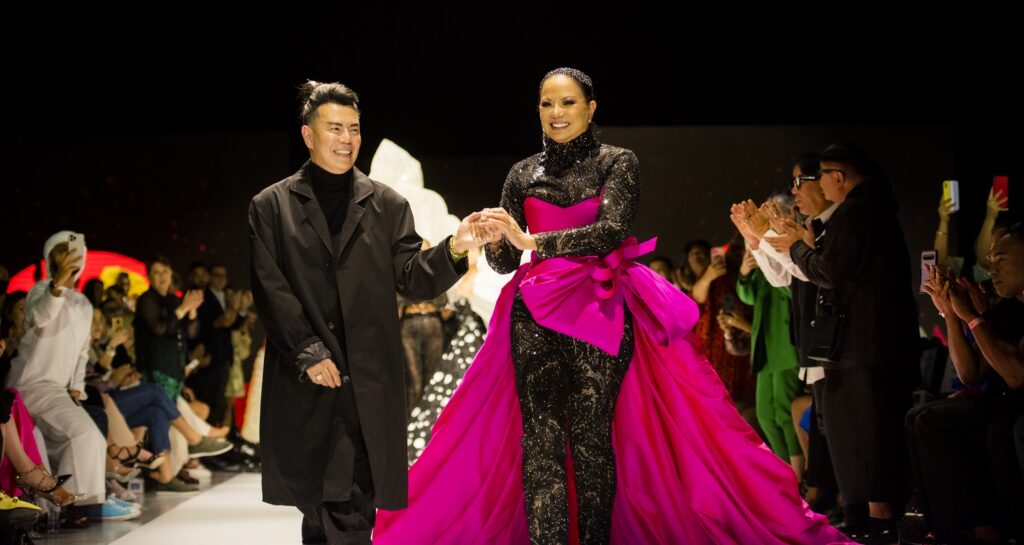 Ezra Santos
Ezra Santos's latest exuberant collection 'A New Beginning', truly captivated and arrested the guests, so Parisian. The collection, an ode to 'The Great Reset' brought about by the COVID-19 pandemic, highlighted that there's a silver lining amid each challenge posed to mankind.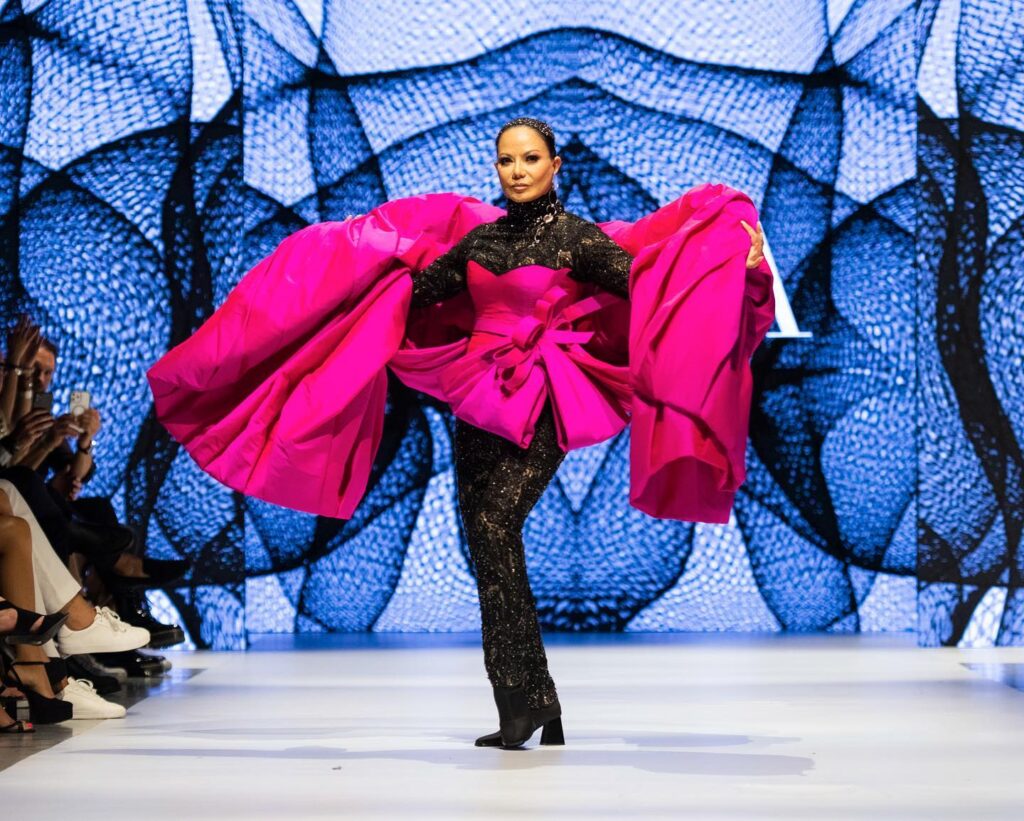 "My first ever show was titled 'In the Beginning.' Lots of memories have been made since, every piece integral, with the most vivid one – the great reset that is the pandemic. This point for me marks a new chapter, expressed through this collection that exudes love and mercy. Amidst the war, calamities and chaos, we collectively decided we are moving on. We are embracing spring. We are welcoming 'The New Beginning,' more resilient than ever, more human and more aware of the new gift of hope we all enjoy," said Santos.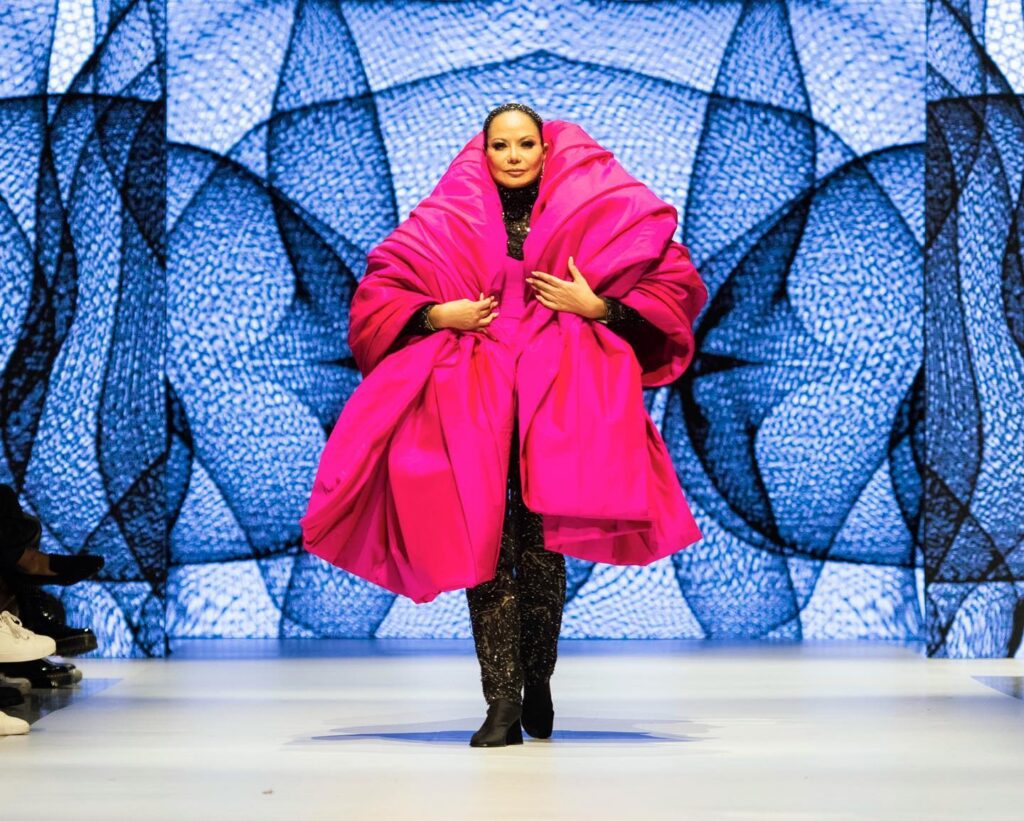 He added that he fused his vision of finding that glimmer of hope with his team's talented hands which put his creations from the canvass to the catwalk.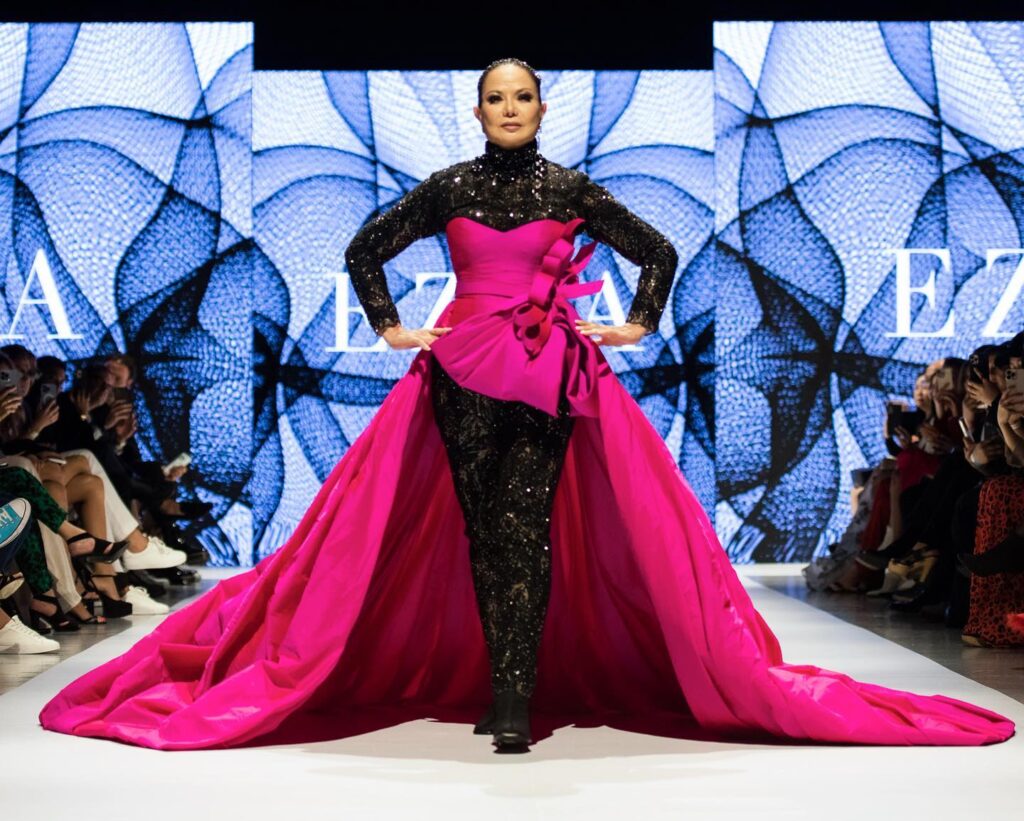 "We have all been blessed with God-given talents and for me and my team, our gift is to use our art and fashion to tell the story of hope amidst darkness, sunshine after the rain, and love that can conquer all. After an unprecedented period of grief, we have been given light and it is our duty to continue to rise up, be better and be the best that we can be," said Santos.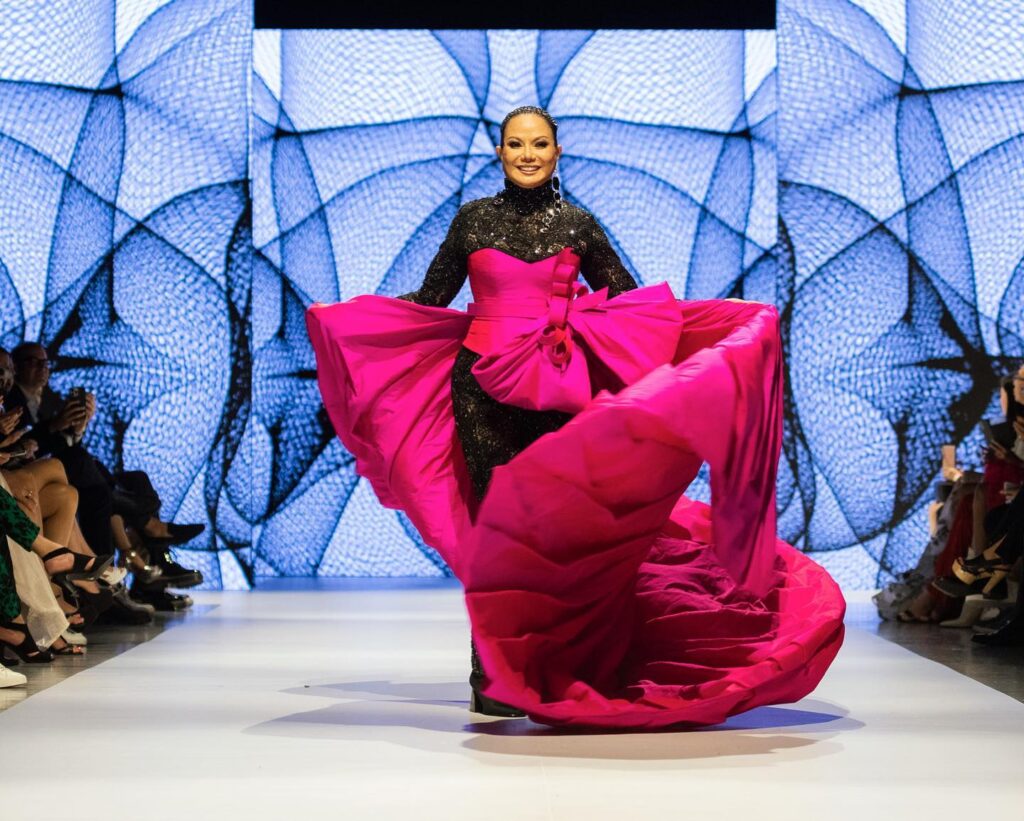 This piece highlights the transformative nature of love and fashion, resplendent of spring, when the buds bloom, spreading forth beauty, charisma and color.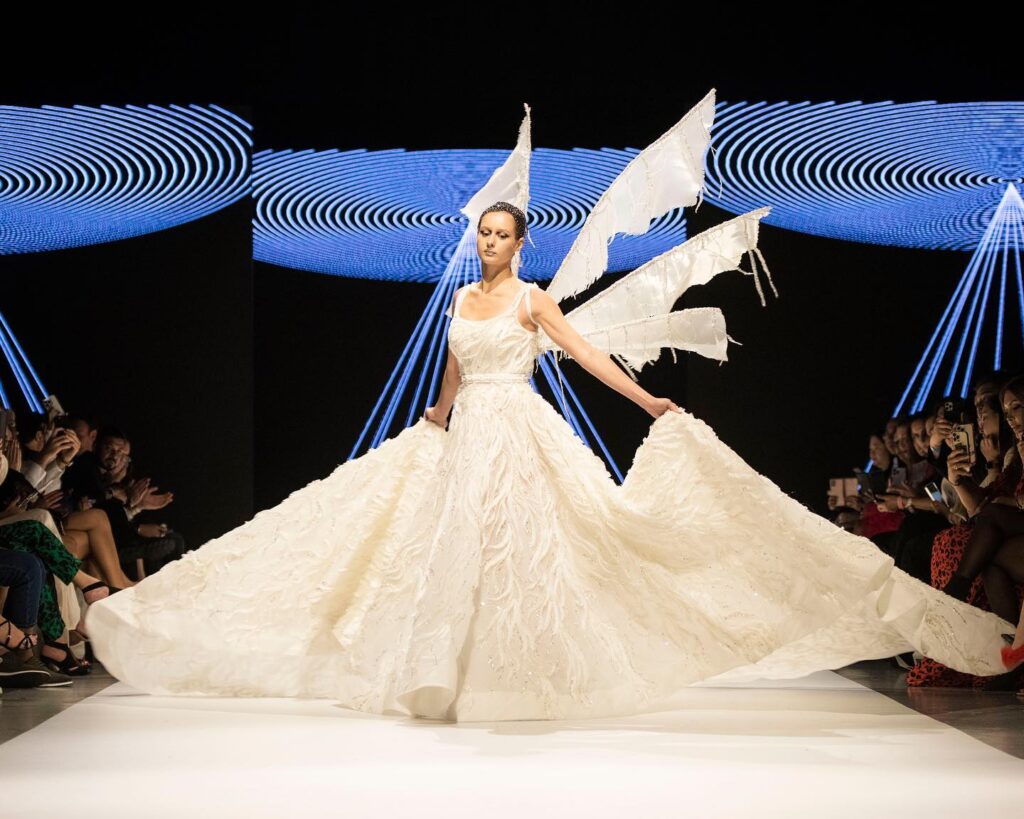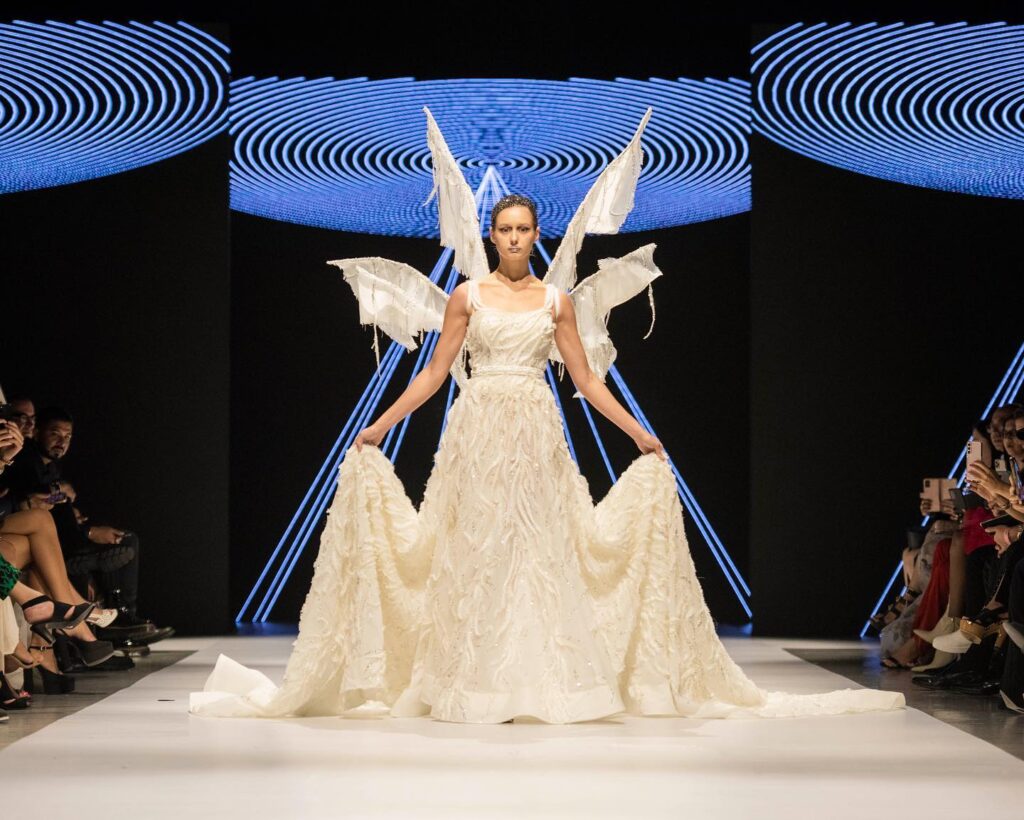 The gorgeous gown, feather light in feeling, spreads its wings, like the swan, like the arrival of spring. Life is a dance, be graceful as the swan.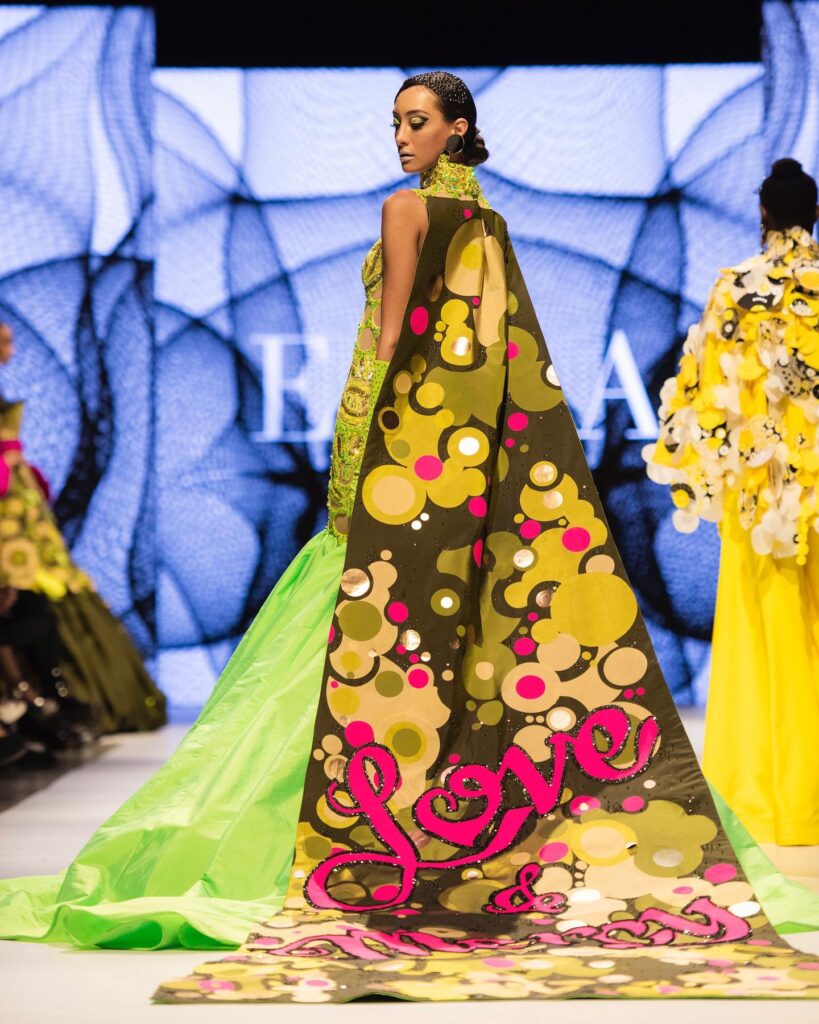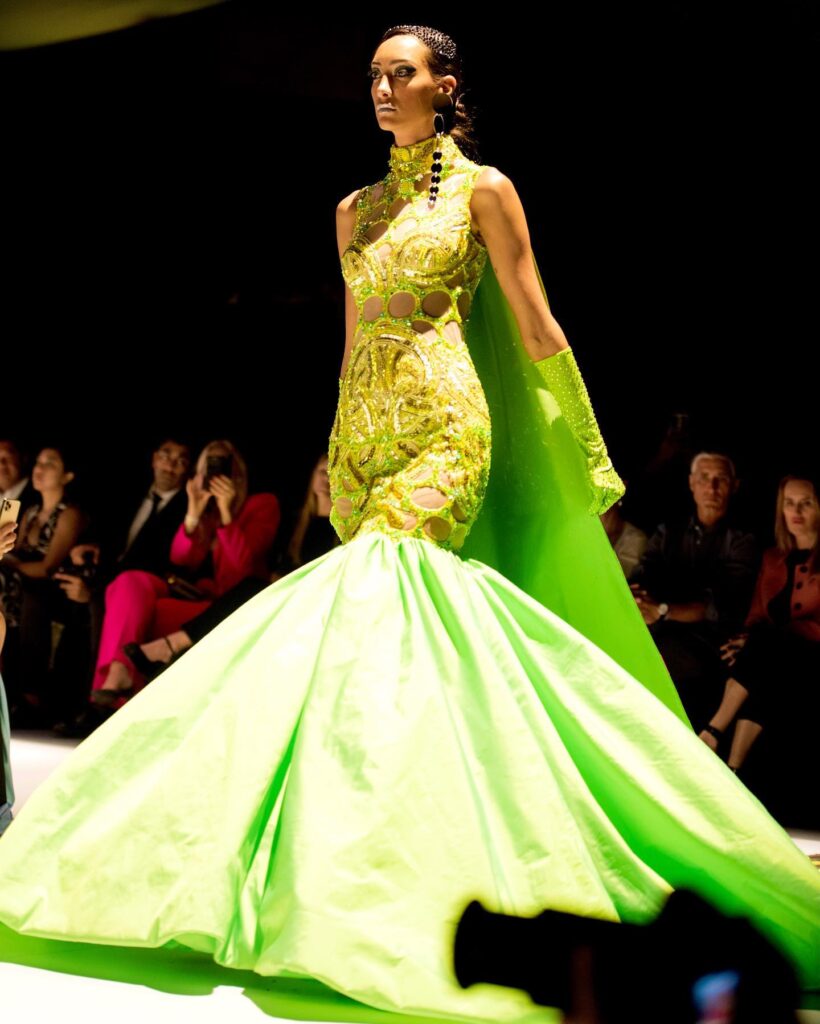 The two sides with different design, pattern, called the Neon green glam, typical retro look at the rear, vibrant colors and meticulous and intricate detailing, the front side, make this trumpet dress a showstopper, with a cape that definitely leaves a statement.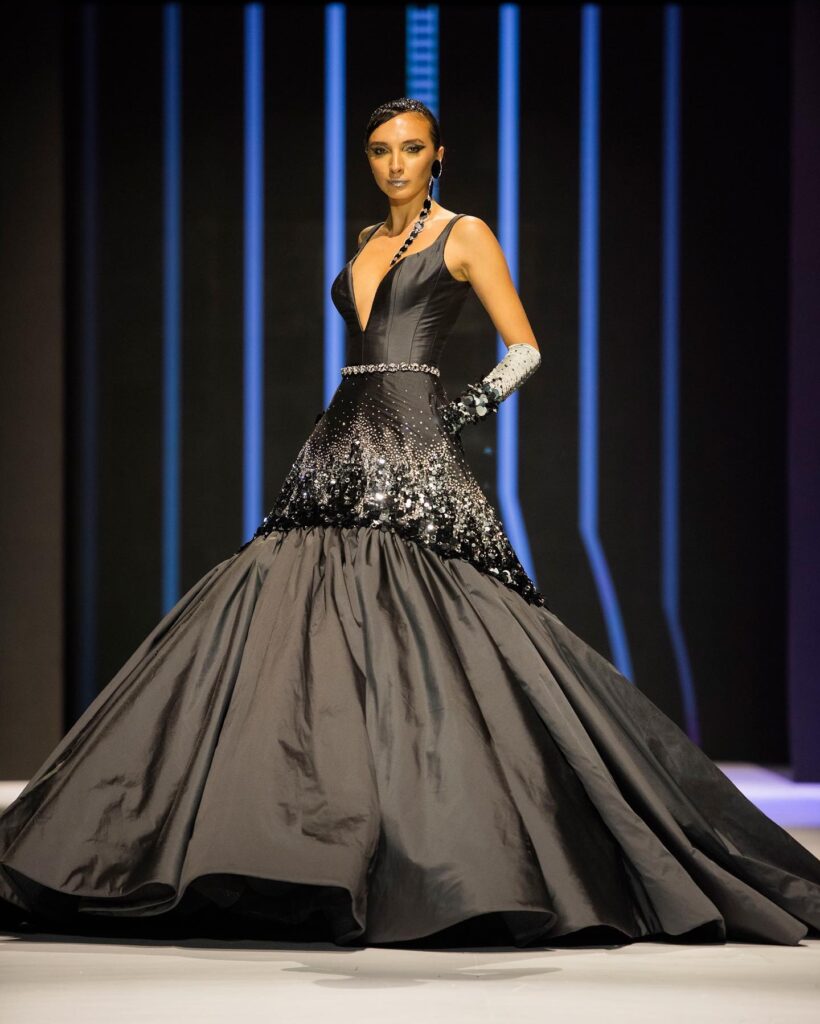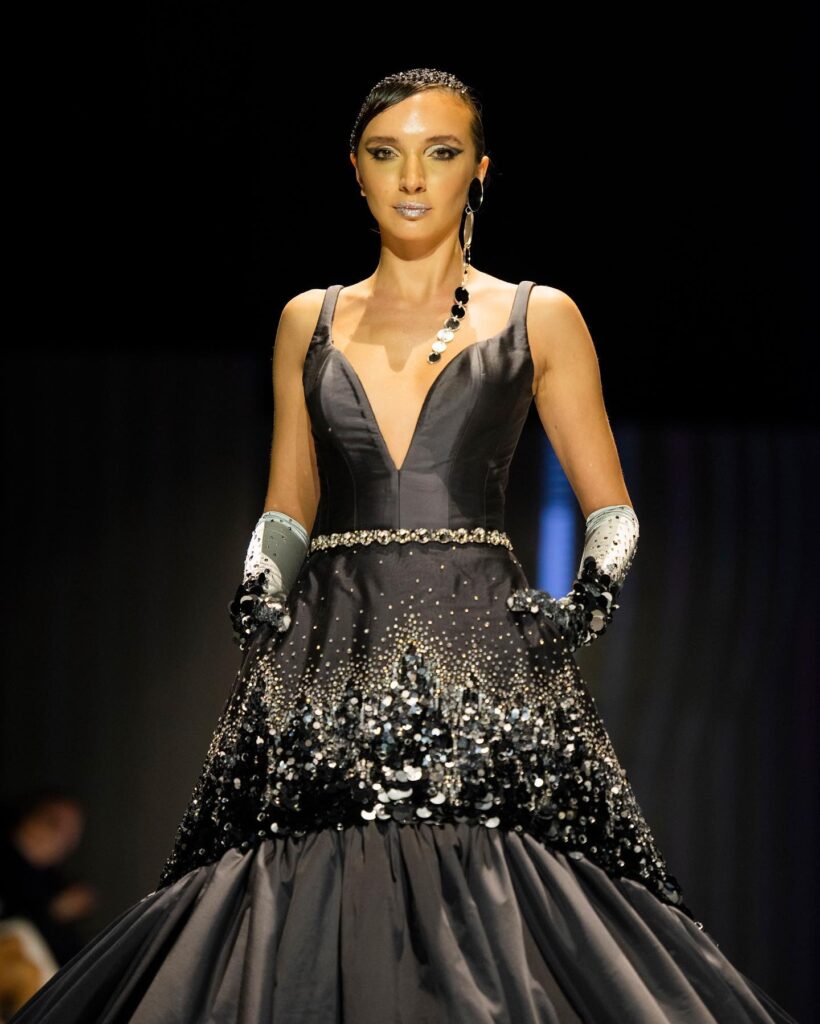 Ezra Couture's "A New Beginning" Collection brings joy and hope in its wake. The allure of a wild garden recalled in a beautifully detailed silvery-gray gown, trailing off into loveliness with a lush fuchsia cape.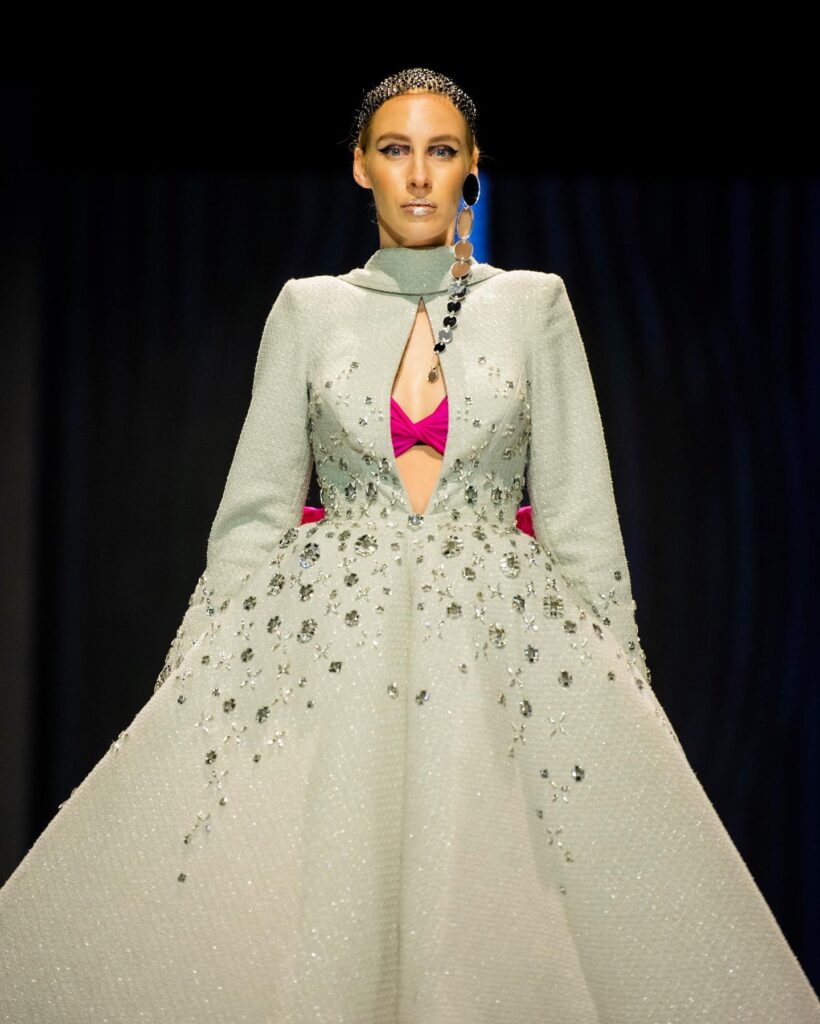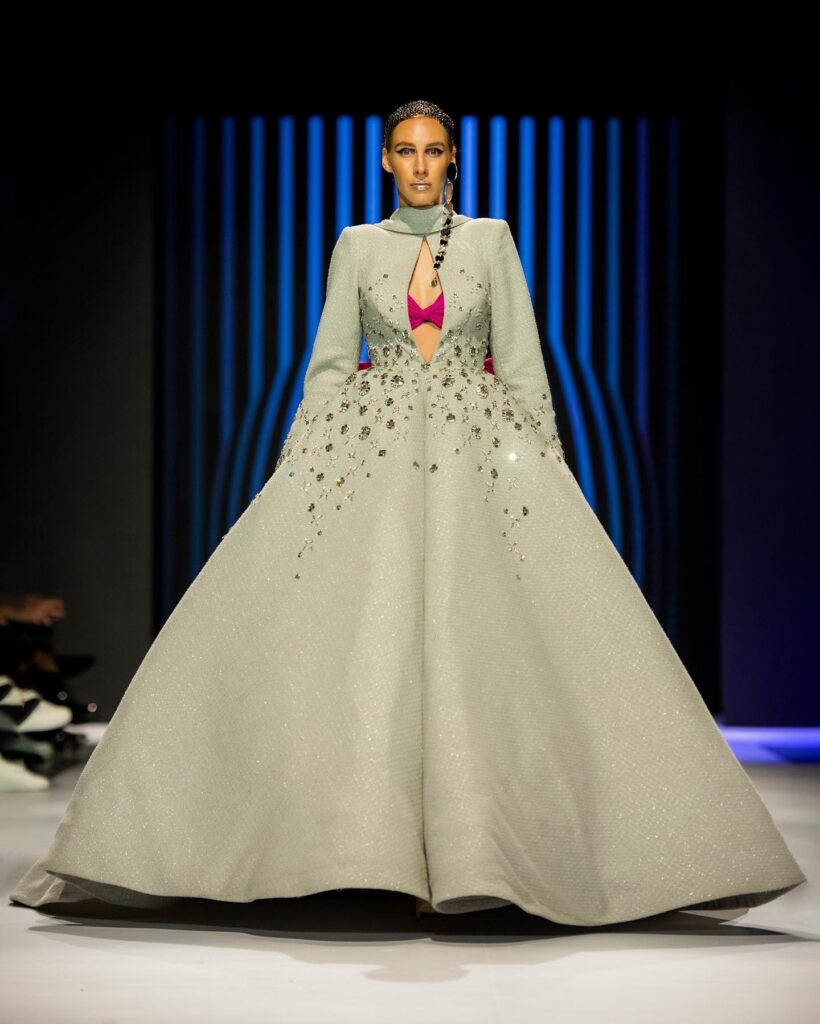 Winter turns to Spring – sleek lines, sharp shoulders and adorned with Swarovski crystal details, glittering to make for a powerful silhouette but softened with a touch of fuchsia accents, peeking through, the promise of a new beginning.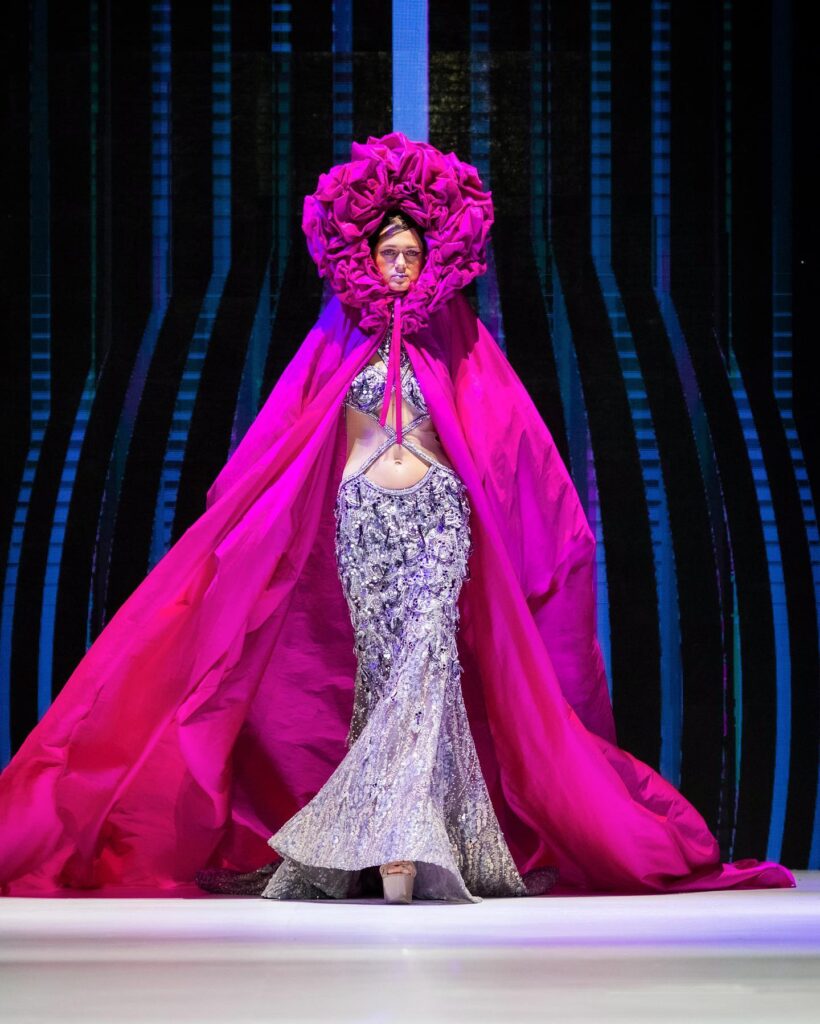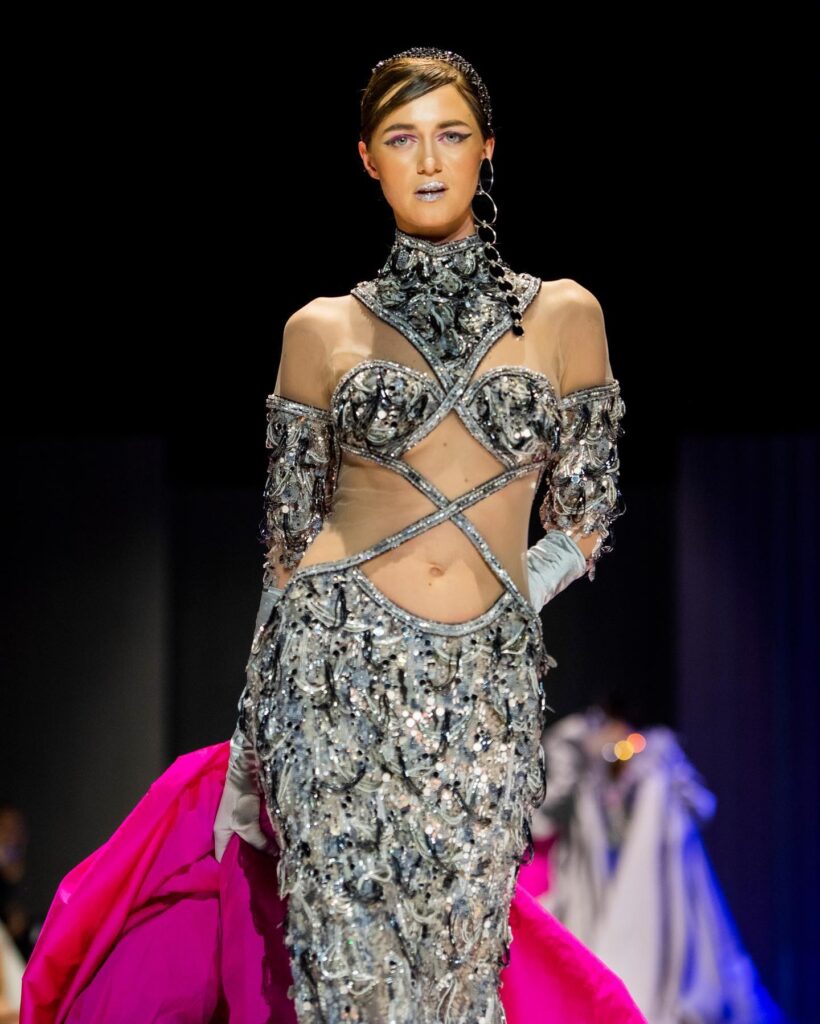 Like a butterfly emerging from its chrysalis and kisses you, Ezra Couture showcased his dramatic collection. The folds of a brilliantly fuchsia cape, a hood carefully constructed to look like a crown of flowers, fall away to showcase a glamorous sexy silhouette of silver and radiating skin.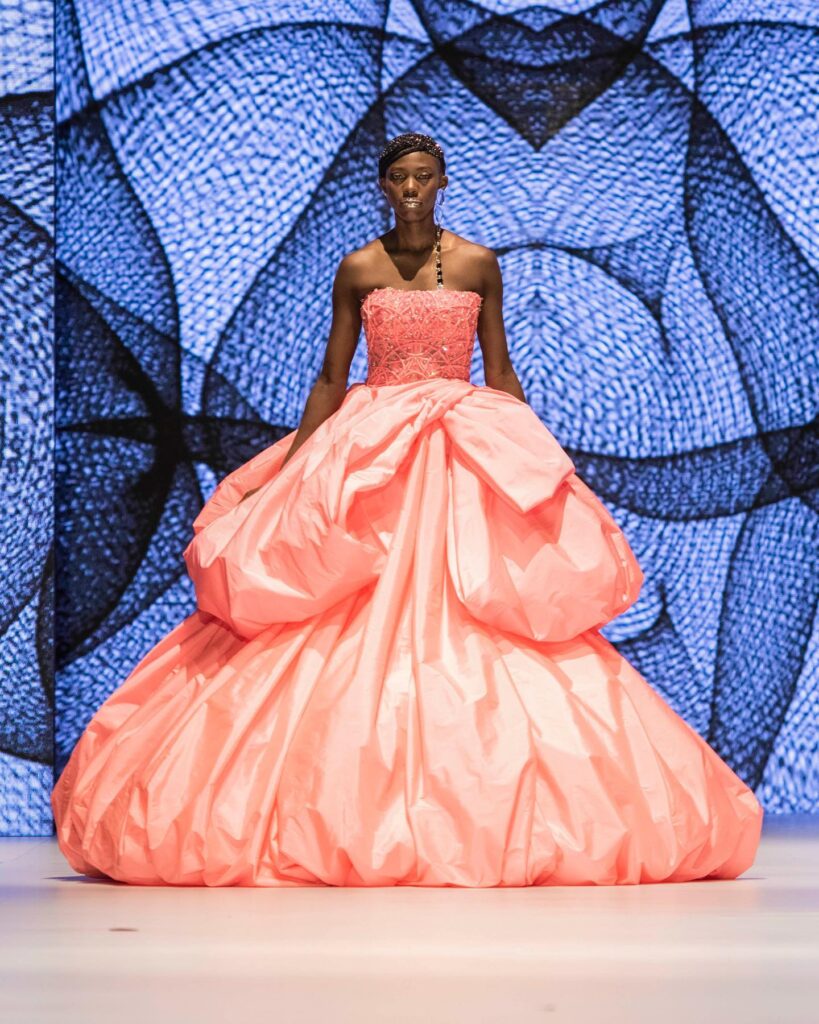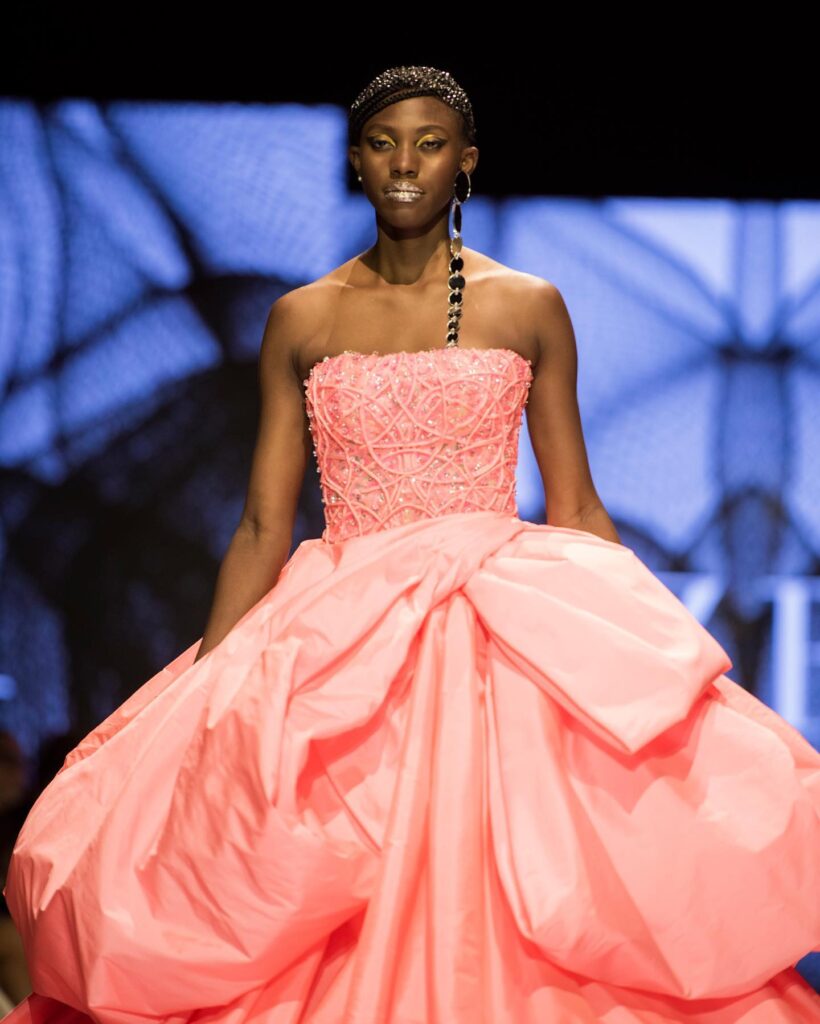 This petal pink confection of the ball gown is a dream come true for all the young buds in bloom and princesses-at-heart, because every woman deserves to have one for their closet, and enjoy the ball in Vienna or Paris or NewYork.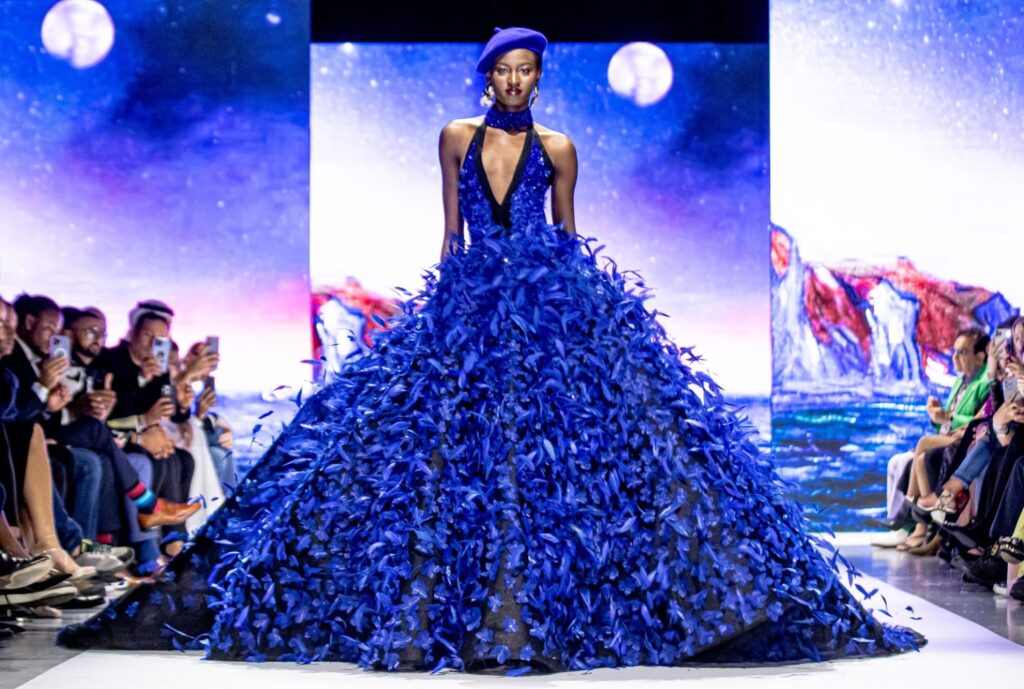 MICHAEL CINCO
Eponymous fashion designer Michael Cinco amazed the guests as he launched his new ready-to-wear line, his inaugural diffusion line at the show.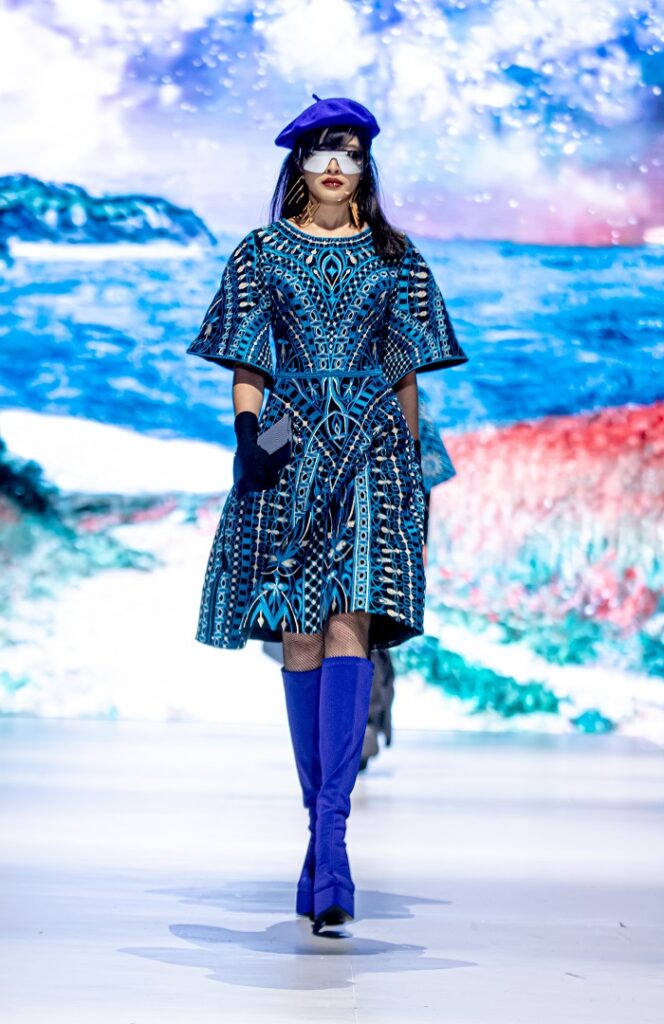 "The new collection is all about my new ready-to wear line which was launched in Middle East Fashion Week called the "Impalpable Dream of MONET". This is my very first time launching a diffusion line for my own brand and I want to show dreamy dresses that fuse the perfect balance of chic and comfort including day and night wear, curated from the same Michael Cinco design aesthetics and DNA of the brand. This ready-to-wear line is designed to reach the worldwide market with exceptional pieces that are accessible to everyone," said Cinco.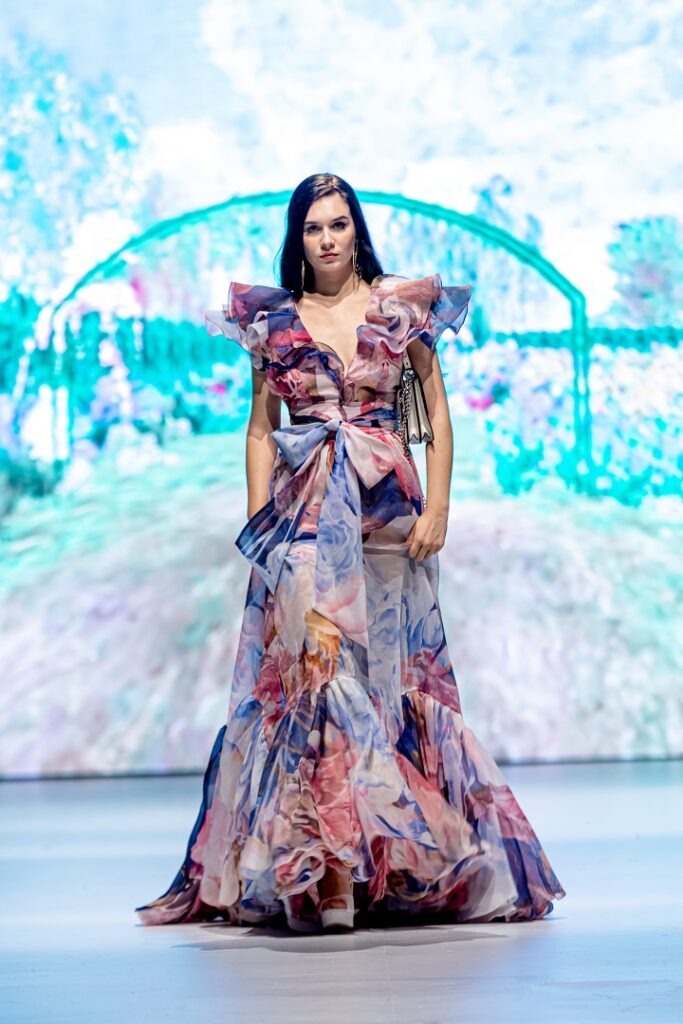 Cinco drew inspiration from Monet, who loved nature and reflected in his art, was seen as a key precursor to modernism. Monet, from the Impressionism era, had women in his artwork, to see how it blends into the landscape, highlighting women's elegance through vivid colors, and to paint nature as he perceived it.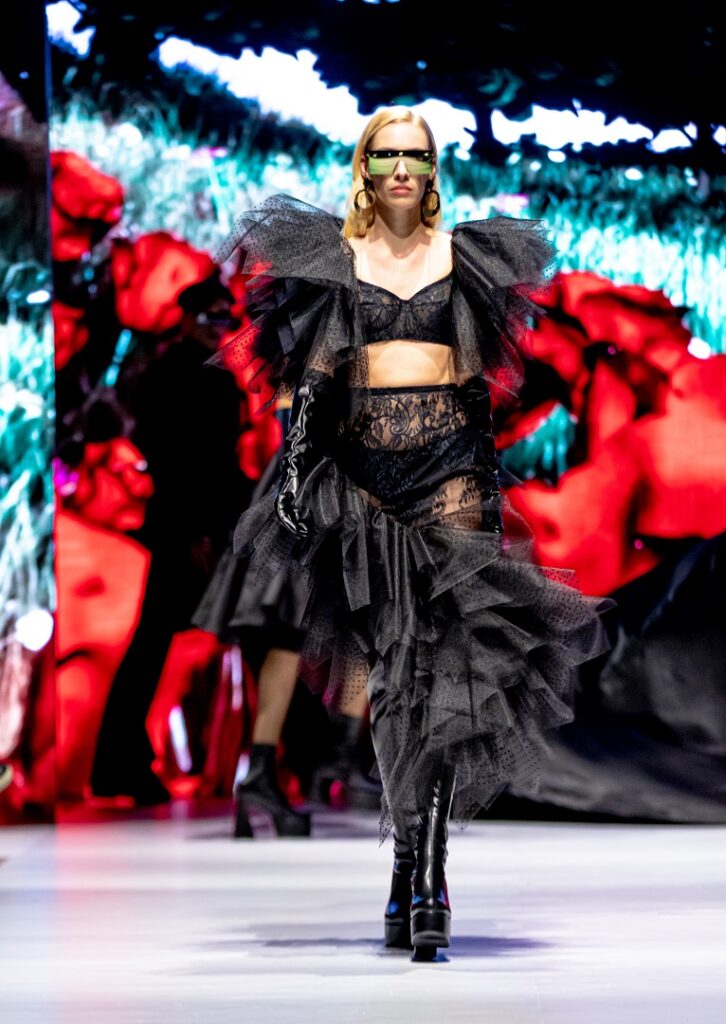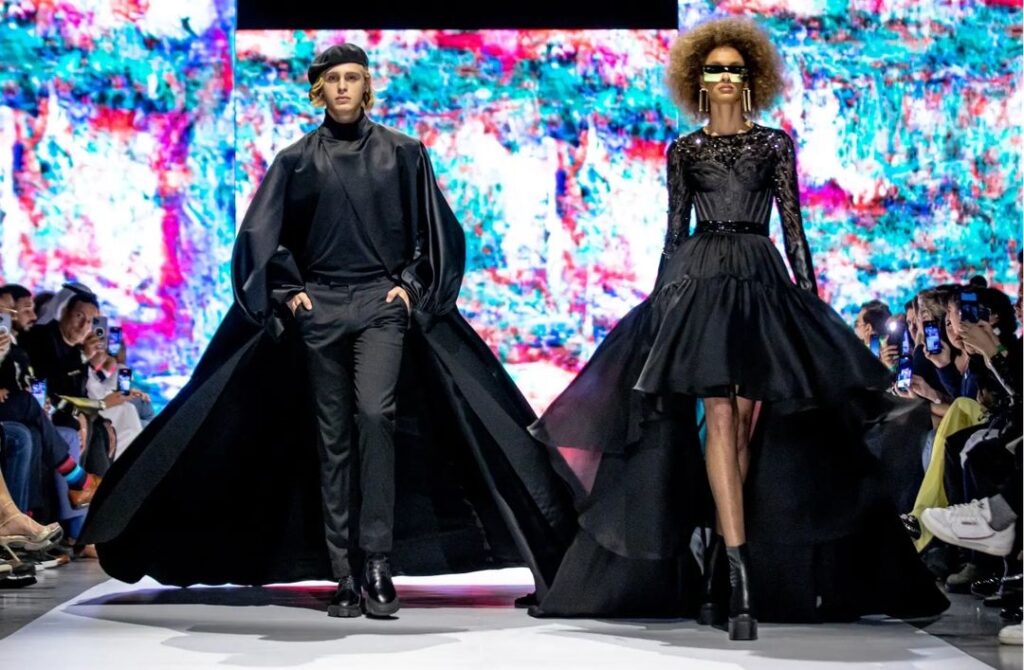 "The collection is inspired by the colors and hues of the paintings of Monet's impressionism that are mostly focused on textures, light and brushstrokes in dreamy garden and flowers. It's all about ultra feminine women who are strong and independent but still elegant and ethereal," revealed Cinco.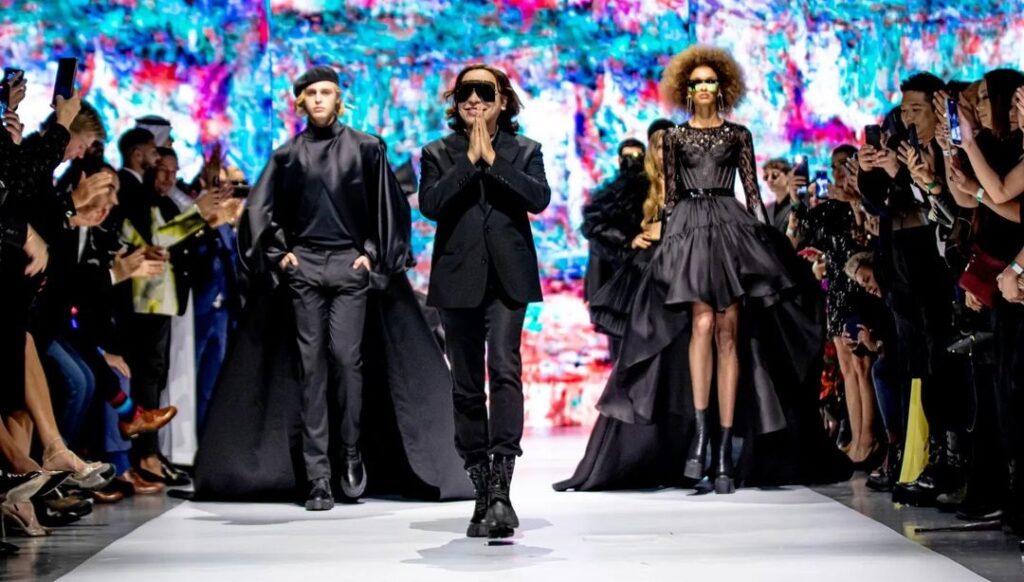 "First of all, I wanna thank my amazing business partners Dr. Sayed Ali and Ahmed Mohammed for their great support. This collection won't be possible without the help of my great M5 Team Rhon, JV, and Ronan and to all my super talented M5 skilled artisans. Special thanks of course to Middle East Fashion Week Simon Logatto and Payal for the amazing production," said Cinco.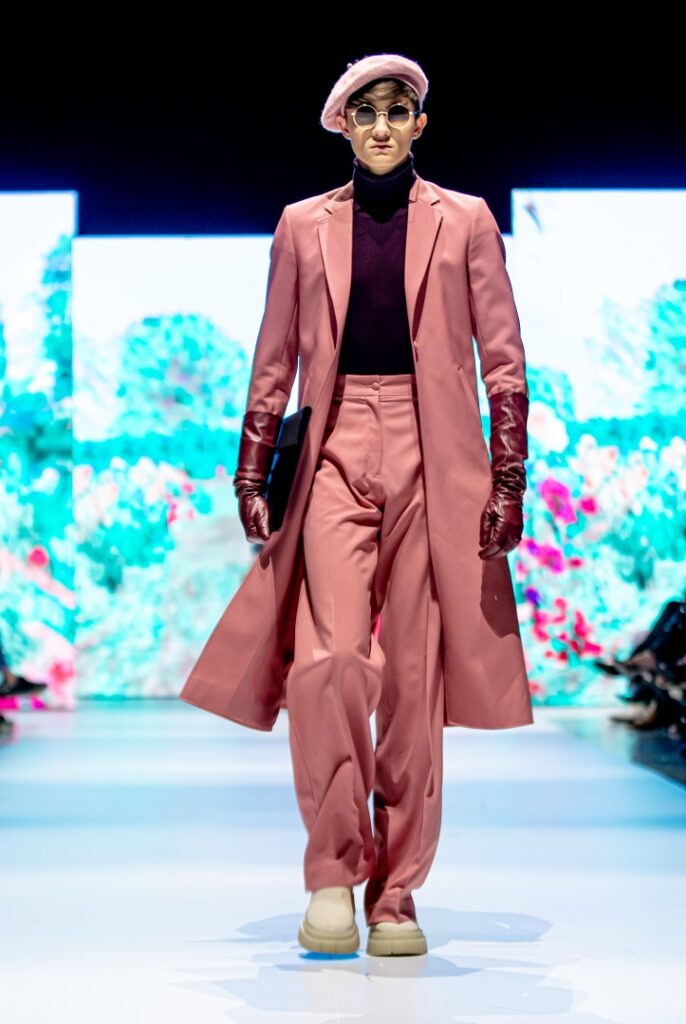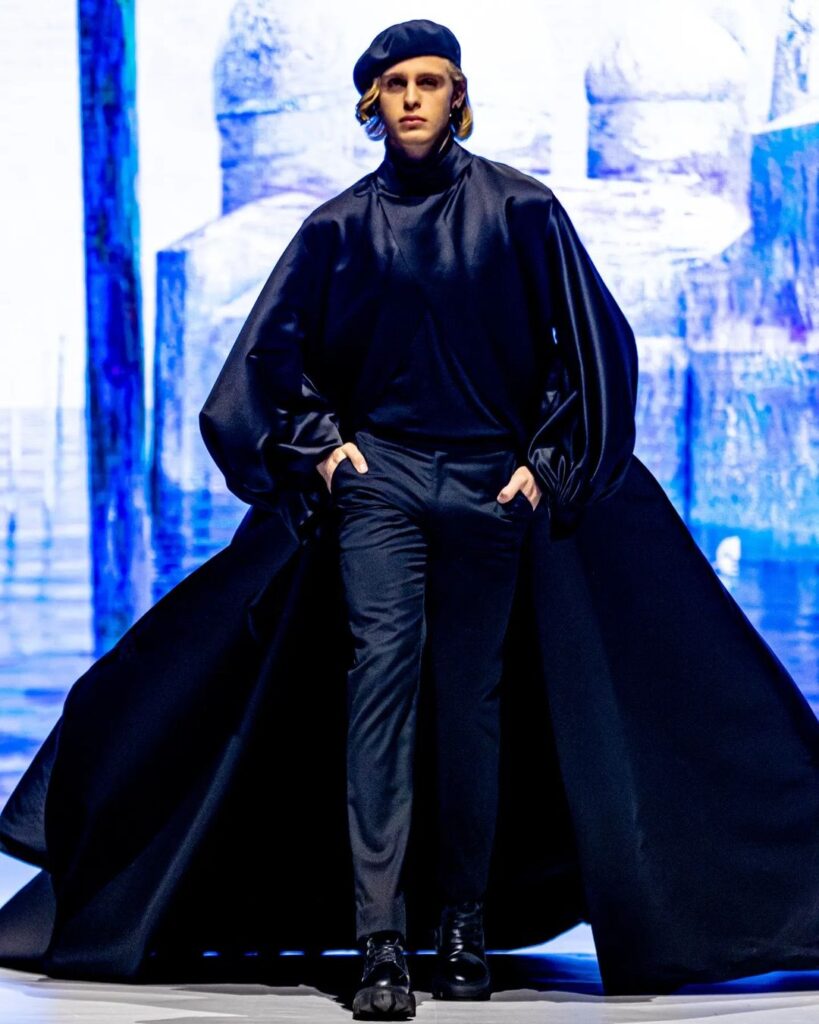 Cinco's long journey, to achieve his dreams and vision, he thanked his team with heartfelt gratitude, who helped him make it possible to walk the runway of one of Dubai and the Middle East's most prestigious fashion shows.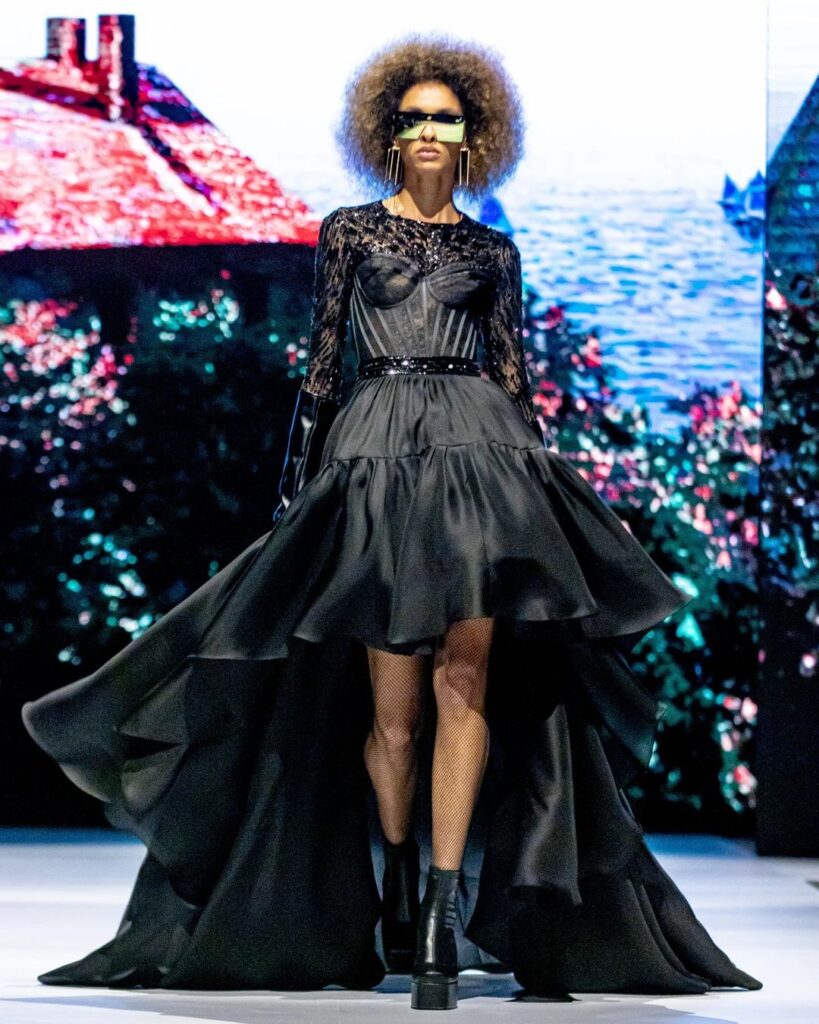 "I also want to thank Middle East Fashion Week for giving us Dubai based and other international designers a great platform to showcase our latest collection in UAE. I would say they just produced an amazing international level of production and catwalk and the production is so well-organized and the whole team is very professional," he added.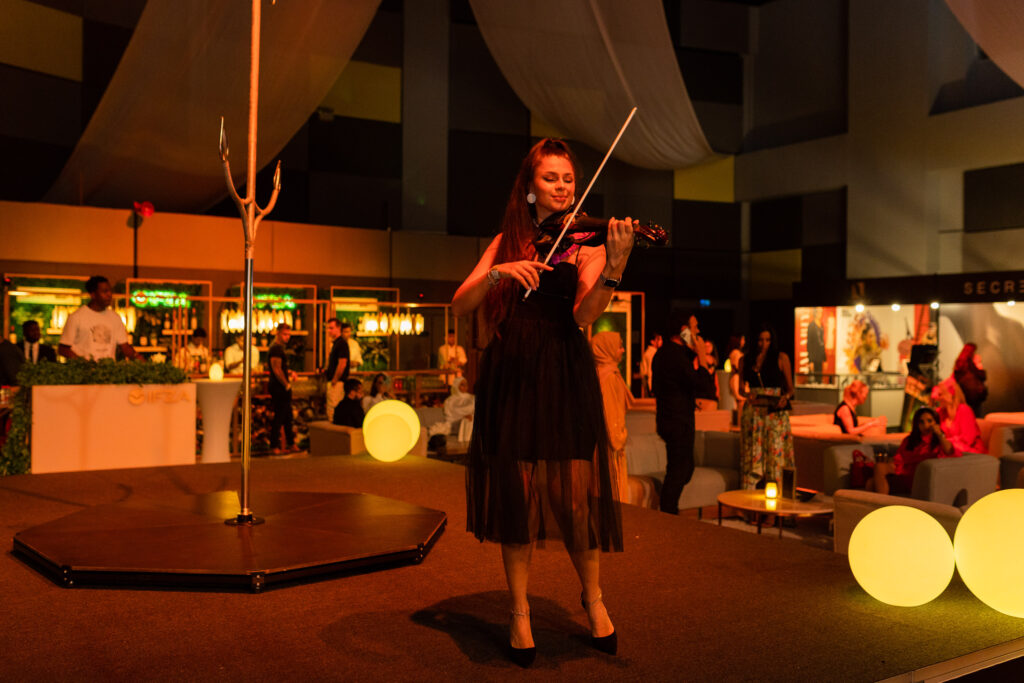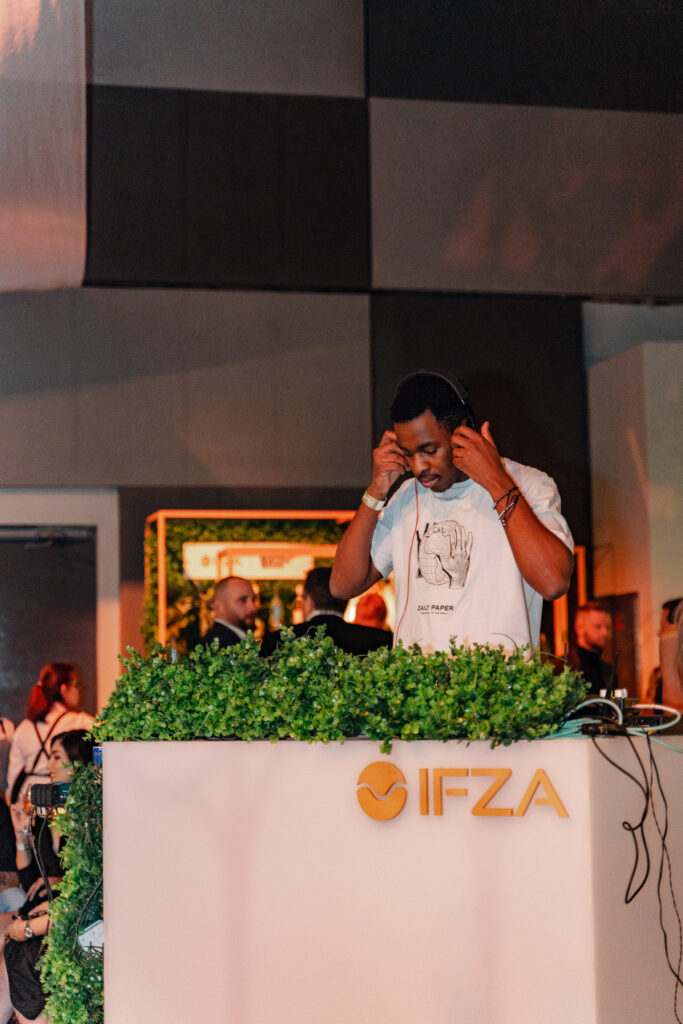 Before and between the shows, there was dj performances and beautiful performers played their violin and trumpet.