AMATO TURNS SAND INTO GOLD. ECLECTIC AND EXOTIC.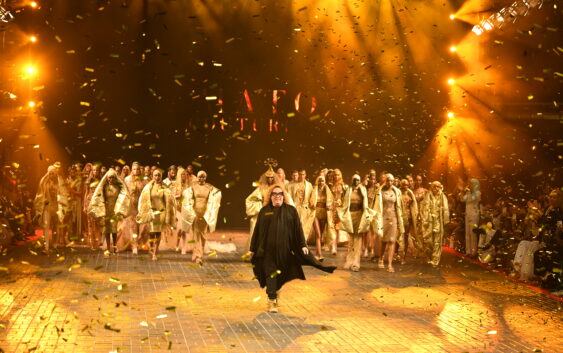 If Cleopatra were to be alive today, she would be glorified to be attired with all of the AMATO's 50 gold collections, the tribute to the 50th year of UAE.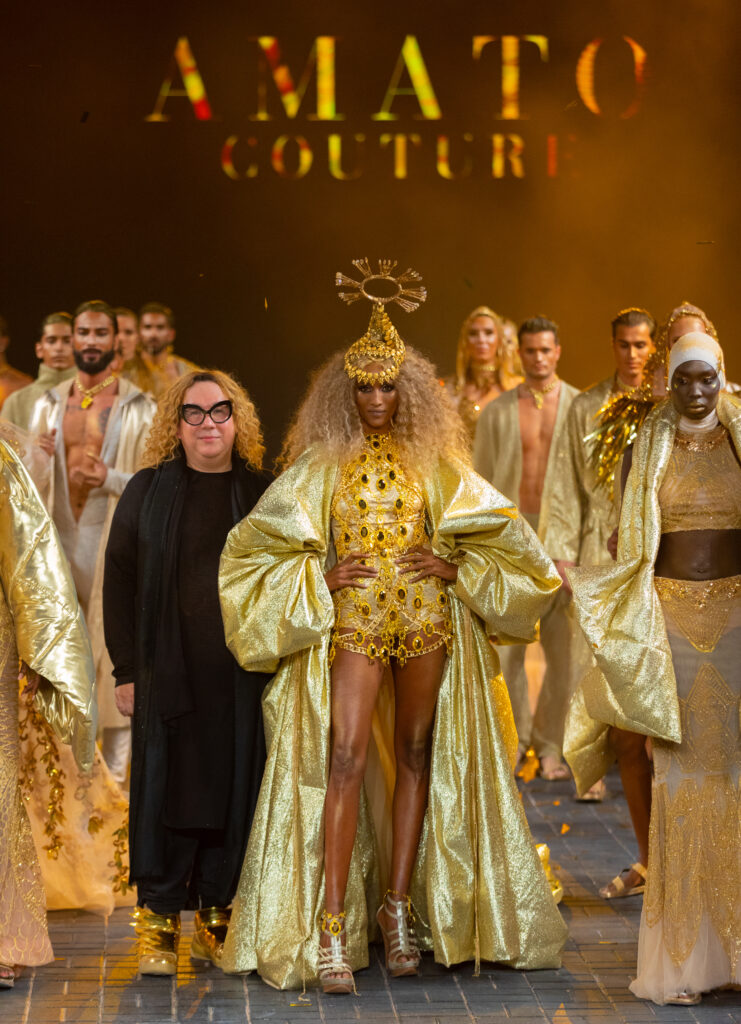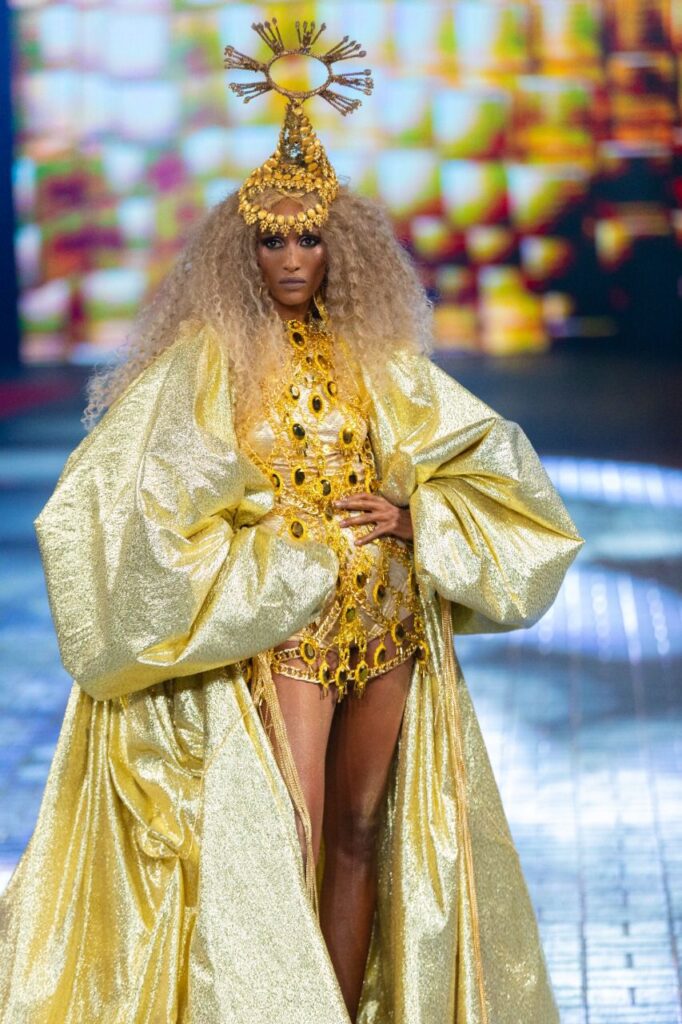 The showstopper, the Diva Goddess, Ayan emblazoned the runway when she mystically appeared and glided down the runway, reminiscent of Cleopatra's style. Her mystical aura and beauty arrested the guests. Ayan was adorned in the Operatic brocade coat with a jewellery inspired bodice, decorated with Swarovski crystals.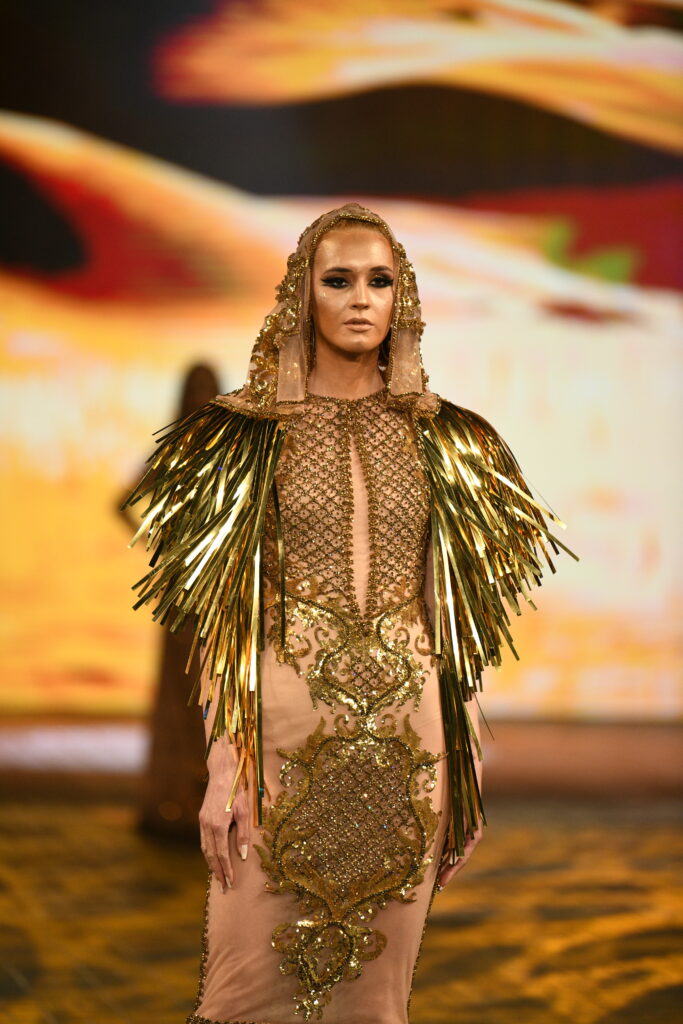 As the gold models sashayed down the ramp in a rhythmic motion, with the backdrop of desert sands, gracefully, reminiscent of the soldiers of Cleopatra, with sexy revealing cuts and bold silhouettes, the collections captured the refined sensuousness of today's men and women, mesmerized the guests with the eclectic and exotic creations.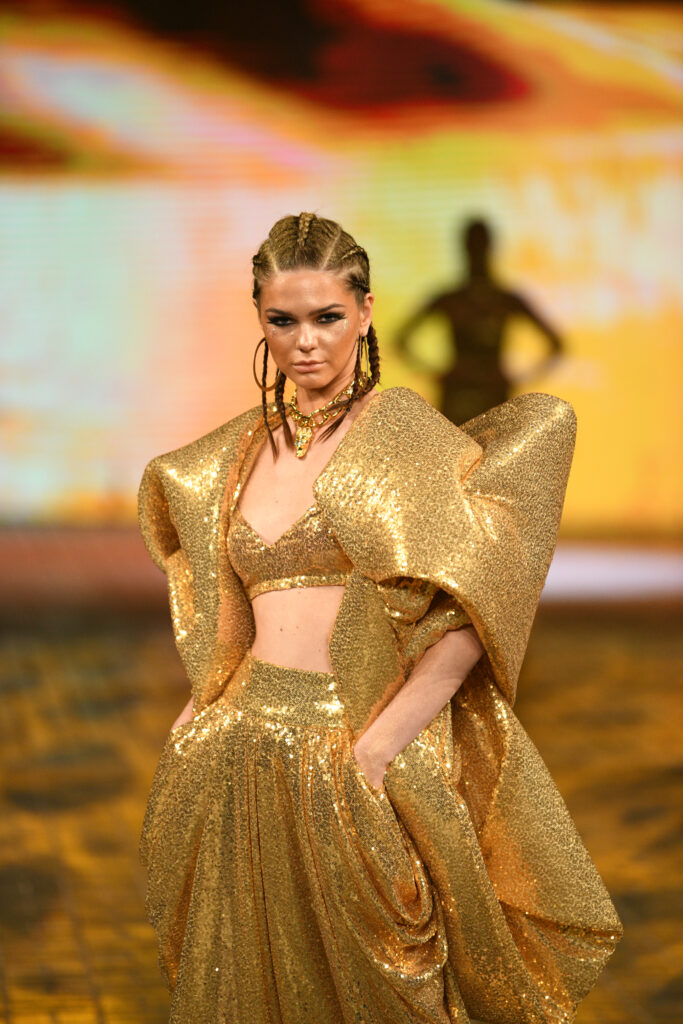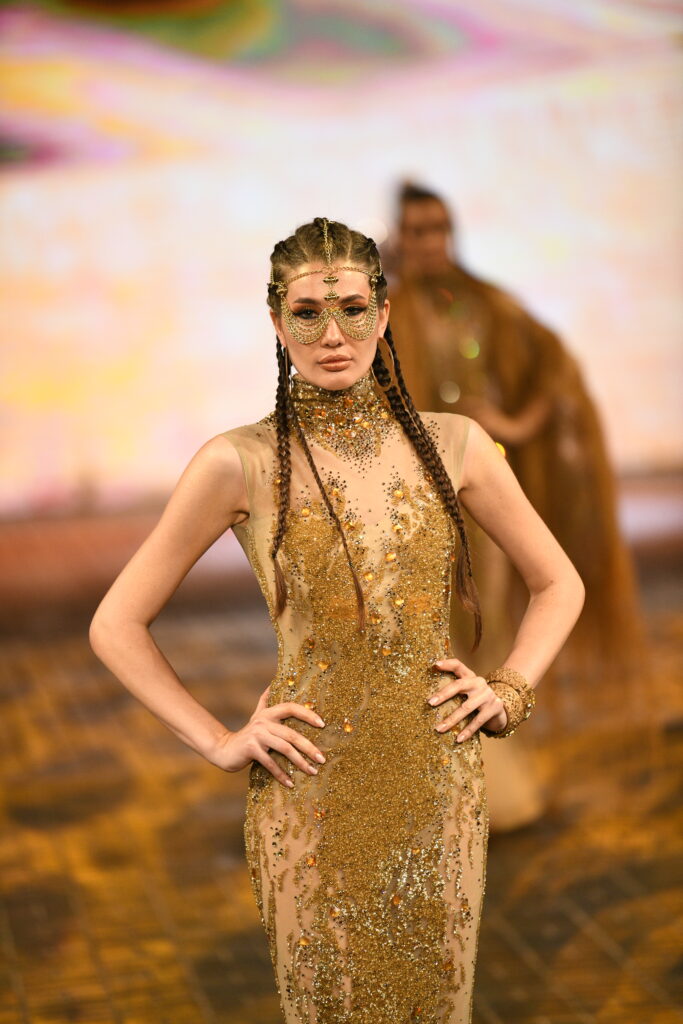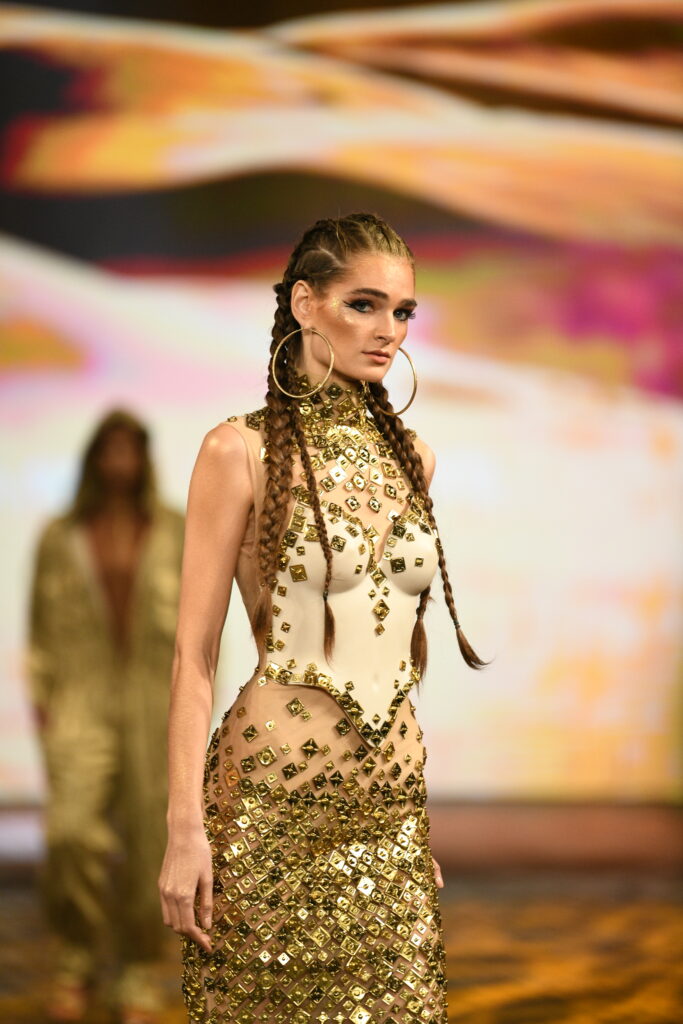 The gold female models, glistening with streams of delicate micro crystals, sequins, jewellery, beads, from head to toe, the headpieces, face jewellery, accentuated the aura, the sexy sequin embellishes bralettes, flowing floor length skirts, mermaid gowns, layered gowns, crystal-embellished stretch-jersey gown, one model wore wide-legged jumpsuit, the front decorated with gold chains and jewels, exuding sultriness and power.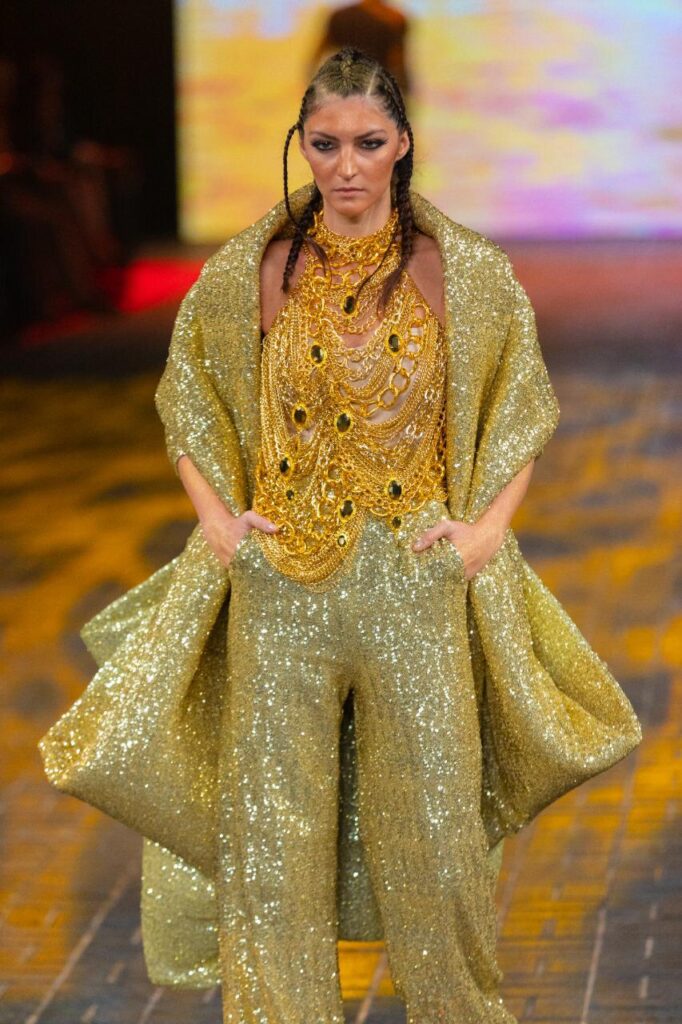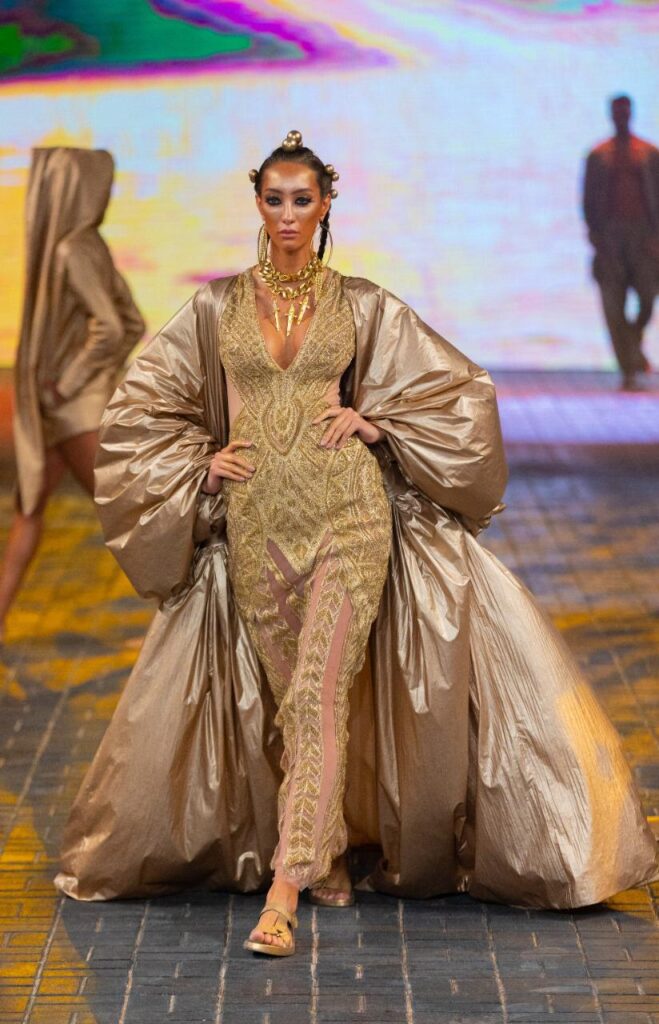 Two particular distinctive creations just wowed me was the Cleopatra inspired, with the hieroglyphics effect patterns, handmade with intricate thread work, adorned with crystals/beads and the model attired with the Pyramid Sequin jacket embellished with sequin pants, golden chained armour with fancy stone Swarovski crystals, gold warrior.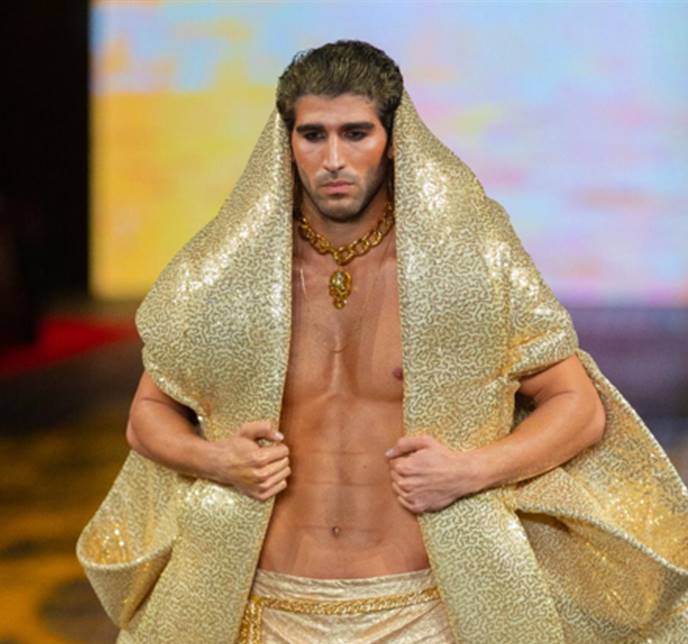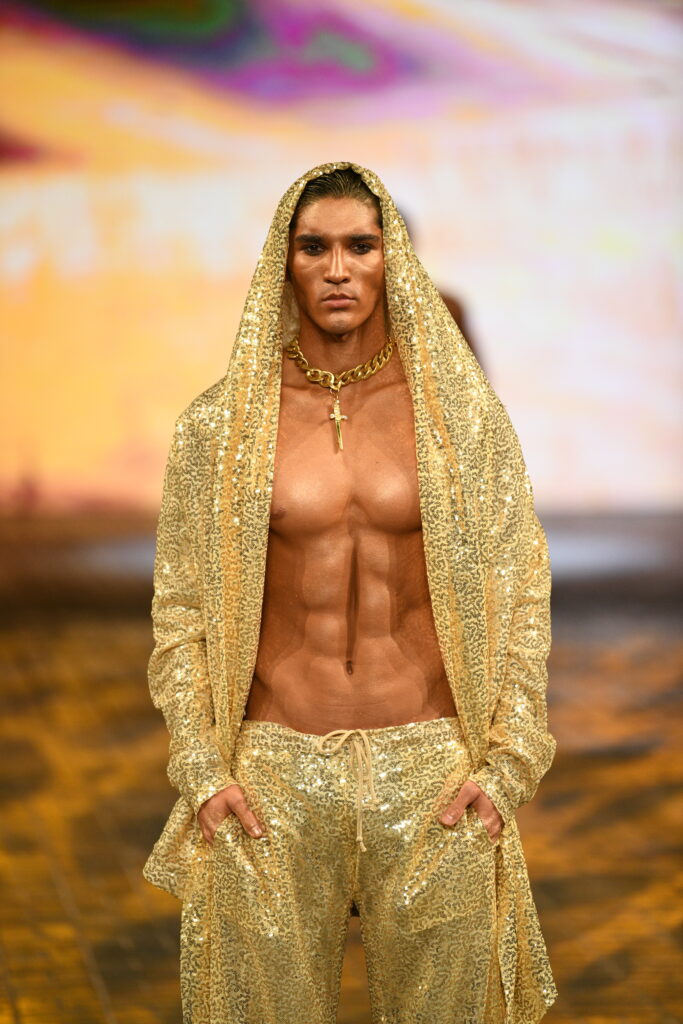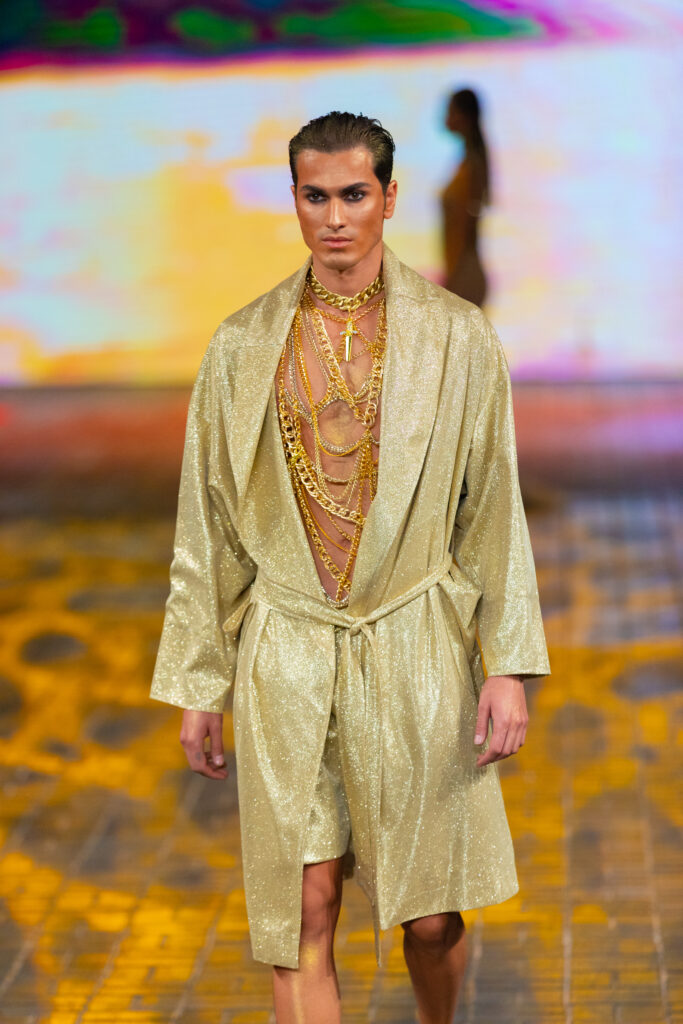 The men collection comprised of various silhouettes of hooded robes, wide-legged trousers, and culottes, streams of chains, men's neck chains, all in the same glittering gold colour. Sajad Pourhasan, famous male model, walked down the ramp encapsulated in a sequin embellished cropped gold cage, sculptural sequins jacket, adorned with a chunky chain mail necklace on his bare chest, in micro shorts, inspired by the great pyramids of Egypt.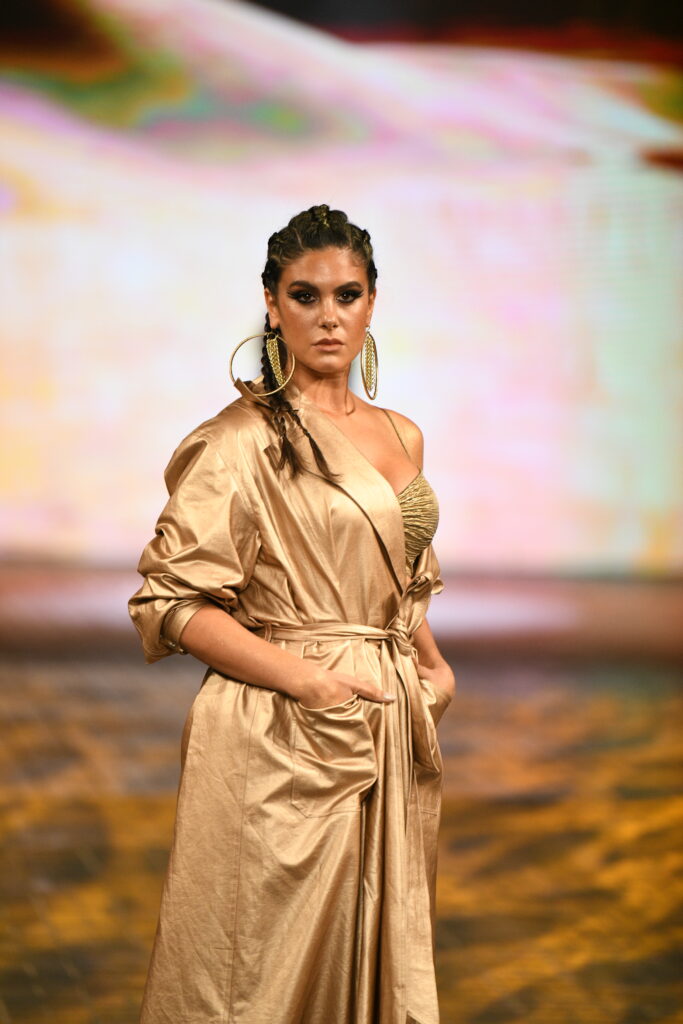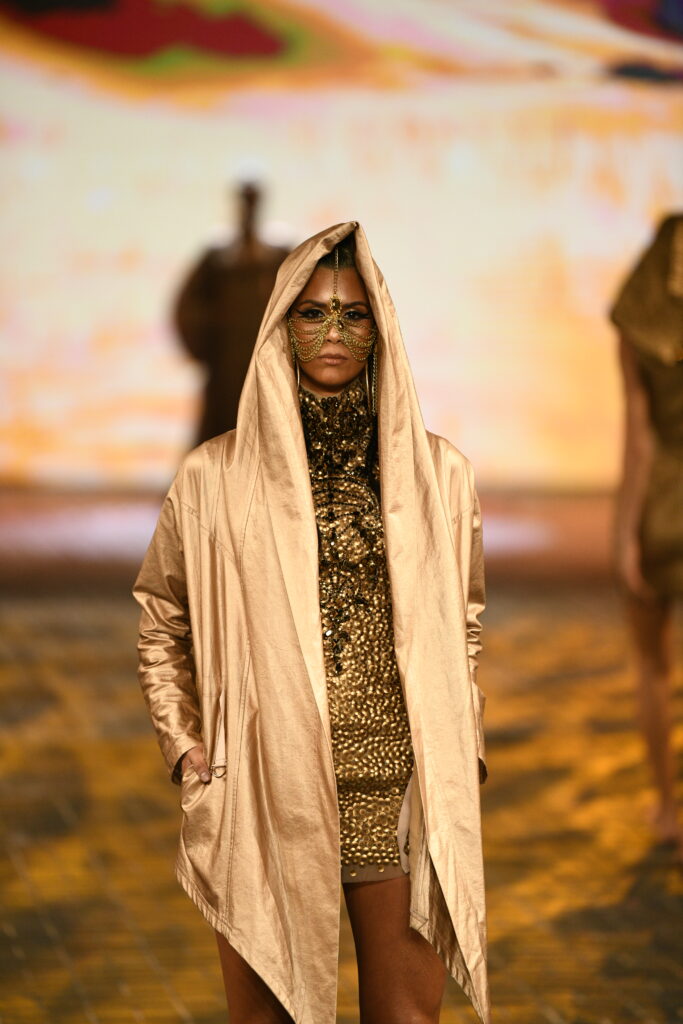 Each and every creation, accentuated the models curves, falling short at the front, showing off the pair of glittering heels. Even in low light, the creations, embellished with streams of gold sequins and glossy beads shimmered.
Each creation was gold, with range of textures and fabrics, including smooth leathers, lace lurex and jersey. All featured Amato's signature embellishments, from sequins and spikes to crystals and intricate embroidery thread work.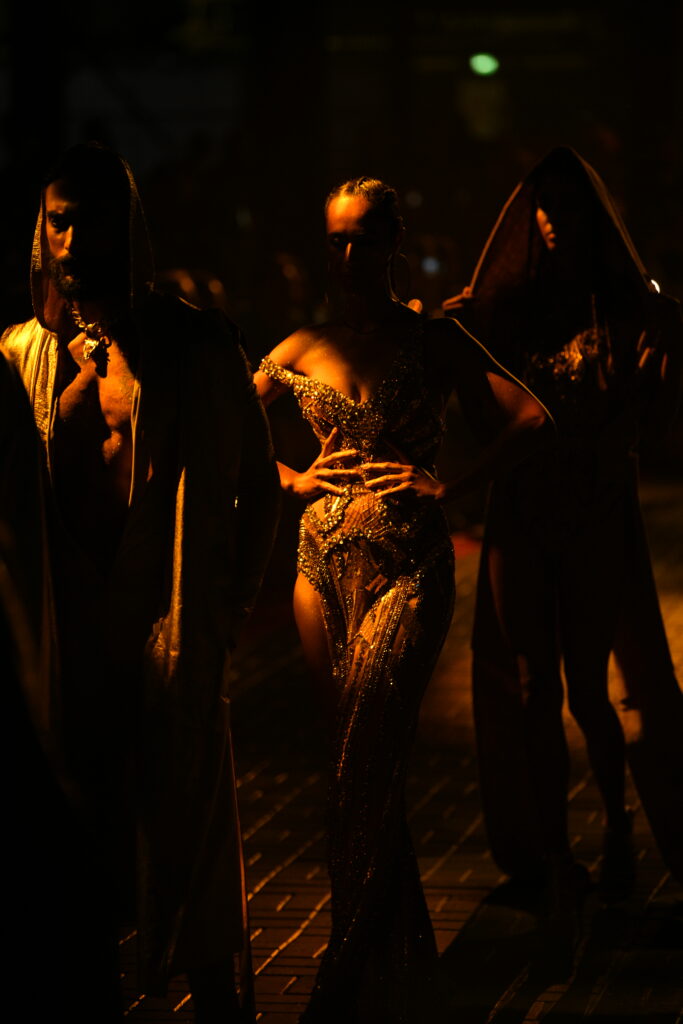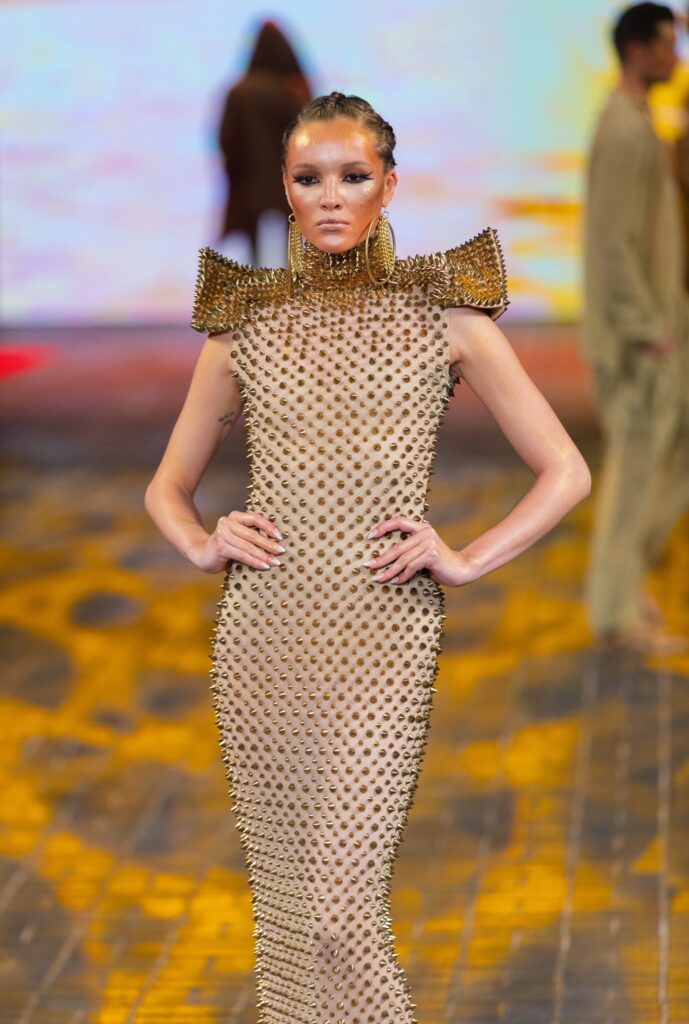 There was one particular gown, embellished in spikes, with high neck and sculpted shoulders with spikes, strapless neckline, with light adhesive to keep its form, a supportive boned bodice and a very revealing floor-grazing skirt that's slit to the thigh, very distinctive.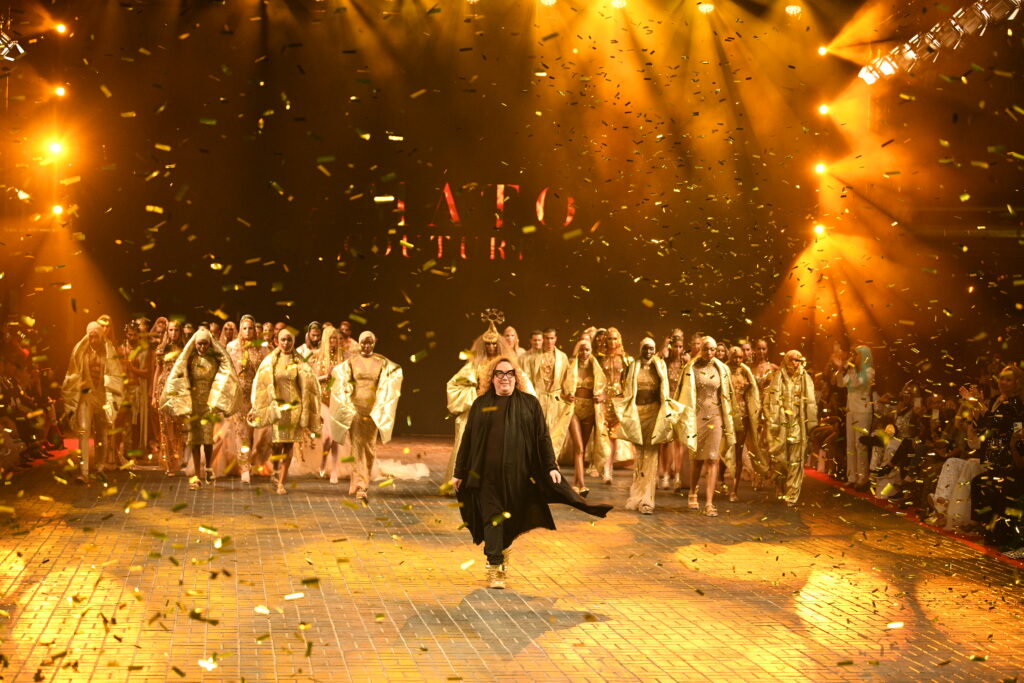 Amato's signature gowns have known to have been embellished with sequins, for mermaid dresses with high necks or fluid tulle skirts, crafted with intricate beadworks.
Amato, which means 'beloved' in Italian, and the eponymous genius, the much-awarded creative designer of Amato is Furne One.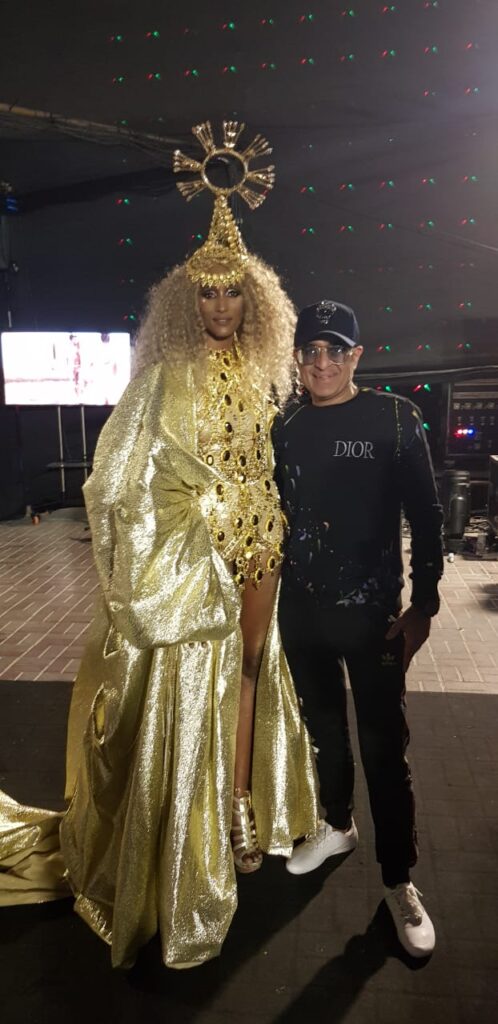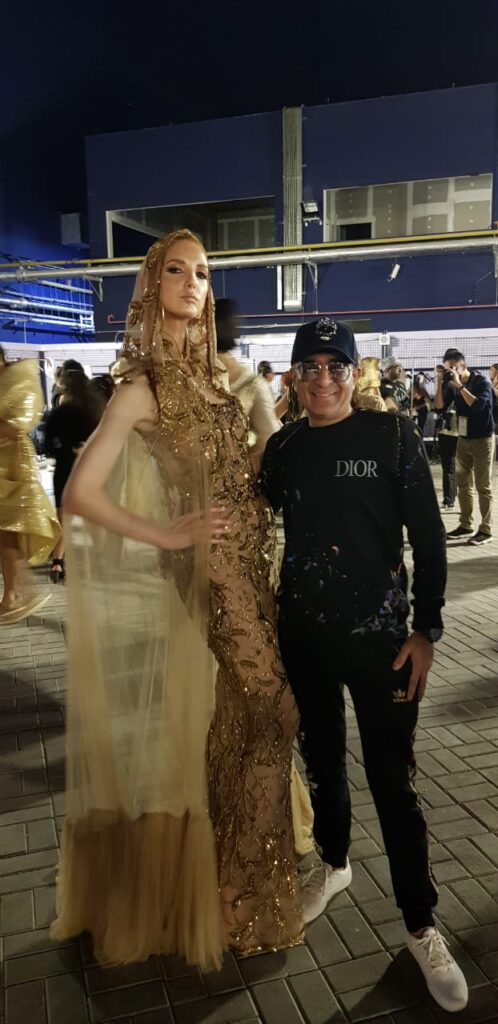 Furne One has dressed international celebrities to super-models to royalty, such as Beyonce, Jennifer Lopez, Shakira, Nicki Minaj, Nicole Scherzinger, Katy Perry, Heidi Klum and Tyra Banks, among others, who are all loyal patrons.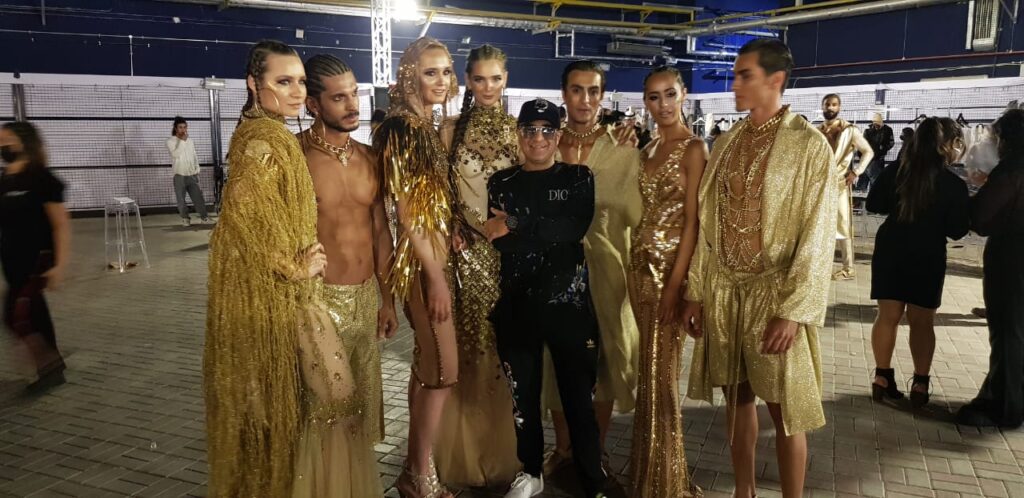 Furne One felt exalted and newly alive after the all-gold fashion show tribute to the 50th year of UAE.